Breakfast: the most important meal of the day.
We've all heard this from our moms, grandmoms, teachers, or friends. But do we agree? Kale yeah we do!
But that all depends on what you eat for breakfast. Try swapping a bagel and coffee for a green smoothie and you will feel supercharged and finally understand why breakfast is so important.
If you spend most mornings rushing just to make sure you're dressed and on time for work (and getting the kids ready if you've got 'em), walking out your door with a healthy breakfast in your hand ain't easy. We are both busy moms ourselves, and ran into this problem in our early green smoothie blending days.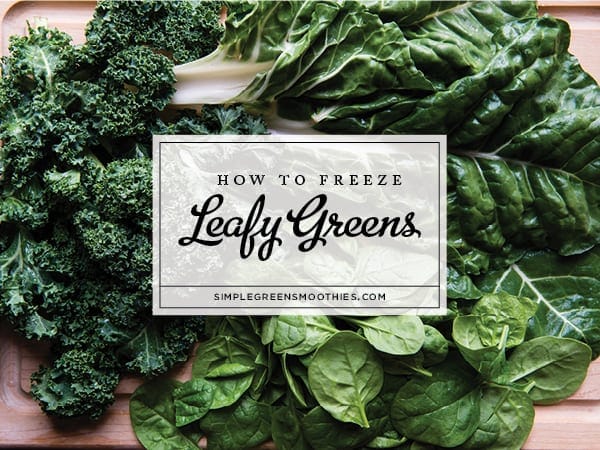 In the past few years, however, we've figured out a fabulous #smoothiehack to help you get blending, and sipping that leafy green goodness no matter how hectic your morning. (That way, you can spend those extra minutes tucking a note in someone's lunchbox, or making sure you remember your water bottle.)
Ready? Here's our secret: we started freezing leafy greens.
We know, we know. It sounds so simple! But the payoff is major, people—for your health, and your wallet, because it helps you avoid wasting tasty veggies and greens.
We typically use fresh greens for a couple days right after we go grocery shopping. Then, we measure out two cups of greens into each freezer bag, and toss 'em on in the freezer. Then, as we run around making sure little teeth are brushed and school clothes are on, all we have to do is grab a bag of frozen greens and dump them in the blender!
Yep, that means no more bleary-eyed battles with the measuring cups. Greens stay good in the freezer for a couple of months instead of a week in the fridge. Boom! We know you love saving time and money as much as we do, Rawkstar!
How to freeze leafy greens
---
Spinach, kale, and chard all freeze beautifully. And, if you freeze your greens in one big batch instead of 2 cup quantities, just make sure to note that 2 cups of fresh greens equals 1 ½ cups of frozen greens.
note: While frozen greens are fantastic for smoothies, don't use them for your salads… you'll be very disappointed! (Turns out, ice chunks aren't as fun as croutons.)
Wash leafy greens
Wash the greens well. To help remove any bugs, add a little white vinegar to the water and swish well. Shake to remove excess water, pat, or spin dry.
Remove stems
Remove the leaves from the stems (if there are large stems present, like kale), and chop or tear leaves into pieces. To do this quickly, hold the stem in one hand and run the other one along the stem to rip the leaves away from the stalk. (Some blenders can handle the stems, but others can't. Do what works best for you!)
Label storage bags
Label bags with the amount and type of green. Adding the date can be helpful if these will be stored for a while.
Measure greens
Measure out greens into BPA-free, freezer-safe bags or containers. Squeeze out as much air as possible and seal.
Pack leafy greens into bags
Pop the bags into the freezer and store until ready to use.
Hint: if we're feeling extra organized, we measure out the frozen fruit for each smoothie and add it to the bag of greens before we freeze. You can check out our make ahead smoothie prep tips here.)
Share your favorite hack…
Do you have a favorite smoothie hack? If you do, share it with us in the comments below. We always love hearing from you guys!