Are you feeling stressed out lately?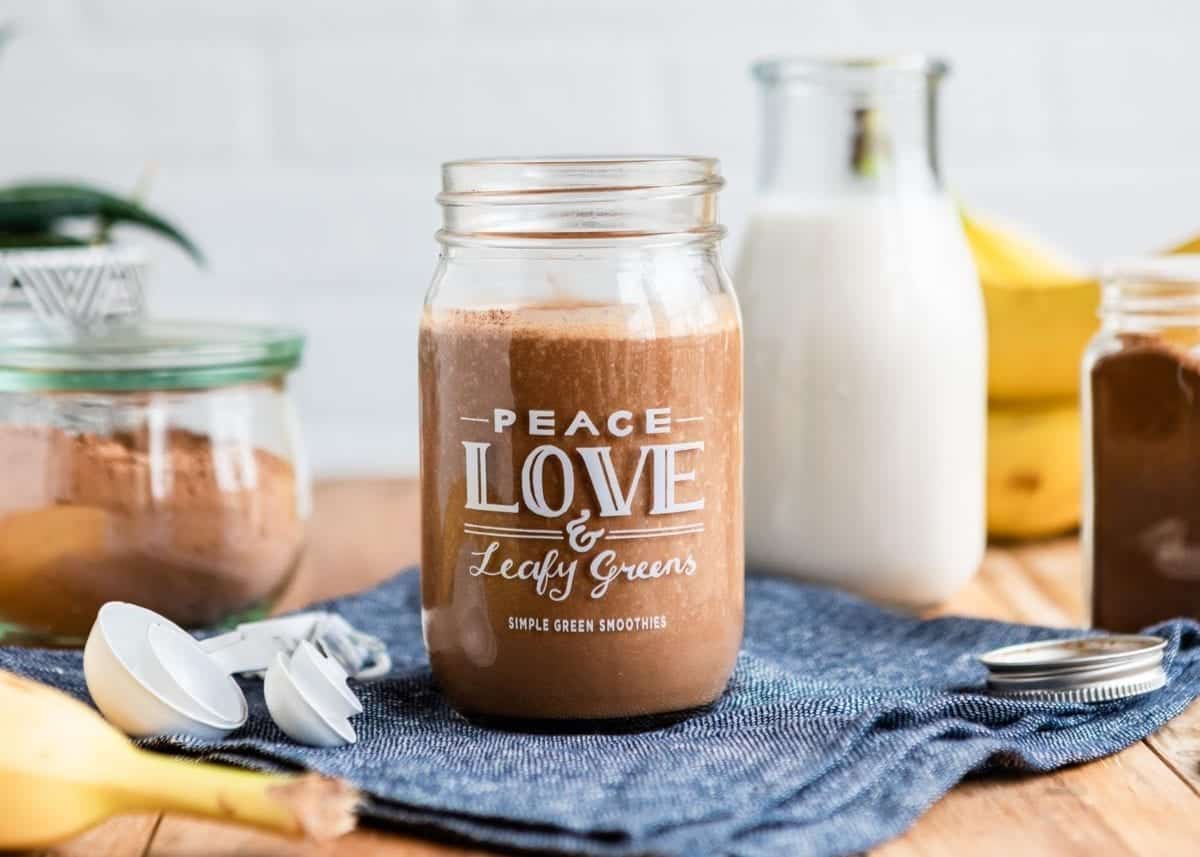 I'll bet you said "yes!" Most of us are so tied up with work, family, friends, school, church, and other obligations. It can be so overwhelming! I get it. And it can be really hard to carve out some time for yourself to regroup. Stress is a big factor in how your body is able to fight off illness. It can affect your heart health, your immune system, your sleep quality, and your relationships. Stress is no bueno. Luckily we have so many things at our fingertips to help relieve stress, such as this Superfood Smoothie made with stress-combating adaptogens.
Read on to find out more about how superfoods and adaptogens can help relieve stress and be sure to check out our recipe for the #1 Superfood Smoothie to Relieve Stress.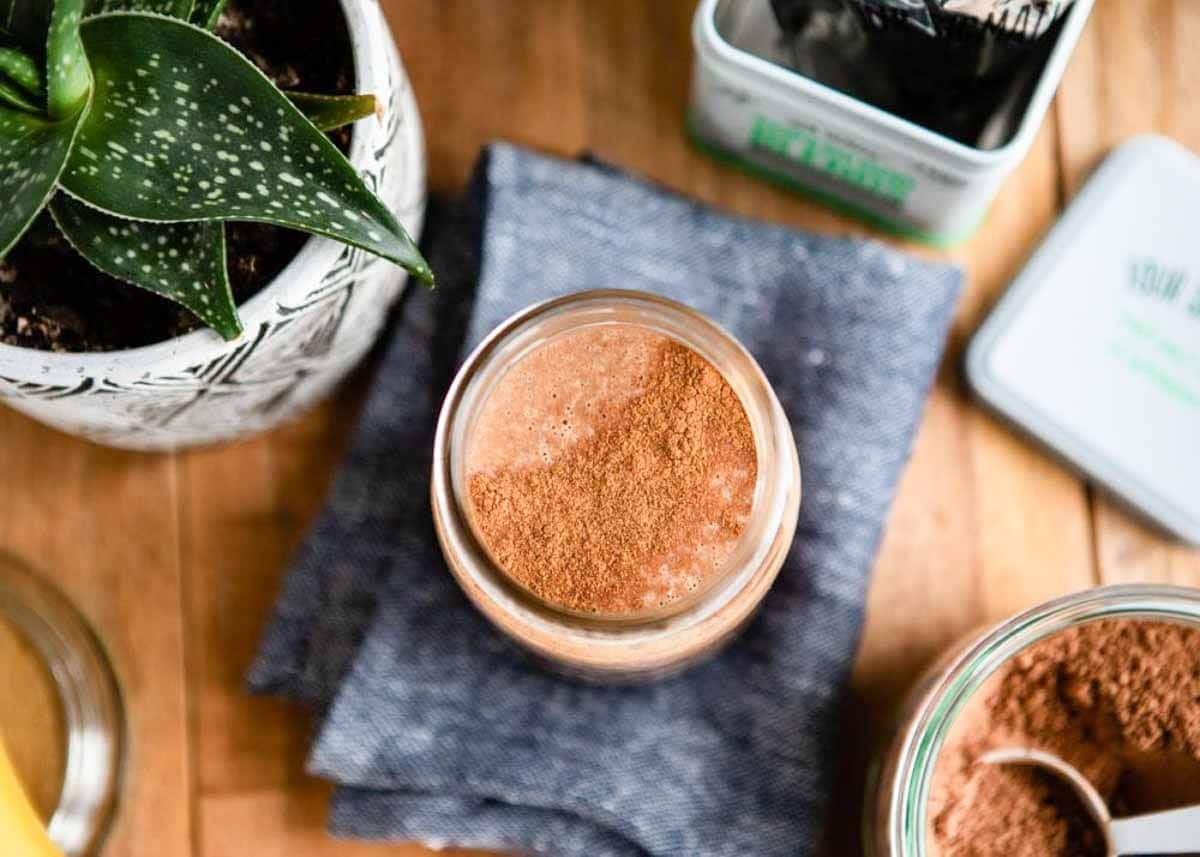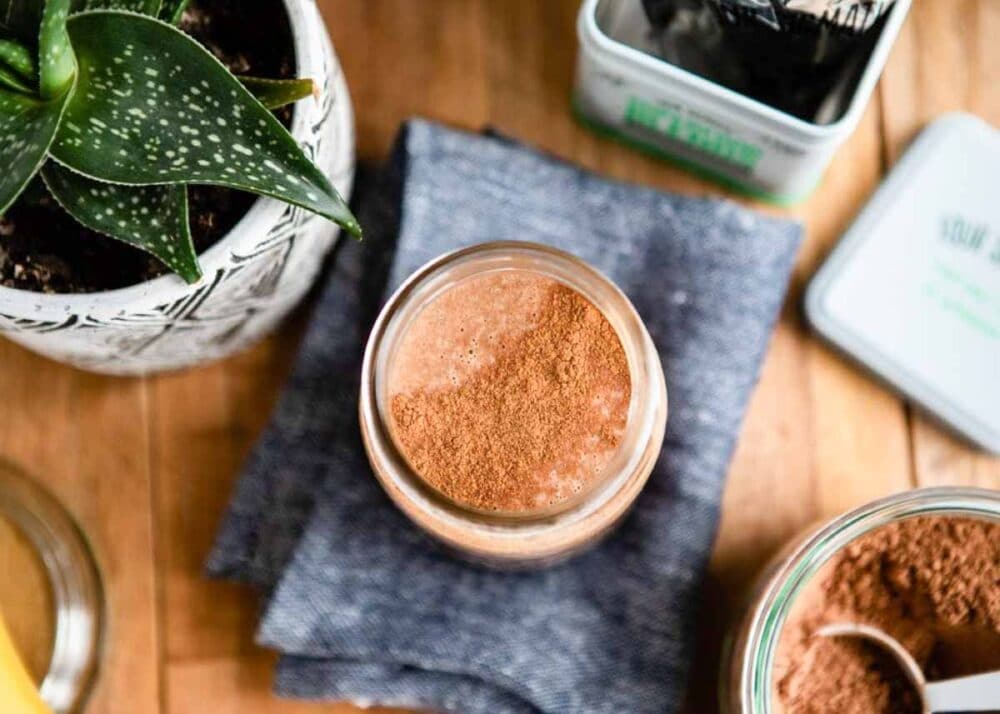 Top Stress-relieving superfoods : Adaptogens
Superfoods are nutrient-dense foods that contain high amounts of vitamins, minerals, antioxidants, etc. In other words, you only need a small amount of these foods to pack a mighty punch of goodness into your body. Some superfoods are vibrant in color, such as berries and sprirulina, most are plant-based with a few exceptions, and all have great health benefits when consumed on a regular basis. Learn about the Top 10 Superfoods for Smoothies and where to buy them here.
Yet when it comes to stress-relieving superfoods, adaptogens are where it's at! These are a niche market of superfoods with medicinal properties that have been used for centuries to treat stress naturally. Ashawaganda, maca and mushrooms are some of the BEST known superfoods with adaptogenic properties and can be easily added to your daily smoothie and still taste great.
What actually happens when you're stressed out...
When we are under stress, it can cause inflammation in our body and increase adrenal fatigue, particularly if we are under chronic stress. Being under constant stress takes a toll on our body and its own stress-fighting resources.
The adrenal glands are responsible for regulating the body's metabolism, immune system suppression, regulation of blood pressure and electrolyte balance, and the ever important "fight or flight" response to stress, which is our interest in this post.
Symptoms of adrenal fatigue may include:
body aches
fatigue
unexplained weight loss
low blood pressure
lightheadedness
loss of body hair,
skin discoloration
After long periods of extreme stress or dysfunction of the adrenal glands caused by certain diseases or the presence of tumors, there may be an imbalance of the hormones secreted by the adrenal glands. It may be an over- or under-production. Blood tests from a medical provider can confirm any imbalance, but the symptoms mentioned above are also a good indicator something is off balance.
How To Incorporate Stress-Fighting Superfoods Into Your Daily Routine
Treatment for adrenal fatigue involves lifestyle and diet changes, including lots of rest and eating healthy. The way adaptogens help relieve stress comes from the individual properties of each adaptogen. You'll want to focus on adding in the adaptogen that best fits your needs. Reishi, Holy Basil, Ginseng Root, and Eleuthero are great stress fighters.
Adaptogens help bring the body back into balance by regulating blood pressure, serotonin and other hormones, calming us down, and fighting inflammation. Essentially they are the tools you want in your stress relief toolbox. Adding adaptogens is vital to recovering from adrenal fatigue and managing stress on a daily basis, which is why this Superfood Smoothie recipe is worth blending up.
On their own, adaptogens can be bitter or otherwise unappetizing. (Just being honest here.) So adding them into something you already enjoy consuming is a great method. That could be a serving stirred into a cup of tea, coffee, or hot cocoa, or a bowl of soup or a smoothie. One of our favorite ways is to blend adaptogens and superfoods into our smoothies. We love choosing certain ingredients for their mental and physical health benefits.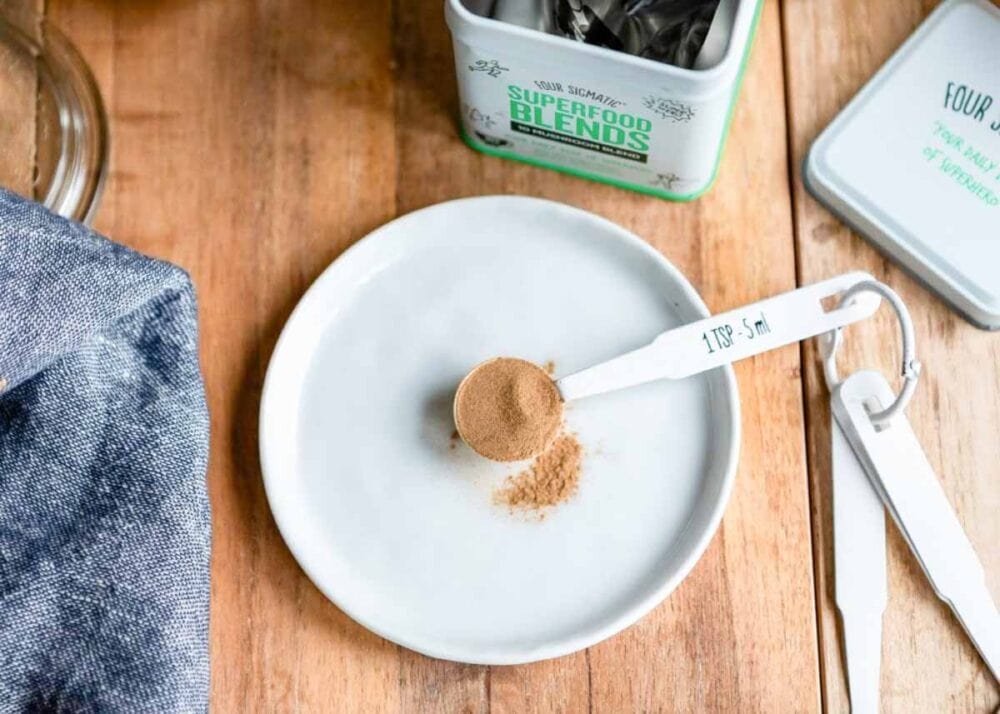 I personally like the Four Sigmatic Superfood 10 Mushroom Powder, which contains ashwagandha, tulsi, reishi, cordyceps, chaga, turkey tail mushrooms and lion's mane. I just add a scoop to my morning smoothie and call it good. The recipe below is incredibly tasty and shows you exactly how much adaptogens you can add to your smoothie with which ingredients to get the best results.
One thing to note, too, is that you should always discuss adding supplements to your diet with a healthcare provider to determine the correct dosage and to prevent any contraindications with medications you may be taking. It's also important to rotate which adaptogens you use every few weeks.
5 Ingredients for our Superfood Smoothie
When it comes to blending, I like to add ingredients that are going to taste great together AND get me the results I want. This Superfood Smoothie recipe is really the best out there for results and flavor. It's all about fighting stress naturally and hand-picked these 5 ingredients for that reason.
Bananas - contain potassium which helps keep blood pressure levels steady
Almonds - we use almond milk that can help the body's response to stress by boosting the immune system to prevent stress-related illness
Adaptogenic mushroom and superfood blend geared towards stress relief
Cacao - boosts serotonin levels and mood, and lowers stress hormones
Cinnamon - we've included a dash; the scent of cinnamon can have a calming effect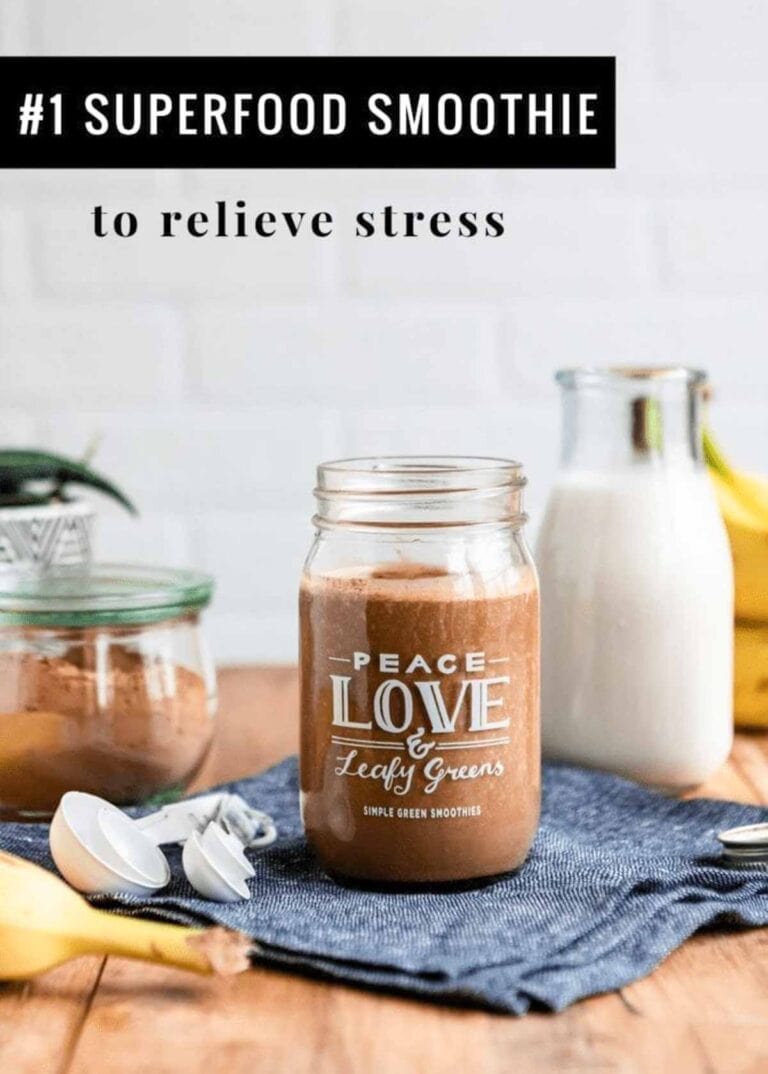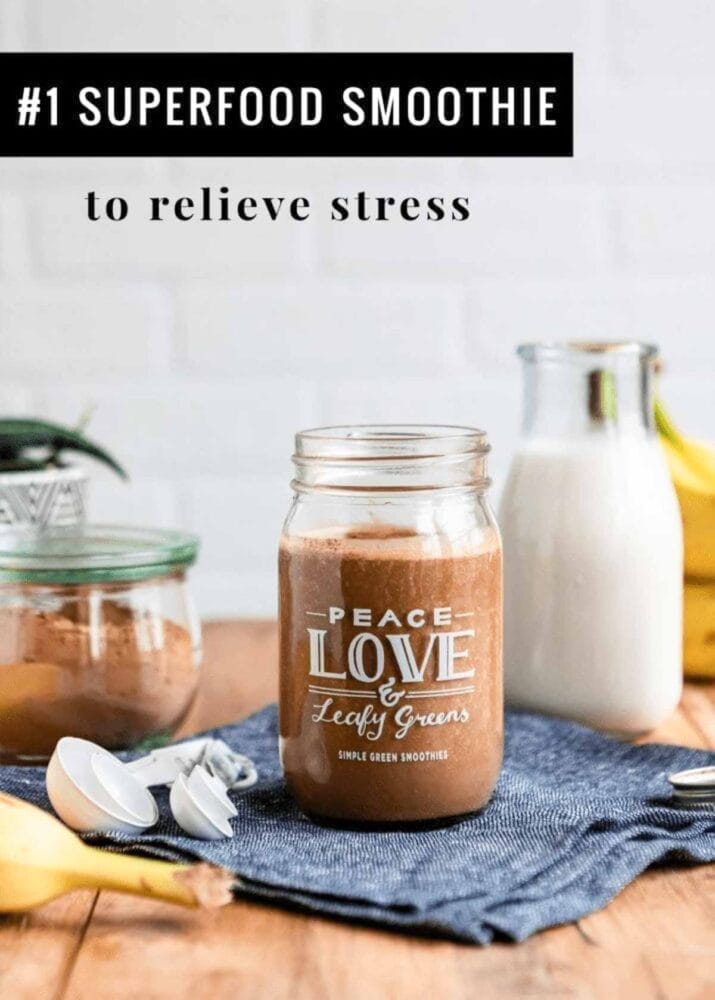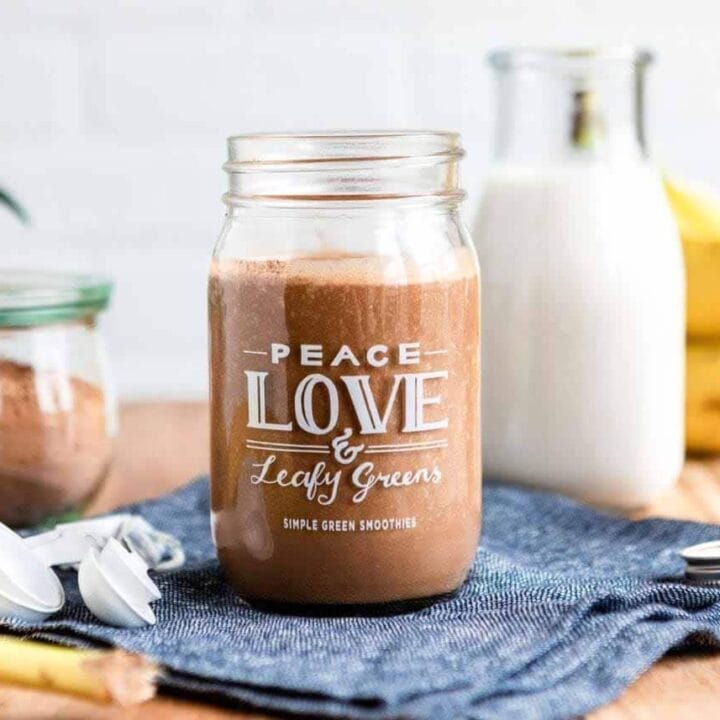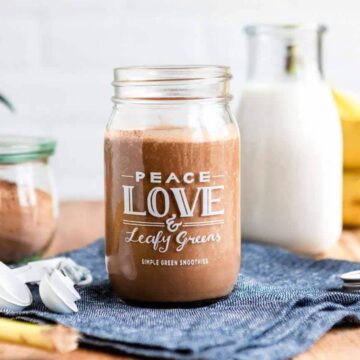 Chocolate Superfood Smoothie
Rate this Recipe
Print Recipe
This Chocolate Superfood Smoothie has 5 simple ingredients that taste great AND naturally relieve stress. It can be made hot or cold, depending on the time of year.
Ingredients
1

cup

almond milk

1

banana

(frozen)

1

tablespoon

cacao powder

1

teaspoon

adaptogens (optional)

dash

ground cinnamon

(for top)
Instructions
Place all of the ingredients except the cinnamon into a blender and puree until smooth.

Pour into a jar or glass, sprinkled cinnamon on top.

Drink immediately or store in mason jar with airtight lid in fridge.
Notes
Other nut or seed milks can be used in place of the almond milk.

If wanting a hot chocolate, warm the almond milk first and use a fresh banana.
Nutrition (estimated)
Calories:
180
kcal
(9%)
Carbohydrates:
29
g
(10%)
Protein:
3
g
(6%)
Fat:
7
g
(11%)
Saturated Fat:
3
g
(19%)
Polyunsaturated Fat:
2
g
Monounsaturated Fat:
2
g
Sodium:
326
mg
(14%)
Potassium:
422
mg
(12%)
Fiber:
5
g
(21%)
Sugar:
15
g
(17%)
Vitamin A:
76
IU
(2%)
Vitamin C:
10
mg
(12%)
Calcium:
306
mg
(31%)
Iron:
1
mg
(6%)