Almonds are my go-to snack since they provide a quick boost of healthy fats, protein and fiber. I often take them on long runs, into the Grand Canyon, and you can probably find some floating around my purse in case of an emergency. This almond smoothie recipe was a no-brainer.
Almonds and almond milk combined with bananas and strawberries quickly become a filling and delicious breakfast.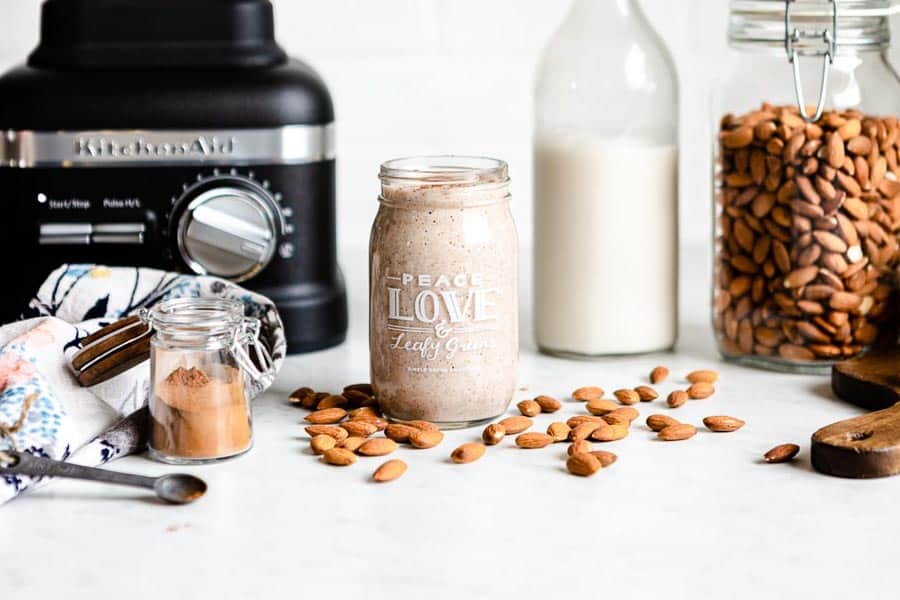 Table of Contents
How to Make an Almond Smoothie
Get ready for the world's healthiest fast food—a smoothie. In one easy step, you've got a meal that is filling, full of great nutrients and tastes delicious.
Blend all ingredients until smooth.
Pour into your favorite glass and enjoy!
Make sure at least one of your fruits is frozen to produce a refreshingly cool smoothie. And if you just can't handle a smoothie without leafy greens then toss 'em in!
Easy Recipe Swaps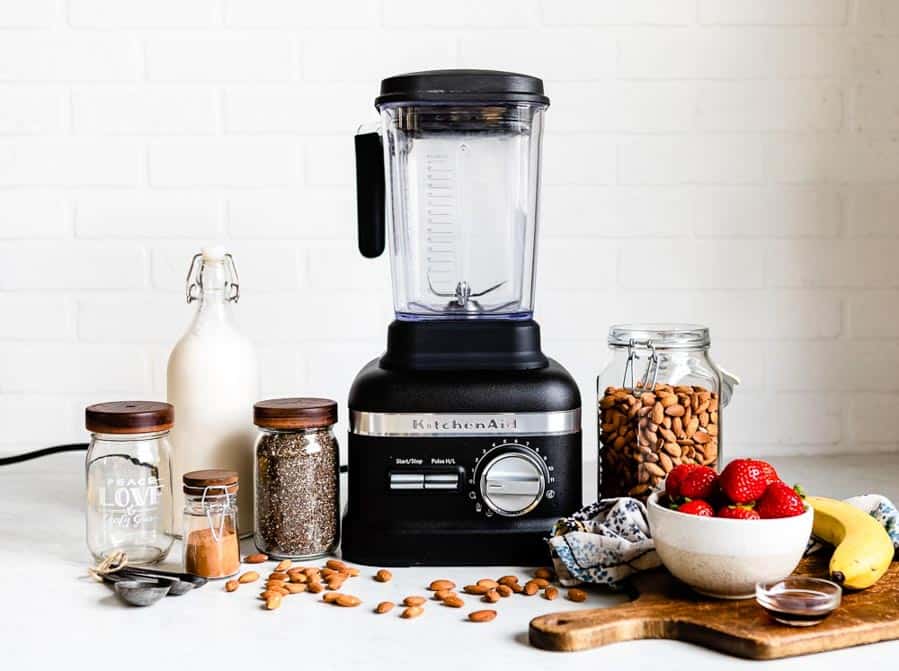 Swap in one serving of your favorite homemade protein powder for chia seeds. The cinnamon honestly makes this smoothie next level. Omit it if cinnamon isn't your thing. While this is called an almond smoothie, there is no judgment if you use a different plant milk. Cashew milk or oat milk would work great!
If the natural sugar is a bit too much for you then swap out 1/2 of the banana for 1/4 cup frozen cauliflower. Swap the 2 tbsps of almonds for the nut or seed of your choice.
Choosing the Right Milk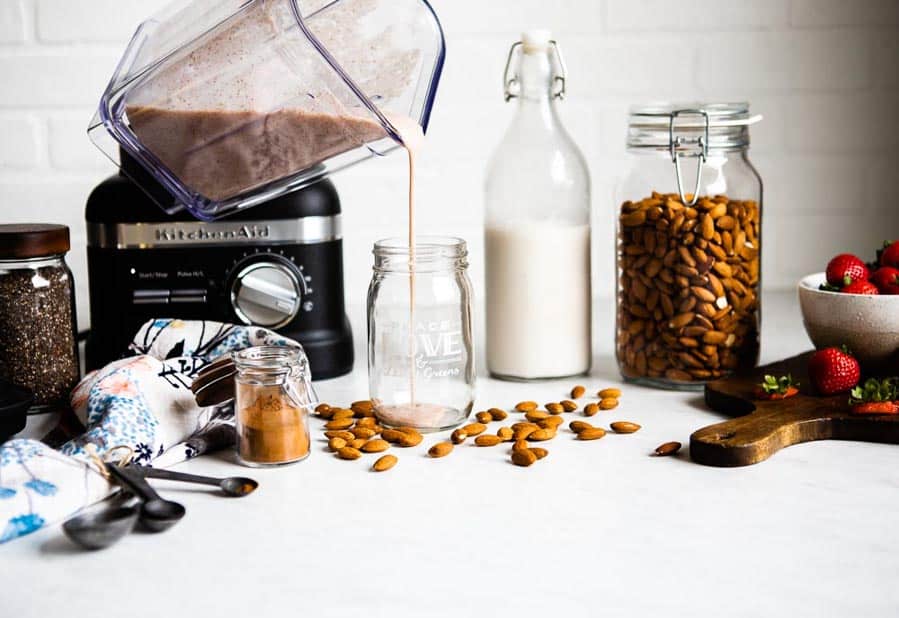 You can either buy or make almond milk, and both are great options!
Store-bought almond milk: There are so many brands to choose from when buying almond milk. I love the variety and accessibility of plant-based milk today! Yet ALWAYS read the labels (even of your favorite brand!) to make sure companies aren't trying to slip weird ingredients into your milk.
Every year Simple Green Smoothies searches all the grocery stores in the Tampa Bay area for new and improved brands of almond milk, then we test them and rate. We do all the research for you!
Homemade almond milk: I love making my own plant milk. It's easy and I know exactly what goes into it. If you've never tried to make your own before, then try it! You might never go back to the store-bought stuff again.
You can swap almond milk into any healthy smoothie recipe you want for a creamier, nutty result.
Benefits of Almonds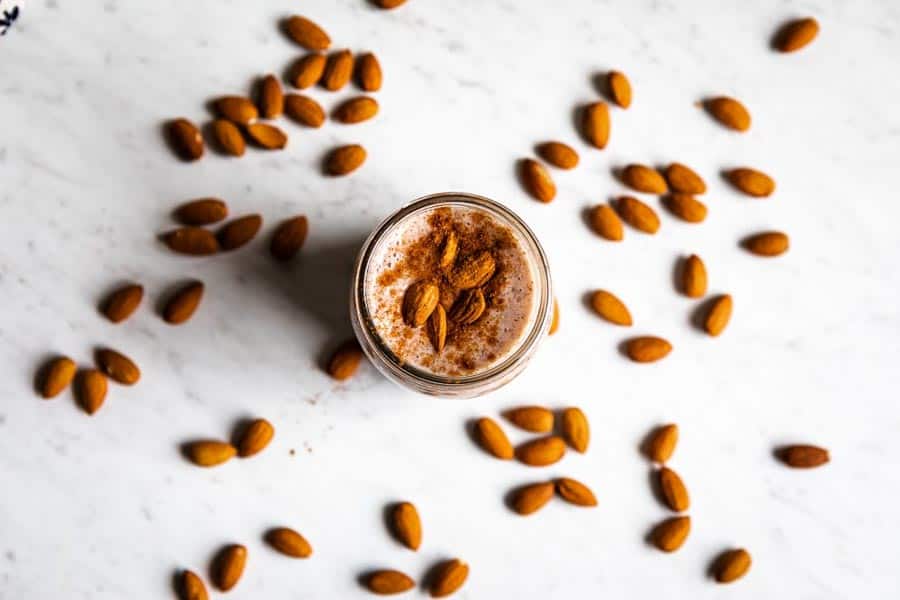 Almonds are a pretty impressive nut. One ounce of almonds holds 3.5 grams of fiber, 6 grams of protein and 14 grams of fat as well as large amounts of the recommended daily value of vitamin E, manganese and magnesium.
They also contain large amounts of antioxidants, which our bodies use to fight inflammation and cancer.
Because almonds are high in fat, protein and fiber, they can help lower blood sugar. Grab a handful for your next snack and soak in the benefits.
I use both almonds and almond milk in my almond smoothie recipe to increase all the goodness going into my body.
Almond Smoothie FAQs
Are almonds in smoothies good?
Yes! Adding in raw almonds, almond milk, or almond meal to your next smoothie will give you fiber and a healthy fat boost.
Is almond milk bad in smoothies?
Only if you don't like almond milk. It's a delicious, plant-based option that easily blends with a variety of fruits and veggies. Almond milk adds in good nutrients as well as works as a natural thickener.
Are raw almonds good in smoothies?
They can be! If you've got a high-powered blender, then you can add pretty much any raw nut to a smoothie and enjoy its benefits. If your blender isn't Vitamix-grade, then soak the nuts for four hours before blending to soften.
Using Almonds in Smoothies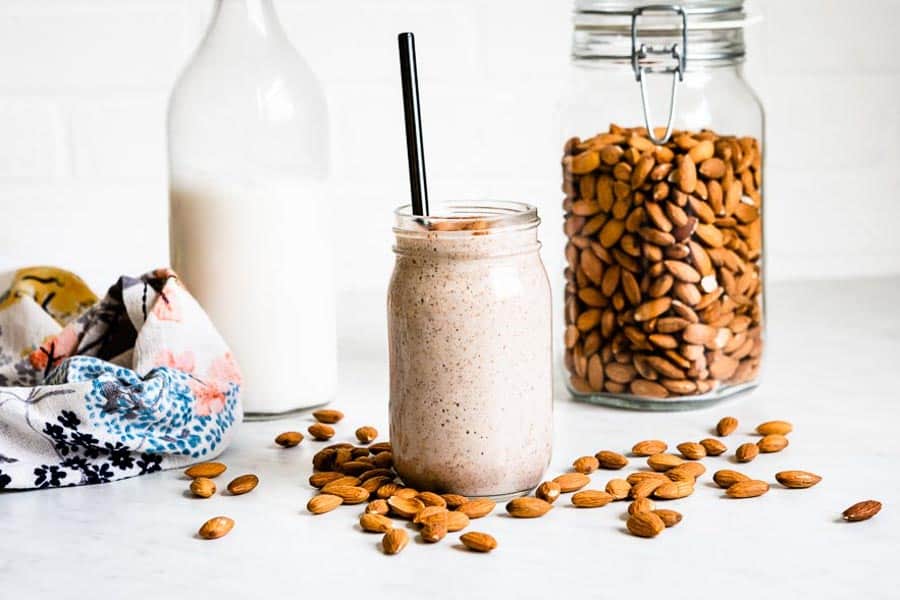 Check out these great smoothie recipes that use almonds or almond milk:
Give this epic smoothie a try and let me know how it turns out by leaving a rating + review! I love a new smoothie recipe, don't you?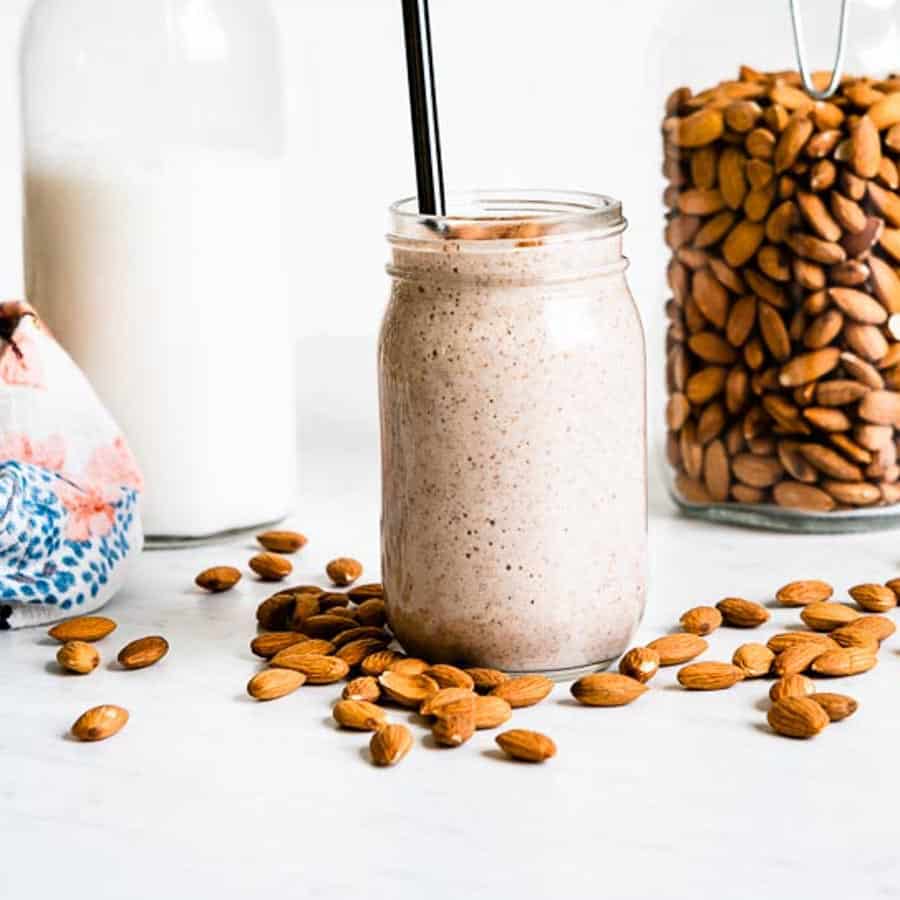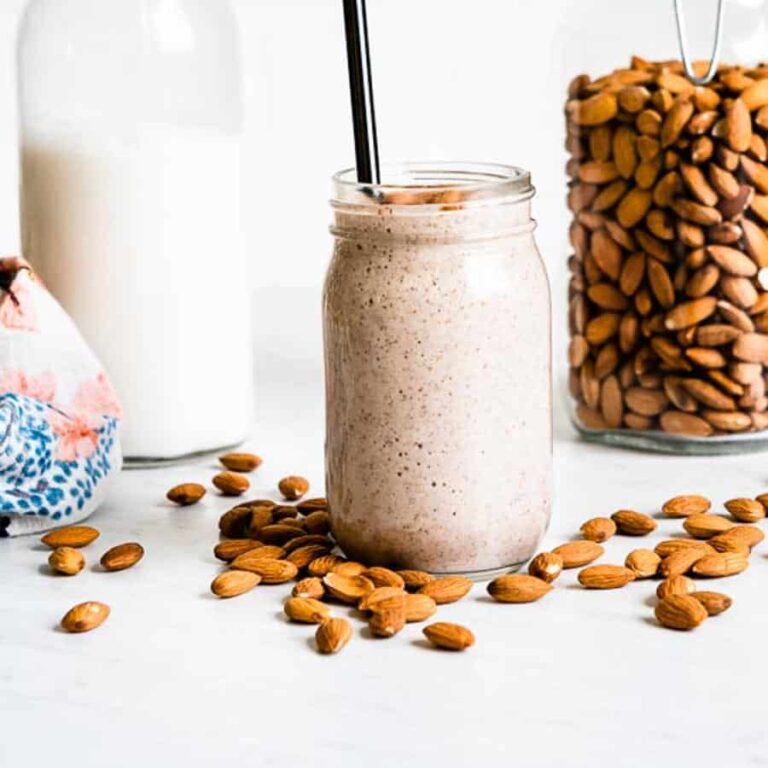 Epic Almond Smoothie
Start your morning with a protein fueled breakfast all wrapped up in a perfectly sweet smoothie. This almond smoothie is delicious and an easy on-the-go beverage for a busy day.
Instructions
Blend all ingredients until smooth.

Pour into your favorite glass and enjoy!
Notes
Make sure to use a frozen fruit for a refreshingly cold smoothie
Add even more protein with 1 tbsp of chia seeds or 1 serving of homemade protein powder.
For less natural sugar, swap 1/2 banana with 1/4 cup frozen cauliflower
Nutrition
Calories:
339
kcal
,
Carbohydrates:
44
g
,
Protein:
9
g
,
Fat:
17
g
,
Saturated Fat:
1
g
,
Polyunsaturated Fat:
7
g
,
Monounsaturated Fat:
8
g
,
Trans Fat:
1
g
,
Sodium:
329
mg
,
Potassium:
727
mg
,
Fiber:
12
g
,
Sugar:
19
g
,
Vitamin A:
94
IU
,
Vitamin C:
53
mg
,
Calcium:
456
mg
,
Iron:
2
mg