In 2013, I came up with this avocado banana smoothie as a way to boost my healthy fat intake. It remains a favorite to this day because it is thick and creamy, and just plain delicious. This smoothie is packed with healthy fats to curb your appetite as well as nourish your skin.
If you like creamy smoothies, this should be your next blend!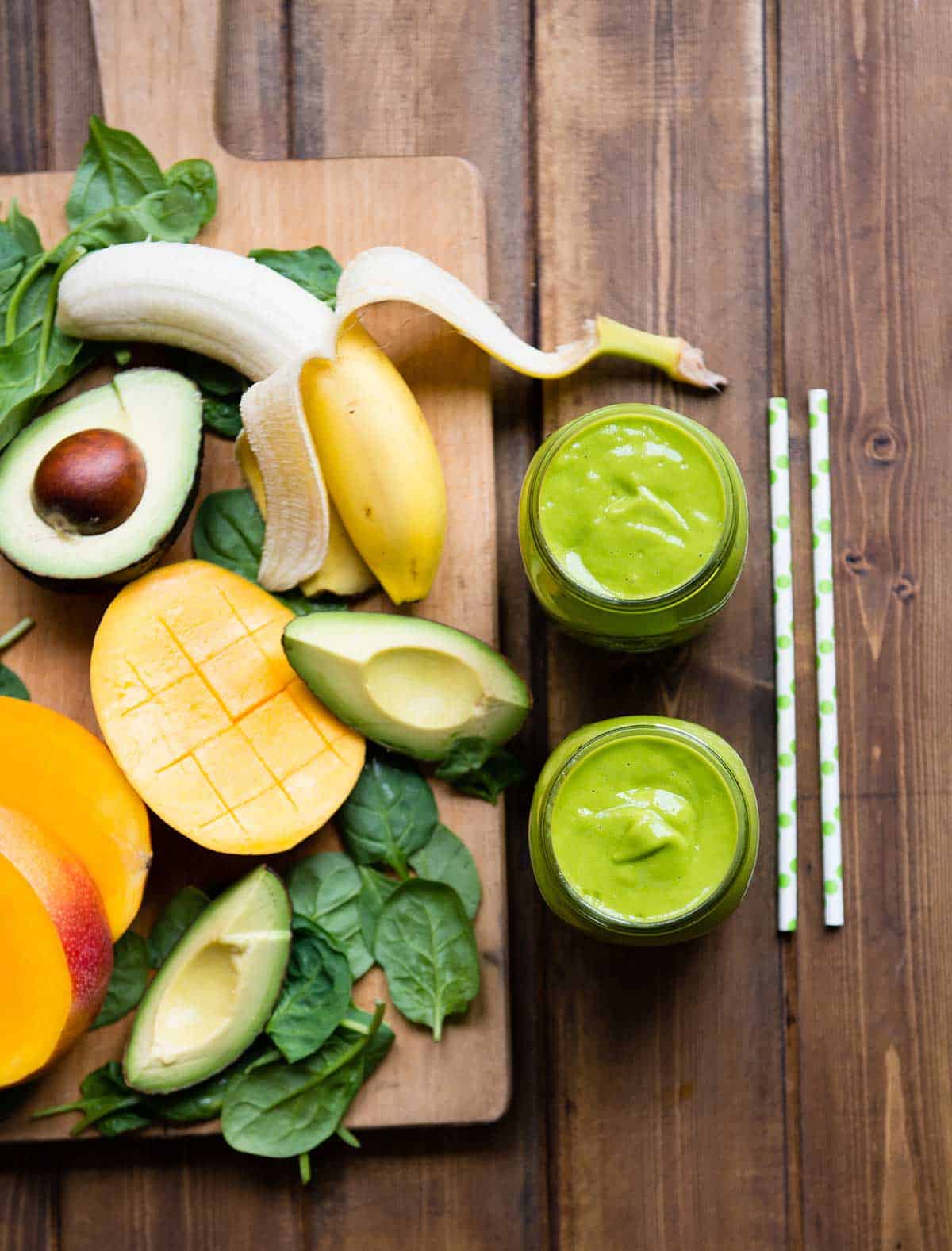 Table of Contents
Avocado Banana Smoothie Benefits
I'll just come right out and admit that I adore avocados (looooong before they were trending on IG). I'm a California girl living in Florida. Avocados are a major part of my diet. Guacamole is my love language, and I'm not afraid to shout about it. But avocados are good for other things besides chip dip.
Avocados are more than just a pretty face…
Did you know avocados contain more potassium than bananas? Crazy, right? Potassium is essential for heart health. A diet rich in avocados may also help lower bad cholesterol and triglyceride levels due to heart-healthy monounsaturated fat.
1 serving of avocado contains 7 grams of fiber, which is an important part of any healthy diet. By getting enough fiber, we make sure our digestive tract can stay healthy. It even acts like a little scrub brush to keep things humming along.
The combination of healthy fats and fiber also helps keep you feeling full for longer after eating. So get ready for a delicious + nutritious avocado banana smoothie!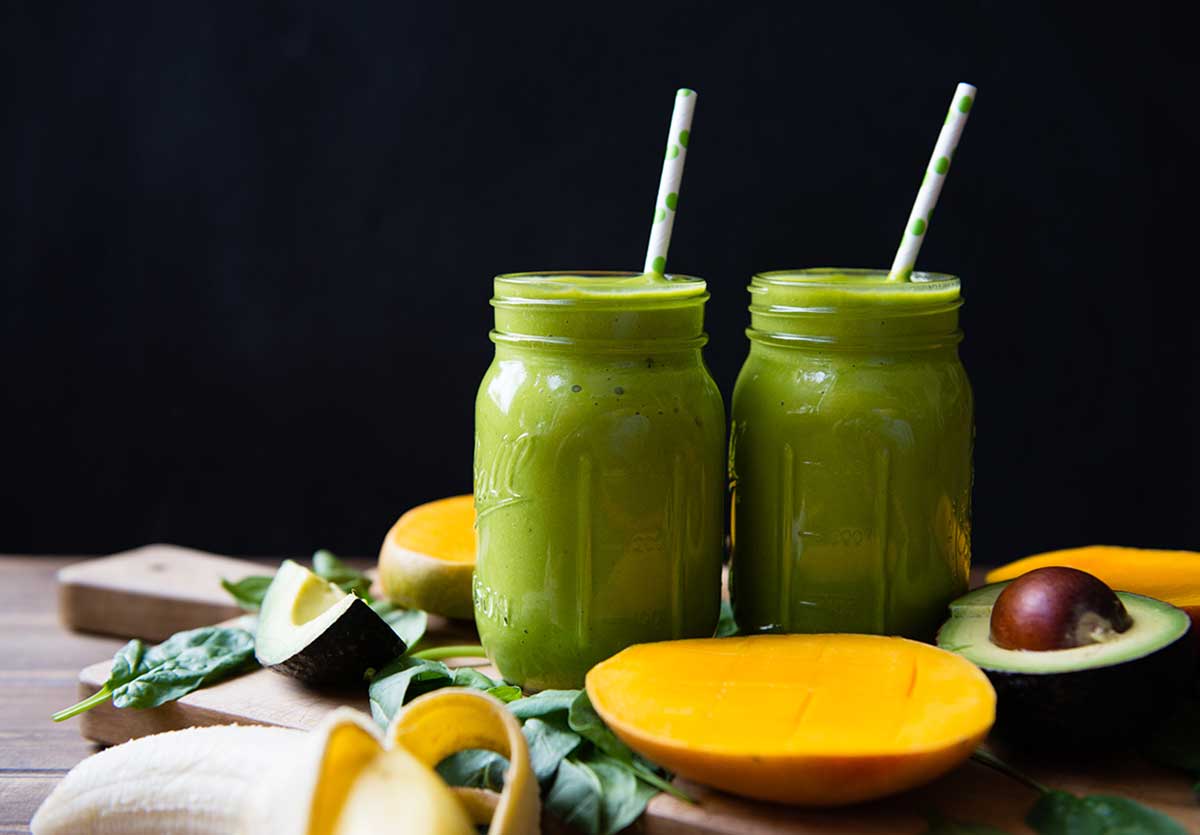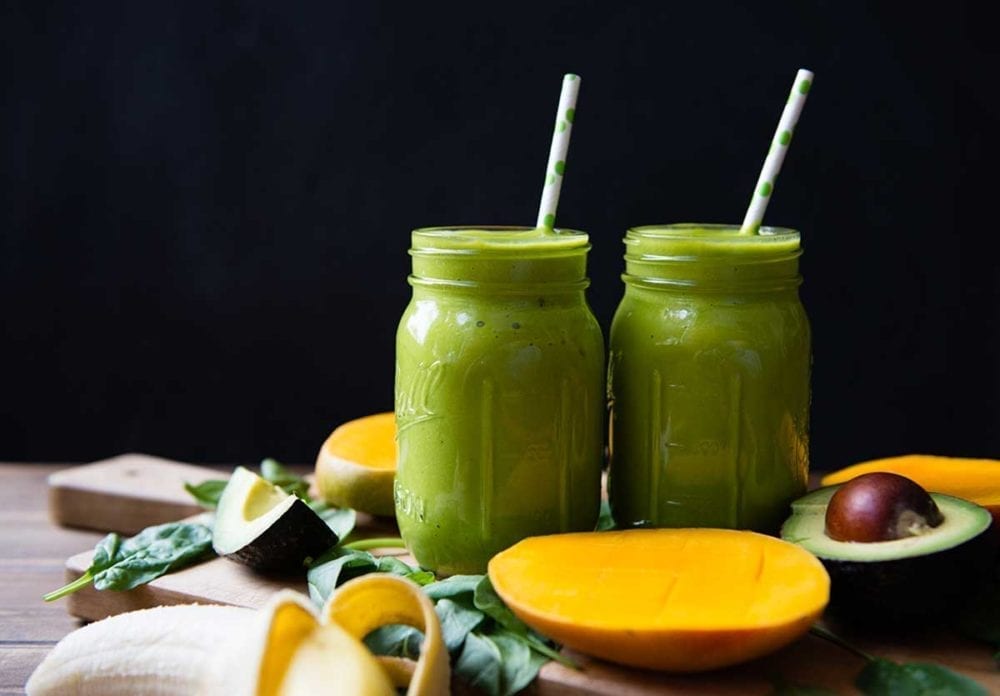 A balanced smoothie
I know many people either love or hate bananas… there seems to be no middle ground when it comes to this fruit. Yet they shine in this smoothie, adding just enough sweetness to balance out the avocado. Bananas also contain antioxidants and folate, which keeps us healthy and energized.
Easy Ingredient Swaps
If bananas just aren't your cup of fruit, then swap them out for another 1/2 cup of mango, or 1/2 cup of peaches. You can use any variety of avocado you can find, just know that if you go big, you may need 1/4 of that avocado instead of half. If you're all out of spinach, any leafy green can be swapped.
How To Store Avocados
I know you feel me on this one. You buy a bag of unripe avocados and it seems like they never ripen, until BAM! they ripen all at once. It's more than you can eat at once. What to do? Avocados are a fruit that freezes exceptionally well, probably due to the healthy fats. (When frozen, they make a tasty avocado banana smoothie like the one below)
Freeze the avocados on a baking sheet lined with parchment paper, then transfer to freezer-proof bags or other airtight containers. The frozen avocados will keep up to six months or more in a deep freezer, or several months in a regular freezer.
Once avocados have ripened sufficiently, they can also be placed directly in the fridge where they will stay good for a few days longer. Unripe avocados can also be refrigerated and brought out to the counter to ripen at room temperature. While room temp avocados can be used in this avocado banana smoothie, I think frozen ones add a little bit extra to this blend.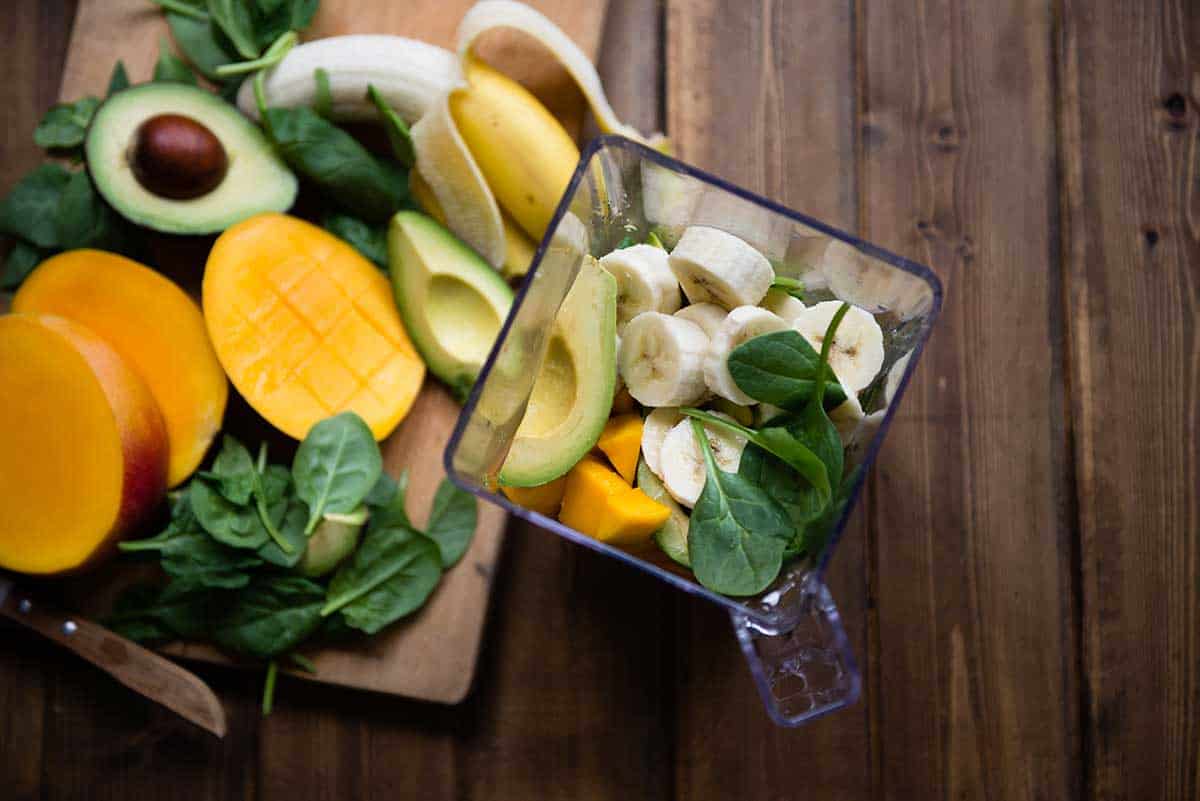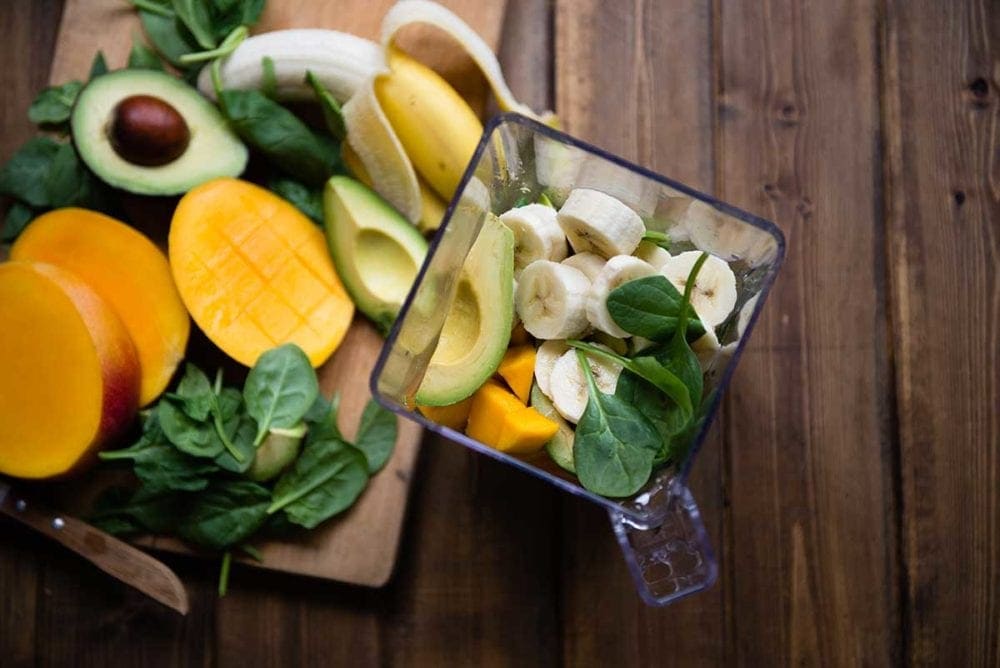 How to Make a Creamy Smoothie
I don't like to blend our green smoothies with dairy products. Yet while I prefer not to, it's totally fine to do what fits your lifestyle best.
That being said, there are plenty of ways to make a smoothie creamy using fruit + veggies. If a too-liquid smoothie has caused a #smoothiefail in the past, then have any of these options on hand to add to your next blend:
Avocado: so much creaminess from avos, not to mention healthy fats; avocados also thicken smoothies, as well as turn your smoothie into a meal replacement.
Mango: mango blends up really creamy and thick, so you don't need much – even a quarter or half cup will cream that smoothie up.
Banana: this one is kind of a no-brainer, but I'm adding it to the list anyway. This avocado banana smoothie just wouldn't be the same without the banana!
Coconut milk: swap the liquid base in your smoothie with a little coconut milk; the high (healthy) fat content adds loads of creaminess.
Nuts, seeds, and butters: nuts and seeds, especially cashews and hemp hearts, whether blended whole or as a "butter" will add mega creaminess and also a boost of protein and vitamin E.
Protein powder: add a plant-based protein powder to thicken your smoothie and make it extra creamy.
MCT oil: the medium-chain fatty acids in refined coconut oil are great for a fast energy boost, but adding 1-2 tablespoons makes a smoothie really creamy too.
Don't forget to rate + review this smoothie once you make it. I can't wait for your feedback!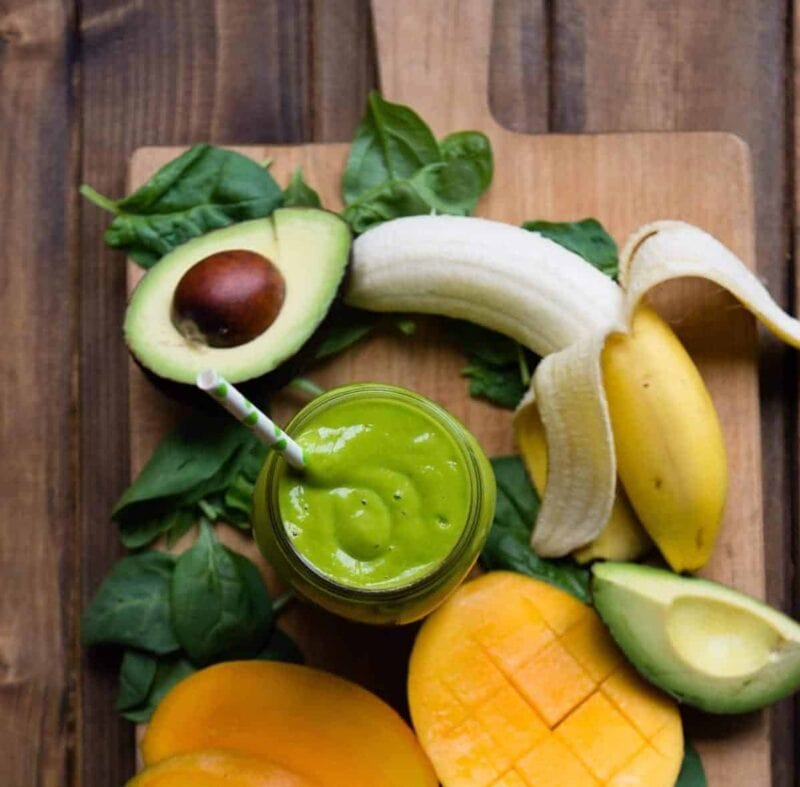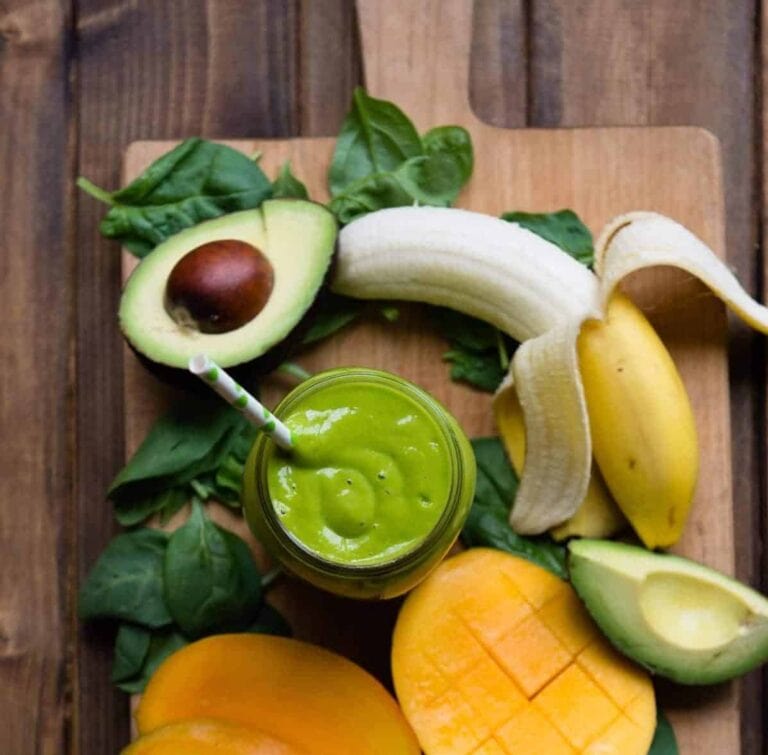 Avocado Banana Smoothie
This avocado banana smoothie recipe is loaded with healthy fats are a great way to nourish and hydrate the skin. I didn't take it easy on the avocado for that very reason! Enjoy this creamy smoothie and keep blendin' to see your skin celebrate it too. This smoothie is also known as Cream Machine.
Instructions
Blend spinach and water together until smooth.

Add remaining ingredients and blend again.
Notes
Use at least one frozen fruit to make the smoothie cold or serve over ice.
If this creamy smoothie is having a hard time blending well in your smoothie then add a bit more water until the blades turn easily on their own.
Nutrition
Calories:
270
kcal
,
Carbohydrates:
36
g
,
Protein:
4
g
,
Fat:
15
g
,
Saturated Fat:
2
g
,
Polyunsaturated Fat:
2
g
,
Monounsaturated Fat:
10
g
,
Sodium:
44
mg
,
Potassium:
1005
mg
,
Fiber:
10
g
,
Sugar:
19
g
,
Vitamin A:
3890
IU
,
Vitamin C:
54
mg
,
Calcium:
61
mg
,
Iron:
2
mg