I've noticed that the older I get, the more my body changes (shocking, right?!). So I'm looking for natural ways to age gracefully… whatever the heck that means. Since food is the easiest way to start, I've come up with a great beauty smoothie; it's a gorgeously colored, collagen smoothie full of cherries, beets, lemon juice, spinach, and a special collagen powder specifically targeting my hair, skin and nails.
If you wanna glow naturally, then come blend this smoothie with me!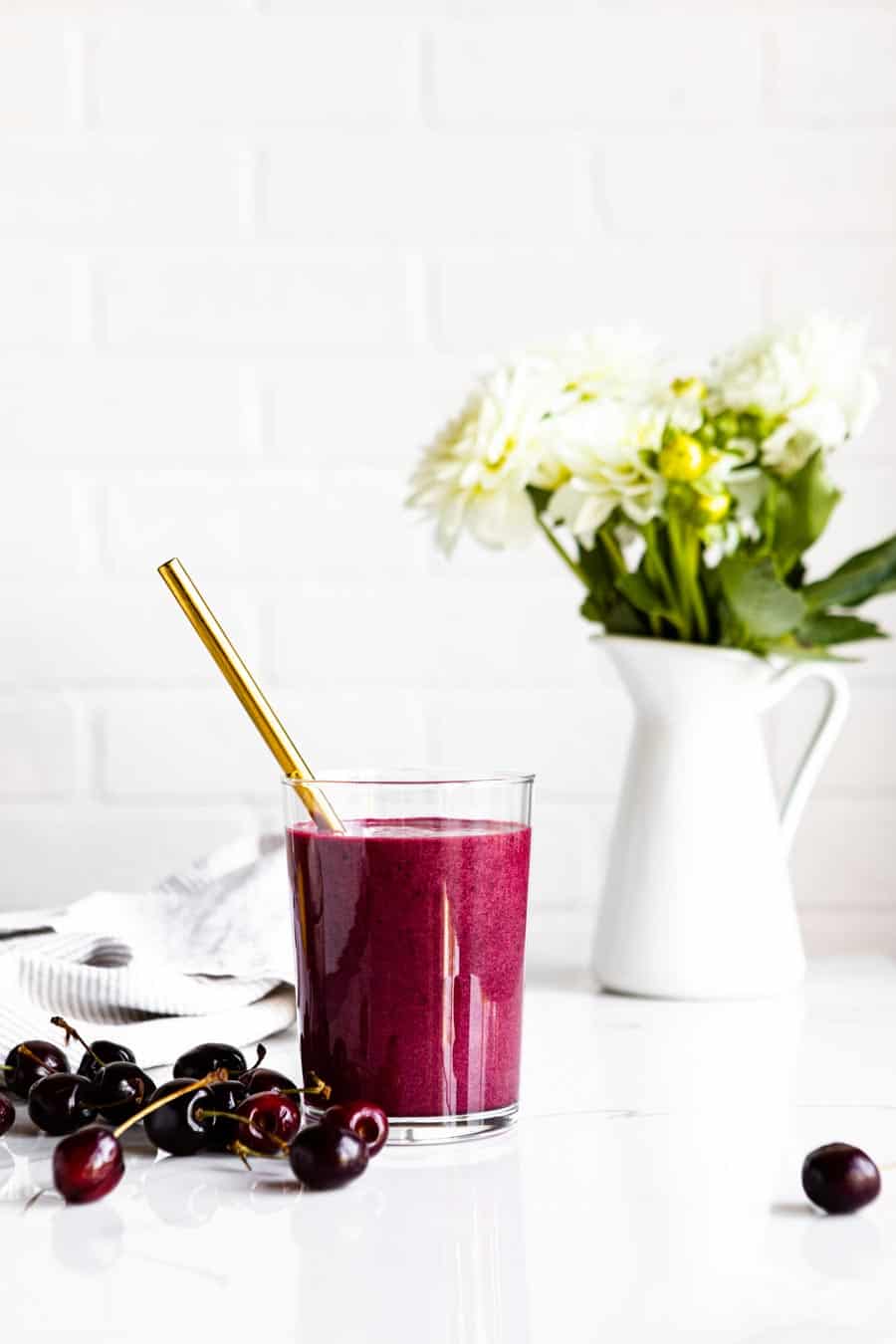 Table of Contents
How to Blend a Collagen Smoothie
Now you may have paused when I mentioned beets, but stick with me. Beets can help control blood pressure, help increase brain function, and contain inflammation fighting nutrients. To make it easy on myself, I use Love Beets brand cooked beets found at my local Costco. This means no cutting or staining of my kitchen! This is how I blend up a collagen smoothie:
Blend beets and water until smooth. If you are using a high powered blender, then raw beets are fine.
Add the remaining ingredients and blend until smooth.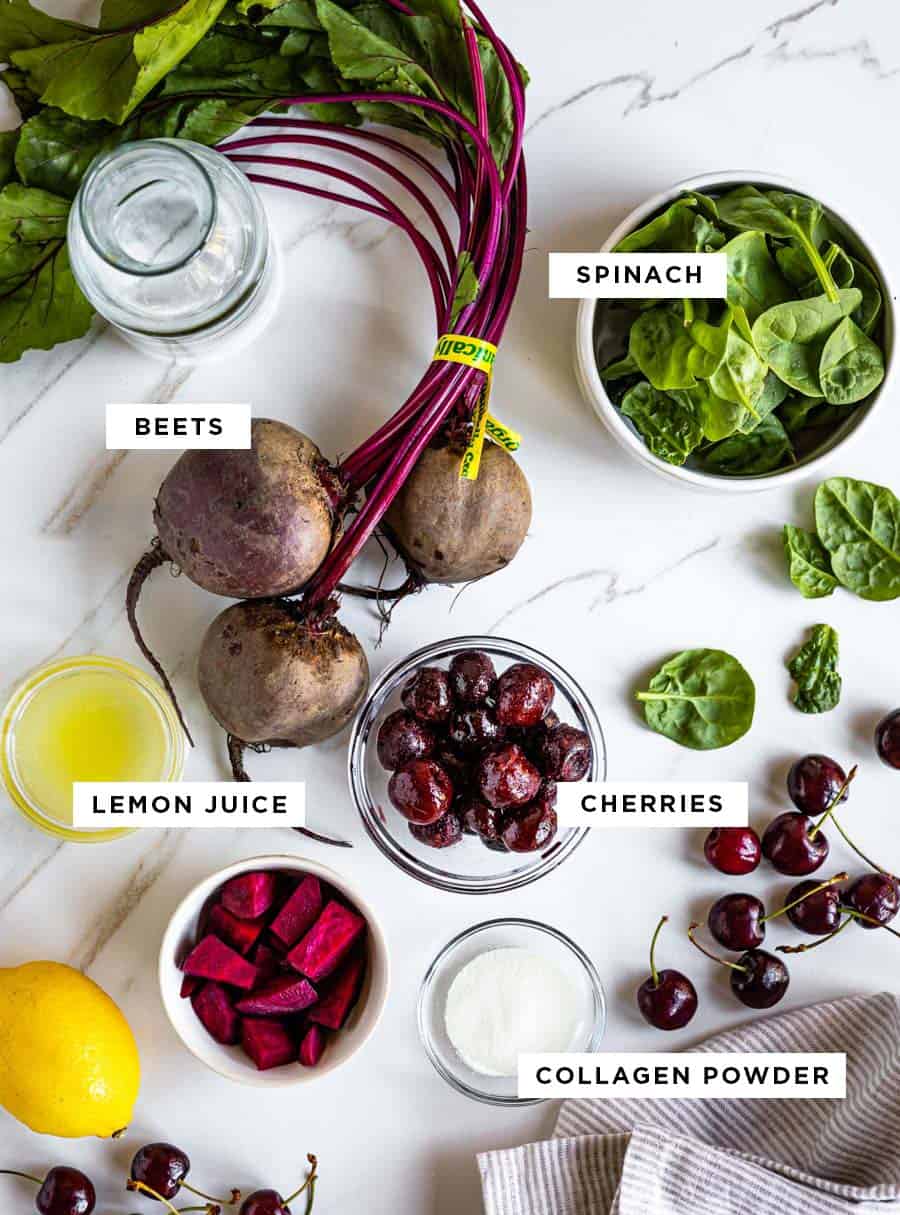 If you don't have a high powered blender, you may want to blend the beets + water, then add the spinach and blend again before adding the remaining ingredients. This gives the spinach extra time to break down.
Need a little extra sweetness in this smoothie? Not a problem, just add in a touch of maple syrup.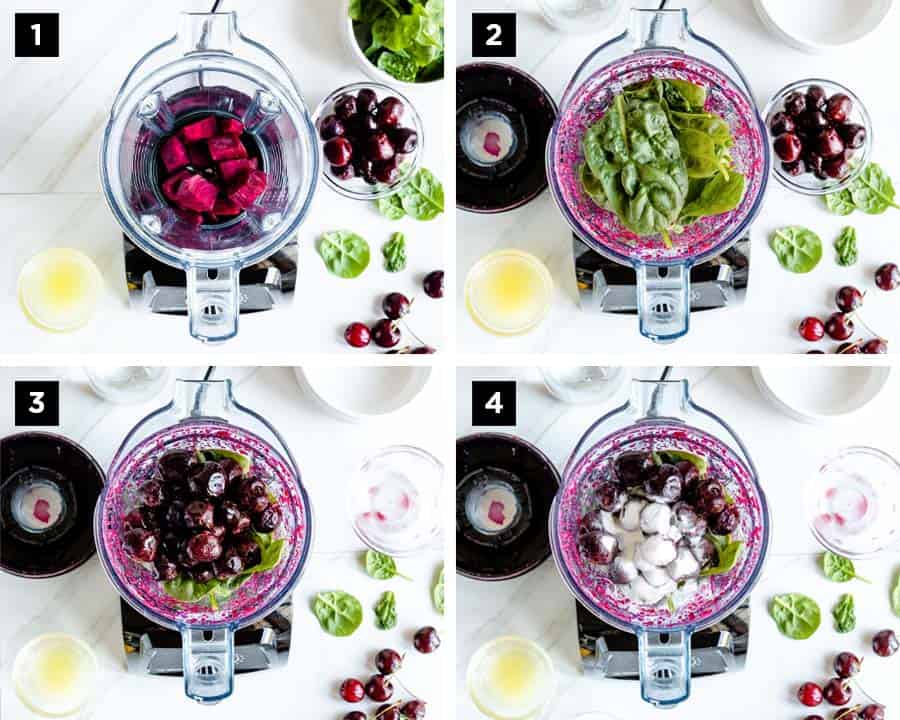 Why Add Collagen to a Smoothie?
Collagen powder is not vegan, so if you want a vegan smoothie then swap this ingredient with a vegan protein powder. Collagen is a protein that your body uses to build bones, muscles, ligaments, tendons… some pretty important body parts. Studies have shown that women who took a collagen supplement showed improvement in skin elasticity and hydration.
Not all collagen powder is created equal, and I've noticed that some brands do nothing for me while other brands help improve the shininess of my hair, the strength of my nails, and the lines around my eyes.
My friend Naomi created a collagen powder specifically for these areas, and that's what I used in my collagen smoothie recipe. Naomi's Collagen Peptides Powder uses hyaluronic acid and vitamin C (helpful in the body's absorption of collagen) to naturally help the body restore nails, hair and skin. A little goes a long way with her powder, so you only need 1 small scoop in a smoothie, food recipe or other beverage per day to see results.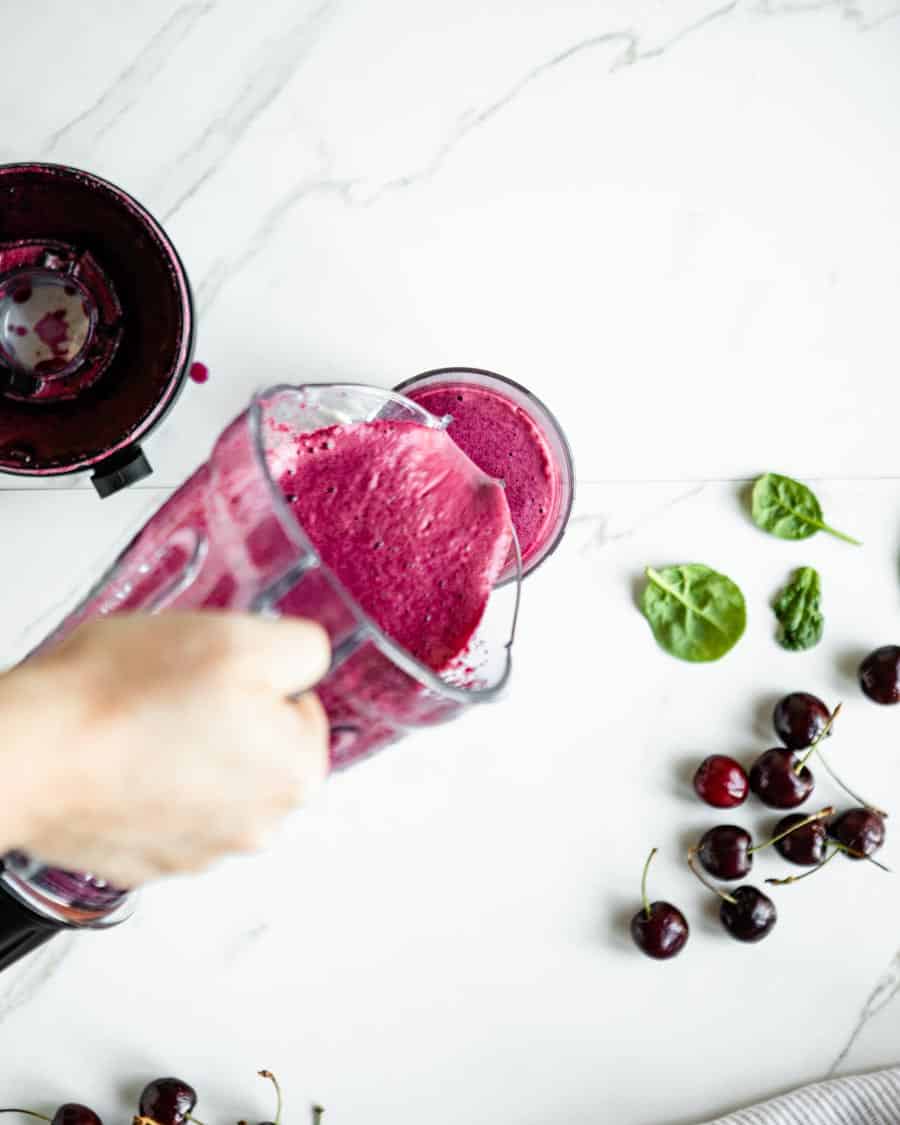 Collagen Smoothie FAQs
What does collagen do in smoothies?
Collagen is a smoothie booster (just like protein powder or super foods). Beauty collagen peptides like Naomi's are used help keep your hair, skin and nails healthy. Other kinds of collagen can be protein boosters, healthy fat boosters, and more.
Does collagen powder thicken smoothies?
Yes— collagen typically thickens a smoothie as well as makes it a bit frothy. It will change the texture of your smoothie, so you may want to start with a partial serving of collagen powder, then build up to a full serving if you are sensitive to textures. Collagen can also stick to the blender blades, so make sure it isn't the first ingredient added to the blender.
Is collagen a meal replacement?
It can be. Look for a collagen powder with a good amount of protein in it if you want a meal replacement smoothie. Different kinds of collagen are used for different results, so make sure the brand you buy fits with the results you want.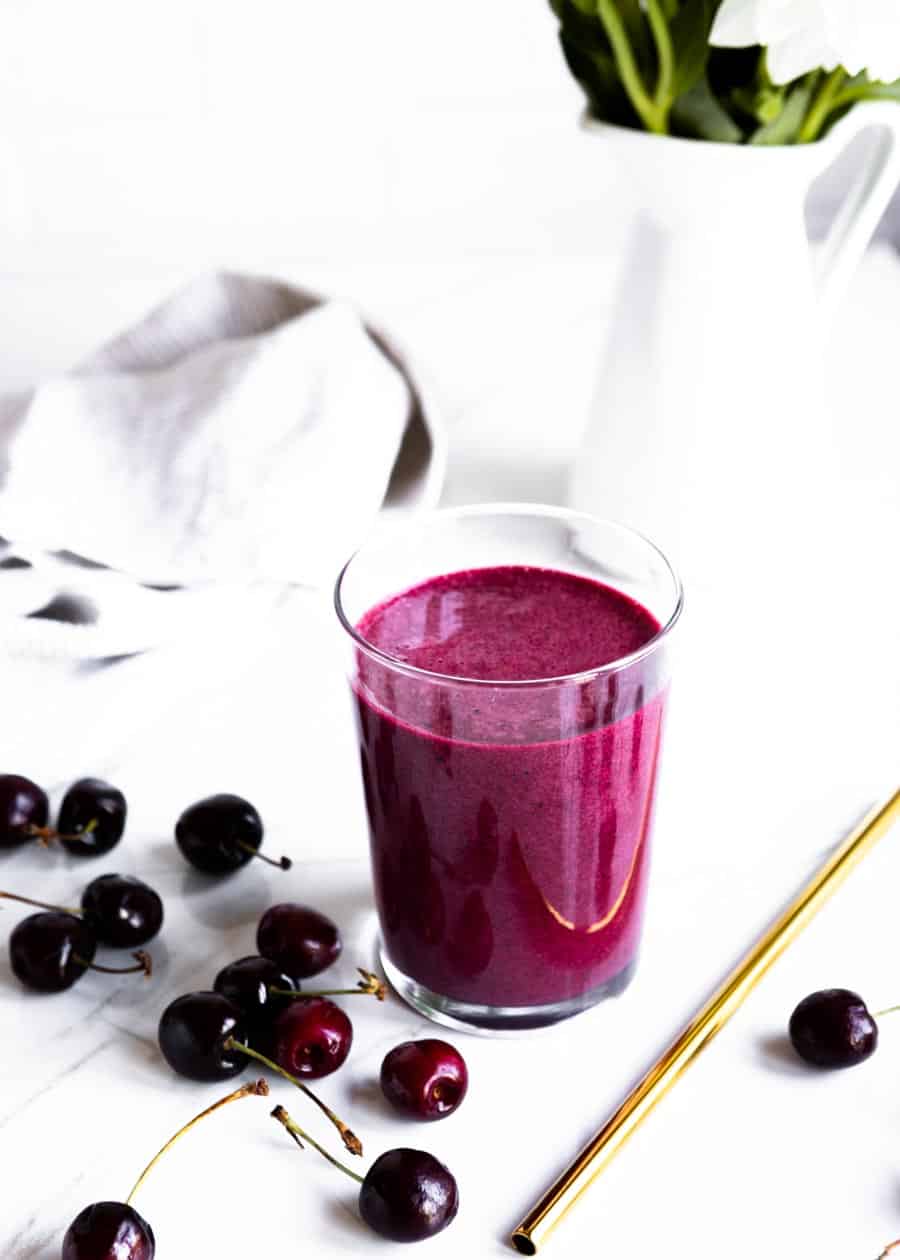 More Natural Beauty Recipes
If you want more natural recipes to eat and use, then I've got some fun ones to try:
Don't forget to try this collagen smoothie then leave a rating + comment to let me know how you liked it!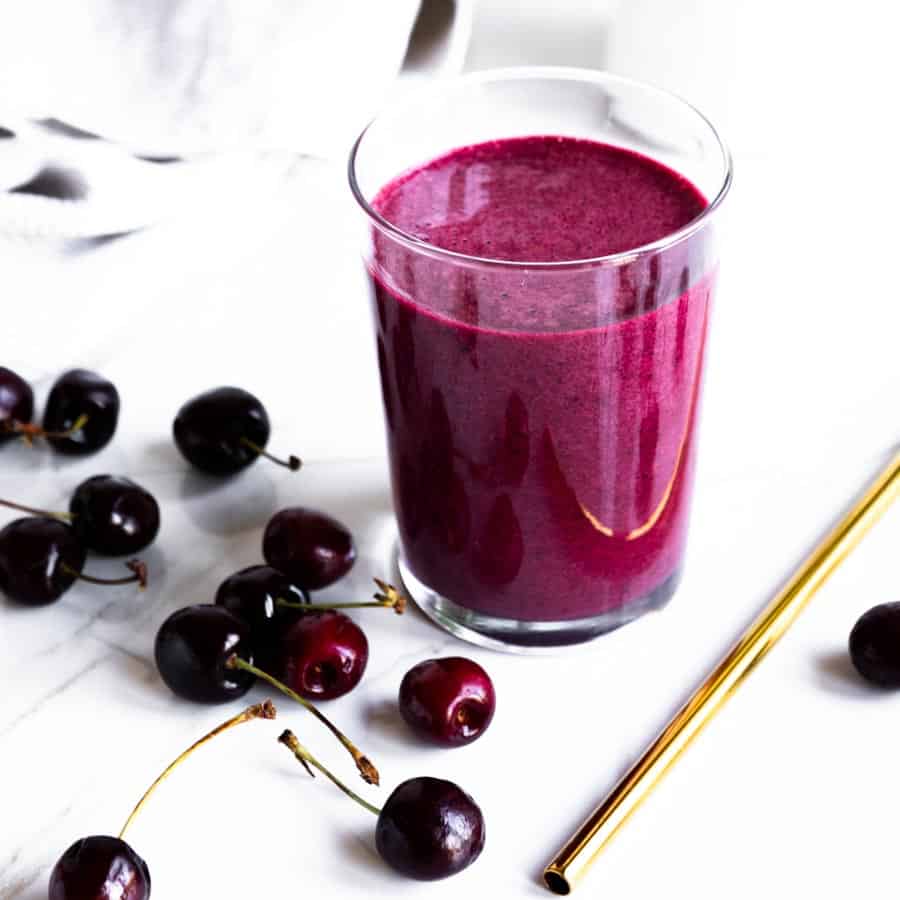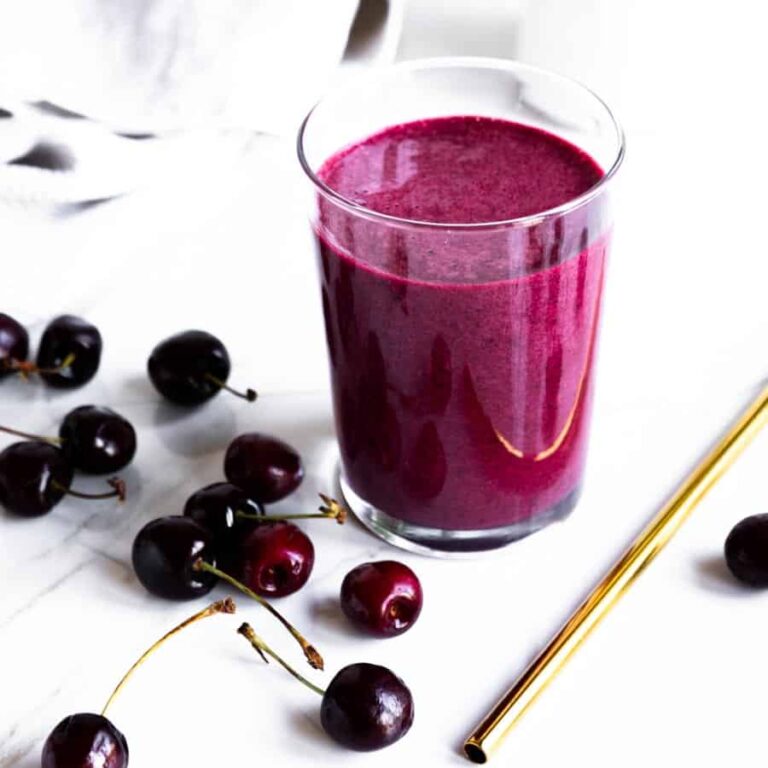 Cherry Collagen Smoothie
If you need a gorgeous beverage to go with your next beauty treatment night, then try this cherry collagen smoothie. Boosted with a beauty collagen powder, this smoothie will help smooth skin, strengthen nails, and help you glow.
Ingredients
¾

cup

water

¼

cup

beets

peeled and diced, raw or cooked

1

cup

spinach

fresh

¾

cup

cherries

frozen, pitted

1

scoop

collagen powder

1

tbsp

lemon

juice
Instructions
Place water and beets into blender jar. Blend until smooth.

Add remaining ingredients and blend again until smooth.

Pour into a glass and enjoy!
Notes
Beets stain, so make sure you have a cutting board (not wooden) down when cutting them, and don't be alarmed if your hands turn pink.
You can use pink or yellow beets for this smoothie, just know the color will change to brown if you use yellow beets.
Frozen cherries give the smoothie a refreshing temp, yet you can use fresh if that's what you have. 
Feel free to use the collagen powder of your choice, and adjust the amount based on which one you choose.
Nutrition
Calories:
94
kcal
,
Carbohydrates:
22
g
,
Protein:
3
g
,
Fat:
1
g
,
Saturated Fat:
1
g
,
Polyunsaturated Fat:
1
g
,
Monounsaturated Fat:
1
g
,
Sodium:
62
mg
,
Potassium:
523
mg
,
Fiber:
4
g
,
Sugar:
16
g
,
Vitamin A:
2891
IU
,
Vitamin C:
23
mg
,
Calcium:
55
mg
,
Iron:
1
mg