Whip up this chocolate banana smoothie as a great pre workout energy booster. It's got protein + natural energy to fuel your day to the workout and beyond.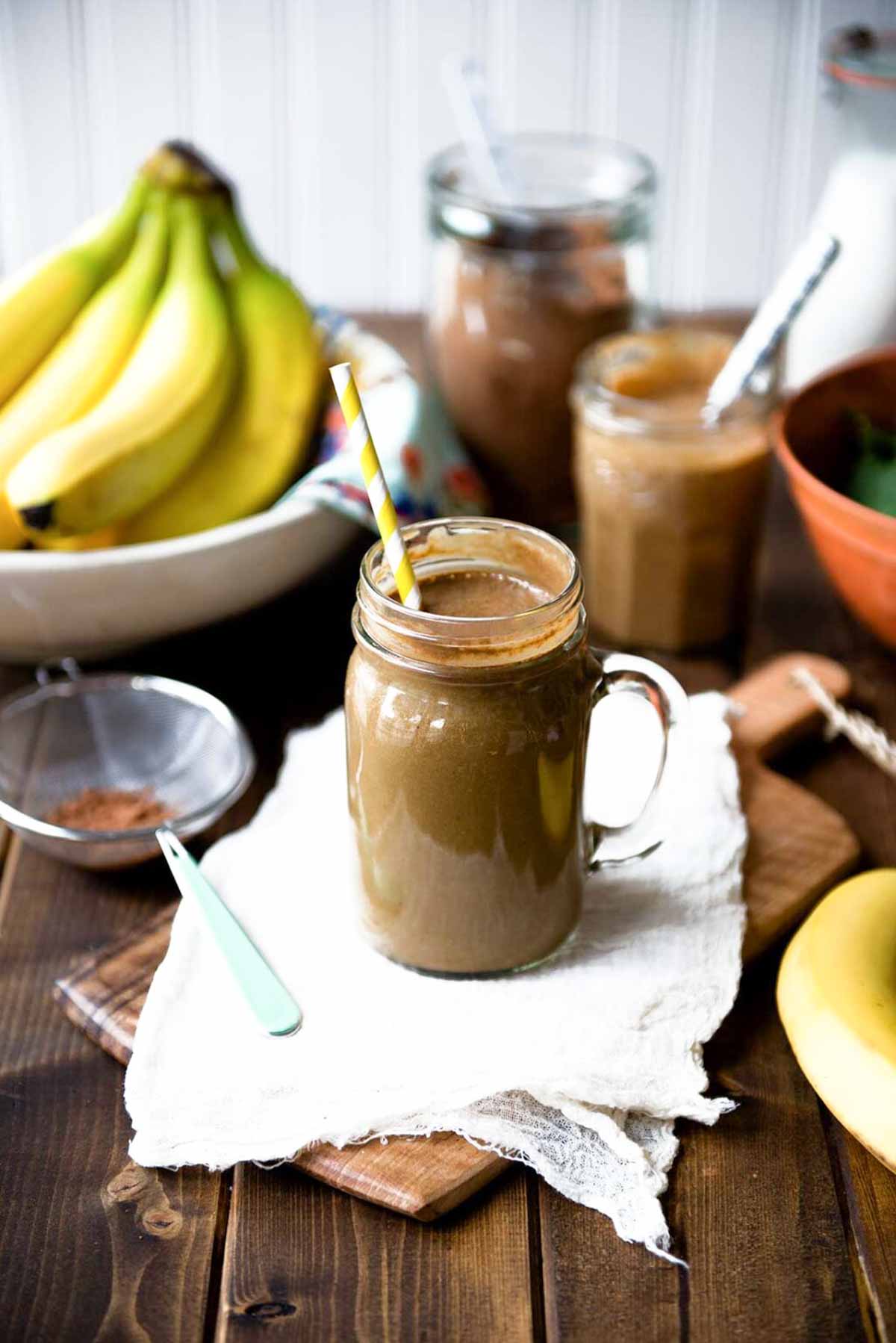 I'm always on the lookout for quick + simple snacks before and after a workout. I don't have time to spend hours in the kitchen prepping complex meals after a long run! That's where this chocolate banana smoothie recipe comes in.
It's super simple, as well as quick to make. It is 100% plant based, and will fuel me with the protein boost I need for a great run or gym session. A chocolate banana protein shake is going to empower your body with the right ingredients to maximize your activity–whether that's a gym, a mountain hike, or swim.
Table of Contents
Almond Butter in Smoothies
Almond butter is quite possibly my favorite nut butter. I use it all the time, from strawberry vegan muffins for breakfast to sweet potato noodles for dinner, and everything in between.
I use both roasted and raw almond butter. The roasted version has a stronger almond flavor. Raw has a milder flavor. Either work in this chocolate banana smoothie recipe. My favorite brand is Barney Butter which uses almonds from my home state of California, or I also make homemade nut butter when I have the time.
Nuts in general are loaded with healthy fats, protein, vitamins, and minerals. Adding some almond butter to my smoothie gives me all of those plus it's extra satisfying, and can even be used as a meal replacement. Don't be afraid to add in an extra scoop or two if you're really hungry!
Another plant protein option
You can also boost the protein in your smoothie by using homemade protein powder. One serving adds 10 grams of protein! I created this protein powder because I wasn't happy with the 'clean' options on the market.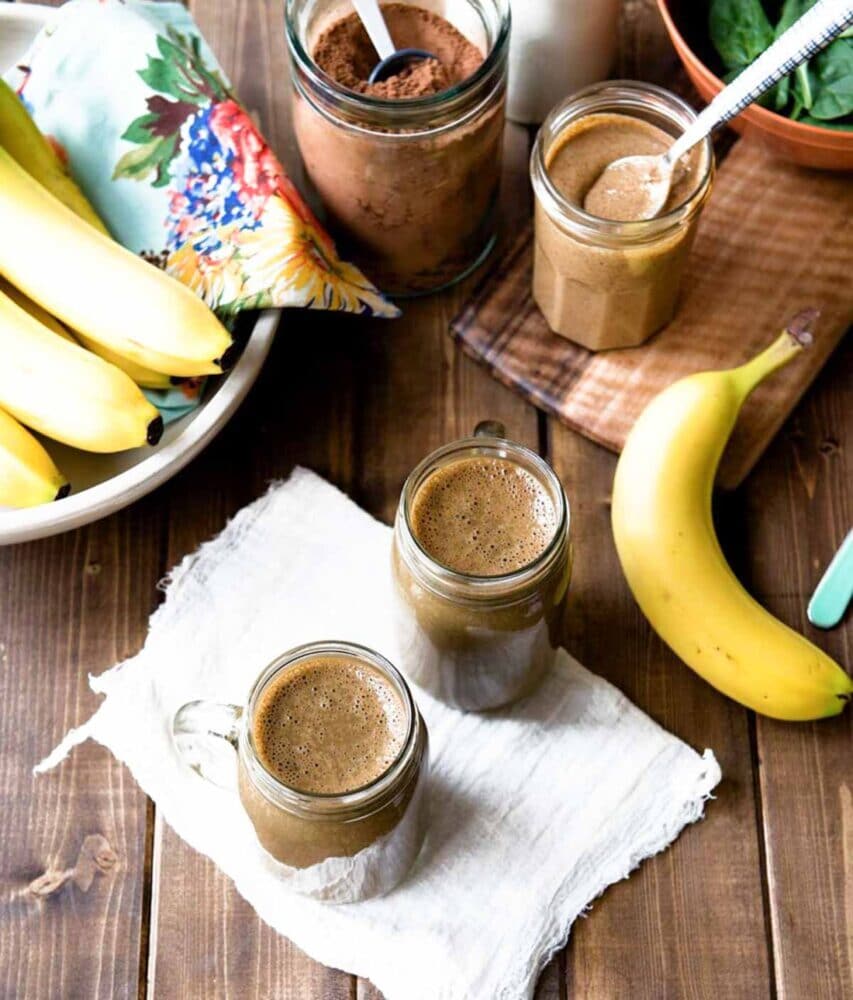 Can a Smoothie be Dessert?!
1000% yes! On my site and in my books + ebooks, I have a bunch of dessert smoothies.
While I am not against having dessert-dessert, I sure love blending up a smoothie that tastes like a milkshake. Spinach in a dessert??? Yup. And I happily sip away knowing I'm ticking off all the boxes when it comes to a healthy, wholesome, satisfying dessert. This chocolate banana smoothie really does taste like a milkshake! Here are some more of my fave dessert-like smoothies:
While smoothies can totally taste fresh + healthy, they can also be perfectly satisfying for that sweet tooth. Yum!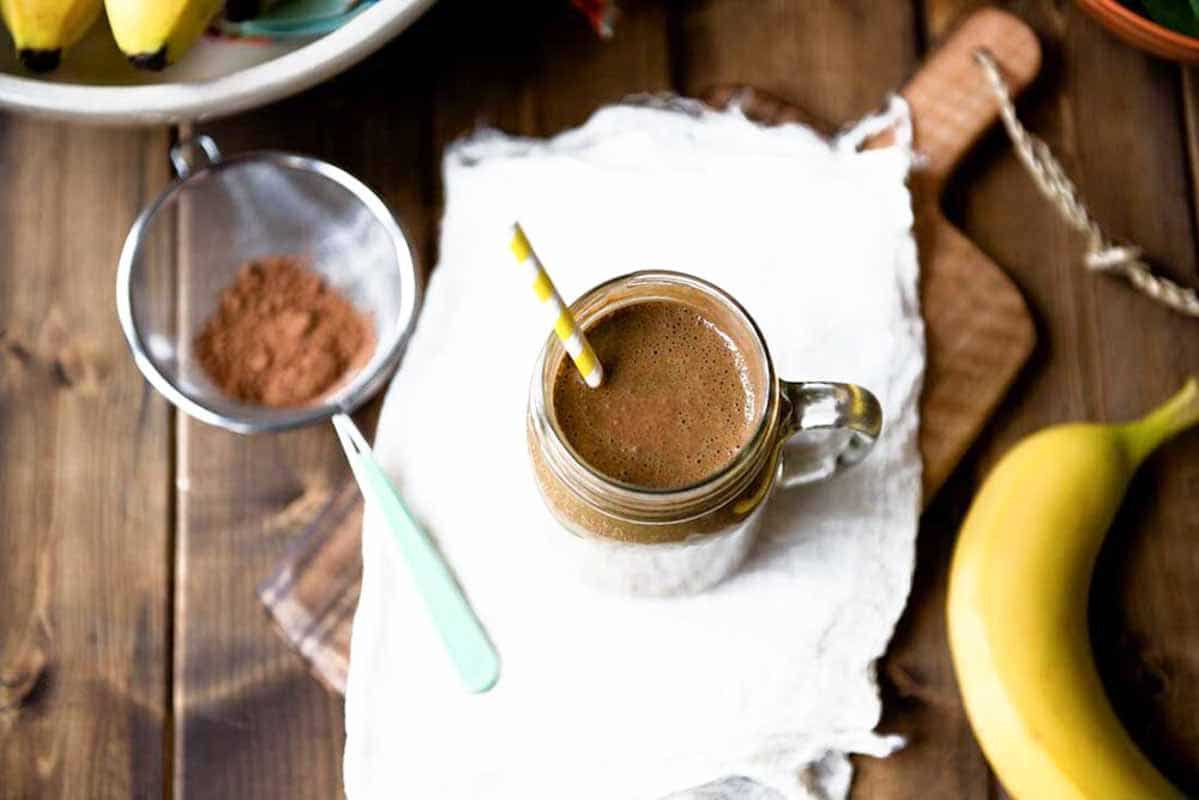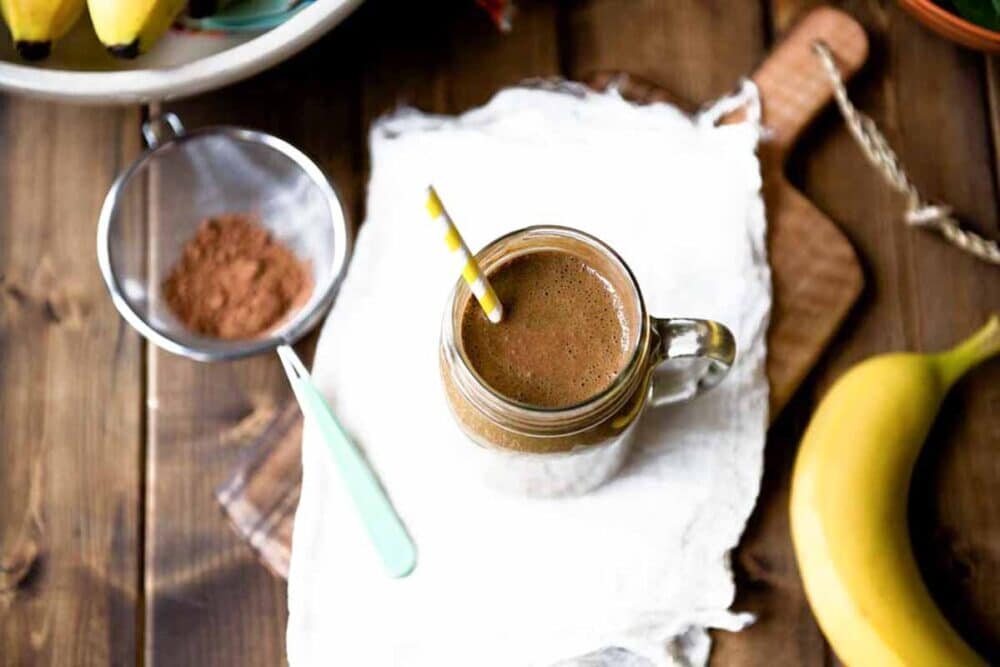 How to make a Chocolate Banana Smoothie
There's so many ways to do a chocolate shake like this, but I'm gonna show you the healthiest and tastiest. It's been my fave for awhile now, so I have a feeling I'm gonna get you hooked on it too.
Pro tips: use frozen bananas to up the creaminess + chill in this drink. If you want to keep the sugar down, then only use half the bananas. If you don't have a high powered blender, then no worries! Just be sure to blend the spinach + liquid first. Once there are no leafy chunks, then add the remaining ingredients. That ensures the smoothest smoothie possible.
Smoothie ingredient swaps
Smoothies are perfect ingredient swap recipes. If you're out of almond milk, then swap with oat or cashew milk. Any nut butter can be used in place of almond butter; just pick one with a simple ingredient list (nut butters don't need extra oil + preservatives, just the nuts and maybe some salt!). If cacao powder is hard to find, then swap out for 100% cocoa powder. Need a little extra sweetness? A bit of maple syrup turns this into an incredible dessert.
Now ready, set, blend! Then leave a rating + comment with how your chocolate banana smoothie turned out.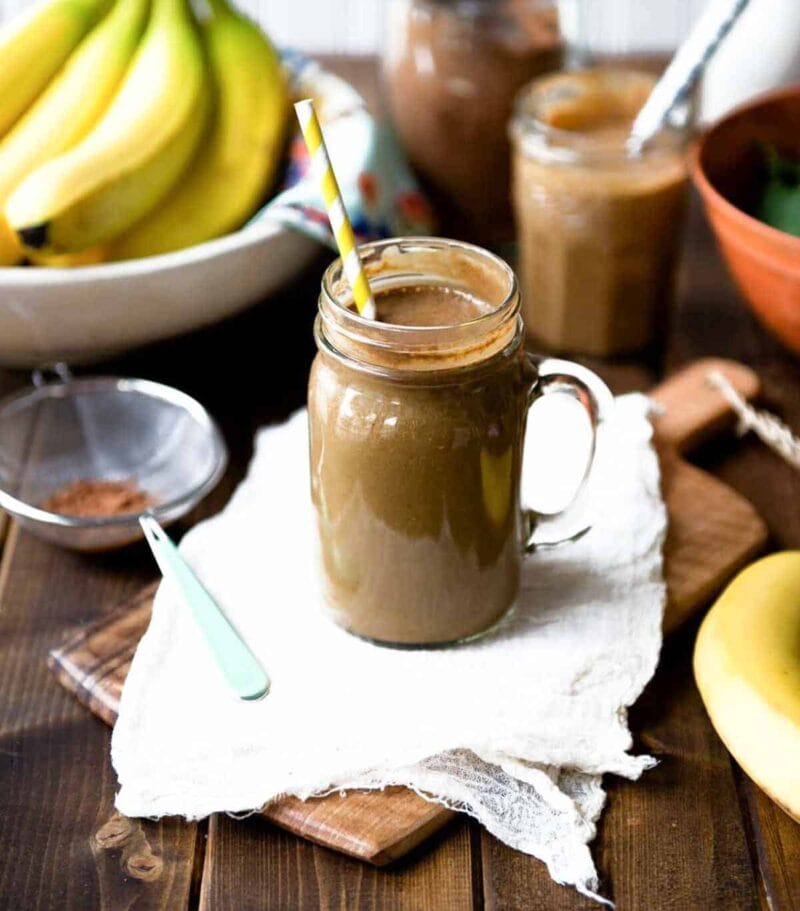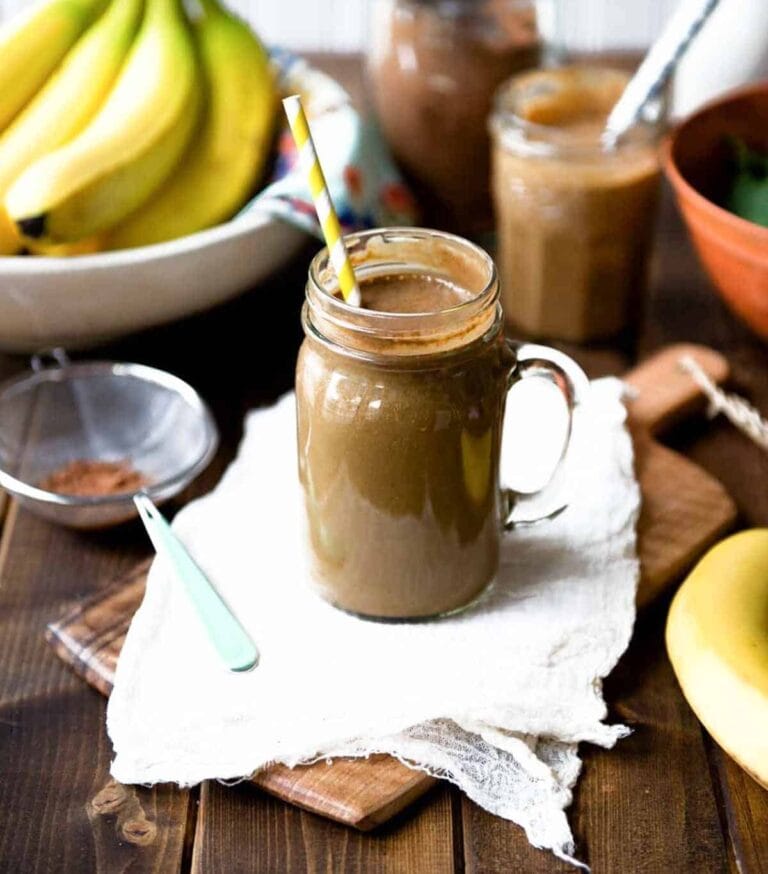 Chocolate Banana Smoothie
This chocolate banana smoothie is based on a classic ice cream flavor. Yet I've upgraded this smoothie for maximum flavor and nutrients. It's like drinking a dessert! Almond butter adds a boost of protein while cacao powder adds in powerful antioxidants. 
Instructions
Blend spinach and almond milk in blender until smooth.

Add bananas, homemade protein powder, and cacao, and blend again.

Pour into a cup and enjoy.
Notes
Use frozen bananas to make smoothie cold.
You can swap homemade protein powder for 2 tbs almond butter or protein powder of your choice.
Swap the almond milk with the dairy-free milk of your choice.
Swap the spinach with any leafy greens.
Nutrition
Calories:
381
kcal
,
Carbohydrates:
70
g
,
Protein:
17
g
,
Fat:
9
g
,
Saturated Fat:
1
g
,
Polyunsaturated Fat:
2
g
,
Monounsaturated Fat:
2
g
,
Sodium:
353
mg
,
Potassium:
1407
mg
,
Fiber:
18
g
,
Sugar:
30
g
,
Vitamin A:
2964
IU
,
Vitamin C:
29
mg
,
Calcium:
415
mg
,
Iron:
8
mg