Peach, orange and coconut milk are the start to a great day. Combine these with spinach, & you've got a flavorful, coconut milk smoothie.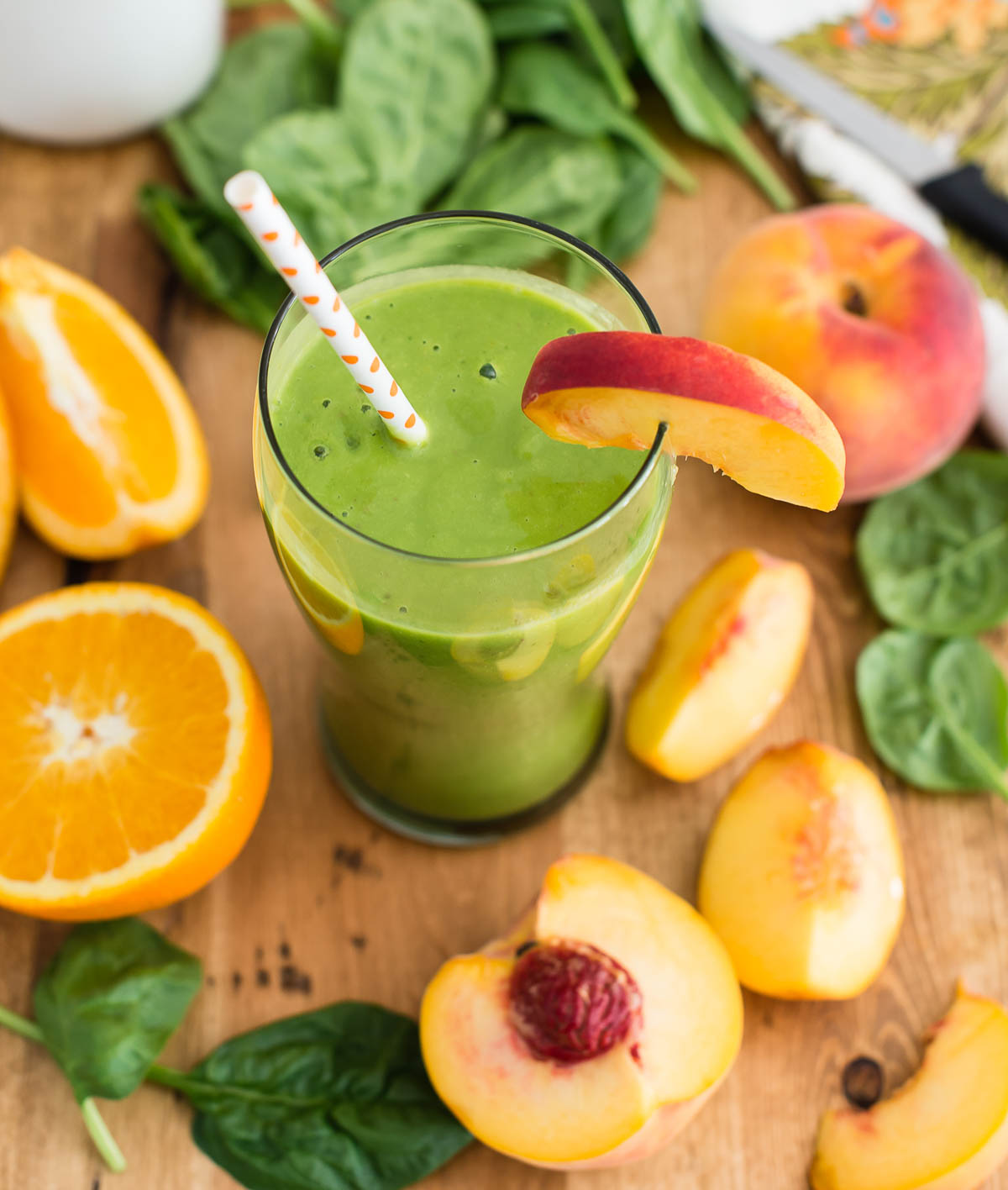 Peaches have such a short growing season, so I try to squeeze in as many peachy delights as I can during the summer months. This coconut milk smoothie sips like a creamy milkshake and yet energizes your body with all real, plant-based ingredients. Try my coconut milk smoothie recipe for the ultimate refreshing summer beverage.
Coconut milk and peaches pair for a peaches n' cream-like flavor. It's quite the summer treat!
Table of Contents
Coconut Milk Smoothie Ingredients
This yummy smoothie only has four ingredients! Super easy to blend and enjoy: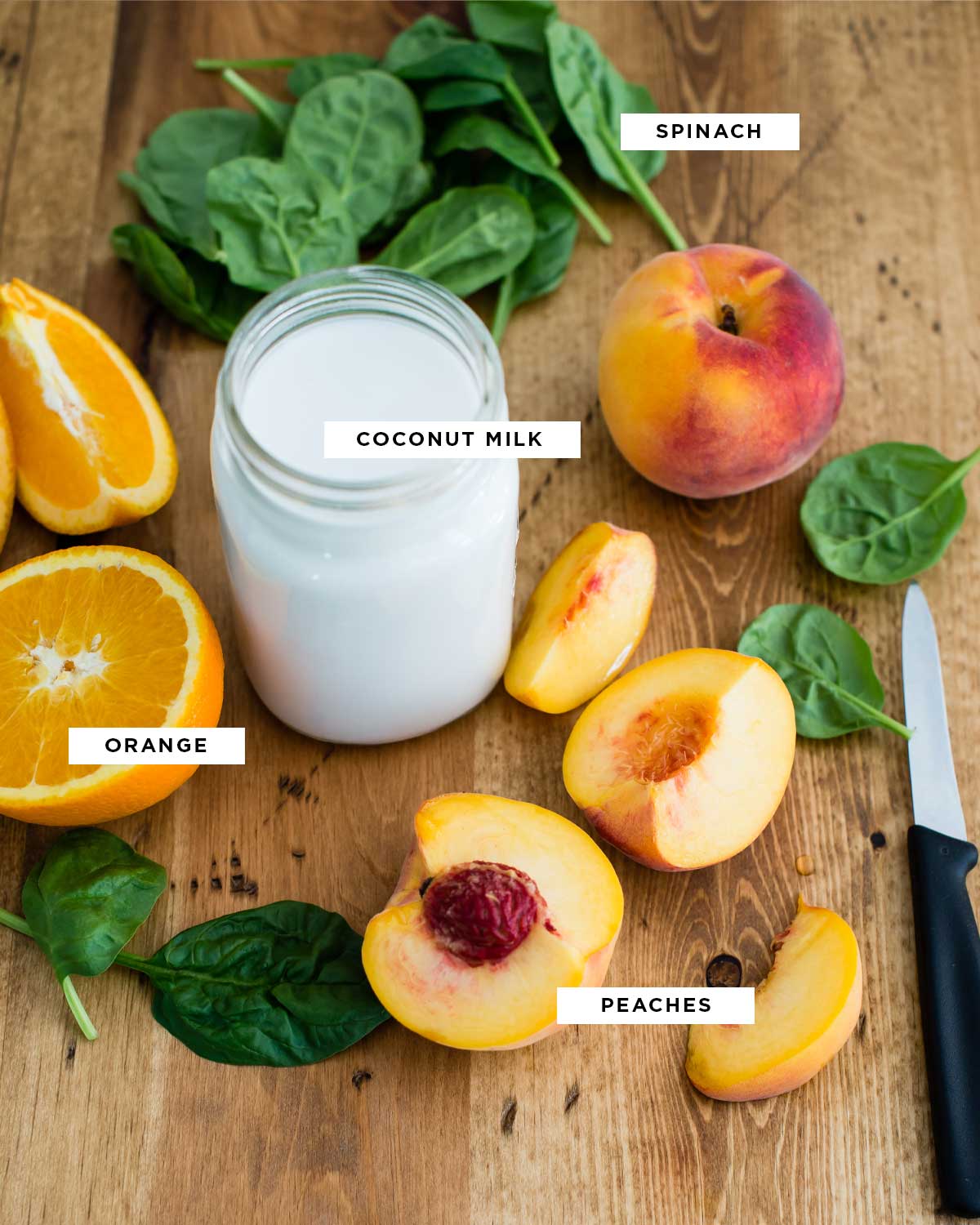 Spinach: A powerhouse leafy green that provides all the nutrients without the 'green' aftertaste.
Coconut Milk: This rich and creamy dairy-free milk provides healthy fat to help your body process the natural fruit sugars. Choose carton or can, it's up to you!
Peaches: The highlight of this smoothie is enhanced by the orange and complimented well with the creamy coconut milk. Buy fresh and freeze yourself, or buy frozen for peak ripeness.
Orange: This provides a subtle citrus note without overpowering the smoothie.
Easy Ingredient Swaps
While this coconut milk smoothie recipe only has four ingredients, you can easily swap them for what you have on hand. If peaches are hard to come by, use nectarines. They have a similar flavor and texture. You can also swap in any stone fruit (apricots are another great one).
Use the leafy greens of your choice, or start with 1/4 cup if you're new to green smoothies. If you can't use coconut milk then use oat or cashew milk to keep the cream factor.
While this smoothie is lower in natural sugar, adding a homemade protein powder with both protein and healthy fat can help your body process that sugar.
Canned vs Carton Coconut Milk
I used to specify which kind of coconut milk I used in every recipe until the Simple Green Smoothies community let me know that everyone uses a different kind! Most coconut milk recipes now leave it up to you to decide what kind you want to use.
Carton coconut milk can be found in shelf-stable cartons or in the refrigerated section. It typically has fewer ingredients than its canned cousin, as well as less fat. Meanwhile, canned coconut milk is often found in the baking or international aisle. When you open it, you'll typically find a thick layer of cream at the top and a thin liquid at the bottom.
Pro tip: Give that can a good shake before opening to thoroughly mix the cream and liquid, making it easier to pour.
Canned coconut milk almost always has some kind of thickener or preservative in it. My team tested all the canned and carton coconut milk we could find in stores to give you the best of the best (and the worst of the worst!). As always, when buying milk, check the ingredients!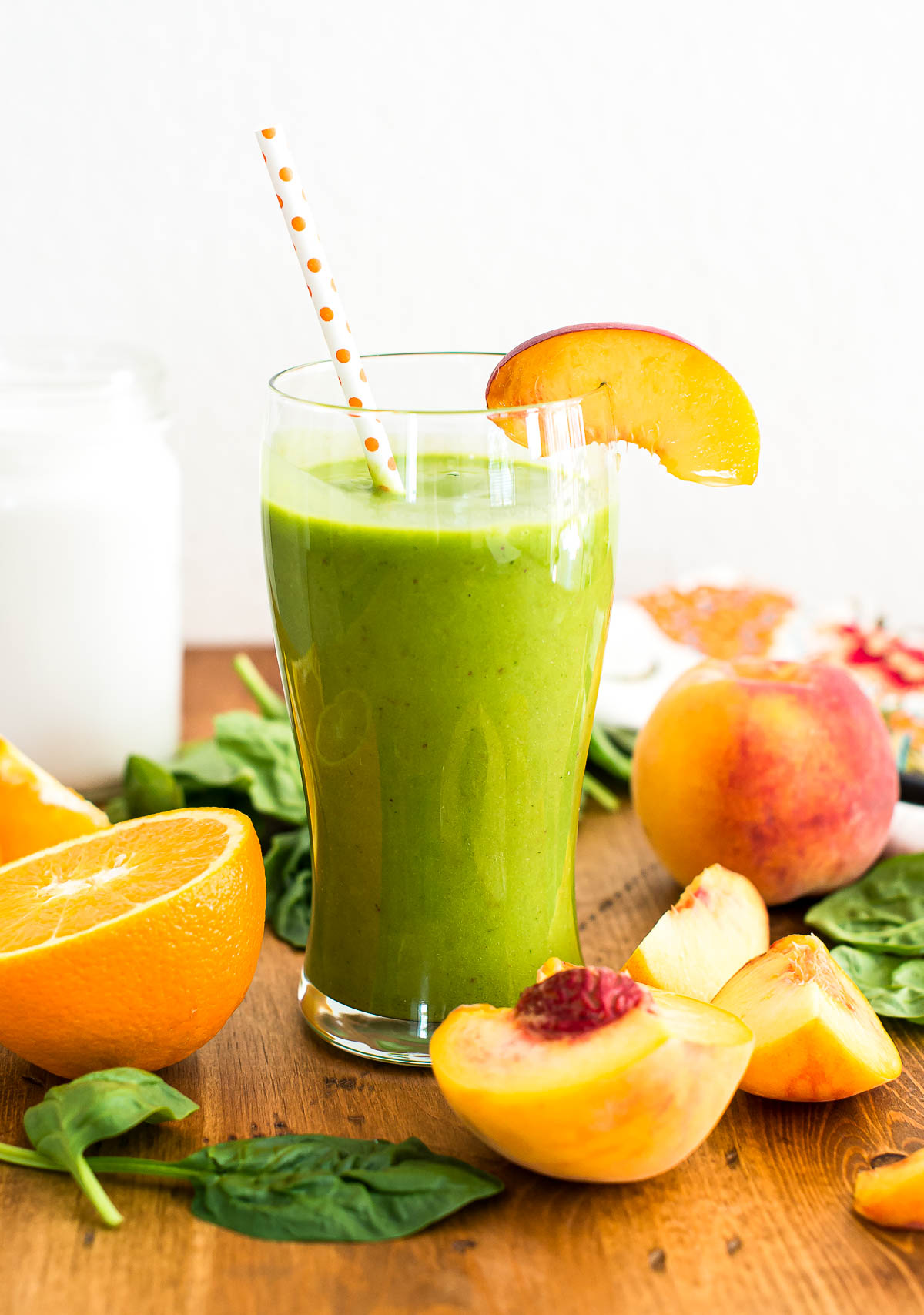 Coconut Milk Smoothie FAQs
Can I use coconut milk instead of almond milk in a smoothie?
Yes! While it alters the taste, coconut milk is a great plant milk swap in almost any smoothie. If you're using it in a smoothie that originally had a different plant milk base, carton coconut milk is the easiest 1-to-1 swap.
Is coconut milk or coconut water better in a smoothie?
It depends. If you're looking for an energy boost, coconut water is a great natural electrolyte. If you want something with healthy fat, then opt for coconut milk (canned or carton).
Does coconut milk thicken a smoothie?
Yes. Carton coconut milk is a light creamy base for a smoothie. Canned coconut milk is a super creamy base. You may need to use more than the recipe calls for if you're using it as an ingredient swap.
More Coconut Milk Beverages
Coconut milk is an easy way to turn any smoothie into a creamy, tropical dream. Whether you use canned or carton, you'll get a delicious result:
Don't forget to rate + review this recipe once you've made it; I love getting your feedback!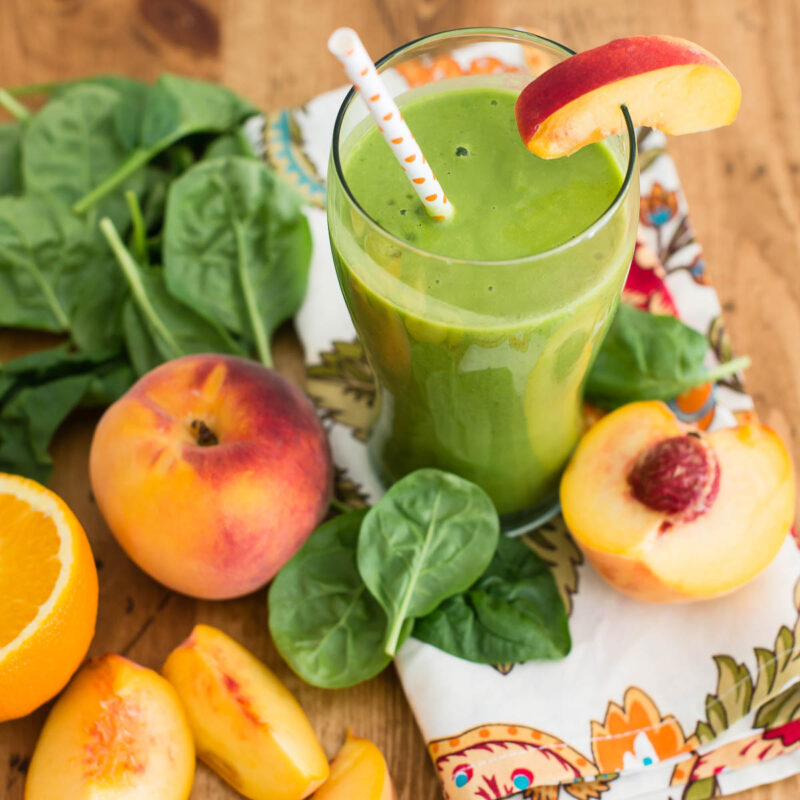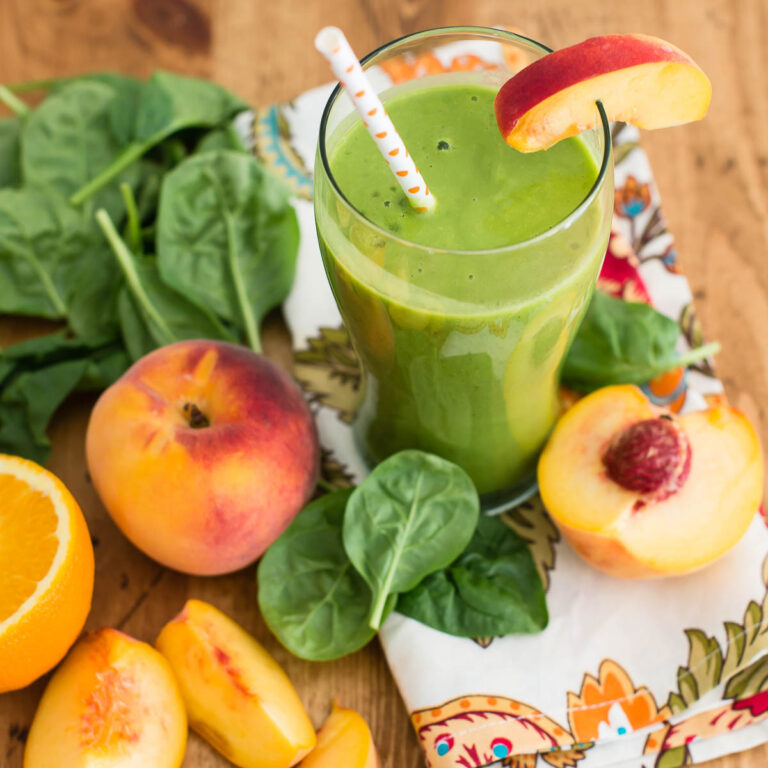 Coconut Milk Smoothie
The plant milk makes this coconut milk smoothie extra creamy and rich, almost like a milkshake. Adding an orange boosts the Vitamin C level and adds an extra sweet-tart element that helps highlight the flavor of the fresh peaches. I can honestly say that this is one of my very favorites.
Instructions
Blend spinach and coconut milk until smooth.

Add remaining ingredients, and blend until smooth.
Notes
Any variety of peaches or nectarines is fine. Other stone fruits like apricots, plums and cherries can also be used if peaches aren't available.
Use at least one frozen fruit to make a refreshingly cool smoothie.
Swap the leafy greens of your choice to replace the spinach. 
Adding a plant-based protein powder with protein and healthy fat can help lower the natural sugar in this smoothie recipe. 
Use canned coconut milk for a super creamy, milkshake-like texture. Use carton coconut milk to cut back on the healthy fat and for a thinner yet still creamy consistency. 
Nutrition
Calories:
264
kcal
,
Carbohydrates:
30
g
,
Protein:
3
g
,
Fat:
14
g
,
Saturated Fat:
13
g
,
Polyunsaturated Fat:
1
g
,
Monounsaturated Fat:
1
g
,
Sodium:
190
mg
,
Potassium:
579
mg
,
Fiber:
5
g
,
Sugar:
19
g
,
Vitamin A:
3463
IU
,
Vitamin C:
53
mg
,
Calcium:
65
mg
,
Iron:
1
mg