There's nothing better than a warm bowl of soup on a cool fall day… or so they tell me! I'm a Florida girl, so I have to pretend it's a crisp, cool night. What I don't have to pretend about is my love for this Thai Coconut Soup recipe, which is a vegan version of Tom Kha Gai. It's warm, comforting, and I like to make a big recipe and share it with my friends.
I've made this soup more times than I can count and I never get tired of it. I love it so much that I included it in my new book, Simple Green Meals. Try this soup and if you love it, then share it with your friends!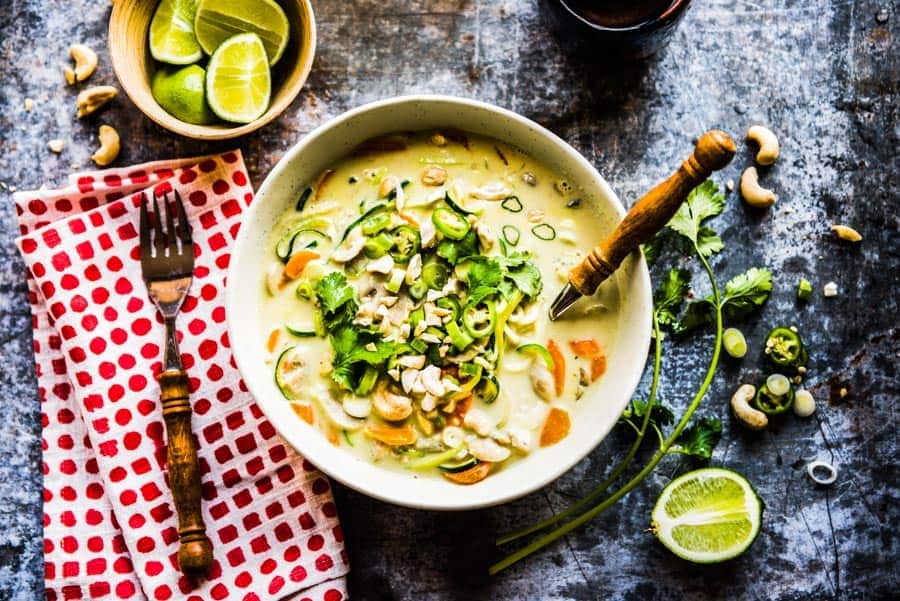 Table of Contents
How to Make Thai Coconut Soup
This is a great 1-pot meal as all the veggies cook right in the coconut milk. Because there is a bit of chopping in this recipe, I like to get that out of the way first. Chop the carrots, mushrooms, cashews, green onions and chili peppers as well as spiralize or chop the zucchini.
When heating up the coconut milk + curry paste mixture, don't heat up too quickly. I use medium low to medium heat so as not to burn the liquid.
Add the carrots and mushrooms before the zucchini, and allow them to cook 20 minutes, or until the carrots are tender. It won't take long for the zucchini to heat up and soften, so no need to keep it on the stove long (it will turn mushy).
Once the carrots are ready, then add in the zucchini and just heat for a minute or two (seriously, the zoodles don't take long!).
You can make this Tom Kha Gai soup a day ahead of time too, and allow the flavors to meld overnight. If doing this, then add the zucchini during the reheating time to keep it fresh. Once you give this thai coconut soup recipe a go, leave a rating below and tell me how it turned out! My friends and family love this soup so much, I bring it to gatherings all winter long.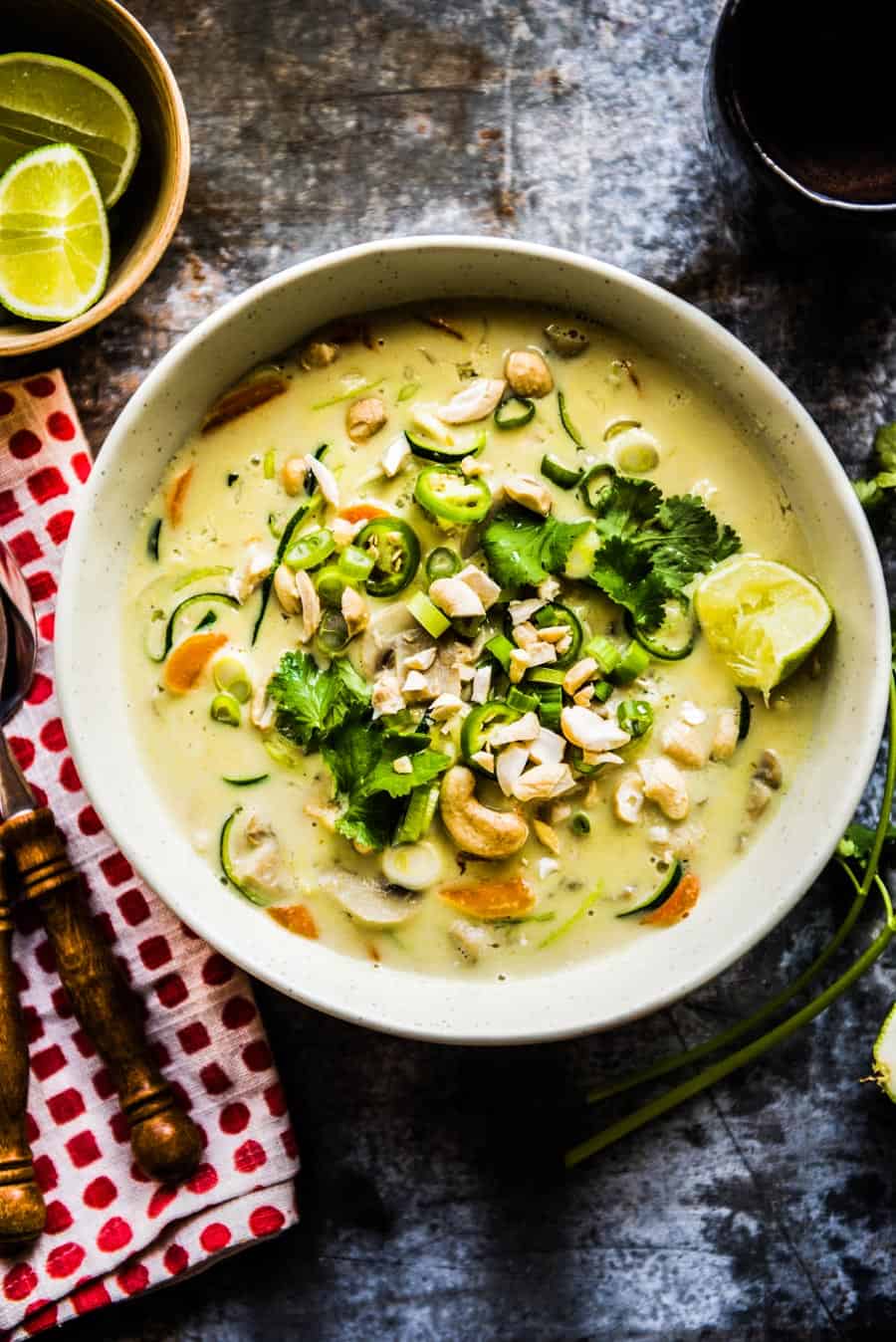 Levels of Spice in Tom Kha Gai
I love a spicy kick, so this soup has one. Yet if spice isn't your thing, then let's make this Thai coconut soup work for you. First, the curry paste adds a lot of flavor. So instead of eliminating it altogether, try to use half the amount, or even a quarter.
If you like the crunch that peppers bring, but can't handle chilis, then try first to remove the seeds (those are the hottest parts!). If it's still too spicy, swap it out for a green bell pepper. All the crunch with none of the punch… see what I did there?
If you're like me and crave a spicy soup, then go ahead and add in more curry paste! You can also top the soup with red pepper flakes.
Storage Tips
One reason I love soup is the ease of making a big batch then storing the extras for the future. Soups make quick + easy lunches or weeknight meals when you don't wanna cook.
If you plan on freezing this soup, I recommend leaving out the zucchini noodles. They are super easy to add when you're ready to reheat, and they often get slimy when frozen. I even freeze the toppings in a separate container, so they are chopped and ready to add when I pull it out again.
Make sure to store your Thai coconut soup in a freezer-safe bag or container. If using glass, leave room for it to expand. I've def had some glass mason jars burst in my freezer… and it's not a fun mess to clean up.
Buying the Right Coconut Milk
Coconut milk is confusing to buy because it comes in many different packages! For this recipe, I recommend using canned coconut milk. The carton kind doesn't contain the fat needed to make this recipe super silky creamy, which is what takes it over the top. I find the canned variety typically in the international section of the grocery store.
When choosing the right kind for you, decide if you want full fat or lite. I use full fat coconut milk in my thai coconut soup because it has the best flavor + creaminess. Then look at the ingredients. Companies like to add all kinds of crazy stuff to canned products that truly aren't necessary! Look for limited ingredients that are pronounceable.
With the growing popularity of coconut milk, many stores are stocking more and more variety, which is awesome! Even Target has their own brand now. I typically buy Thai Kitchen, Trader Joe's, or Thrive Market.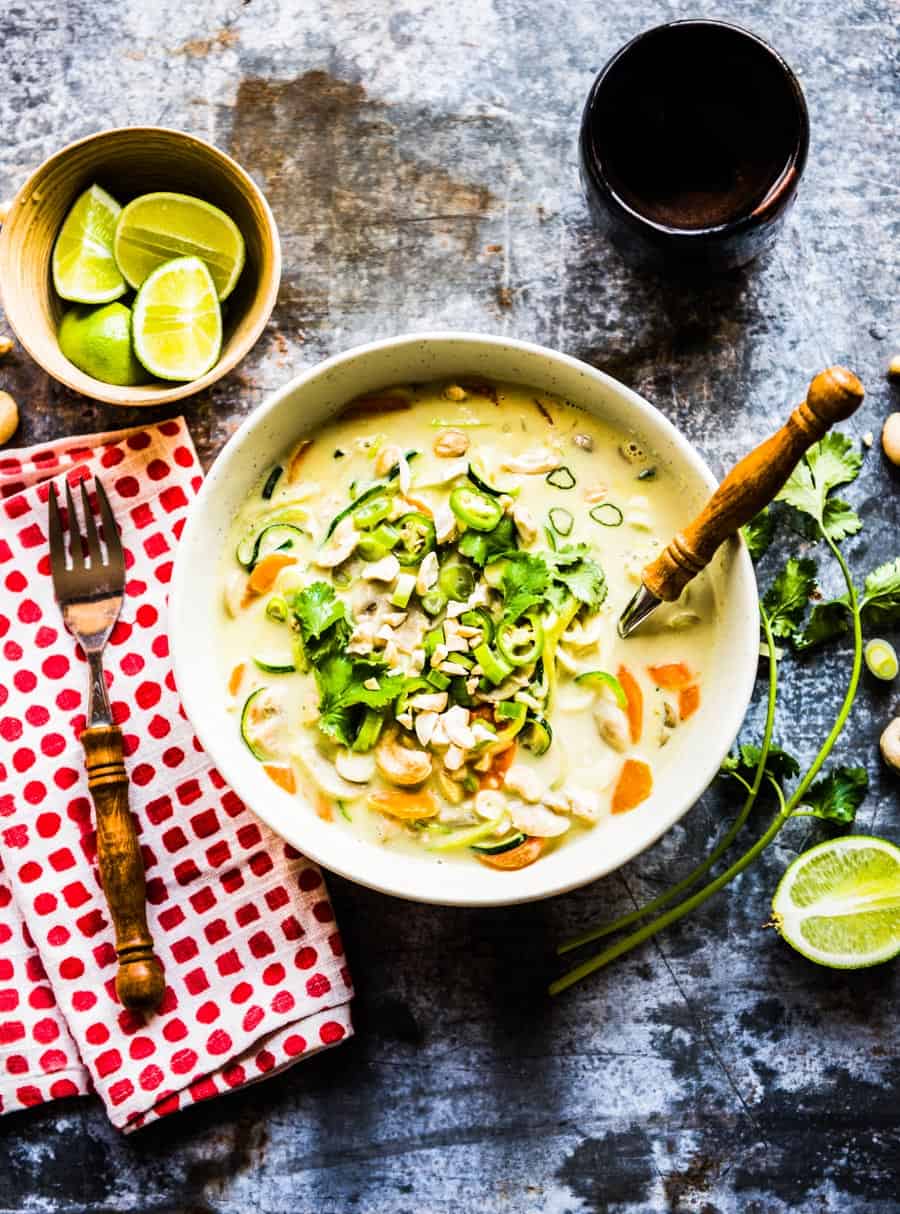 Origins of Thai Coconut Soup
If you're ordering this soup at a Thai restaurant, you'll probably see names like Tom kha kai or Tom kha gai. Note that it typically has chicken in it, while my inspired recipe below is vegetarian. It comes from northern Thailand and is traditionally served with rice. To keep my version grain free, I use spiralized zucchini, or zoodles.
Common additions include fresh ginger, lemongrass, and kaffir lime leaves. Don't hesitate to add these to your recipe; they are sure to taste amazing!
Plant-Based Recipes to Share
While you can def add cooked chicken to this recipe, it's delicious without it! People tell me how hard it is to cook vegetarian, and I get it. I like creating recipes that don't rely on meat for nutrition, then you can choose to add it or leave it out when you make it (and either is fine). Here are some of my family's fav plant based dishes:
Food shouldn't be boring, and it should be easily shared. Grab one of these recipes today and help your family try something new!
How to get your kids to try Tom Kha Gai
Two things help my kids try more foods: helping pick out ingredients and helping cook. As you can see from the video for this Thai coconut soup recipe, Clare was 100% on board to help make this soup. I chose age appropriate ways for her to help, and was okay with less than perfection in the kitchen as we cooked. This Tom Kha Gai soup has foods she traditionally shies away from… yet not when she helps make it!
I also let my kids join in when shopping for ingredients. Jackson loves trying exotic fruit and I'm all for it! He is turning into quite the chef nowadays, and my mama heart is bursting with happiness that he shares my love for good food. Plus, he makes great food and gives Ryan and me the night off cooking (win-win!).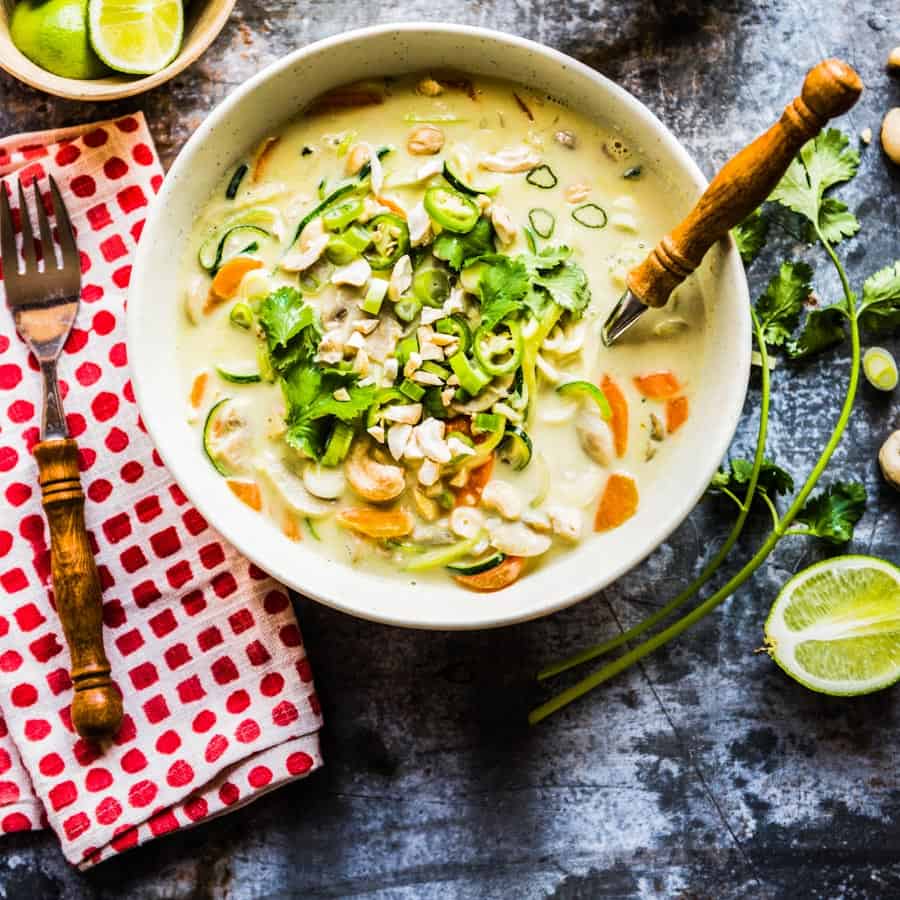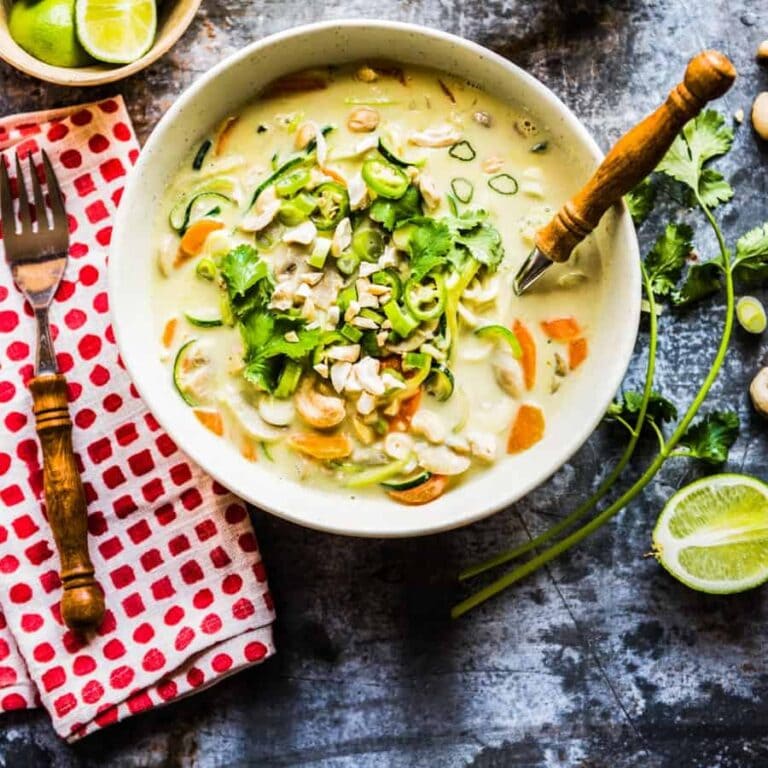 Thai Coconut Soup
This Thai Coconut Soup is one my favorite soups of all time because it's a vegan version of Tom Kha Gai. Silky smooth, flavor packed and also can be made spicy, which is my favorite.
Ingredients
7

cups

coconut milk

light or full-fat canned

¼

cup

Thai curry paste

red or green

2

tsp

maple syrup

½

tsp

sea salt

1

carrot

very thinly sliced

1

cup

baby bella mushrooms

thinly sliced

2

zucchini

spiralized
For Serving
¼

cup

raw cashews

chopped

¼

cup

green onions

chopped

1

serrano pepper

thinly sliced

1

lime

cut into wedges
Instructions
In a large saucepan, whisk together the coconut milk and curry paste.

Bring to a simmer over medium heat. Stir in the maple syrup and salt.

Add the carrots and mushrooms and simmer for 20 minutes, or until the carrots are tender.

Add the zucchini noodles. Taste and add more salt, if needed.

Ladle into serving bowls and garnish with cashews, scallions, chile pepper, and lime wedges.

Serve immediately.
Notes
If zucchini 'noodles' aren't your thing, then swap for brown rice or millet ramen
You can use a vegetable peeler to create zucchini strips if you don't have a spiralizer.
Use full fat canned coconut milk for the richest flavor, use light canned coconut milk for less fat
The nutrition facts are based on full-fat canned coconut milk. Use light canned coconut milk for fewer calories and fat.
Omit the chili pepper and halve the amount of Thai curry paste for a less spicy meal
Nutrition
Calories:
397
kcal
,
Carbohydrates:
25
g
,
Protein:
4
g
,
Fat:
28
g
,
Saturated Fat:
24
g
,
Polyunsaturated Fat:
1
g
,
Monounsaturated Fat:
2
g
,
Sodium:
605
mg
,
Potassium:
485
mg
,
Fiber:
3
g
,
Sugar:
8
g
,
Vitamin A:
5157
IU
,
Vitamin C:
26
mg
,
Calcium:
62
mg
,
Iron:
2
mg