When your sweet tooth hits, blend this cinnamon date smoothie. It's a delicious dessert without the guilt, thanks to the natural sweetness from medjool dates, protein from plant-based milk and complex carbs from the rolled oats.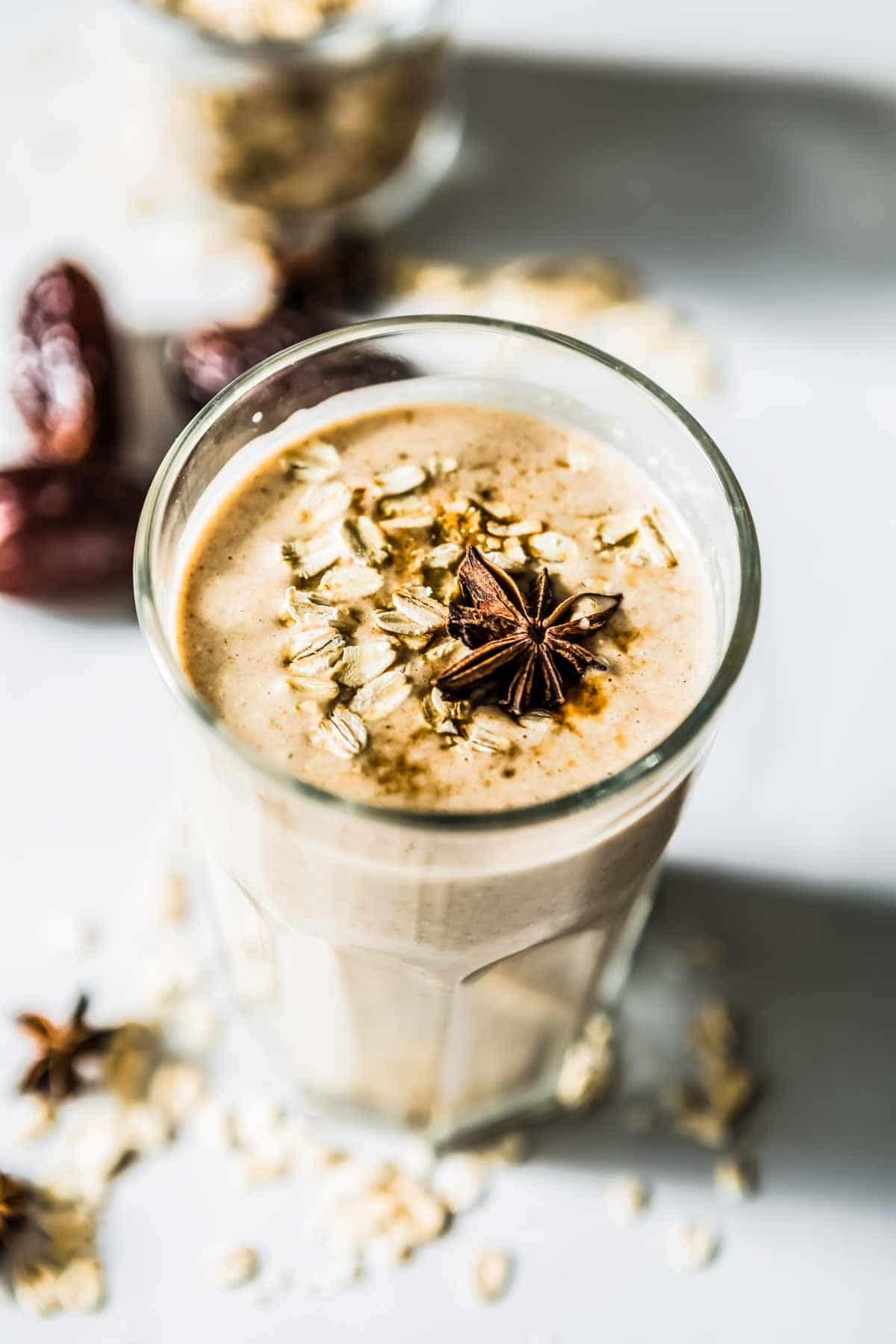 Smoothies can be a great way to enjoy something sweet, while still reaping health benefits. I use my blender to make a variety of dessert smoothies like Banana Nice Cream, Red Velvet Smoothie and Mint Chocolate Smoothie. It's amazing the delicious and nutritious treat you can create in a blender… just like this Cinnamon Date Smoothie.
Table of Contents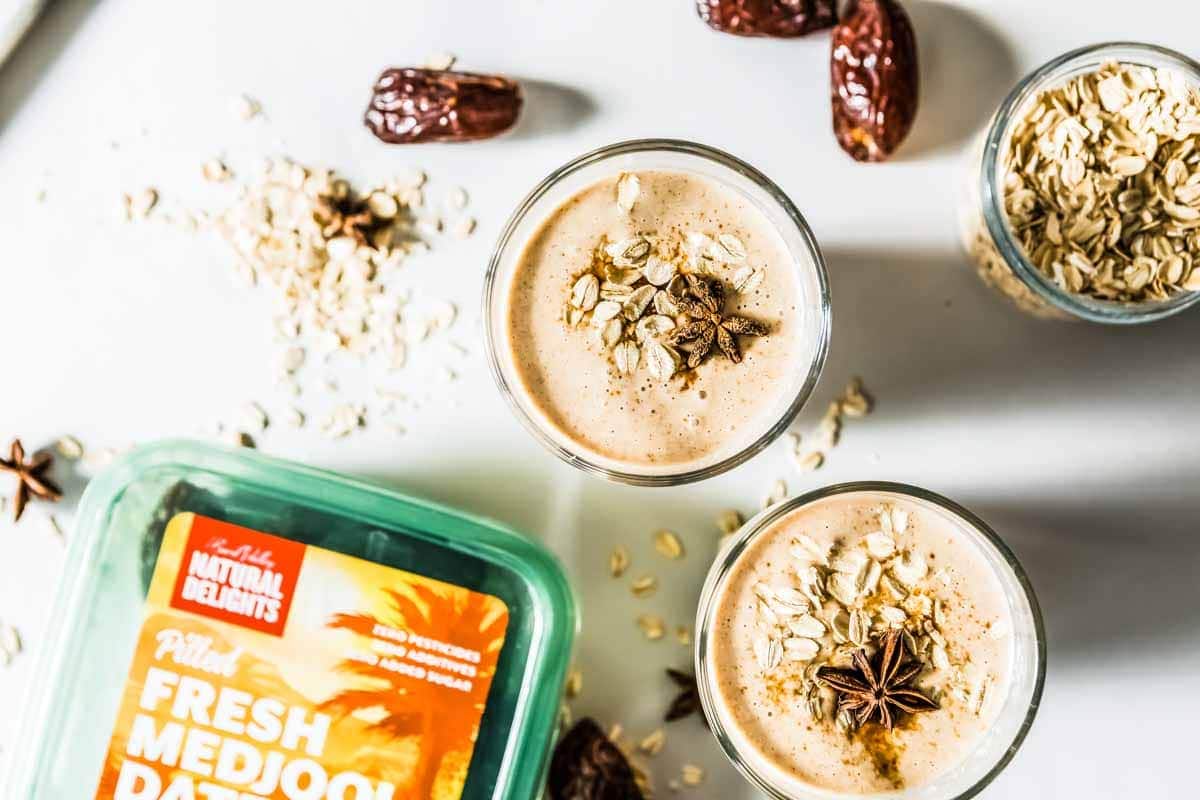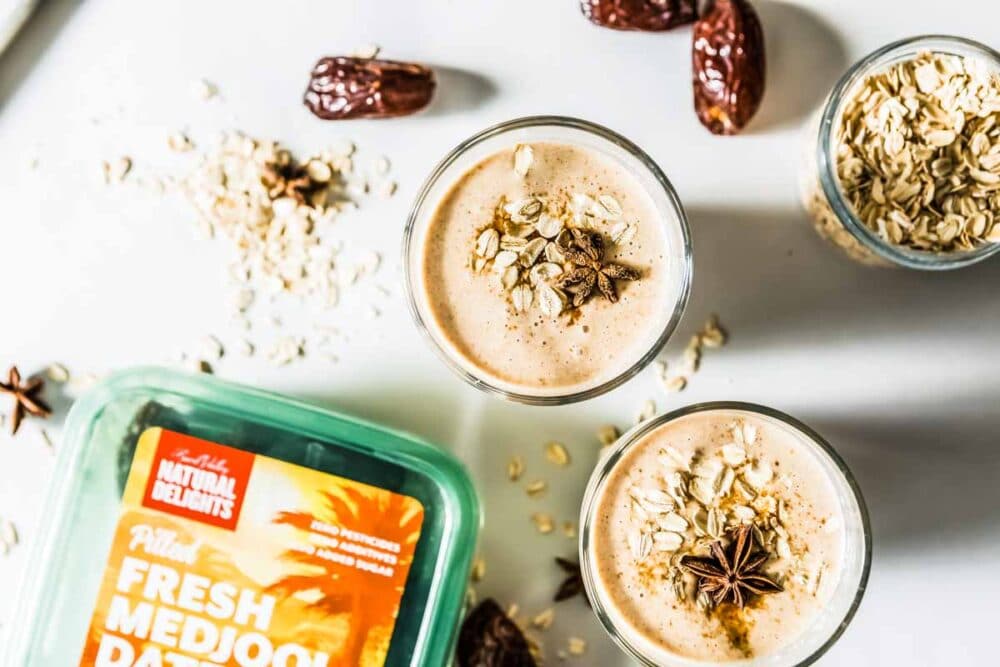 Cinnamon Date Smoothie Ingredients
Medjool dates: I'm using Natural Delights pitted Medjool Dates, which are grown in the beautiful, sun-drenched Bard Valley, grown with the help of the Lower Colorado River. Dates are a natural sweetener, bringing sweetness and nutrients to the smoothie. Fun fact: dates pack in 16 essential vitamins, minerals and disease-fighting antioxidants.
Rolled oats: Adds the fiber and whole grains to the date smoothie, which keeps you full. You can soak the oats ahead of time to remove the gritty texture of oats.
Ground cinnamon and vanilla extract: These spices make it taste like a cinnamon roll without any artificial flavors.
Non-dairy milk: I like to use oat milk or almond milk in this recipe. Read the labels to make sure they don't contain added sugars. Some brands will even be higher in protein, which is a great option.
If you don't like bananas in smoothies, try swapping one banana for 3 dates. You'll still get the natural sweetness, but instead of a banana flavor, it'll taste more like caramel. If you like both, do a little of each for an out-of-this-world treat.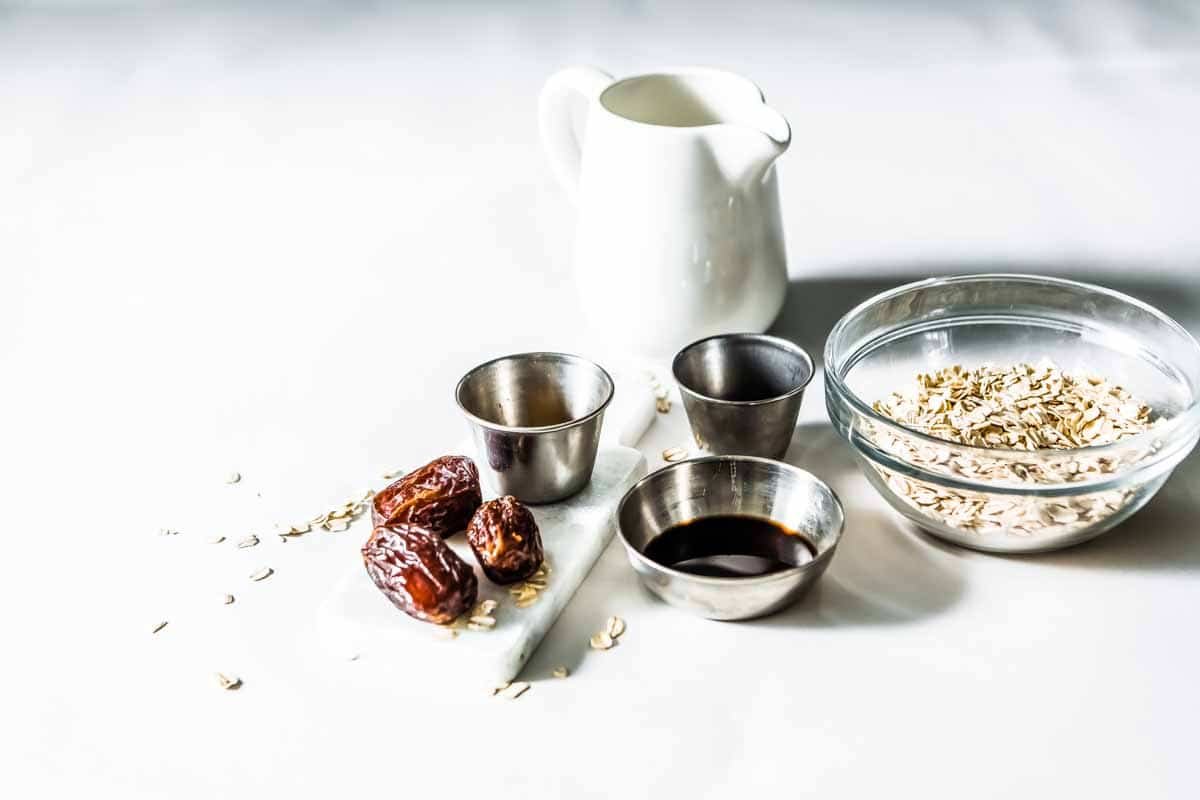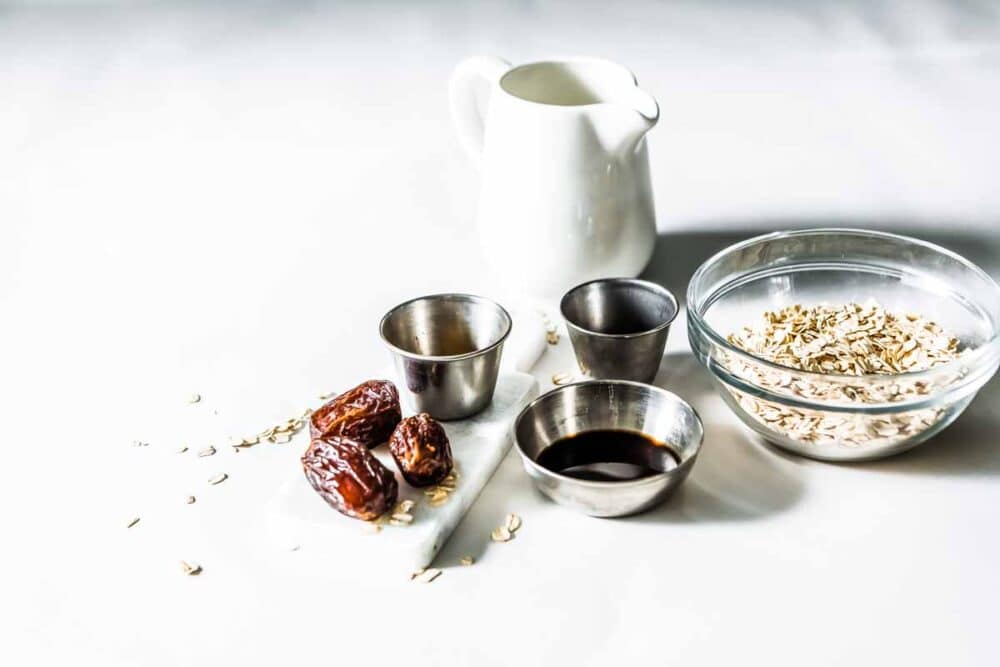 Benefits of Blending Dates in Smoothies
Dates are a whole fruit whose delicious natural sugars are paired with good-for-you dietary fiber. This combination is metabolized by your body slowly, resulting in lasting, natural energy to help carry you through your day – in a healthy, yummy way. This date smoothie provides sustained energy, instead of the sugar high, then crash.
Dates aren't just a healthier, natural smoothie sweetener, they harness the power of potassium! Dates can help my muscles recover faster, and provide nutrition needed to maximize the workout. Fun fact: dates have 50% more potassium by weight than bananas, making them an excellent pre and post workout snack.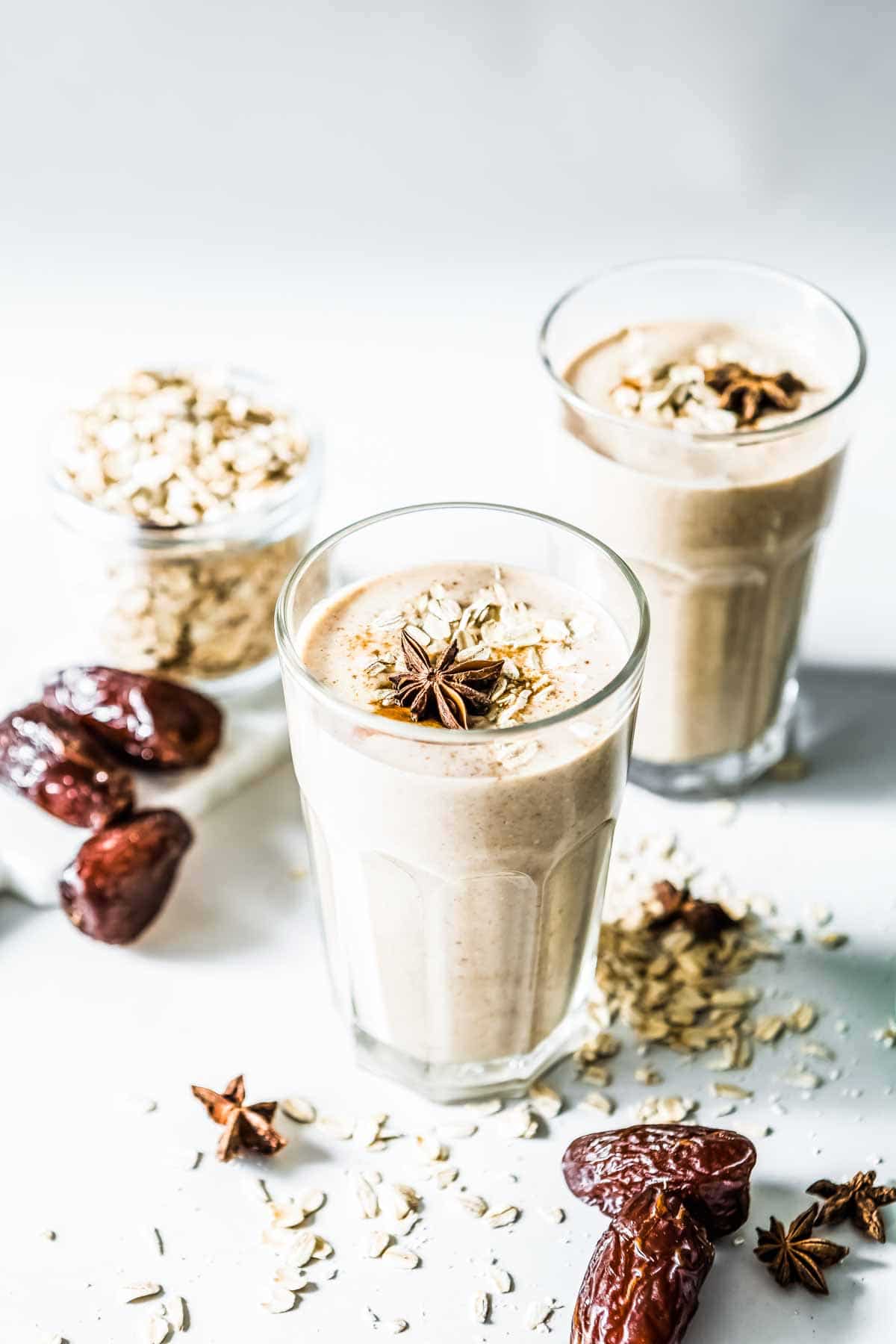 How to Make Cinnamon Date Smoothie
Blend rolled oats until powdery. I do this in my Vitamix blender. You can also pre-soak the oats in the non dairy milk to soften them up and blend them with the liquid first.
Add dates, non dairy milk, vanilla extract, and cinnamon to blender, and blend again. Make sure your dates have already been pitted, or pit them yourself before adding to the blender.
Pour into a glass containing 1 cup ice. Since we're not using any frozen fruit in this smoothie, it requires ice to chill it down a bit. On a cold day, you can also serve this warm.
Storage Tip
You can store leftover cinnamon date smoothie in the fridge in an airtight container for up to 24 hours. Make sure to shake it before drinking.
More Date Recipes to Enjoy
Starting to crave other desserts like this cinnamon smoothie? Look no further than these smoothies and snacks that use dates as a natural sweetener: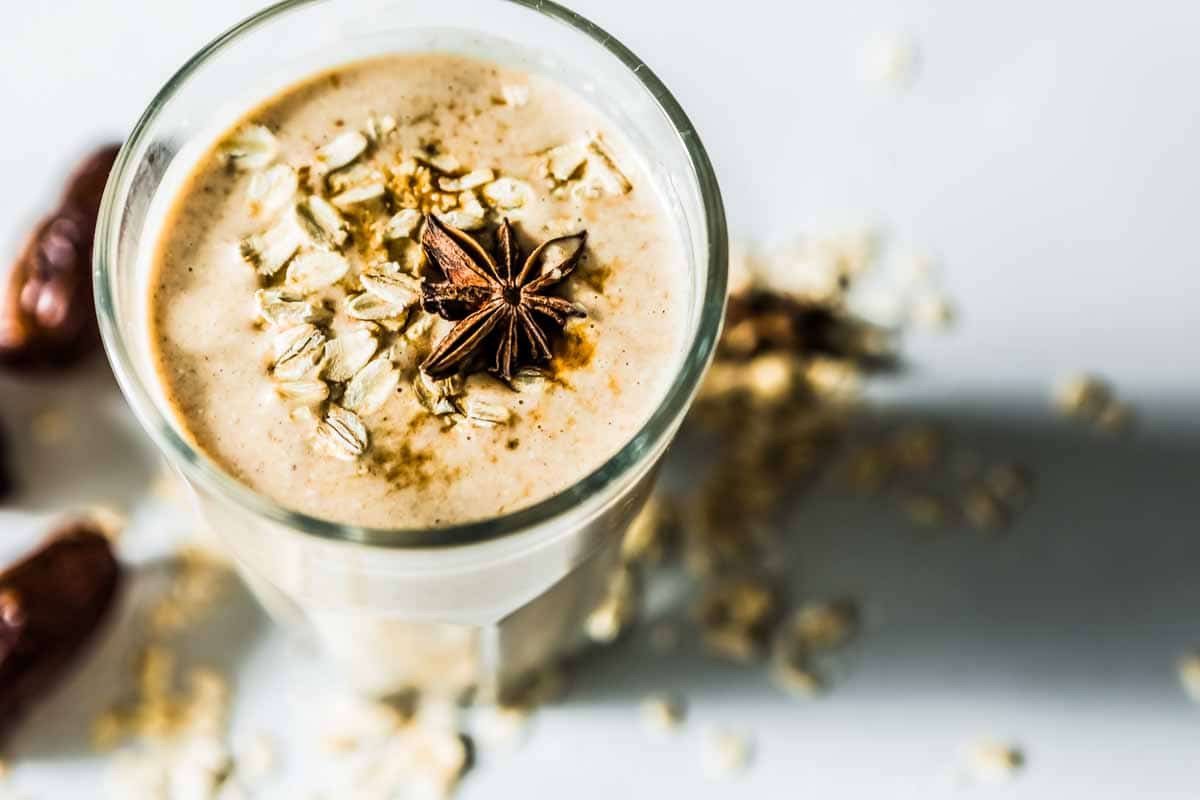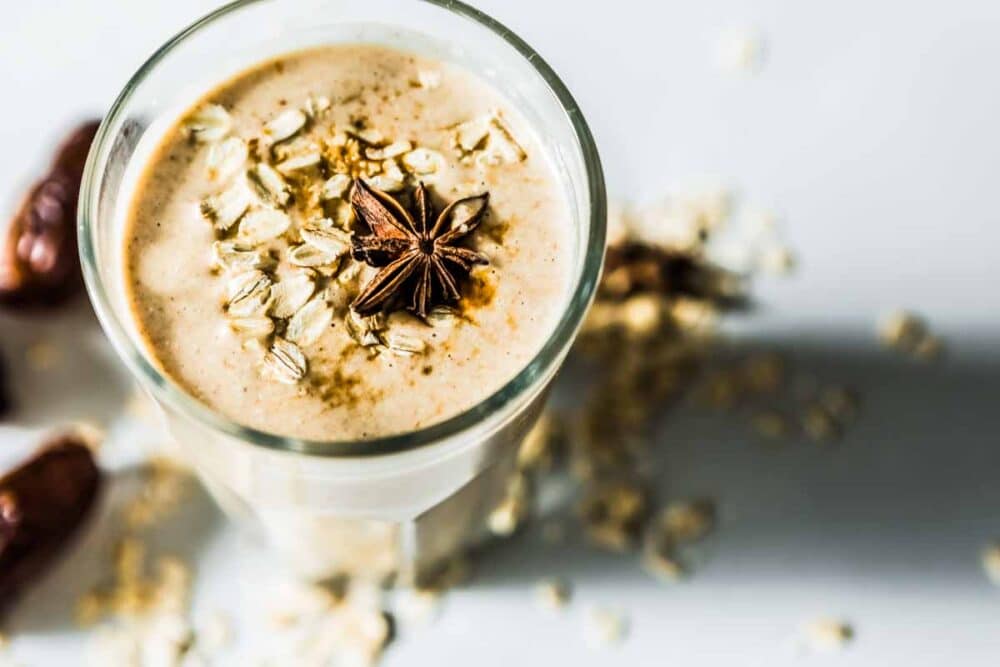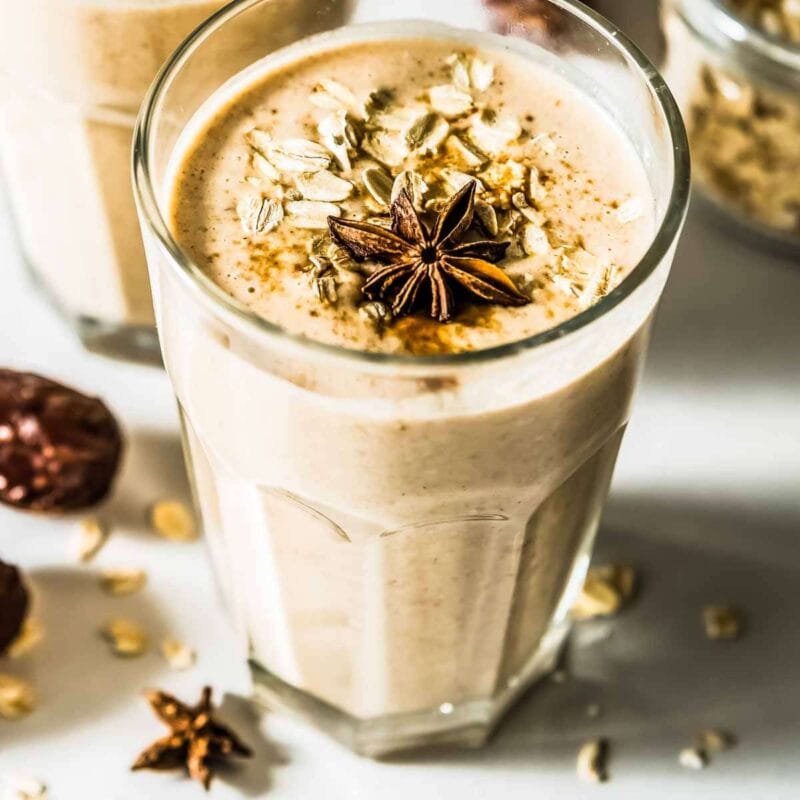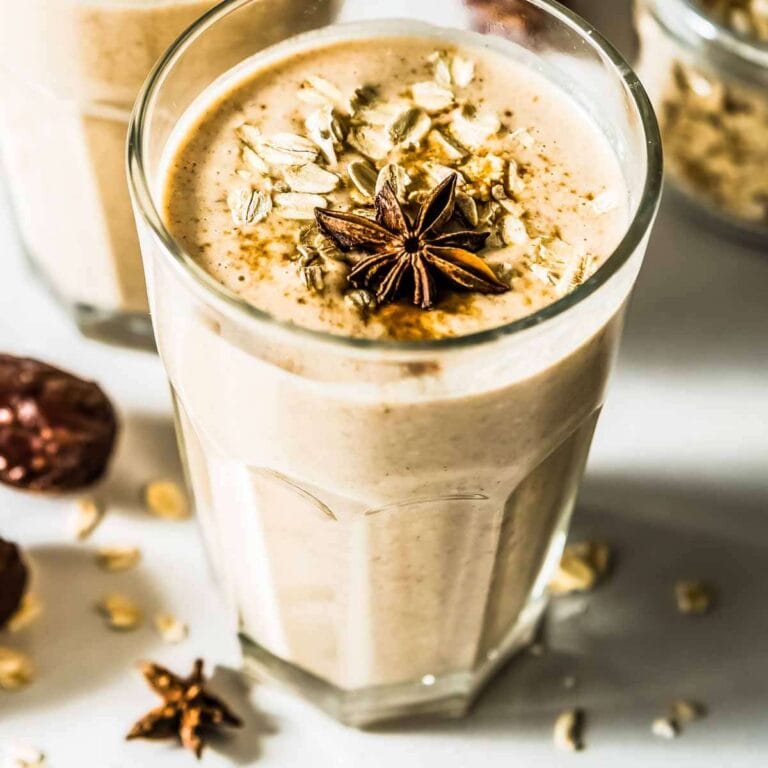 Cinnamon Date Smoothie
I can't wait for you to try this crowd pleasing Cinnamon Date Smoothie. It's perfectly sweet and creamy, and will delight at your next party or family movie night. The dates naturally sweeten this cinnamon smoothie, while the rolled oats thicken it to a milkshake consistency.
Instructions
Blend oats until powdery.

Add dates, non dairy milk, vanilla extract, and cinnamon to blender, and blend again.

Pour into a glass containing 1 cup ice, for an extra cold beverage.
Notes
Ice can be added to blender at blending stage, yet blades tend to dull over time when blending ice, so we like to add it to our drinking glass.
If you prefer no ice in this smoothie, yet still want it to be cold, then place in freezer for 30 minutes before serving.
Use the dairy-free milk of your choice.
Nutrition
Calories:
421
kcal
,
Carbohydrates:
86
g
,
Protein:
9
g
,
Fat:
7
g
,
Saturated Fat:
1
g
,
Polyunsaturated Fat:
3
g
,
Monounsaturated Fat:
3
g
,
Sodium:
503
mg
,
Potassium:
668
mg
,
Fiber:
12
g
,
Sugar:
49
g
,
Vitamin A:
119
IU
,
Vitamin C:
1
mg
,
Calcium:
565
mg
,
Iron:
3
mg