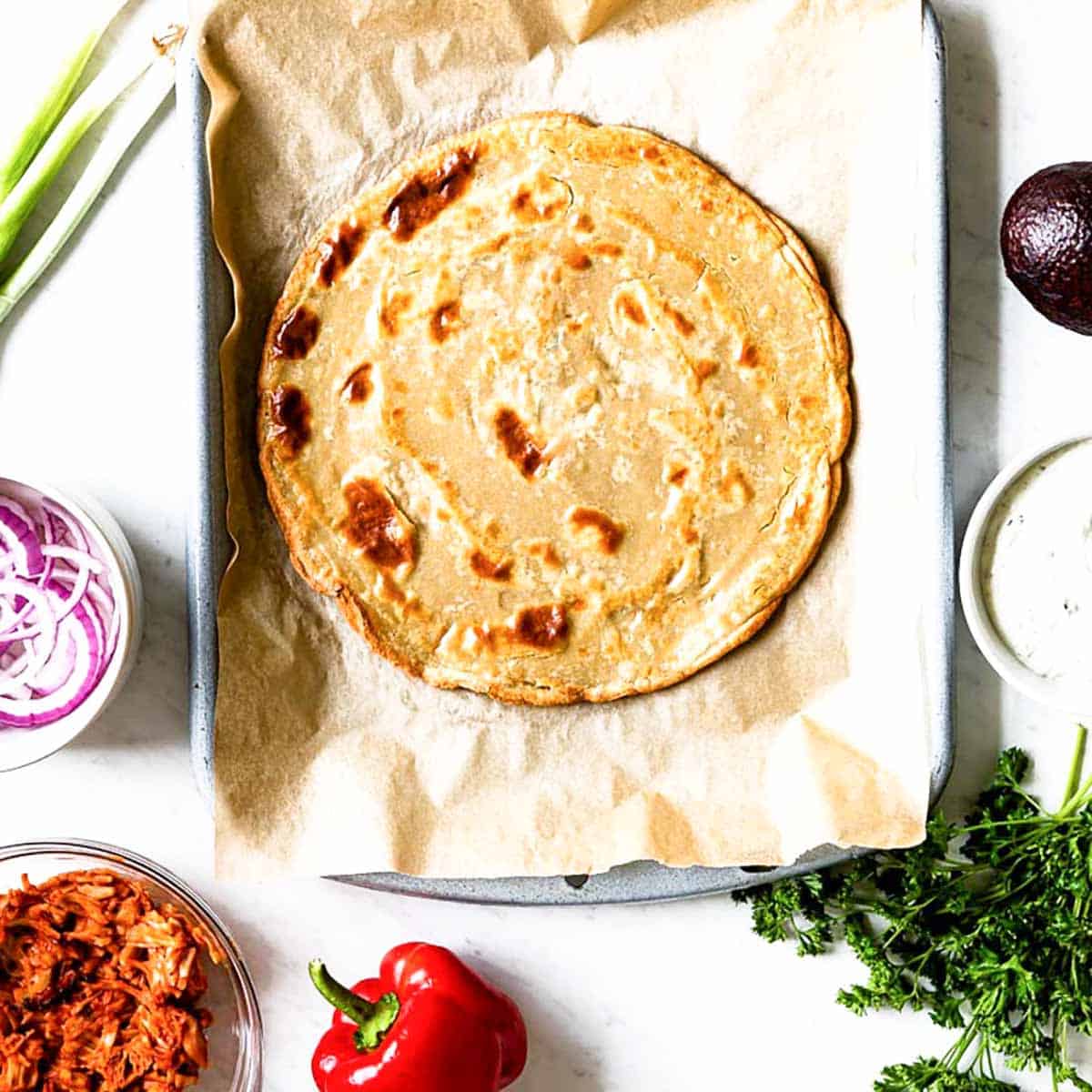 This gluten free pizza crust recipe not only makes the perfect base for pizza night, it also makes a great gluten free flatbread option alongside your favorite curry, soup, stew, and more. I've tried several gluten free crusts in the past and this is hands down my fav version... I hope it becomes a staple at your house too!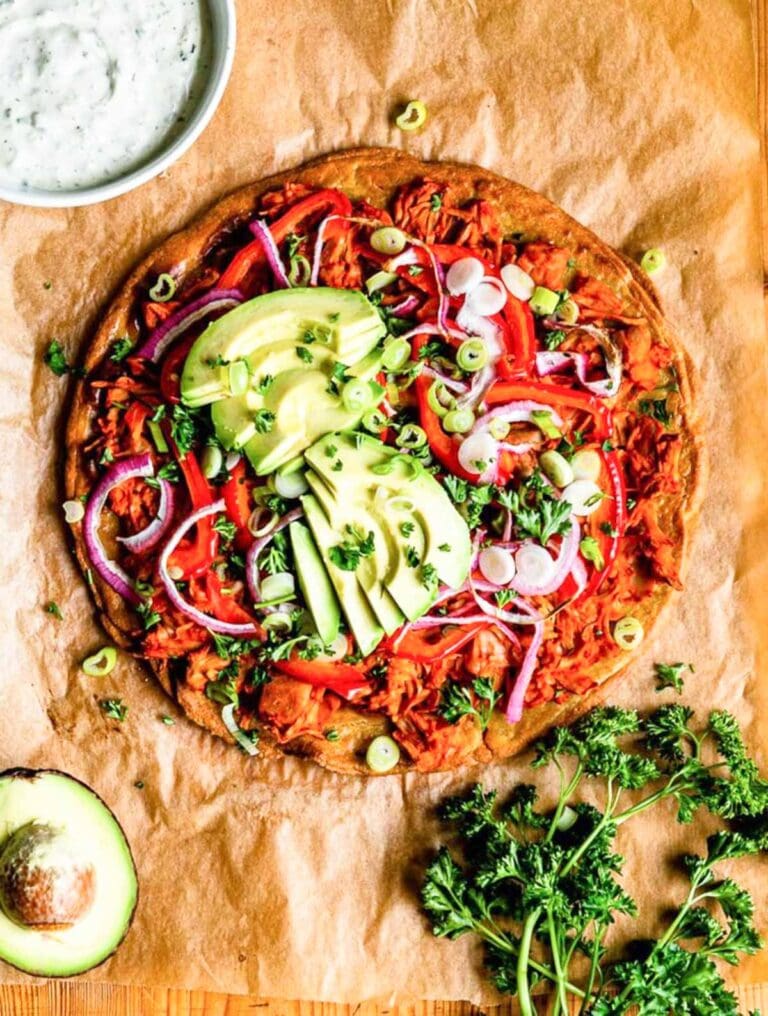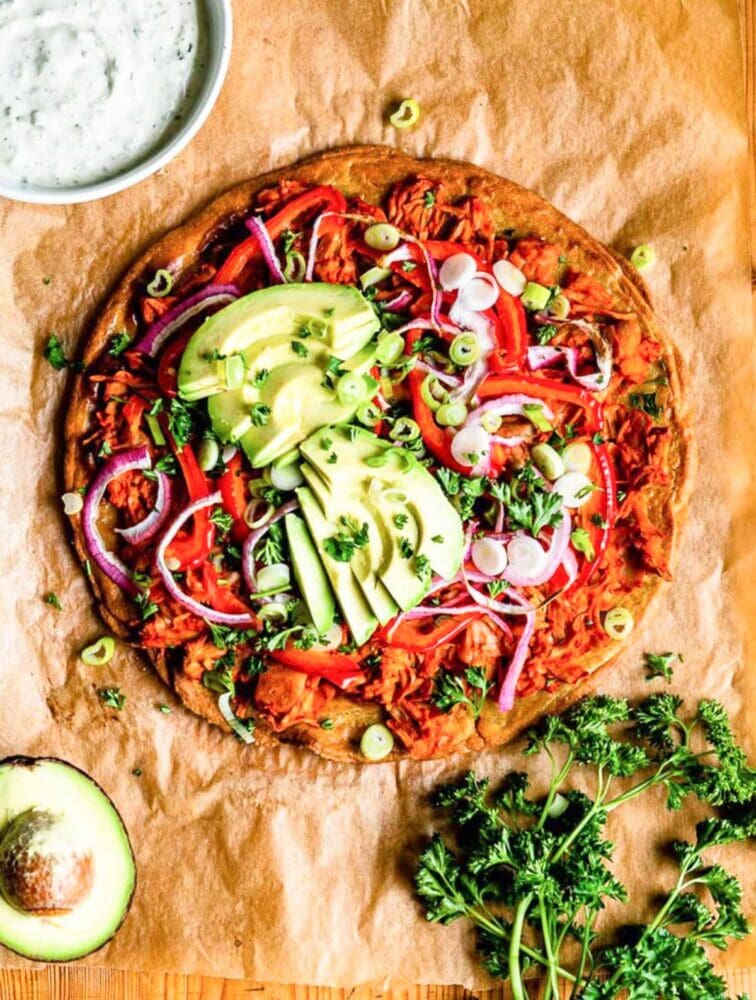 What makes pizza crust gluten free?
Typical pizza crust contains water, sugar, yeast, oil, flour, and salt. It needs time for the yeast to activate, as well as for the dough itself to rise. While there are recipes for gluten free pizza crust that still use yeast + sugar, my recipe keeps the ingredient list simple in a different way. Soaked quinoa is the base of this crust. I then add in Italian seasoning, fresh garlic, and salt for a tasty base, though feel free to add in your own spice mixture. Avocado (or olive) oil comes in for baking, and that's it! While my crust does take time, just like regular pizza crust, it is super simple to make, as well as incredibly delicious.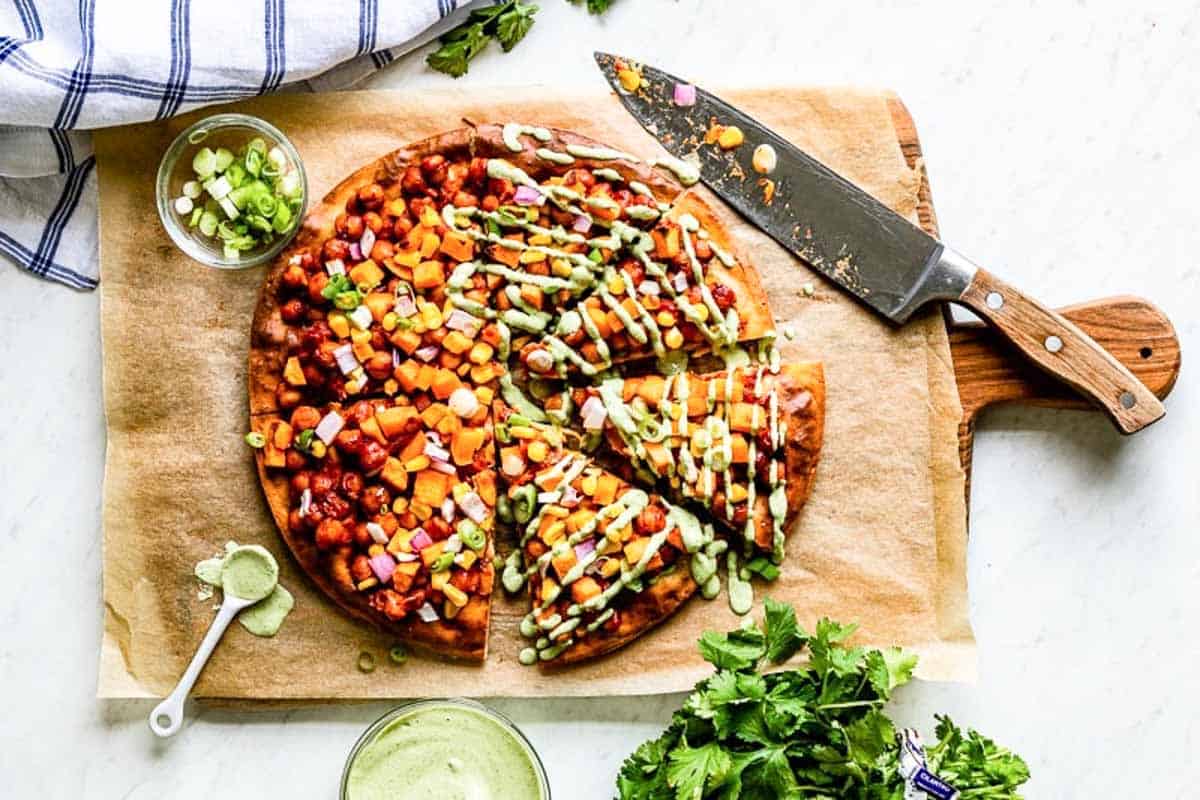 How to make gluten free pizza crust
If you're ready to make this gluten free pizza crust recipe, then you need to plan ahead. Soaking is a very important part of the process. It takes between 3-8 hours for the quinoa to soak as well as soften. If you use warm water, then it's quicker. I like to soak them in the morning so it's ready when dinner rolls around. A cast iron skillet gives me the best results when baking this crust, though another kind of pan works too. I find that the cast iron helps shape the crust into a circle, as well as gives it the perfect crispy finish. Finally, avocado oil works best for this recipe, as it has a higher heat point. Olive oil can work in a pinch, as well as coconut oil, though the coconut oil will add a different flavor to the finished crust.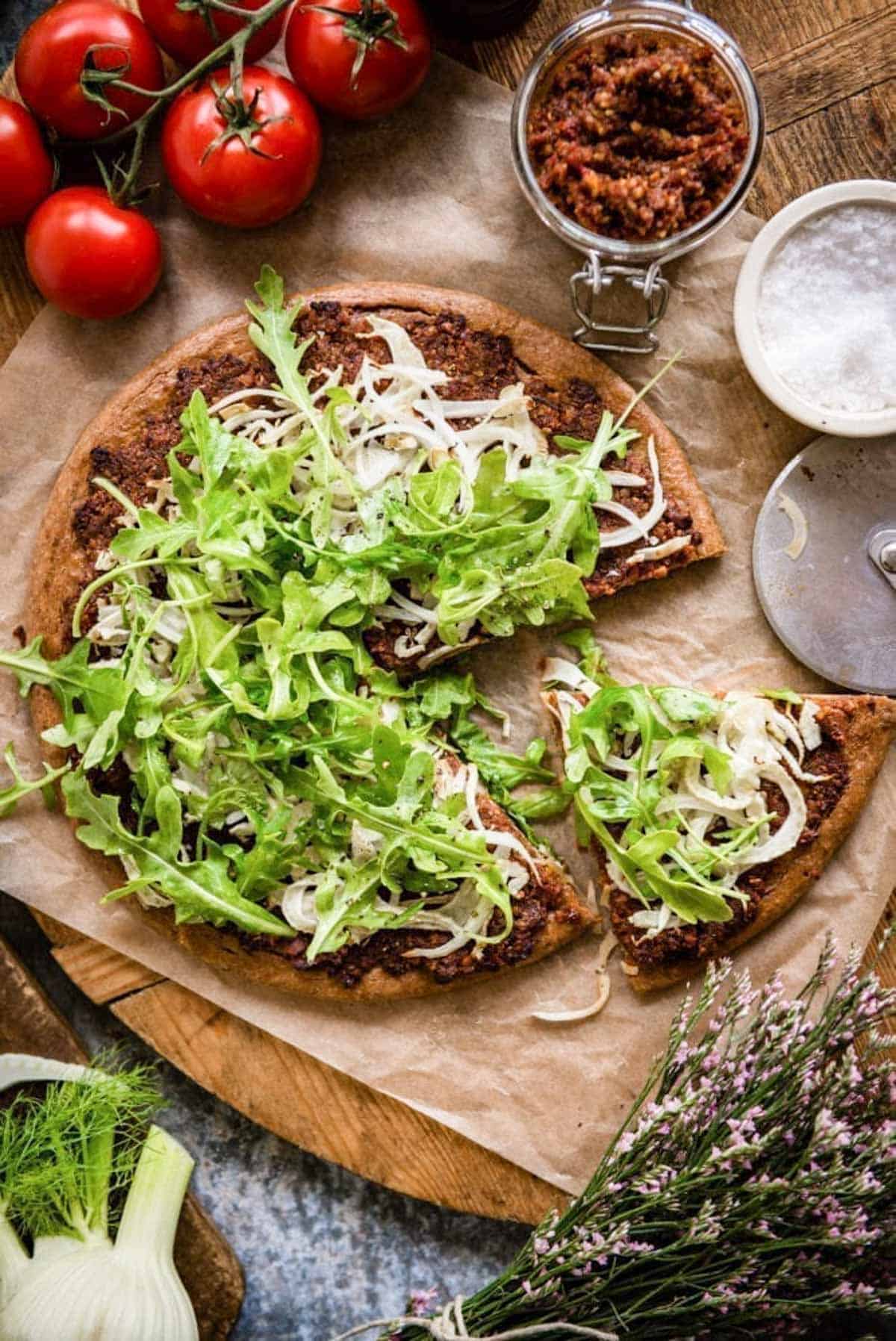 Plant based pizza toppings
Now that you've got the inside scoop on the best gluten free pizza crust recipe around, what other plant based, whole food options are there for the sauce, cheese, and toppings?! While a classic tomato sauce is great, I love using pesto for my pizza sauce. Pesto packs a punch through fresh herbs.
Don't feel shy about loading up that crust with veggies! Kale chips provide a great crunch as does roasted broccoli. Arugula adds a pop of freshness, radishes a little tang. Fresh bell peppers are a classic, while a spicier pepper can add a burst of energy. What I'm trying to say is, don't hold back! Toppings are your time to shine.
I love to finish off my pizza with crushed red pepper, and my vegan cheese sprinkle, found in Thrive Winter. This cheese sprinkle reminds me of Parmesan, in both flavor and texture.
Favorite pizza recipes
Need some inspo on how to top this gluten free pizza crust? Here are some of my fav pizza recipes:
Now, I get to share this gluten free pizza crust recipe with you! It's been tweaked and perfected over the years. I hope you make it and play around with the toppings. You really can take this pizza crust in soooo many different directions!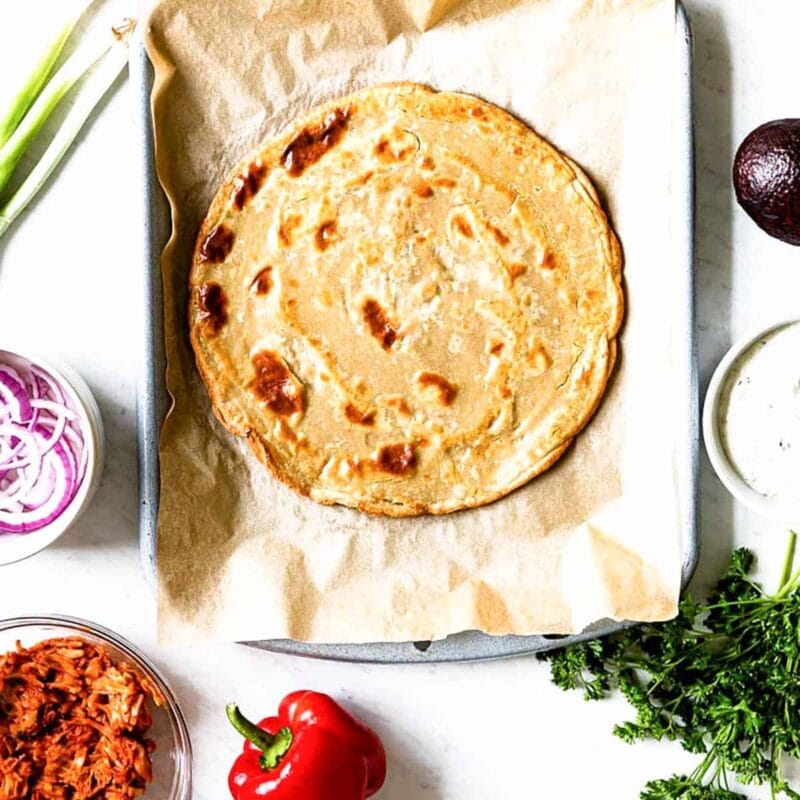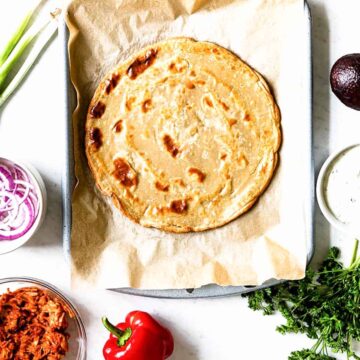 Gluten Free Pizza Crust Recipe
Rate this Recipe
Print Recipe
Probably the easiest and best gluten-free pizza crust recipe out there. This quinoa crust is sturdy enough to be loaded up with toppings and also makes a great flatbread or naan replacement alongside your favorite curry, soup or stew, and more.
Ingredients
1 ½

cups

quinoa

(soaked 3-8 hours in water)

2

teaspoon

Italian seasoning

1

teaspoon

sea salt

1

clove garlic

¼

cup

avocado oil
Instructions
Drain the pre-soaked quinoa with a fine-mesh sieve and place into the jar of a blender. Add the remaining ingredients, except for the avocado oil, plus ¼ cup water, and blend until smooth. Add a little more water, if needed, to facilitate blending. Allow the batter to stand for 10-15 minutes while oven preheats.

Preheat oven to 450°F. Have ready a 10-inch or two, 8-inch metal cake pans or a well-seasoned cast iron skillet. Place the pan(s) in the oven to preheat for at least 10 minutes. Add the avocado oil and allow to heat for an additional 5 minutes.

Pour the batter into the preheated pan(s), carefully tilting so the batter runs to the edge of the pan. Use the back of a spoon, if needed, to ensure the batter is even.

Bake for 10 minutes, or until the edges are golden and the center looks set or dry. Remove pan from oven and carefully flip the crust over and bake for another 5-10 minutes.

Transfer the crust to a cooling rack if not using immediately, and allow to cool completely. Crust can be made 1-2 days in advance and kept refrigerated in an airtight container or resealable bag.
Build your own pizza
Preheat oven to 425°F.

Line a baking sheet with parchment paper.

Place crust on lined baking sheet. Add sauce and toppings. Bake for 10-15 minutes.

Allow to cool slightly before cutting into wedges.
Notes
Crust is best the same day it is made. If made ahead, reheat crust in a 425°F oven for 5 minutes before adding toppings. Bake as directed in the recipe instructions.
Nutrition (estimated)
Calories:
718
kcal
(36%)
Carbohydrates:
84
g
(28%)
Protein:
18
g
(36%)
Fat:
35
g
(54%)
Saturated Fat:
4
g
(25%)
Polyunsaturated Fat:
8
g
Monounsaturated Fat:
21
g
Sodium:
1170
mg
(51%)
Potassium:
749
mg
(21%)
Fiber:
10
g
(42%)
Sugar:
1
g
(1%)
Vitamin A:
52
IU
(1%)
Vitamin C:
1
mg
(1%)
Calcium:
95
mg
(10%)
Iron:
7
mg
(39%)
More plant based meals
Looking for a few more plant based options for dinner? I've got you covered! Check out these delicious recipes below:
If you're ready to take the guess work out of eating more plants, then you should check out my meal planner, Rawk the Year. It will take your meals to the next level, as well as provide you with all the tools you need to be successful in eating healthier, fresher meals.