My fav salads are loaded with toppings, full of flavor and filling. I don't want to chew my way through lunch only to be left hungry and hour or two later. This Mediterranean Greek Salad recipe is both filling and a flavor party. Plus it's 100% plants.
This can easily be paired with my Oven Roasted Spaghetti Squash or Stuffed Portobello Mushrooms for a delightful meal.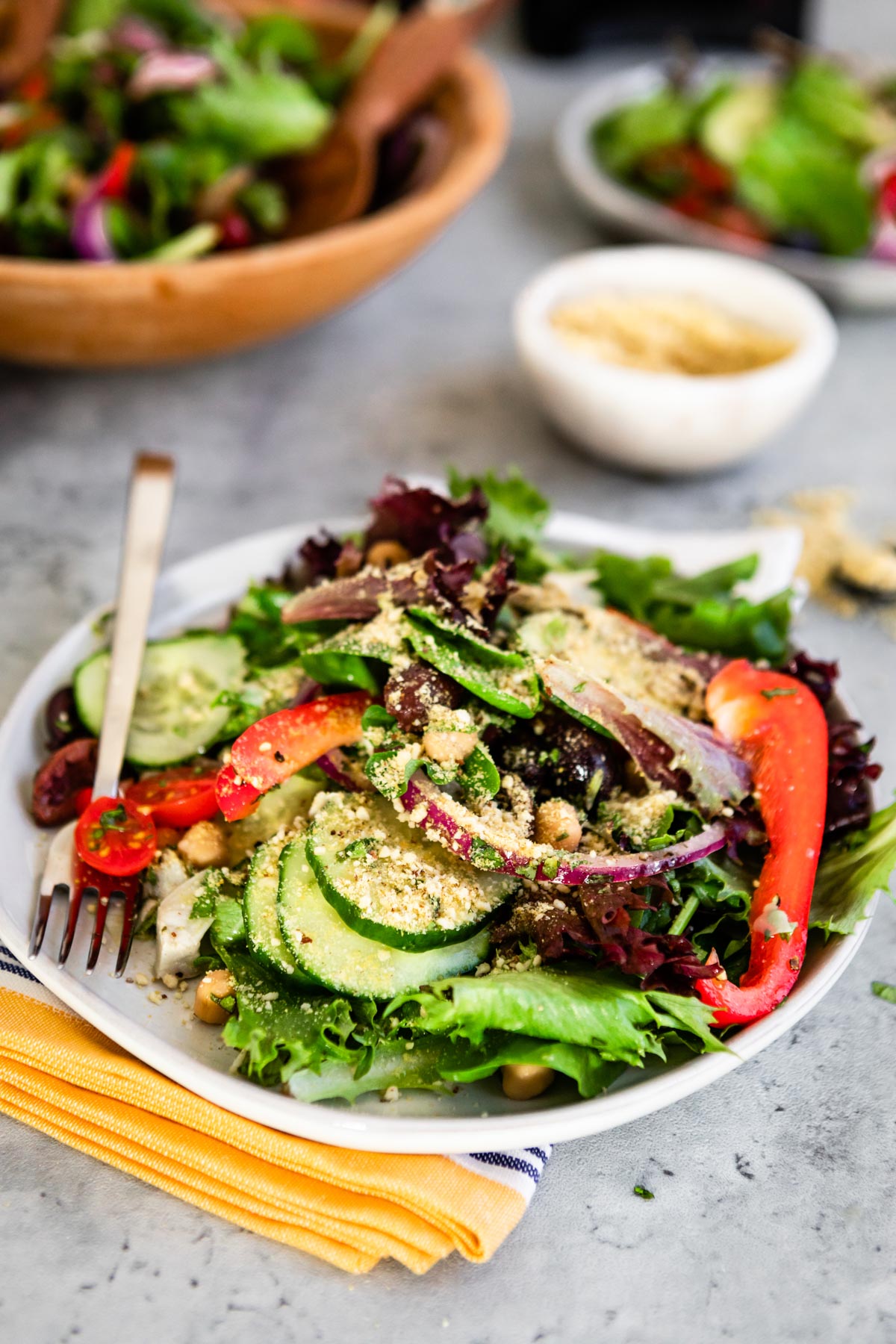 Feel free to use this salad as a refreshing lunch feature or a grand side dish for pizza night… you really can't go wrong! Mediterranean cuisine always show cases veggies the right way, and that's def true in this tasty salad.
I love good vegetarian Mediterranean recipes as they guaranteed to be super fresh, full of flavor and use spices that differ from other common cuisines in America. Feel free to use some Garlic Baked Chickpeas on this salad, or a Garlic Lemon Aioli for a creamier dressing over the vinaigrette I use below.
Table of Contents
Mediterranean Greek Salad Recipe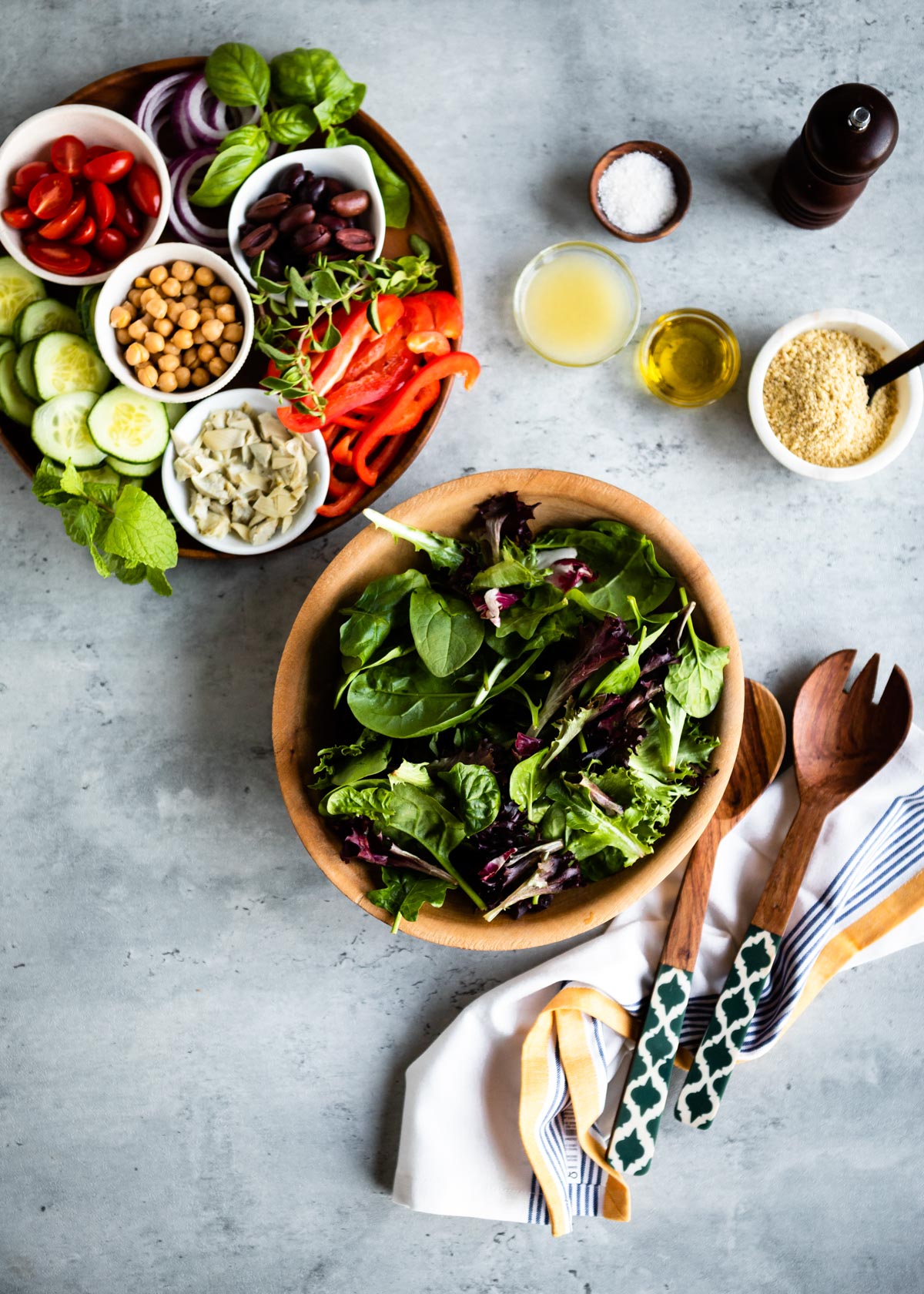 People who live in the Mediterranean live longer, healthier lives than many of the rest of the world. It's considered a 'blue zone' and I want in on their secret! Since food seems to be a key component of this longevity lifestyle, I love incorporating Mediterranean-inspired recipes into my diet like a Greek-inspired layered dip.
My version of the Greek Salad includes washing + drying a few cups of mixed greens as the base. Then I top with a colorful array of chopped fresh veggies as well as kalamata olives and artichoke hearts (oh the flavor!). This is an easy recipe to use for meal prep salads and eat for days, so feel free to double it.
I often top this salad with fresh herbs like basil, oregano or mint… or all 3! Then I dress it with a simple olive oil + fresh lemon juice dressing. Since the olives and artichokes are brined, I taste the salad before adding additional sea salt, as to not over salt it.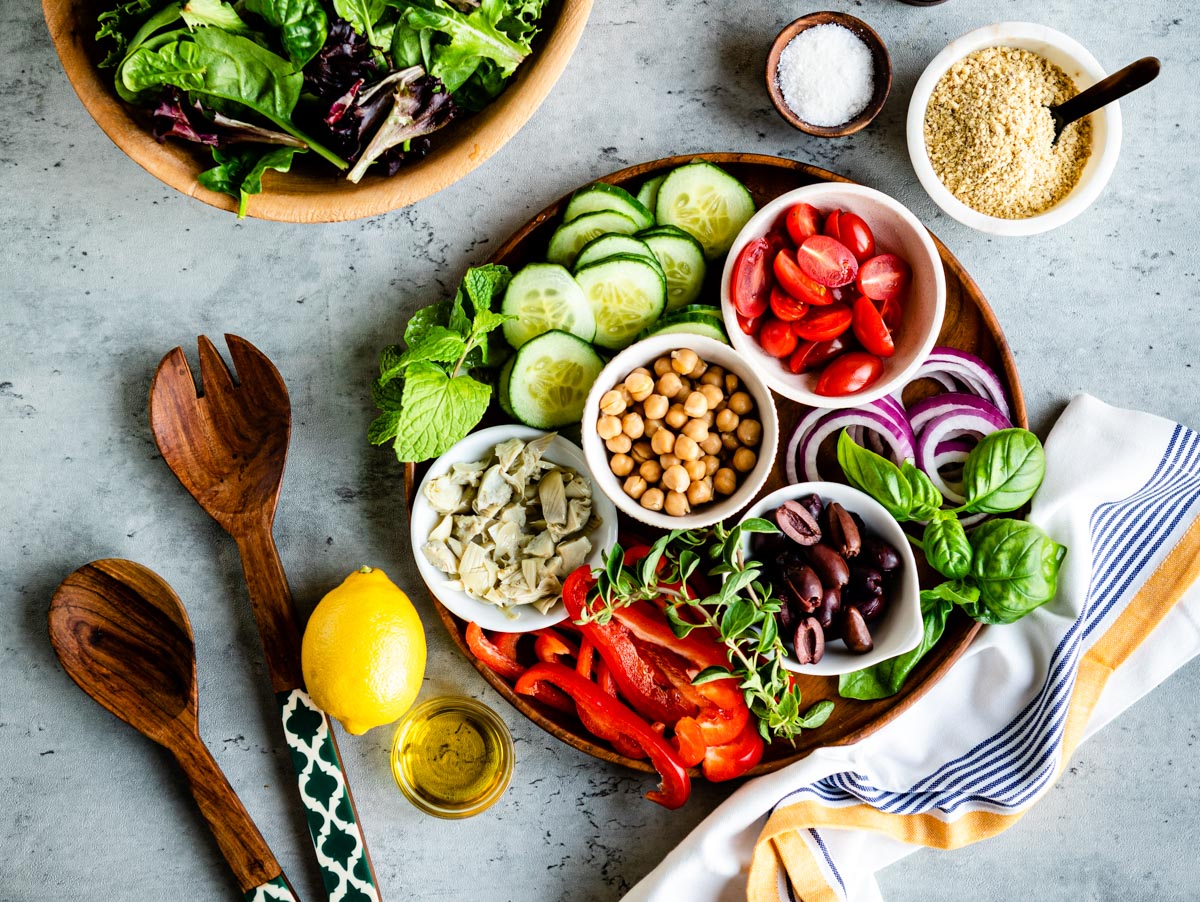 Salad Toppings
While this greek salad recipe is loaded with ingredients, you can never have too many toppings. I love using my vegan Parmesan cheese sprinkle to bring a cheesy flavor + a little extra texture.
Pick your fav fresh herb (I suggest basil, mint or oregano) to chop and sprinkle. You can also add vegan or regular feta depending on what your body tolerates.
Easy Ingredient Swaps
If fresh tomatoes are hard to find then swap with 1/2 cup julienned or chopped sun-dried tomatoes. Chickpeas can be swapped with cannelloni beans, or you can omit altogether if using this salad as a side dish.
Greek Salad Dressing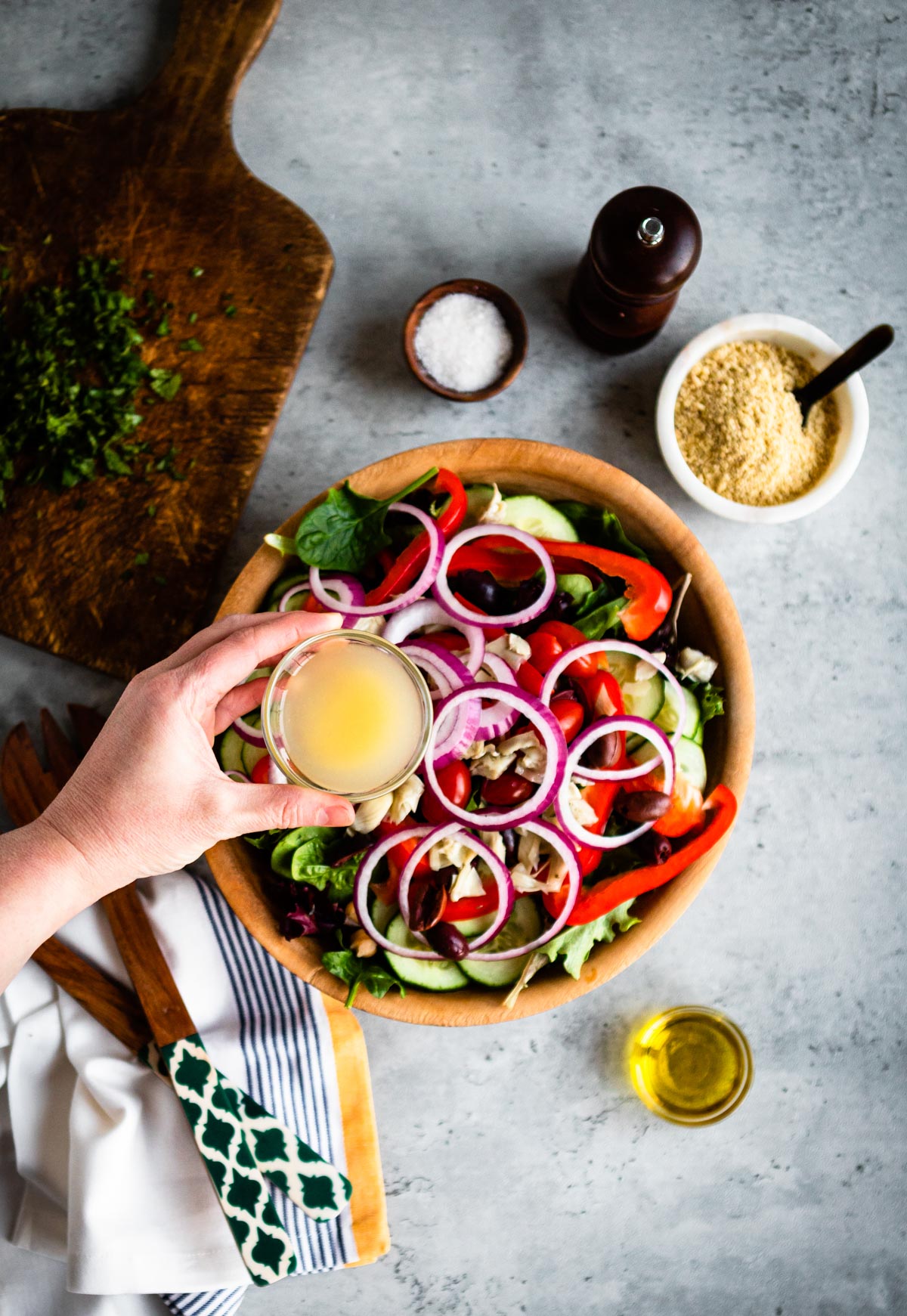 I'm keeping the 'dressing' for this salad recipe super simple: olive oil, lemon juice, sea salt and fresh ground black pepper. That's it! No need for a complex dressing as this salad's already exploding with flavor.
Honestly, the olives and artichoke hearts will bring a bit of salt from their brine, so you might want to taste this salad before adding salt… then add to taste.
What to Serve with Salad
While salad can be the main dish, it works great as a veggie-filled side as well. This salad recipe was created to pair with dinner so here are a few of great options to have along side your yummy salad:
Greek Salad Recipe FAQs
How do you make Greek salad dressing?
Soooo easy… olive oil + fresh lemon juice. Feel free to add a little sea salt and fresh ground pepper if you want. Dressing done.
Is Greek salad healthy?
It can be! Skip the restaurant dressing and opt for a simple olive oil + lemon + seasoning dressing. Read the labels on the jarred olives and artichokes to make sure they are simple without any weird additives. Swap feta cheese with a vegan cheese sprinkle then top with protein powered chickpeas.
What do I serve with salad?
I like pairing salads with warm foods (anyone else?!). My top picks are pizza, stuffed mushrooms, savory tofu nuggets, or a delicious and creamy soup. You can also pair it with a lovely hummus… or just toss a few scoops of hummus on top of the salad!
What are you pairing with your greek salad? Let me know in the comments below and don't forget to rate this recipe!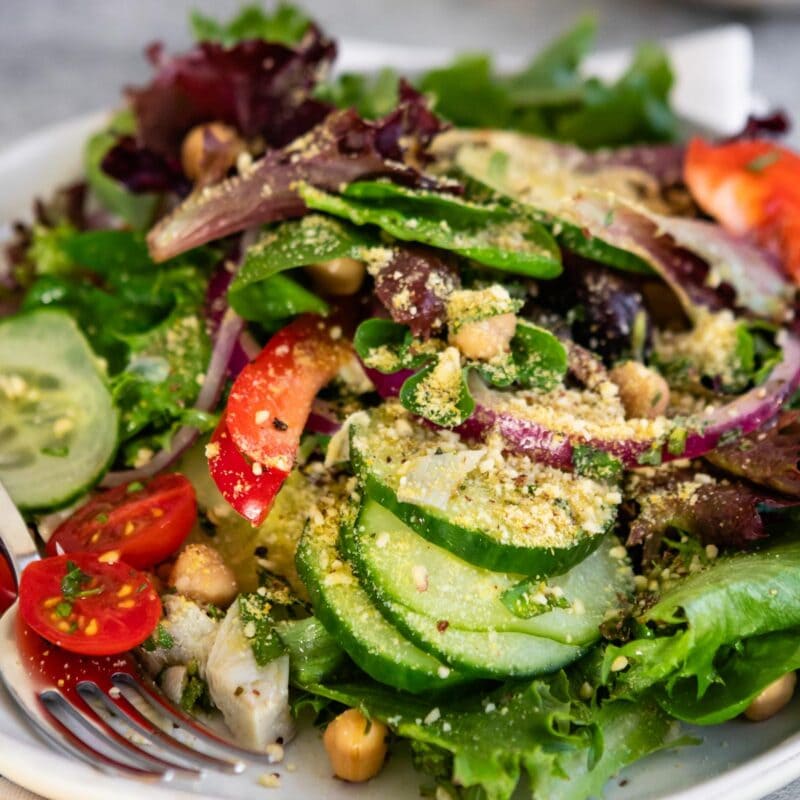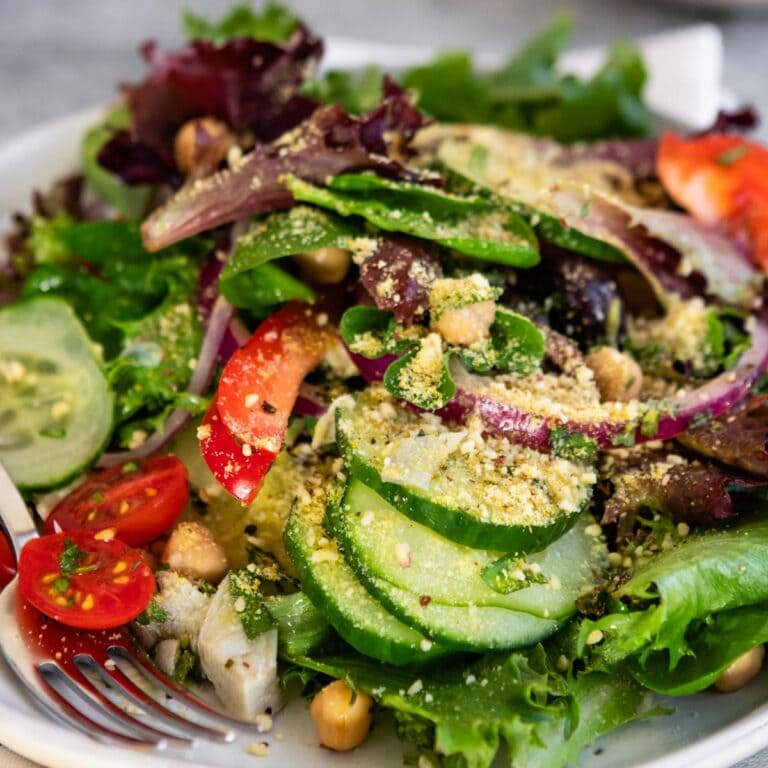 Mediterranean Greek Salad Recipe
This colorful salad is as full of flavor as it is color. Your skin will be glowing after incorporating this dish into your lunch routine, and Mediterranean inspired classic!
Ingredients
4

cups

mixed greens

1

cup

chickpeas

drained and rinsed

½

medium cucumber

sliced

1

red bell pepper

sliced

1

cup

grape tomatoes

halved

½

cup

marinated artichoke hearts

drained and chopped

½

cup

red onion

thinly sliced

½

cup

kalamata olives

pitted
Dressing
3

tbsp

olive oil

1

lemon

juiced
Toppings
¼

cup

fresh basil

chopped

¼

cup

Vegan Parmesan Cheese

optional

pinch

sea salt

to taste

pinch

fresh ground black pepper

to taste
Instructions
Wash greens and spin or pat dry. Place in a large serving bowl. Layer the chickpeas, cucumber, bell pepper, tomatoes, artichoke hearts, red onion and kalamata olives over the greens.

Drizzle the olive oil and fresh squeezed lemon juice over the top. Sprinkle with a little sea salt, fresh ground pepper and fresh basil. Gently toss.

Serve with vegan parmesan cheese.
Notes
Use the veggies you have on hand and swap as needed to make this salad work for you. 
Swap olive oil with avocado oil.
For extra crunch, toast the chickpeas before adding them; this turns them into a crouton-like texture.
Swap mixed greens with the leafy green of your choice. 
Nutrition
Calories:
498
kcal
,
Carbohydrates:
42
g
,
Protein:
11
g
,
Fat:
33
g
,
Saturated Fat:
4
g
,
Polyunsaturated Fat:
4
g
,
Monounsaturated Fat:
20
g
,
Sodium:
752
mg
,
Potassium:
877
mg
,
Fiber:
12
g
,
Sugar:
12
g
,
Vitamin A:
4261
IU
,
Vitamin C:
128
mg
,
Calcium:
116
mg
,
Iron:
4
mg