Truthfully, I've never met a taco I didn't like. Yet when it comes to taco salad– I am traumatized. As a kid, I was forced to eat more taco salad than I ever wanted (and it was covered in thousand island dressing… don't ask me why). I just remember gagging it down and vowing to never eat it again. This healthy taco salad recipe is not a childhood recipe. It's my new and improved dish, bursting with flavor, nutrients and possibilities.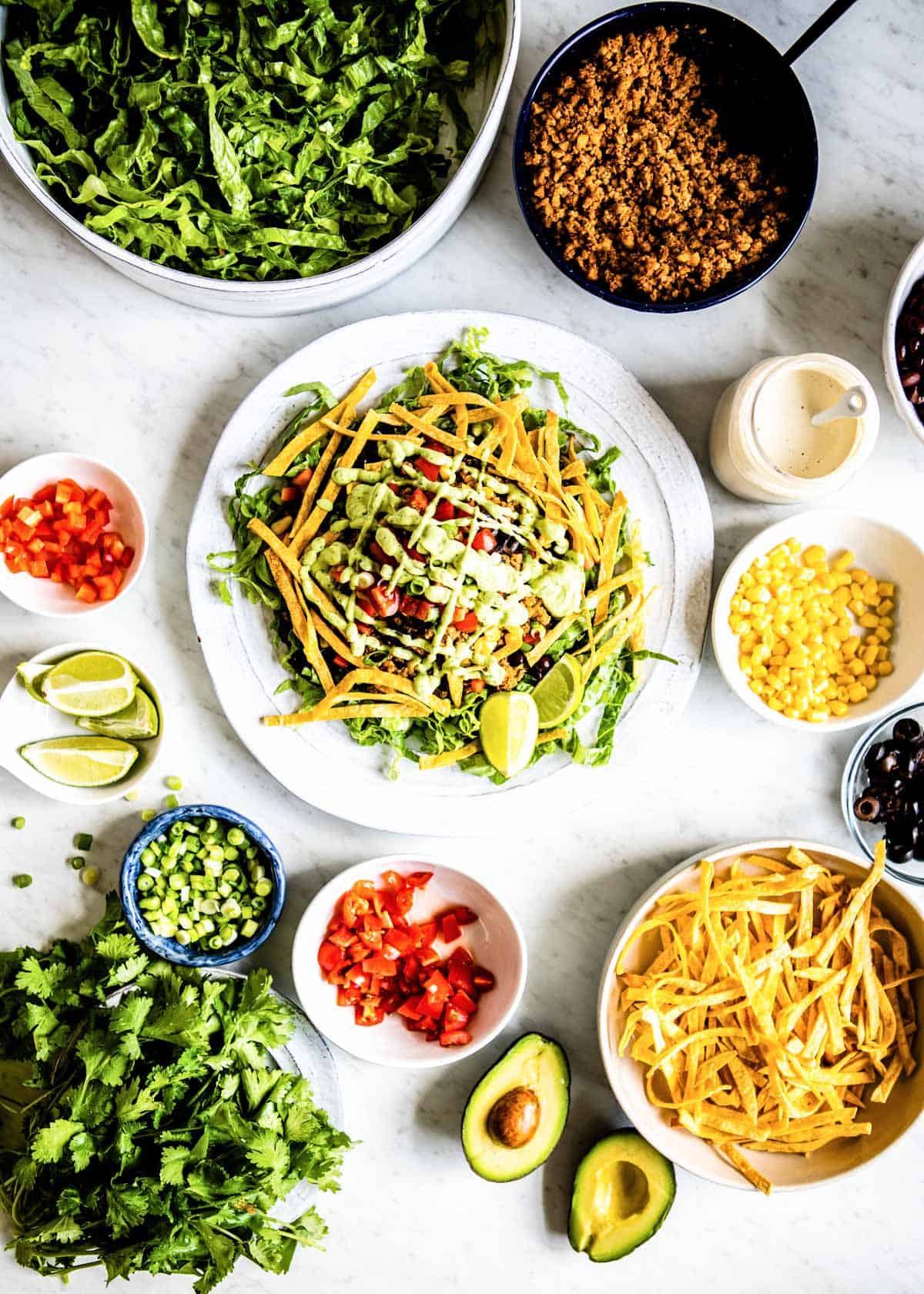 As I grew up, I learned that taco salad takes many forms— and some are quite tasty (while others are gag-worthy)! There's just something so satisfying about a crisp corn shell (or chips) piled high with shredded lettuce and all of the other veggie-lovin' fixings.
What's unique about my Healthy Taco Salad is that there's no meat. Instead of ground meat or poultry, I've substituted a heart healthy vegan taco meat. It's so good you'd almost never know it wasn't meat.
Table of Contents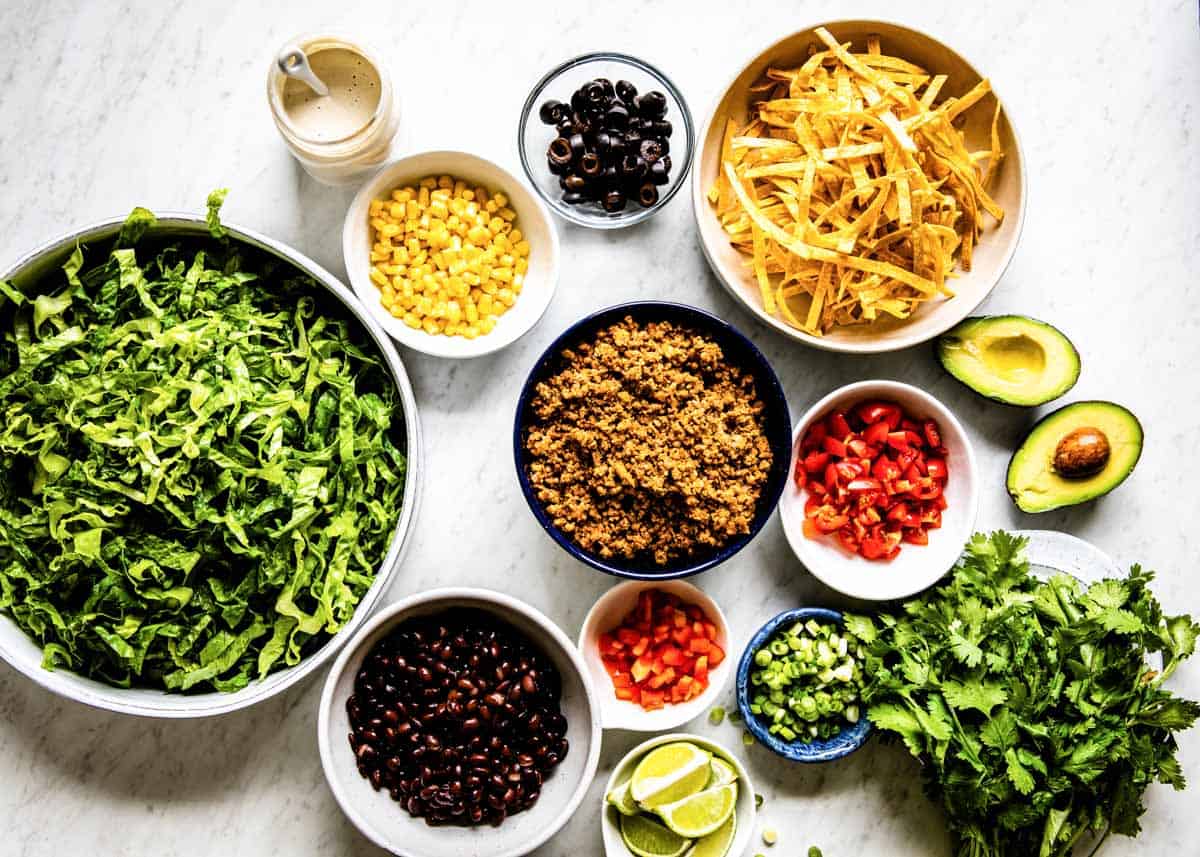 Reasons to Make to This Recipe
While there are a dozen reasons I love tacos and taco salads, here are my top three:
easy to make
versatile for everyone
the flavor can change every time
For real though; I've got a family of 4 and we all have different taste preferences. This healthy taco salad recipe is an easy dinner win because everyone can customize it their own way. Here's what I set out for my version of a healthy salad:
Vegan taco meat: no joke, everyone is shocked at how amazingly tasty this walnut 'meat' is. You've gotta try it!
Tortilla chips: I like to get strips for this; try Siete's cassava chips for a grain-free version
Romaine lettuce: It's all about those crispy leafy greens in this healthy taco salad. Feel free to swap in spinach, kale, or the leafy green of your choice.
Black beans: I splurge on the organic version, or make my own recipe from Simple Green Meals
Avocado or guacamole: Healthy fat is needed for our bodies to break down nutrients, and what better way than with a colorful avocado?!
Colorful veggies: cherry tomatoes, red bell pepper, corn, black olives, green onions
Get creative with the veggie toppings. Red onion provides a pop of color, radishes are super crunchy, jalapeños really pop in flavor + spice… What are you fav veggies to add to a healthy taco salad?
Choosing the right toppings
Serve food that delights your tastebuds and nourishes your body at the same time. Choose a veggie or two from each of these 5 color groups and enjoy a variety of flavors as well as health benefits in your healthy taco salad.
Blue/purple foods provide vitamins A, C, and K. Green foods are rich in cancer fighting phyto-chemicals. Orange/yellow foods bring the beta-carotene and potassium. Red foods are good sources of iron. White/light green foods provide potassium, magnesium and vitamin E.
While this is just a glimpse into the incredible land of whole food, keep these tips in mind when choosing what colors join your plate for dinner.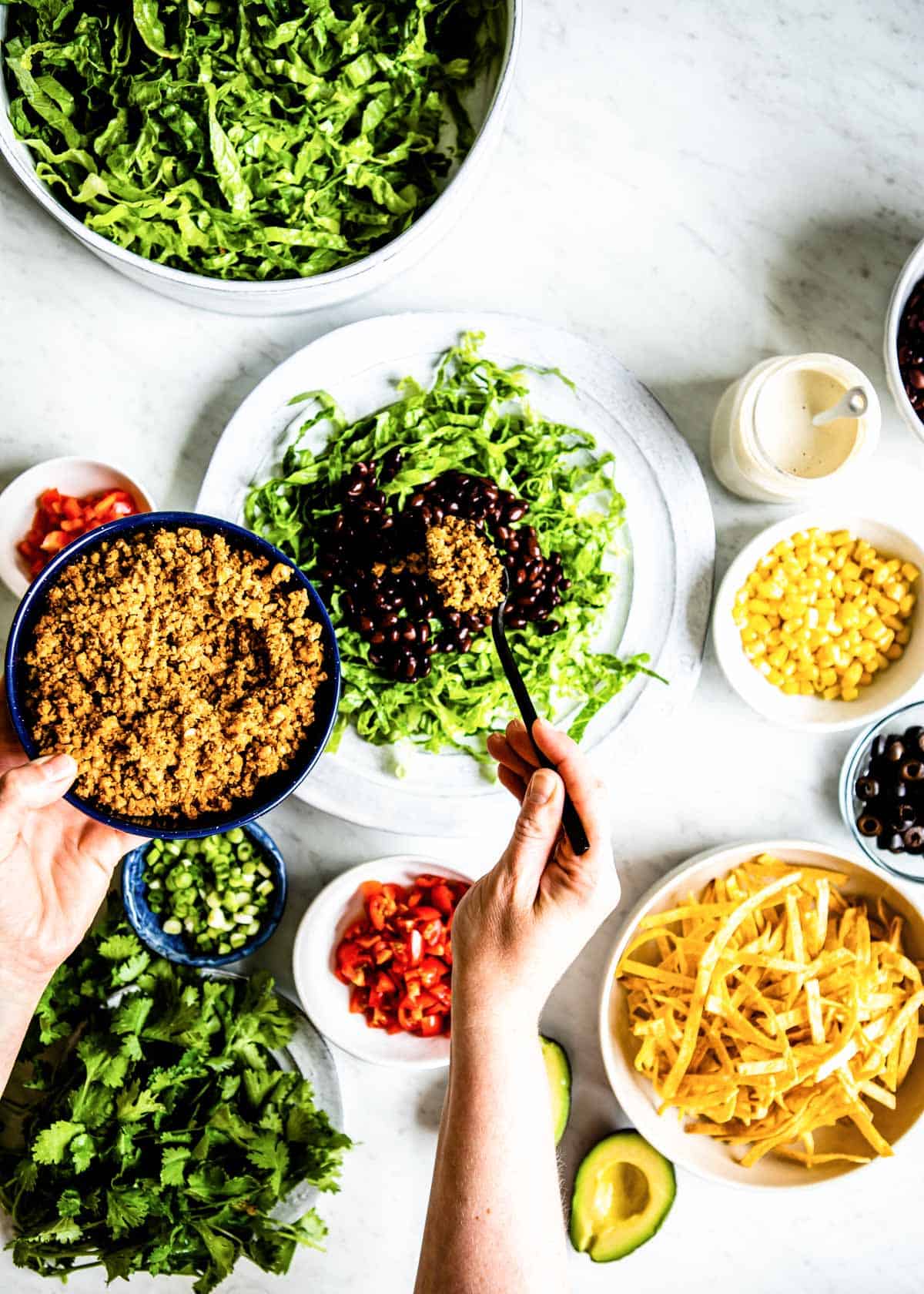 What Makes Taco Salad Vegan?
Most taco salad recipes use ground beef, not this one. Yet you won't miss it! My walnut taco meat recipe is amazing. Now, I don't often try to 'mimic' meat with plants, yet this recipe is pure genius on a plate. All you do is place walnuts in a bowl with water and a little lemon juice. Let sit for 8 hours or overnight to soften.
When ready, drain and rinse the soaked walnuts. Then add to a food processor with tamari (gluten-free soy sauce) and a few spices and grind it all up. You can turn up the spice on this 'meat' as much or as little as you want. If you have a fav taco seasoning, use that instead of my spice combo! This recipe made its debut in my our 21-Day Cleanse, and has been a fan fav ever since. Your salad just won't be the same without it.
Healthy tip if using ground beef
Plant-based eating doesn't mean you have to be vegan. I'm not. If your family eats meat, then you can easily add it to this recipe! Yet I have 1 ask: make the walnut taco meat and try a half ground beef, half walnut meat taco salad. Your brain and body will thank you for providing it the rich benefits of walnuts, while you can also keep your meat-loving family members happy too.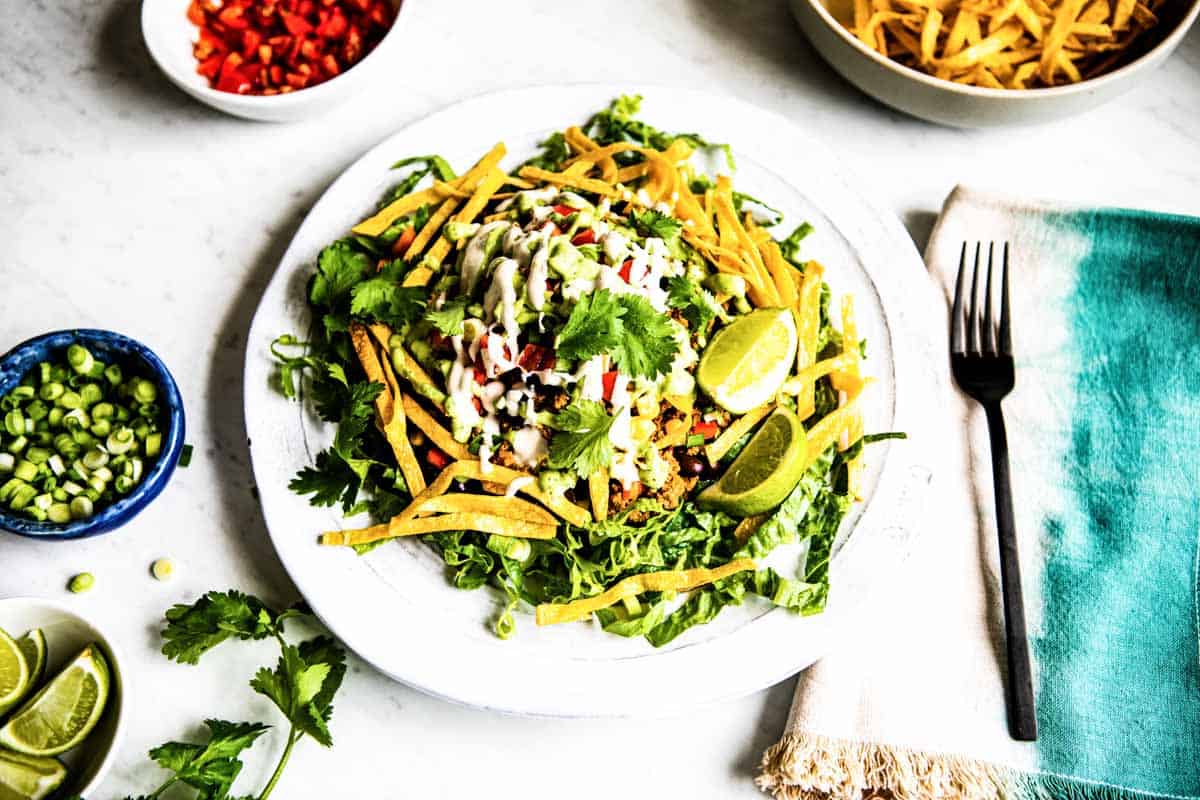 Taco Salad FAQs
Are taco salads unhealthy?
No! They can be super healthy yet still delicious by using fresh ingredients, protein powered vegan meat or real meat and dressing that is made with whole ingredients.
How do I make a taco salad vegan?
Easy! Use walnut taco meat, chickpeas, black beans, jackfruit, or tofu for a delicious non-meat taco salad. Swap out cheese + sour cream for guacamole and cashew cream. You won't even miss the dairy or meat.
Why are taco salads high in calories?
Taco salads are kind of a whole-meal-in-one dish. You've got your protein, starch, veggies, and fats altogether in one filling dish. Know that not all calories are the same, and if your healthy taco salad is full of fresh, whole foods, then you've got nothing to worry about except that next bite of flavor-filled goodness.
More Healthy Recipes
Tacos are probably my fav food… no joke. I look for taco places in new towns like some might look for a new coffee shop to try (though I look for those too!). So I've def got a good list of delicious taco recipes to share:
Don't forget to rate + review this recipe once you've made it. I love getting your feedback!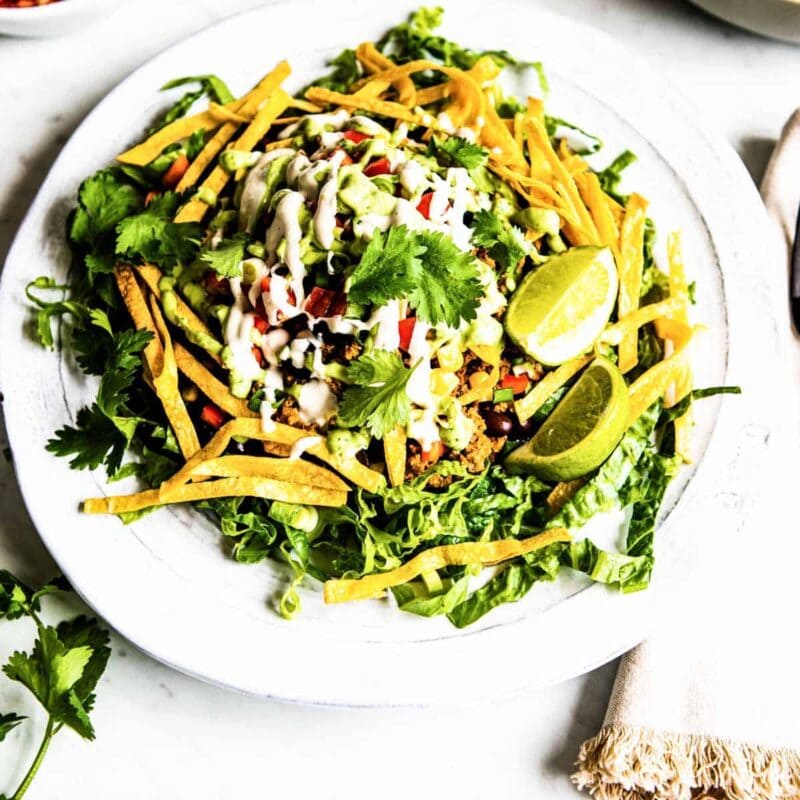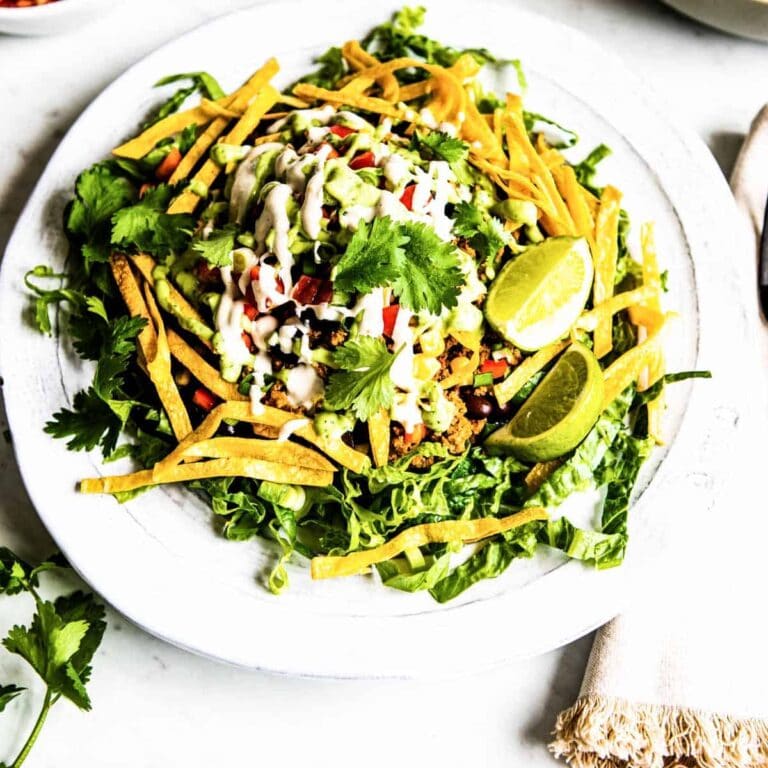 Healthy Taco Salad
This healthy taco salad is packed with plant-based whole foods! A crisp corn shell is topped mile-high with crunchy romaine, veggies, and our very own recipe for a vegetarian nut-based taco meat. Mark your calendar and make this for Taco Tuesday!
Ingredients
2

cups

Vegan Taco Meat

4

cups

tortilla chips

4

cups

romaine lettuce

shredded

1

15-oz can

black beans

drained and rinsed

1

avocado

diced

1

cup

cherry tomatoes

halved

1

red bell pepper

diced

½

cup

corn

thawed if frozen

½

cup

black olives

sliced

2

green onions

thinly sliced

Cashew Cream

for serving
Instructions
Prepare Vegan Taco Meat according to recipe (best if walnuts are soaked overnight. Yet in a pinch, you can "flash soak").

Arrange the tostadas or chips on four shallow serving bowls or plates.

Top with lettuce, followed by the taco meat, black beans, avocado, tomatoes, corn, olives, and green onions.

Garnish with cilantro and serve with salad and cashew cream on the side. 
Notes
Nutrition information does not include toppings.
For a grain-free version, substitute corn tostadas with large cabbage or lettuce leaves, or simply omit.
To heat taco meat, place a nonstick skillet over medium-high heat and lightly coat the bottom with olive oil, about 1-2 teaspoons. Add taco meat mixture and lightly saute until warmed through and nuts are lightly toasted. Be careful not to let it burn. Use immediately.
Flash soaking walnuts: boil 2 cups water and pour over walnuts along with a squeeze of fresh lemon juice. Allow to soak for 30 minutes to 1 hour and continue making the recipe. Please note that flash soaking does destroy some of the nutrients in the walnuts.
Nutrition
Calories:
532
kcal
,
Carbohydrates:
22
g
,
Protein:
12
g
,
Fat:
49
g
,
Saturated Fat:
5
g
,
Polyunsaturated Fat:
29
g
,
Monounsaturated Fat:
12
g
,
Sodium:
277
mg
,
Potassium:
828
mg
,
Fiber:
10
g
,
Sugar:
6
g
,
Vitamin A:
5469
IU
,
Vitamin C:
56
mg
,
Calcium:
99
mg
,
Iron:
3
mg