Pulled BBQ jackfruit is a meatless wonder to make all of your Taco Tuesday dreams come true. This BBQ jackfruit tacos recipe only takes about a half hour to prepare – perfect for getting dinner on the table in a hurry.
Chances are you've probably heard the word jackfruit before but haven't quite known what it was or why it was worth trying. Today, I wanna teach you the art of cooking with jackfruit.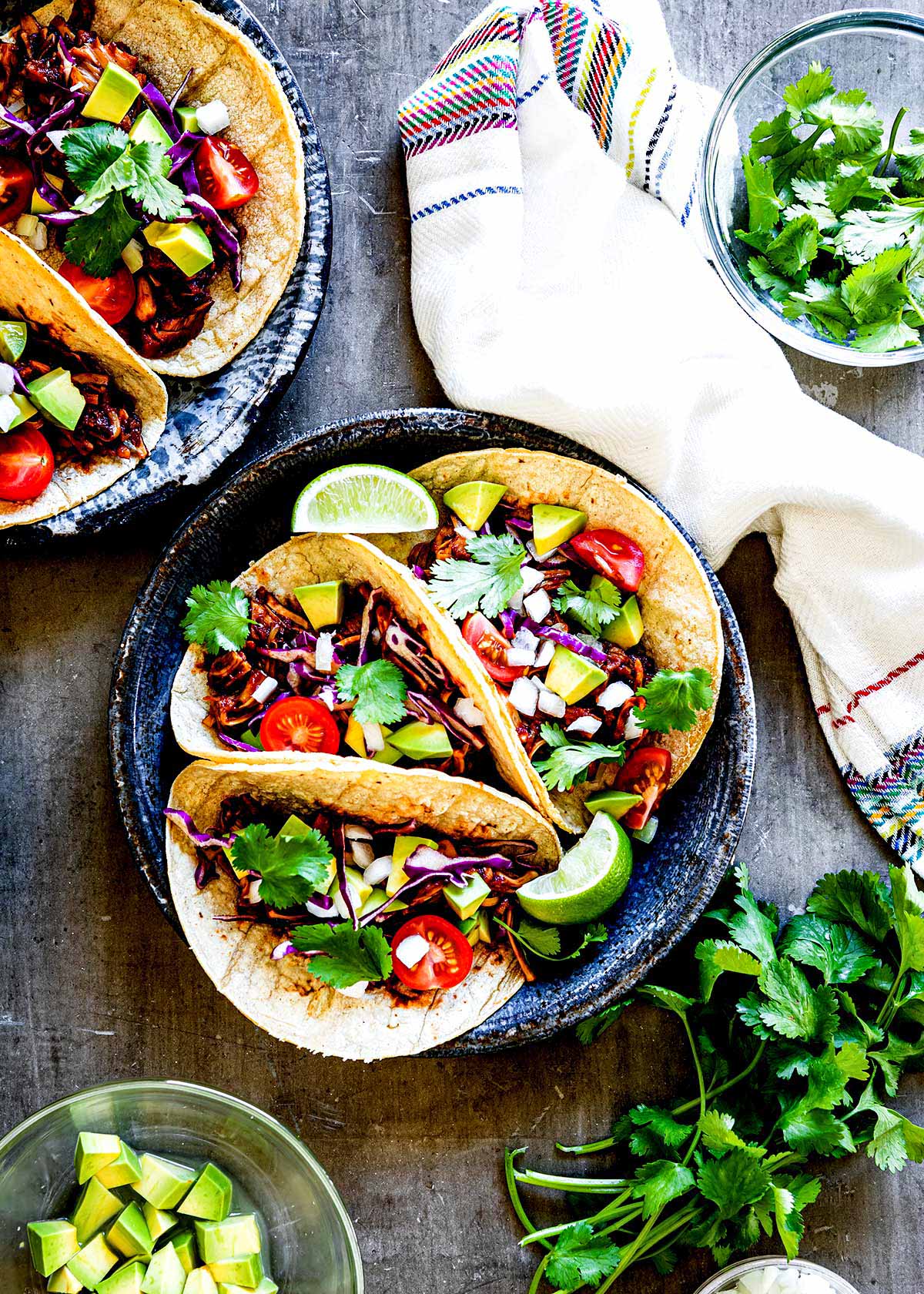 Table of Contents
Is Jackfruit really fruit (or meat)?
Green jackfruit is a popular vegetarian meat replacement because it shreds like meat and has a very similar texture. It's grown in the tropical climates of southern India, Southeast Asia and is ginormous once it's full grown and ripened (check out the picture below to see what I mean by ginormous!).
Doesn't it look like a spiky dragon egg?!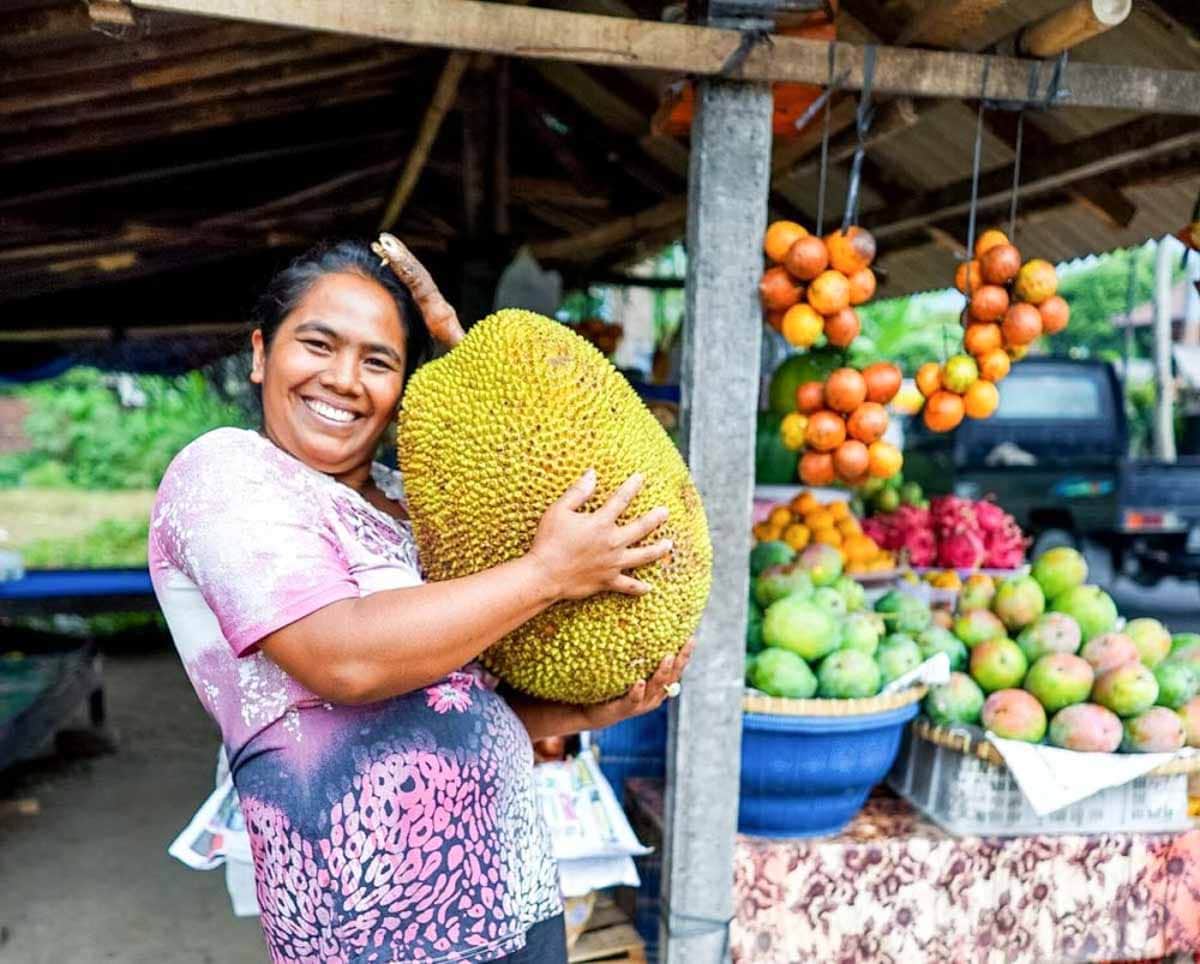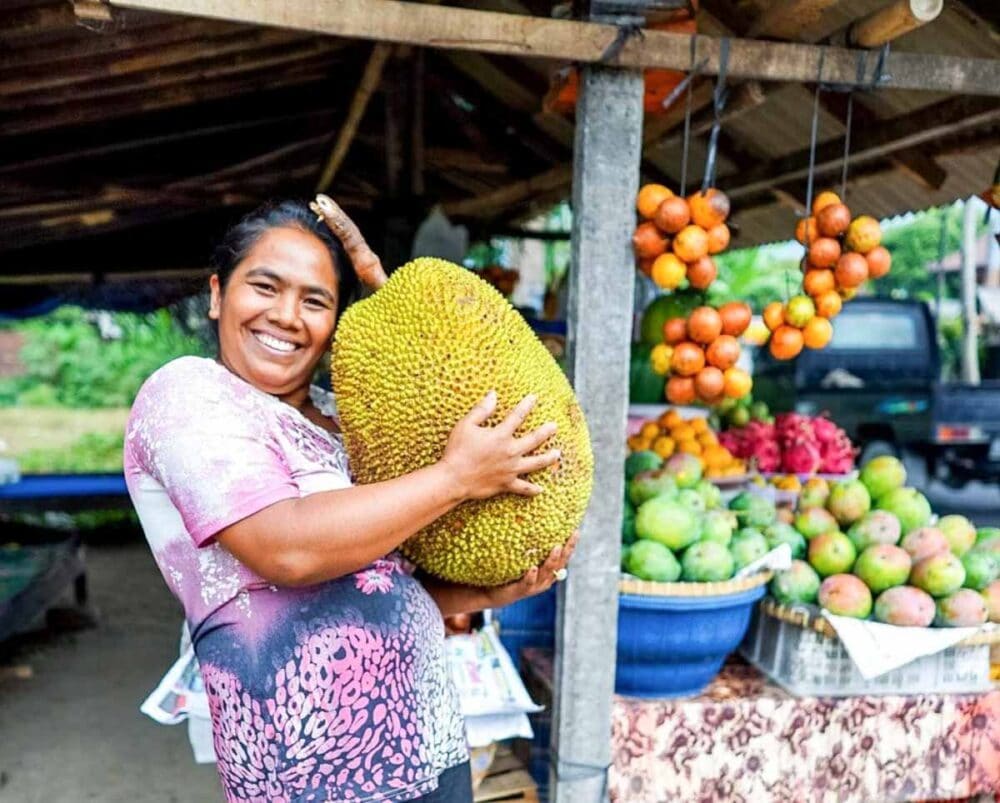 A ripe jackfruit contains sweet yellow fruit that is reminiscent of fruit gum with tropical + floral notes. While the ripe jackfruit is certainly popular and delicious to eat, it's the young, unripened, green jackfruit that has become especially trendy over the last few years. The green jackfruit is perfect for jackfruit tacos, since we don't want the super sweet side of this fruit.
A powerfully nutritious fruit
This unique fruit also packs a powerful protein punch; over 3 grams of protein per serving! It's also brimming with vitamins + minerals, as well as lots of antioxidants. So the jackfruit food trend isn't just for its unique look + texture; people are starting to realize the health benefits of it too.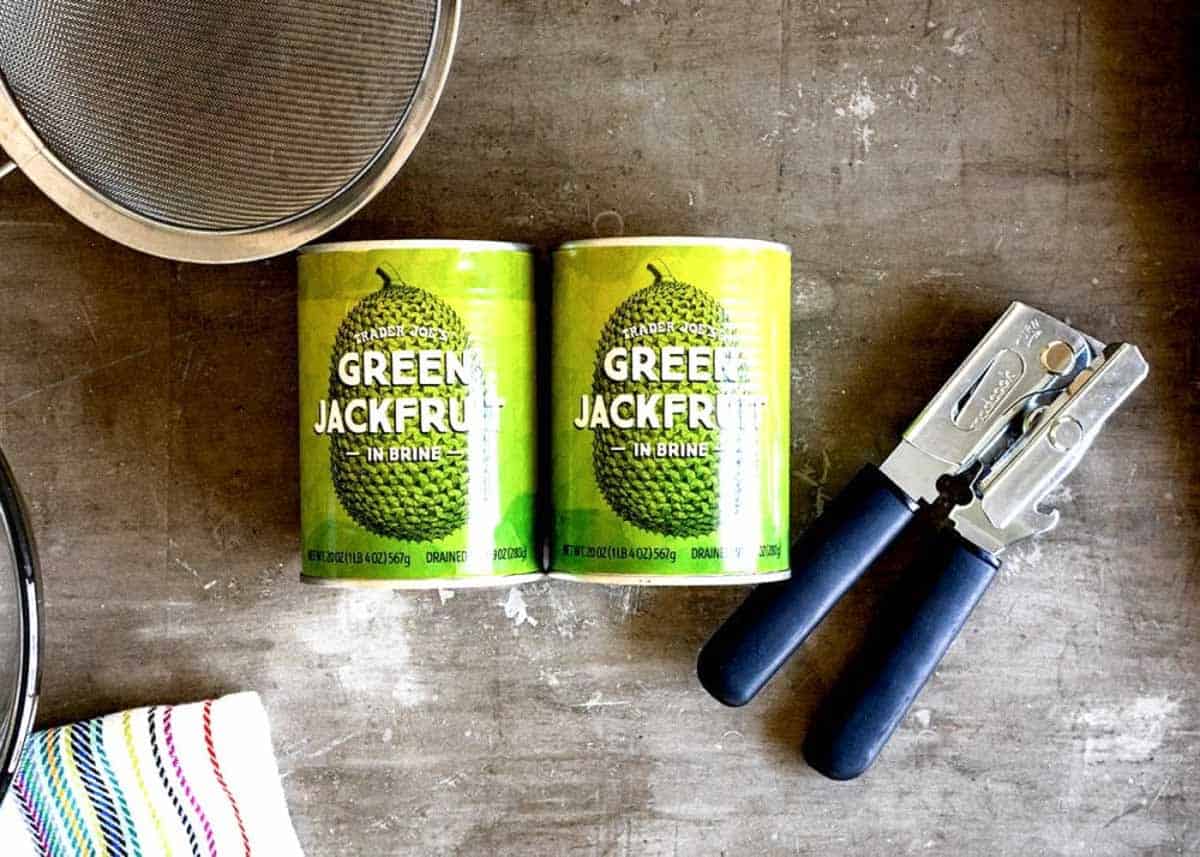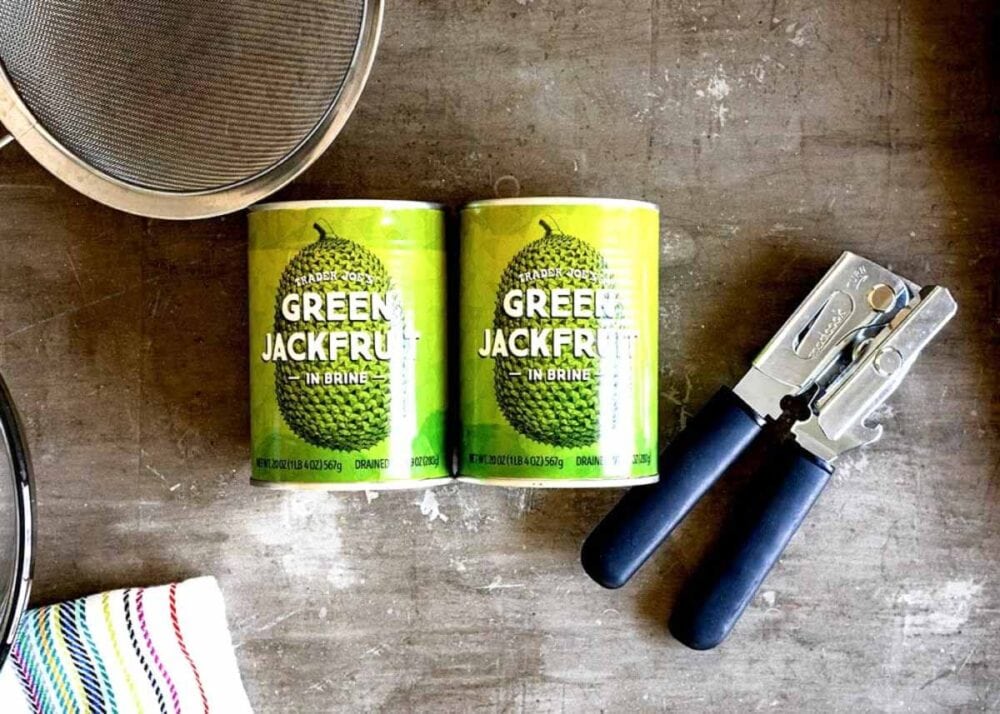 What Do Jackfruit Tacos Taste Like?
Think of green jackfruit sort of as you would any unripe fruit, such as bananas. Because it's the immature version of the fruit, it doesn't taste very sweet – it can be tangy even. This unsweet taste makes it the perfect thing to use in a number of recipes.
My husband, Ryan, couldn't believe he wasn't eating meat when we tried this jackfruit tacos recipe for dinner. BBQ jackfruit is so similar in taste AND texture to a pulled chicken BBQ— you'll be hard pressed to realize the difference.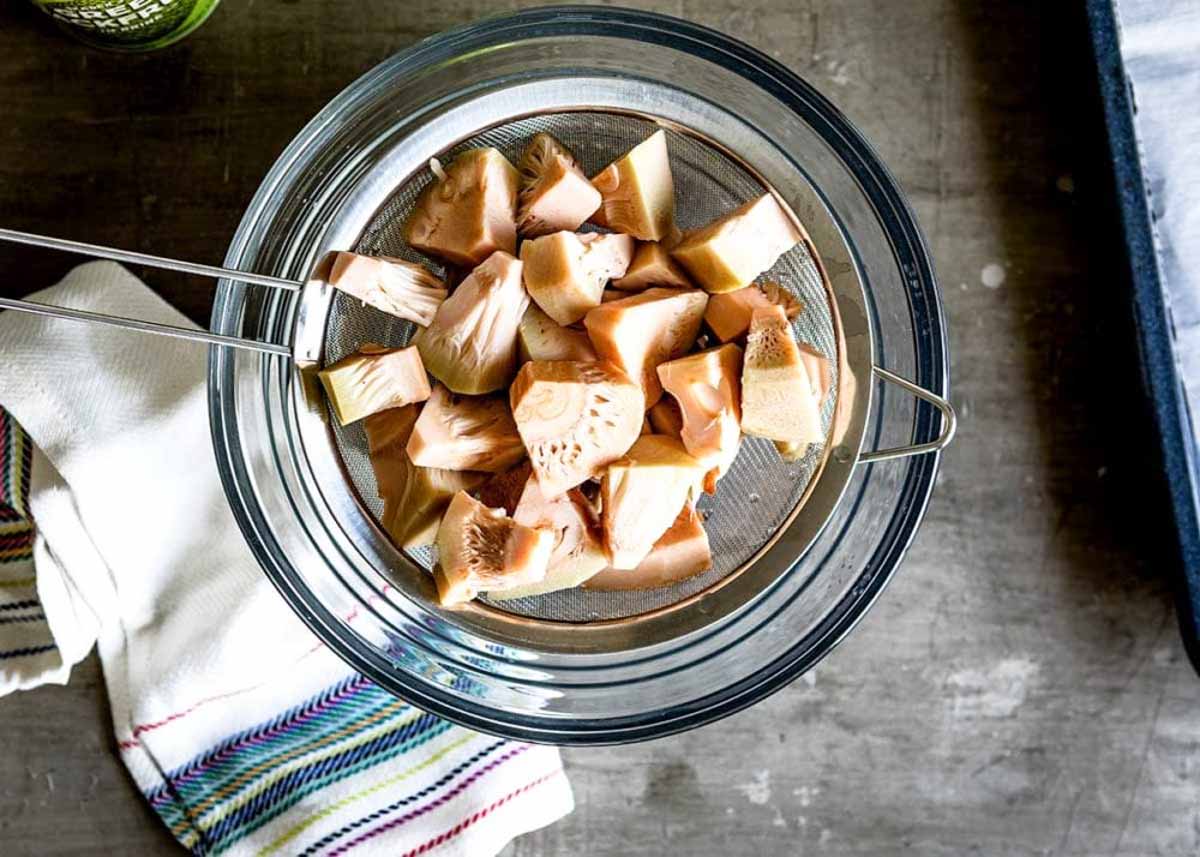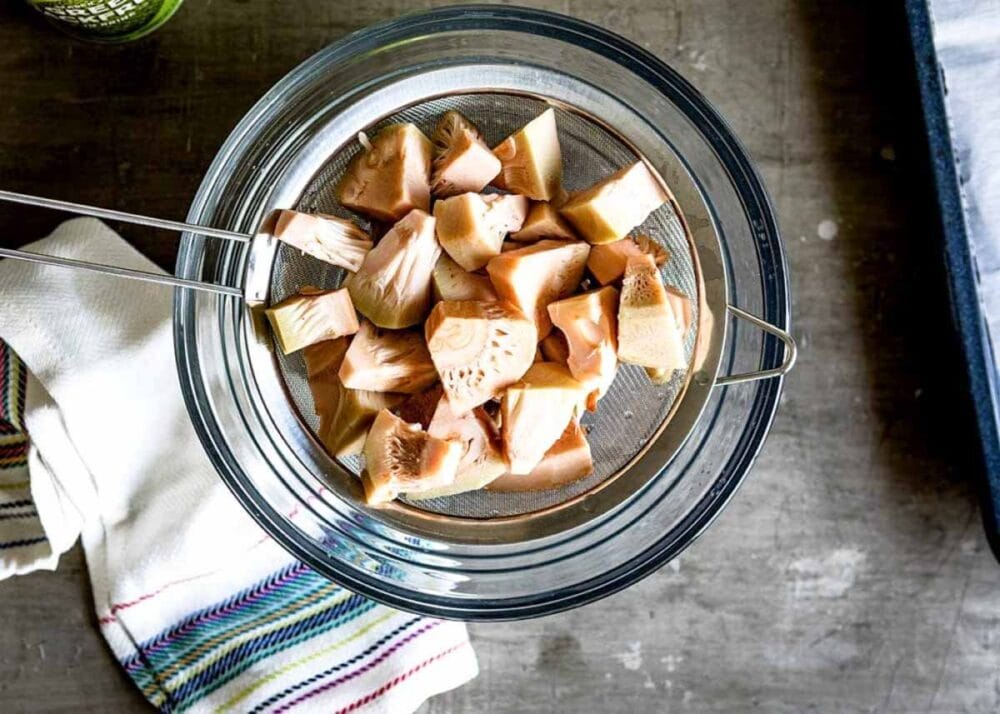 How to Make Jackfruit Tacos
For this recipe, we're using canned green jackfruit. That's the easiest to find. Trader Joe's is a great place to buy canned jackfruit, but it can also be found at health food stores and Asian markets as well.
To keep this jackfruit tacos meal simple, I also used store bought BBQ sauce. My family's fav is probably Trader Joe's Organic Kansas City Style BBQ, though you can use whatever kind you like!
Pro tip: store bought sauces are known for their additives, corn syrup, and food dyes. Read your labels when buying, to make sure you're getting one that uses real ingredients.
Before using the jackfruit, take a few steps to ensure success when preparing it. The first step is shredding it.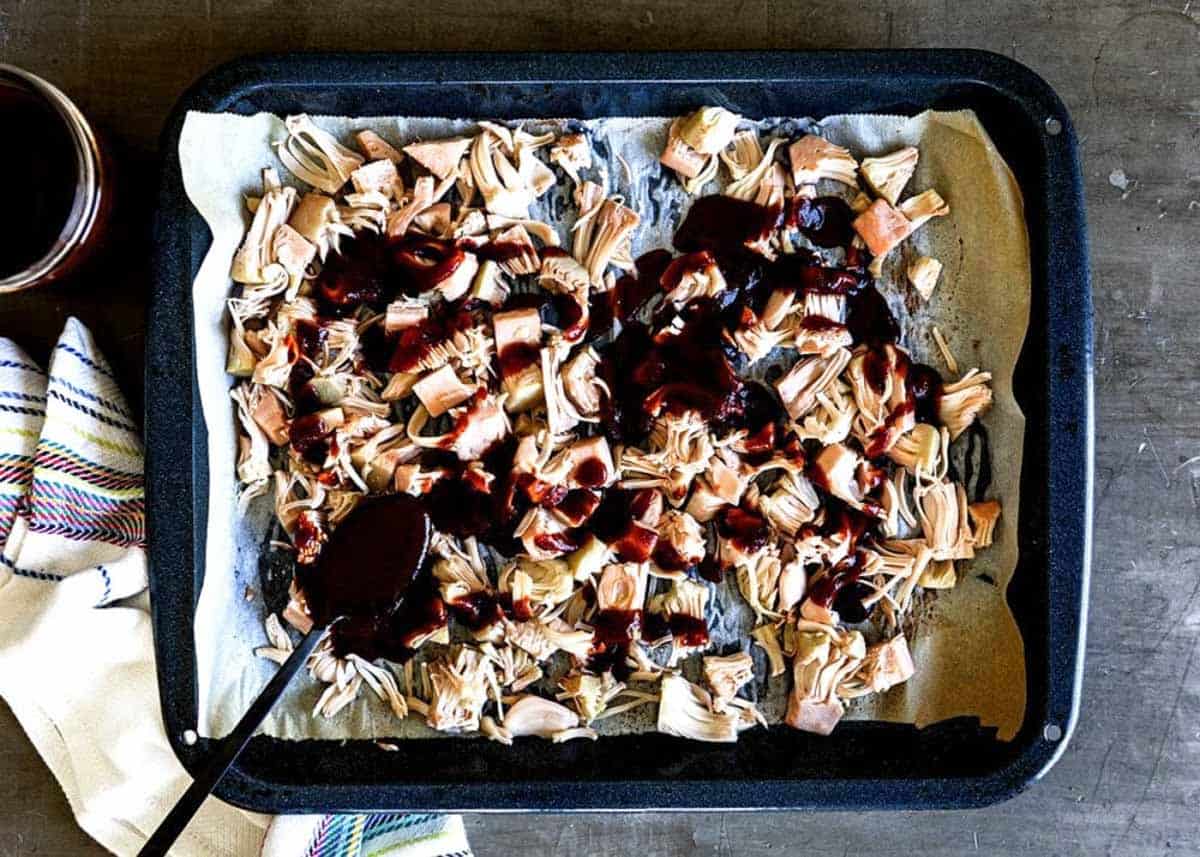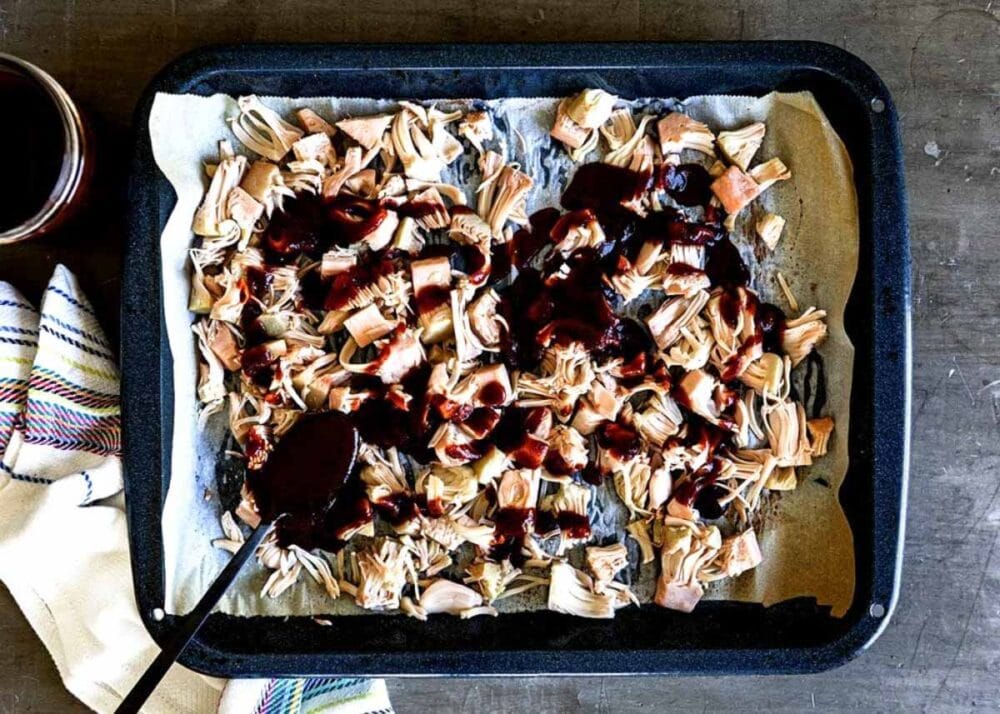 How to Shred Jackfruit
Warm jackfruit shreds easily with two forks, just like meat. There are parts of the fruit that are a little more tough and fibrous, but even still completely edible. I prefer to remove the hard seed pods before shredding and adding sauce. Here's how I shred my jackfruit for tacos: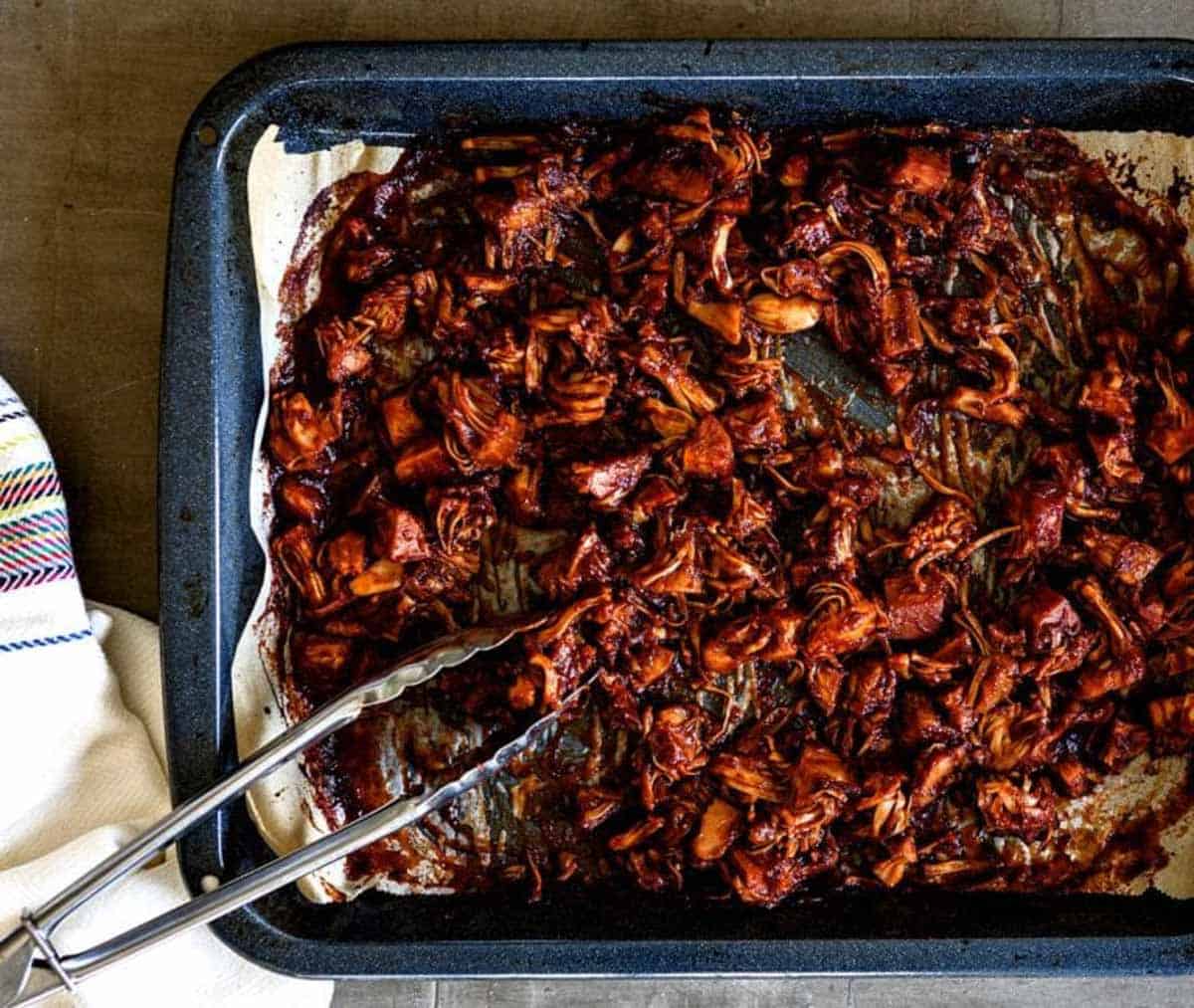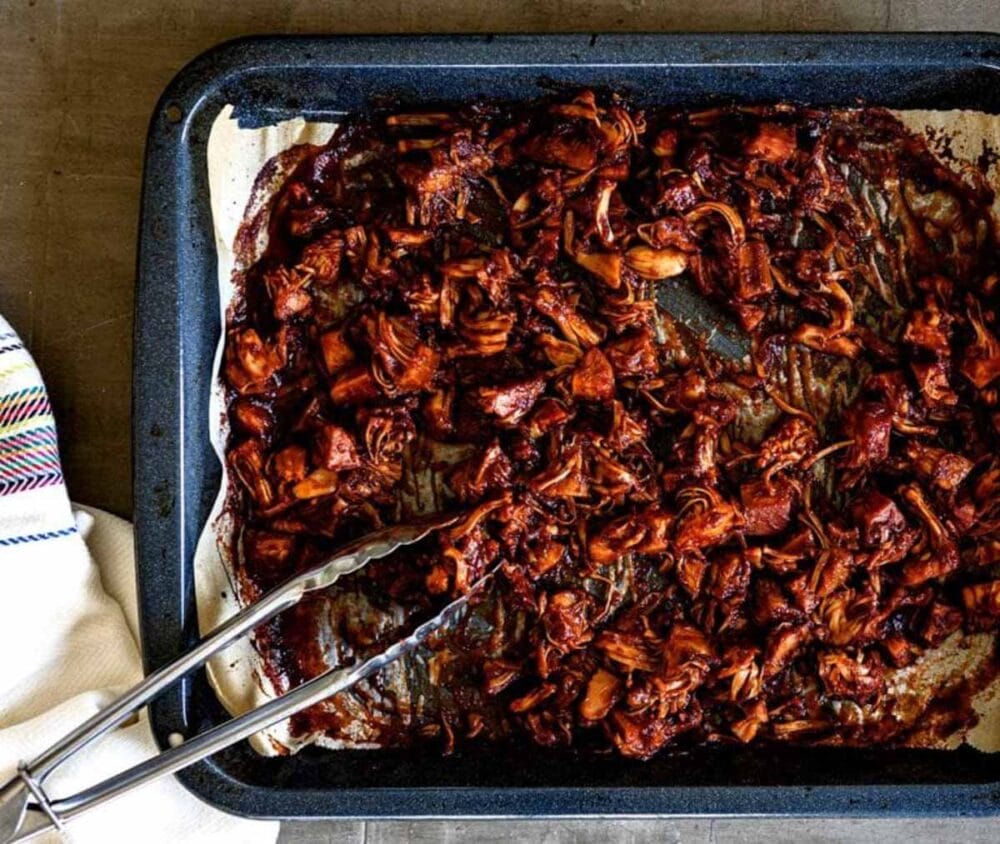 After draining + rinsing, place jackfruit pieces on a parchment lined baking sheet
Warm in oven at 425 degrees F for 10 minutes
Remove from oven and shred jackfruit pieces with 2 forks, just like you do with chicken or pork
If there are tougher seed pods, you can remove these (they are edible, yet tough)
To keep these 100% plant-based, we're using corn tortillas and topping our BBQ jackfruit taco "meat" with thinly sliced red cabbage and white onion for plenty of crunch, creamy diced avocado, cherry tomatoes, fresh cilantro, and a squeeze of lime juice. You can top these with any of your favorite taco toppings. (A drizzle of cashew cream is really good too!)
(Recipe note – to bypass the oven, the drained and rinsed jackfruit and BBQ sauce can go straight into a slow cooker and shredded before serving.)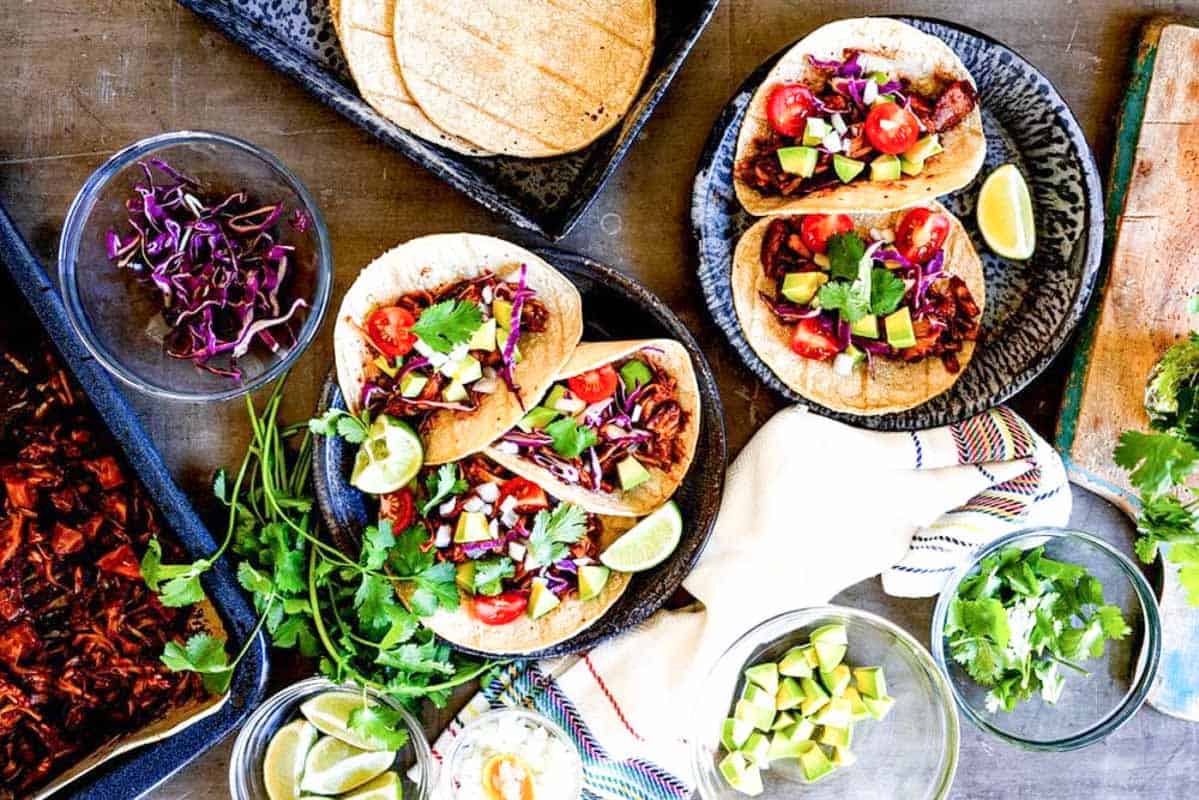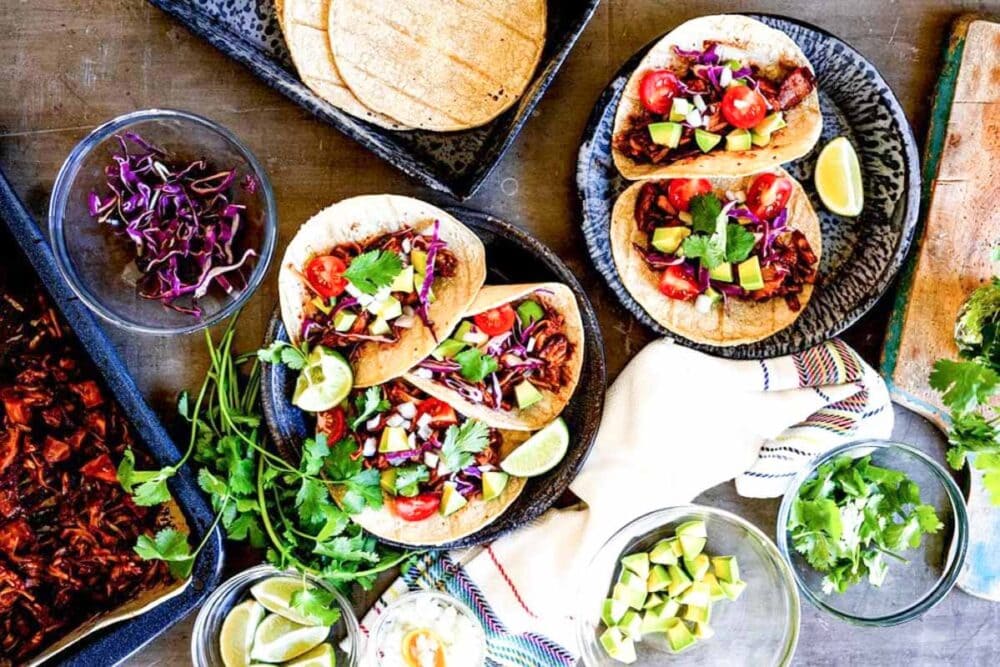 5 More Plant-Based Taco Recipes
Tacos are such an easy + nutrient dense meal for the entire family. Here are a few of my fav taco recipes:
I hope you give this jackfruit tacos recipe a try first. Then you'll see what I'm talking about!!! I also wanna know what your favorite taco toppings are, as well as if there are any other foods you'd like to see me turn into the Tuesday tacos of your dreams. 😉
Don't forget to give this a rating + review once you've made it!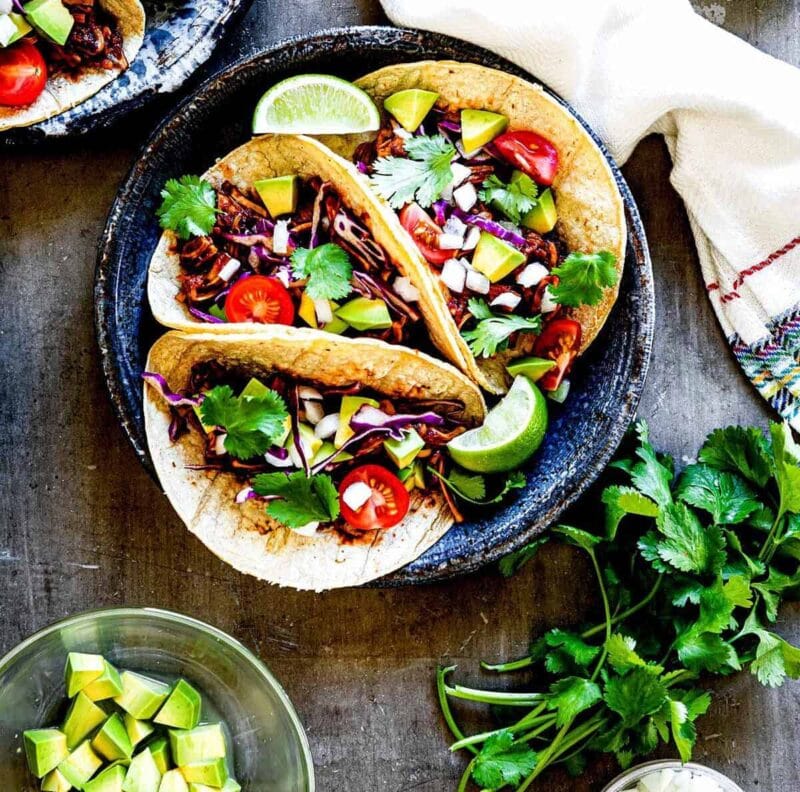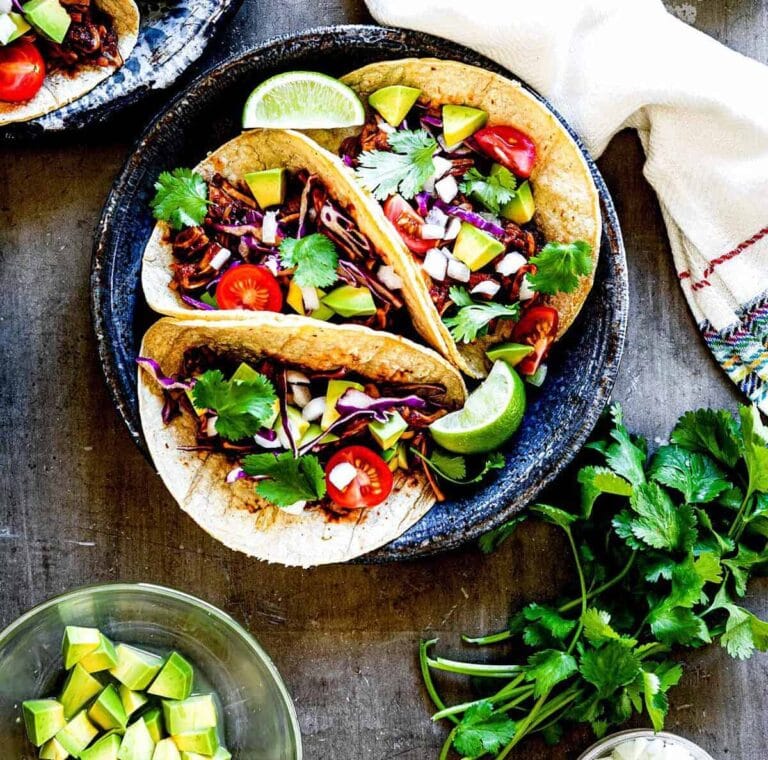 BBQ Jackfruit Tacos
Pulled BBQ jackfruit is a meatless wonder to make all of your Taco Tuesday dreams come true. Jackfruit Tacos only take about a half hour to prepare – perfect for getting dinner on the table in a hurry. 
Ingredients
2

cans

green jackfruit

drained and rinsed

1

cup

BBQ sauce

your favorite kind

8

corn tortillas

warmed
Taco Toppings
1

cup

red cabbage

very thinly sliced

1

avocado

diced

½

cup

cherry tomatoes

quartered or halved

¼

cup

yellow onion

diced

1

lime

cut into wedges

¼

cup

fresh cilantro
Instructions
Preheat oven to 425°F. Line a baking sheet or roasting pan with parchment paper.

Drain and rinse the canned jackfruit. Allow any excess water to drain off the jackfruit or pat dry with a few paper towels. Place on the lined sheet or pan in an even layer. Roast for 10-12 minutes, or until warmed through and jackfruit looks a little dry on top.

Remove from oven and use two forks to shred the jackfruit. If desired, remove any of the hard, tough seed pods. Pour 1/2 cup of the BBQ sauce over the shredded jackfruit and toss to coat. If needed, add a little more sauce. Roast for an additional 10-12 minutes, or until sauce has thickened and darkened. Remove from oven and stir in remaining BBQ sauce, if desired. (This is personal preference.)

To assemble tacos, place about 1/4 cup of the BBQ jackfruit into each of the warmed tortillas and top with desired toppings. Serve immediately. 
Notes
 BBQ jackfruit can be made several days in advance and warmed up before serving.
It will keep for 3-5 days in the fridge and can also be frozen.
Freezing may affect the texture of the jackfruit.
Top with avocado crema or cashew cream.
Nutrition
Calories:
465
kcal
,
Carbohydrates:
95
g
,
Protein:
6
g
,
Fat:
10
g
,
Saturated Fat:
1
g
,
Polyunsaturated Fat:
2
g
,
Monounsaturated Fat:
5
g
,
Sodium:
786
mg
,
Potassium:
772
mg
,
Fiber:
10
g
,
Sugar:
27
g
,
Vitamin A:
653
IU
,
Vitamin C:
29
mg
,
Calcium:
154
mg
,
Iron:
2
mg