I love playing around with ingredients and trying new things, so when I heard you could swap eggs for flaxseeds in baked goods, I was down to try! I've learned that flax eggs are a super easy plant-based alternative to chicken eggs in recipes that use eggs as a binding agent (such as banana bread, muffins and cookies).
If you are new to a plant-based diet, then this post is for you! Eggs aren't evil, yet many people choose not to eat them for health or personal reasons. Instead of using weird substitutes from the store, learn how to make flax eggs in two steps and enjoy a fun, new ingredient!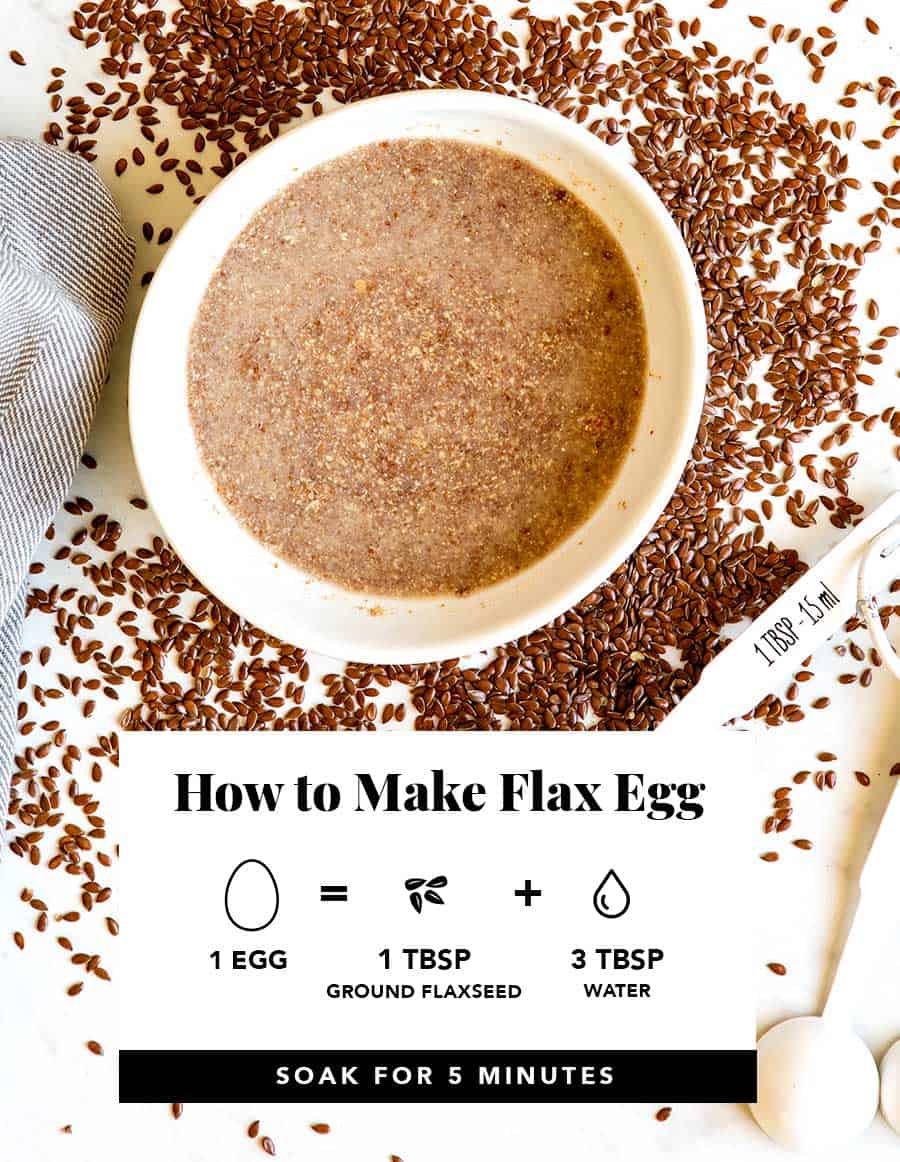 Flax eggs can be used in a variety of sweet and savory recipes, and take just a few minutes to set. Today, I want to show you how to make a flax egg. Plus, I've included some great recipes you can use them in.
Table of Contents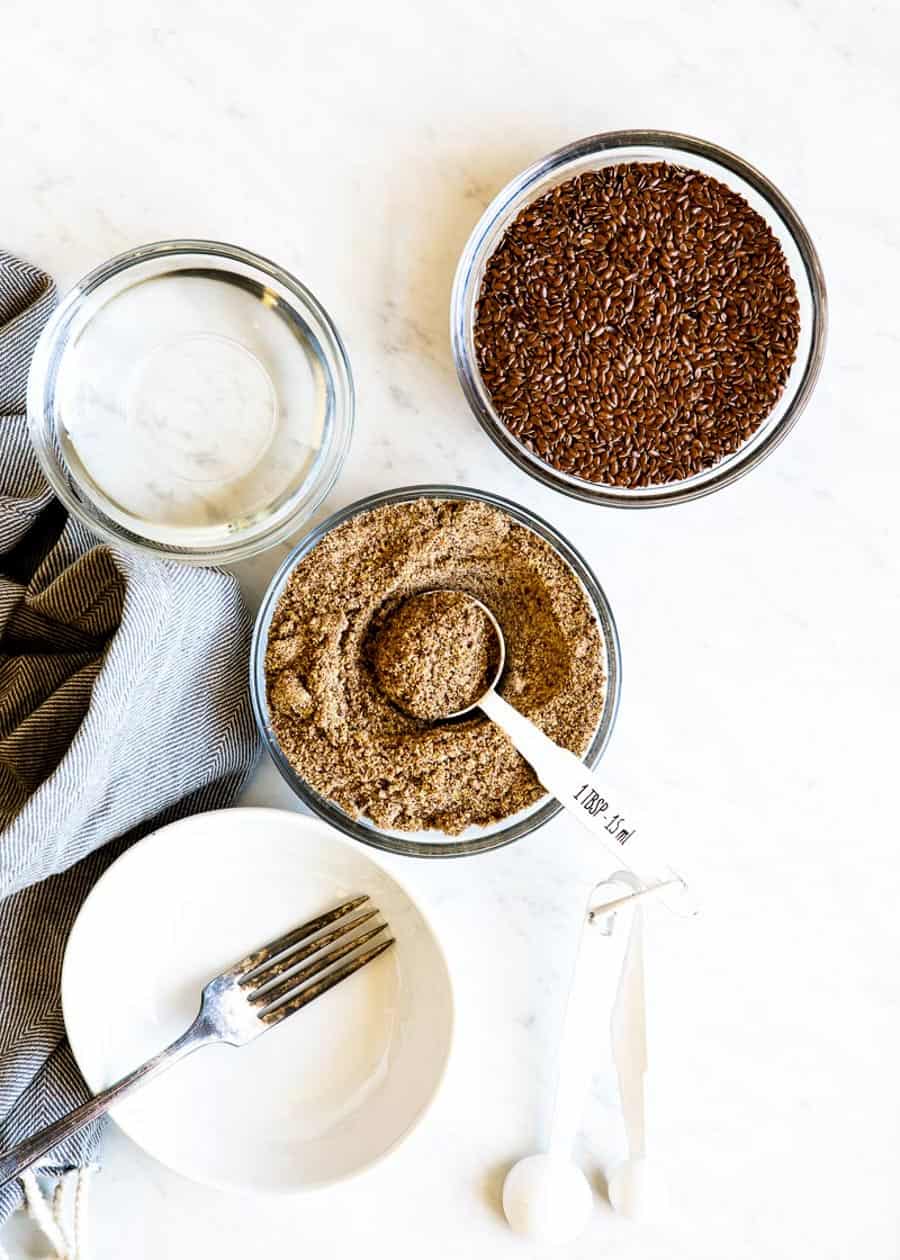 How to Make Flax Eggs
All you need for this recipe is ground flaxseed and water:
Whisk together 1 tablespoon of ground flaxseeds with 3 tablespoons of water.
Soak the mixture for 10 minutes to create a sticky, gelatinous texture.
Each flax egg replaces one regular egg. If you've got whole flaxseed then grind them up using a food processor or spice grinder before combining with water. Not only does this plant-based option work as an egg replacement, but they also add plant-based protein, fiber and healthy fats to your recipes. Flaxseeds are a superfood!
How to Use Plant-Based 'Eggs'
This kind of egg substitute works best for recipes that use eggs for binding. You should use it in recipes that already contain a leavening agent like baking powder, baking soda, or vinegar.
Feel free to experiment! Baking is a science and there are so many factors that go into ingredient swaps. You may find that you love the taste of flax in recipes and begin using it more.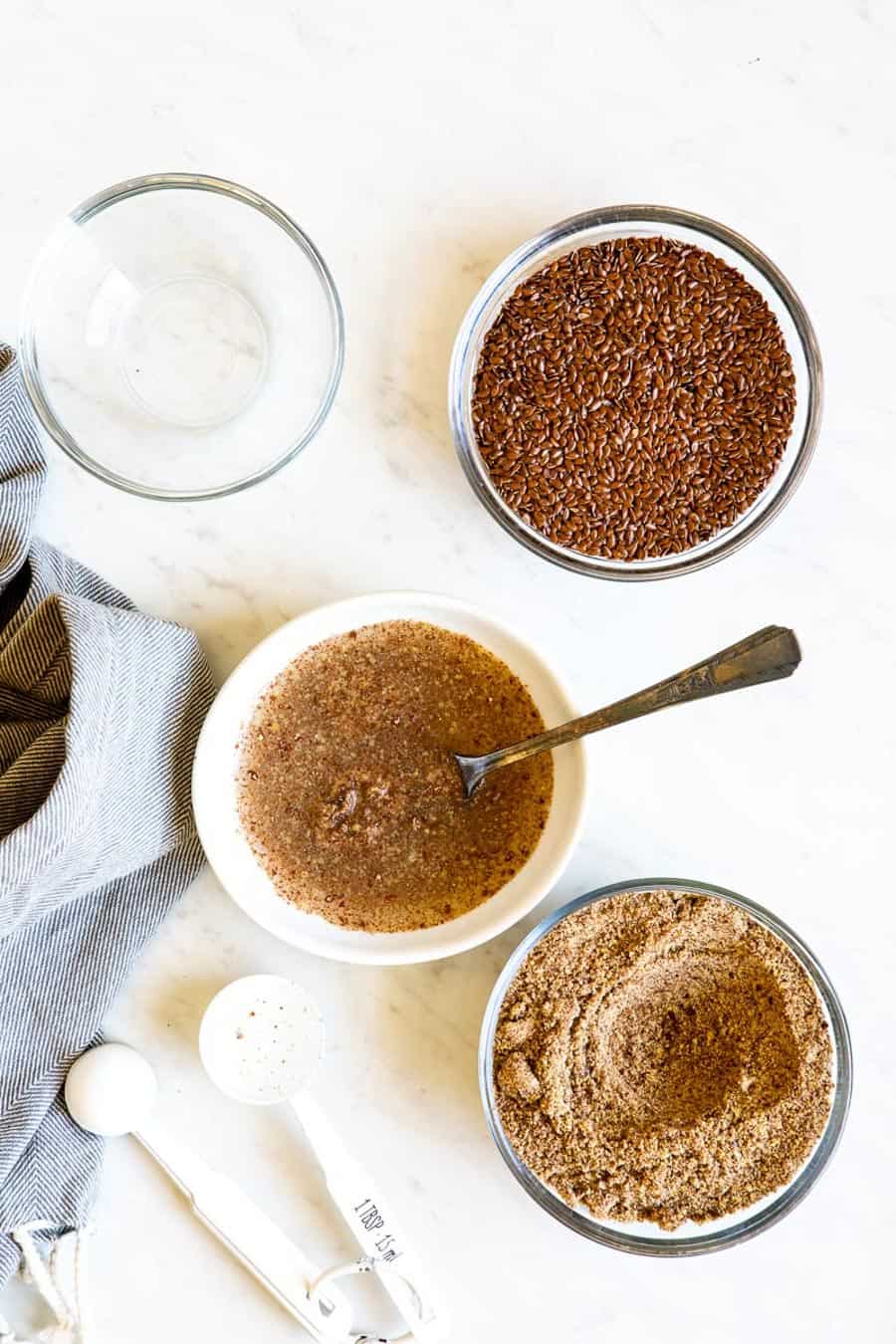 Flax Egg FAQs
Do flax eggs really work?
Yes! While there are some recipes that don't quite work with flax eggs (like meringue), most baked goods can be made with flax eggs instead of real eggs. Muffins, cakes, cookies and more!
How do I substitute flax eggs for real eggs?
Flax eggs are a 1 to 1 ratio with real eggs, so you can easily swap them in when baking. Since flax eggs do not have any rising properties like real eggs, you may need to alter other ingredients to make up for what is missing.
How many eggs equal a flax egg?
I like to keep it simple, so 1 flax egg = 1 real egg. Remember that real eggs have properties that flax eggs don't because they are made of different stuff, so swapping in flax eggs may change the texture/consistency of your recipe a bit, just like swapping in gluten-free flour for regular flour.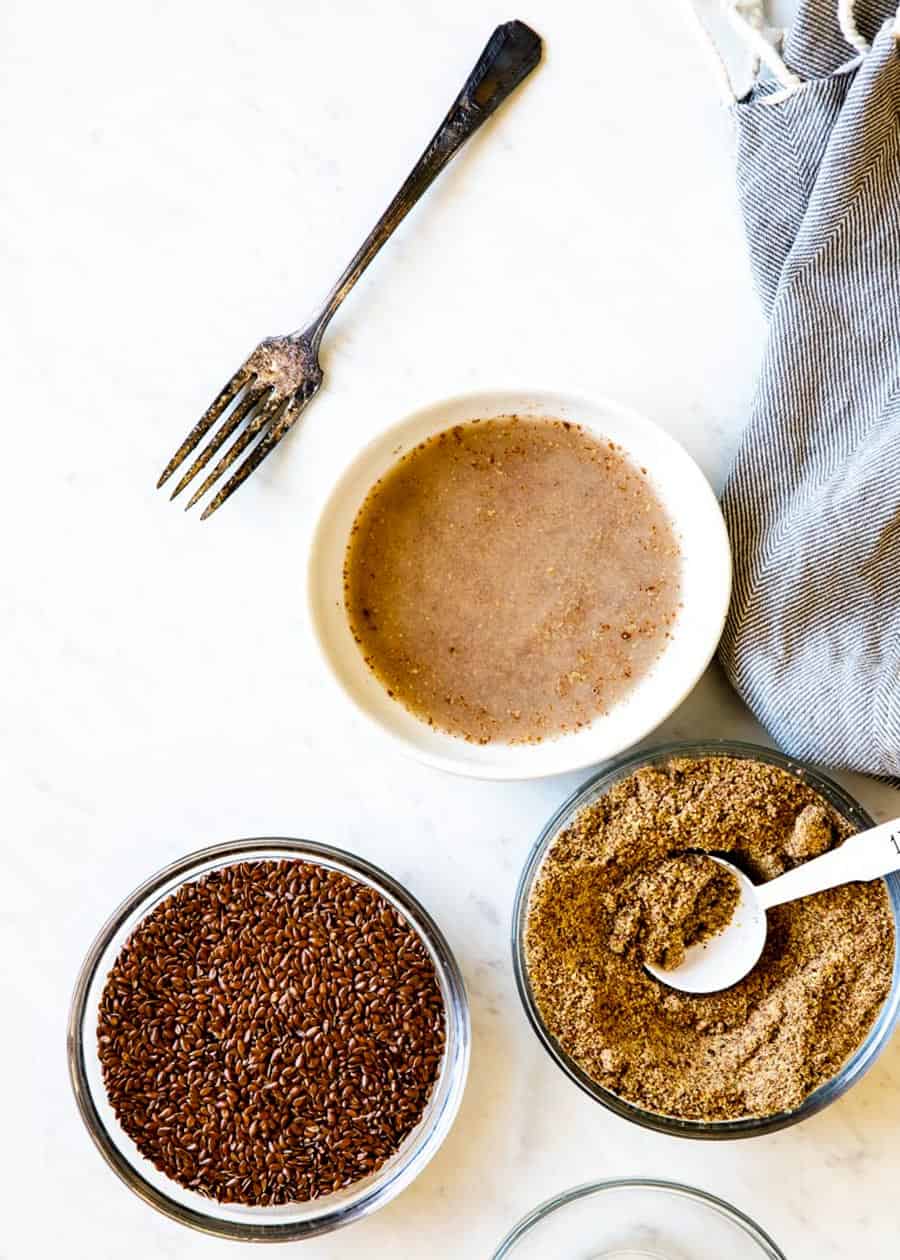 More Vegan Egg Options
Different kinds of egg substitutes can be used for different kinds of recipes. Whether you've got an allergy or just ran out, I've got you covered! Here are my favorite vegan eggs to use based on what I need them to do in a recipe:
Leavening
The following plant-based options work great in cakes, cookies, pies and bread:
Apple Cider Vinegar
Carbonated Water
Baking Powder
Binding
Try one of these easy options, or my flax recipe below when you need a binding agent:
Mashed Banana
Mashed Avocado
Chia seeds (Make a chia egg using my flax recipe below. Replace 1 tbsp flax with 1 tbsp chia seeds!)
Nut Butter
Moistening
Eggs are both liquid and fat, so if your recipe needs something to make it rich and moist, try one of these options:
There are SO MANY options besides eggs to use in recipes. Do you already use one of these options? If not, give one a try the next time you make muffins or cupcakes. Let me know how they turn out! If you do, leave a comment below letting me know your favorite ingredient swap.
Plant-Based Dessert Recipes
Did you know you can make delicious food with vegan eggs? Seriously, you don't have to use real eggs to achieve spongey, fluffy baked goods. Give one of the below recipes a try:
These are great ways to incorporate flaxseeds into your diet. Let me know how your flax eggs turn out! Don't forget to rate + review this recipe so I can know how yours turned out.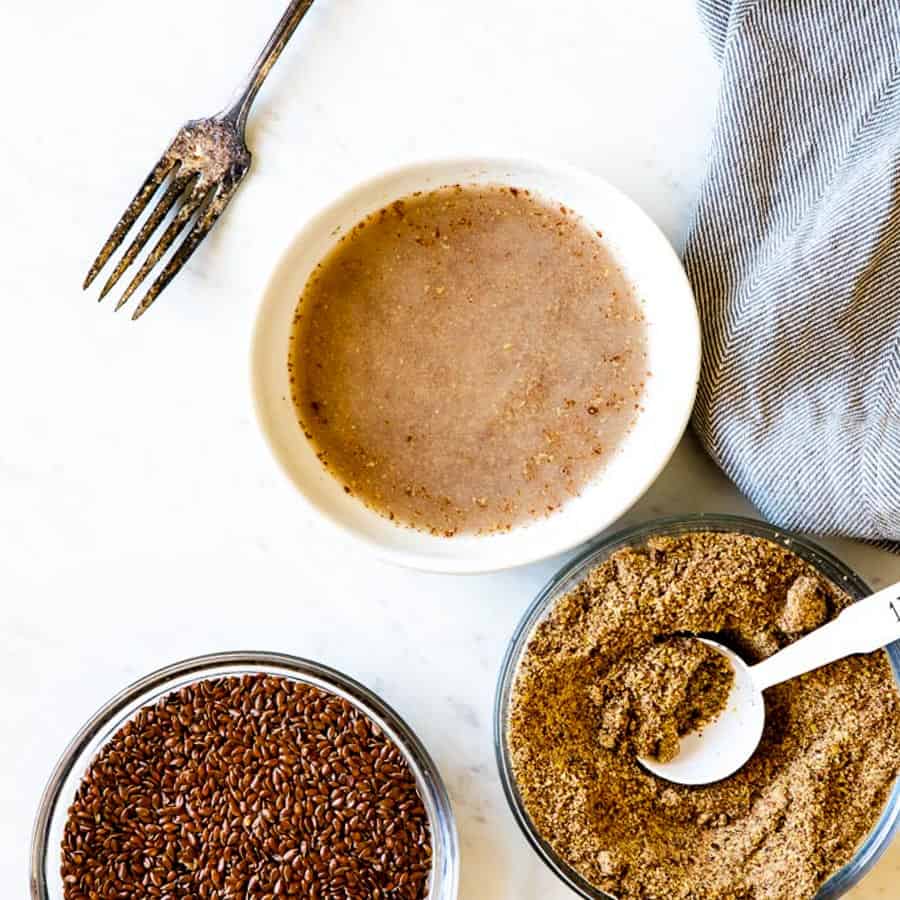 How to Make A Flax Egg
Try a flax egg in your next recipe to replace traditional eggs and enjoy an easy vegan substitute. These 'eggs' are great swaps in recipes that use eggs as a binding agent.
Ingredients
1

tbsp

ground flaxseed

3

tbsp

water
Instructions
Whisk together 1 tablespoon of ground flaxseeds with 3 tablespoons water.

Soak the mixture for 10 minutes to create a sticky, gelatinous texture.
Notes
Each flax egg replaces 1 regular egg.
If you've got whole flaxseed then grind them up using a food processor or spice grinder before combining with water.
This kind of egg substitute works best for recipes that use egg for 'binding.'
Nutrition
Calories:
37
kcal
,
Carbohydrates:
2
g
,
Protein:
1
g
,
Fat:
3
g
,
Saturated Fat:
1
g
,
Polyunsaturated Fat:
2
g
,
Monounsaturated Fat:
1
g
,
Sodium:
4
mg
,
Potassium:
57
mg
,
Fiber:
2
g
,
Sugar:
1
g
,
Vitamin C:
1
mg
,
Calcium:
19
mg
,
Iron:
1
mg