One sip of this refreshing Pear Smoothie can make all your worries go away… at least for a moment.
The secret to successfully making a good pear smoothie recipe is making sure your pear is ripe so it releases the sweet and juicy goodness that screams spring.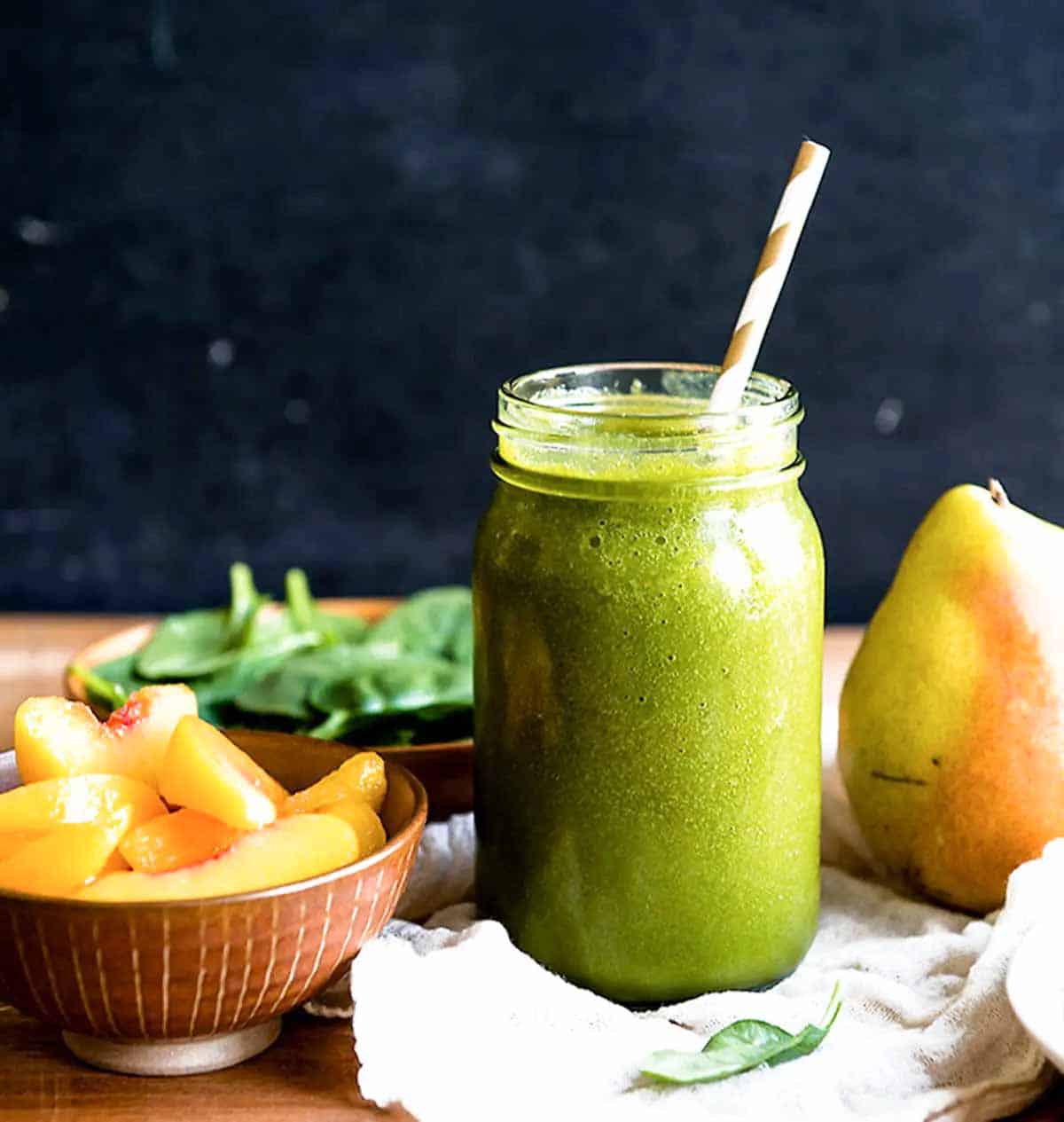 Pears are one of the most underrated fruits out there, in my opinion. I have a feeling it has to do with how difficult it can be to find a ripe one and enjoy it before it goes bad. Reminds me of the avocado and this cute drawing from Simon Drew.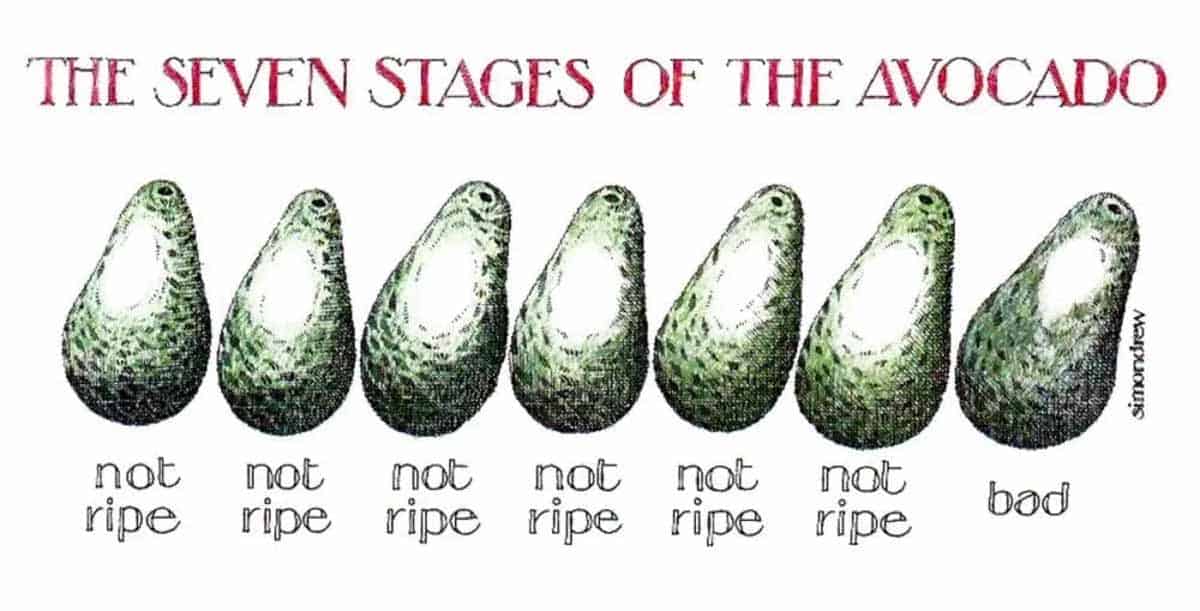 Its true: The window of perfection is short, yet if you time it right it's spectacular! And trust me, it's worth giving it a shot for this pear smoothie recipe.
Ripening pears for this smoothie recipe
Oftentimes grocery stores only sell hard pears that take a week+ to ripen. Look for ones that don't have any cuts or bruises since those will go bad quickly.
To speed up the ripening process, I put my pears in a brown paper bag and close tightly. As the pears ripen, a hormone known as ethylene is produced and emitted as a gas that is now trapped in the bag. This allows the fruit to ripen faster and more evenly than it would if kept in a plastic bag where air can't circulate, or out in the open where ethylene can't accumulate.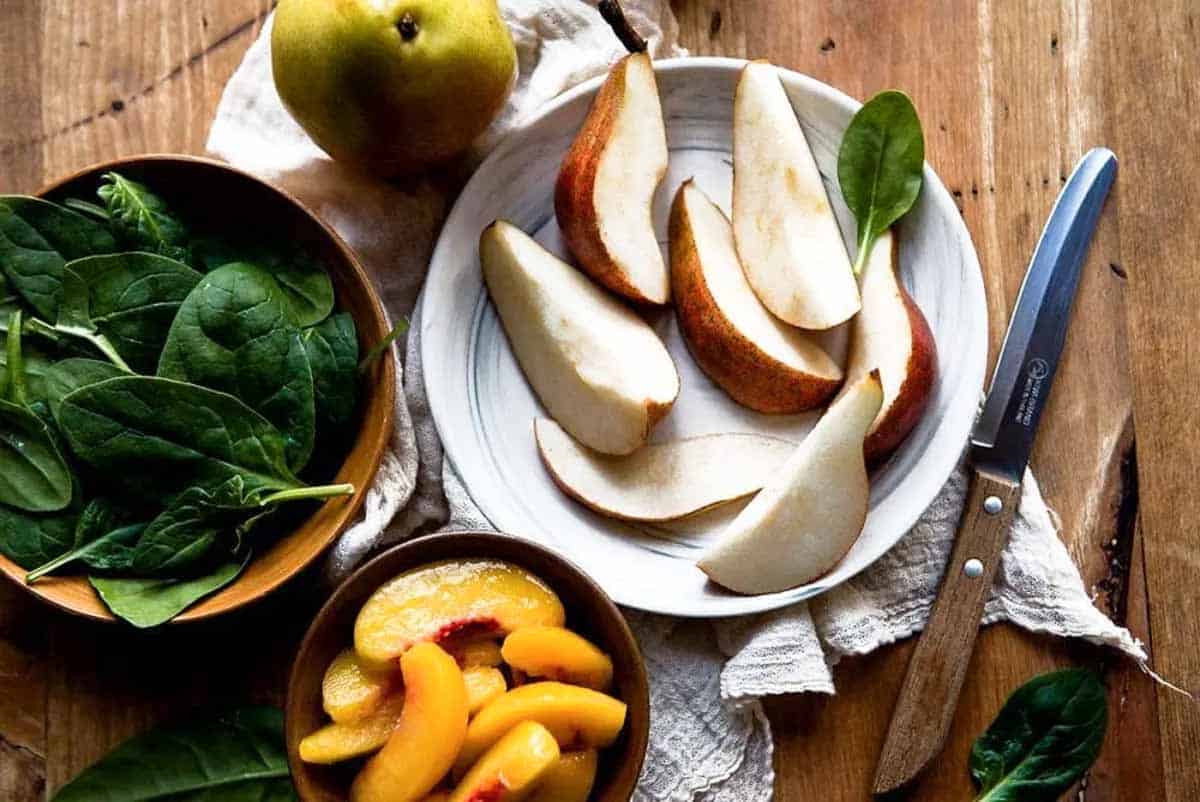 Add a banana
If the paper bag isn't doing the trick, try adding a banana in there! Bananas are pros at producing that ethylene gas for ripening and can speed up the process for you. This way you can turn those hard pears into softer + juicier ones, ready for your next pear smoothie.
Where did pears come from?
It turns out, pears are thought to originate in China. Jules Janick of Perdue University wrote that pears were widely planted in Japan as guardians of property because they were thought to ward of evil. Now that's a powerful tree and fruit. Kinda reminds me of how the fiber in this pear smoothie works like a prebiotic in our gut to ward off evil bacteria. Go pears!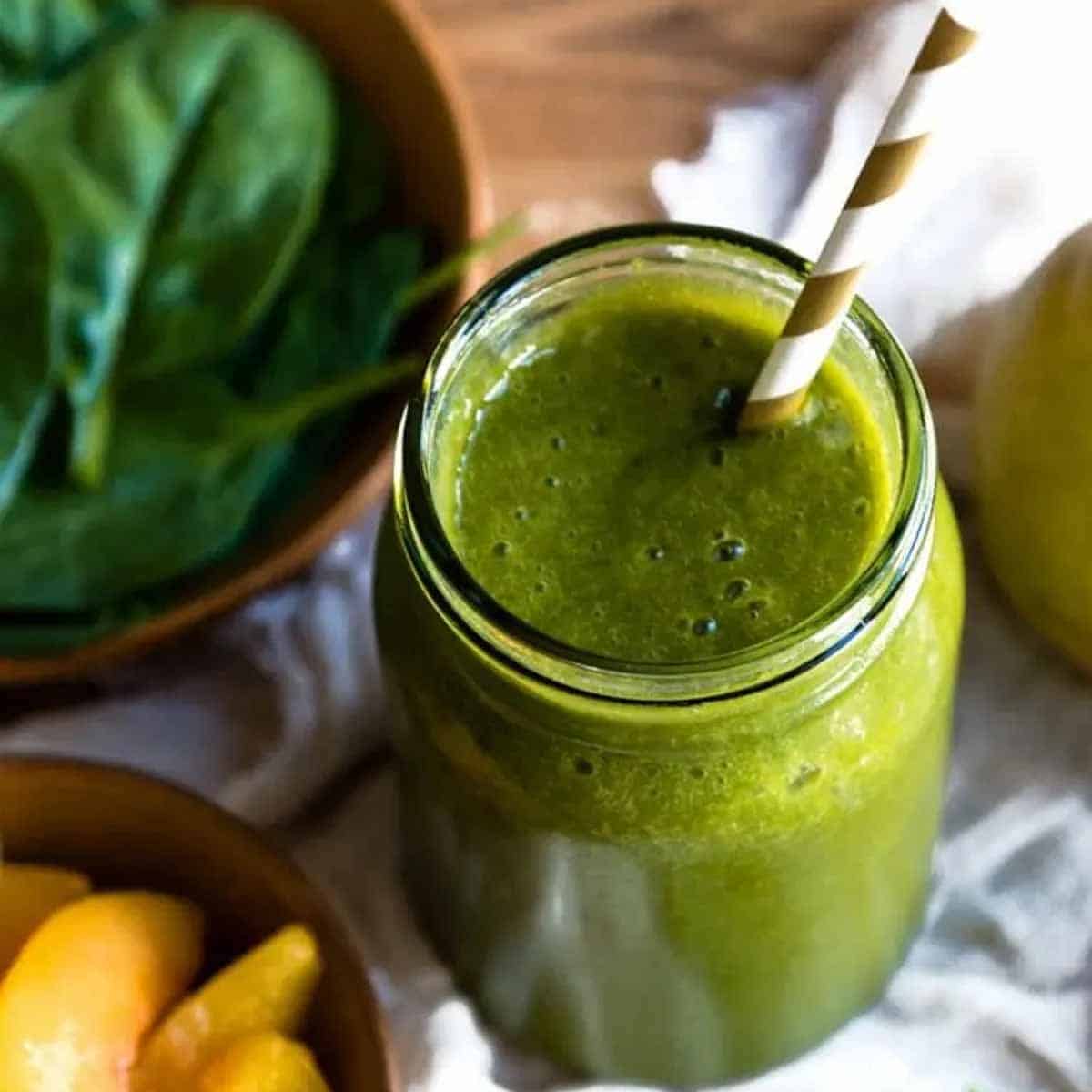 Health benefits of whole food
Using plant-based whole food in your smoothies will exponentially increase the health benefits. These foods are the most natural, nutrient-dense foods on earth and are easy for our body to absorb the vitamins and minerals from them when blended. Examples are fruits like pears (of course!), peaches and bananas or veggies like spinach, kale and sweet potato.
What's good about this Pear Smoothie?
The ingredients in this pear smoothie are total nutrient rawkstars, in my opinion. If you blend it up, then you'll totally get these awesome benefits…
Pears: Pears are especially rich in folate, vitamin C, copper, and potassium. They're also a good source of polyphenol antioxidants, micronutrients that are disease fighters.
Peaches: Peaches are low in calories and packed with minerals and vitamins such as antioxidants and vitamin C, which are required for the building of connective tissue inside the human body. Plus who doesn't need more vitamin C these days to boost immunity?
Spinach: Spinach is an extremely nutrient-rich vegetable according to Healthline. Consequently, it packs high amounts of carotenoids, vitamin C, vitamin K, folic acid, iron, and calcium.
Increasing your smoothie's protein count
If the nutritional benefits above aren't quite enough and you're looking for more plant based protein for your smoothie, check out homemade protein powder. All of the protein powders on the market these days seems to have extra ingredients I don't care to put in my hard working body. As a result, I decided to make my own protein powder – homemade protein powder! 1 serving nets an extra 10g of protein in any smoothie. Toss it in you next pear smoothie!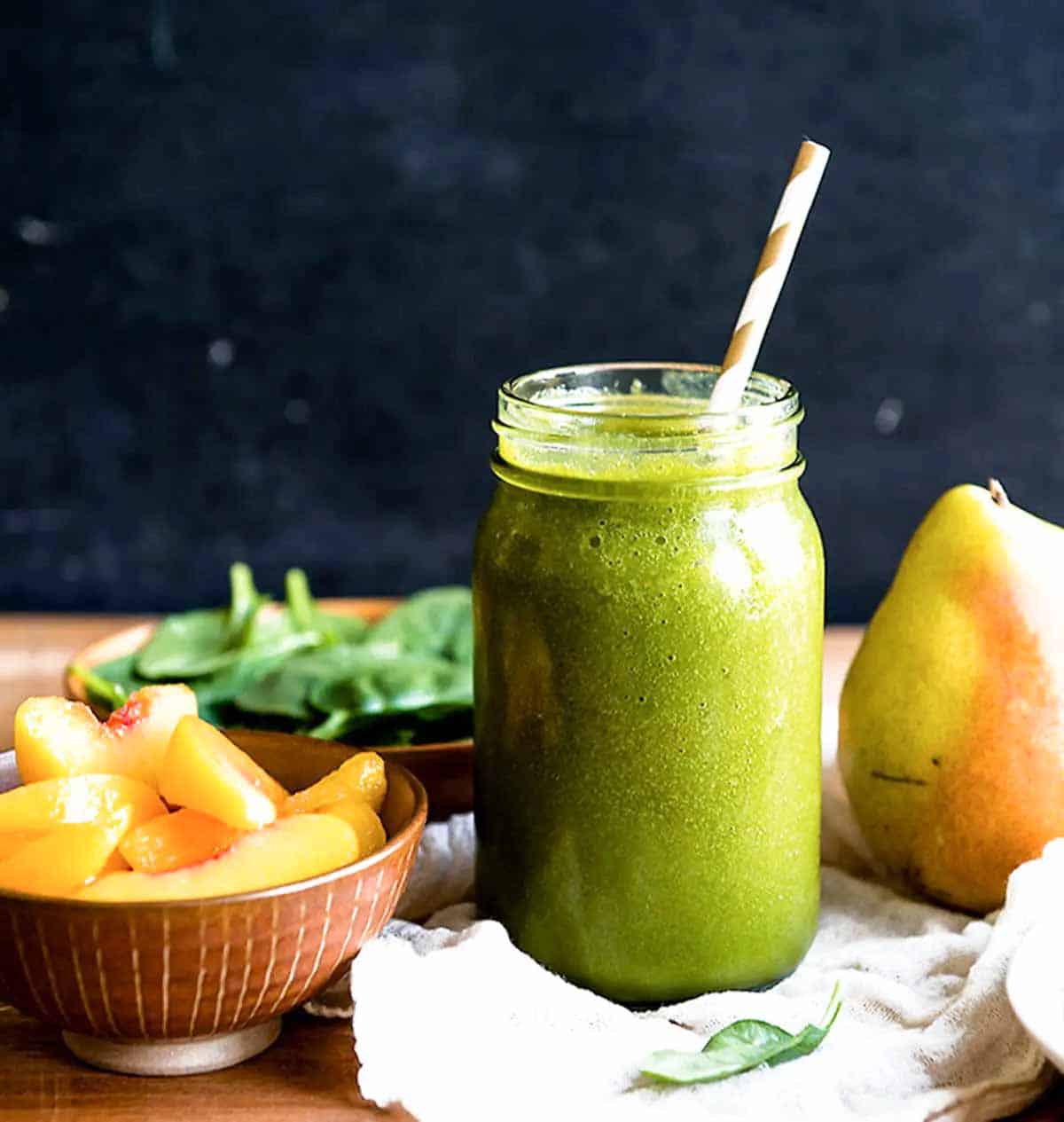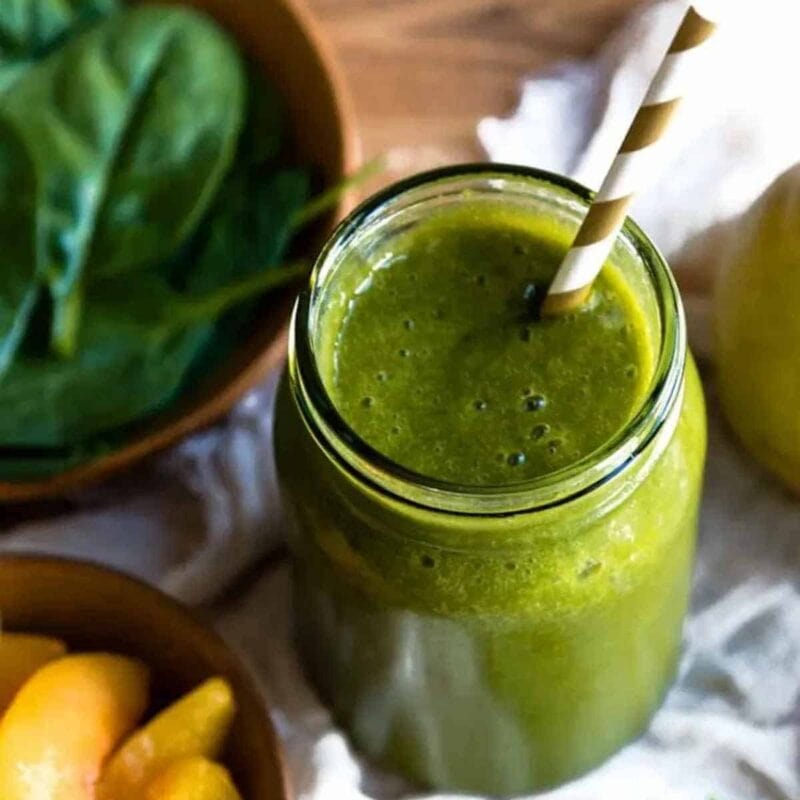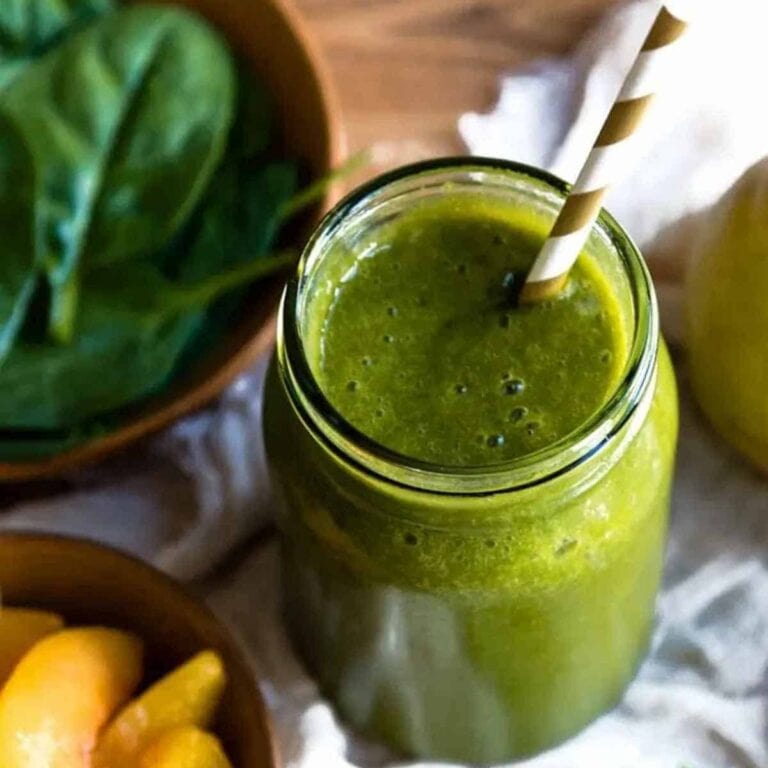 Pear Smoothie
The secret to a good pear smoothie is making sure your pear is ripe. Once it's ripe, then it'll lose it's gritty texture and turn into a sweet, juicy gem. If your pear isn't ripe yet, feel free to push this recipe to later and make up a creation with leftover produce.
Instructions
Blend spinach and water until smooth. 

Add remaining fruit and blend again.
Notes
The more ripe your pear, the creamer the smoothie will be.
Nutrition
Calories:
138
kcal
,
Carbohydrates:
36
g
,
Protein:
2
g
,
Fat:
1
g
,
Saturated Fat:
1
g
,
Polyunsaturated Fat:
1
g
,
Monounsaturated Fat:
1
g
,
Sodium:
37
mg
,
Potassium:
520
mg
,
Fiber:
7
g
,
Sugar:
24
g
,
Vitamin A:
3109
IU
,
Vitamin C:
21
mg
,
Calcium:
57
mg
,
Iron:
1
mg
Smoothie Challenge Recipes
This smoothie recipe is from our free Smoothie Challenge. If you're looking for more recipes, then make sure to sign up for the challenge to get your guidebook which has your shopping list, recipes and prep guide. I've also included the recipes below for you to access and leave reviews of all the recipes you try.