Rice Krispie Treats were totally a part of my childhood. When my son Jackson couldn't tolerate some of the ingredients in the traditional recipe, I created a version of healthy rice krispie treats that he and his friends could enjoy. This has become the best rice krispie treat recipe, in my opinion, and I can't wait to share it with you.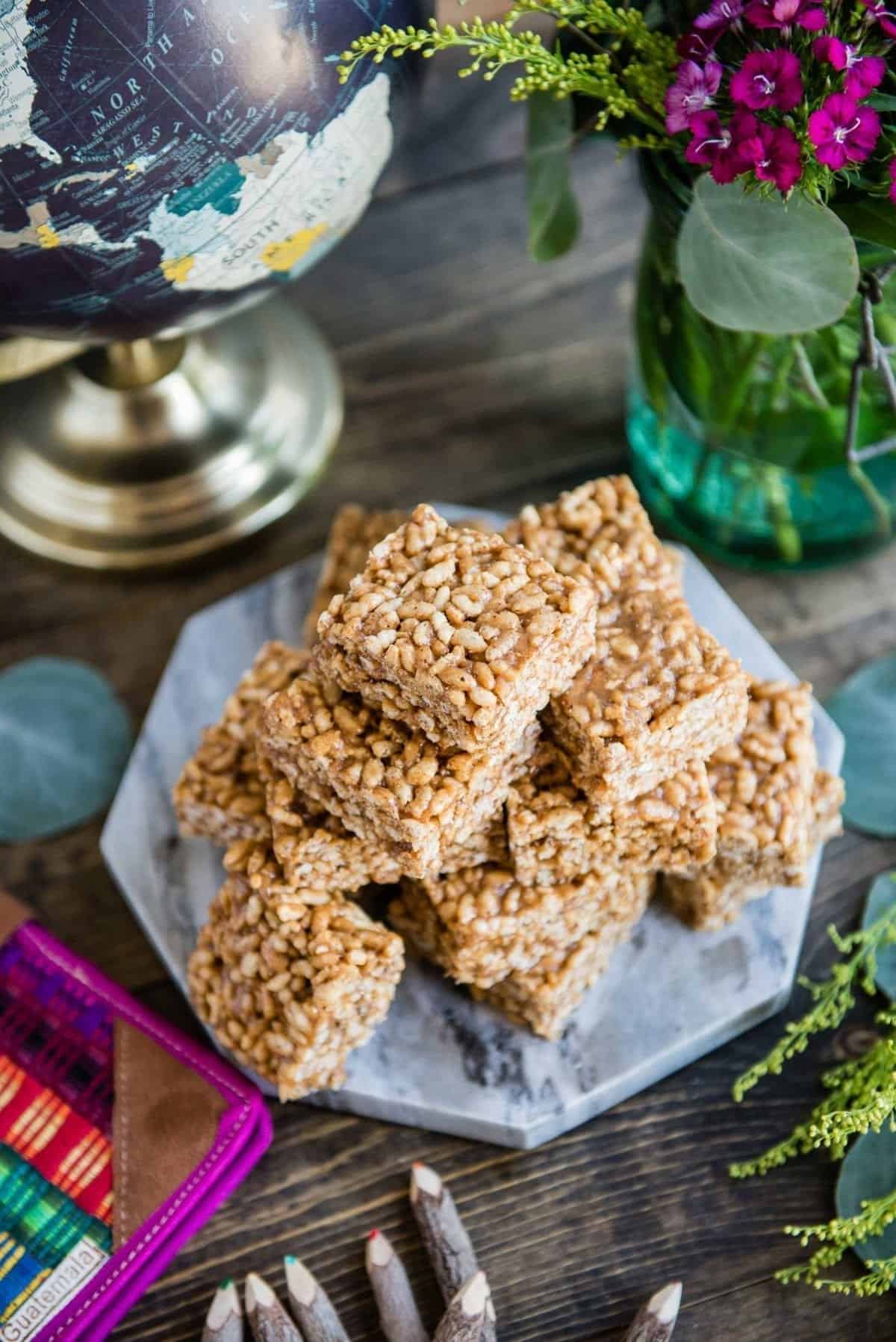 This healthy rice krispie treats recipe is an all-around winner with my kids, their friends AND me! I eat these for dessert, snack time… anytime, really. The best part is they are packed with protein, as well as healthy fats, to offset the natural sugars. This recipe is from my new best-selling book, Simple Green Meals.
Table of Contents
Why this rice crispy treat recipe is a true winner
If your kids are begging for a snack the second they walk in the door, then make a quick batch of these so that everyone wins! Why do I love these rice krispie treats so much?
NO CORN SYRUP: Brown Rice Syrup is a better choice than corn syrup, which is often found in Rice Crispy Treats recipes. Corn syrup is a common food sensitivity— and one that my son has. So I want to avoid it as much as I can and still let them eat fun foods. (You can also swap with Maple Butter as your sweetener of choice and they hold together pretty well.)
PROTEIN PUNCH: Almond butter makes this healthy rice krispie recipe creamy as well as packs in some protein and healthy fats. This will help curb your appetite, as well as boost your energy levels. No empty calories in this treat!
NO BAKING! Yep, no baking necessary with rice crispy treat recipes! I think this is one of the reasons they're so popular! Just warm ingredients on the stovetop, mix together and allow to sit. #easypeasy
Rice Krispie treats recipe swaps
It can be hard to find brown rice syrup, so feel free to swap for raw honey (that's SUPER thick— this is important to get it to hold together). You can also use Parker's Maple Butter, which has become my new obsession! Swap out almond butter for any other nut butter you wish. Don't be afraid to change up the flavoring too. Cinnamon is great, yet can be swapped out for other fun seasonings like vanilla, maple, and more! What are your fav + fun adds to rice krispie treats?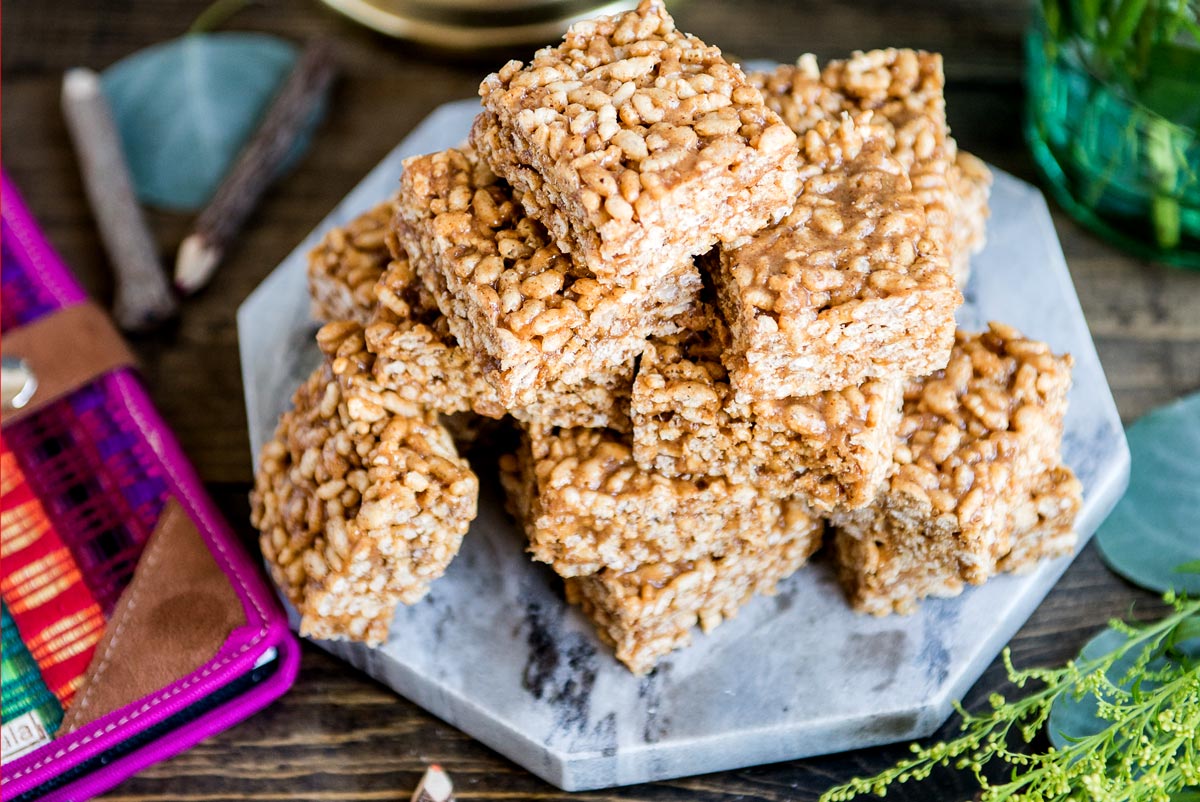 Healthy + simple snack recipes for everyone
Snacking is my jam, and I make better food choices when I've got some healthy options on hand. I like to make a few snack recipes for the week, then change it up based on my mood each day. Here are some of my fav snack recipes (that my kids love too!):
Sweet treat recipes
Savory treat recipes
When my kitchen is stocked with healthy snacks, I eat better all day long. With a little prep, you too can change your snacking habits, and still love what you eat! I can't wait for you to try this rice krispie treat recipe! Please leave a comment letting me know how they turned out!
Get my Best-Selling Recipe Book
Want even more plant based recipes for all seasons? check out Simple Green Meals; it's loaded with delicious recipes that the whole family will love. Healthy eating doesn't have to be boring or bland! I love the recipes in this book + my family eats from this cookbook on the regular. I'd love for you to fall in love with it too!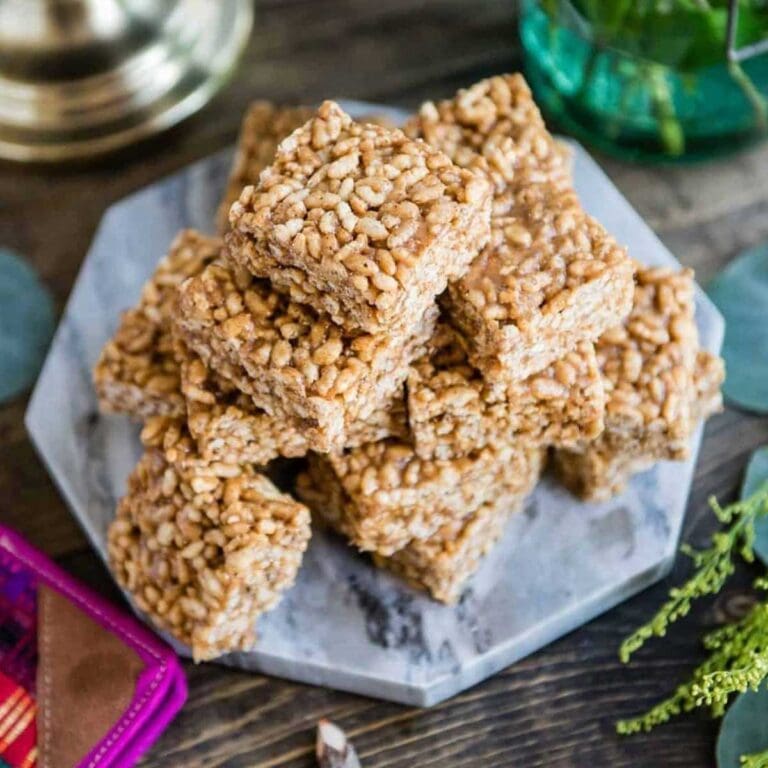 Healthy-ish Rice Krispie Treats
This Rice Krispie Treats Recipe uses plant-based whole foods from brown rice to almond butter. Not only will you find more protein and fiber, but the flavor will blow you away. 
Ingredients
1

cup

brown rice syrup

2

tbsp

coconut oil

plus more for greasing the pan

2

tsp

vanilla extract

½

tsp

sea salt

1

cup

almond butter

creamy

2

tsp

ground cinnamon

7

cups

crisp brown rice cereal
Instructions
Line a 13 × 9-inch baking pan with parchment paper.

In a medium saucepan over medium-high heat, combine the rice syrup, oil, vanilla, and salt. Bring to a rolling boil. Boil for 1 minute, then remove from the heat. Stir in the almond butter and cinnamon.

Place the cereal in a large mixing bowl. Pour the almond butter mixture over the cereal and stir until well coated. Transfer the mixture to the prepared pan.

Using oiled hands, press the mixture evenly into the pan. Let cool completely before cutting into squares.
Notes
Nut free:

replace almond butter with sunflower butter

Can mix in mini chocolate chips or sprinkles for fun.
Nutrition
Calories:
216
kcal
,
Carbohydrates:
29
g
,
Protein:
5
g
,
Fat:
11
g
,
Saturated Fat:
2
g
,
Polyunsaturated Fat:
2
g
,
Monounsaturated Fat:
5
g
,
Trans Fat:
1
g
,
Sodium:
154
mg
,
Potassium:
134
mg
,
Fiber:
2
g
,
Sugar:
15
g
,
Vitamin A:
816
IU
,
Vitamin C:
8
mg
,
Calcium:
72
mg
,
Iron:
4
mg