Ever wonder how to use those massive and beautiful portobello mushrooms jumping out at you in the produce section? It's hard to pass them up, they are quite the show stopping vegetable. I've created these vegan stuffed portobello mushrooms for those looking to change up their dinner routine in the best way.
The filling is incredibly wonderful, the recipe can be made by the novice or the veteran cook, and the result is un-waveringly tasty. Get ready to fall in love…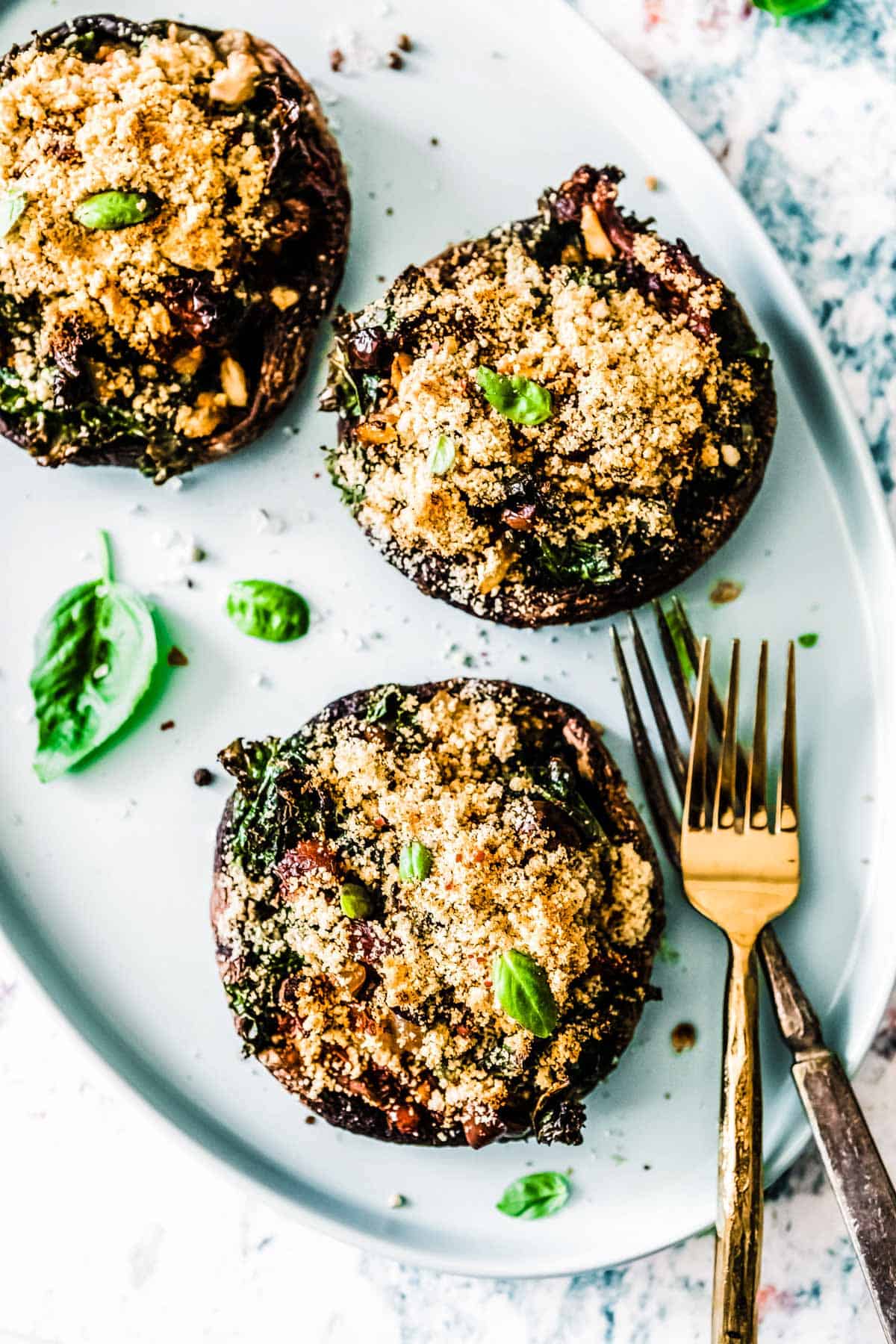 Table of Contents
How to Make Stuffed Portobello Mushrooms
Because I like a toasted flavor, I twice-bake the mushrooms. Baking them the first time ensures they're fully cooked. The second bake marinates the flavors + provides the toasted outside that contributes to the overall dish.
Read on for my swap guide if you already looked through the ingredient list and have questions; I want this recipe to work for you!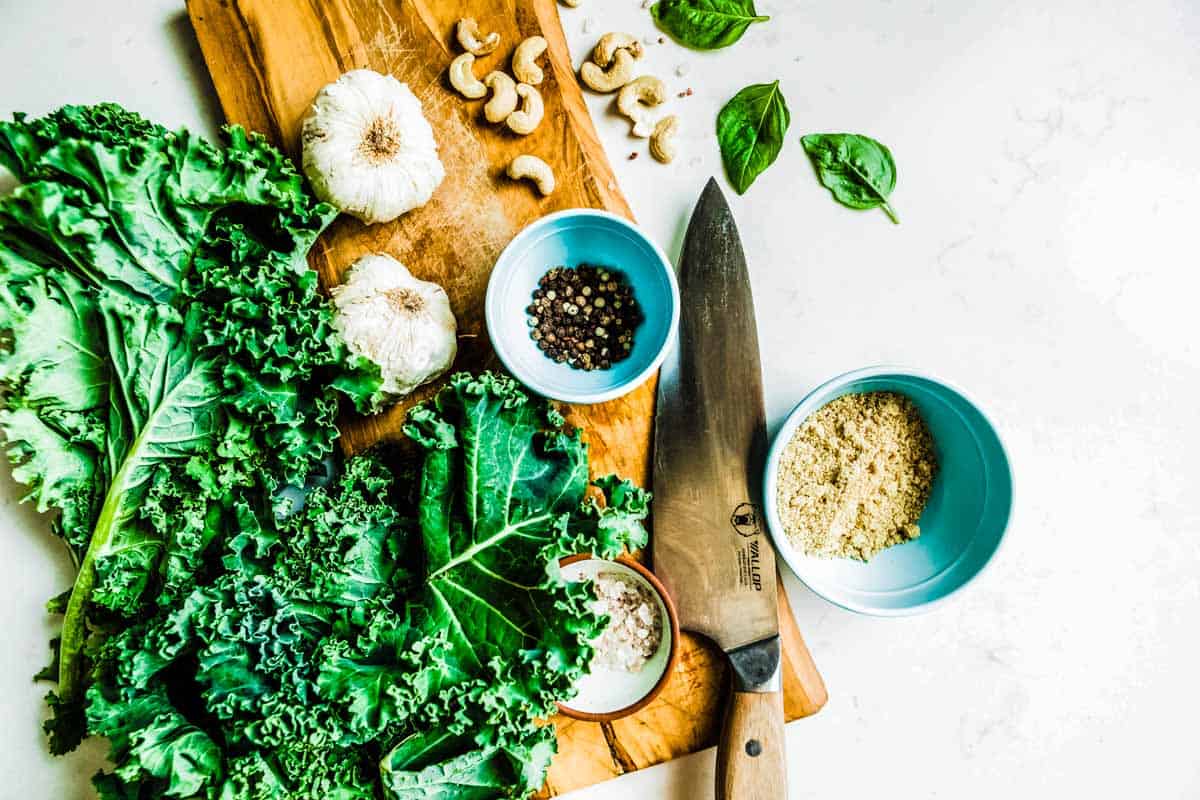 When buying portobello mushrooms, inspect them like you would your eggs- look for breaks, tears and/or holes.
While it might feel like there is a bit of chopping in this recipe, there's a reason! You want to make sure every bite of these vegan stuffed portobello mushrooms is packed with flavor, so finely chopping the filling ingredients ensures they spread out well inside the mushroom.
I find the best portobello mushrooms at Costco and Whole Foods. I've never tried purchasing these kinds of mushrooms from a local market, yet if you can find them then I bet they taste amazing.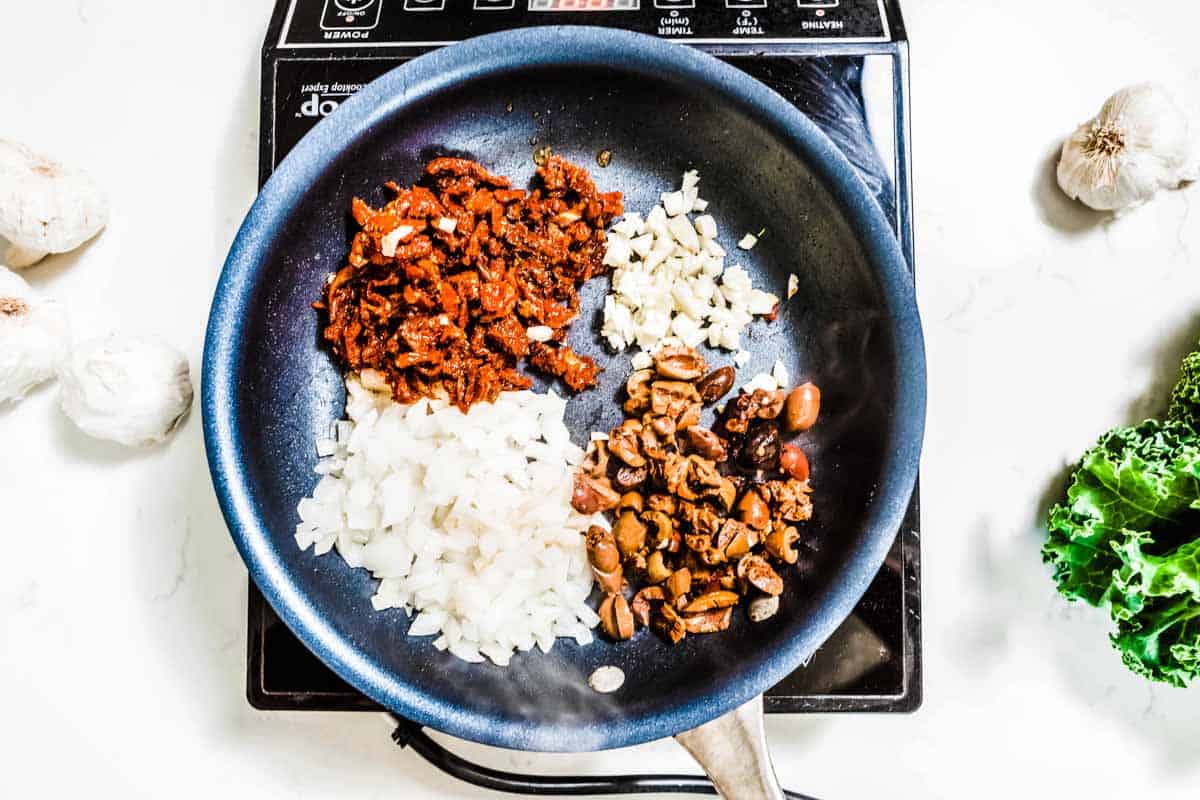 Easy Ingredient Swaps
If you want a slightly different flavor, swap the onions for shallots. Use minced garlic instead of powdered for a bigger garlic-y punch. If olives aren't your thing, swap with some diced zucchini or diced baby bella mushrooms.
For a fun flavor swap, use my sun-dried tomato pesto instead of the plain sun-dried tomatoes. If you don't have fresh basil on hand, then use dried basil (though it won't be as flavorful). Swap the kale with spinach or Swiss chard, or really any leafy green of your choice.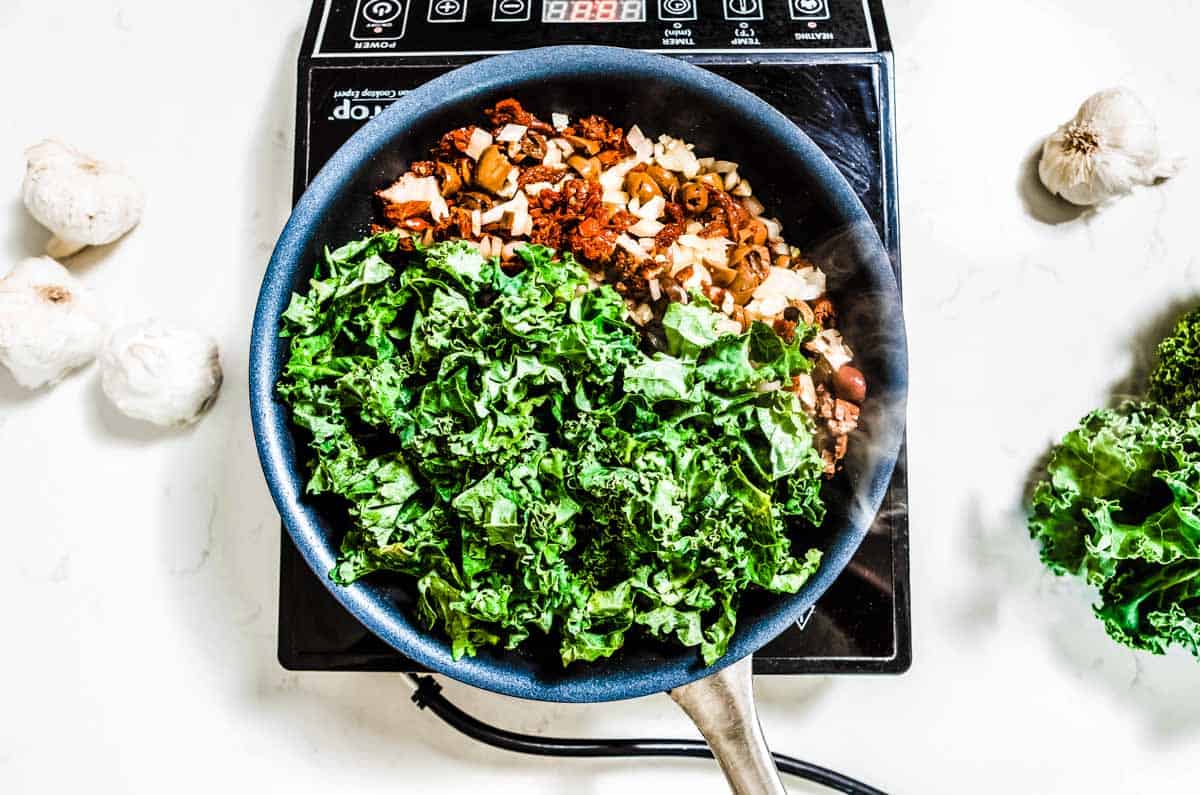 Vegan stuffed portobello mushrooms FAQs
How can I stuff large mushrooms?
Remove the stem + gills from a portobello mushroom, then cook hollowed side up. You can use a variety of produce or meat for the 'stuffing'- my recipe uses a mix of kale, sun-dried tomatoes, onions and olives for a Tuscan-inspired dish. Once cooked, simply scoop the filling into the mushrooms then eat as is, or sprinkle with some vegan cheese and cook once more until the tops are lightly toasted.
Can you eat the gills of portobello mushrooms?
Yes… however the gills have a strong wood-y taste and therefore aren't incredibly appetizing. I recommend removing the gills in this stuffed mushroom recipe.
Can portobello mushrooms make you sick?
As long as you cook portobello mushrooms, you should be good! Mushrooms are a fungus, yet cooking them naturally neutralizes any bacteria that might make you sick from eating them raw.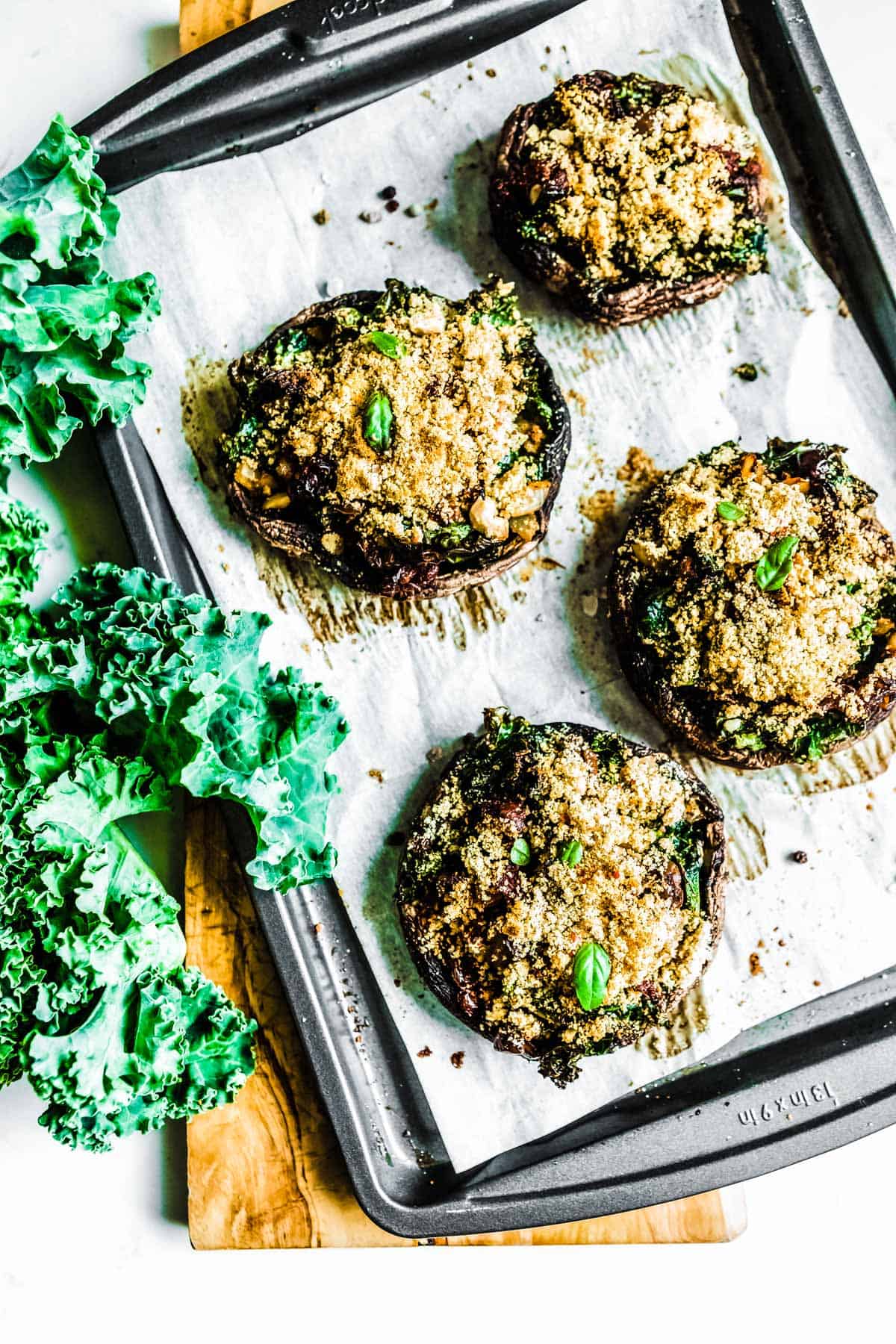 Turn Vegan Stuffed Mushrooms into a Side Dish
I'll attend any event with a stuffed mushroom appetizer. So if you wanna convert these stuffed portobello mushrooms into decadent hors d'oeuvres, then I've got you covered!
First, use button mushrooms as the base. Still de-stem and de-gill these as well as wipe off the outsides. Still preheat oven to 400 degrees F, but don't bake the empty mushrooms. Make the filling on the stove-top, fill the mushrooms + top with the vegan cheese sprinkle, then bake all at once for about 15 minutes.
Now you've got a super fancy appetizer for not much work!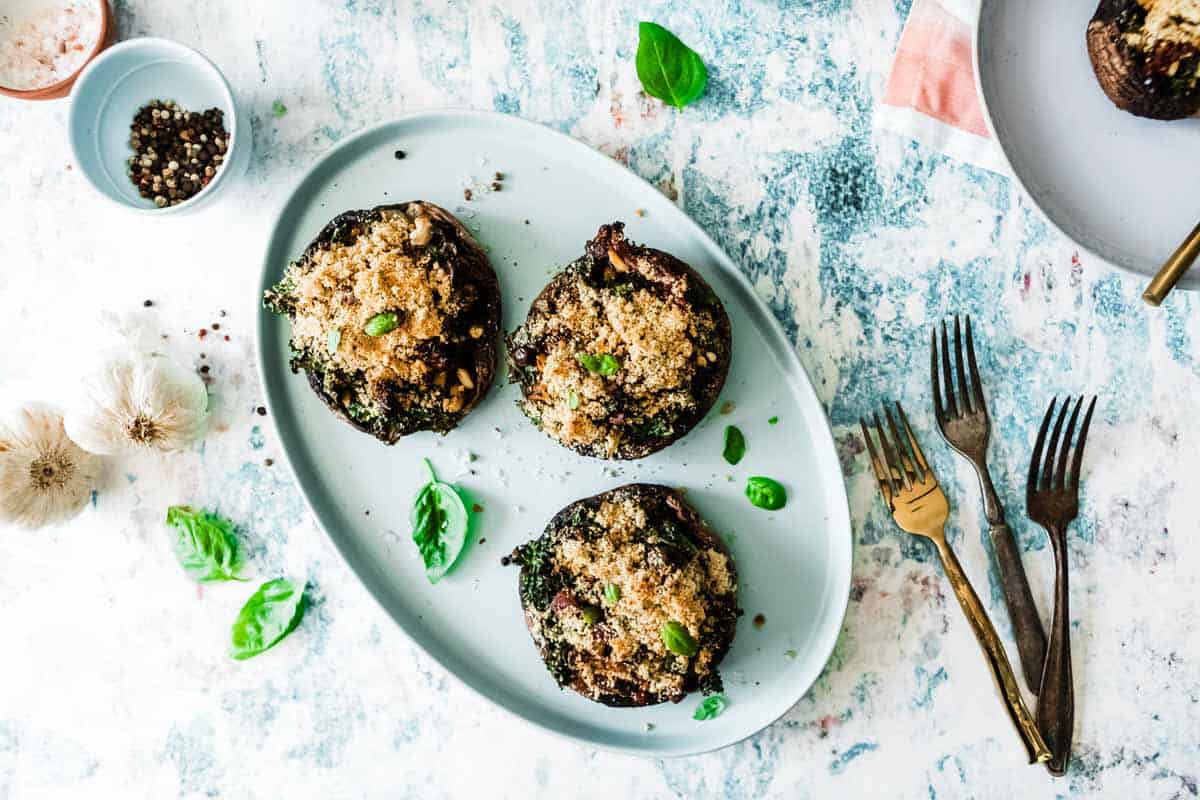 Garden Dinner Menu
This show-stopping recipe deserves to be showcased in your next fancy dinner. To help you create a filling meal full of plants, I've created the ultimate menu:
While prepping, have a fresh appetizer like a layered Greek dip on hand with some cut veggies to enjoy while you work.
Start the meal off right with this delicious pear salad + candied pecans. The dressing alone is worth the whole recipe. It plates beautifully, and is both richly flavored and light. Follow this dish up with some fresh potato salad; my recipe uses oil instead of mayo to give it some great foodie vibes. It's loaded with vibrant toppings which makes it visually appealing and just plain yummy to eat.
Now for the main event, these portobello stuffed mushrooms! Don't forget to bring any leftover vegan cheese sprinkle to the table so your guests can top away. Finally, end the night with my blackberry coconut sorbet. It's super creamy, a gorgeous deep dusty rose color, and the perfect way to finish off a filling meal.
I'm as much a visual eater as anything else, so food's gotta look good if I'm gonna enjoy it. When was the last time you created beautiful food? It doesn't have to be difficult, we don't have time for that! Use these recipes as inspiration and make your own fun meal. Then don't forget to leave a comment below letting me know how it went!
Easy Plant-Based Meals
If you loved these stuffed portobello mushrooms, then keep reading for more drool-worthy, plant-powered meals: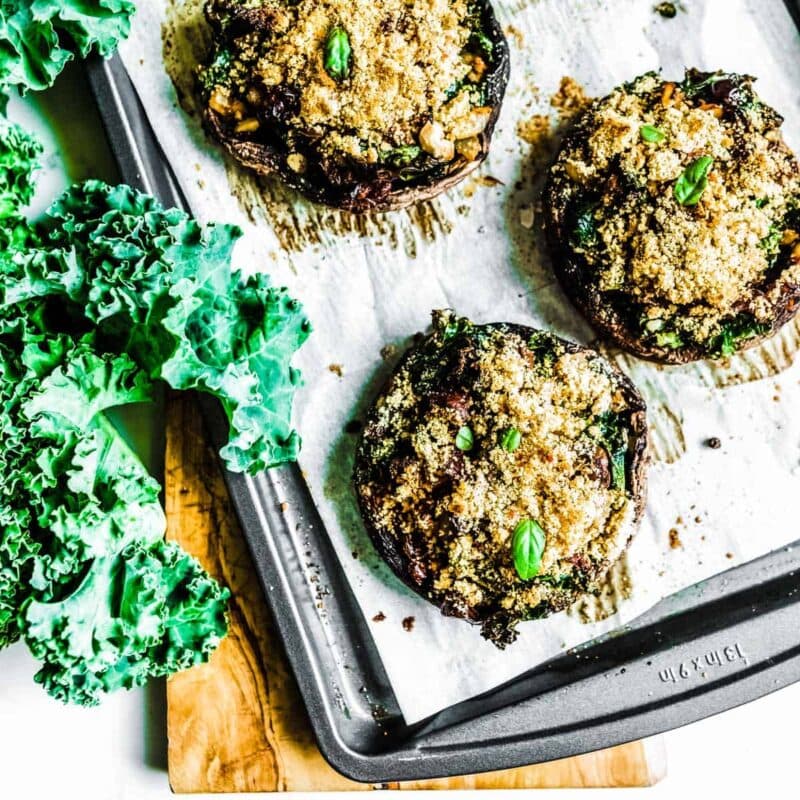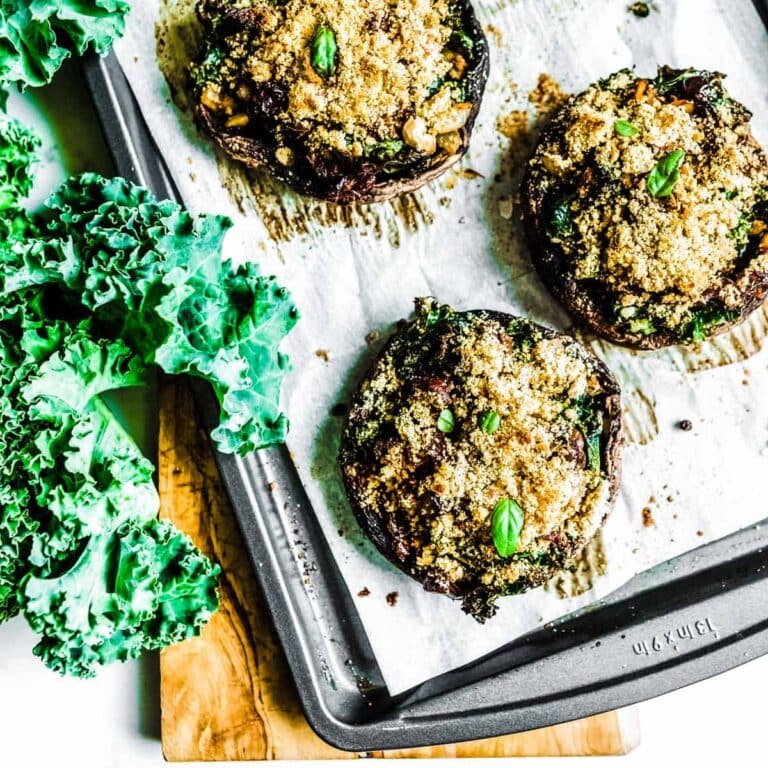 Stuffed Portobello Mushrooms
This stuffed portobello mushroom recipe is easy enough for a delicious weeknight dinner and unique enough for your next dinner party. Mediterranean-inspired flavors pop in these beautiful mushroom caps.
Ingredients
4

portobello mushrooms

4

tbsp

olive oil

½

onion

finely chopped

4

garlic cloves

minced

½

cup

sun-dried tomatoes

finely chopped

4

tbsp

kalamata olives

diced

2

cups

kale

chopped

⅛

tsp

salt

⅛

tsp

black pepper

½

cup

vegan cheese sprinkle

¼

cup

fresh basil leaves

finely chopped
Vegan Cheese Sprinkle
¼

cup

raw almonds

¼

cup

raw cashews

2

tbsp

nutritional yeast

¼

tsp

sea salt

¼

tsp

garlic powder
Instructions
Destem, degill and wipe down outside of mushrooms

Place mushrooms on baking sheet facing up and drizzle with olive oil, salt and pepper

Bake at 400 degrees F for 15 minutes

Add 2 tablespoons of olive oil to a pan on medium high heat while mushrooms are baking

Sauté onions until transparent. Add sun-dried tomatoes, garlic and olives and cook for 3 minutes

Add kale and cook for 3 minutes. Set aside

Place all Vegan Cheese Sprinkle ingredients in a food processor and pulse until finely chopped. Set aside

Once mushrooms are done, scoop the sun-dried tomato mixture into the mushrooms

Divide the vegan cheese sprinkle on top and bake for 7 minutes, until lightly toasted

Remove from oven then top with fresh basil leaves and serve immediately
Notes
You can use a grill instead of the oven: grill the mushrooms, then add the filling and grill again until the tops are lightly toasted
Use regular parmesan cheese instead of the Vegan Cheese Sprinkle to make this vegetarian
To make as a hors d'oeuvres, you can use destemmed, cleaned out button mushrooms instead of portobello and spread the filling across several mushrooms
Nutrition
Calories:
327
kcal
,
Carbohydrates:
23
g
,
Protein:
11
g
,
Fat:
24
g
,
Saturated Fat:
3
g
,
Polyunsaturated Fat:
4
g
,
Monounsaturated Fat:
16
g
,
Trans Fat:
1
g
,
Sodium:
399
mg
,
Potassium:
1176
mg
,
Fiber:
6
g
,
Sugar:
9
g
,
Vitamin A:
3578
IU
,
Vitamin C:
48
mg
,
Calcium:
111
mg
,
Iron:
3
mg