Looking for some Thai fusion flavors for your taste buds with plant-based ingredients for your stomach? Try this sweet potato noodle dish. It's a way to do gluten-free noodles while also getting in more plants. Plus, my sweet potato noodles recipe is easy to make and enjoy!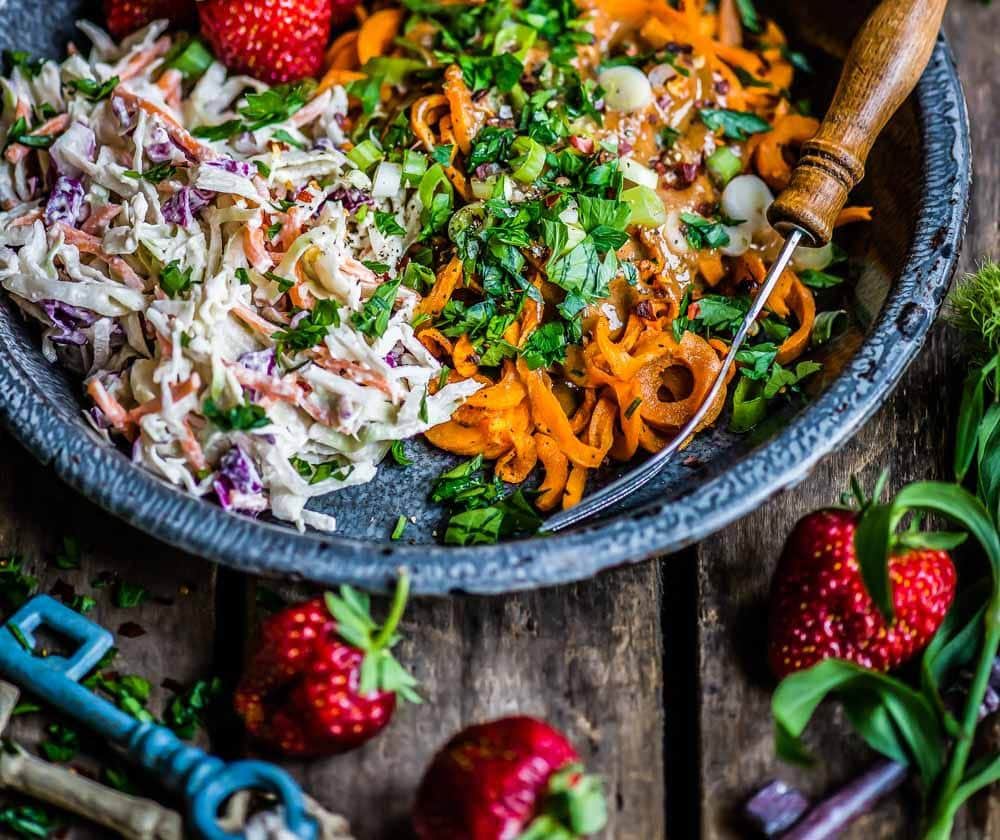 While looking for a plant-based option for gluten-free noodles, I stumbled upon sweet potato noodles… and I was immediately hooked. This recipe is originally from my cookbook, Simple Green Meals.
Asian-fusion is a popular "family night out dinner" in our house. Panda Express is usually Ryan's vote… and Pei Wei is mine. When we splurge, PF Changs can make it out on top. Yet I usually don't feel too great after eating at any of those places. My knuckles swell from the sodium levels and my tummy gurgles from all the highly refined oils and sweeteners. I down cup after cup of water to no avail.
To combat this feeling, yet still enjoy the flavors I love, I created my own plant-based take on Pad Thai using delicious sweet potatoes.
Table of Contents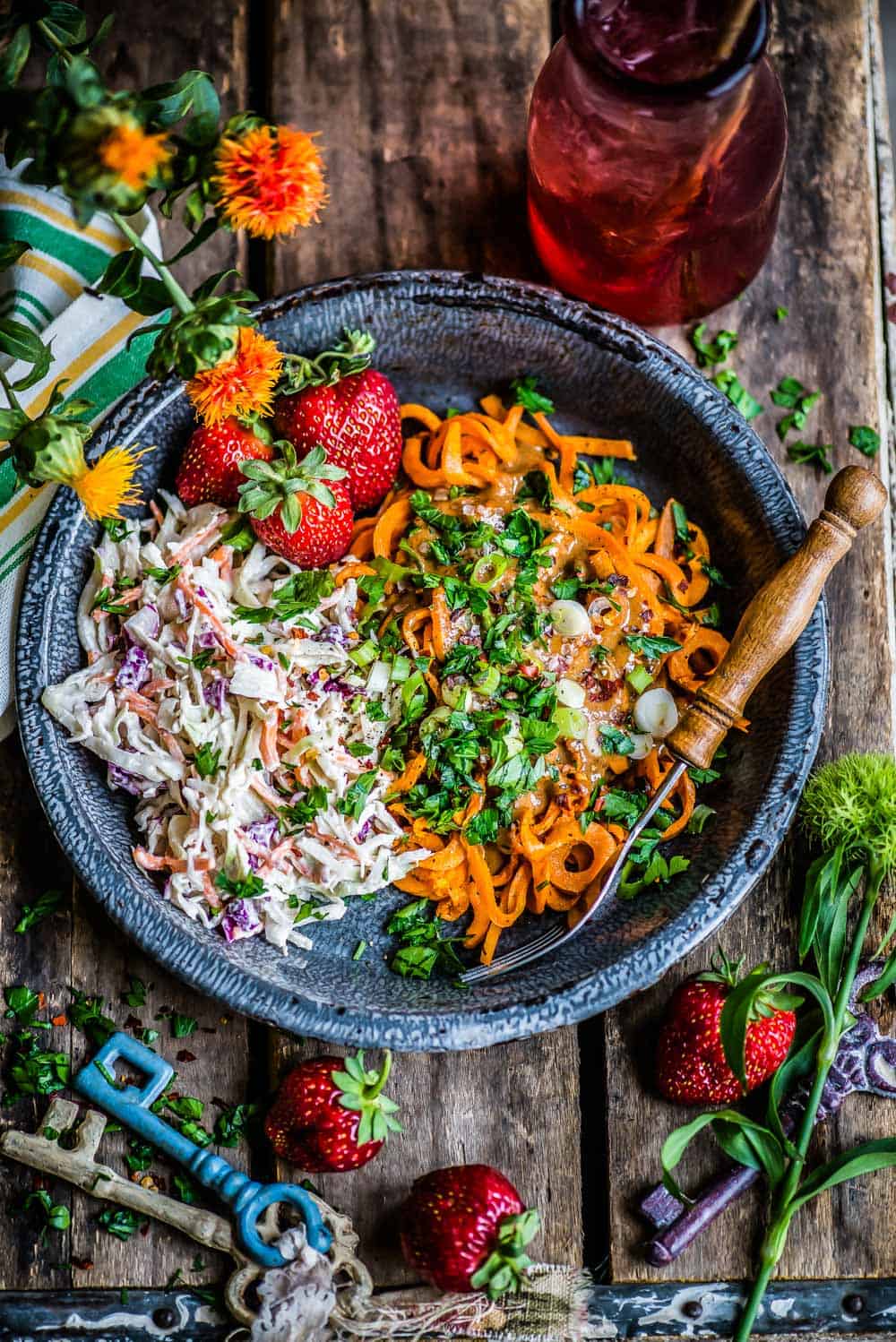 Plant-based, gluten-free noodle options
Did you know how easy it is to spiralize veggies? I love all the creative gluten-free noodle options besides sweet potato noodles. I use zoodles (spiralized zucchini), when making my to-go ramen recipe. Zoodles are also delicious topped with almond butter sauce. Spaghetti squash comes already 'pre-noodled.' All you have to do is slice in half, bake, and scoop to bring some delicious gluten-free squash noodles to the table. Top them with a traditional pasta sauce, or make my mediterranean-style recipe. Butternut squash is another great option. Try a few and maybe find a new favorite to bring to the next pasta dinner.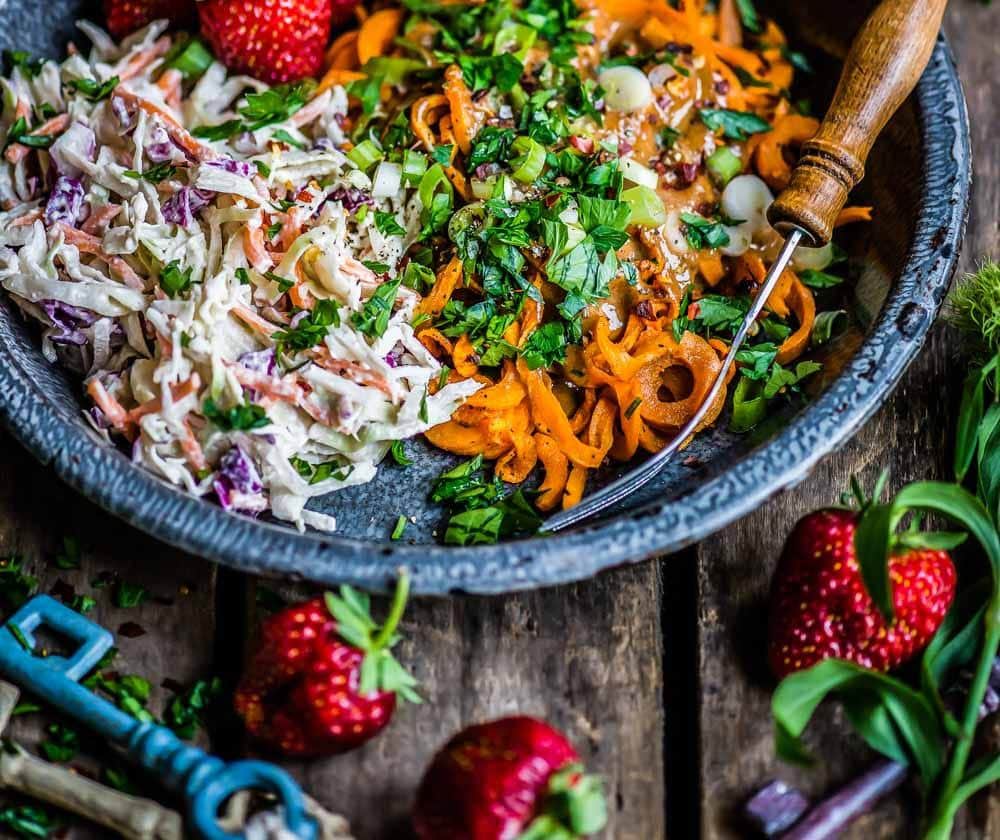 Sweet potato noodle recipe
There are 3 key components that go into this flavorful noodle recipe:
Sweet potato noodles
To make the noodles, you can use a hand held spiralizer, or invest in an appliance that does it for you. Once you've got a bowl of noodles, coat them in the olive oil and ground black pepper. For this recipe, I just toss the sweet potato noodles in the oven, yet they can also be sauted on the stove top. A cast iron skillet does a great job at crisping them. Sweet potatoes are a great base for this recipe, as they are super nutritious. One cup contains 4 grams of protein, 769% of the recommended daily intake (RDI) of vitamin A, and 65% of the RDI of vitamin C.
Cashew slaw
This vegan coleslaw is so creamy, you won't miss the dairy! The cashews pack a protein punch while the cabbage and carrots provide great color, as well as crunch. While traditional coleslaws are full of processed ingredients, dyes, and chemicals, this delicious contains plant-based, whole food ingredients, that complement the sweet potato noodles perfectly.
Almond butter sauce
Not to be outshined by the coleslaw, this almond butter sauce is a delightful winner as well. You can swap the tamari with coconut aminos if you'd like a soy free option. You can also add in a little more heat with some crushed red pepper flakes. The almond butter adds in a good amount of healthy fat to round out the nutritional profile in this sweet potato noodle recipe.
Sauces to go with sweet potato noodles
Sweet potato noodles are actually quite versatile. They pair well with both sweet and savory sauces, as well as other veggies. Here are some of my fav sauce recipes to pair with these gluten-free noodles:
Vegan pesto (5 ways!)- Pesto sauce is packed with nutrients. It's delicious on a variety of veggies.
Hemp heart sauce– The original recipe for this sauce has cubed sweet potatoes, yet these can be spiralized instead for a fun new take.
Almond butter sauce– This sauce recipe is a favorite among many. Creamy, perfectly spiced, and warming.
Have you tried sweet potato noodles yet? Leave a comment and let me know how you like them!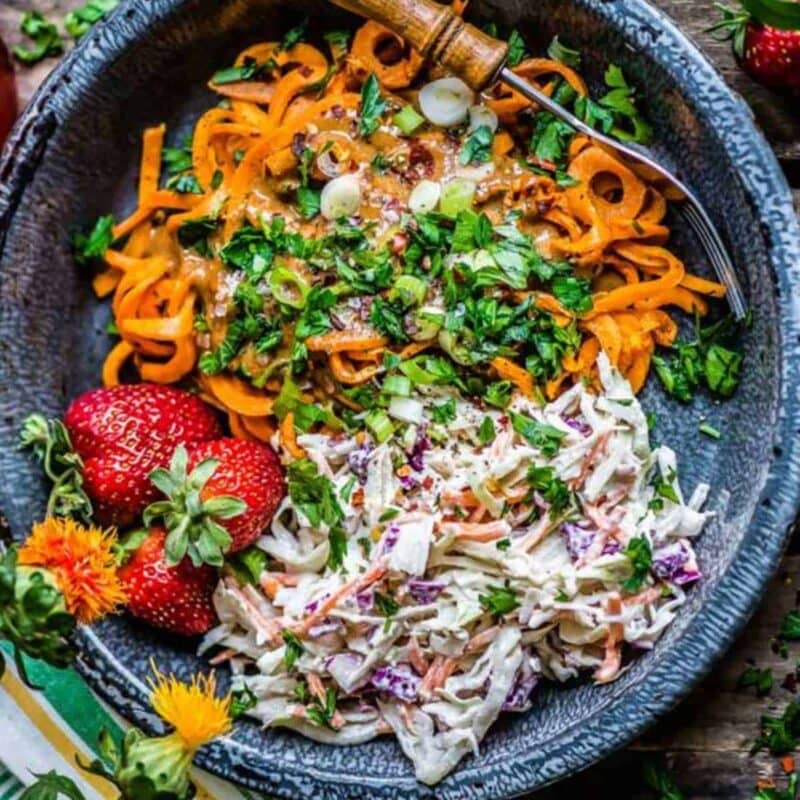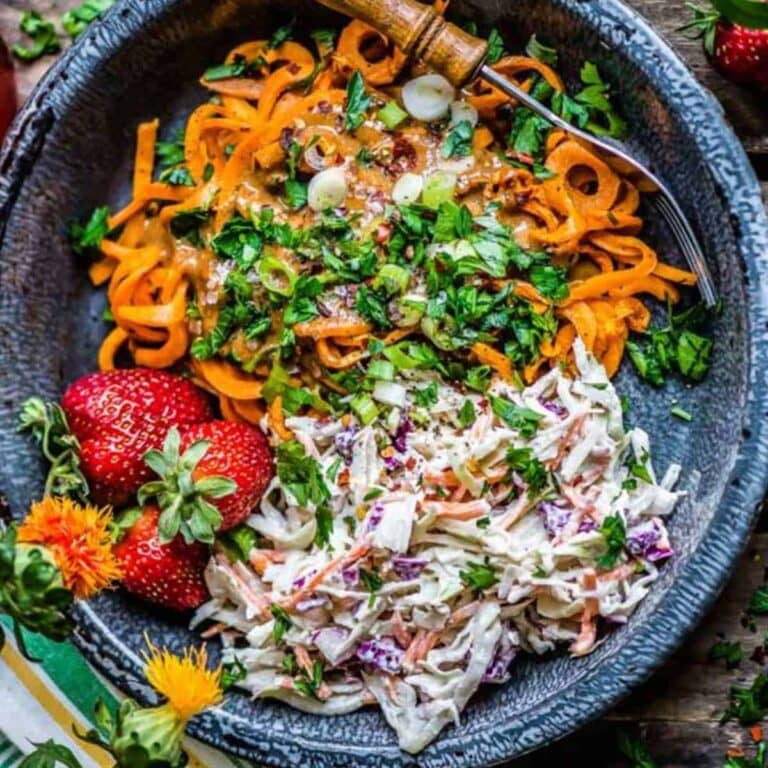 Sweet Potato Noodles
I remember the moment I took my first bite of this sweet potato swoodles dish. My tastebuds rejoiced! It was everything I wanted, and then some. It's plant-based Asian fusion at its finest. I'm so excited to share this savory sweet potato noodles dish with you.
Ingredients
For sauce
¼

cup

yellow onion

chopped

1

inch

ginger root

peeled and sliced

1

garlic cloves

minced

¾

cup

almond butter

1

tbsp

tamari

1

tbsp

lemon

juiced

1

tbsp

honey

1

tsp

smoked paprika

⅛

tsp

cayenne pepper

optional

sea salt

black pepper

ground

¼

cup

water
For swoodles
2

sweet potatoes

spiralized (TOOL)

¼

cup

coconut oil

melted

⅛

tsp

sea salt

⅛

tsp

black pepper

ground
For serving
½

cup

green onions

thinly sliced

½

cup

parsley

fresh, chopped
Instructions
For Swoodles:
Preheat the oven to 425°F. Line a rimmed baking sheet with parchment paper.

In a medium bowl, toss the sweet potatoes well with the oil. Place on the prepared baking sheet. The swoodles will overlap, but they will lose volume as they bake. Season lightly with salt and black pepper.

Bake for 20 minutes, or until tender and golden. Check for doneness around the 10-minute mark, and check again periodically, to remove any swoodles that have cooked more quickly than the others.
For Almond Butter Sauce:
In a food processor fitted with the chopping blade, finely chop the onion, ginger, and garlic. Add the almond butter, tamari, lemon juice, honey and spices. Process until combined. Stop to scrape down the sides as needed.

With the motor running, pour the water through the feed hole. Keep processing until thick and creamy. Set aside.

Divide the swoodles between 4 plates. Top each serving with a little of the sauce, 1 tablespoon scallions and 1 tablespoon parsley.
Notes
1-inch of fresh ginger root is equal to 1 tbsp measurement.
Swap almond butter with sunflower butter to make this nut free.
Swap sweet potato noodles with zucchini noodles or rice noodles.
Swap honey with maple syrup to make this recipe vegan. 
Nutrition
Calories:
589
kcal
,
Carbohydrates:
45
g
,
Protein:
15
g
,
Fat:
43
g
,
Saturated Fat:
14
g
,
Polyunsaturated Fat:
7
g
,
Monounsaturated Fat:
18
g
,
Sodium:
477
mg
,
Potassium:
1138
mg
,
Fiber:
11
g
,
Sugar:
13
g
,
Vitamin A:
16538
IU
,
Vitamin C:
20
mg
,
Calcium:
247
mg
,
Iron:
4
mg