If you love the taste of coconut, almond and chocolate together, then this Coconut Joy Vegan Smoothie Bowl will hit the spot! It's made with 100% plant-based ingredients to fuel your body and give it the nutrients it needs to keep going strong.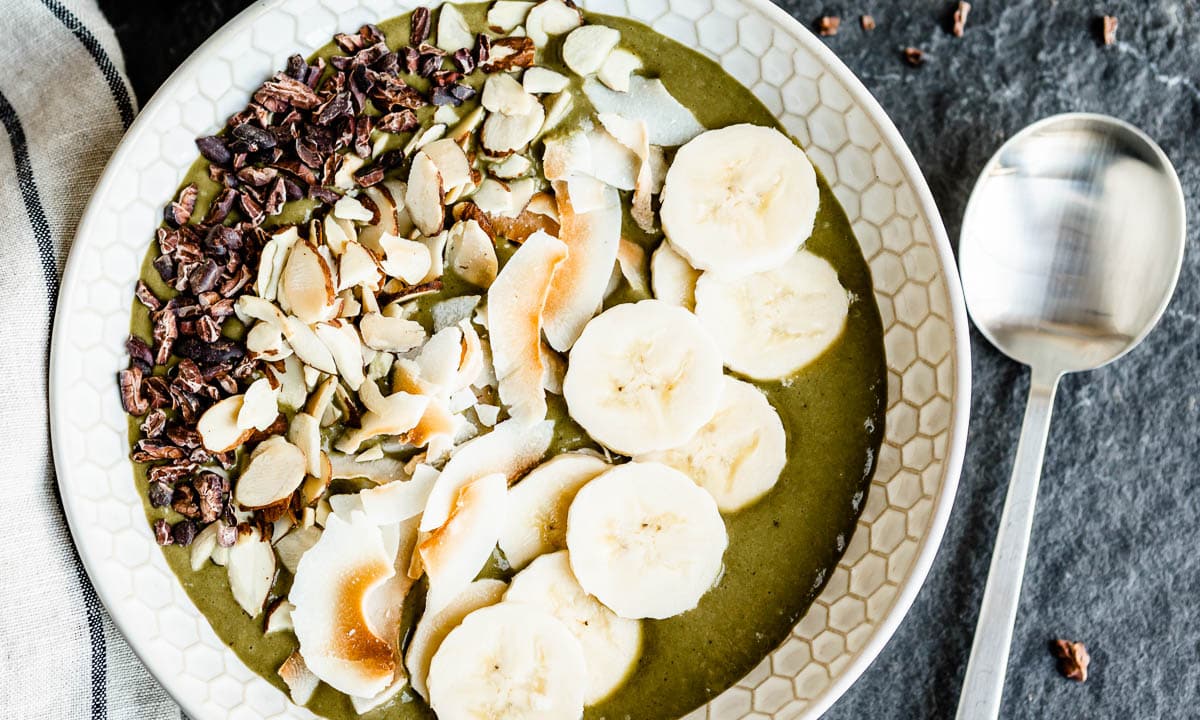 Smoothie bowls are simply just thick smoothies in a bowl. But they are fun to eat because you can top them with just about anything your heart desires. Sliced bananas, crunchy toasted coconut, almonds, and cacao nibs top this vegan smoothie bowl. So much deliciousness in every bite!
Vegan Smoothie Bowl Ingredients
I wanted this smoothie bowl to taste chocolate, coconut and just yummy, so this is what I blended together: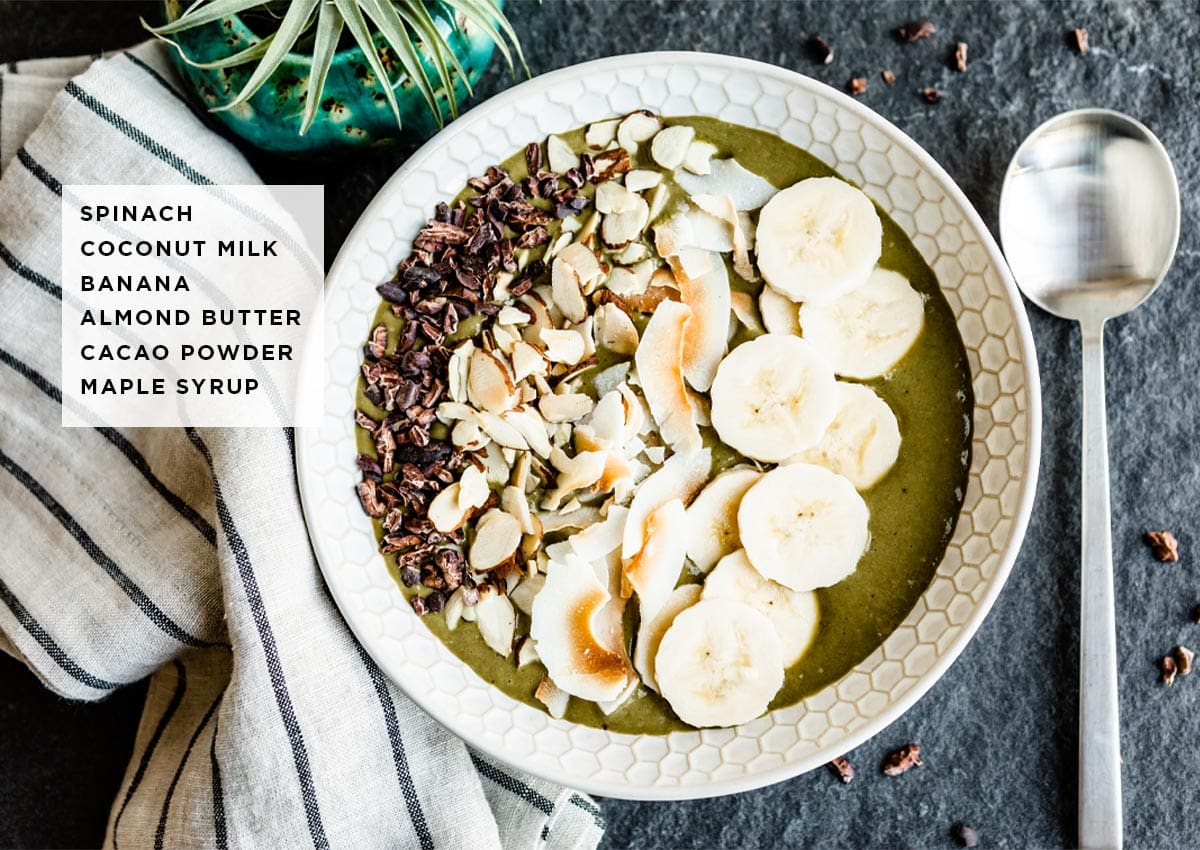 Spinach: I know this might be an odd way to start something I call a dessert, yet trust me. You'll have a hard time tasting this leafy green in all the delightful goodness.
Coconut Milk: I use canned coconut milk for the ultimate creamy smoothie bowl.
Banana: Natural sweetness, creaminess, and some good potassium.
Almond Butter: I love the nuttiness almond butter gives and how it balances out the sweetness of the banana.
Cacao Powder: The perfect chocolate addition. Make sure yours is unsweetened.
Maple Syrup: This is the perfect natural sweetener in smoothies, baked goods and more.
Delicious Toppings
I love the candy bar vibes this smoothie bowl recipe gives. To lean into that flavor, I add sliced bananas (for just a bit of sweetness), almond slices, coconut flakes and cacao nibs (taste like chocolate chips!). These toppings provide a bit of crunch and even more fun flavor to this vegan smoothie bowl.
Feel free to swirl in almond butter, add a dash of maple syrup or use your favorite granola in this fun recipe.
Easy Ingredient Swaps
Keep this vegan smoothie bowl tasty with some easy swaps. Feel free to use sunflower butter in place of almond butter for a nut-free bowl. Use cashew milk or oat milk in place of coconut milk (start with just 1/4 cup as these choices will be less thick).
100% cocoa powder is a great swap if cacao is hard to find. Use 1/2 an avocado to keep the creaminess but cut down on the natural sugar from the banana.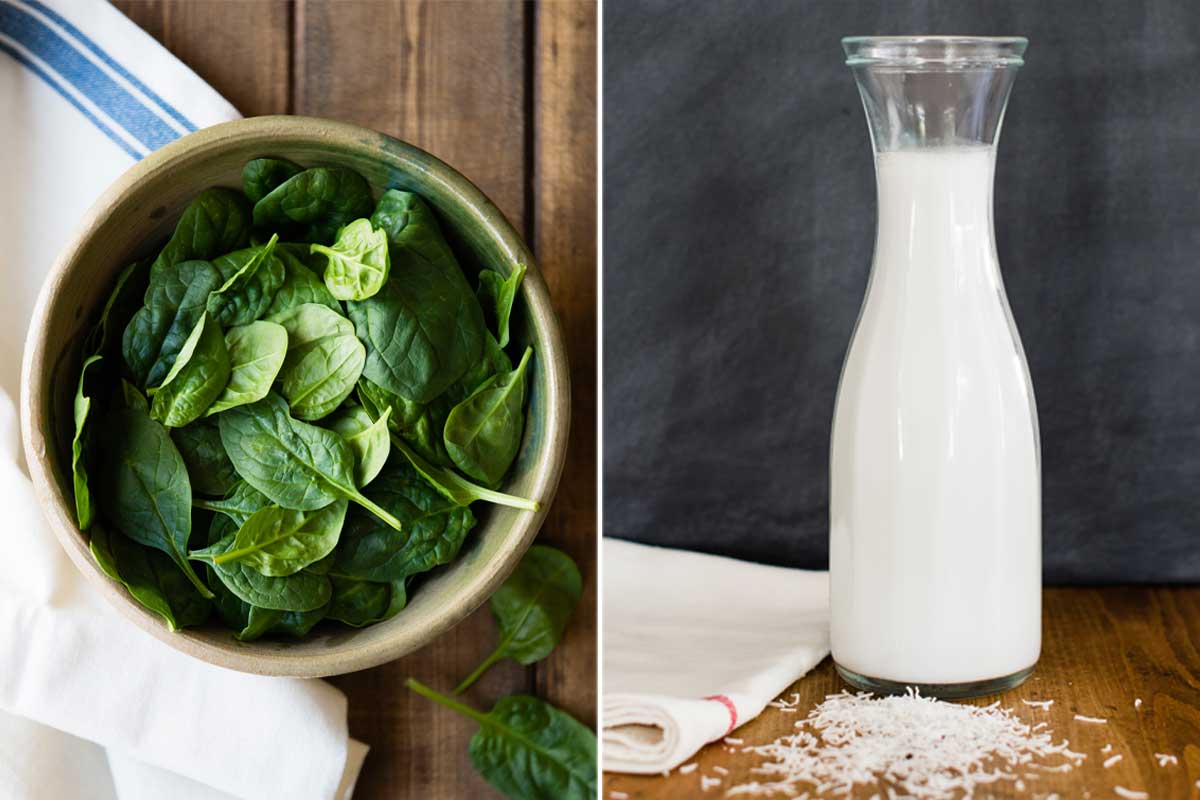 How to Make a Vegan Smoothie Bowl
Blending a smoothie bowl isn't much different from a regular smoothie, yet it is definitely thicker and takes a bit of patience.
Start by blending the spinach and coconut milk until there are no visible leafy chunks. Smooth is key!
Then add the remaining ingredients and blend again. Since this is meant to be thick, the blender blades may stop blending at some point. Use a tamper (if you've got a high-powered blender) to keep the mixture moving until the blades take over again.
Stop the blender and scrape down the sides if needed until everything is completely smooth. Pour into the bowl of your choice and go wild with toppings!
Looking for more plant-based desserts? Check out my Plant-Based Dessert Guide, with 40+ recipes that are incredibly delicious and powered by plants.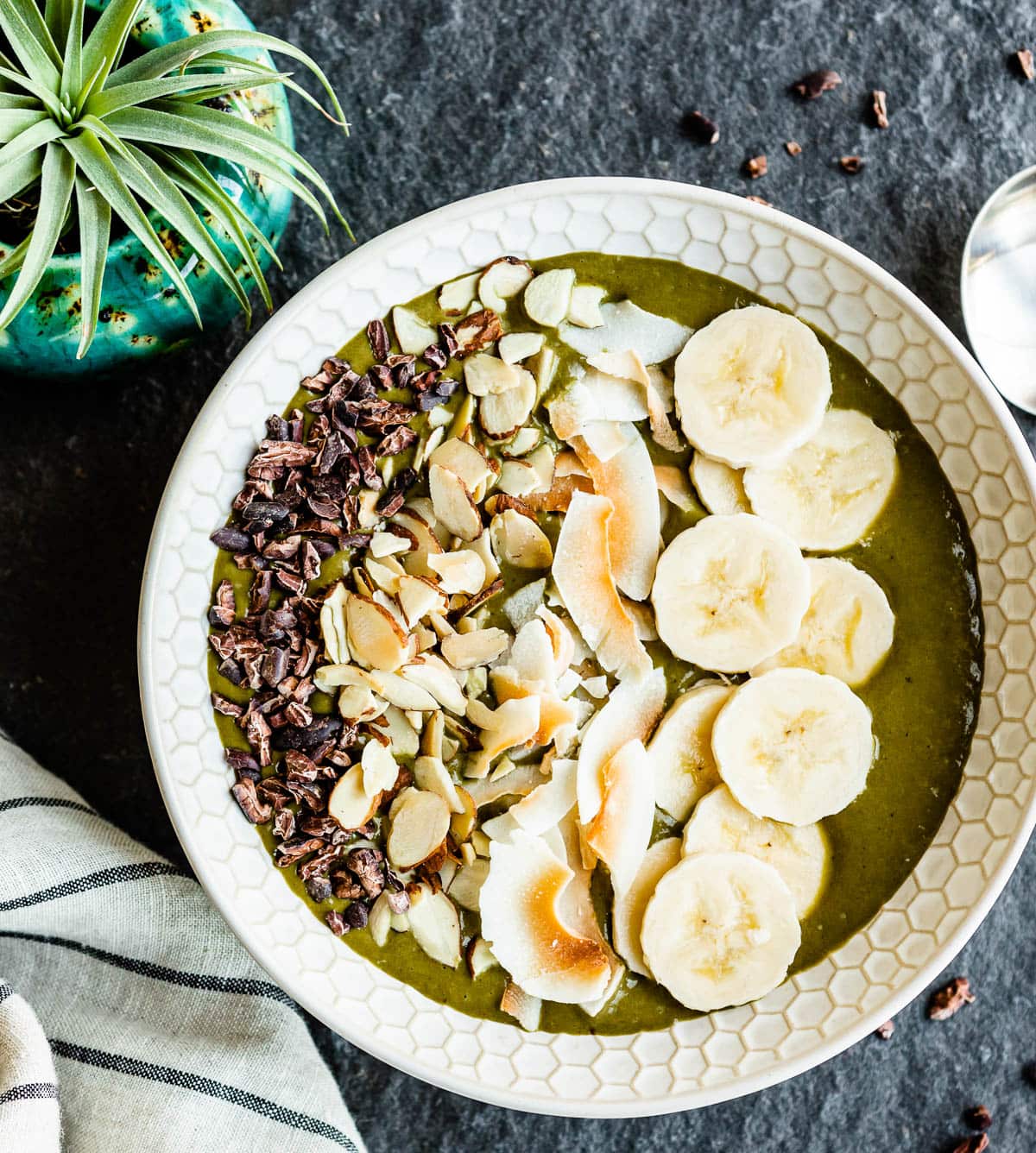 Vegan Smoothie Bowl FAQs
Can smoothie bowls be healthy?
Yes! Use whole food, plant-based ingredients. Add leafy greens to help your body break down the natural sugars in fruit. Add plant-based protein powder with protein and healthy fat to make a more filling smoothie bowl.
How can I make my smoothie bowl thicker?
Start with as little liquid as you can manage when making a smoothie bowl. Turn your blender on and once the blades stop turning, turn off and scrape down the sides. If you're using a high-powered blender then you can tamper down the contents while the blender and lid are on. Add a bit of liquid if the mixture just won't turn.
What makes a smoothie bowl vegan?
If you use any liquid in your smoothie bowl, avoid using dairy-based products. Instead, use plant-based milk like coconut milk for thickly creamy results. Be sure the remaining ingredients are also not animal bi-products like honey or bee pollen if you want to keep your smoothie bowl vegan.
More Vegan Smoothie Bowl Recipes
If you love the idea of smoothie bowls then I've got some great recipes for you. These are all unique and perfect for snacks, breakfast or even dessert.
Don't forget to rate + review this recipe once you've tried it. It's a winner and I want to hear your thoughts!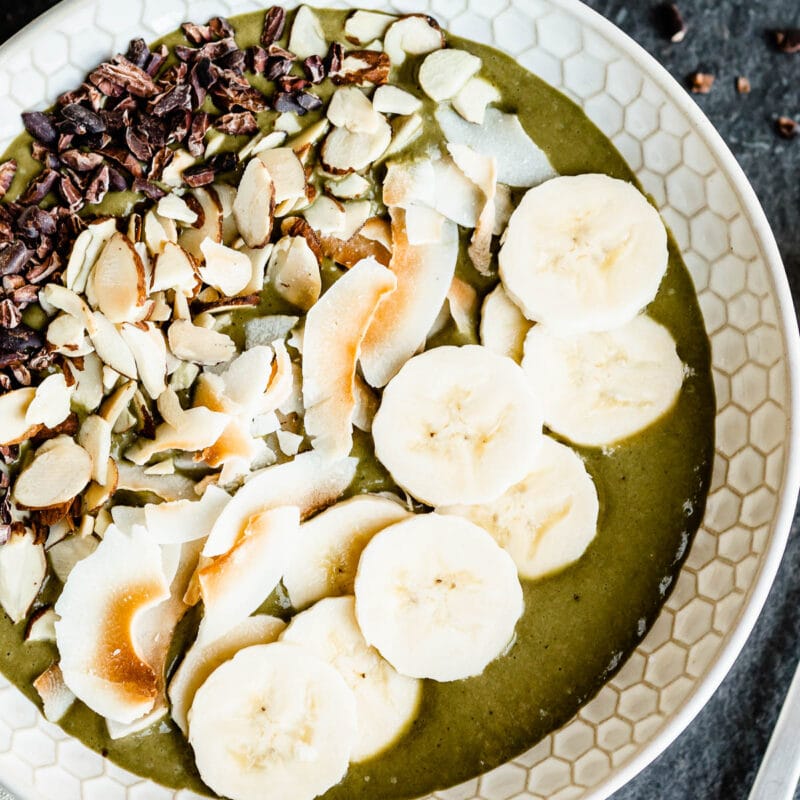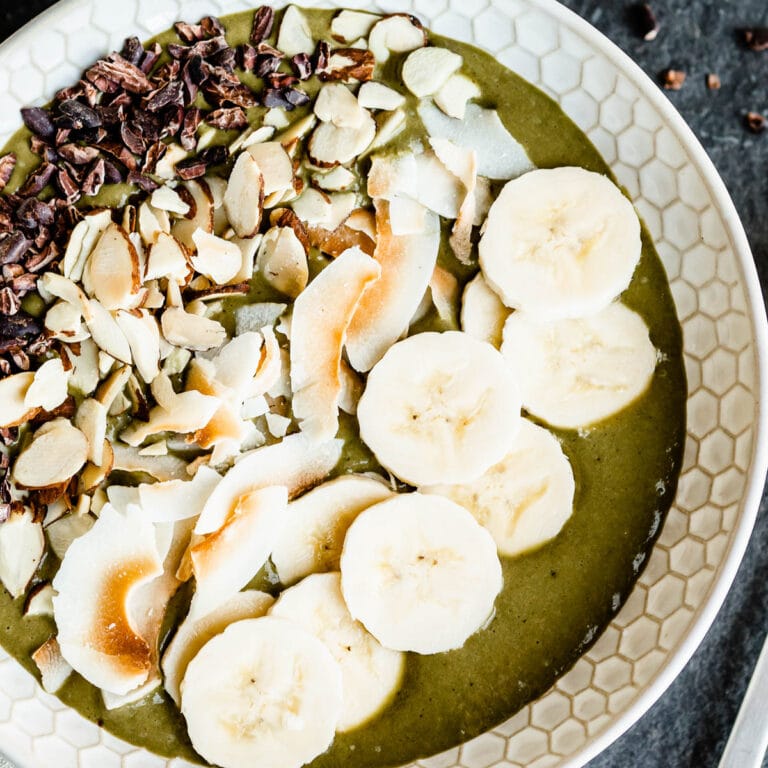 Coconut Joy Vegan Smoothie Bowl
Blend up some plant-based goodness for a delicious, nutrient-rich dessert or snack. The flavors of coconut, chocolate and almond come together quickly in this vegan smoothie bowl.
Ingredients
Topping Suggestions
½

banana

sliced

2

tbsp

sliced almonds

2

tbsp

coconut flakes

1

tsp

cacao nibs
Instructions
Place spinach and coconut milk into a blender. Puree until smooth. (Stop and scrape down sides as needed, especially if blender is on the larger side.)

Add frozen banana and remaining ingredients. Keep blending, using a tamper, if needed, until fully blended. The texture should be like soft-serve ice cream.

Transfer to a bowl and garnish with desired toppings.
Notes
Frozen avocado can be substituted for the banana, if desired to cut down on the natural sugar in this recipe.
Almond milk or another non-dairy beverage can be used instead of coconut milk.
Feel free to use canned or carton coconut milk; canned coconut milk will produce a thicker result.
Use 100% unsweetened cocoa power if cacao powder is hard to find.
Nutrition
Calories:
359
kcal
,
Carbohydrates:
51
g
,
Protein:
6
g
,
Fat:
17
g
,
Saturated Fat:
8
g
,
Polyunsaturated Fat:
2
g
,
Monounsaturated Fat:
5
g
,
Sodium:
112
mg
,
Potassium:
831
mg
,
Fiber:
7
g
,
Sugar:
27
g
,
Vitamin A:
2889
IU
,
Vitamin C:
19
mg
,
Calcium:
119
mg
,
Iron:
2
mg