This is the perfect weeknight meal with a punchy coconut sriracha sauce drizzled over a veggie bowl of gorgeous and filling flavors. Feel full and satisfied with this easy creation that you can change up with the seasons!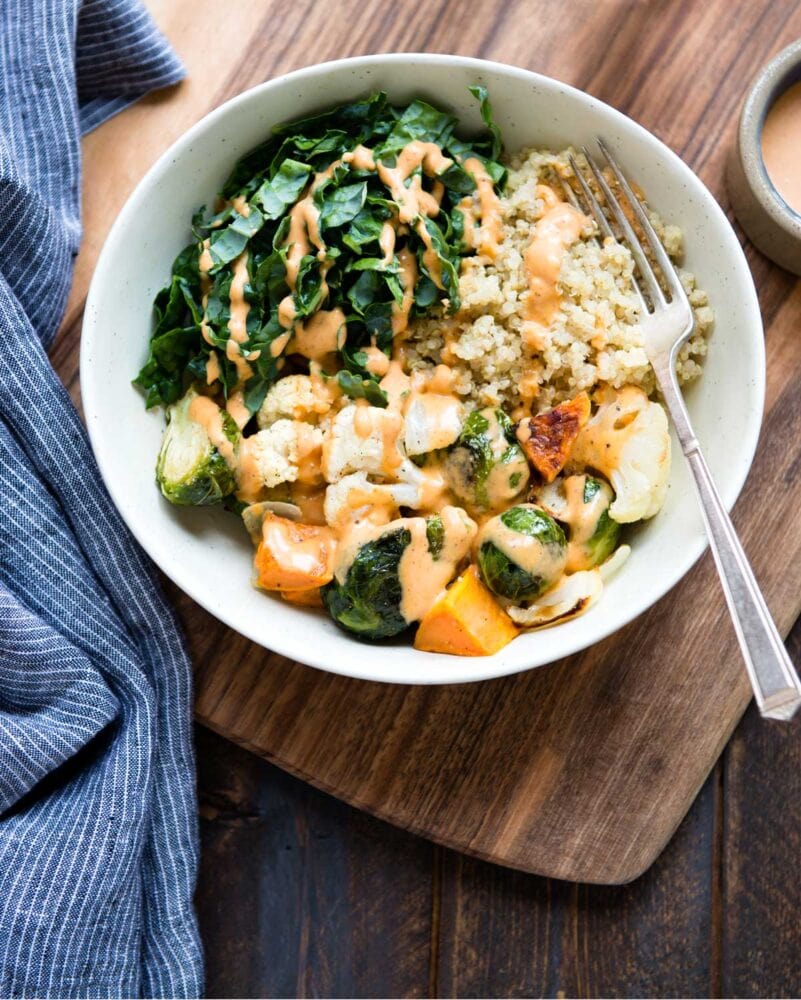 Inspiration for this veggie bowl came from my first visit to Fresh Kitchen, in Tampa, FL. One bite in and I knew I had to figure out how to recreate their incredible coconut sriracha sauce. The blend of roasted veggies paired so well and I was instantly in love.
In my own re-creation of this delicious recipe, I chose whole food ingredients that could come together in a balanced, protein-filled dish that helped fuel my body. You gotta try this recipe!
Table of Contents
Plant-Based Protein
First, let's talk about the fact that this dish is ALL PLANTS, yet packs a protein punch. I know a lot of people shy away from a veggie forward meal because they're worried they won't be full. This veggie bowl will not only fill you up, it will also give you long lasting energy! You won't be hungry an hour after eating this; you'll feel energized and ready to give the day your all.
While you can easily add in some grilled chicken or ground turkey to this recipe, I love that it holds its own in terms of protein + healthy fat without any meat. Quinoa is a great protein source, and the coconut sriracha sauce isn't just here to taste good! It also adds in almost 2 grams of protein per serving.
Veggie Bowl Recipe
Like many recipes I create, this one is simple + versatile. If cooking isn't your forte, don't back away from trying this recipe! Lots of grocery stores have pre-chopped veggies available, so prep is covered. All the vegetables can go on the same pan in the oven, so that cuts down on dishes.
The sauce doesn't have to be measured exactly. In fact, I rarely measure when making sauces. Often I taste as I go and add what feels right, yet then I have to try and remember everything I've added when I find a winner!
Coconut Sriracha Sauce
This sauce is the dream team part of this veggie bowl recipe. I'm a sauce girl, so it's gotta be great for me to pour on a dish– and this coconut sriracha sauce is where it's at. The base is full fat coconut milk. Make sure you use the canned version, and shake up that can before opening and measuring. This way you'll get all the fatty cream + just the right amount of liquid.
My fave sriracha is from Trader Joe's; feel free to use the one you like most too! The secret ingredient of this sauce is the almond butter. You don't really taste the nuttiness, yet if you leave this ingredient out, it changes the whole sauce.
Use tamari for a gluten-free soy sauce, as well as a gluten-free dijon mustard. If you want this bowl to be fully vegan, swap the honey out for maple syrup (this will make the sauce slightly more runny).
Ingredient Swaps
I'm all about using what I have to make dinner, and this recipe is no exception. So many different veggie combos would work great in this meal: swap in broccoli, bell peppers, radishes, white or red potatoes, zucchini, and more for any of the vegetables in my recipe below. Still bake on the same temp, and you've got yourself a delicious, warm meal.
If quinoa isn't available, then swap in white or brown rice. Spiralized sweet potatoes like the ones in my taco salad recipe work great as a base too! Choose another leafy green if you don't want to use kale; cabbage is a great swap.
This is a great meal for a fridge clean-out dinner. If you've got produce about to go bad, then chop it up and roast it for a veggie bowl! The quinoa + sauce just help tie the whole dish together.
More Plant-Based Bowls
If this recipe hit the spot, then check out some of my other plant-based meals:
Don't forget to leave a comment + review to let me know how you liked this veggie bowl recipe!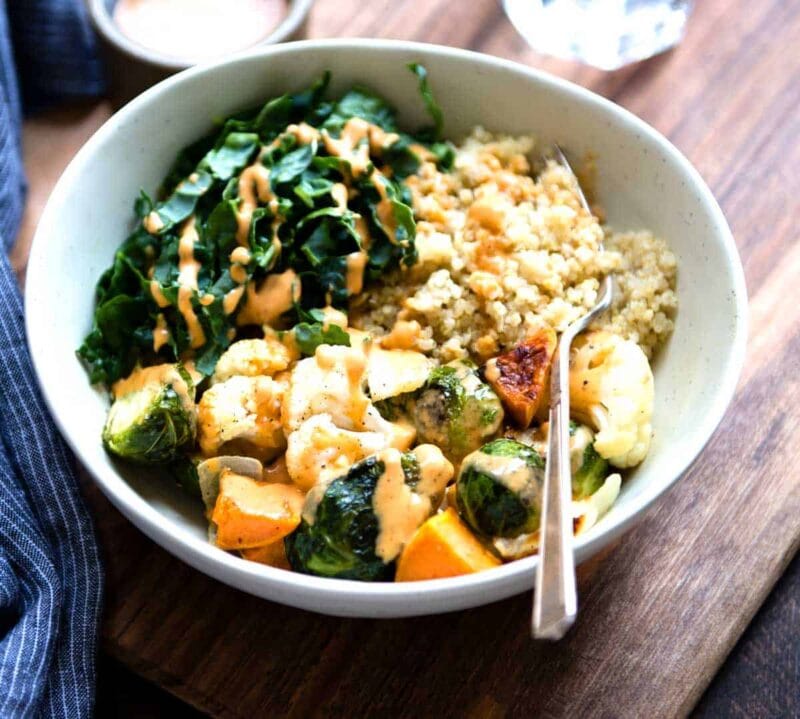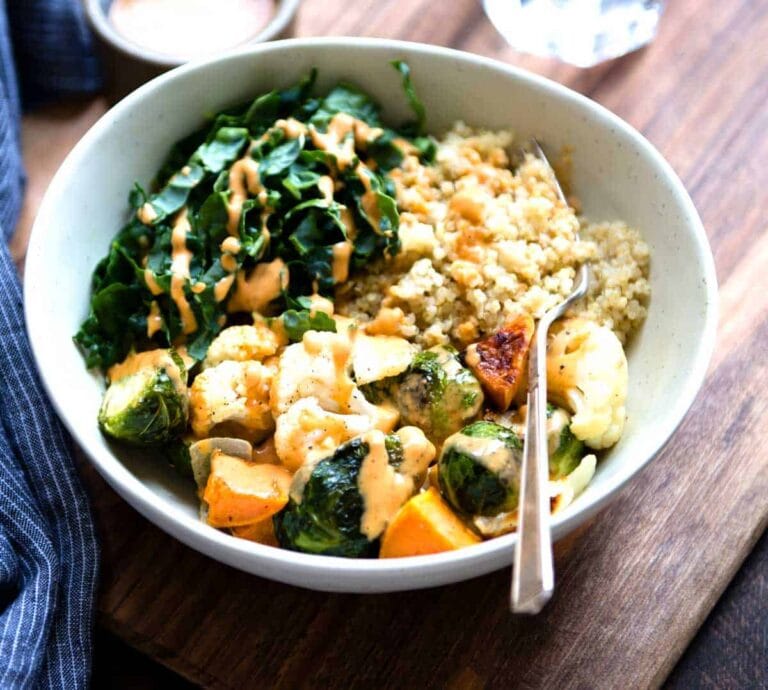 Coconut Sriracha Veggie Bowl
This veggie bowl recipe is simple, delicious and has the perfect sauce. Roasted onion, cauliflower, sweet potatoes and Brussels sprouts served with brown rice or quinoa under the best sauce ever. Great for those left over veggies in the fridge that need to be used.
Ingredients
2

tablespoons

olive oil

1

yellow onion

cut into 1" dice

2

cups

cauliflower

2

cups

sweet potatoes

peeled and cut into 1-inch cubes

2

cups

Brussels sprouts

halved

2

cups

kale

shredded

3

cups

cooked quinoa

warm
Instructions
Preheat oven to 425°Line a baking sheet with parchment paper. Toss onion and other veggies with the olive oil. Season well with salt and pepper. Arrange veggies in a single layer on the baking sheet. Roast for 20-25 minutes or until tender and golden.

Meanwhile, whisk coconut sriracha sauce ingredients together and refrigerate until ready to use.

To serve, place 3/4 cup warm quinoa each in four bowls. Top with 1/2 cup shredded kale and 1 ½ cups of roasted veggies. Drizzle the coconut sriracha sauce over the bowls and serve.
Notes
Can make a big batch of roasted veggies at the beginning of the week and use the leftovers here. Other suggested veggies: butternut squash, broccoli, zucchini, and bell peppers. Peanut or another nut or seed butter can be used in place of the almond butter. Or it can be omitted. Light coconut milk can also be used, but the sauce will be thinner.
Vegan option: use maple syrup instead of honey
Nutrition
Calories:
375
kcal
,
Carbohydrates:
58
g
,
Protein:
11
g
,
Fat:
12
g
,
Saturated Fat:
3
g
,
Polyunsaturated Fat:
2
g
,
Monounsaturated Fat:
6
g
,
Sodium:
286
mg
,
Potassium:
1007
mg
,
Fiber:
9
g
,
Sugar:
9
g
,
Vitamin A:
13132
IU
,
Vitamin C:
110
mg
,
Calcium:
132
mg
,
Iron:
4
mg