This almond butter smoothie is my take on a PB&J sandwich. It's got it all with a creamy, nutty start and a sweet, grape-y finish with just a hint of banana. You won't even know the spinach is in there!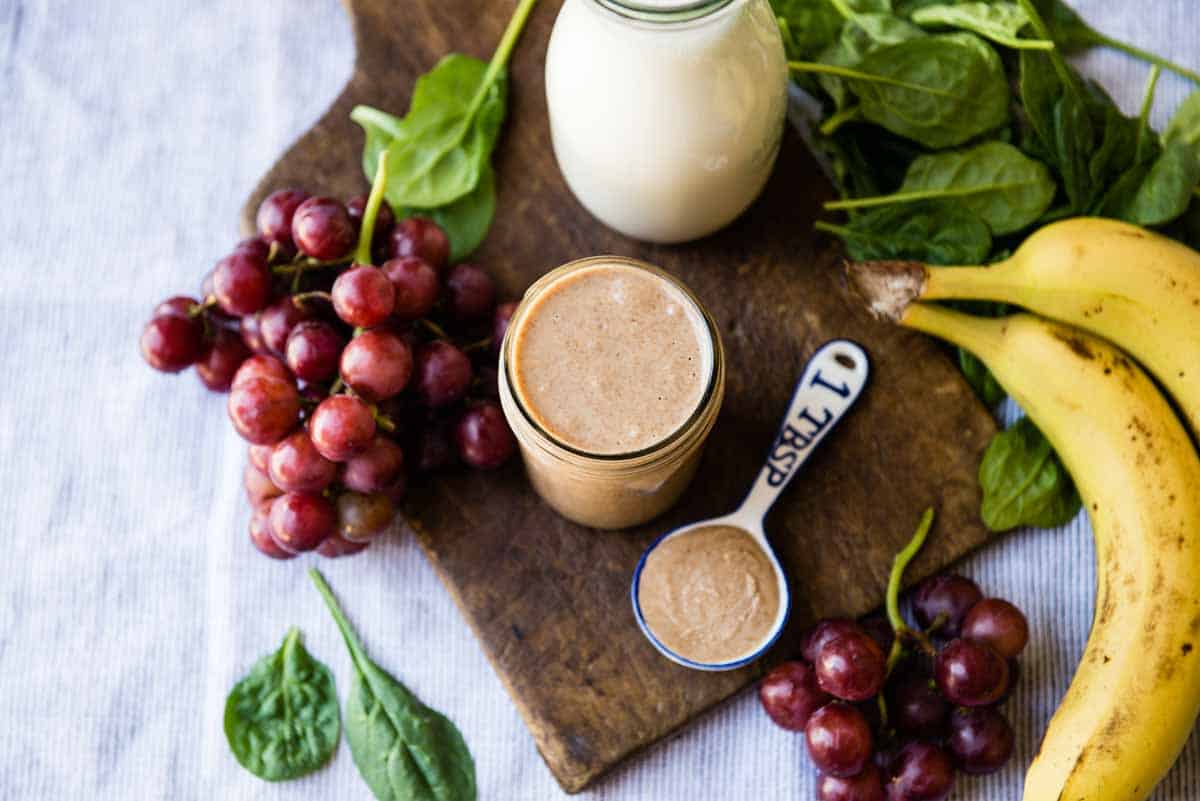 This banana almond butter smoothie takes a page right out of my childhood. It's inspired by the classic peanut butter and jelly sandwich, yet optimized with a healthy twist.
By adding plenty of protein and healthy fats, we've been able to boost this smoothie into a great meal replacement. This means you won't gulp down these 16 ounces and be hungry 30 minutes later. You'll be full until the next meal!
Table of Contents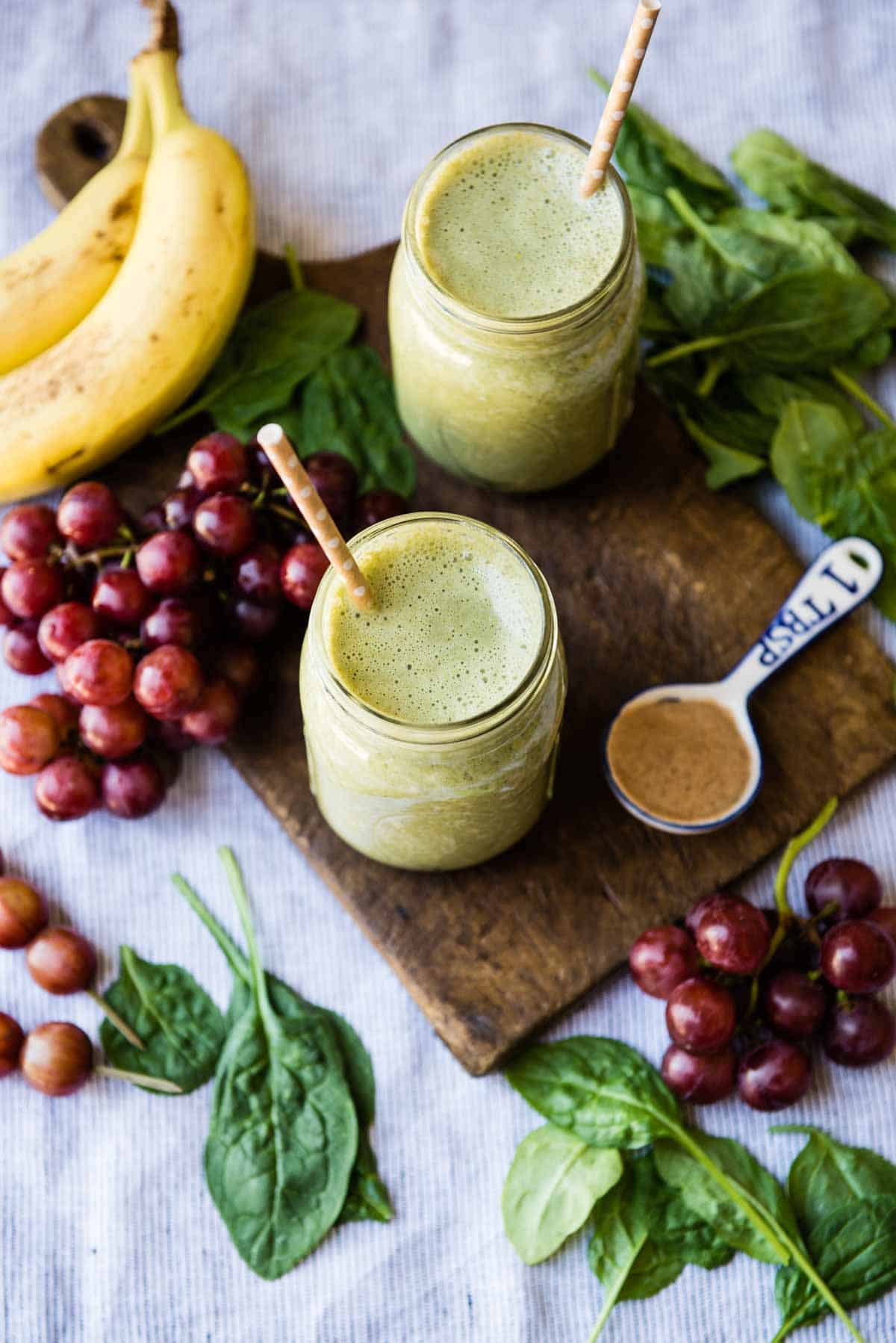 Healthy Benefits of a Banana Almond Butter Smoothie
Spinach and grapes are packed with antioxidants and phytonutrients— so this green smoothie is super healthy and yummy. No added sugar or water needed— this is a sweet take on a child's classic sandwich filled with fresh fruit and leafy greens.
Grapes are a low sugar fruit, so it has a better blood sugar balance.
Almond butter is a healthy protein source and the better alternative for a paleo diet because almonds are true nuts that grow on trees (peanuts are actually legumes and grow underground, so not paleo-friendly).
Spinach is a powerhouse leafy green packed with vitamin K, calcium, magnesium, manganese for bone health; and plenty of vitamin B2 and B6 for a perfect energy booster!
Bananas are a natural sweetener that also make a super creamy smoothie.
How much almond butter to put in a smoothie?
If you're new to the world of almond butter, it's always best to go less. Start with 1 tablespoon, which has nearly 4 grams of protein right there! Taste to see how you like it and add more if you want to.
When using almond butter, I almost always use a banana to sweeten it up and help remove any gritty texture. The banana binds to it and turns it more into a creamy smoothie, than a gritty chunky one.
Pro tip: alternate between storing right side up and upside down to help the natural oils mix back in with your nut butter instead of collecting in one spot inside the jar.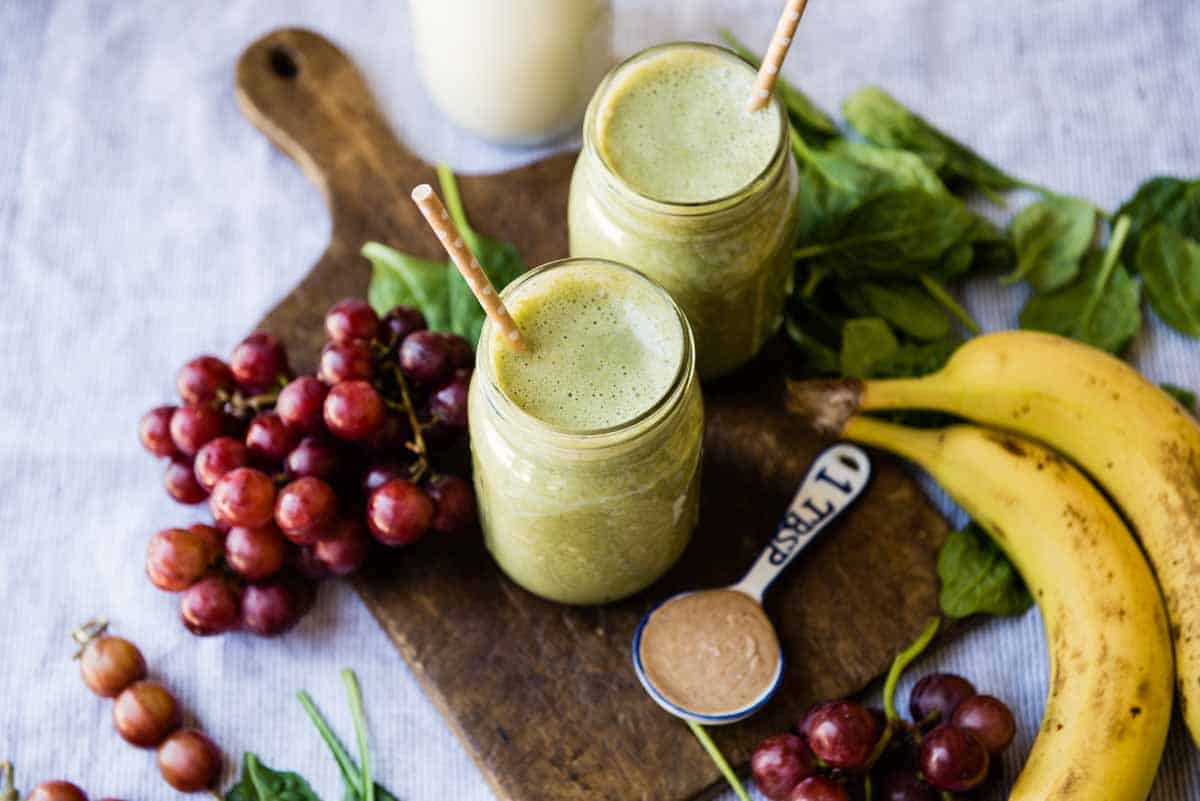 More Protein-Rich Smoothies  
There are so many great combinations of almond butter smoothies. Below are a few more that I think you'll like:
Want more protein?
And if you're looking to level-up this banana almond butter smoothie recipe (or any other) by an additional 10 grams of protein, adding homemade protein powder is an easy win! I got so tired of finding hard to pronounce and not-so-good for me ingredients in my protein powders.
FAQs
Why do people put almond butter in smoothies?
For the protein of course! And the yumminess! Almond butter is a plant based protein and healthy fat that can add a creamy thickness to your next green smoothie. Plus almond, along with other nut butters like cashew butter can make a great alternative to those allergic to peanut butter.
Is almond butter good for weight loss?
It totally sounds counter-intuitive, yet almonds are higher in fat + help you lose weight. Here's how: drinking a green smoothie with almond butter or other healthy fat alternative vs. one without helps you stay full longer. Fat takes longer to digest, leaving you less hungry for longer periods of time. If you're still full, you're not gonna grab that bag of chips or cookies in between meals. Instead, you'll opt to drink more water and ride out that full feeling all the way til your next meal. Winner!
Do you refrigerate almond butter?
Great question! And the answer is… it depends. Most of the time, storing in your pantry is just fine. However, if you don't use your almond butter as quickly as I do in my house, then it might be wise to store in the fridge. This is especially true if you purchase nut butters without preservatives. Keeping it in the fridge extends the shelf life from approx. 2 years to a whopping 4 years.
If you try this smoothie recipe, please leave a comment below and rate this recipe letting me know how it works for you. If you make any modifications, I'd love to hear about those, too! We can all benefit from your experience.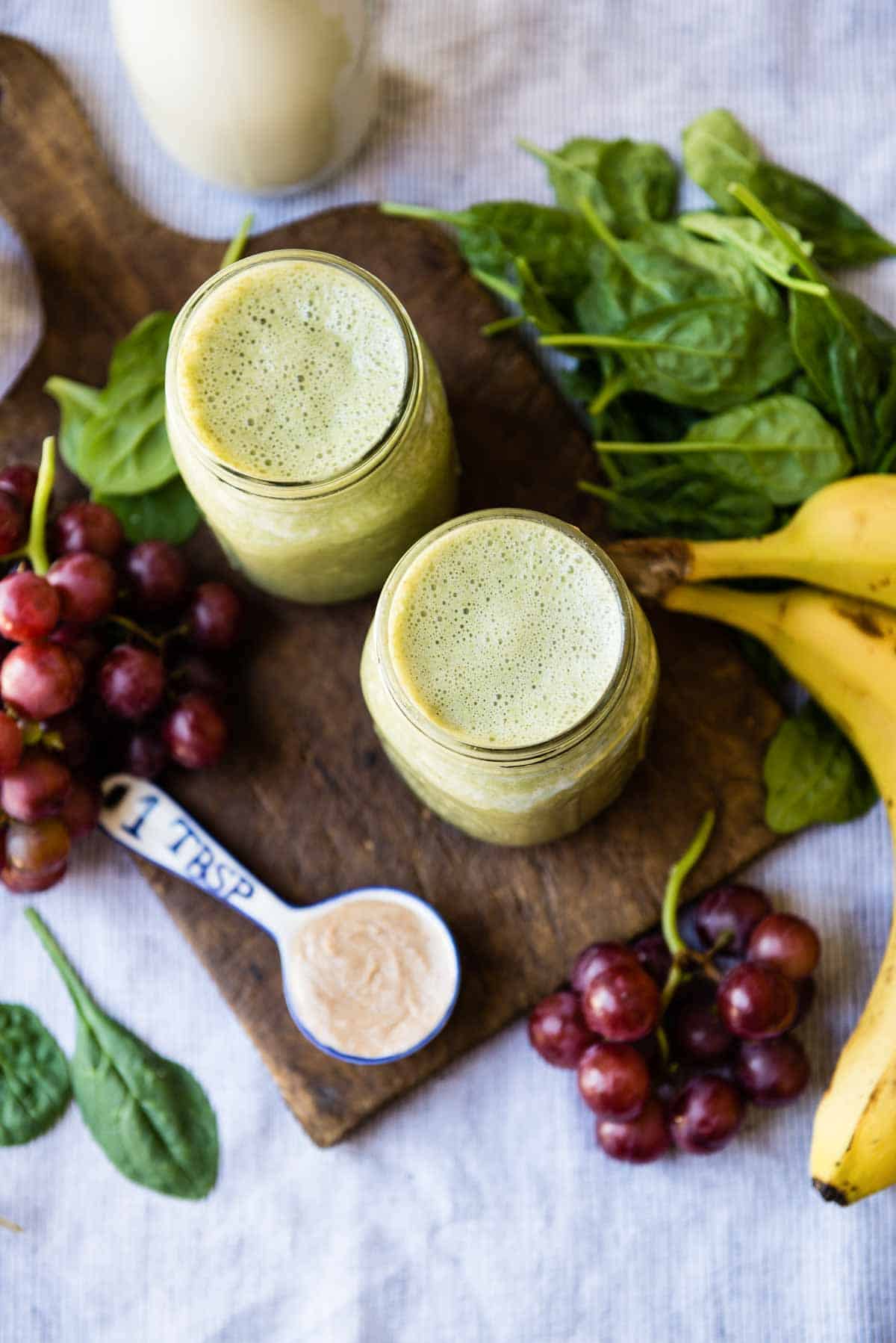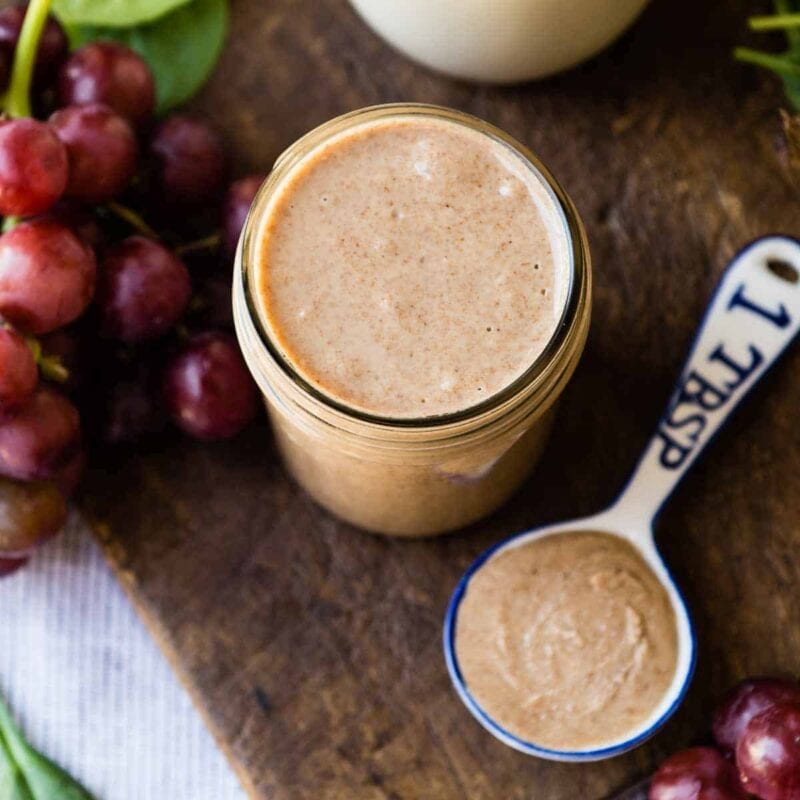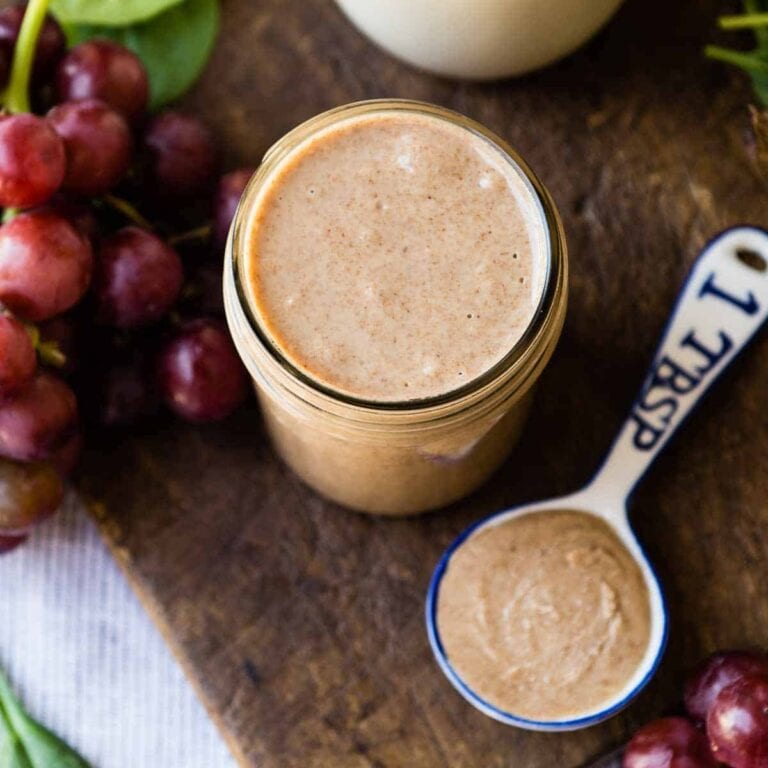 Almond Butter Smoothie
This protein packed recipe is perfectly balanced with the natural sweetness in fruit, making i my favorite almond butter smoothie.
Instructions
Blend spinach and almond milk until smooth.

Next add the remaining fruits and blend again.
Notes
Freeze your grapes overnight to chill this green smoothie and top with sliced almonds for an added crunch.
Swap banana with 1/2 cup frozen cauliflower to lower the natural sugar in this recipe.
Swap spinach with the leafy green of your choice.
Nutrition
Calories:
448
kcal
,
Carbohydrates:
62
g
,
Protein:
11
g
,
Fat:
22
g
,
Saturated Fat:
2
g
,
Polyunsaturated Fat:
6
g
,
Monounsaturated Fat:
12
g
,
Sodium:
355
mg
,
Potassium:
1118
mg
,
Fiber:
9
g
,
Sugar:
40
g
,
Vitamin A:
2989
IU
,
Vitamin C:
24
mg
,
Calcium:
462
mg
,
Iron:
3
mg