Over the last few years, many studies have shown that inflammation contributes to a number of health conditions and symptoms. Things like skin rashes, digestive troubles, headaches and migraines, brain fog, fatigue, and more can often be attributed to inflammation. So I took foods that I know help with these symptoms and blended them up into an anti-inflammatory smoothie recipe that legit works.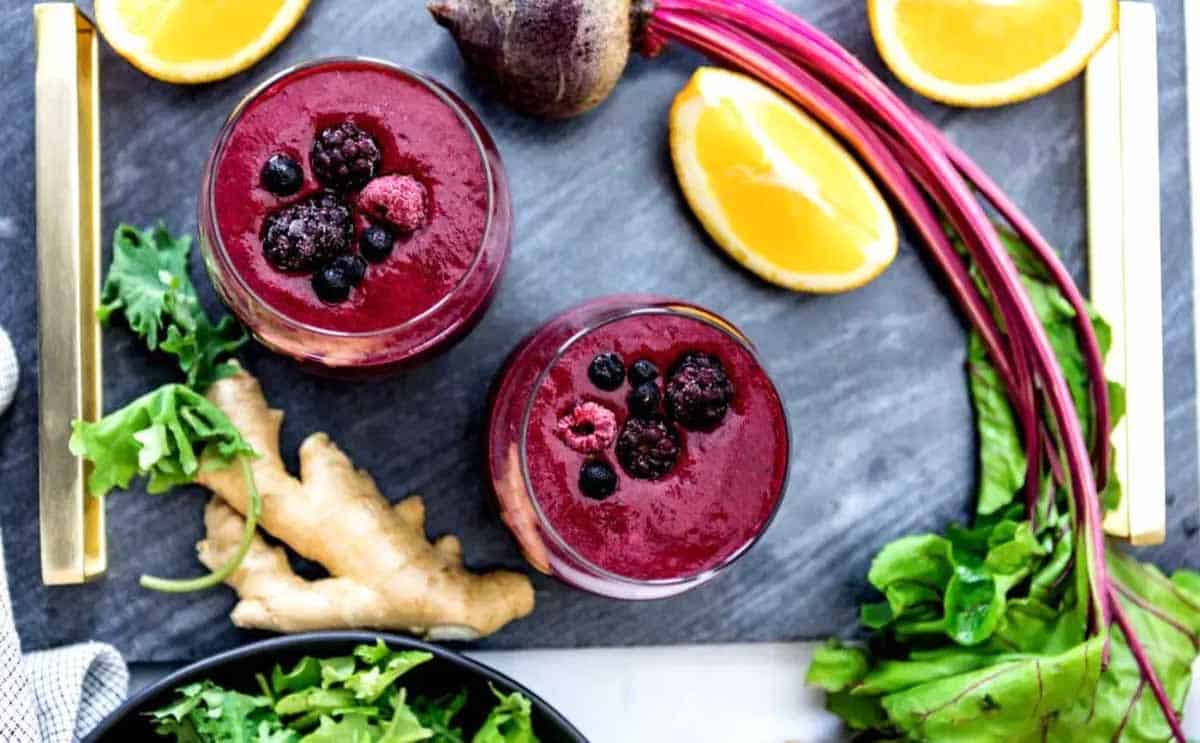 Table of Contents
Foods that Cause Inflammation
The foods that cause inflammation won't surprise you. Red meat, processed and preserved meats and sausage, dairy, gluten and white flours/starches, refined sugar, and preservatives top the list. A diet rich in these potent foods will most likely cause you to feel cruddy anyway. If you're susceptible to inflammation, these things can make symptoms even worse.
What can you do? Consuming a diet that is full of foods that fight inflammation is a great place to start.
Focus on whole food that are very similar to a Mediterranean diet, making it super doable for most people in the western world. Heck, I can get all of these foods at my local grocery store! It's hard to make excuses when it's accessible, right? Here's a whole food list to focus on when fighting inflammation:
tomatoes
olive oil
leafy greens + cruciferous veggies
fruit, berries + other low glycemic fruits
citrus – lemons and oranges
fish rich in omega-3 fatty acids – salmon, sardines, mackerel
ginger
garlic
turmeric
Certain seeds also have inflammation fighting properties – like chia, hemp and flaxseed. The good news is, you can find them all right in my homemade protein powder, plus 10g of protein! Try the anti-inflammatory smoothie below with the boost and soothe your body from the inside out. You really can use this in an of my healthy smoothie recipes to give them a boost.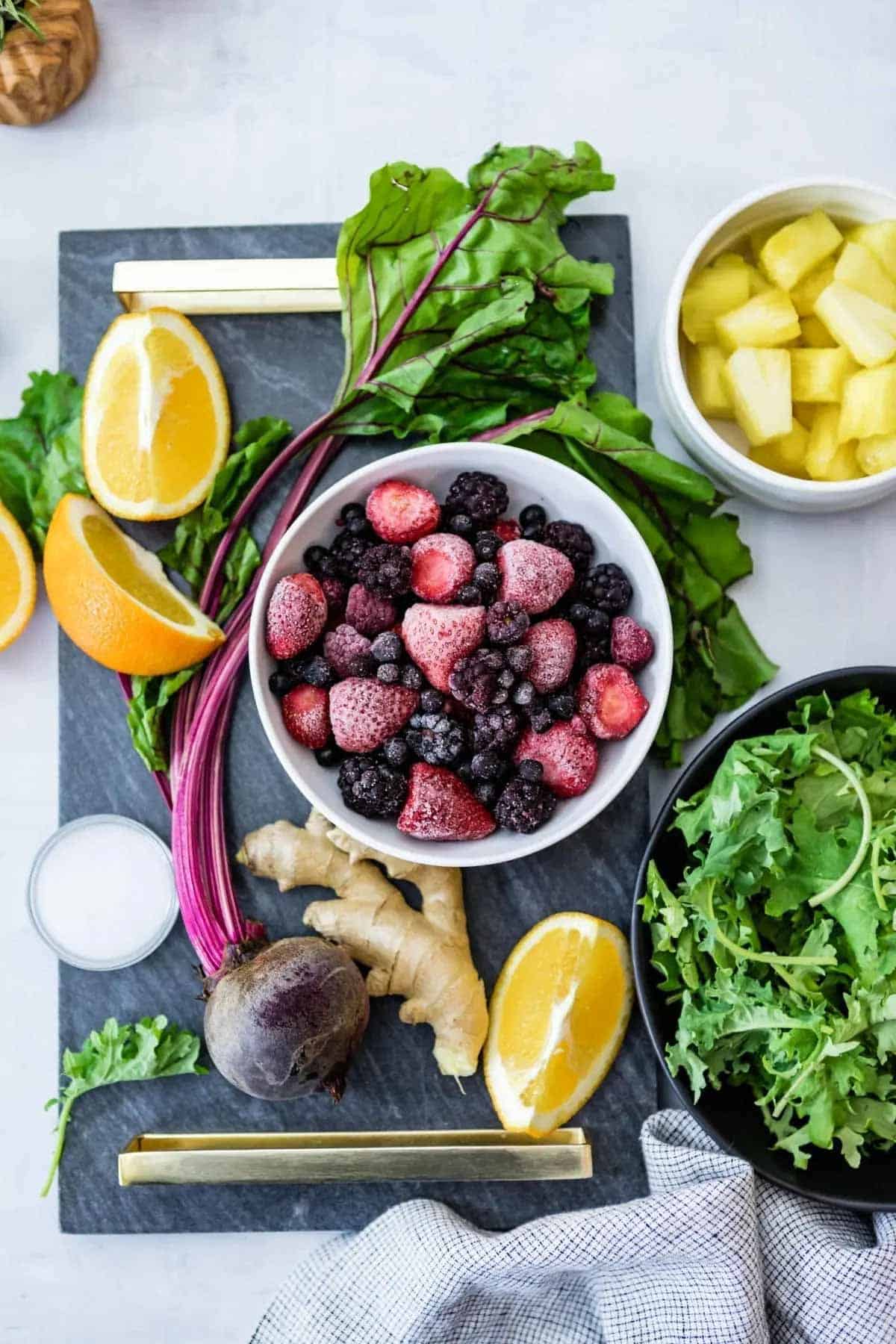 Helpful FAQs
What is the best drink for inflammation?
Outside of smoothies, there are lots of great and simple tonics with ingredients like ginger and turmeric that can help soothe the body.
What is a good anti-inflammatory breakfast?
A green smoothie with plant-based protein is a great way to start the day. Fight inflammation before it creeps up by consuming fruits + veggies like leafy greens and berries first thing in the morning.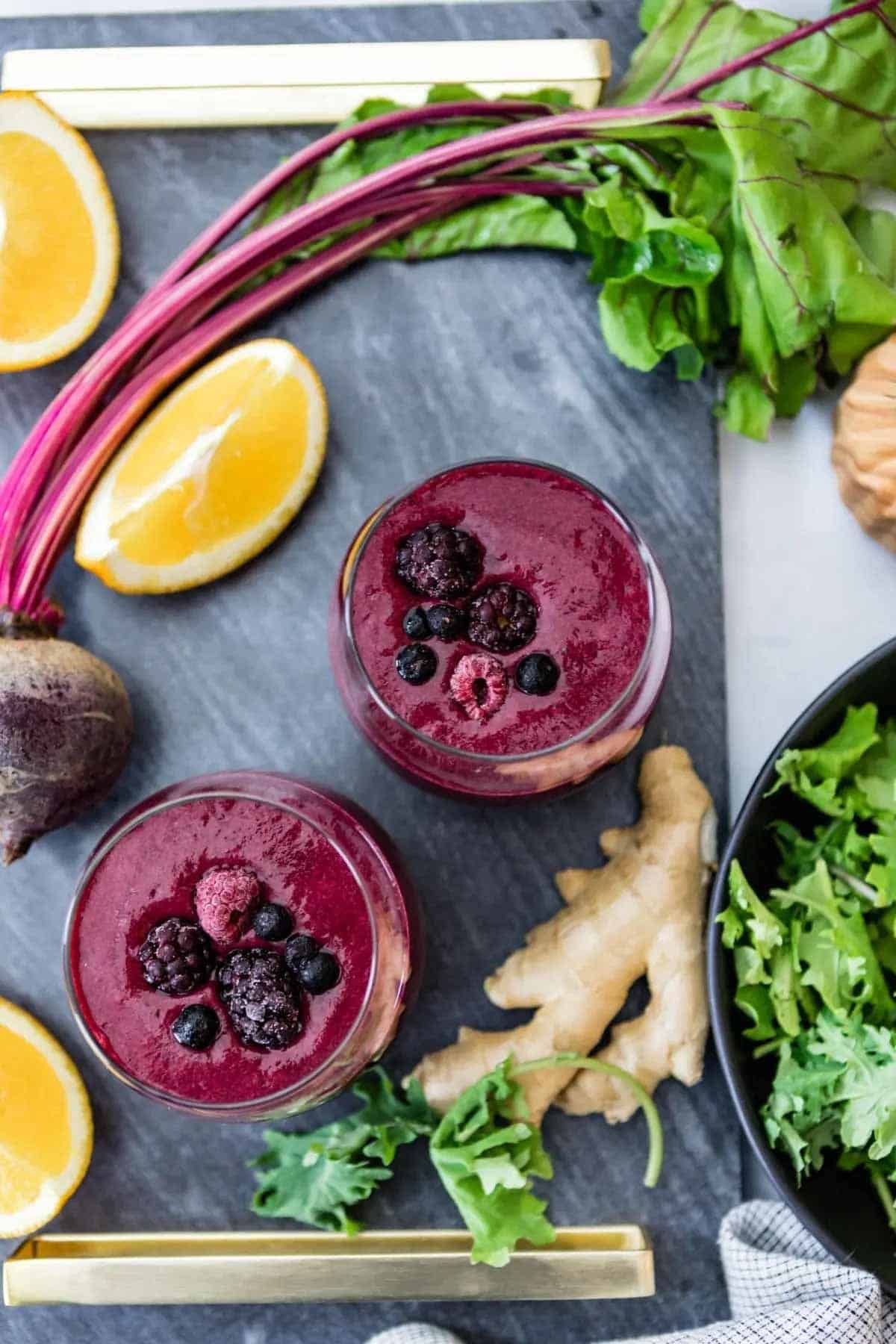 More Anti-inflammatory Recipes
Here are a few of my fav recipes to help fight inflammation. Add these to your meal roster over the next few weeks, then let me know how you feel!
If these recipes are right up your alley, then sign up for my newsletter to get plant-based recipes just like these delivered to your inbox. Don't forget to give the anti-inflammatory smoothie below a blend and let me know how you liked it with a rating + review!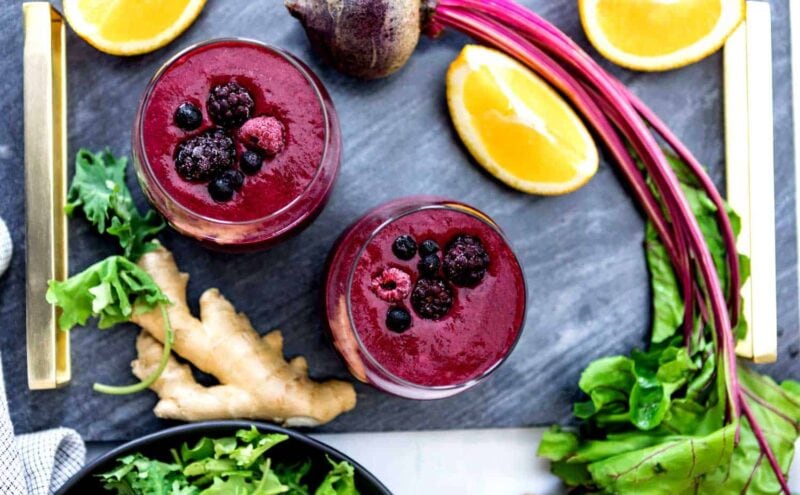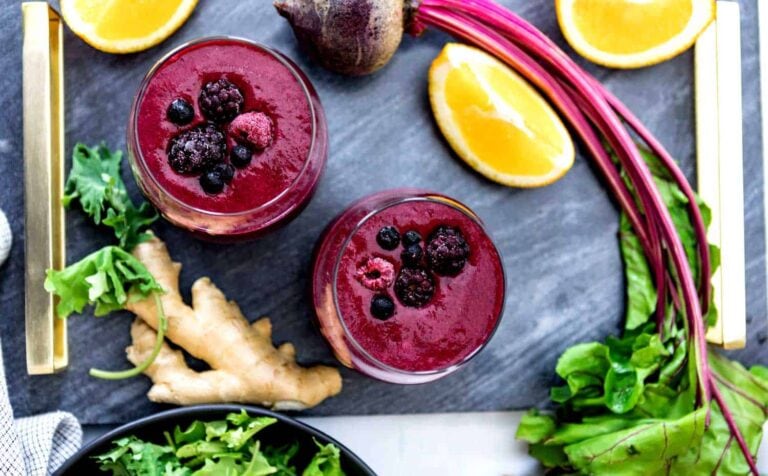 Anti-Inflammatory Smoothie
Help calm your body and fight inflammation by blending up this vibrant anti-inflammatory smoothie that is loaded with vitamins, minerals, fiber, and taste!
Ingredients
½

cup

kale

½

cup

beets

peeled and chopped

1

cup

water

½

orange

peeled

1

cup

mixed berries

frozen

½

cup

pineapple

frozen

1

tsp

ginger root

peeled

1

tsp

coconut oil

2

tbsp

chia seeds
Instructions
Place kale, beet, water, and orange into a blender.

Puree until smooth.

Add remaining ingredients.

Blend again until smooth.
Notes
Carrots can be substituted for the beets.
Mango can be substituted for the pineapple.
Baby kale or spinach can be used to make the smoothie less bitter.
Use at least 1 frozen fruit for a refreshingly cool smoothie.
Nutrition
Serving:
16
oz
,
Calories:
155
kcal
,
Carbohydrates:
28
g
,
Protein:
4
g
,
Fat:
5
g
,
Saturated Fat:
0.5
g
,
Polyunsaturated Fat:
3
g
,
Monounsaturated Fat:
0.4
g
,
Trans Fat:
0.01
g
,
Sodium:
45
mg
,
Potassium:
368
mg
,
Fiber:
9
g
,
Sugar:
16
g
,
Vitamin A:
1824
IU
,
Vitamin C:
57
mg
,
Calcium:
152
mg
,
Iron:
2
mg