Blend this Banana Peach Smoothie during the height of peach season for the tastiest peach smoothie you'll ever savor. You can also use frozen peaches, which have been picked at their peak and frozen to lock in the nutrients.
Peaches are a true gift. There's nothing quite like finding a perfectly ripe peach, then taking it over to the kitchen sink to devour it, juice dripping down your chin, relishing every sweet bite. This is also exactly why I love blending with peaches.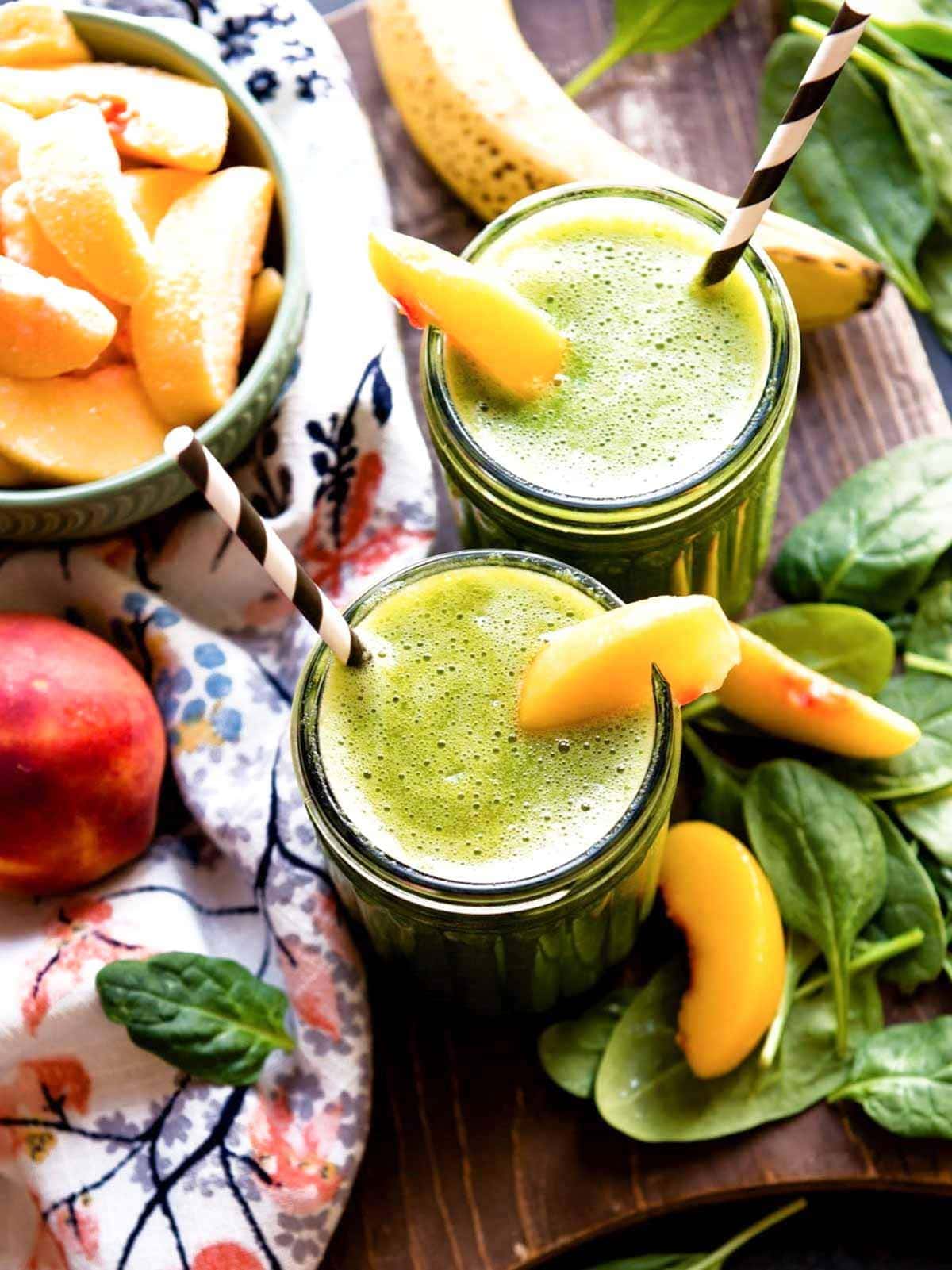 Table of Contents
When is the Best Season to Use Peaches in a Smoothie?
Of course, using peaches during the height of peach season is ideal (late spring, early summer). Yet this banana peach smoothie can easily be made with frozen peaches. Slice up + freeze a bunch of peaches during harvest time, then enjoy a little bit of summer all year long.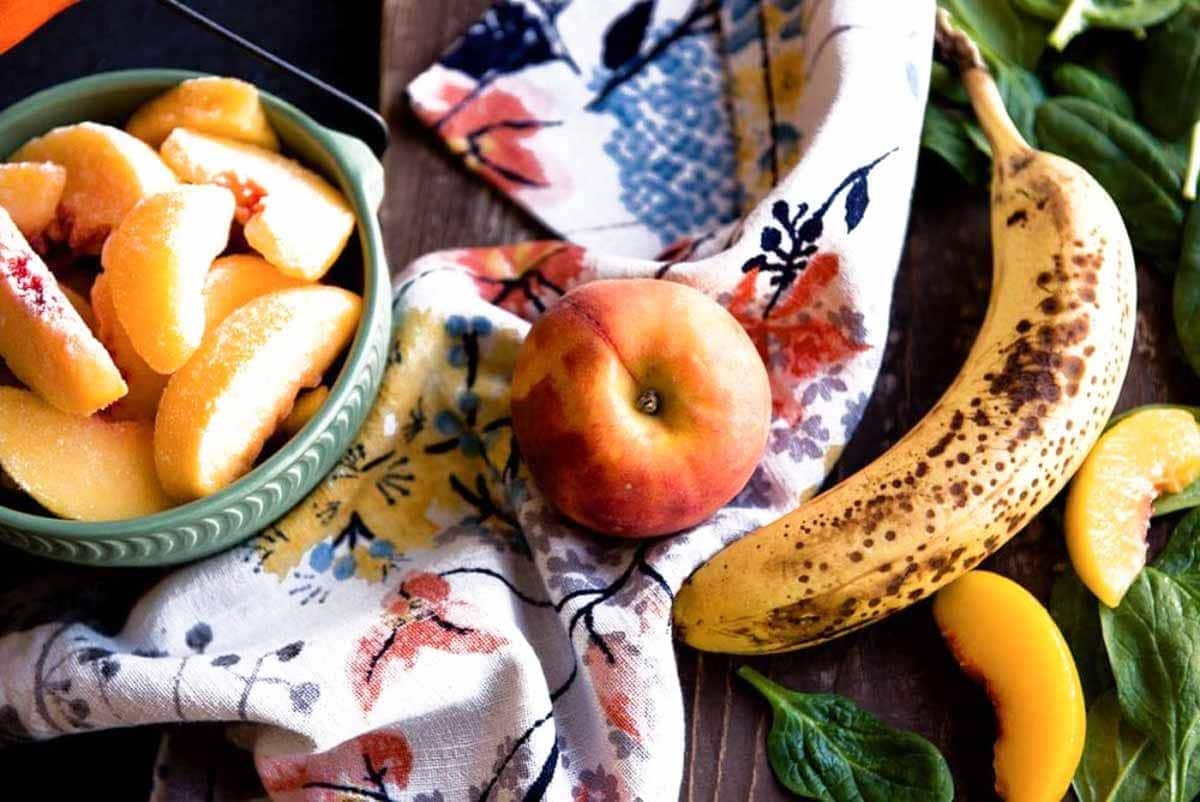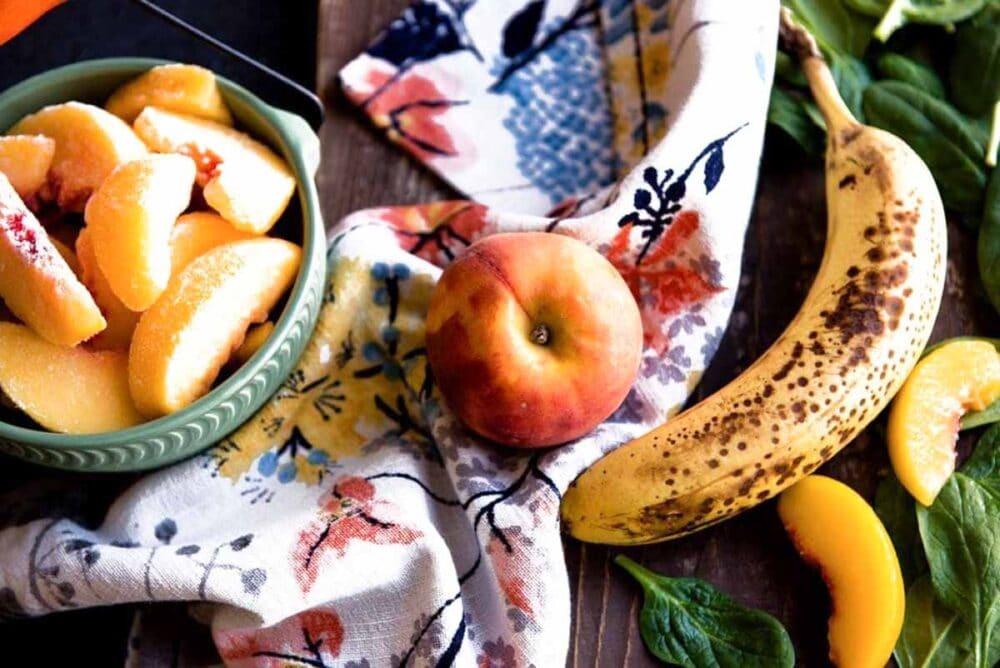 Low Sugar Recipe
Peaches and bananas are both low on the glycemic scale. This makes them a good choice for anyone watching their blood sugar. (Always check first with your health professional if you are a diabetic!) Both fruits also contain dietary fiber. Fiber can slow down the absorption of fruit sugar into your blood stream, then give you a more steady energy boost.
I start sounding like a commercial going on and on about fiber, but is it SO important for your health – both for heart health and staying "regular."
Gut health is important, so eat and drink up all the fiber-rich fruit and veggies in this banana peach smoothie! They're nature's scrubbing brush.
More Fiber-ful recipes
Here are a few great recipes that can help boost your fiber intake:
A diet rich in fiber can lower the risk of Type II diabetes, heart disease and many types of cancer. So grab one of these fiber-filled smoothies and drink to your health!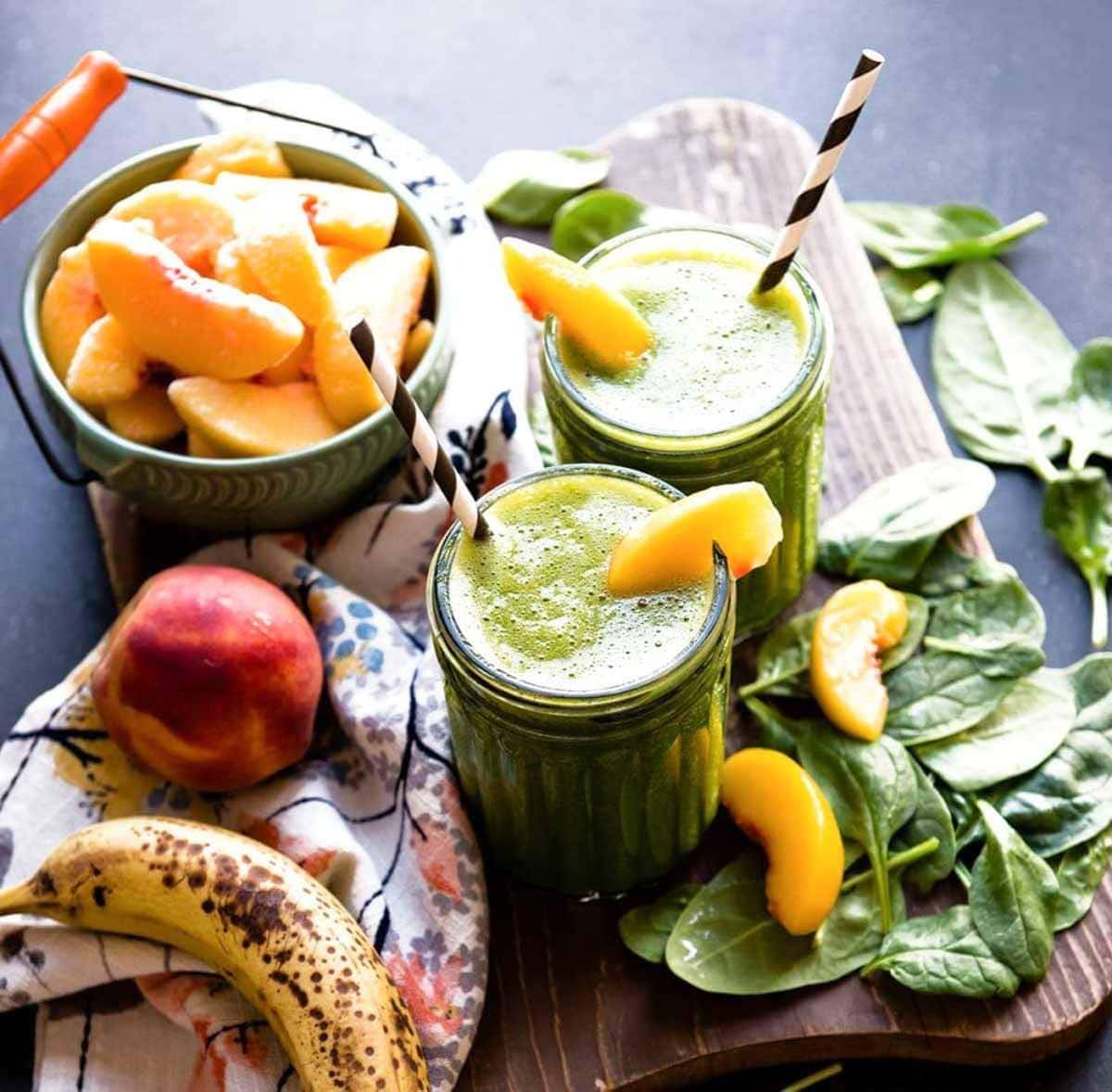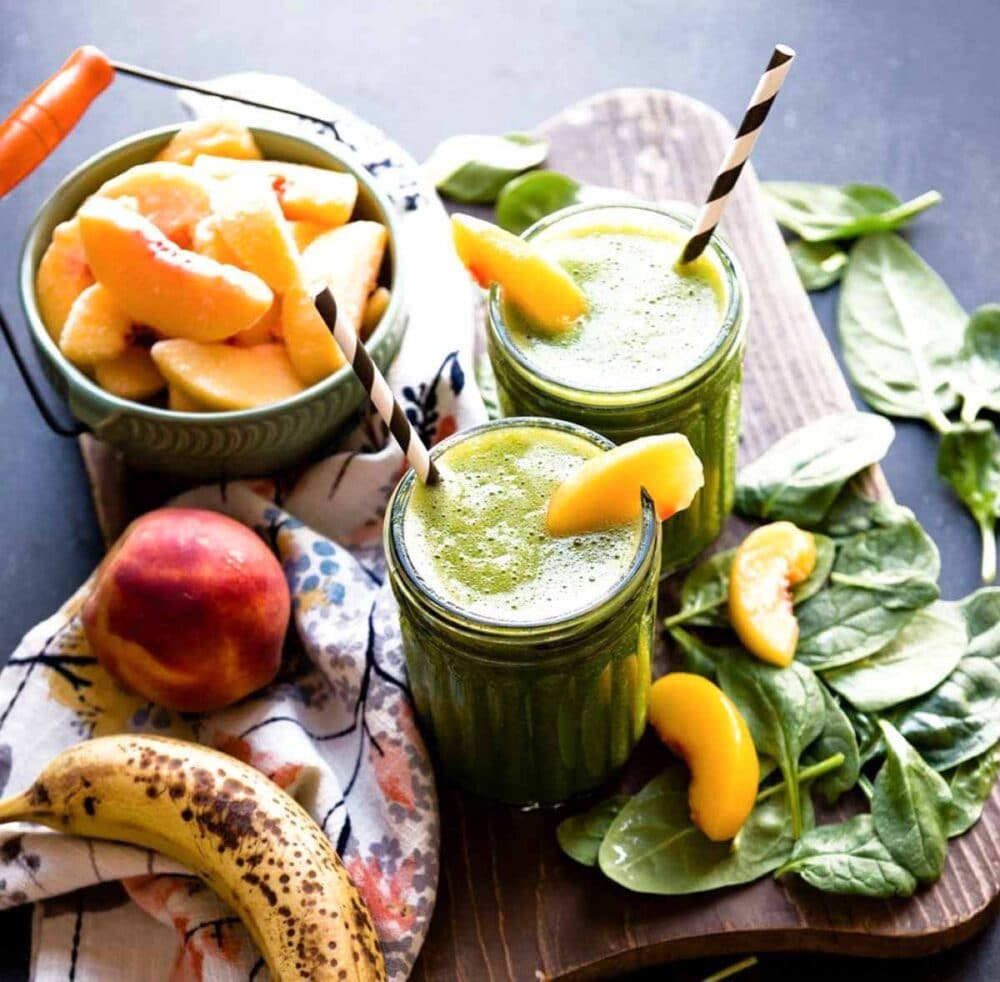 Turn Your Smoothie into a Meal
Because this is a low-cal smoothie, it's not a great meal replacement on its own. Upgrade this banana peach smoothie to a quick + easy meal by adding a scoop of homemade protein powder, chia or hemp seeds or homemade nut butter.
To stay full and feel satisfied for longer, check out our popular Green Smoothie Meal Replacement Guide.
For example, you can add 1/4 of an avocado, use 1/2 cup coconut milk for some of the water, add a tablespoon of MCT oil, or your fav healthy fat.
If you don't like bananas or can't eat them, feel free to substitute avocado or cauliflower for an equally creamy smoothie.
Quite often the simplest of smoothies are the best ones. This Banana Peach Smoothie is no exception. Use simple, healthy ingredients… your tastebuds and your body will thank you!
Smoothie Challenge Recipes
This banana peach smoothie recipe is from our free Smoothie Challenge. Looking for more recipes? Make sure to sign up for the challenge to get your guidebook which has your shopping list, recipes and prep guide. I've also included the recipes below for you to access and leave reviews of all the recipes you try.
Will you please rate + review this recipe once you try it? I love getting your feedback!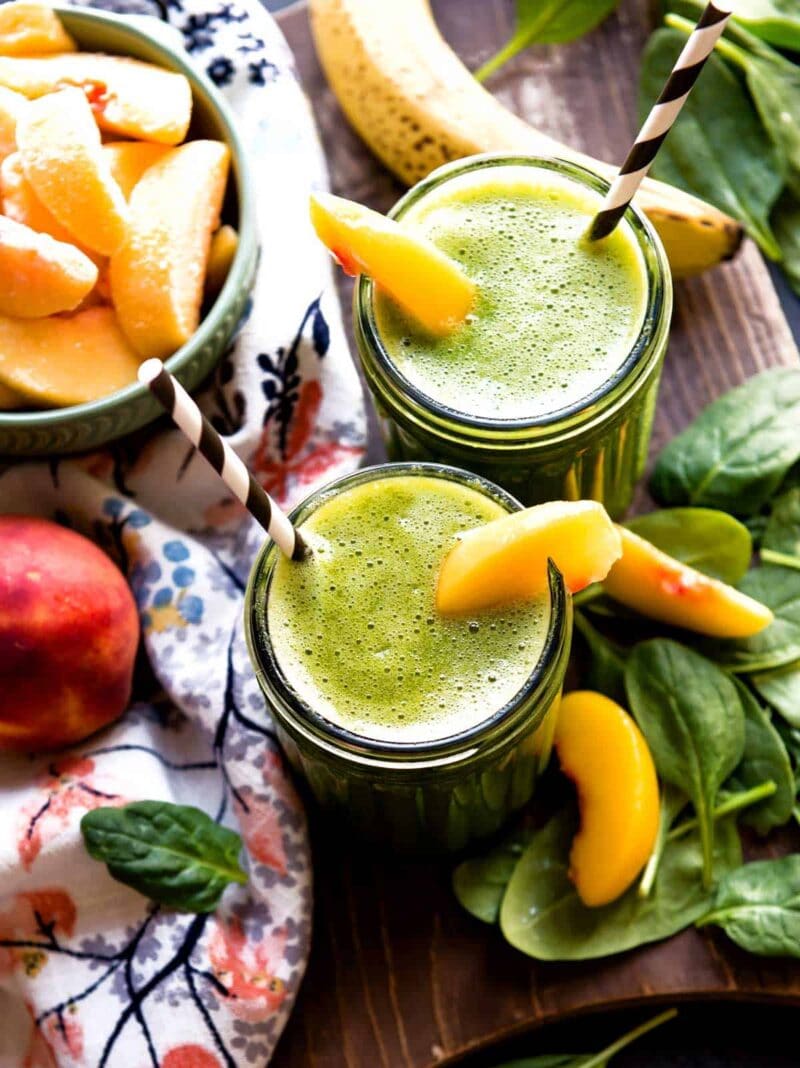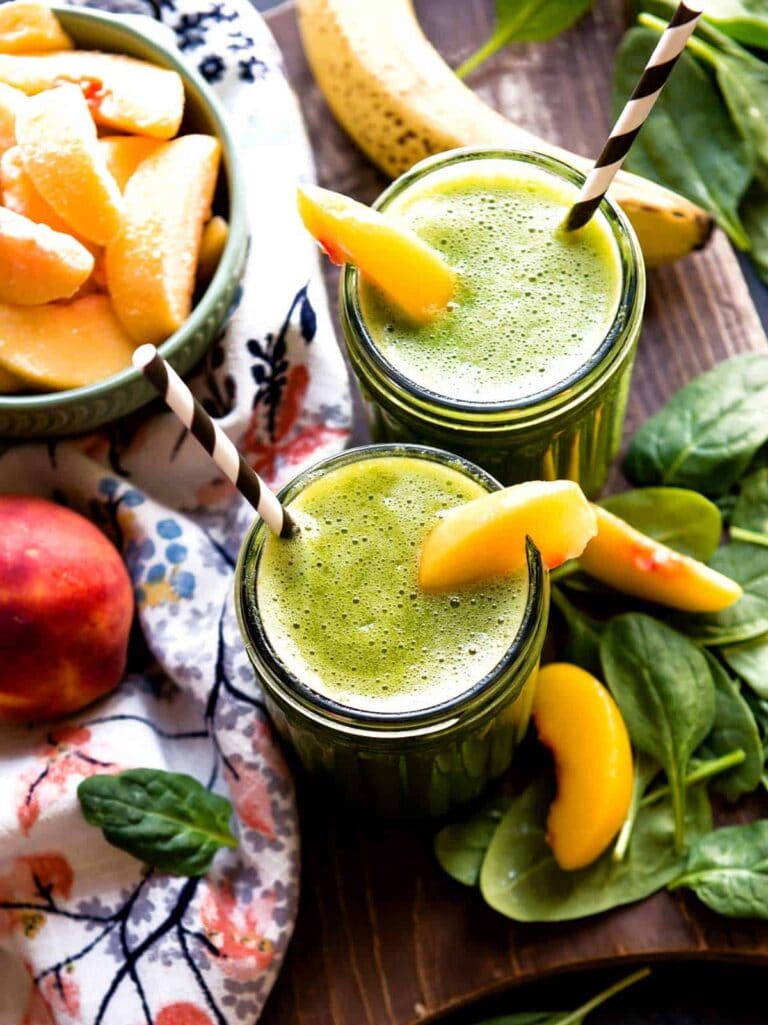 Peach Banana Smoothie
This smoothie is low in sugar and high in fiber which is great if you're looking for a lower glycemic option.
Instructions
Blend spinach and water in blender until smooth.

Add remaining fruit and blend again.
Notes
Use at least one frozen fruit to make the smoothie cold or serve over ice.

Feel free to swap the banana out for ½ avocado if you want to cut the fruit sugars even more. 

Swap spinach with the leafy greens of your choice.
Nutrition
Calories:
119
kcal
,
Carbohydrates:
29
g
,
Protein:
3
g
,
Fat:
1
g
,
Saturated Fat:
1
g
,
Polyunsaturated Fat:
1
g
,
Monounsaturated Fat:
1
g
,
Sodium:
36
mg
,
Potassium:
671
mg
,
Fiber:
5
g
,
Sugar:
20
g
,
Vitamin A:
3353
IU
,
Vitamin C:
24
mg
,
Calcium:
49
mg
,
Iron:
1
mg