Berries are my jam. They're antioxidant superstars and are low in sugar while totally hitting the spot when I get a sweet tooth. If you're a berry lover too then this berry salad is for you.
Take a bunch of fresh seasonal berries, top them with some naturally sweet n' tangy plants and finish them off with a little crunch. Voilá! You've got a rawkstar breakfast berry fruit salad to share (or not!).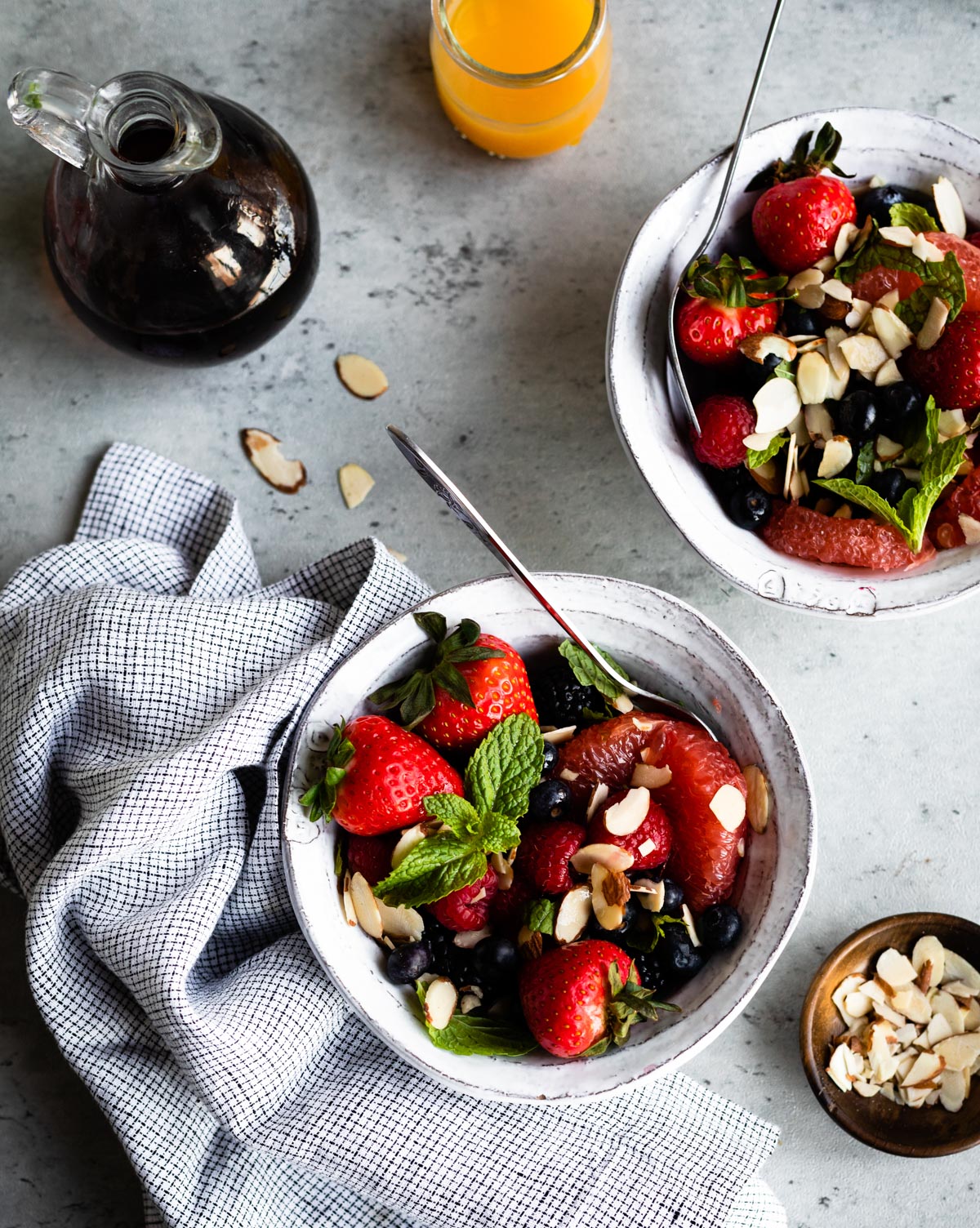 I love bringing fresh fruit to the brunch, party or dinner. This berry salad elevates the fresh fruit offering to a gorgeously yummy dish. It's super simple to make, so grab those berries and let's get started!
Table of Contents
Breakfast Fruit Salad Recipe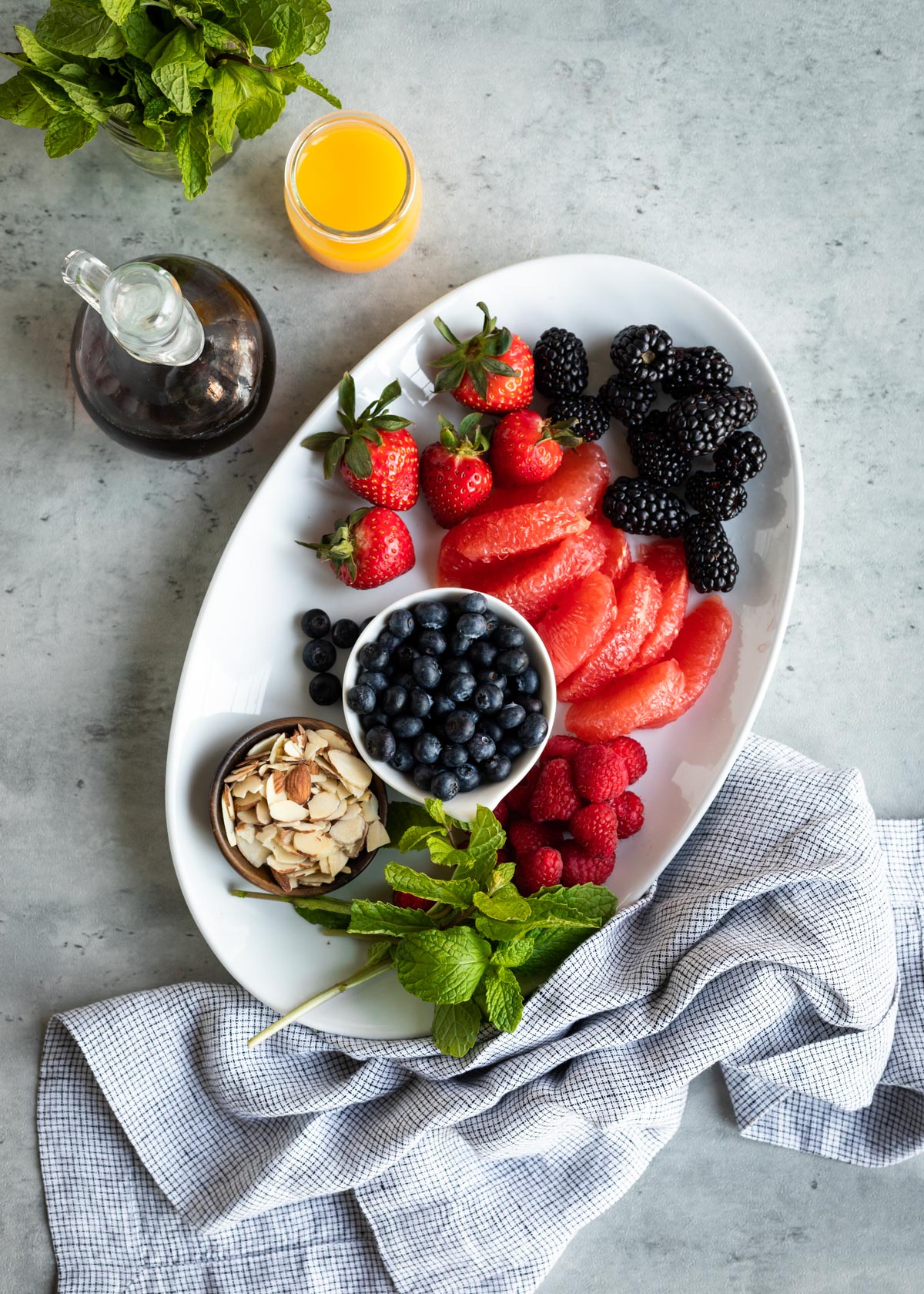 Make sure to wash and dry all the fruit before adding it to your bowl. You can either keep all the berries whole or slice the strawberries, your choice. Add a pink or yellow grapefruit that's been peeled and segmented, again keeping the slices whole or chopping them in half.
After you drizzle the orange juice and maple syrup over the fruit, very gently mix it all together. You don't want to smash the berries yet you do want to distribute the 'dressing' evenly.
I love the addition of mint yet if it's not your favorite flavor then omit it. Sprinkle the sliced almonds and your gorgeous berry salad is ready to enjoy.
Antioxidant Feast
If you aren't already convinced that berries are great Top Superfoods List to add to your daily routine then read on:
The antioxidants in berries help protect your cells from free radicals.
Though berries are known for their sweetness, they are typically low in sugar and can help control blood sugar.
Berries are especially high in fiber, which many Americans are lacking.
Benefit from all the anti-inflammatory properties when you include these bright fruits in your diet.
Enjoy the deliciousness that comes from berries along with incredible health benefits designed to help you live your best life.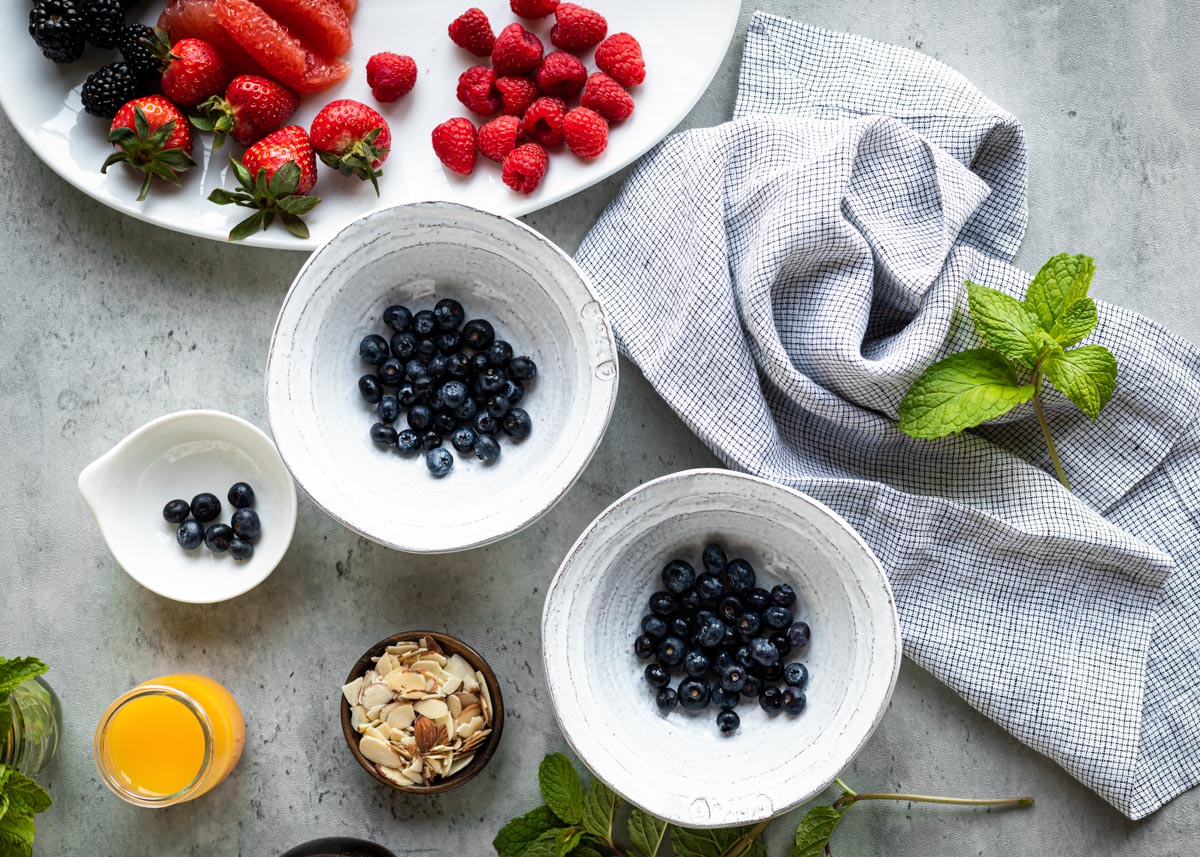 Easy Ingredient Swaps
I chose berries that are all fresh at the same time in Central Florida. Feel free to swap out any of these with berries that are local and seasonal for you.
If nut-free is what you need, then swap out the almonds with hemp hearts to keep the nutty flavor and crunch. Coconut flakes also pair well with this fruity concoction in place of almonds.
Honey can replace maple syrup, or omit altogether to keep this lower in natural sugar.
Berry Salad FAQs
How long will this berry salad stay fresh?
Try to make it and eat it the same day so all the fruit is fresh. If you wash and dry the berries well before mixing together, this salad can be made in the morning, then refrigerated until ready to enjoy.
What fruits pair well with berries?
I added grapefruit and fresh-squeezed orange juice to my bowl of berries to balance out the sweetness and add a bit more color.
Which berries are best for a berry fruit salad?
Honestly, choose local, seasonally fresh berries for your salad. These might change depending on your location and that's fine! I follow EWG's Dirty Dozen when choosing which organic produce to buy.
More Breakfast Recipes
If you're looking for an entire breakfast spread made with mostly plants, then I've got some great recipes for you to add to your menu:
Don't forget to tag @SimpleGreenSmoothies so I can see your incredible creations! I'd also love if you left a rating so I know how you liked this fun recipe.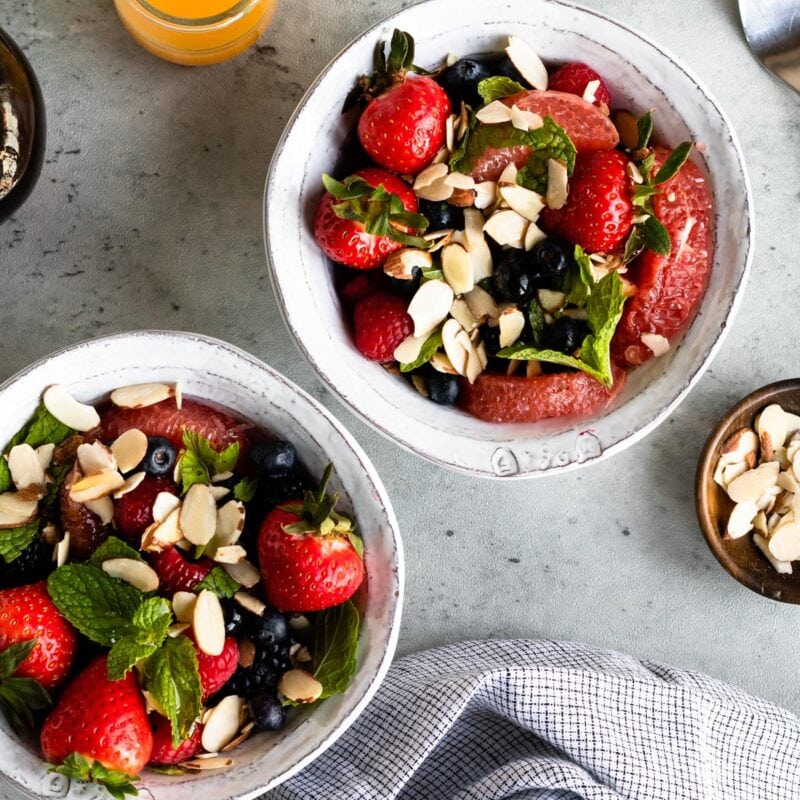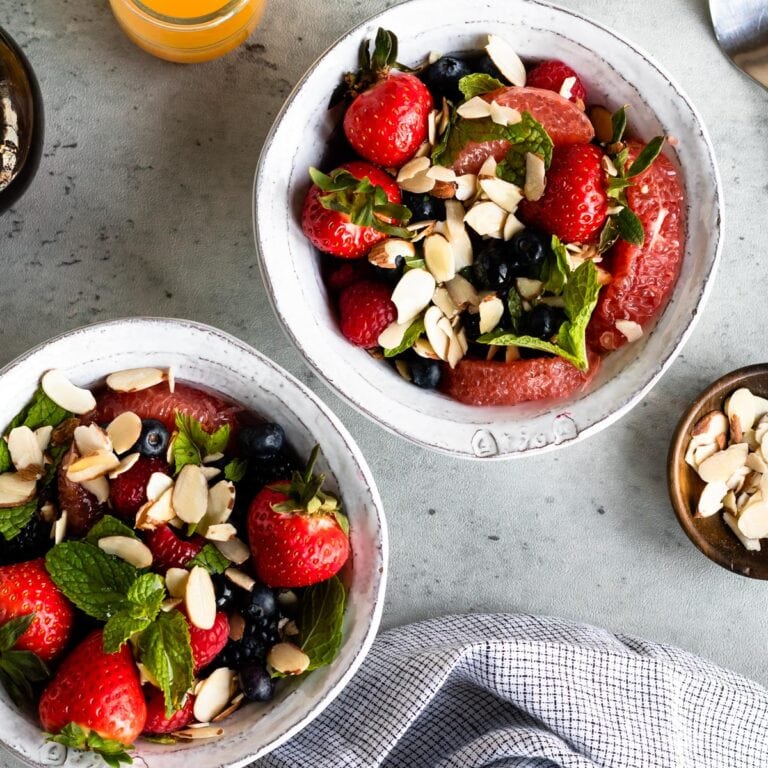 Berry Salad
This is the perfect dish to bring to Sunday brunch. I try to enjoy all the fresh berries I possibly can while they're here, and this salad brings them alive.
Ingredients
½

cup

strawberries

½

cup

blueberries

½

cup

blackberries

½

cup

raspberries

1

grapefruit

peeled and segmented

3

tbsp

orange

juiced

1

tbsp

maple syrup

¼

cup

mint

fresh

¼

cup

sliced almonds
Instructions
In a serving bowl, combine the berries and grapefruit.

Drizzle the orange juice and maple syrup on top.

Sprinkle with the mint and almonds.
Notes
If this won't be served right away, squeeze fresh lemon juice over top and store in the fridge with an air-tight lid.
Swap grapefruit with an orange.
Swap maple syrup with honey (turns this vegan dish into a vegetarian one).
To make this nut-free, swap almonds with hemp hearts or sunflower seeds.
Nutrition
Calories:
262
kcal
,
Carbohydrates:
43
g
,
Protein:
7
g
,
Fat:
10
g
,
Saturated Fat:
1
g
,
Polyunsaturated Fat:
3
g
,
Monounsaturated Fat:
6
g
,
Trans Fat:
1
g
,
Sodium:
4
mg
,
Potassium:
581
mg
,
Fiber:
11
g
,
Sugar:
26
g
,
Vitamin A:
1872
IU
,
Vitamin C:
94
mg
,
Calcium:
135
mg
,
Iron:
2
mg