This recipe can be used as a nourishing breakfast, filling snack or delightful dessert all in one! That's right! My berry smoothie bowl is a super easy one to blend. Then you can top how you want to fit your mood. Even better, this gorgeous smoothie bowl is without a banana!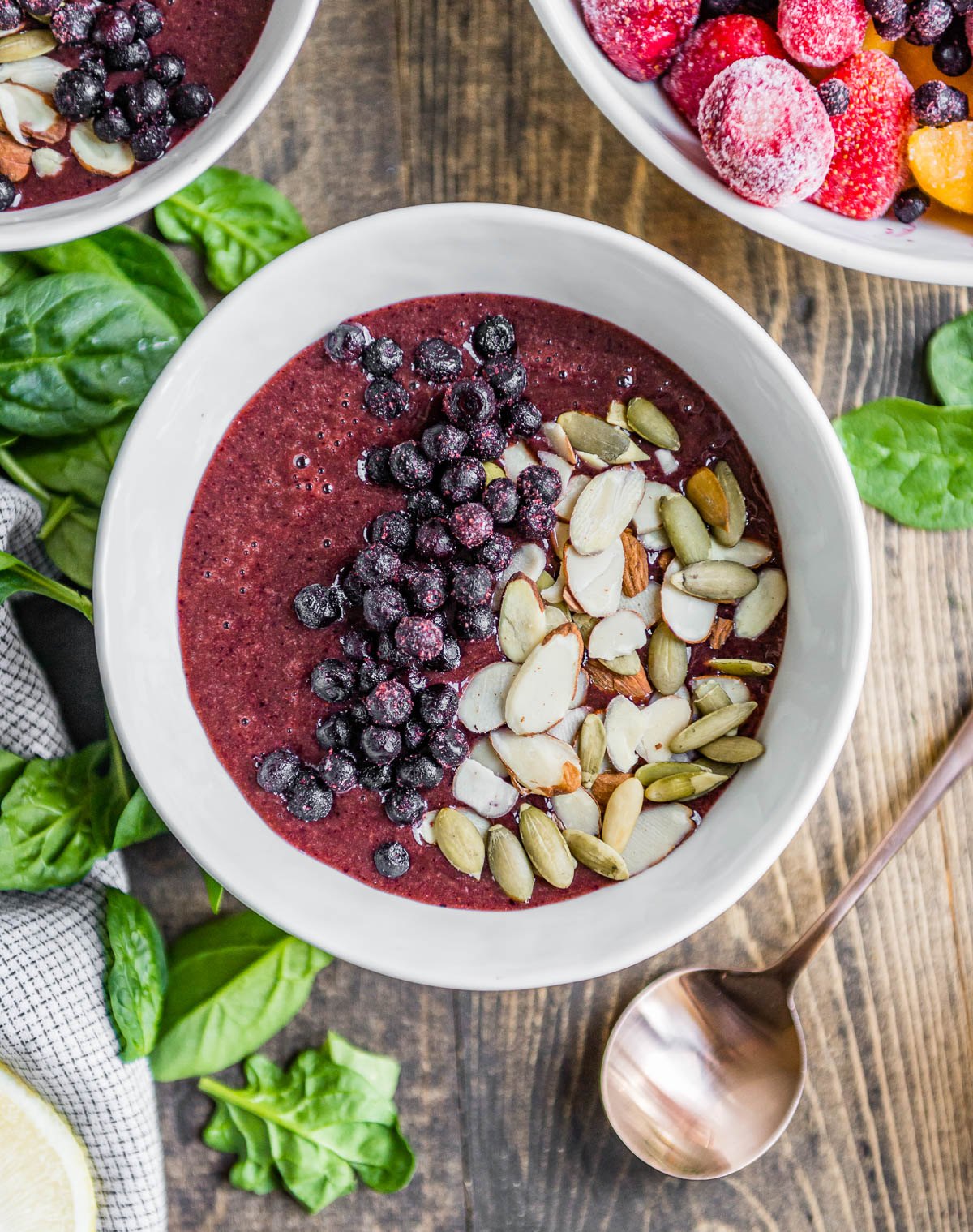 While a meal replacement smoothie is my go-to breakfast since it's so fast and easy to make, sometimes I like to slow it down and enjoy my smoothie with toppings. That's when I turn to a smoothie bowl. It also makes a fun snack for the kids when they bring friends home from school. A blender full of spoonable smoothies and a counter full of topping options is a #momwin.
Table of Contents
Ingredients for a Berry Smoothie Bowl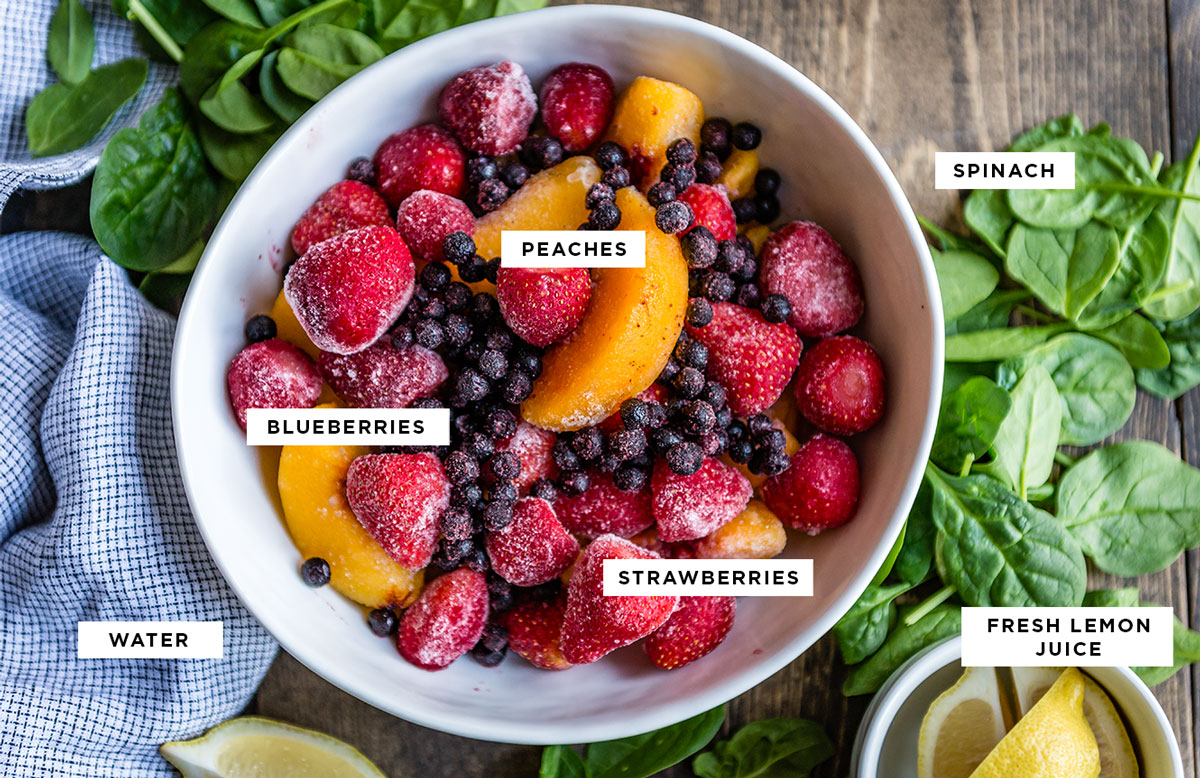 You can add just about any superfood into the blend or as a topping, yet the base of this smoothie is no-fail and simple:
Spinach: Not only is this my favorite way to get in leafy greens, spinach packs protein, fiber and countless vitamins and minerals into each round leaf.
Water: I use water as a liquid base because it's easy and can count towards my daily water intake goals.
Peaches: This stone fruit acts as a sweetener (without adding too much sugar) and helps make the bowl creamy without needing bananas.
Blueberries: A less sweet, nutrient-dense berry that shines in this recipe. The antioxidants in blueberries help fight against heart disease, cancer and bone decay.
Strawberries: When I can't find fresh strawberries for a reasonable price, I head to the frozen section since this is one of the most common, inexpensive frozen ingredients you can get for smoothies.
Fresh lemon juice: A squeeze of fresh lemon juice brightens the flavor in this fruit smoothie bowl nicely.
Easy Ingredient Swaps
Now that you know the base for this bowl, let's talk about how to make it your own.
Swap spinach for the leafy greens of your choice. Peaches can be replaced with mango, pineapple or another stone fruit like apricots or nectarines.
To cut down on the number of ingredients to buy, swap out the individual strawberries and blueberries with a bag of frozen mixed berries. Lime juice can also finish this recipe off with a brightness that highlights the flavor of the other ingredients.
To turn this into a meal replacement smoothie bowl, simply add homemade protein powder. Just one serving bumps this up to 13 grams of protein as well as additional healthy fat and fiber, which work together to help you stay full longer.
How to Make a Berry Smoothie Bowl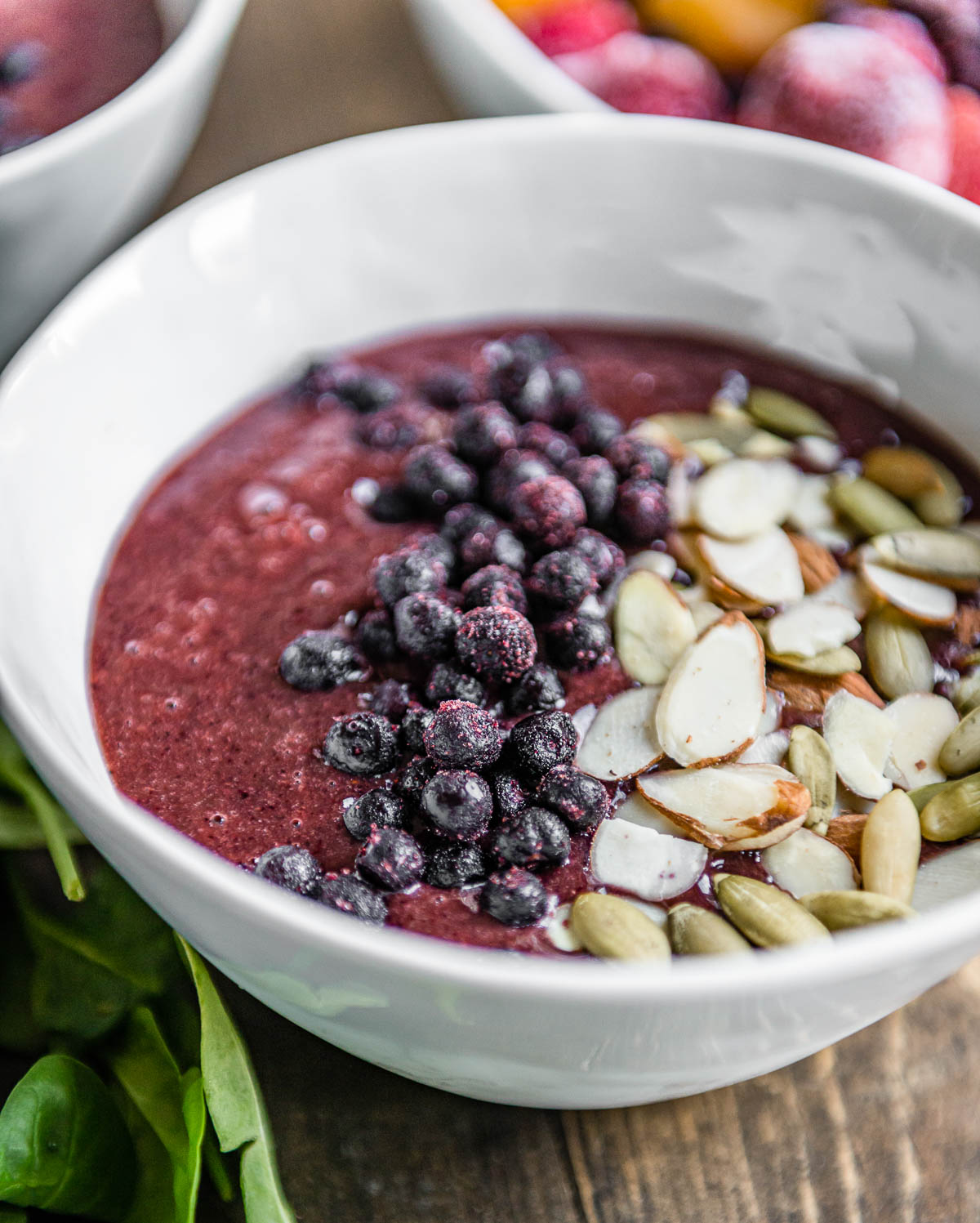 When learning how to make a smoothie, I realized that the best, creamiest result happened when I blended in two stages. Even with a powerful Vitamix blender, blending your ingredients in two parts can make a big difference. Here's how I apply that method to this smoothie bowl:
Add water and spinach to a blender container and blend until no leafy chunks remain.
Add the remaining ingredients (including any superfoods or protein powder) and blend again. Since all the fruit is frozen you'll need to use the tamper that comes with your blender to keep the blades moving until they start moving without assistance. If you are using a non-high-powered blender then stop and scrape down the sides as needed to get the blender going.
Scoop out into a bowl a top with desired toppings, then enjoy!
Smoothie bowls should be thick like ice cream so you want a scoopable consistency over a pourable one.
Toppings Guide
Now that we've got the base down, let's talk toppings! I kept it simple in the photos for this recipe, topping it with frozen blueberries, sliced almonds and pepitas. There is a world of toppings out there and you have my permission to use them.
While this is a smoothie bowl without bananas, you can still top it with sliced bananas if you want! Here are more topping options:
Cacao nibs
Nuts or seeds
Fruit like mango, pineapple, kiwi or any berries
If I'm enjoying this berry smoothie bowl after a workout then it's going to have protein powder in it as well as granola or a nut mix on top to be more filling. When enjoying it as dessert during movie night, I'll top it with some nut butter and cacao nibs and maybe some coconut whipped cream.
Berry Smoothie Bowl FAQs
Are smoothie bowls healthy?
They can be! Focus on using whole food, plant-based ingredients and nothing processed. Let the sugar come from the fruits you are blending and don't add anything extra. Add in protein to boost the healthy fats, protein and fiber to help break down the natural fruit sugars. Pair with a leafy green like spinach for even more fiber.
How do you turn a smoothie into a smoothie bowl?
To start, use just 1/2 of the liquid that a regular smoothie recipe calls for and try to use as many frozen fruits and vegetables as you can. Using plant-based milk for the liquid base can also help achieve a creamier result. You want your blender to work to mix this up (but not too hard!). Having a high-speed blender with a tamper can help as well as you can push the ingredients down to assist during blending.
Are smoothie bowls good for weight loss?
They certainly can be. The key to healthy weight changes is a diet with a lot of variety. Smoothie bowls are a great way to get a variety of fruits and vegetables in, as well as a great snack option when they are loaded with only whole food, plant-based ingredients. Avoid added sugars, use leafy greens for added fiber and add in a plant-based protein powder with more protein, healthy fats and fiber to give you a great, balanced snack.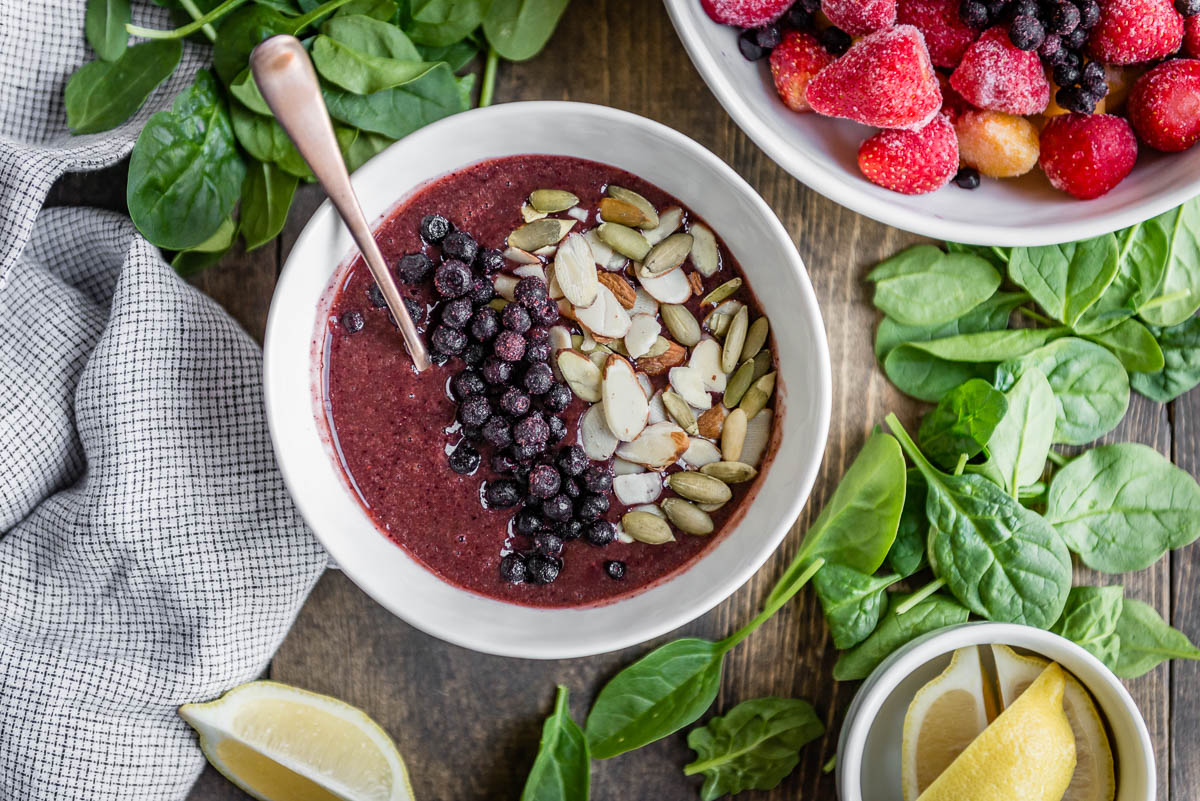 More Smoothie Bowl Recipes
Smoothie bowls are pretty much a tastier and dairy-free version of a yogurt parfait. They blend up thick n' creamy and you can top them with fruit, healthy granola, coconut whipped cream and more. Here are a few of my favorite smoothie bowls to blend:
Don't forget to rate + review this bowl once you try it; I love getting your feedback!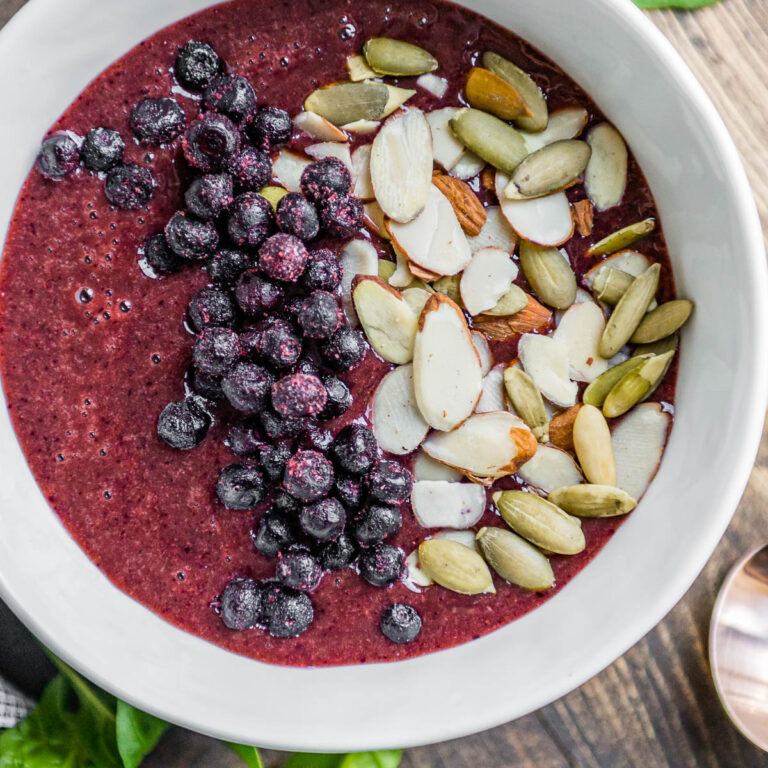 Berry Smoothie Bowl
This antioxidant-rich smoothie bowl is great for those trying to cut back on natural sugars for health or dietary needs. All fruits are lower on the GI index, yet packed with tons of delicious flavors. The squeeze of lemon really brightens the flavors and aids in digestion.
Ingredients
1

cup

spinach

fresh

½

cup

water

½

cup

peaches

frozen

½

cup

blueberries

frozen

½

cup

strawberries

frozen

1

tbsp

lemon

juiced
For toppings:
blueberries

frozen

sliced almonds

pepitas
Instructions
Blend spinach and water until there are no leafy chunks remaining.

Add remaining ingredients and blend again. If blades get stuck, use the tamper to push ingredients down until the blades start moving on their own again. Blend until smooth.

Pour into a bowl and top with toppings.
Notes
Swap spinach with the leafy greens of your choice.
To lower the natural sugar in this recipe swap 1/2 cup of peaches with 1/2 avocado (will be less sweet tasting overall). 
Add 1 serving of homemade protein powder to boost this recipe by 10 grams of protein.
If it's easier, you can use mixed berries instead of 3 individual fruits, just make sure to scoop out 1 1/2 cups.
Nutrition
Calories:
238
kcal
,
Carbohydrates:
34
g
,
Protein:
8
g
,
Fat:
11
g
,
Saturated Fat:
1
g
,
Polyunsaturated Fat:
4
g
,
Monounsaturated Fat:
5
g
,
Trans Fat:
0.01
g
,
Sodium:
37
mg
,
Potassium:
615
mg
,
Fiber:
8
g
,
Sugar:
21
g
,
Vitamin A:
3133
IU
,
Vitamin C:
72
mg
,
Calcium:
90
mg
,
Iron:
3
mg