I've been making the best detox tea recipe for as long as I can remember using fresh lemon juice, ginger root and cayenne pepper. It's amazing and really works for me when I enjoy it first thing in the morning. I've had a few variations that I've experimented with over the years, yet this is my go-to ingredient blend I use whenever I do my 21-day cleanse.
Think of it as your morning ritual to kick start healthy habits, boost your immune system and remove toxins from your body. If you're anything like me, the fast food, Dr. Pepper and cinnamon caramel cold brews creep in more than I'd like to admit. Sipping on this detox tea helps me reset and get back on track with my health goals.
Table of Contents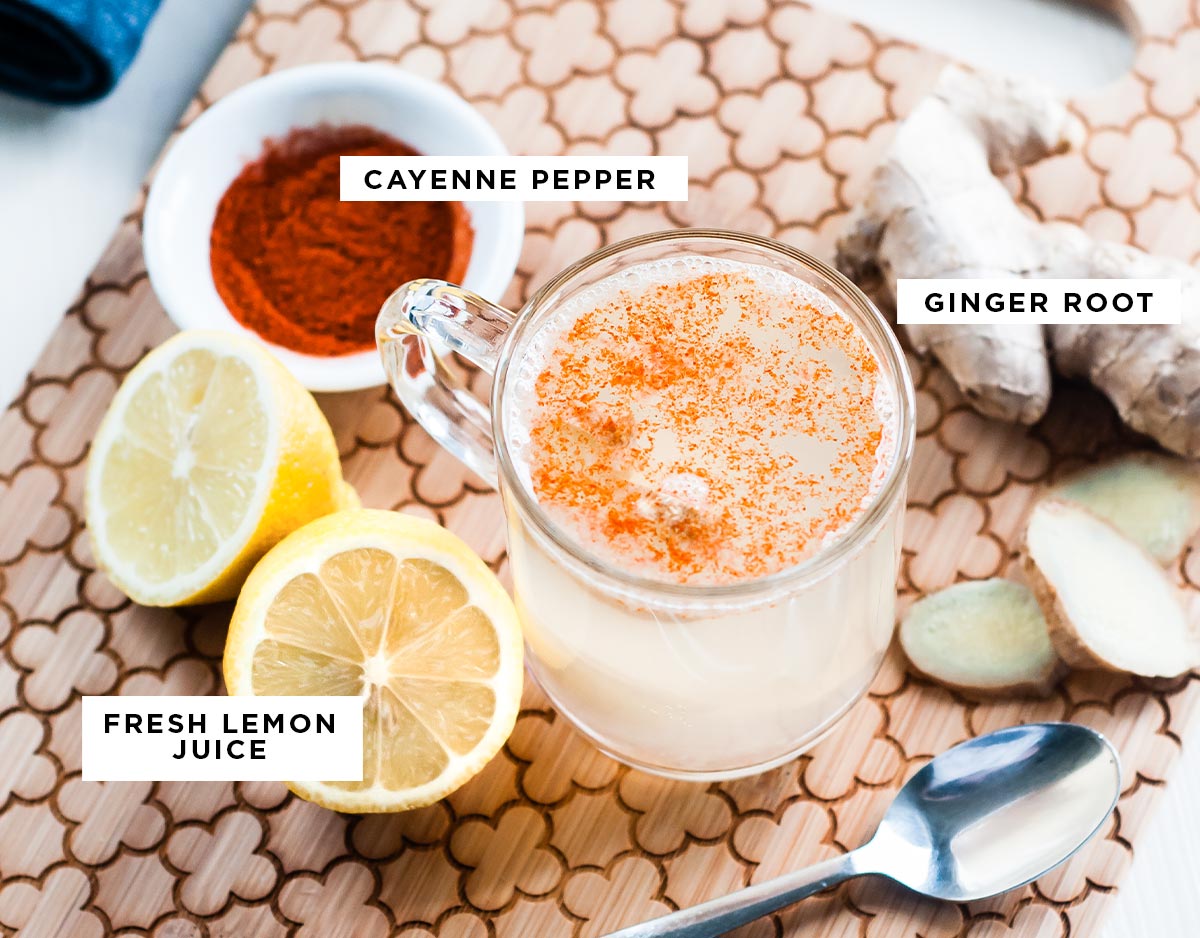 Recipe Ingredients
While the ingredient list is somewhat flexible, this is my favorite combination. It's simple, yet the combination of ingredients is so delicious and I find it works so well for my body.
If you're having a hard time drinking the detox tea as is, try adding a little bit of raw honey or another natural sweetener to the cup. This helps balance out the acidity and makes it a slightly more pleasant if lemon isn't your thing.
Just use a little because you don't want to spike your blood sugar levels while trying to do your body some serious good. You can also skip the cayenne pepper if you struggle with acid reflux or just don't do spicy things.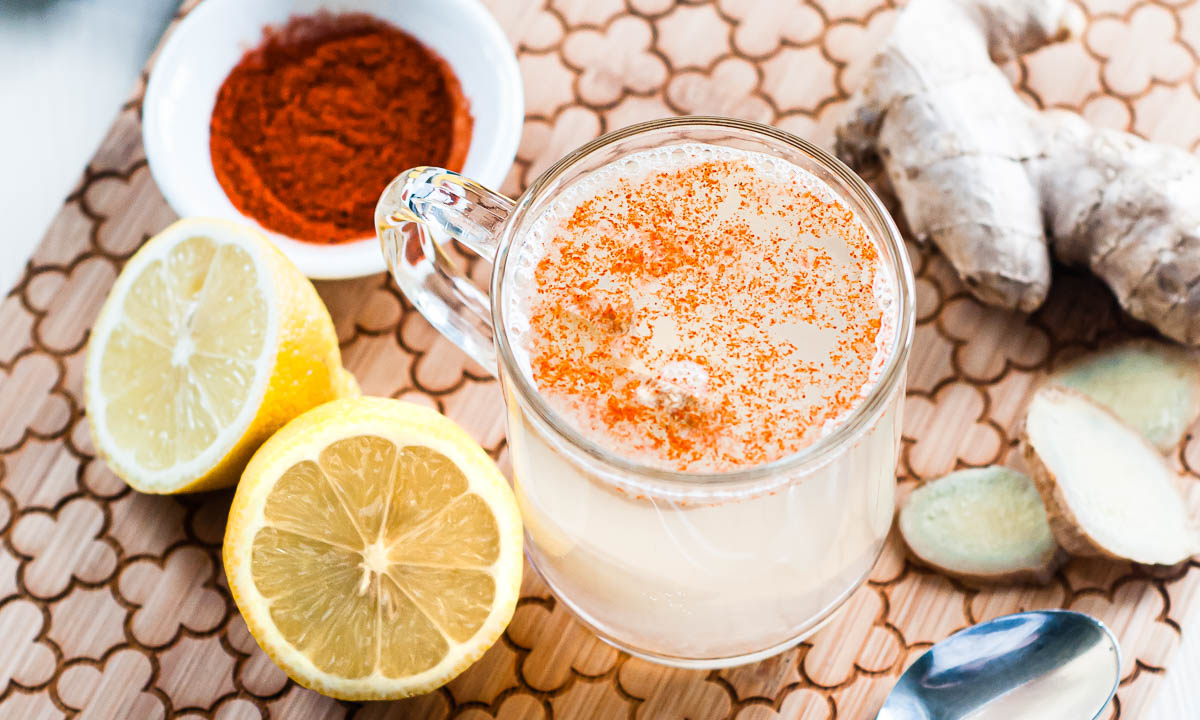 Top 4 Detox Teas to Buy
If you'd rather just buy something (I get it), look for herbal teas that use organic liver-supporting ingredients. Also, read the label to really understand what's in it. These are four great options that I've used when traveling or out of fresh lemons and ginger root.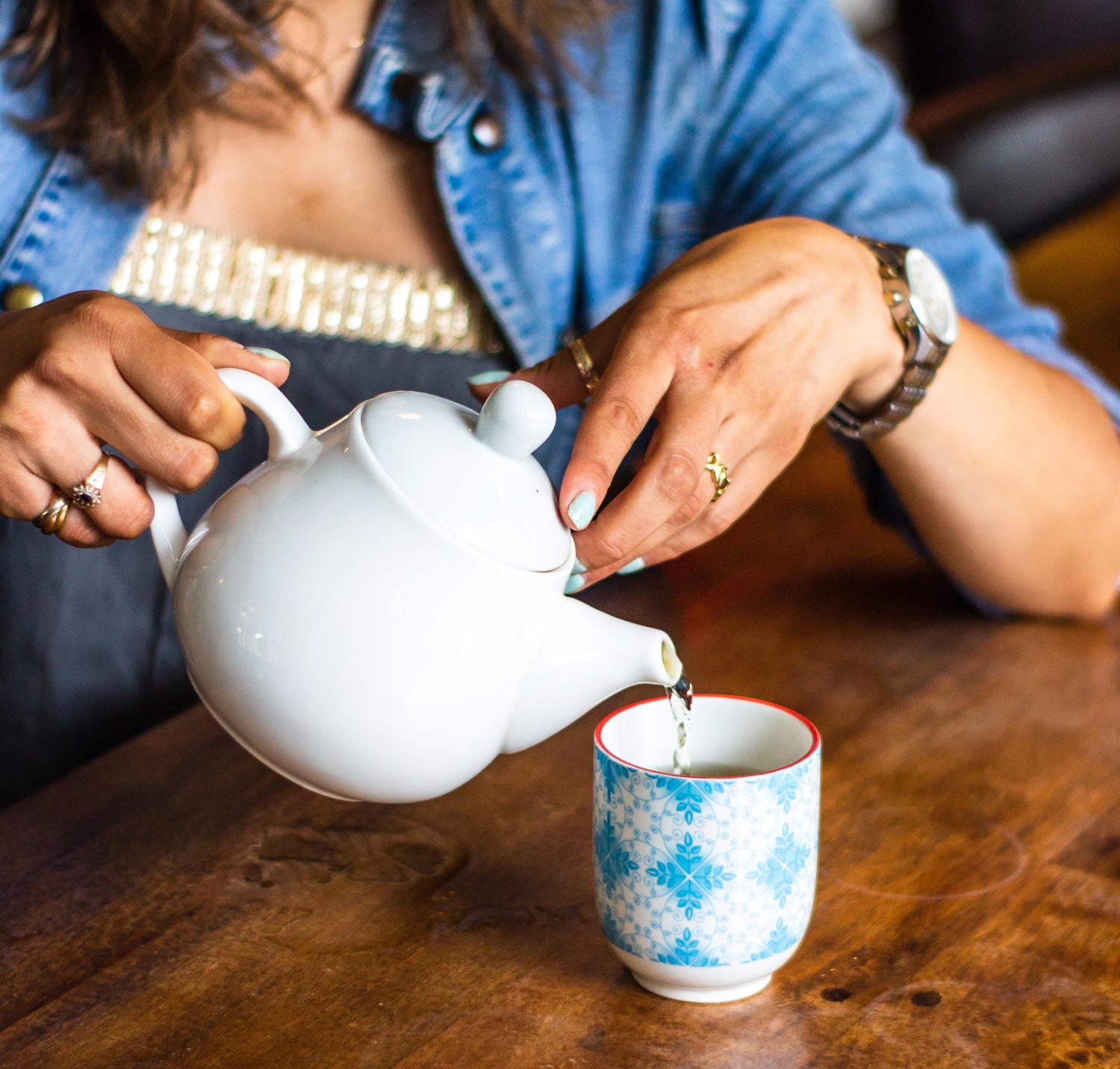 Health Benefits
Using the tea ingredients below can have some positive health benefits if you do it consistently. Let's break it all down.
Lemon and ginger root: This prized pairing has been used in Ayurvedic traditions for thousands of years to support liver health and digestive support.
Cinnamon bark and licorice root (or fennel seed): Cinnamon is loaded with antioxidants that can reduce inflammation and promote weight loss. The licorice adds an additional blend of calming and nourishing ingredients to helps soothe your whole system. If you have high blood pressure, consuming licorice isn't advised.
Peppermint and burdock root: use fresh peppermint leaves with a dried burdock root to gently stimulates bile production and helps to flush out toxins in the liver. Burdock root contains antioxidants such as quercetin and phenolic acids that can help protect cells from free radicals.
Roasted dandelion root, nettle and milk thistle: Dandelion root encourages the release of toxins and supports energy, nettle helps to balance the system and milk thistle supports the clearing of impurities. If you're trying to give up caffeine, roasted dandelion root makes a great caffeine-free alternative paired with a vegan milk or creamer.
Fresh herbs: can be added to hot water to create a fresh tea to help detoxify the body, naturally. Cilantro, mint, fennel and parsley are all used for this. I love using fresh herbs in teas, smoothies and meals to brighten the recipe and boost the natural detoxification process.
Green tea: often considered a detox tea because it's wonderfully high in antioxidants. Yet it's also important to remember it's caffeinated as well, which is why I don't recommend it when cleansing your body is the top goal.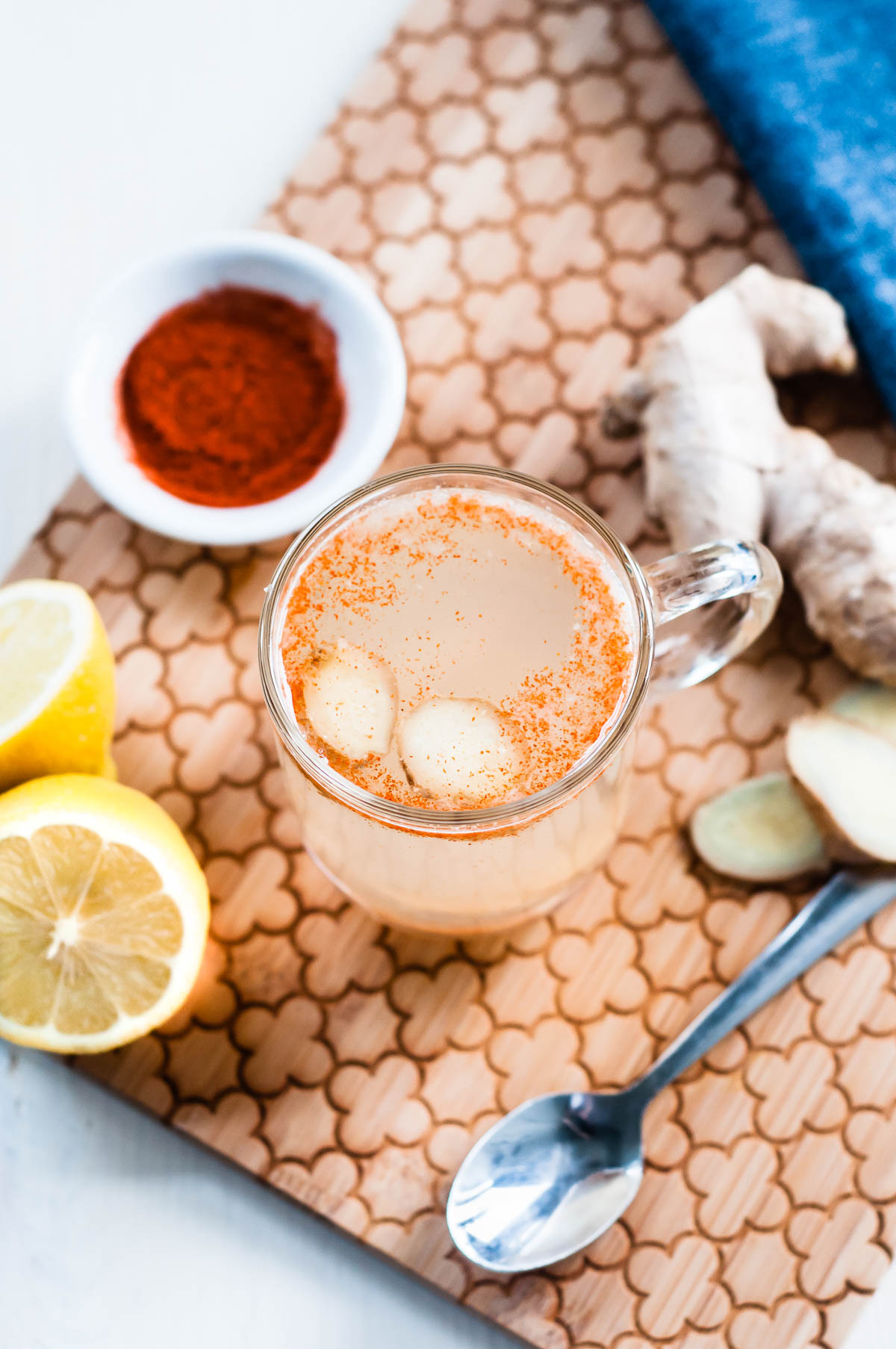 Tips When using Detox Tea for Weight Loss
This tea recipe contain ingredients that can induce feelings of fullness or suppress hunger. Here's a few quick tips to help you get the most benefits from this tea if weight loss is your goal.
Consume 2-3 times a day for the best results.
Drink on a empty stomach to activate the digestion system the best. If you have a sensitive stomach or struggle with acid reflux, feel free to have oatmeal or something first.
Use organic ingredients to aid in the cleansing process.
If using store-bought herbal teas, read through the ingredients list to make sure it has the actual ingredient you're looking for. Don't trust the photo alone.
Blend ingredients together to retain as much fiber as possible.
Munch on the ginger root once the tea is finished— I love the burst of flavor.
If you have sensitive teeth, allow the tea to cool off and sip through a straw.
Never use boiling. This can kill any of the live enzymes in the fresh lemon juice, which helps with digestion.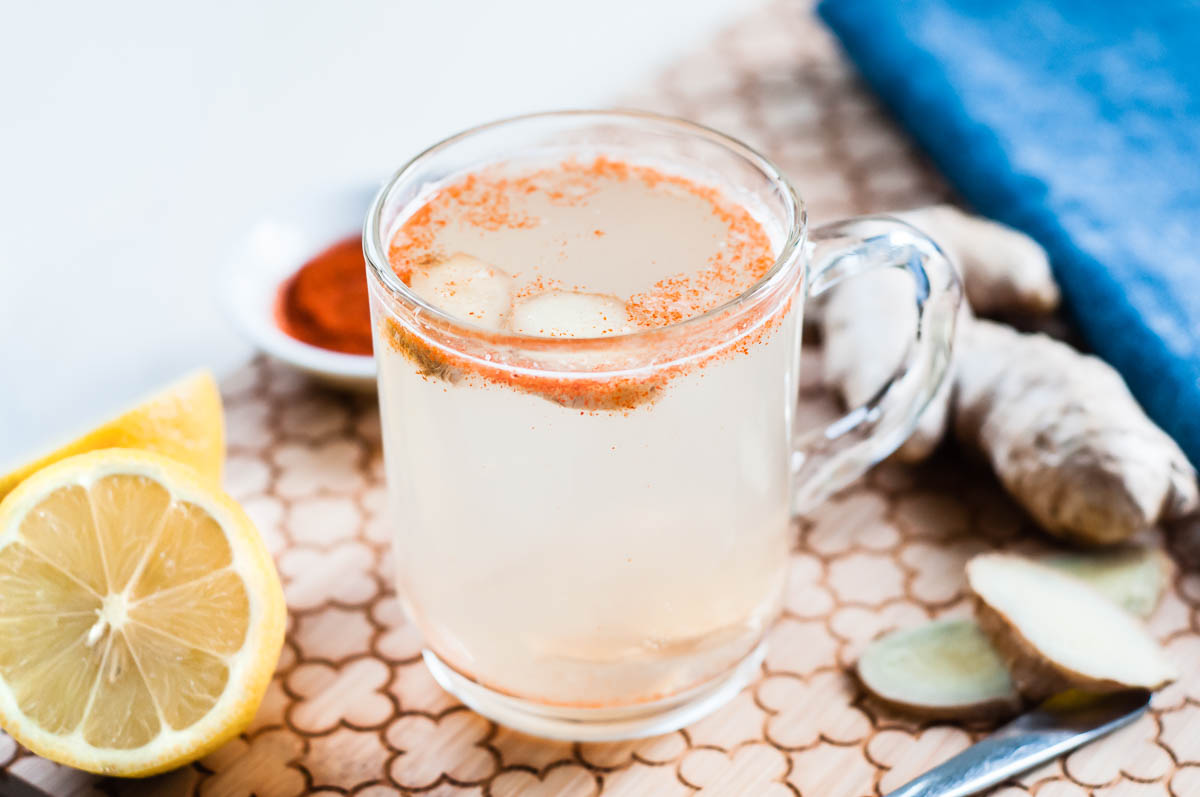 How to Make the Best Detox Tea
This recipe is almost as easy as using a tea bag, yet has additional health benefits thanks to the fresh ingredients. Here's how I make the best detox tea:
Heat water, but remove from heat before it boils. Boiled water will start to break down the nutrients from the lemon juice and ginger root, which we don't want!
Slice ginger root and squeeze lemon juice into a mug. Add a dash of cayenne, as well. I like adding these before the water so that they start at the bottom of the mug.
Pour warm water into mug and allow to steep for 5 minutes. This gives the ginger time to release into the water. You can even gently press down on the soaking ginger with a spoon to help release the juices.
Sip and enjoy the warming experience.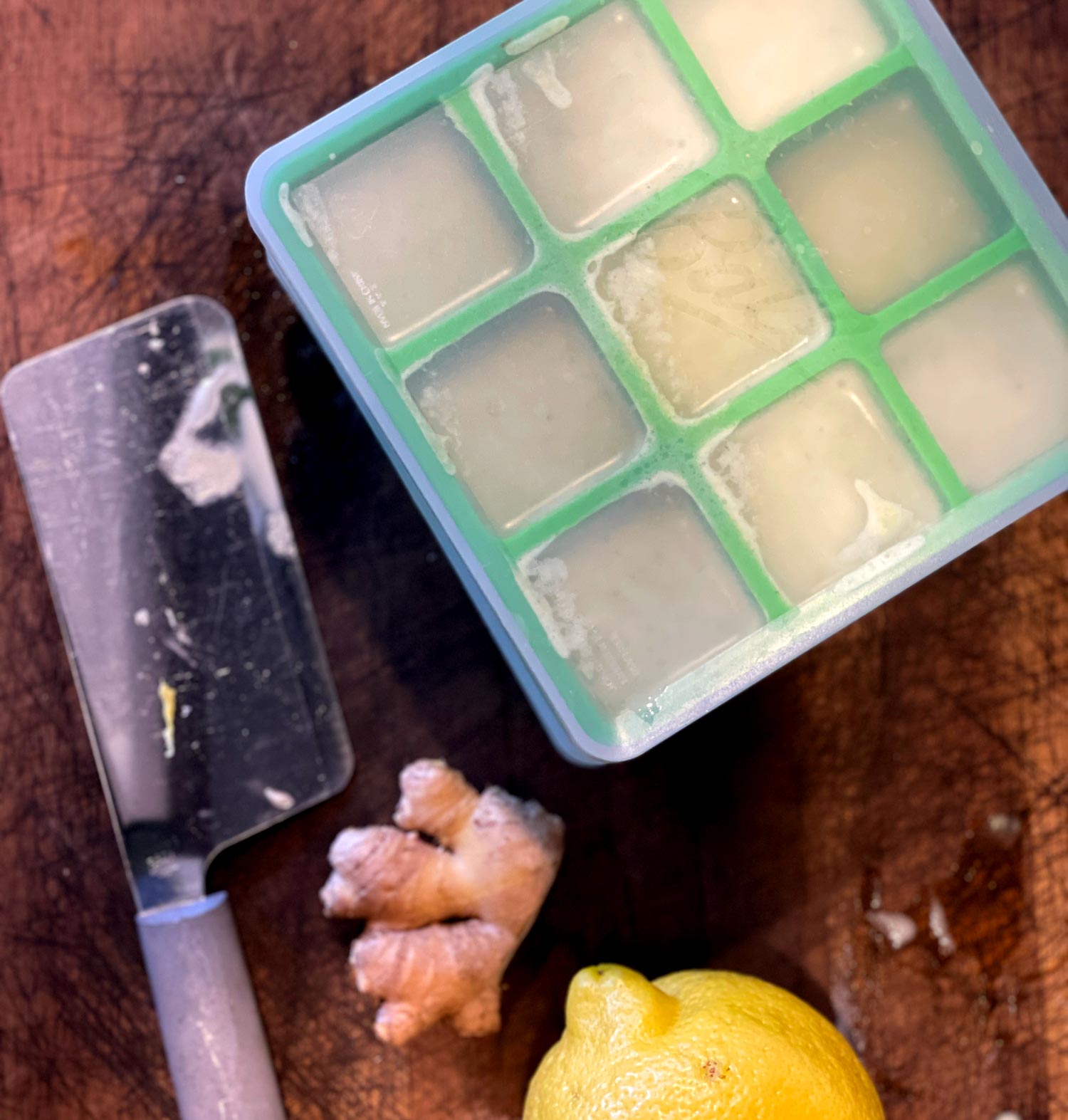 Make Ahead Tea Cubes
You can actually make detox tea cubes ahead of time and freeze them, then use one cube at a time when ready.
Adjust the recipe card to yield as many servings as you have ice cubes slots.
Divide ingredients into each ice cube tray slot and freeze.
Freeze the tray until the cubes are frozen solid.
Remove the cubes from the tray and transfer to a freezer-safe storage bag.
When you're ready to enjoy, take 1 decto tea cube and place it in the bottom of a mug. Pour warm water over it and allow it to melt. Then enjoy!
Detox Tea Recipe FAQs
What does the best detox tea taste like?
The combination of lemon, ginger and cayenne pepper creates a warm and spicy beverage that truly wakes up the body. Void of any  artificial sweeteners,  you may find this detox tea bitter at first. Yet after a few days, you will adjust to the flavors and begin to crave it for the taste and the health benefits you'll quickly experience.
What's the best detox tea for weight loss?
When trying to lose weight, use a tea blend that can curb hunger and activate the digestive system. Fresh lemon juice, ginger root and cayenne pepper all work together in my detox tea recipe to promote weight loss gently and naturally.
Do detox teas really work?
Having a daily homemade detox tea as a healthy habit that goes a long way. Doing this alone will not transform your life (sorry!) but it is a wonderful habit that nourishes and heals your body. It takes a lot of healthy habits to lose weight, gain energy and feel amazing. Drinking the best detox tea every day can definitely be a vital part of your transformation journey.
Is it okay to drink detox tea every day?
Starting each day with a detox tea is a great ritual to embrace if you're making wellness a priority. Aside from the health benefits, a morning tea can trigger a pattern of healthy habits throughout the day.
More Detox Recipes
Here's some more recipes to support the detox process and are using in our 21-Day Cleanse and our 7-Day Cleanse programs. These are all made fresh at home, giving you the best results, and also making it affordable to do long term.
Turmeric Tea: The combination of turmeric and black pepper is used to combat inflammation throughout the body to aid in digestion and cleanse the body.
Metabolism Tea: Apple cider vinegar, cinnamon and other spices are paired together to kick-start your metabolism and curb your appetite if weight loss is a goal.
Apple Cider Vinegar Tonic: I recommend sipping this mid-afternoon for a delightful blood sugar regulator instead of another caffeinated beverage.
Please rate + review this recipe once you've made it. Your review helps us so much!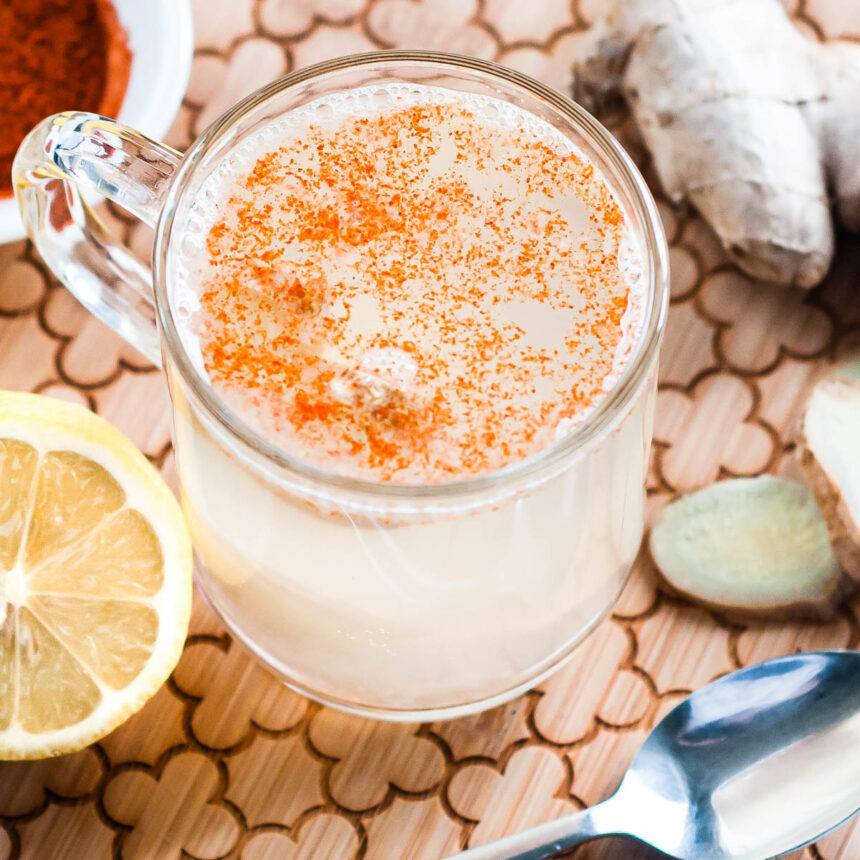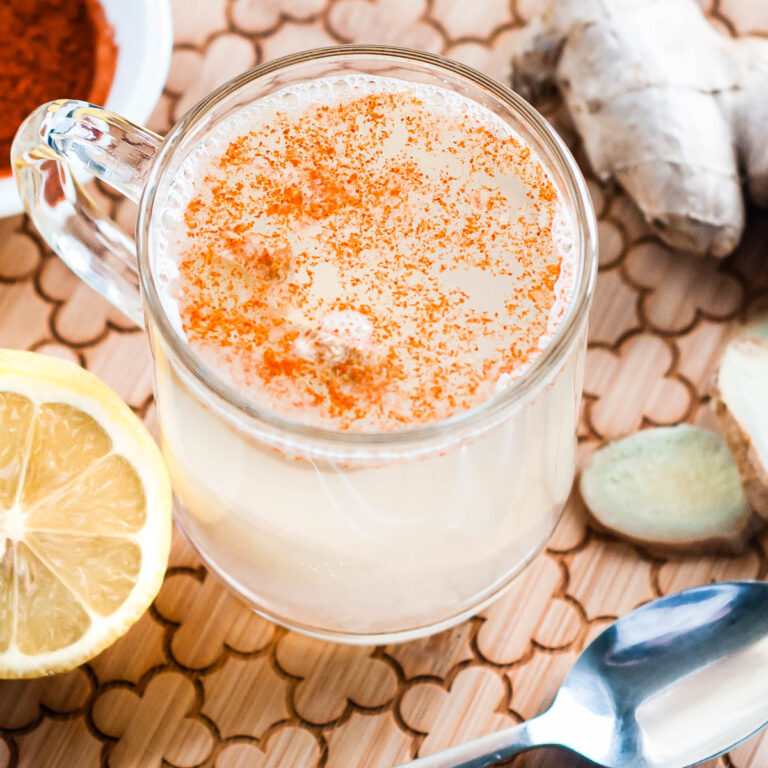 Best Detox Tea Recipe
Start your day with the best detox tea for weight loss using lemon, ginger root and cayenne pepper to activate the digestive system, boost the metabolism and remove toxins gently.
Ingredients
1

cup

water

1

inch

ginger root

thinly sliced

1

tbsp

lemon

juiced

⅛

tsp

cayenne pepper
Instructions
Heat water just below boiling.

Add sliced ginger and lemon juice to a mug.

Pour hot water into mug and allow to steep for 5 minutes. 

Add a dash of cayenne.
Notes
Use fresh ginger for best results. Ground ginger will taste good, yet won't give your body the benefits that fresh ginger root does.
Cayenne pepper will help with the cleansing process. I know it's a strong ingredient—  it can be omitted if you aren't able to tolerate them.
You want to make sure your water isn't boiling because this will start to kill off the medicinal properties of the lemon and ginger root. Warm water is just fine, or even room temp if that's easier for you.
Nutrition
Calories:
10
kcal
,
Carbohydrates:
3
g
,
Protein:
0.3
g
,
Fat:
0.1
g
,
Saturated Fat:
0.02
g
,
Polyunsaturated Fat:
0.02
g
,
Monounsaturated Fat:
0.01
g
,
Sodium:
13
mg
,
Potassium:
49
mg
,
Fiber:
1
g
,
Sugar:
0.5
g
,
Vitamin A:
3
IU
,
Vitamin C:
8
mg
,
Calcium:
12
mg
,
Iron:
0.1
mg