While green smoothies are my first love, I definitely need a protein boost after a long run. This caramel protein shake recipe combines the power of plants, including chickpeas, and translates nicely from a post workout recovery drink to a fun date-night dessert. I'm not kidding when it comes to the rich flavor of this caramel shake either!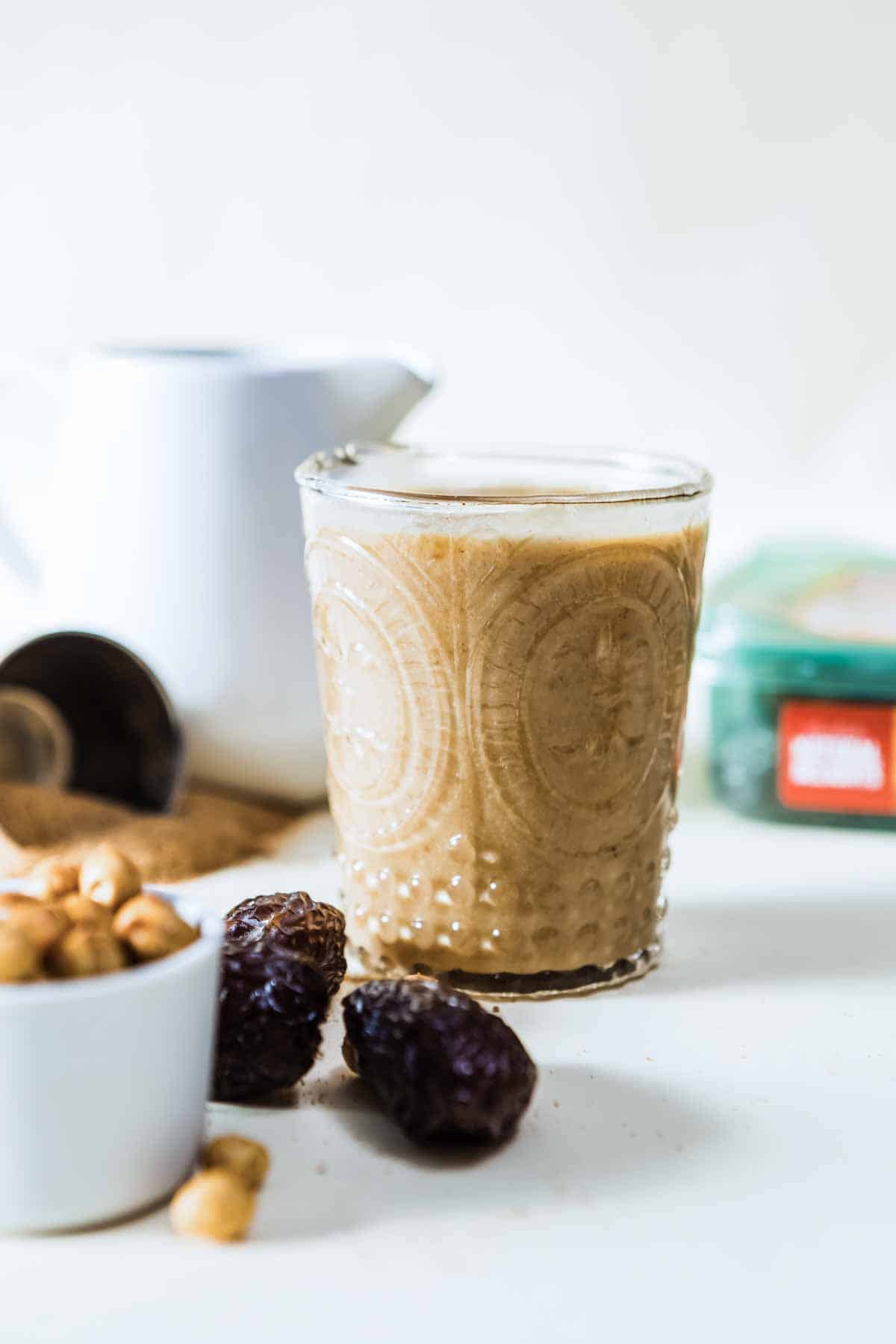 Table of Contents
The Power of Plant-Based Protein
When we think about protein, we often think about meat. Yet plant-based protein offers benefits as well. 1 serving of chickpeas contains 3 grams of protein, 12% of the RDI of folate, 2 grams of fiber and 14% of the RDI of manganese. This caramel protein shake has 1/4 cup of chickpeas, so that's 6 grams of protein in 1 ingredient!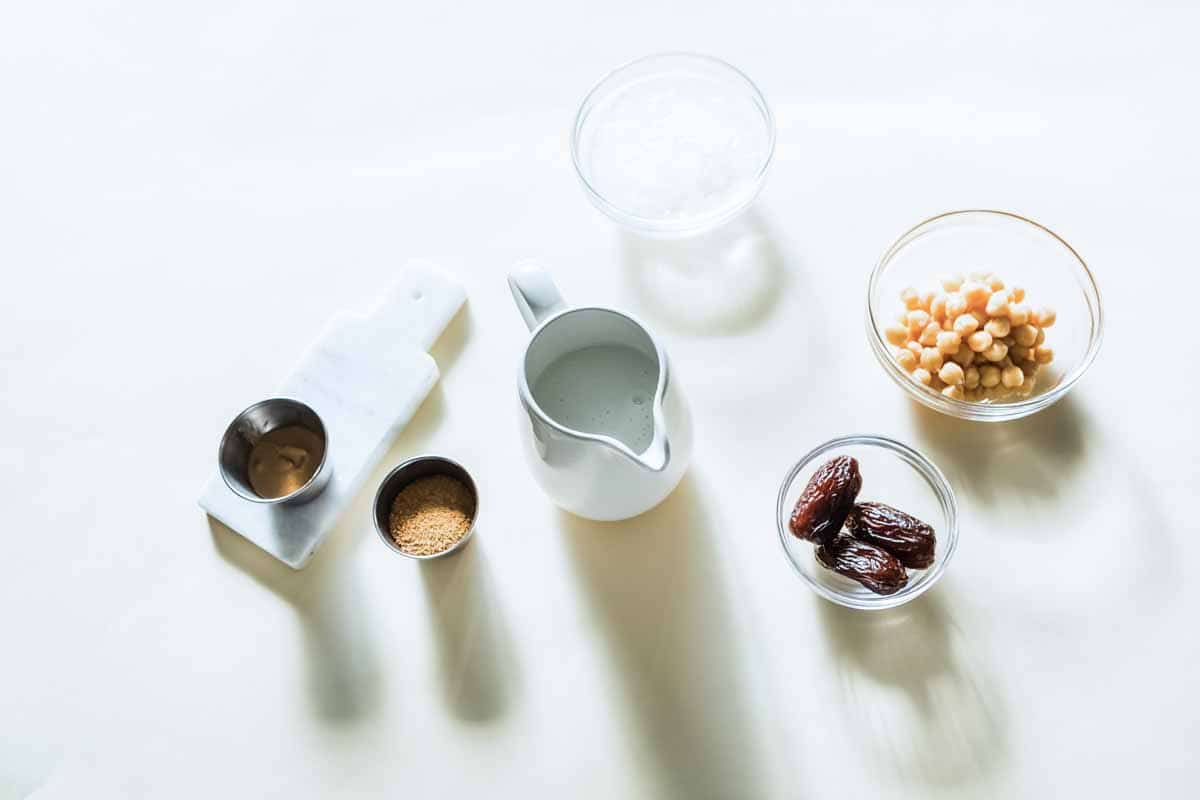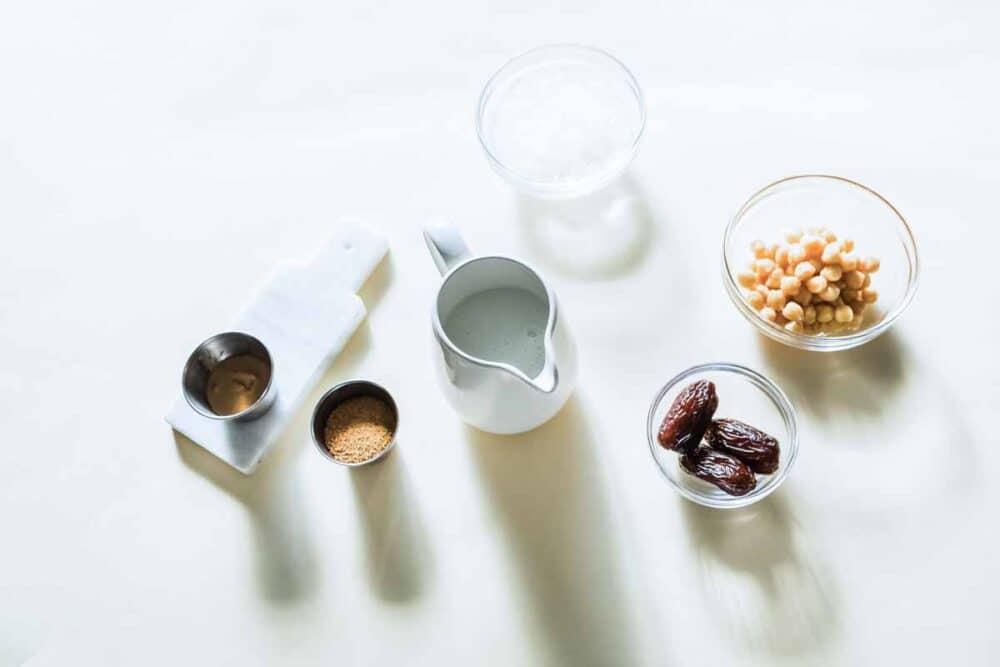 Here are some more of my fav plant protein sources:
Lentils (8.84g per 1/2 cup)
Almonds (16.5g per 1/2 cup)
Cooked quinoa (8g per 1/2 cup)
Chia seeds (2g per 1/2 cup)
Hemp hearts (5g per 1/2 cup)
Broccoli (2g per 1/2 cup)
I love to run, so I need good sources of protein to fuel my body + my workouts. With so many great options from plants, I'm sure to find exactly what I need to feel great and maximize my exercise efforts.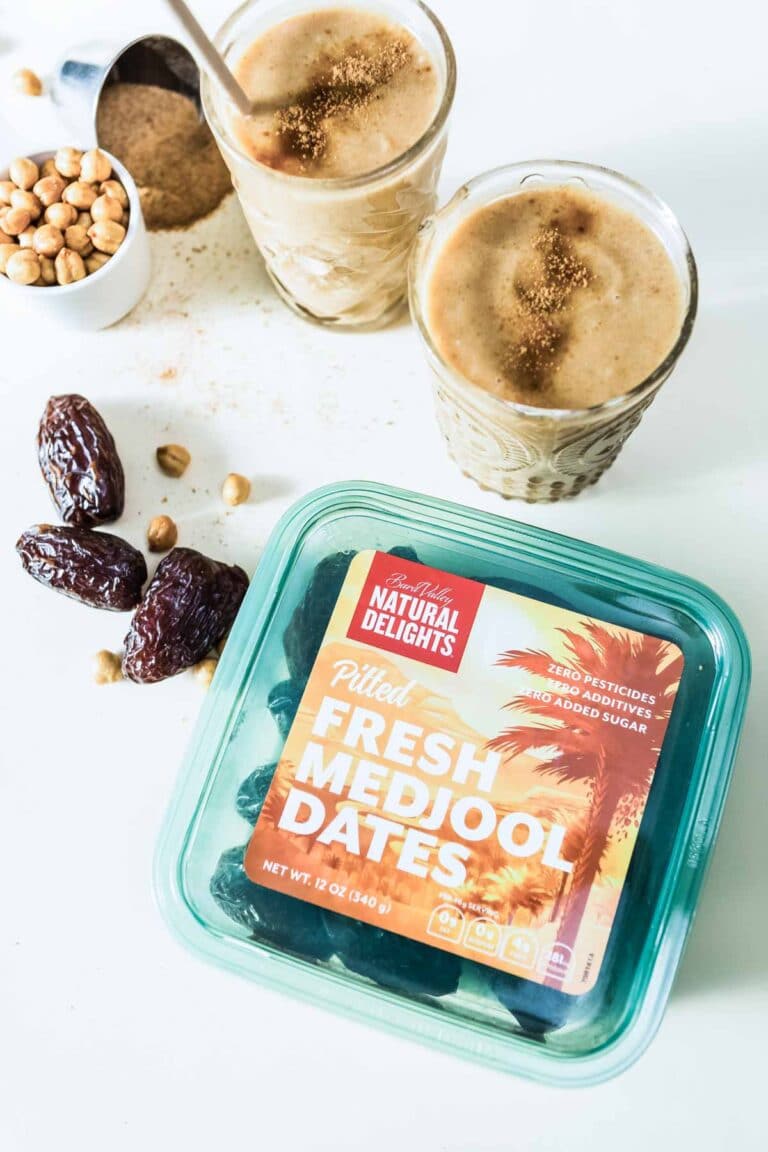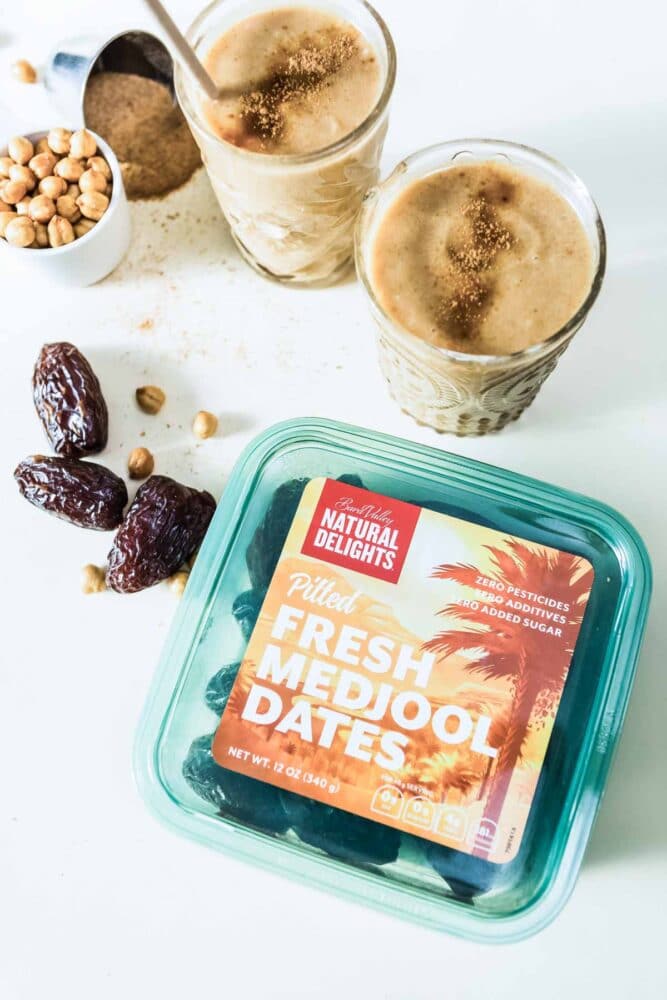 Plant powered protein boost for your caramel shake
In my search for clean protein options for my smoothie, I kept coming up short on clean protein powders. I didn't want gums, chemicals, and additives to take away from the plant power I was already blending.
I created my own homemade protein powder to add an extra 10 grams of protein to any smoothie you make. It is made with only organic ingredients, all from plants, and no extras. #plantpowered
If you want to take this caramel protein shake to the next level, then use my protein powder recipe to turn this smoothie into 18.2 grams per serving!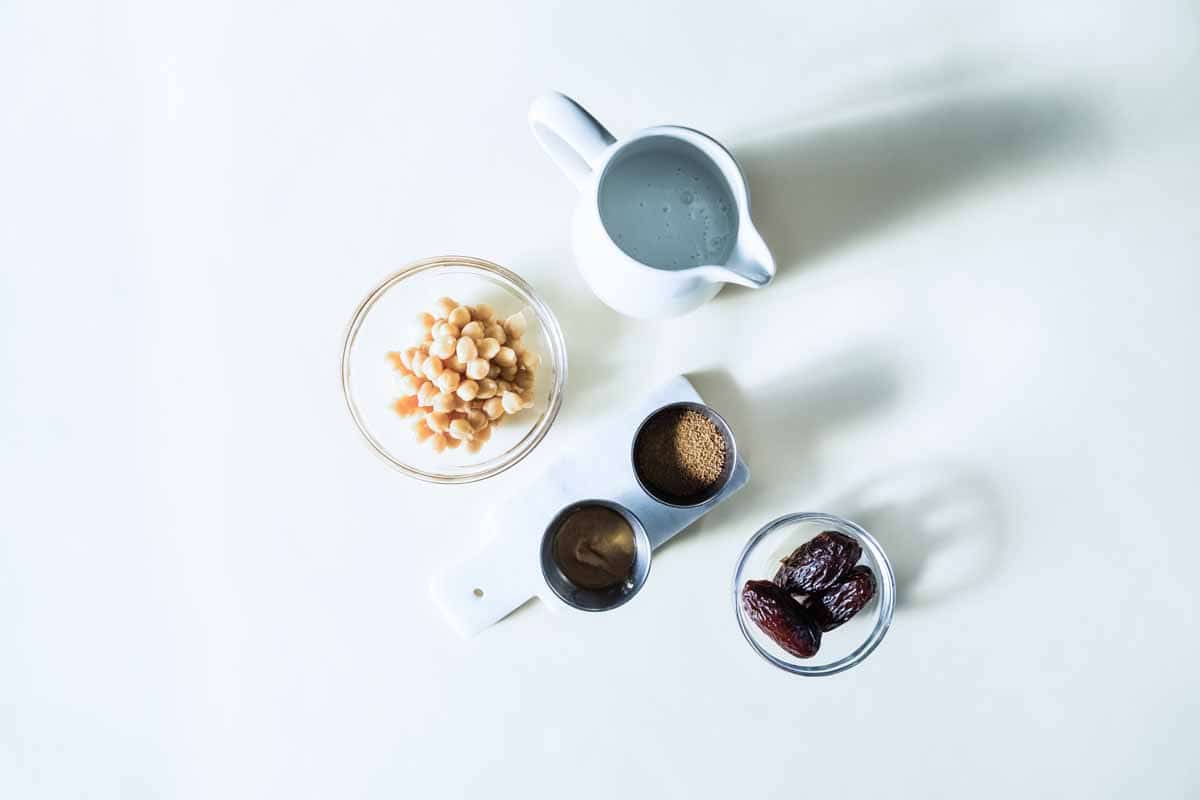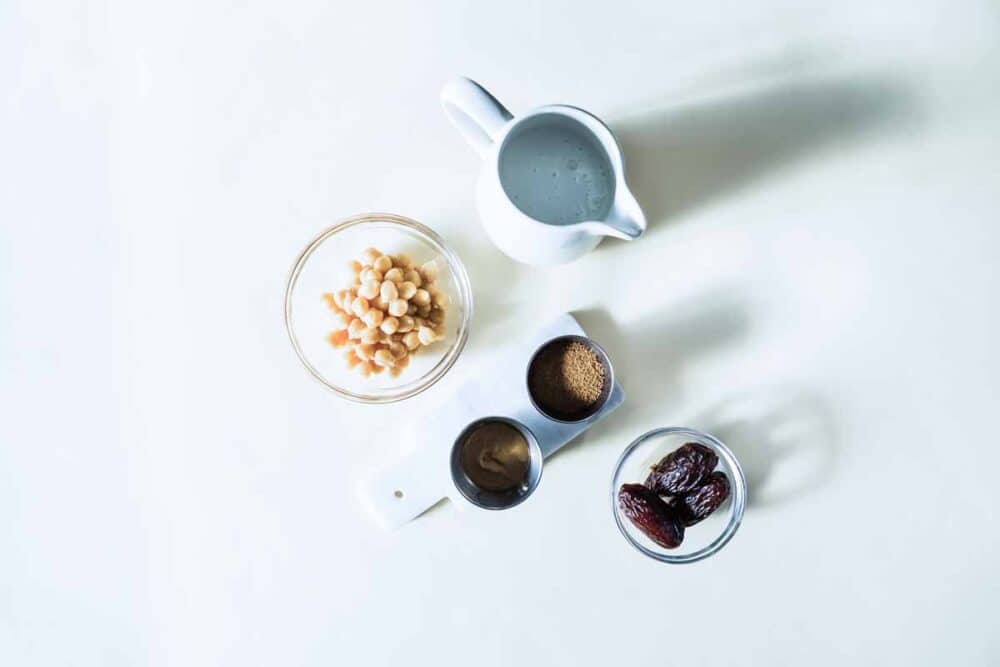 Caramel Shake Recipe
When I think of the perfect shake, I want it smooth, creamy, and sweet. I use homemade cashew milk for my caramel protein shake recipe, since it is super creamy. Natural Delights Medjool dates are basically nature's candy, they are so perfectly sweet + caramelly. Organic chickpeas provide protein, as well as extra creaminess. Coconut sugar adds a touch of extra sweetness, yet isn't needed if the dates make it sweet enough already for you.
How to Chill Your Shake
When I can't wait for this caramel protein shake to chill out in the fridge before drinking, I add ice cubes to cool it down into a refreshing beverage. I don't like to add ice when blending this shake, because I don't want a watery drink.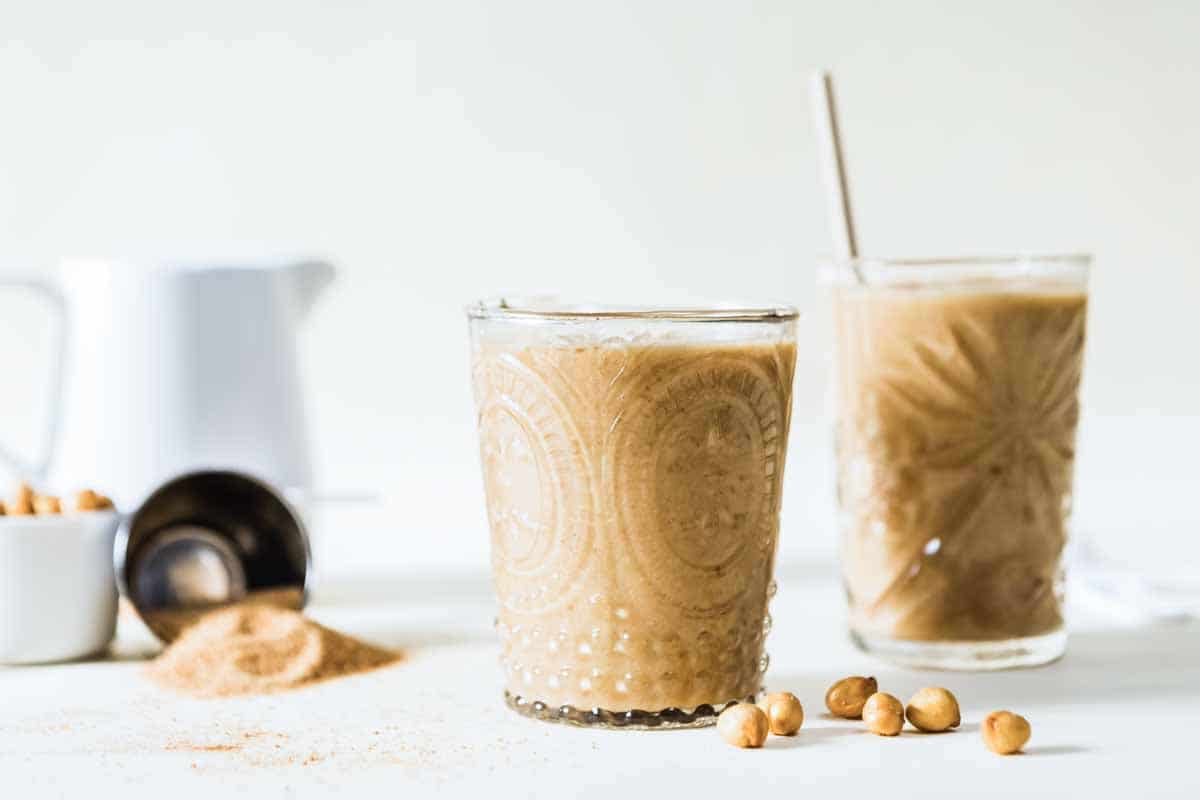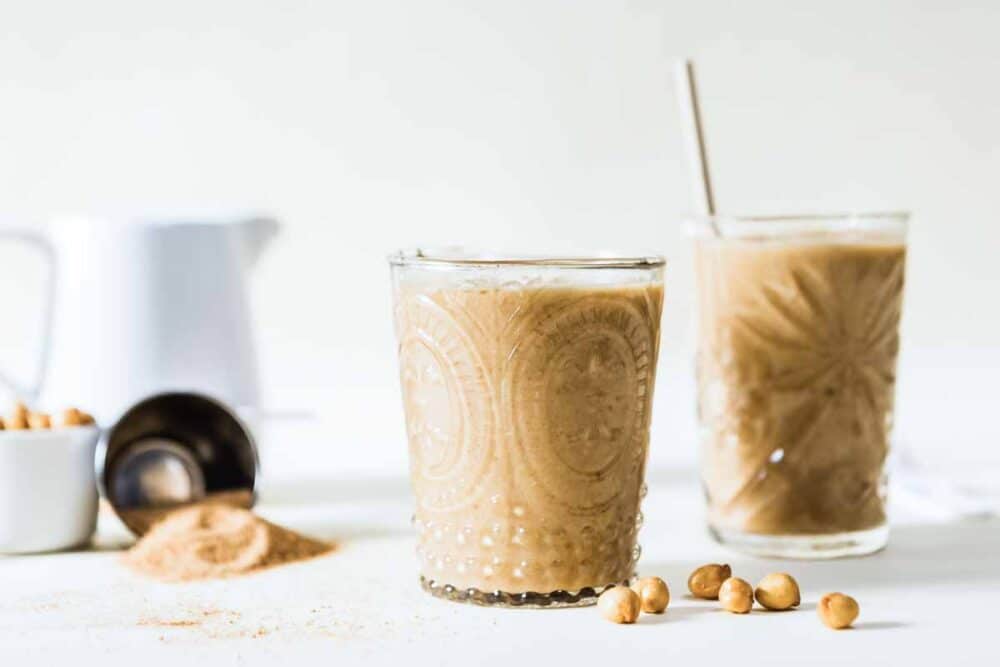 Smoothies for Workouts
Not only are smoothies + shakes a great way to start the day, they are also great for workouts. Whether you need a light meal before a workout, or a refreshing recovery beverage, smoothies are a great source of fuel! Add a few of these to your meal planner for some truly awesome plant power:
You can find even more workout smoothie recipes on my Daily Blends App, I have a whole section dedicated to my go-to recipes.
How do you feel about blending chickpeas? Let me know in the comments how your caramel protein shake turned out; I'd love to know what you think!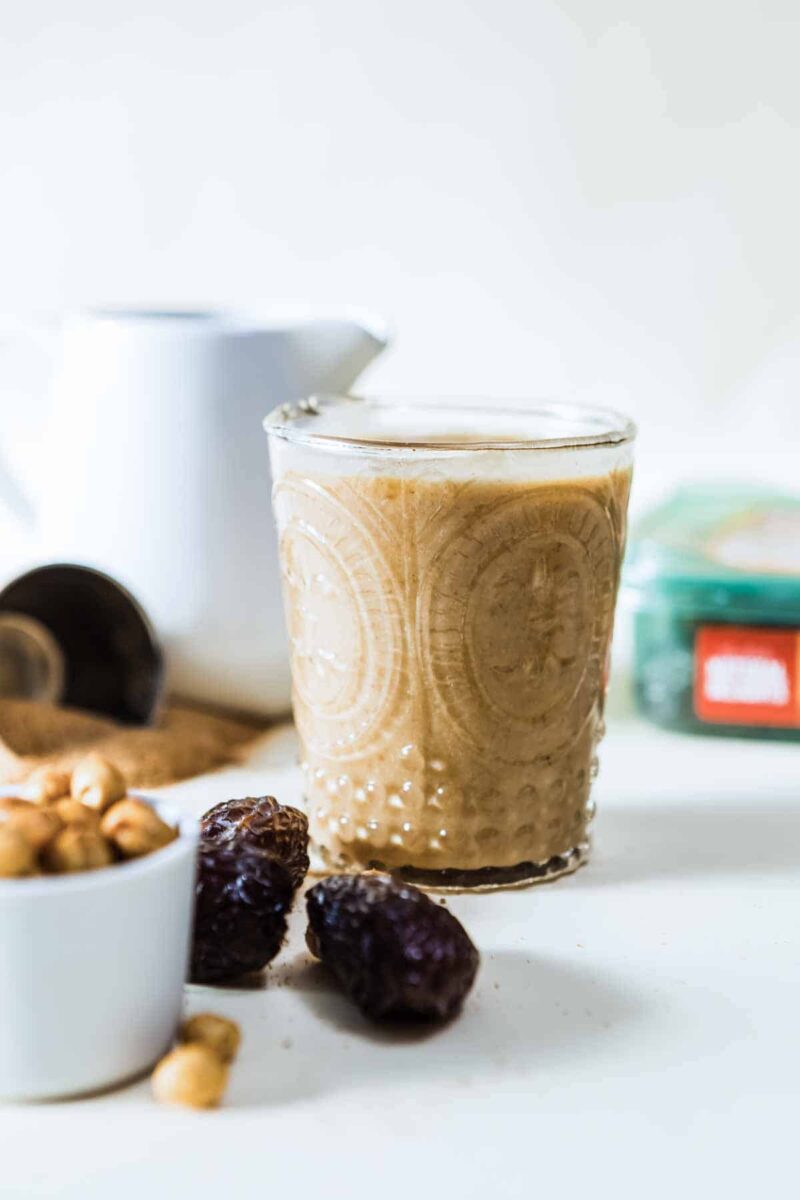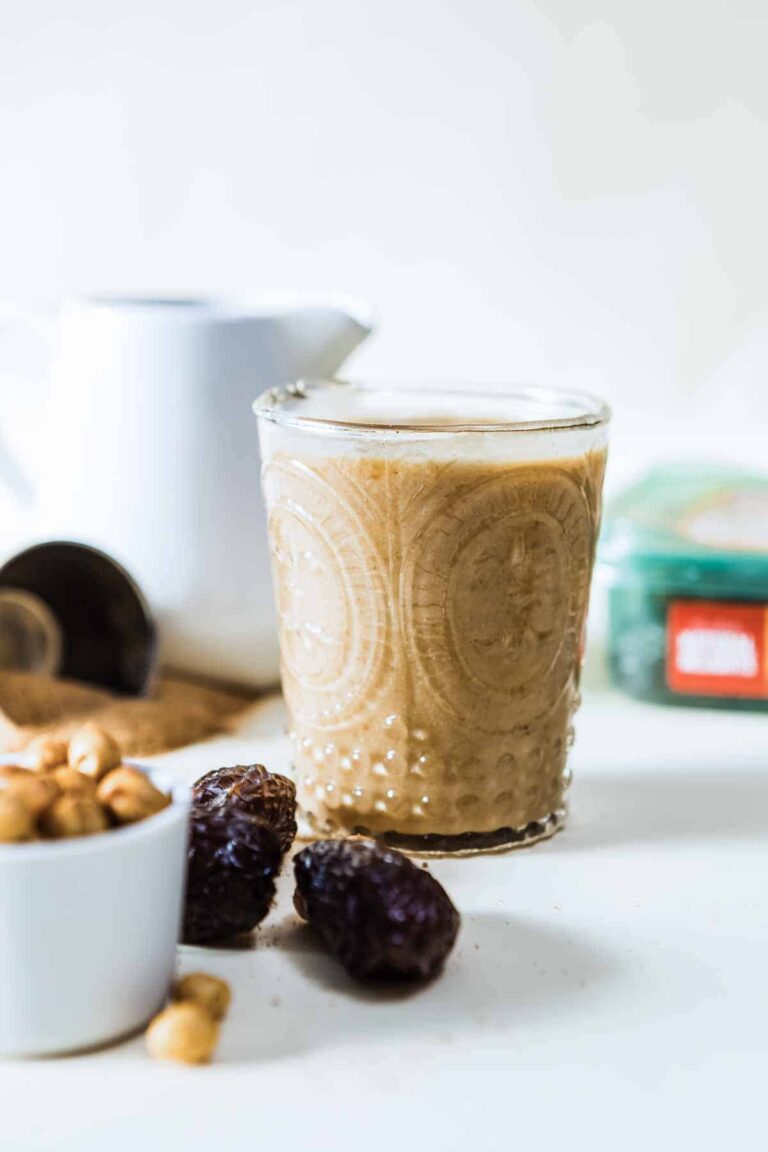 Caramel Protein Shake
Plant powered protein for the win in this decadent caramel protein shake. Completely satisfying and healthy, take your next snack or dessert up a notch with this chickpea + Medjool date combo. 
Instructions
Blend chickpeas, dates, and milk until smooth. Scrape down sides and blend again if needed.

Add cashew butter and coconut sugar and blend again until smooth. 

Pour over a glass of ice and enjoy!
Notes
You can replace cashew butter with any kind of nut/seed butter of your choosing.
Omit the coconut sugar for less overall sugar content. 
Don't add ice to the blender, add it to the cup then pour the smoothie over it to cool off. Alternatively, if you have time, chill the finished smoothie for 30 minutes before enjoying.
Nutrition
Calories:
358
kcal
,
Carbohydrates:
60
g
,
Protein:
9
g
,
Fat:
12
g
,
Saturated Fat:
2
g
,
Polyunsaturated Fat:
3
g
,
Monounsaturated Fat:
7
g
,
Sodium:
358
mg
,
Potassium:
543
mg
,
Fiber:
7
g
,
Sugar:
39
g
,
Vitamin A:
83
IU
,
Vitamin C:
1
mg
,
Calcium:
365
mg
,
Iron:
2
mg