Most people either love or hate beets—there's usually no in between. After several attempts at making a delicious beet smoothie, we have a recipe that even my kids will drink! A tall glass of this vibrant and refreshing cherry beet smoothie is the perfect summer treat.
From post-exercise recovery to liver detox to fighting free-radicals, this beet smoothie delivers major health benefits. And with a silky smooth texture and sweet, fruity flavor, it's love at first sip. Let's look at what makes this cherry beet smoothie so good for your health.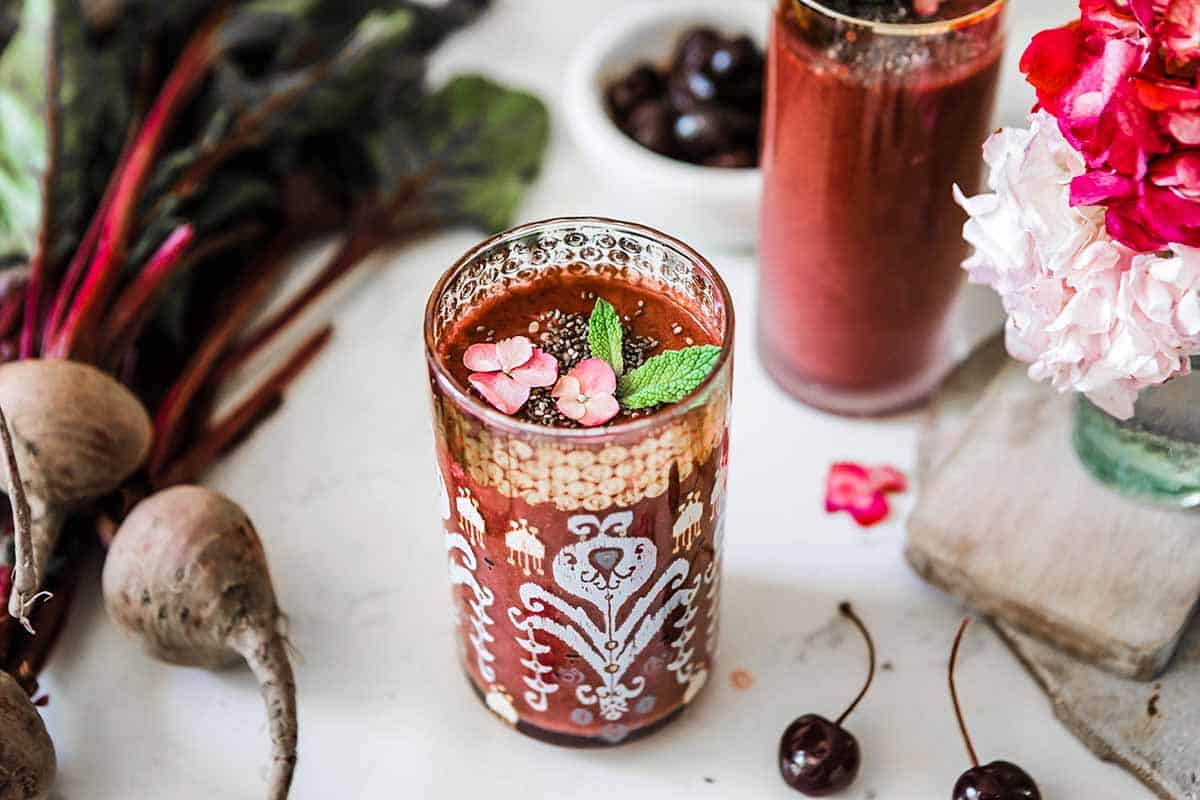 Table of Contents
How to Make a Tasty Beet Ssmoothie
This beet smoothie recipe might be out of your comfort-zone, yet give it a blend! Beets are nutrient powerhouses, and should be a part of your diet. I was scared to try my first beet recipe too… yet it was so worth it. Here's how to make your beet smoothie recipe a success:
Peel your beets- no need for that roughness to end up in your smoothie. If you want to lower the natural sugar content, swap the pomegranate juice with coconut water or plain water. If you're using a non-high powered blender, then steamed beets will blend better. I've found already peeled + steamed beets in the refrigerated section at Costco.
I know bananas are a deal-breaker for some people when blending smoothies, so swap this out for 1/4 cup mango or pineapple… you want to keep a sweet fruit in this smoothie!
Preparing Beets
Beet prep is easy! Simply peel the beet the same way you would an apple—use a vegetable peeler to shave off the top layer. Cut the beet into small chunks so it easily blends up. If you don't have a high powered blender, you can use cooked beets in this smoothie. Steam the beets for about 15 minutes, or until tender. Let the cooked beets cool before using in this beet smoothie recipe.
To make it even easier, you can buy beets that have already been peeled and steamed in the refrigerated produce section at most grocery stores and even at Costco.
Health Benefits of Beets
Beets are amazingly high in folate. So many mamas out there are trying to get pregnant or already have a baby on the way – Yay! – get your beet on! A cup of beets contain nearly half of your folate needs which help protect baby against birth defects.
Want to keep things moving? Reach for a beet! Beets are full of fiber which keep you full longer and also keep things moving on a regular basis. I drink this beet smoothie in the morning to start my day off right.
Beets also contain high amounts of naturally occurring nitrates which might help increase exercise performance.
Waste not, want not! The entire beet plant is edible – leafy greens and all.
Loaded with antioxidants like Vitamin C, beets can help increase your immune system and lower your risk of cancer and other chronic illnesses.
Beet Smoothie FAQs
What fruit goes well with beets?
Pretty much any red fruit pairs well with beets: cherries, strawberries, pomegranate… you really can't go wrong. Because beets taste earthy, combine them with strongly flavored fruit.
Do I have to peel beets before blending?
I do! Beets have so much nutrition in the fleshy part, that the tough, wood-tasting peel isn't needed to benefit. Just remember to use something that can be stained… cutting beets is MESSY and will stain whatever you use.
Are raw beets good for you?
Yes, yes, YES. High in fiber, folate, antioxidants… beets are the whole package. Did you know you can even eat beet greens? So don't pitch those stems!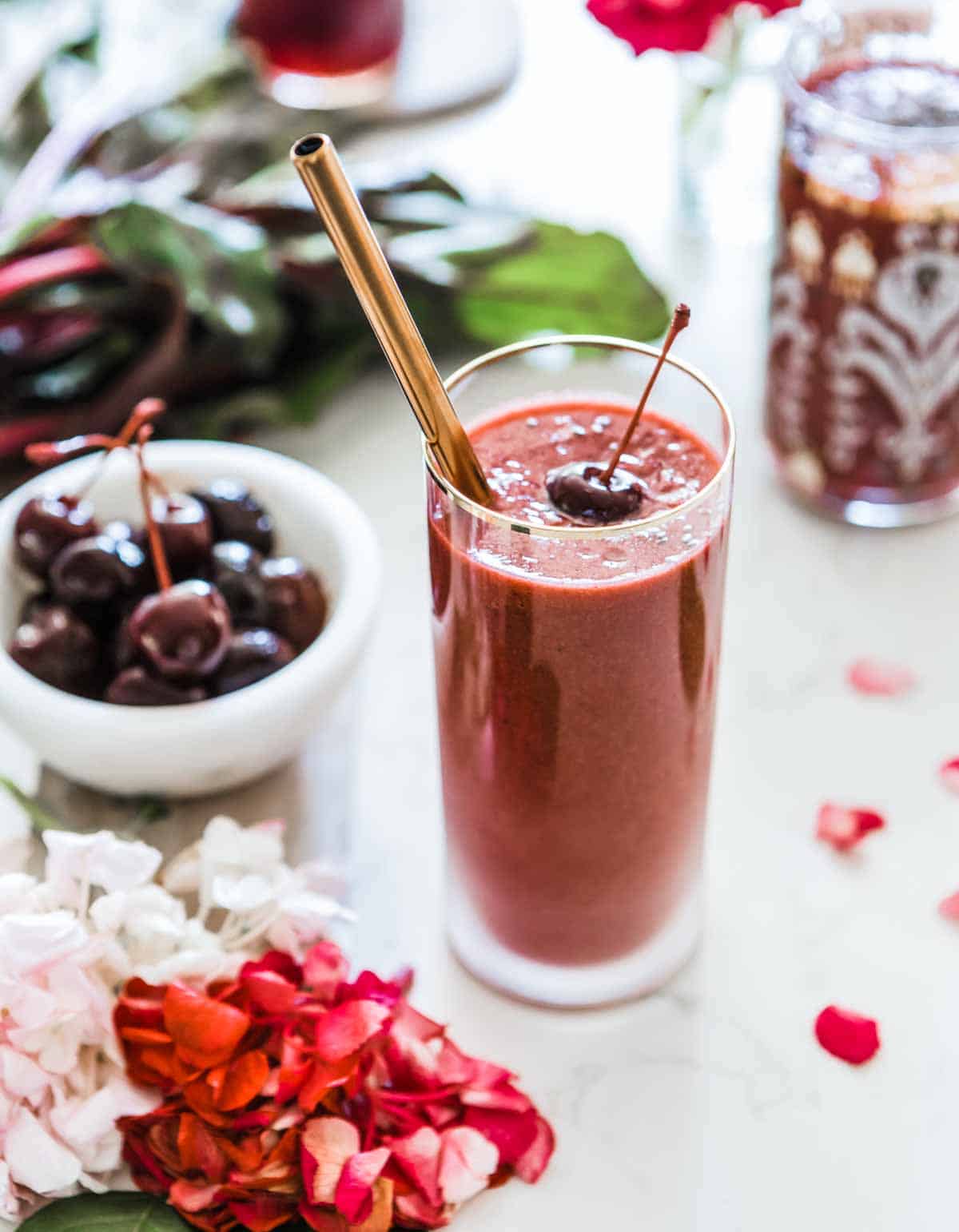 What about beet greens?
Yes! Just like any other green, beet greens are full of nutrition and are a great addition to smoothies. Detach the leaves from the stems and blend the beet greens along with the other ingredients in this smoothie. Beet greens are a great source of calcium, iron, and vitamins A, C, and K.
Boost your immune system, strengthen your bones and cleanse your kidneys and liver with beet greens. If you have a bunch of beets with the greens attached and you're only using the beets, you can freeze them just like we freeze spinach to use later in smoothies.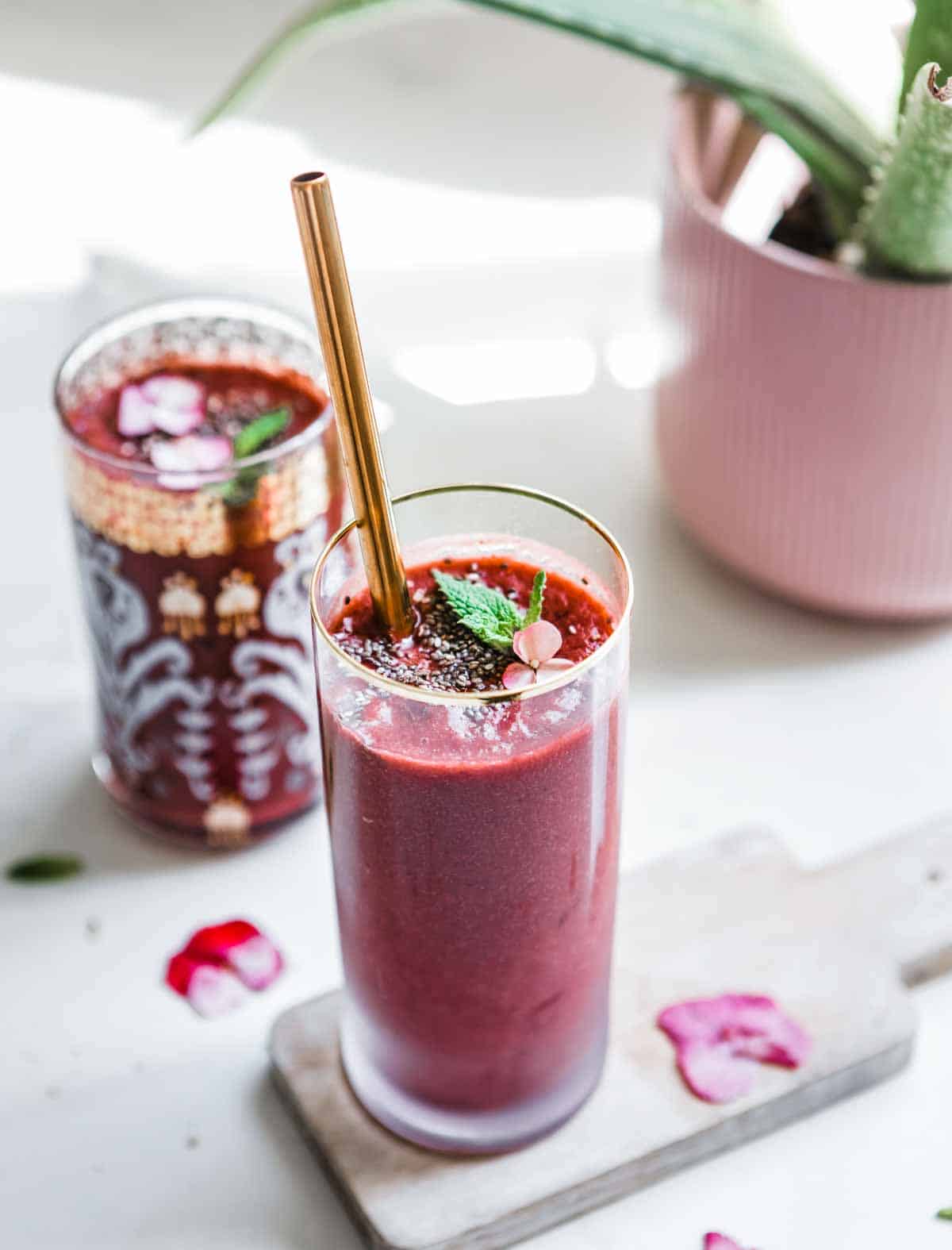 More Smoothies with Beets
Want more of that bright red goodness, you can only get from beets? Here are a few of the absolute best-ever beet smoothies that will soon become your favs too:
Now, try the recipe below then leave a rating + review letting me know how your smoothie turned out!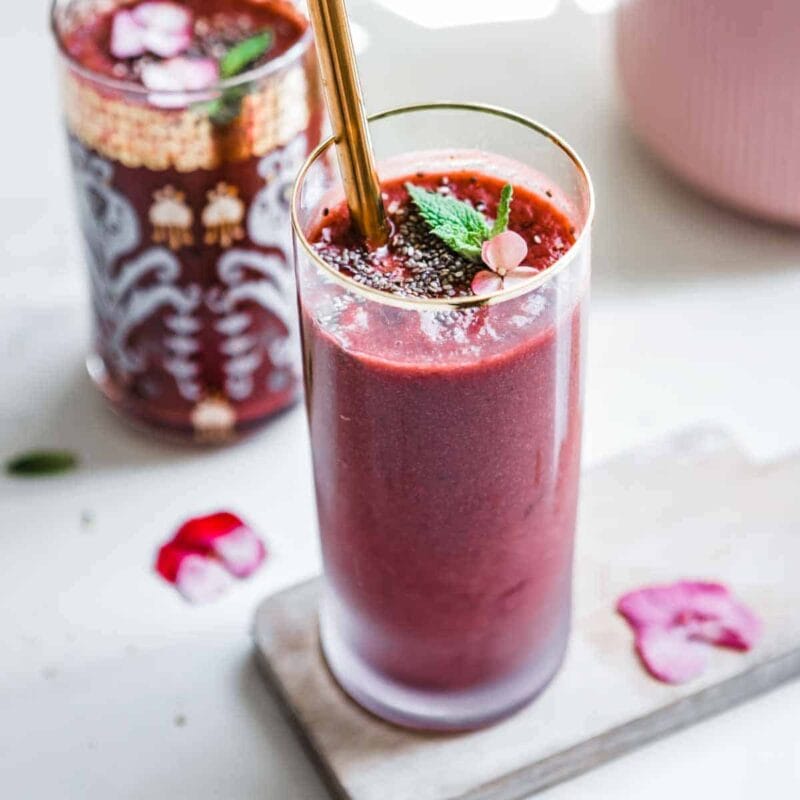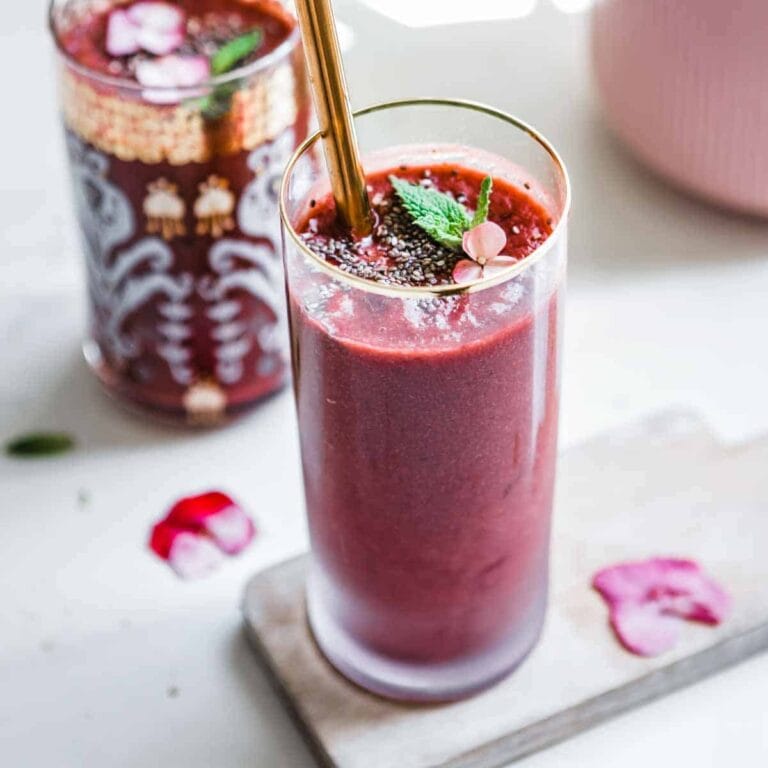 Cherry Beet Smoothie
Sweet beets and tangy cherries are a power-packed superfood combo in this tasty, bright red cherry beet smoothie.
Ingredients
¼

cup

beet

peeled and diced

1

cup

cherries

¼

banana

frozen

½

cup

pomegranate juice

½

cup

water

fresh mint

for garnish

1

serving

homemade protein powder

optional
Instructions
Blend all ingredients until smooth.

Top with mint for garnish, if desired.
Notes
To make it easier on your blender (and cutting board), look for steamed beets (not pickled) in the refrigerated produce section, freezer aisle, or in the canned food section of most grocery stores.
Use at least 1 frozen fruit for a refreshingly cool smoothie.
Add up to 1 cup of leafy greens for even more nutrients.
Nutrition
Calories:
195
kcal
,
Carbohydrates:
48
g
,
Protein:
3
g
,
Fat:
1
g
,
Saturated Fat:
1
g
,
Polyunsaturated Fat:
1
g
,
Monounsaturated Fat:
1
g
,
Sodium:
44
mg
,
Potassium:
789
mg
,
Fiber:
5
g
,
Sugar:
39
g
,
Vitamin A:
118
IU
,
Vitamin C:
14
mg
,
Calcium:
42
mg
,
Iron:
1
mg