This bright n' spicy cilantro smoothie is a fun snack that can help detox your body. Naturally sweetened by bananas, sip to your health with a tropical beverage made from 100% plant based ingredients.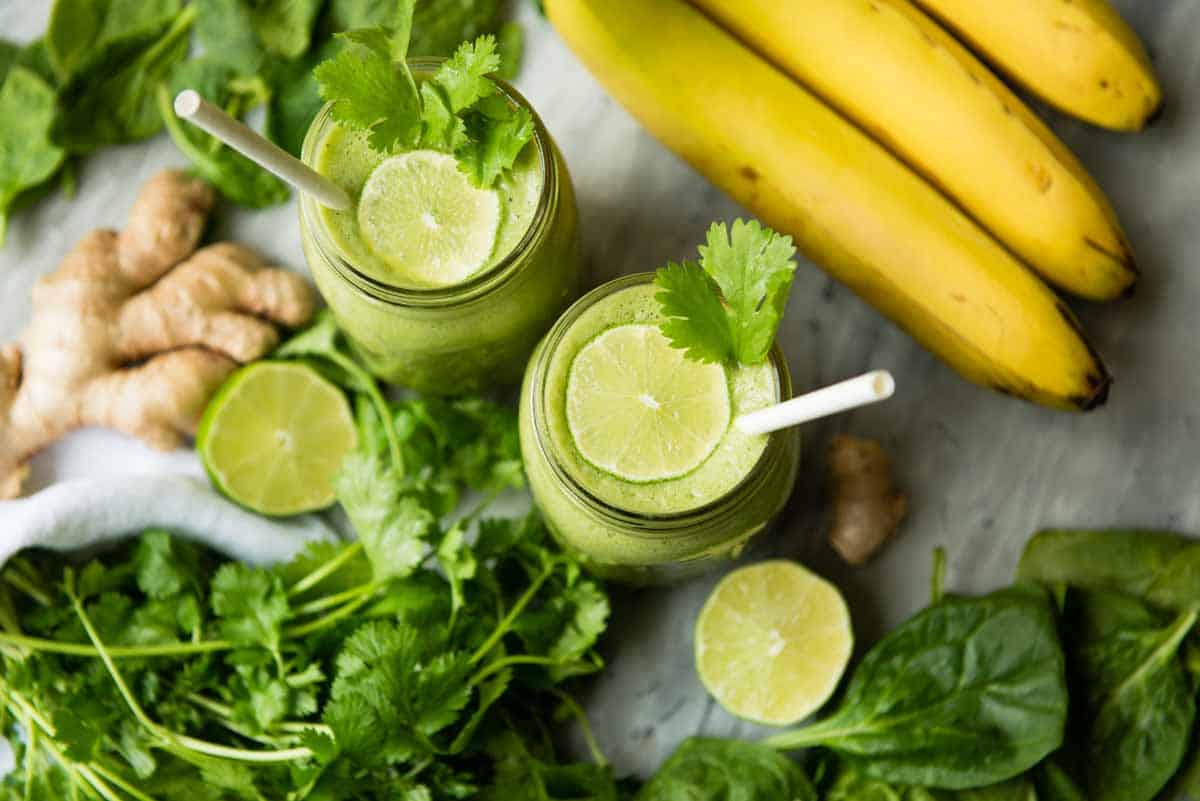 When the summer heat ramps up here in Central Florida, I reach for something cool and refreshing like this Cilantro Smoothie. Blending this delicious limeade beverage up totally makes me feel like I'm on spring break or summer vacay! Plus it contains one of my fav smoothie ingredients of all time – ginger.

If I'm going for an extra fun feel, then I'll toss this into popsicle molds and freeze. Delish!
Table of Contents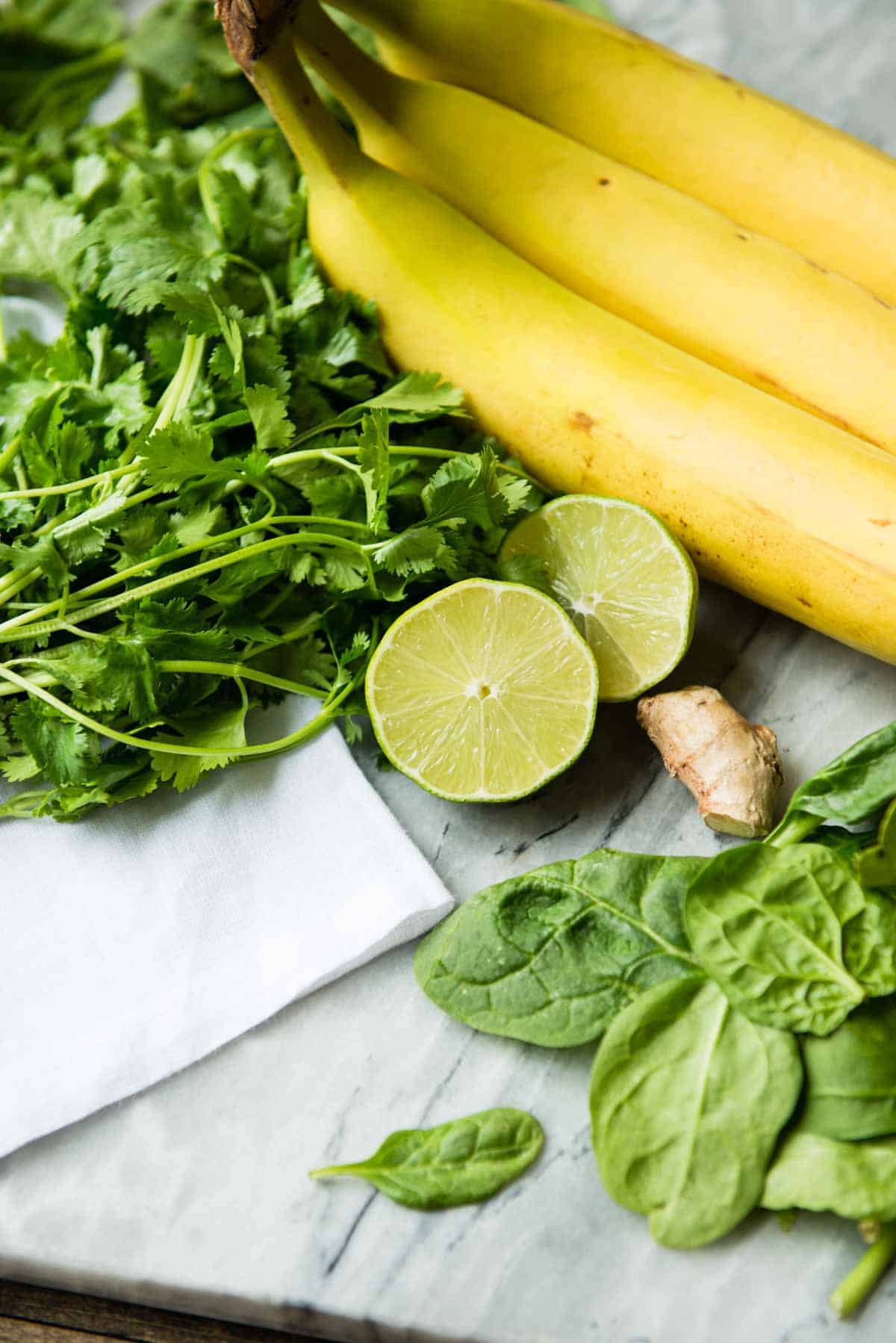 What makes this limeade recipe healthier?
Traditional limeade contains refined sugar. We've all heard by now how sugar can increase your risk for certain health issues, like diabetes and obesity. However, did you know it can also contribute to depression or other mood disorders? I was shocked to find that out, yet it makes good sense. Thankfully, my cilantro smoothie recipe is sweetened with the natural sugars found in 1.5 bananas. Similarly, you can sweeten the natural way with ingredients like banana, dates, maple syrup or honey and avoid those refined sugars.
Fresh Cilantro in a Smoothie
Cilantro is one of those things that people either love or hate. Whichever side of the fence you sit on in respect to cilantro, it's hard to deny its health benefits. Also called Chinese parsley and fresh coriander, this leafy green herb helps the body detoxify itself of heavy metals. It's also a good source of vitamin K which helps with circulation and blood clotting. I think it tastes great too, especially blended into a green smoothie! Or on your tacos. Def on your tacos. #teamtaco
Fresh Ginger goes well with Lime
This Cilantro smoothie also contains ginger which is good for settling the tummy. When one of my SGS team members was expecting, she had raging morning sickness. Well, it was all-day sickness, to be more specific. Thankfully, she was able to keep that upset tummy at bay by consuming everything ginger she could find (ginger root, ginger lozenges, ginger tea).
Adding it to your smoothies regularly will help keep tummy troubles in check.
Plus! Ginger is also known for fighting inflammation. See why I love it so? Now inflammation can be a good thing, like when your immune system is fighting off infection. However, the bad kind of inflammation can contribute to all sorts of yuckiness in the body, like asthma and arthritis.
Therefore I choose to fight it off on the regular with a bit of zesty ginger in my smoothies. It tastes good and is good for me. See, now these are the moments I enjoy being a grownup!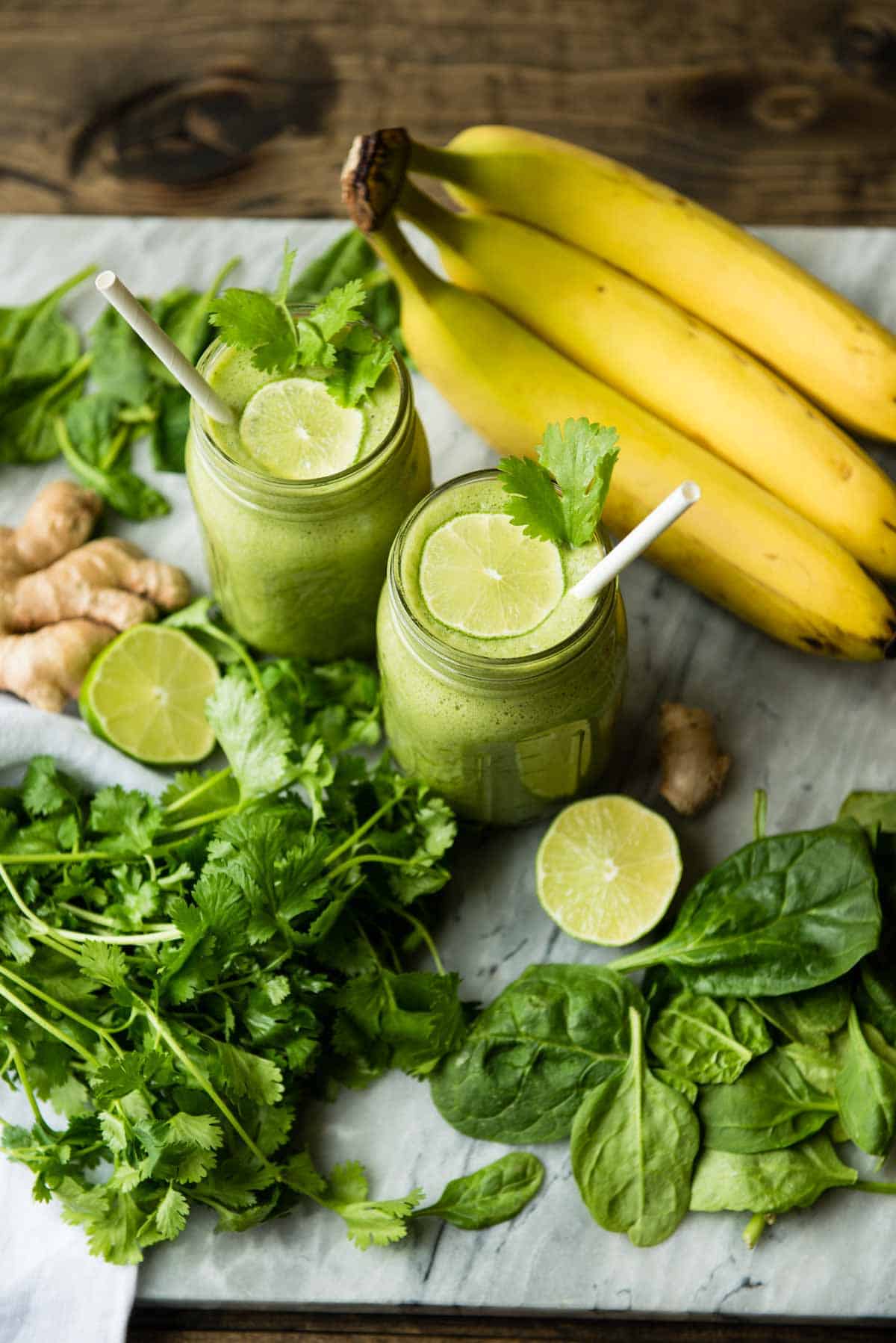 More Cilantro Recipes Please!
Chances are you scooped up a big, lovely bunch of fresh cilantro at your local farmers market to make this green smoothie. Now that you've blended, sipped and fallen in love – what do you do with the rest of that gorgeous green cilantro before it goes bad?! No worries – I've got ya covered. If you loved this cilantro smoothie, then check out some of my favorite recipes with cilantro:
Spicy cilantro pesto
Cilantro mango detox smoothie
BBQ jackfruit tacos
Creamy cilantro lime sauce (coupled with a vegetarian pizza recipe)
Vegetarian tortilla soup
Make sure you hit us up with a comment below! Let us know how you like this limeade smoothie and if you tried any other recipes featuring cilantro.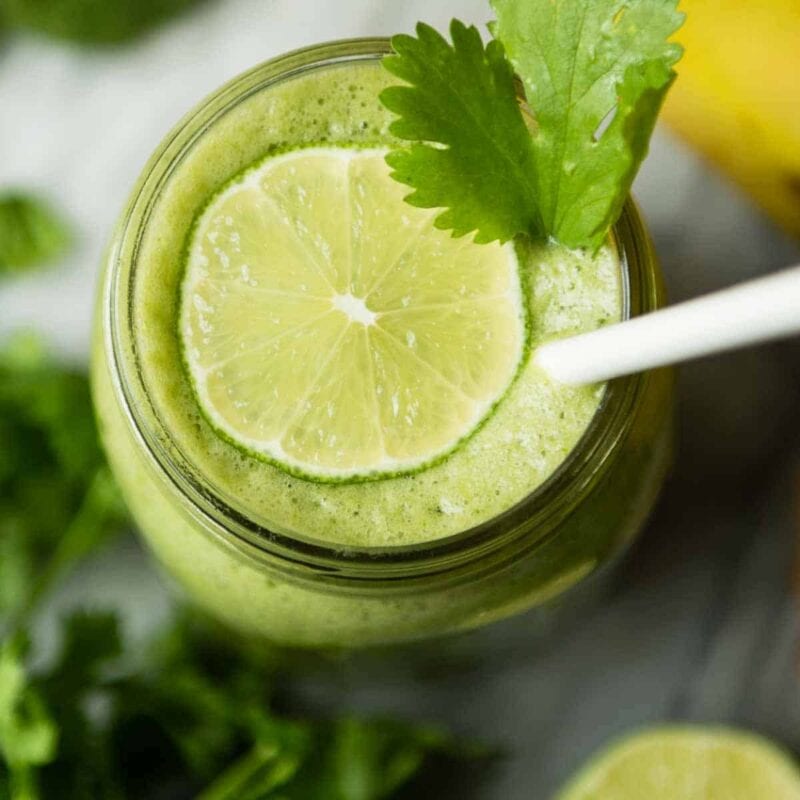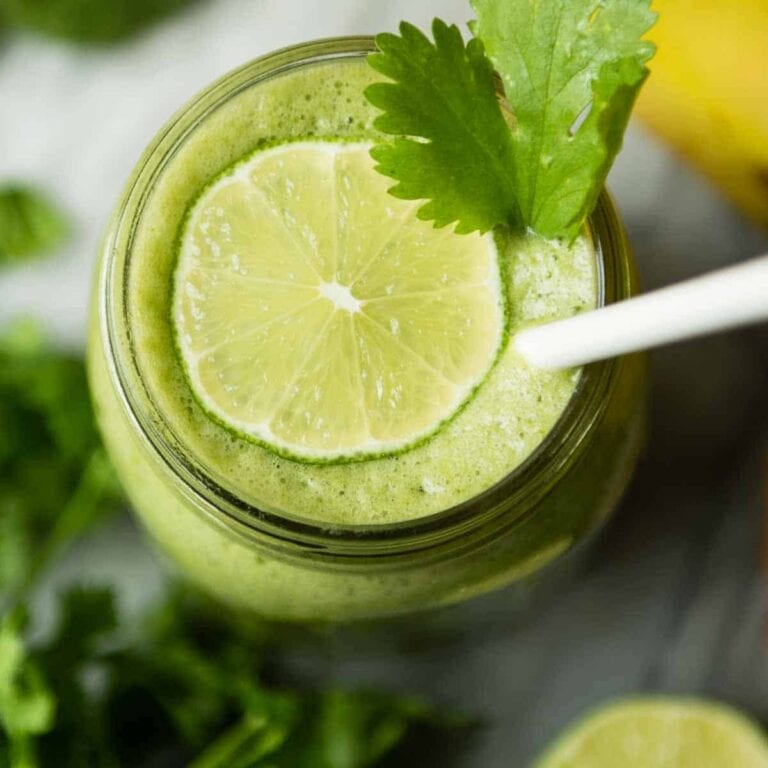 Cilantro Smoothie
A refreshing and unique cilantro smoothie that harnesses the anti-inflammatory and detox benefits of cilantro and ginger. 
Ingredients
1

cup

spinach

fresh

¼

cup

fresh cilantro

fresh

1

cup

water

1

banana

1

lime

peeled

½

inch

ginger root

fresh

2

tbs

chia seeds
Instructions
Blend spinach, cilantro and water until smooth.

Next add the remaining fruits and blend again.
Notes
Freeze the bananas ahead of time for a cold, slushy smoothie treat.
Nutrition
Calories:
240
kcal
,
Carbohydrates:
41
g
,
Protein:
6
g
,
Fat:
8
g
,
Saturated Fat:
1
g
,
Polyunsaturated Fat:
6
g
,
Monounsaturated Fat:
1
g
,
Trans Fat:
0.03
g
,
Sodium:
43
mg
,
Potassium:
758
mg
,
Fiber:
12
g
,
Sugar:
15
g
,
Vitamin A:
3187
IU
,
Vitamin C:
29
mg
,
Calcium:
202
mg
,
Iron:
3
mg