A tropical coconut water smoothie can help you get in your 8 cups of water a day AND satisfy a sweet tooth. I know you might be scared of the kale (I've had a few of that kind of smoothie) yet this isn't that kind of green smoothie!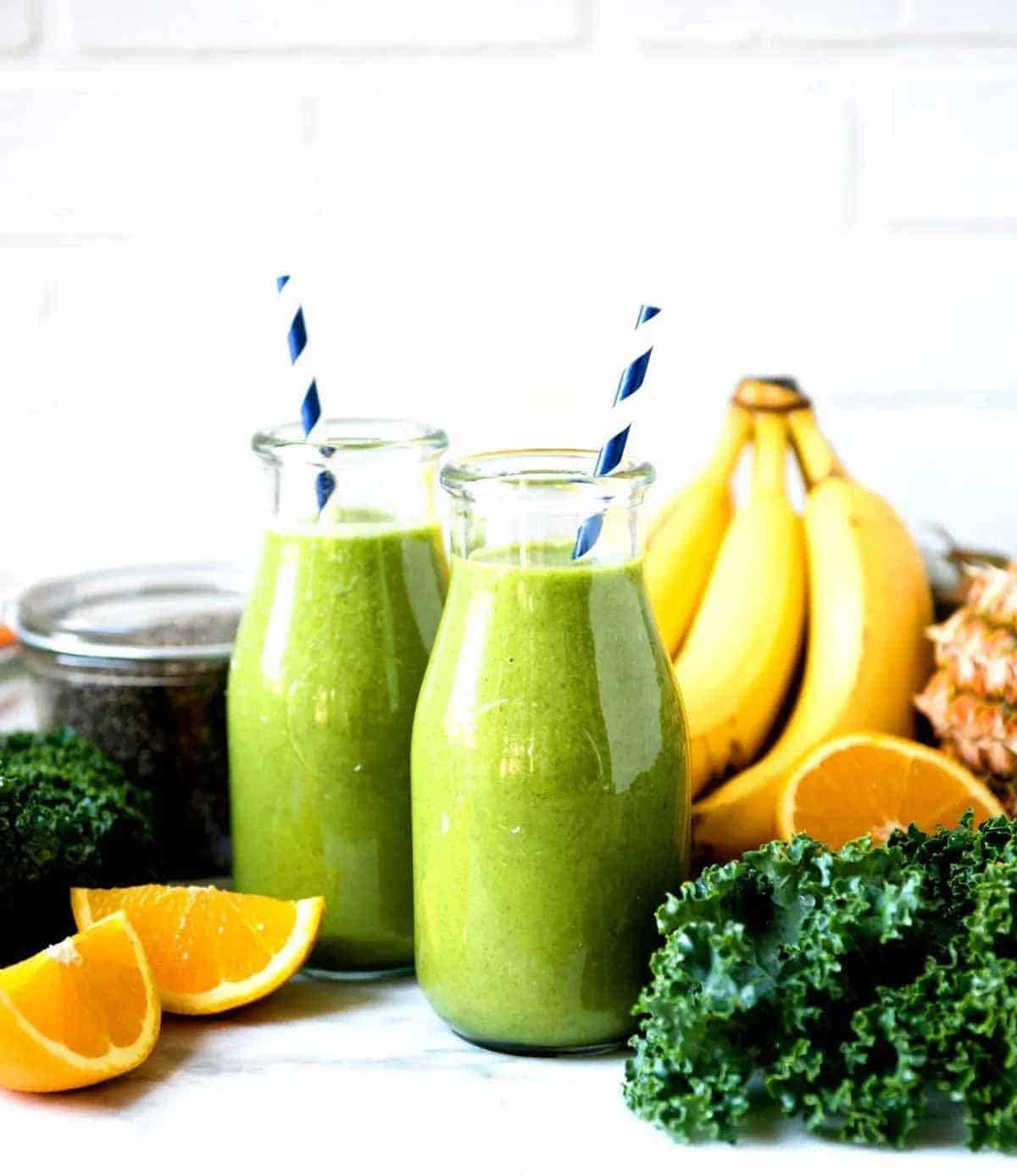 I pack it all into this smoothie: leafy greens, electrolyte-powered coconut water, tropical fruit and protein-packed chia seeds. It gives my body a boost of natural energy so that I can perform at my best whether in a workout or a work meeting.
Table of Contents
Coconut Water Benefits
This is why I love adding coconut water to a smoothie:
Hydrating– Natural, unsweetened coconut water can help you stay hydrated, especially during a long workout. Compared to other sports drinks, this beverage is low in carbs and calories. Since not all coconut water is created equally, look at the amount of electrolytes in your brand of choice to ensure it meets your body's needs.
Potassium powered– Coconut water can help naturally lower blood pressure (as long as you aren't on blood pressure medication) because it contains 405 mg per cup. My smoothie has 1398 mg of potassium!
Helps prevent kidney stones– Use this beverage to naturally flush your body.
Low in calories– Unlike fruit juice (even 100% fruit juice!) coconut water only has between 40-60 calories per cup.
It does have a unique taste, so if it isn't your favorite flavor you could do half coconut water and half regular water to get the benefits without the taste.
How to Make a Coconut Water Smoothie
When using leafy greens in a smoothie, I use the 2-blend method to make sure the finished product is as creamy as can be. Here's how I do it:
Blend the kale, peeled orange and coconut water until smooth.
Add the remaining fruit and chia seeds and blend again until smooth.
If you're new to kale, then start small! Add in a half serving and see how you like it. This coconut water smoothie packs a flavorful punch, so I'm guessing you'll be using the full serving of kale in no time.
While my smoothie has only natural sugar, you can definitely lower it if needed. Swap in 1/4 an avocado with the banana to create an equally creamy beverage with lower sugar.
Chia seeds can be added when blending, or just poured on top of the finished product for a fun texture!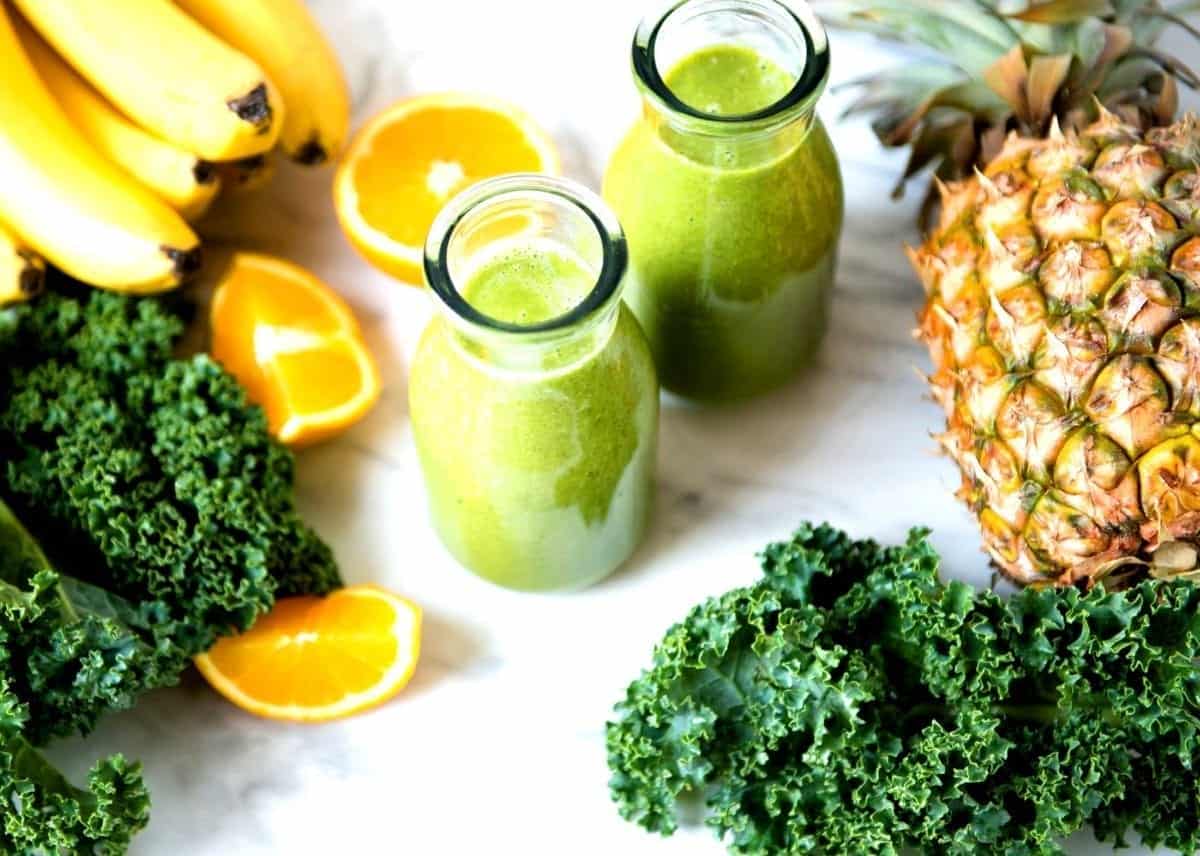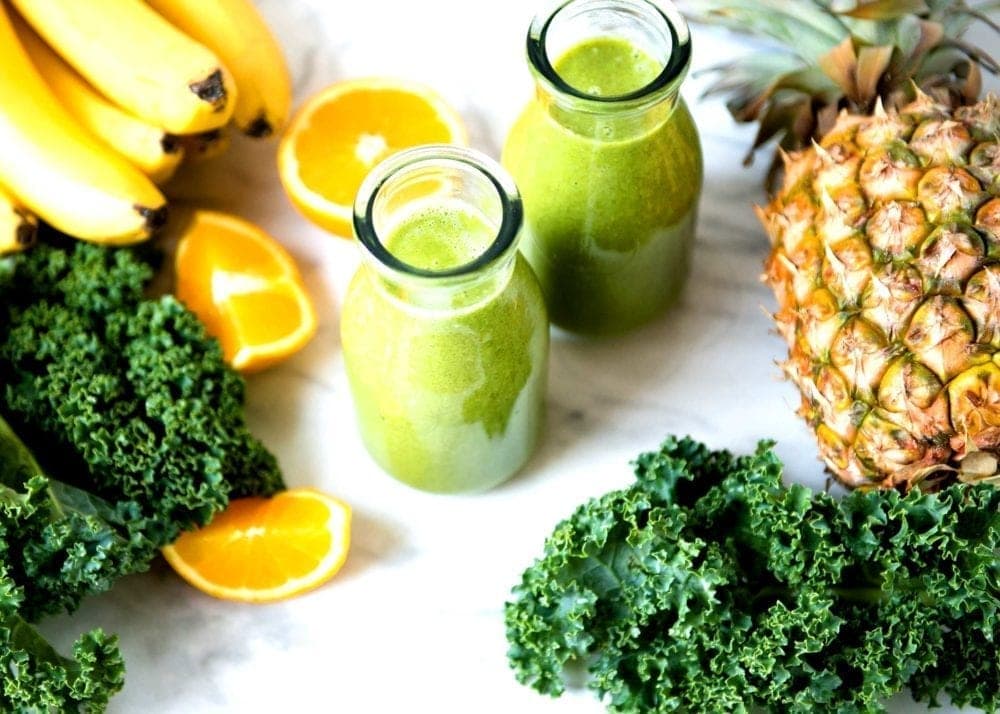 Water vs Milk
Coconut milk is a combination of coconut water and grated coconut flesh. I don't recommend swapping coconut water in a recipe calling for coconut milk, but you can swap in coconut water for a smoothie recipe using regular water.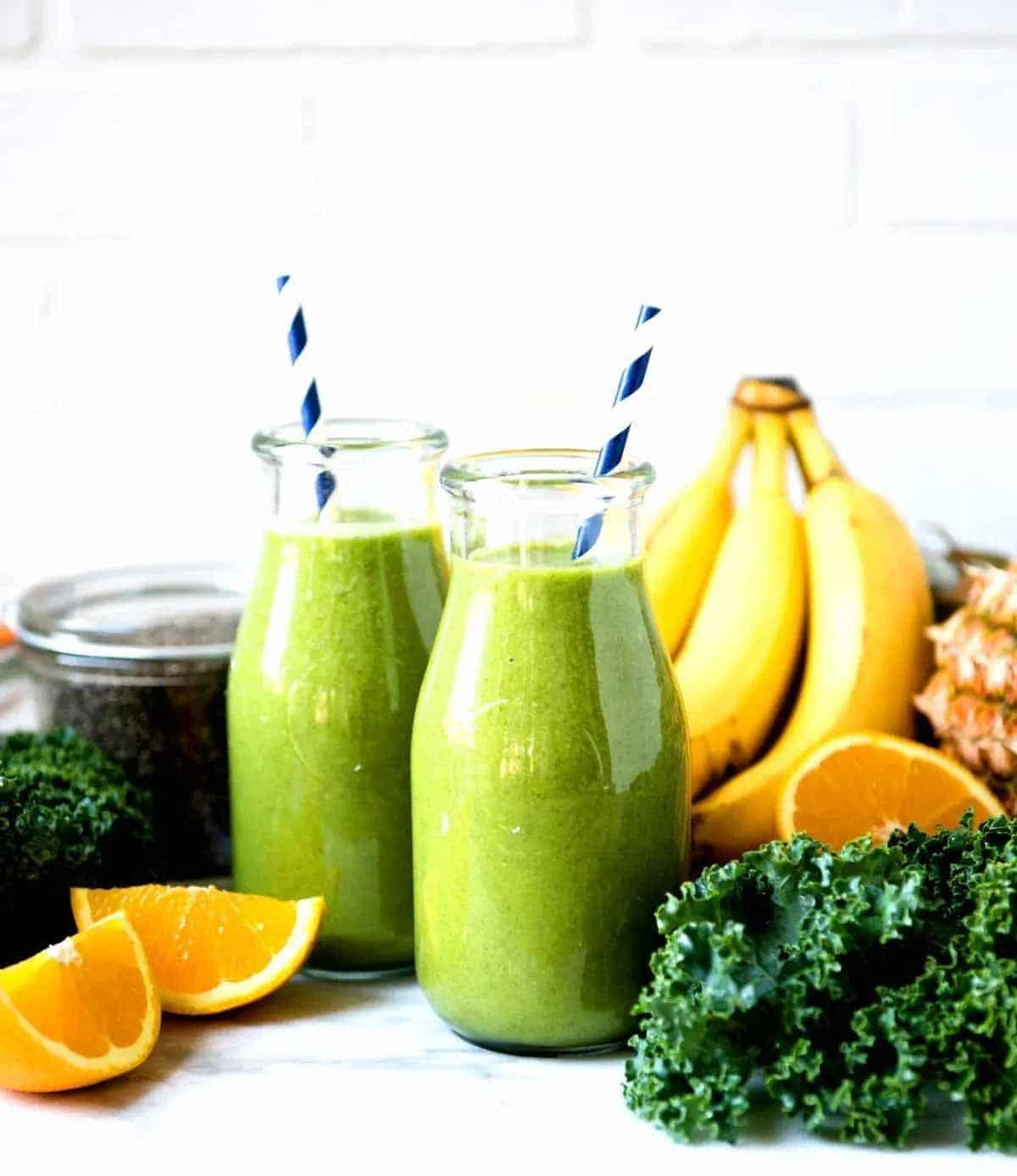 Coconut Water Smoothie FAQs
Is coconut water good for healthy smoothies?
Yes! Coconut water is nature's Gatorade and is an awesome way to add in natural electrolytes. Just make sure you buy unsweetened coconut water with no weird additives in it so you get the best ingredients in your smoothie.
What fruit goes well with coconut water?
Think tropical. Any kind of citrus fruit or tropical fruit goes well with coconut water. My smoothie recipe uses pineapple, banana and orange.
Is almond milk or coconut water better for smoothies?
Honestly, both are great liquid options for smoothies, it just depends on the flavor you want! Almond milk goes great with berries, cacao or protein shake-type smoothies. Coconut water pairs well with citrus fruit as well as tropical fruit.
More Smoothies with Coconut Water
If you've got coconut water to spare after blending the energizing smoothie below, then use it on one of these recipes:
You can't go wrong using coconut water as a smoothie liquid. Feel free to swap it in your next blend! Don't forget to rate and review this smoothie recipe to let me know how it turned out for you.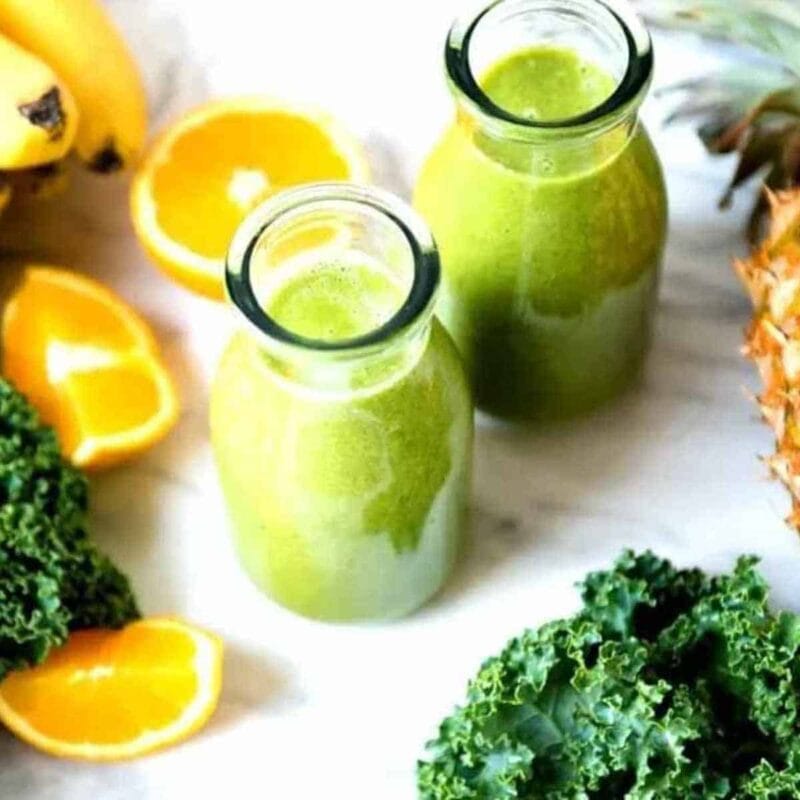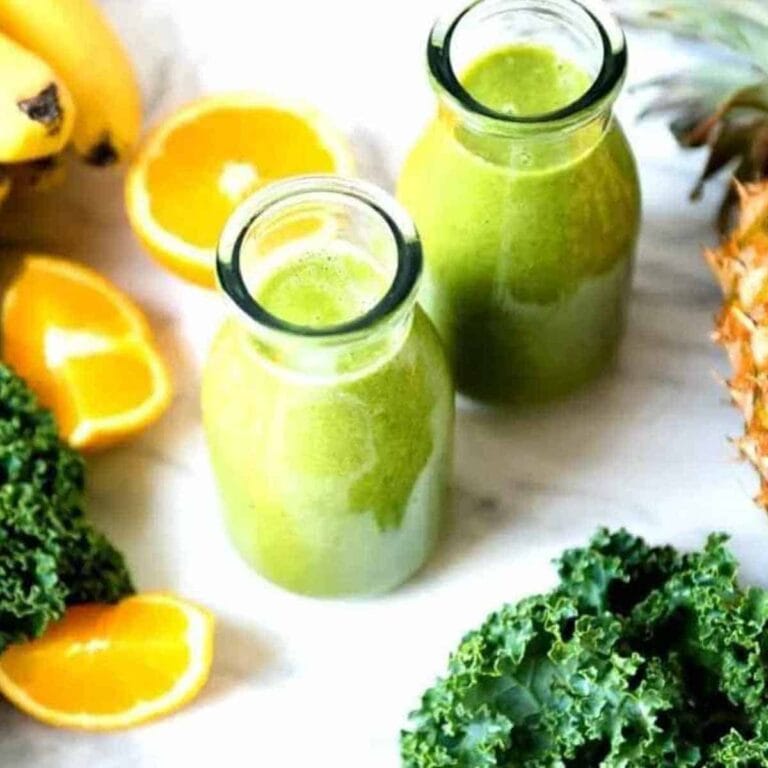 Coconut Water Smoothie
This coconut water smoothie is hydrating and refreshing. The citrus fruit helps to cut the bitterness in the kale and we boosted the sweetness with banana.
Instructions
Place kale, orange and coconut water in blender. Puree until smooth.

Add remaining fruit and blend again until smooth.
Notes
Remove the stems of the kale to help with the bitter taste. You can also use baby kale.
Swap kale out with the leafy green of your choice.
Blend in the chia seeds or sprinkle on top for a crunchy texture.
For a lower sugar smoothie, swap the banana with 1/4 of an avocado.
Nutrition
Calories:
261
kcal
,
Carbohydrates:
52
g
,
Protein:
8
g
,
Fat:
5
g
,
Saturated Fat:
1
g
,
Polyunsaturated Fat:
3
g
,
Monounsaturated Fat:
1
g
,
Trans Fat:
1
g
,
Sodium:
281
mg
,
Potassium:
1398
mg
,
Fiber:
11
g
,
Sugar:
28
g
,
Vitamin A:
6933
IU
,
Vitamin C:
166
mg
,
Calcium:
274
mg
,
Iron:
3
mg