Enjoy a coffee smoothie that is packed with protein, fiber and smooth caffeine for an exceptionally delicious start to the day. This mocha smoothie is both caffeine and a breakfast smoothie in one, allowing you to work smarter, not harder, for breakfast.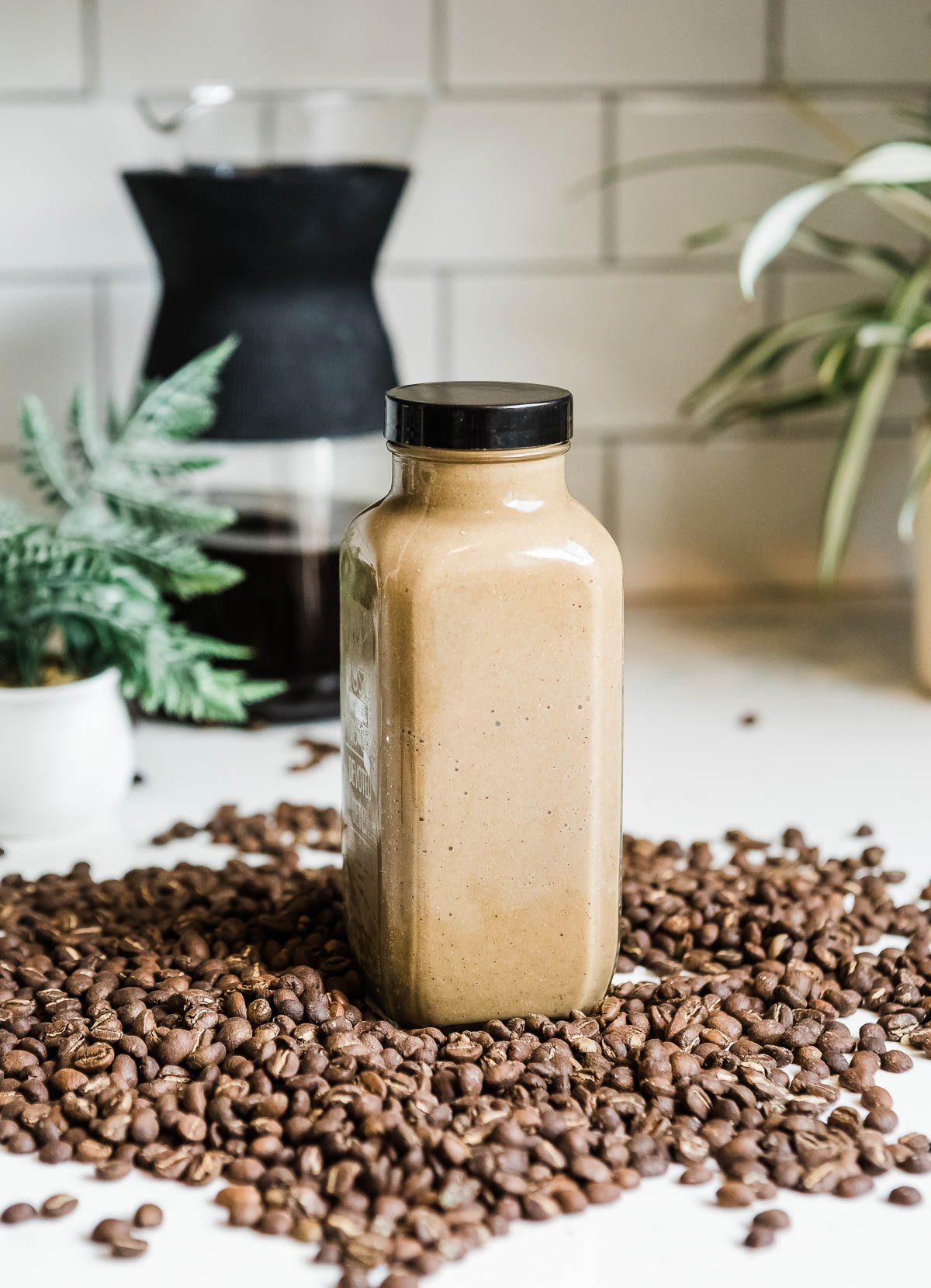 Coffee in moderation is a great way to boost your morning energy levels, but a plain cup of joe isn't enough to carry you through until lunch. With this coffee smoothie, you get all the good-for-you, nutrient-packed ingredients.
Table of Contents
Recipe Ingredients
Since a meal replacement smoothie is my first meal of the day, you better believe I'm packing in the fruits, vegetables and protein to make this a great start.
Taking a naturally caffeinated liquid and adding it to a smoothie, like I did with this green tea smoothie or my coffee one below, gives your body a boost without delivering straight caffeine to your system… pairing it with protein + healthy fat helps give you smooth energy without the crash.
You may think the ingredient list is a bit odd, yet with one sip into this mocha smoothie, you'll be hooked on its creamy smooth texture, rich coffee flavor and that gorgeous hint of cocoa.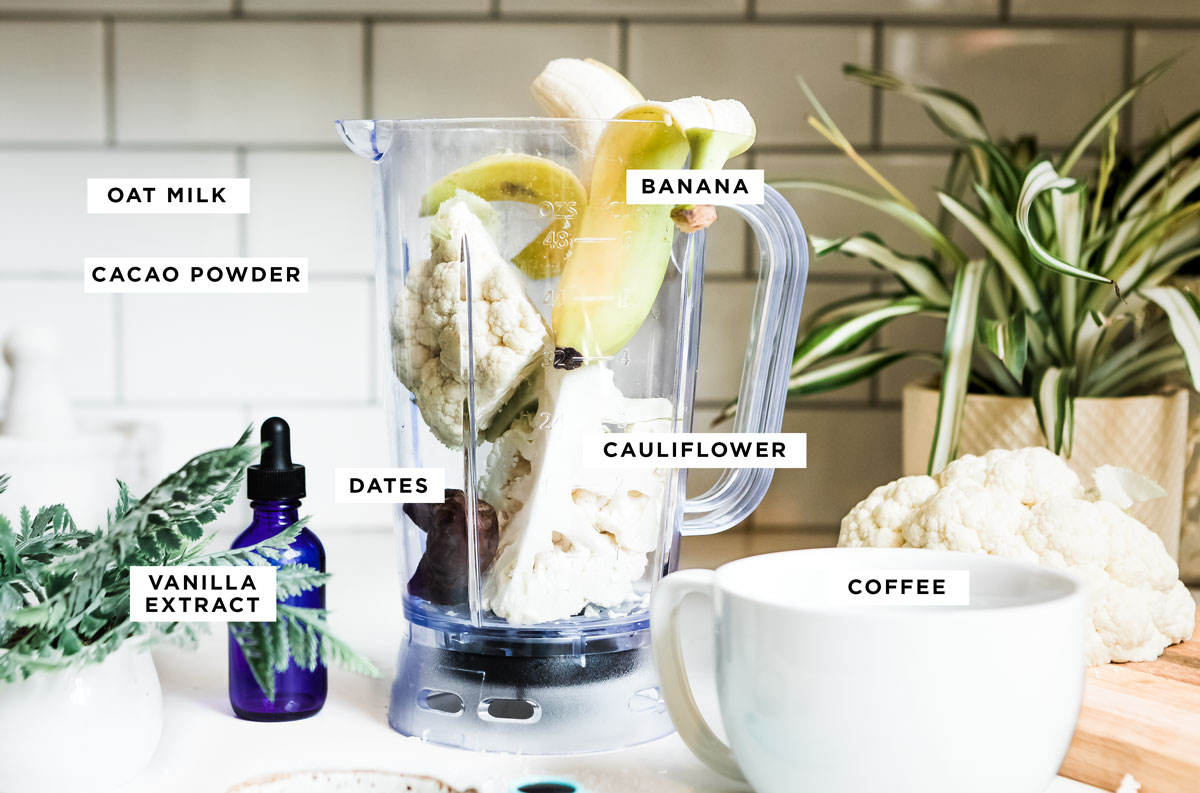 Coffee: Caffeine in moderation is not a bad thing. It can improve energy levels, boost your metabolic rate and may help protect against Alzheimer's disease.
Frozen banana: Adds natural sweetness and creaminess to the smoothie, and it's a great source of potassium and vitamin B6.
Dates: Naturally sweetens the smoothie and adds a little fiber.
Vanilla extract: Provides warmth and a slight vanilla flavor.
Frozen cauliflower: Did you know that cauliflower contains 58% of the RDI of vitamin C? It also thickens this smoothie, but you won't even notice that it's in there.
Oat milk: This dairy-free, nut-free, gluten-free milk is a super creamy addition. I think that oat milk is the best non-dairy milk pairing with coffee.
Cacao powder: An antioxidant-rich powder that adds a chocolatey flavor and pairs so well with coffee. This is where we got the mocha part of the name and will never ever take it back. It's so good!
Protein powder: You don't need to add protein to this smoothie, but why would you want to miss out? I use my homemade protein powder to add 10 grams of protein as well as fiber and healthy fat with three ingredients: hemp seeds, chia seeds and flax seeds.
Easy Swaps
I've always got dates on hand, which makes it easy to toss one into this smoothie. You can use the natural sweetener of your choice, or omit for a less sweet beverage.
Swap cacao powder with unsweetened cocoa powder. Depending on the brand you use, it might be slightly bitter, so adjust the sweetener as you need to.
Oat milk can be swapped with unsweetened almond milk, coconut milk (carton), hemp milk or cashew milk. Each one will bring a slightly different taste yet all are great options.
If you want a filling smoothie then feel free to add in a tablespoon or two of peanut butter or almond butter.
Decaf coffee is a great alternative to regular coffee and will provide a much smaller dose of caffeine for those that are watching their intake.
How to Make a Coffee Smoothie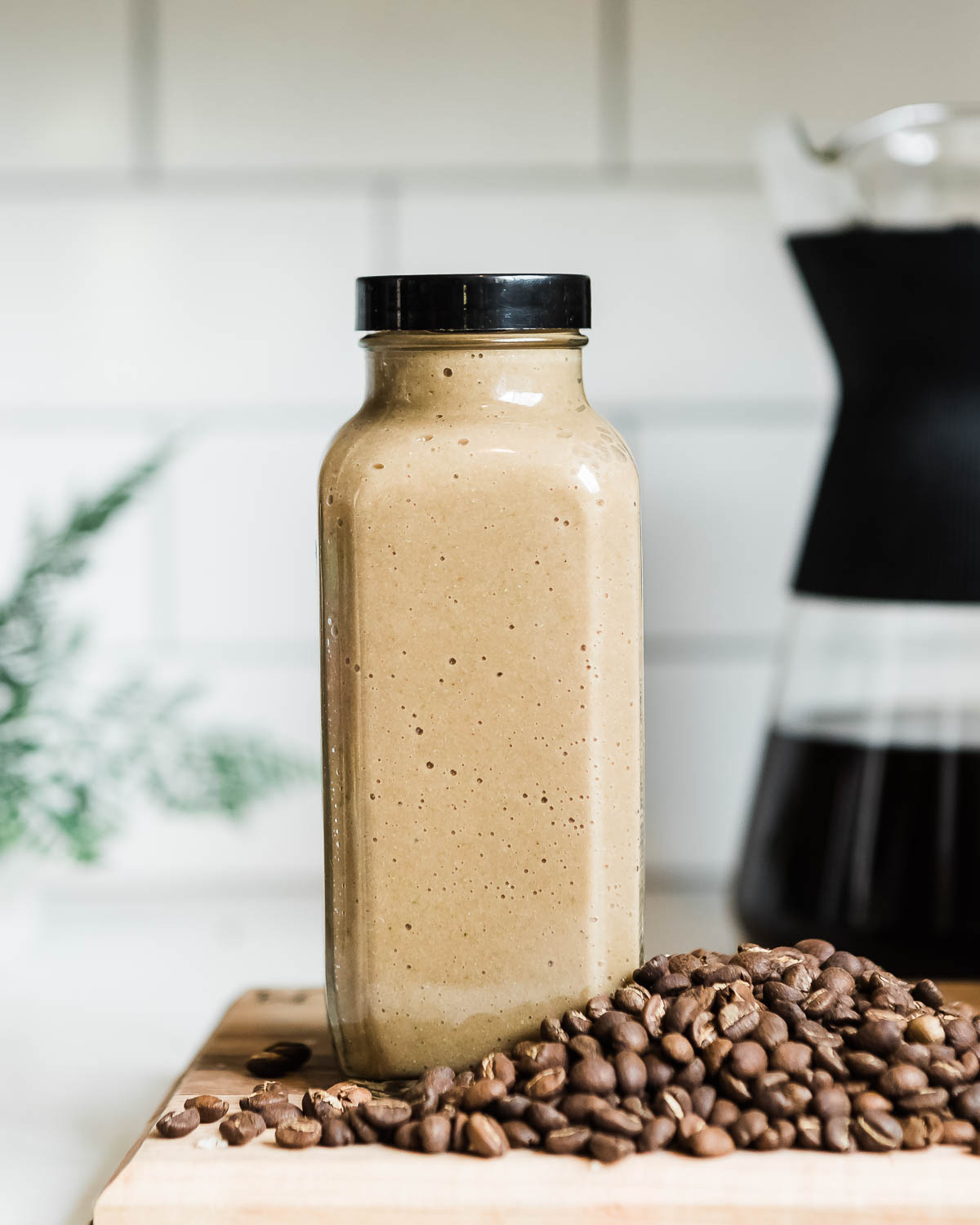 I typically blend my smoothie recipes using the two-blend method to ensure those leafy greens are completely blended, yet you don't have to do that with this recipe! Here's how I make my mocha smoothie:
Brew coffee. However you want, whatever coffee you want, you do you. Just make sure it is chilled in the fridge or with ice cubes before adding it to your blender container.
Toss all the ingredients (including the cooled coffee) into a blender container and blend until smooth. Stop and scrape down the sides as needed.
Pour into a glass or to-go cup and enjoy!
Pro tip: If you are blending this with a date, then blend on medium until it sounds like the blades have chopped that date up, then turn it on high for a creamy finish. I find this helps make sure the date is really chopped and can then blend seamlessly into the rest of the ingredients. No one wants a chunky smoothie.
What Kind of Coffee to Use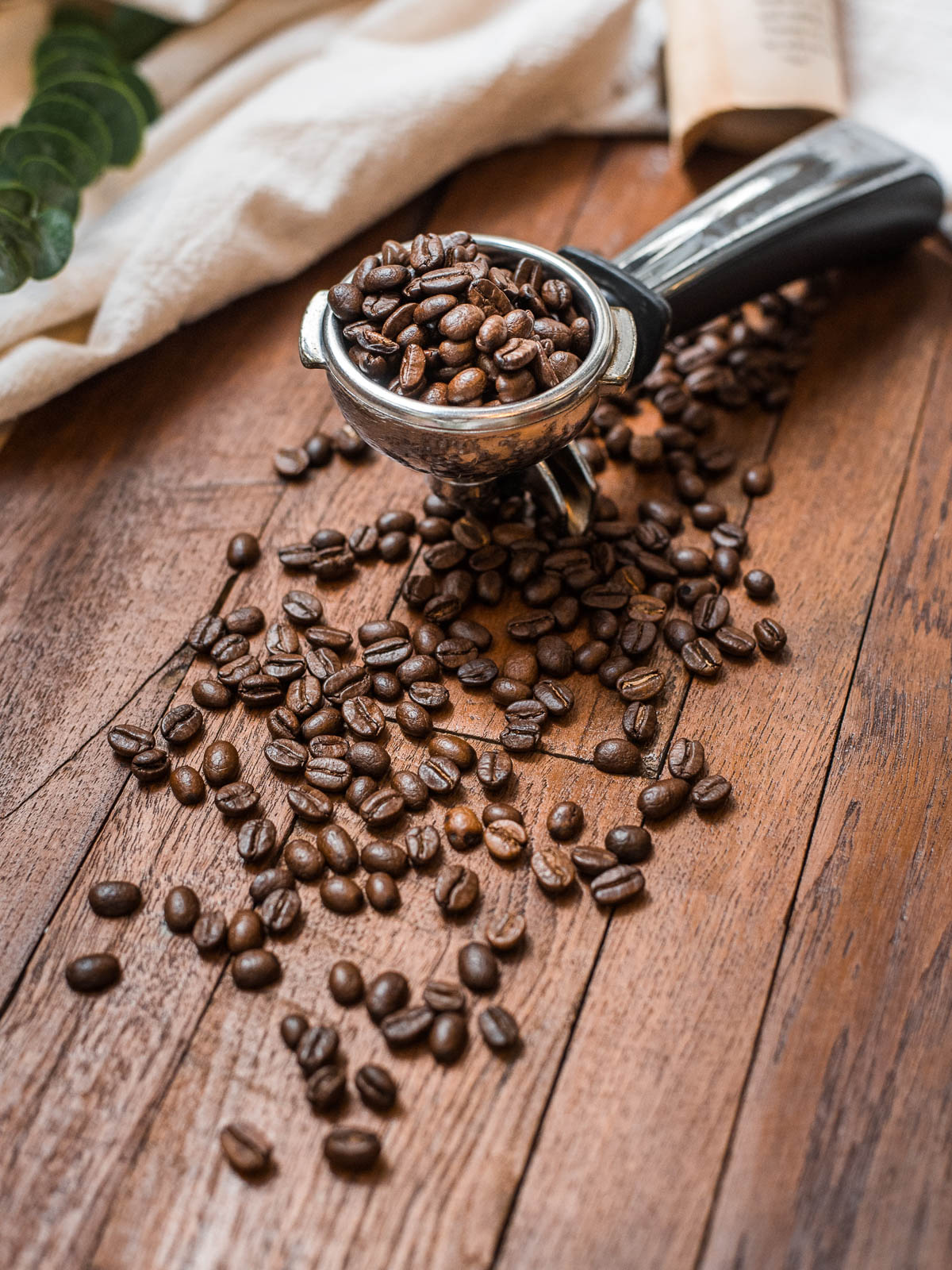 There are a few different methods for making coffee for your smoothie:
If using a drip coffee maker, brew a pot of coffee and reserve a few cups for making smoothies. Cool the coffee to room temperature before using it in the smoothie. Pour any extra coffee into a mason jar or glass container and store in it the fridge for up to five days or pour the room-temperature coffee into an ice cube tray and freeze it for future smoothies.
As for beans, I always recommend supporting your local coffee roaster. For me, that's Mountaineer Coffee Roaster in our central Florida small town. Their Brazilian beans are hands down the best beans!
You can use instant coffee if that's what you've got on hand. Simply make a cup of instant coffee according to the directions on the package. For stronger coffee flavor, add an extra serving of instant coffee granules. Let cool to room temperature before using it in a smoothie.
If using store-bought cold brew coffee, follow the instructions on the bottle to make ¾ cup of coffee. It's usually a 1:4 ratio of coffee to water.
FAQs
Can you blend coffee grounds in a smoothie?
While you can technically blend coffee grounds in your smoothie, I don't recommend it. Instead, brew a cup of coffee, or make some instant coffee then add that cup as the liquid base of your smoothie (once cooled). You can also use cold brew coffee to skip the brewing step.
Is it okay to put milk in a smoothie?
Yes! Milk is a great liquid base for a smoothie. I stay away from dairy milk since my stomach doesn't respond well to it, and opt for dairy-free milk options instead. If you are a milk lover and it doesn't cause you discomfort, go for it!
Is drinking a smoothie enough for breakfast?
A smoothie can be a great meal replacement option for breakfast, but it depends on what you put in it. Start with whole fruits and vegetables, then add in water or dairy-free milk. Boost it with healthy fats and protein, like with a plant-based protein powder, to assist your body with breaking down the natural fruit sugars you are sipping.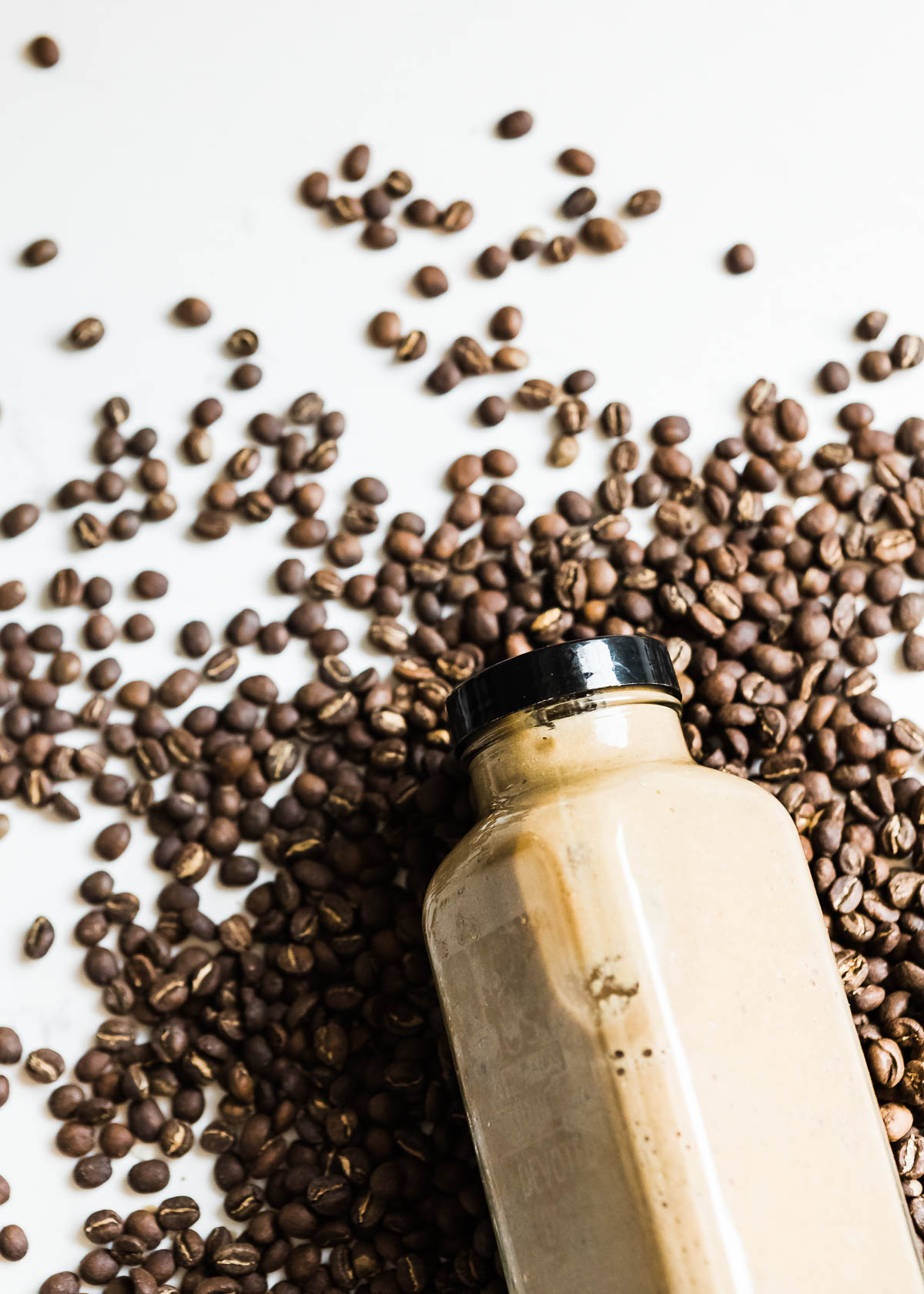 More Healthy Caffeine Options
If you're trying to be more mindful of what you put in your coffee (or even drinking caffeine in general), then you're in the right place! I love getting my caffeine fix, yet it doesn't have to come in a cup of joe laden with store-bought creamer with questionable ingredients. Here are a few other options that are equal parts tasty and nutritionally dense:
Don't forget to rate + review this smoothie once you try it. I love getting your feedback!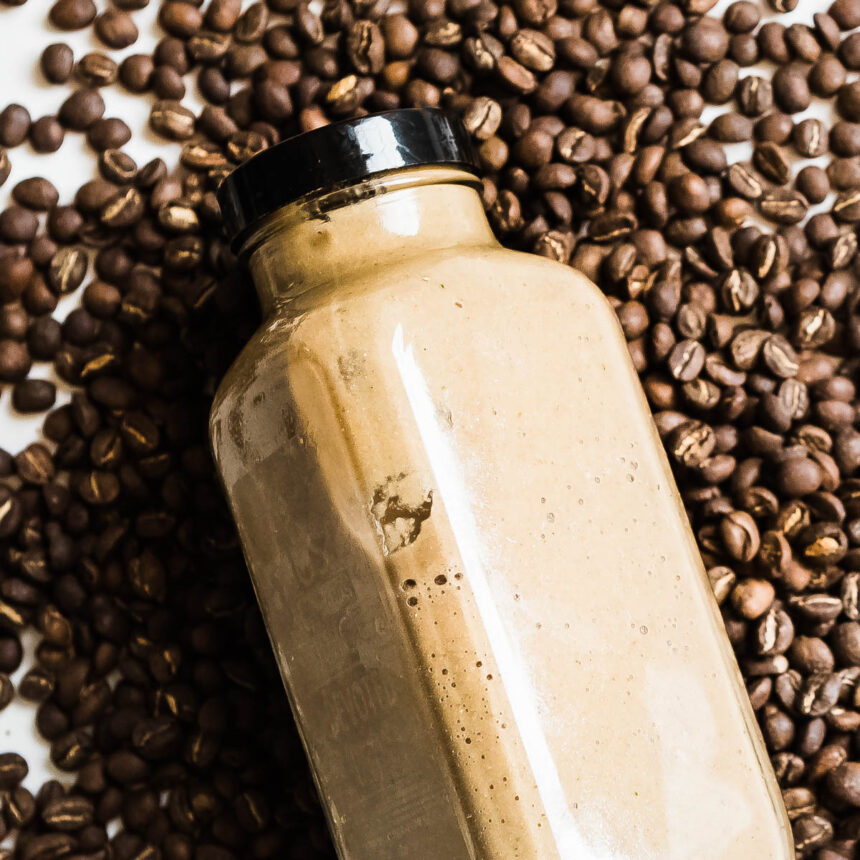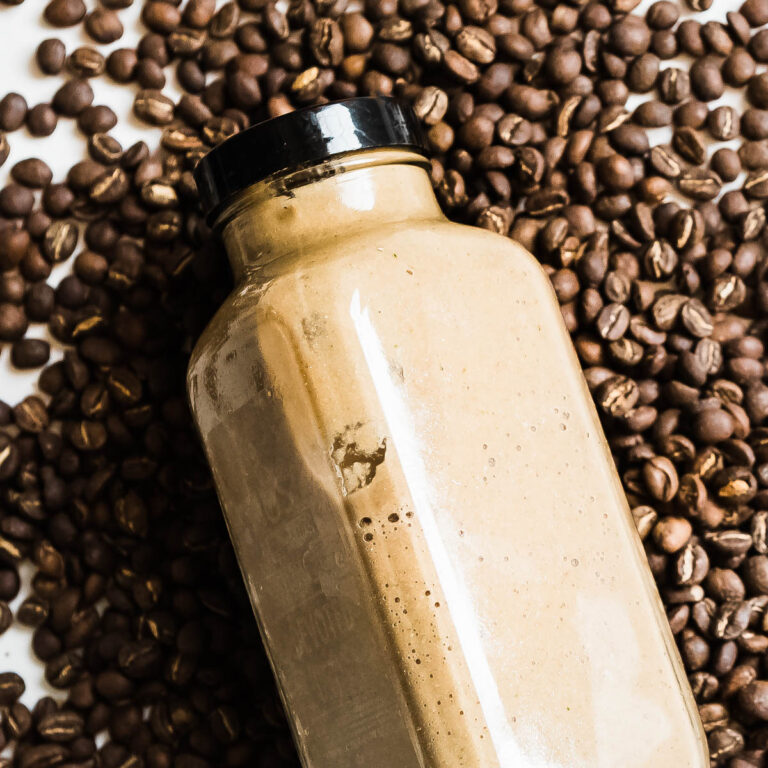 Rich Coffee Smoothie
Sip on this cool and creamy coffee smoothie for breakfast or as a mid-afternoon pick-me-up. It's got the caffeine you want delivered in an oh-so-smooth beverage that has the bonus of fruits, veggies, protein, fiber and more.
Ingredients
¾

cup

coffee

brewed then cooled in the fridge

1

banana

frozen

1

pitted medjool date

1

tsp

vanilla extract

¾

cup

cauliflower florets

frozen

¼

cup

oat milk

unsweetened

½

tbsp

cacao powder

1

serving

homemade protein powder

optional
Instructions
Add all ingredients to the blender.

Blend on high until creamy.

Pour into a glass and enjoy immediately. 
Notes
Refrain from adding hot coffee to your blender container unless it is specifically designed to handle hot liquids. 
You can use freshly brewed coffee or cold brew coffee.
Swap oat milk with the dairy-free milk of your choice.
Swap the date with maple syrup or the natural sweetener of your choice.
Use cauliflower florets or frozen riced cauliflower.
Adding in a plant-based protein powder can add at least 10 additional grams of protein, easily turning this into a hearty meal replacement smoothie.
Nutrition
Calories:
241
kcal
,
Carbohydrates:
57
g
,
Protein:
5
g
,
Fat:
2
g
,
Saturated Fat:
1
g
,
Polyunsaturated Fat:
1
g
,
Monounsaturated Fat:
1
g
,
Sodium:
57
mg
,
Potassium:
974
mg
,
Fiber:
8
g
,
Sugar:
37
g
,
Vitamin A:
234
IU
,
Vitamin C:
46
mg
,
Calcium:
131
mg
,
Iron:
2
mg