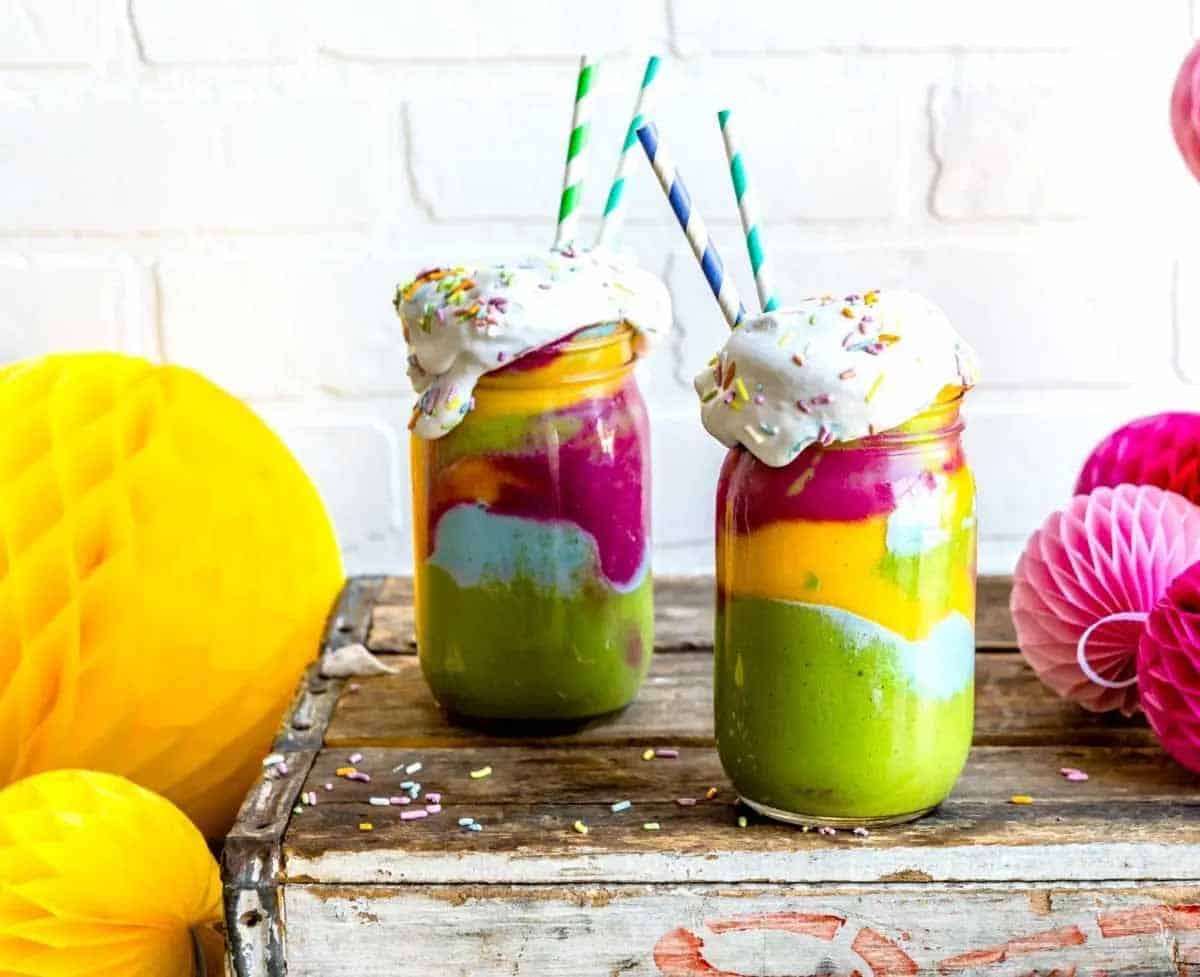 Brightly colored foods normally indicate the presence of food dye and other processed ingredients. Though this healthy smoothie recipe includes four electrifying layers, it's made using 100% plants and whole foods.
Now, blending all ingredients together is just fine, but layering different flavors creates a unique smoothie experience. Plus, your smoothie will instantly become Instagram-worthy. When trying to eat healthy, sometimes you need your food to be eye candy!
What blender do I need to make this?
If you're not sure if your blender could do something like this, I suggest you check out this special deal that Vitamix and I have where you can get my favorite blender that I use for under $300 (plus FREE shipping). You'll only see the final price in the checkout (it's that secret of a deal).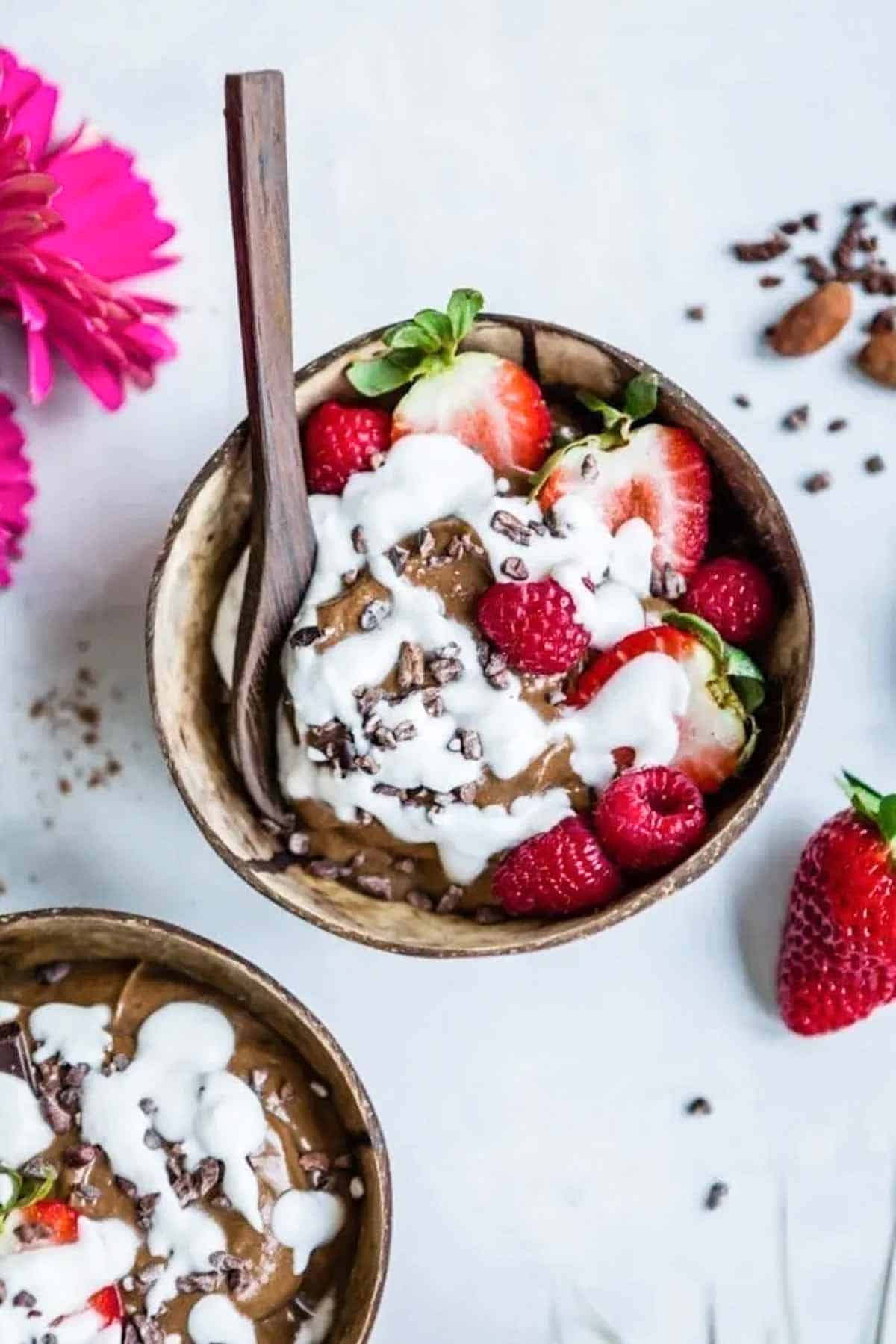 What are the healthiest ingredients to put in a smoothie?
Yes, this smoothie looks like it belongs at your 10-year-old daughter's birthday party. Don't let that fool you! Nutrient-dense ingredients make this a loaded recipe—fruits, leafy greens, protein powder, and a unique vegetable.
Believe it or not, making a healthy smoothie is an art-form (here's a full guide on making healthy smoothies). Here's three main ingredients that are present in most-all nourishing smoothie recipes:
Leafy greens: The shining stars of green smoothies are the leafy greens— chock full of phytonutrients, protein, vitamins, antioxidants…the list goes on and on.
Click here for a full list of leafy greens and their benefits
Fruit: Your body needs generous amounts of fruit that contains essential nutrients not normally obtained through other types of food: potassium, dietary fiber, vitamin C, folate, etc. ANY fruit is healthy and fair-game when making a smoothie.
Nutritional liquid: When making green smoothies the liquid-base is one that is often overlooked, but the reality is that the liquid that you use for the base of your smoothie is just as important as any other part.
Click here for a full list of nutritional liquids and their benefits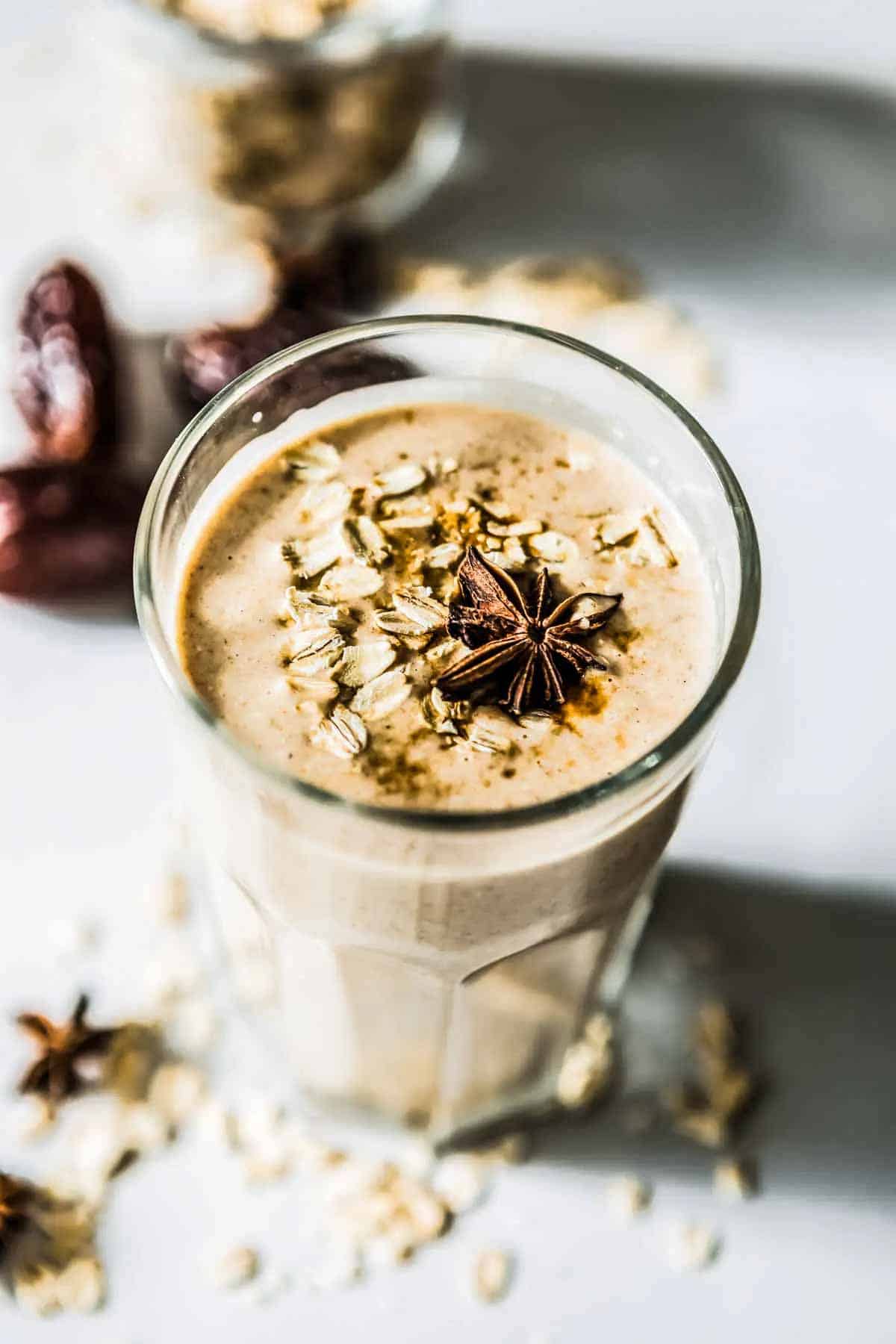 Why having a smoothie for breakfast can help your overall health
"So… what should we eat for breakfast? The answer is basic healthy eating advice: fruits and vegetables, whole (unprocessed) grains, and healthy proteins and fats." — Harvard Health Publishing (A Doctor's Recipe for a Healthy Breakfast)
Smoothies, especially ones with leafy greens, boast nearly every food that Dr. Monique Tello talks about in her article about healthy breakfasts.
Green smoothies are packed with fruits and vegetables (of course), along with healthy proteins (from leafy greens) and healthy fats (via coconut oil, avocado, coconut milk, cashews, etc.)... instead of a classic bowl of cereal, which is made of mostly grains.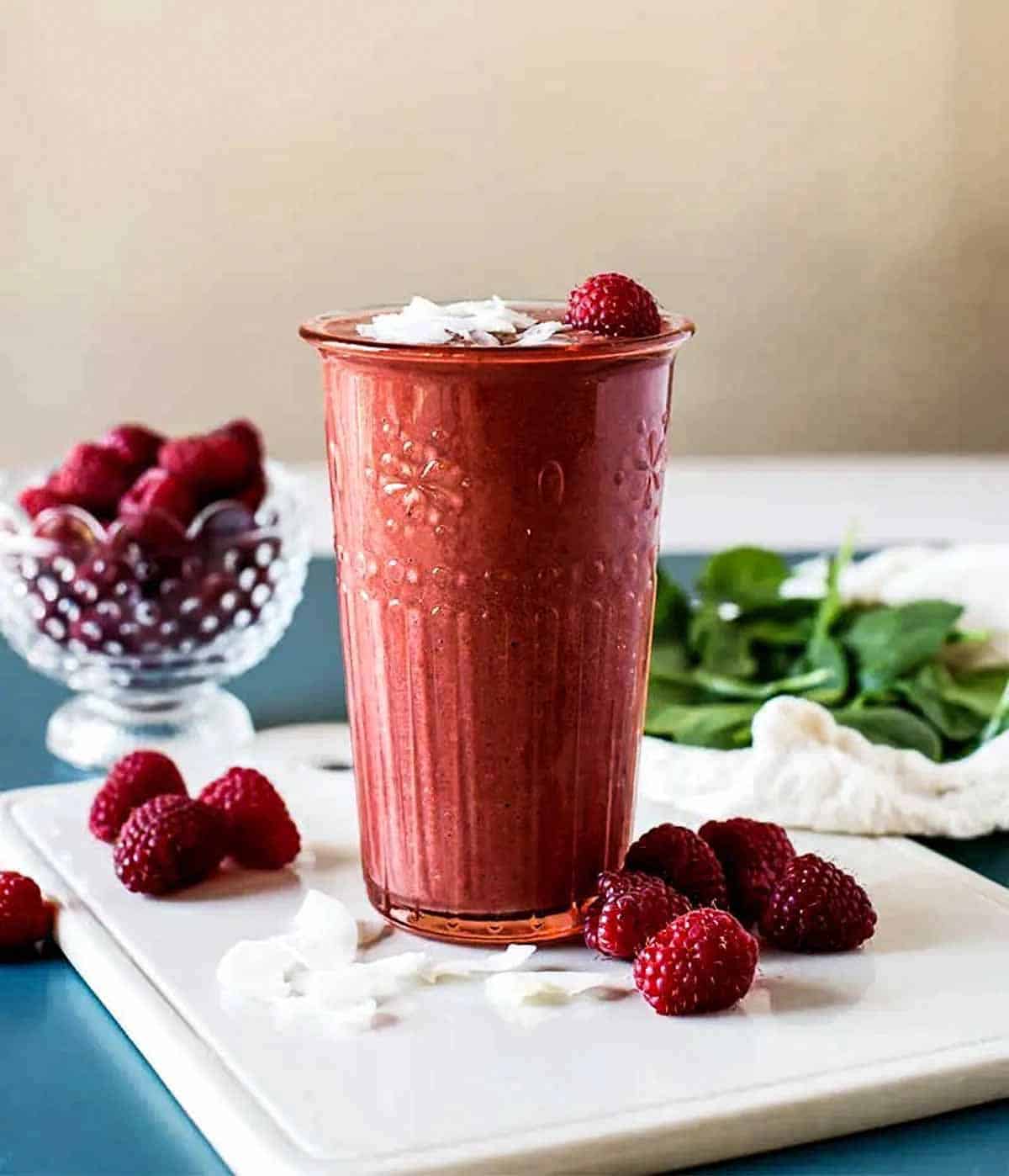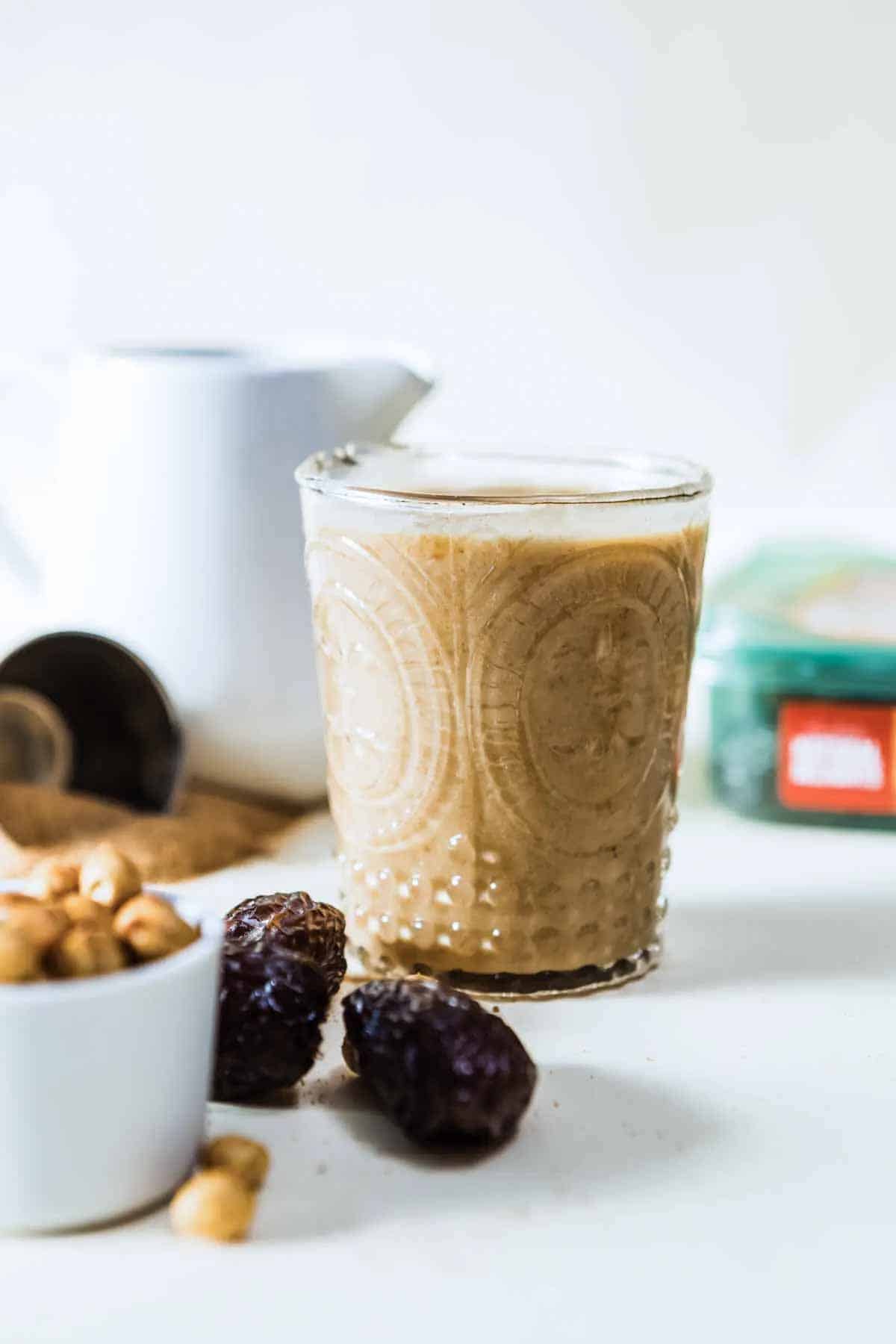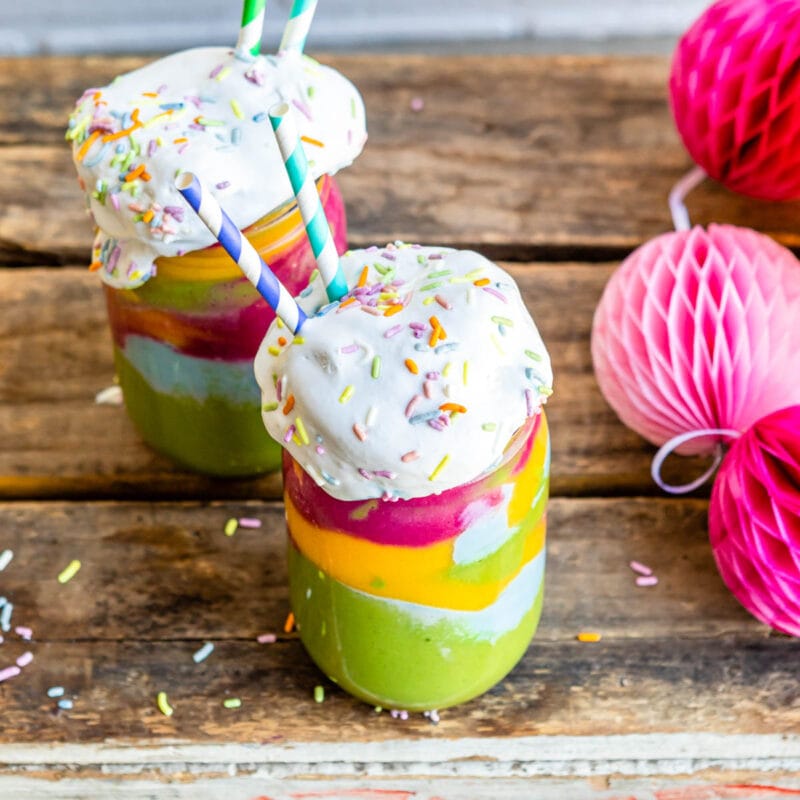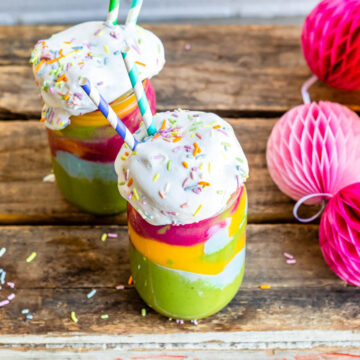 Rainbow Smoothie
Rate this Recipe
Print Recipe
Summer is the perfect time for some tie-dying; instead of white t-shirts, it's a healthy smoothie! Vibrant, colorful layers are blended separately, then spooned into jars and topped with a dollop of coconut whipped cream and sprinkles. Blend up a quadruple batch for a DIY tie-dye smoothie bar and let everyone create their unique blend of flavors and colors.
Ingredients
Green layer:
2

cups

spinach

½

banana

½

cup

mango

(thawed, if frozen)

¼

cup

water

½

cup

coconut milk
Yellow layer:
1

cup

mango

(thawed if frozen)

1

orange

(peeled)
Pink layer:
1

cup

strawberries

(frozen, yet slightly thawed)

½

cup

beets

(peeled and roughly chopped)

½

cup

coconut milk
Blue layer:
½

cup

coconut milk

¼ to ½

teaspoon

butterfly pea powder

pinch

baking soda

(optional)

½

teaspoon

lemon

(juice, optional)
Toppings:
Coconut cream

(whipped)

sprinkles

(no artificial dye)

Freeze-dried berries

(crushed)
Instructions
Blend green, yellow, and pink layers separately. Transfer each color to a separate bowl or jar. Rinse blender between each color. Add a little extra water if blender is having a difficult time blending.

For the blue layer, place coconut milk and butterfly pea flower powder in a small jar or bowl and whisk together until combined.

To serve, spoon a little of each color into two pint jars. There will be more green than any other color. Top the smoothies with a dollop of whipped coconut cream (simply whisk the thick cream from canned coconut quickly) and garnish with sprinkles and/or freeze-dried fruit. Serve immediately.
Notes
Add lemon juice if you'd like the blue to become a bit more purple.

Double or triple the layers to feed a party.
Add a whole toppings bar to turn these into smoothie 'sundaes.'
Coconut whipped cream is a great dairy-free topping that you can buy from the store or make yourself.
This smoothie won't keep in the fridge for very long, so if you want to make it a few hours ahead of time, then store the layers separate from each other then stir and layer right before serving.
Nutrition (estimated)
Calories:
295
kcal
(15%)
Carbohydrates:
47
g
(16%)
Protein:
4
g
(8%)
Fat:
11
g
(17%)
Saturated Fat:
10
g
(63%)
Polyunsaturated Fat:
1
g
Monounsaturated Fat:
1
g
Sodium:
168
mg
(7%)
Potassium:
778
mg
(22%)
Fiber:
7
g
(29%)
Sugar:
32
g
(36%)
Vitamin A:
4334
IU
(87%)
Vitamin C:
135
mg
(164%)
Calcium:
87
mg
(9%)
Iron:
2
mg
(11%)