Ready for a fun summer spa treatment: a DIY lip scrub. I promise, it's easier than it sounds! I can't wait to help soften and hydrate your lips with a scent that makes you feel like you're on vacation in the Florida Keys. In this homemade lip scrub, I use steam distilled essential oils that are safe + delicious for your lips.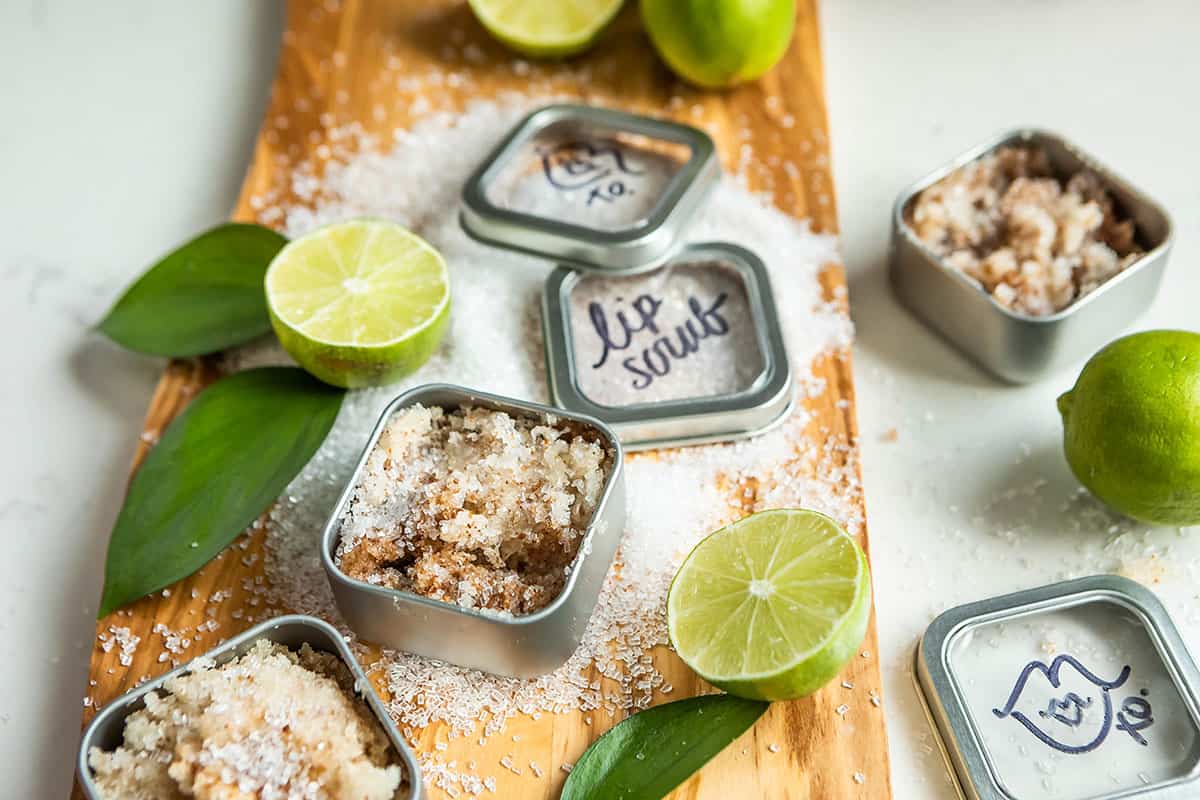 A few years ago, we took a family trip to the Florida Keys. From the Cuban coffee to the chickens walking the streets— I was in love! Yet my fav part was the shampoo in our hotel— they had a key lime shampoo that was incredible! The scent alone made me instantly happy. I couldn't get enough of it! I took a few travel size bottles home to keep in our guest shower.
Table of Contents
This lip scrub recipe brings the scent right back to me and makes me happy. Hope you enjoy it too.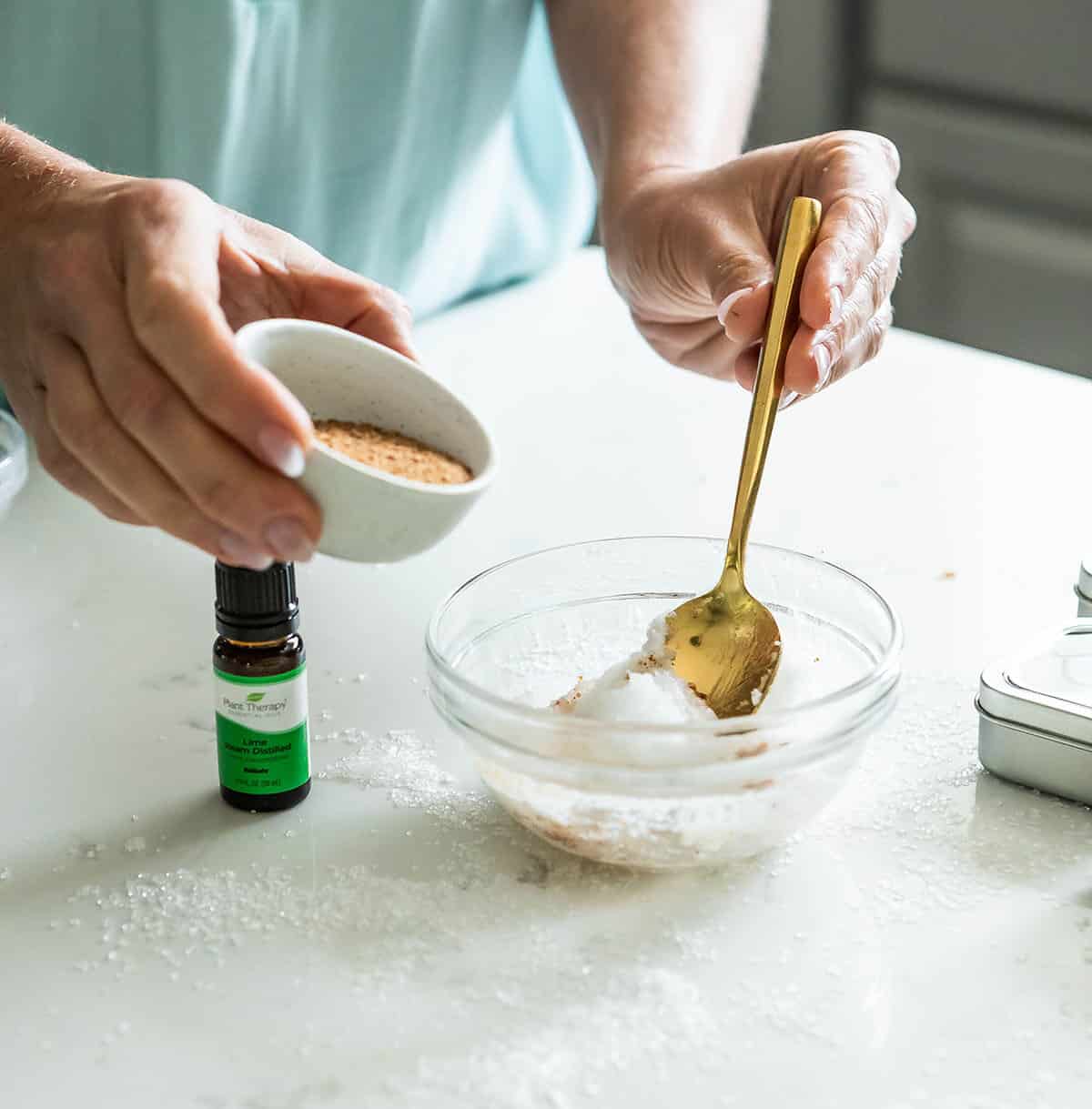 How to Make a Lip Scrub
The most basic lip scrub requires 2 ingredients: salve and sugar. Lots of recipes use honey or coconut oil for the first part, then regular white sugar for the 2nd. Ya'll know my love for coconut oil, and its hydrating properties for the skin, so I combined it with a cane sugar + coconut sugar mix for this DIY lip scrub.
I used cane sugar and coconut sugar to make sure I have a variety of granules to exfoliate my lips. Coconut sugar alone can be a bit rough, while cane sugar alone can be too mild. For the nice summer island scent, I used steam distilled lime essential oil to keep it bright and refreshing (while avoiding any phototoxic sorta issue).
To make: combine coconut oil, both sugars and steam distilled lime essential oil in a small bowl. Store in an air-tight container until ready to use.
To use: Simply scoop a small amount onto your index finger, then vigorously scrub into your lips for about 10-15 seconds. Then rinse with warm water and enjoy those beautifully exfoliated lips!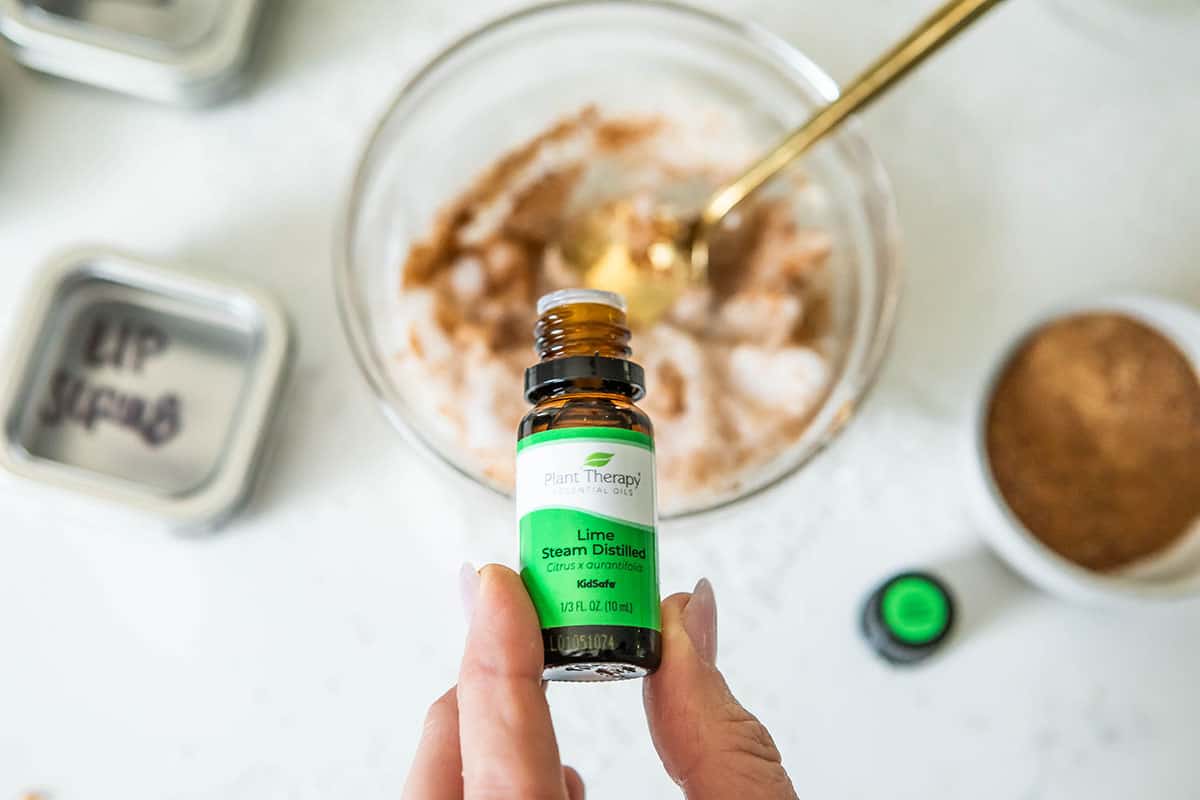 3 Homemade Lip Scrub Recipes
While you aren't ingesting this beauty treatment, it's fun to make different flavored ones as they will be applied right under your nose. You can always mix and match a variety of oils to create your own blends. Here's some that I played with:
Steam distilled lime essential oil
Steam distilled lemon + steam distilled lime
Vanilla essential oil
Choosing the Right Essential Oils
I've been a longtime fan of Plant Therapy essential oils. I trust their products as well as their expertise in how to use essential oils safely and also the great deals they offer. They taught me an interesting thing while making this DIY lip scrub recipe…
Certain citrus fruits are phototoxic. This means if their oils touch skin then that skin gets sun exposure, a sunburn or blisters can form. Steam distilled essential oils are not phototoxic. Therefore, you can use these specific oils in lotions, scrubs and other body products without worrying about sun exposure.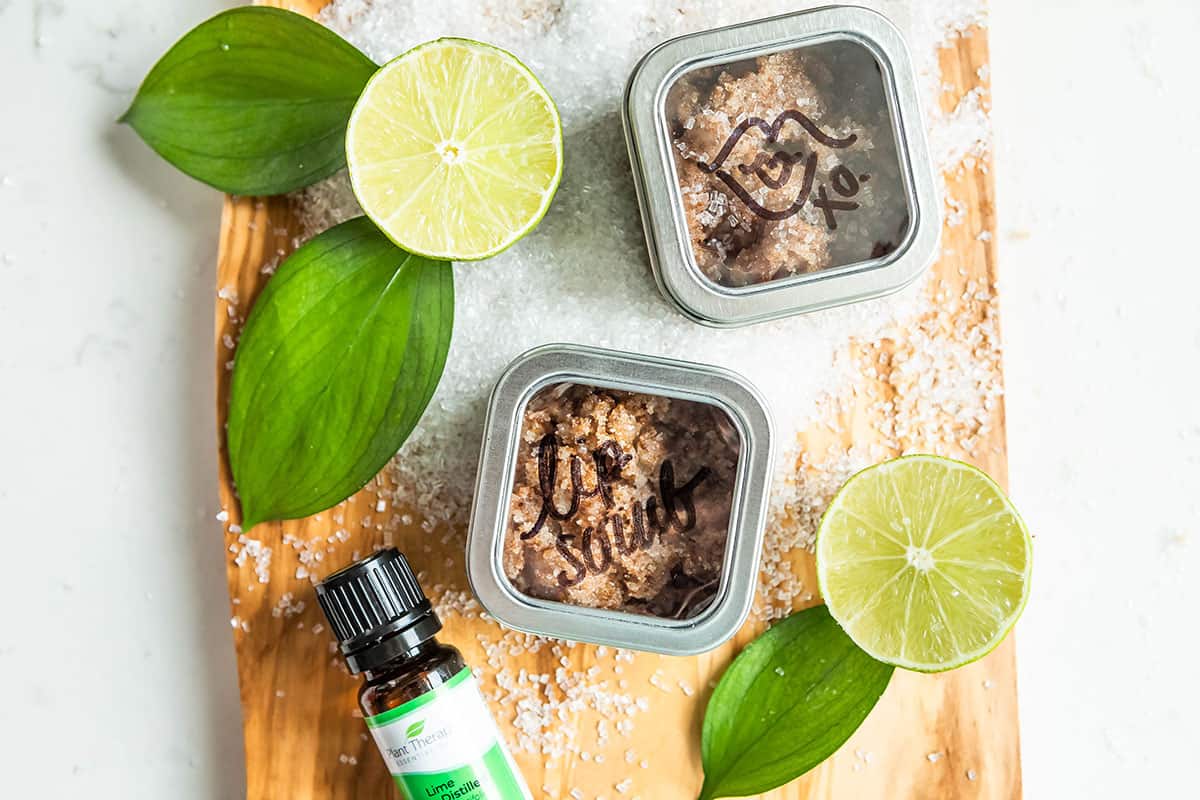 Homemade Lip Scrub FAQs
Are DIY lip scrubs safe?
Yes! Just make sure that the essential oils you use are safe for your lips/ingestion/sun exposure. Plant Therapy steam-distilled oils are not photo-toxic, and therefore won't harm your lips.
How do you make a homemade lip scrub?
Combine either honey or coconut oil with sugar (I use a raw cane sugar + coconut sugar mix in my DIY lip scrub). Add in the desired essential oils, then you're done.
Can you use Vaseline and sugar for a lip scrub?
Petroleum jelly is highly processed, and won't mix as well as coconut oil for a lip scrub. I recommend using coconut oil for a more natural base.
More Natural Remedies
I try to go the 'natural route' whenever possible. Here are my top natural remedies, that I hope can help you live a more plant based life too:
Over the years I've incorporated more and more natural products into my home (this def didn't happen overnight!). Start with this simple DIY lip scrub, then check out the above list for another way you can have products that work, yet you also know 100% what's in them.
Don't forget to rate + review this recipe once you've tried it; it's such a fun one!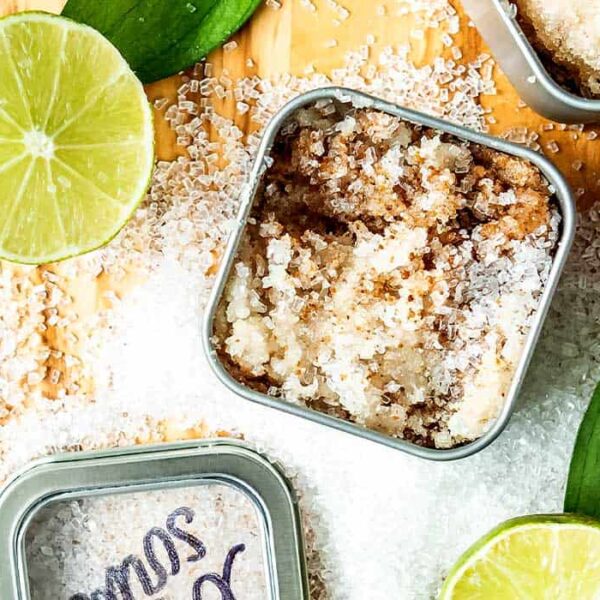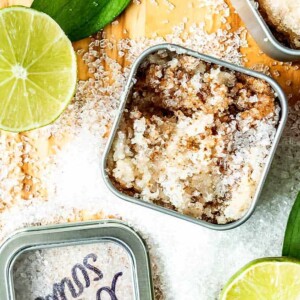 DIY Lip Scrub
Leave a Review
Print Version
Use this homemade lip scrub recipe to give your lips some love with softness and hydration. The coconut and lime go together so well to make a refreshing treat for you beauty routine.
Supplies
1 ½

tbsp

coconut oil

2

tbsp

coconut sugar

2

tbsp

white sugar*
Instructions
Mix ingredients in a small bowl.

Store in an airtight container.

To use: apply a small amount to your finger, then gently rub into lips for 15 seconds. Rinse with warm water.
Notes
Swap out white sugar for raw cane sugar for an even more natural product.
Make sure to use steam-distilled lime essential oils due to the photo toxicity of traditional lime oil.
Vanilla essential oils also make a wonderful lip scrub.
Nutrition (estimated)
Calories:
25
kcal
(1%)
Carbohydrates:
3
g
(1%)
Fat:
1
g
(2%)
Saturated Fat:
1
g
(6%)
Polyunsaturated Fat:
0.03
g
Monounsaturated Fat:
0.1
g
Sodium:
4
mg
Potassium:
0.03
mg
Sugar:
3
g
(3%)
Calcium:
0.03
mg
Iron:
0.001
mg