Try a unique new treat this holiday season, my fig smoothie. It's delightfully refreshing and beautifully seasoned for a tasty treat the whole family can love.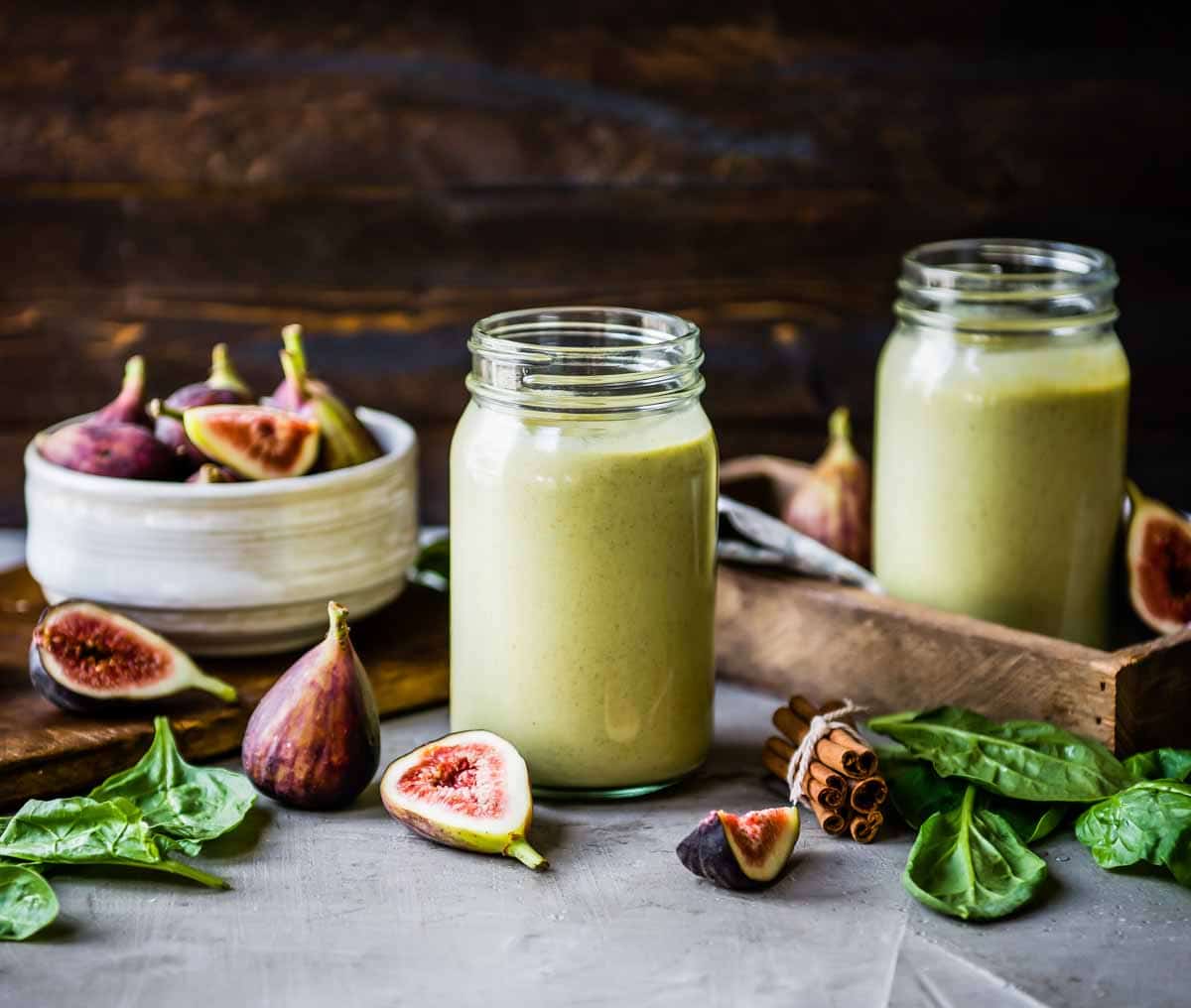 Fresh figs are everywhere this season, so I created a fig smoothie recipe to share. This is the perfect way to wakeup for any holiday this season, especially if you're about to head into a day of eating heavy foods. This take on figgy pudding flavors will refresh your stomach and provide some natural energy to tackle the day.
Table of Contents
Why I Love Figs in Smoothies
Fresh figs are rich in natural sugars and minerals including potassium, calcium, iron, and copper. They are good sources of vitamins A, E, and K. Figs also contain a proteolytic enzyme that is considered to be a digestive aid—dessert with nutritional benefits!
What could be better than a fig smoothie the gives your morning a jumpstart? Note that fresh figs are lower in sugar than dried. Since figs are in season such a short time, don't hesitate to use them to sweeten other smoothies.
This recipe is from my book, Simple Green Smoothies, along with over 100 other fresh green smoothie recipes.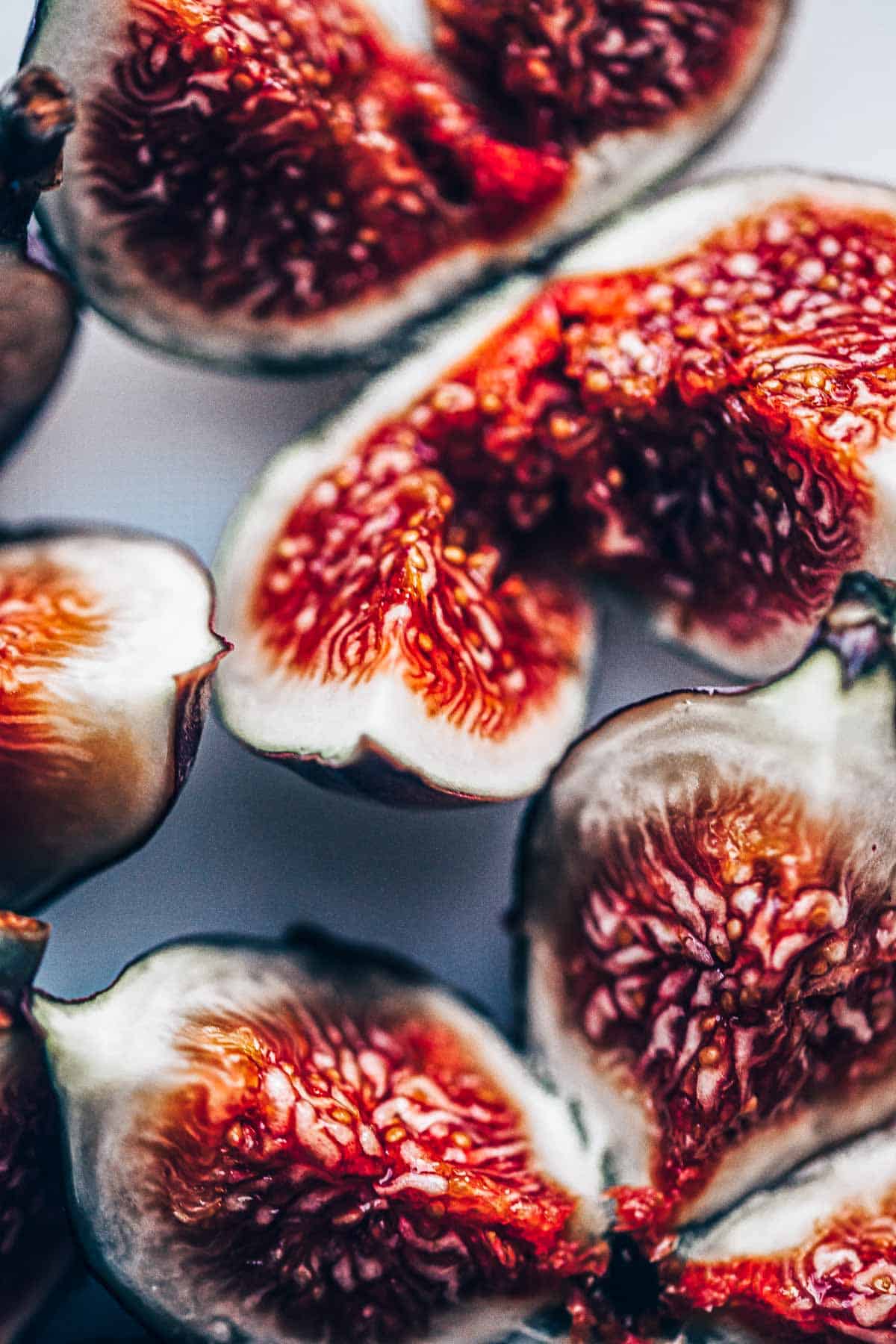 Where to Find Fresh Figs
Figs originated in the Mediterranean. They gained popularity centuries ago, and were found in many ancient civilizations. They are grown on tall trees that can live up to 100 years… so this fig smoothie can become an annual tradition! Most figs bought in the US today come from California and Texas.
You can also use frozen figs in this recipe. I can find them at Trader Joe's in the frozen fruit section, which leads me to believe there's prob a few other stores that have them too.
Fig Smoothie Ingredients
I wanted to create a recipe that highlighted the natural sweetness, as well as the flavor of figs. Yet I also wanted a smoothie packed with nutrients. The fat from the unsweetened coconut milk (I preferred canned) helps the body process the sugar from the figs. If you're looking to cut down on the natural sugars in this fig smoothie recipe, then you can use just 1/4 a banana. Or take the banana out completely, customize it your way.
A Plant-Based Holiday
I firmly believe a daily green smoothie sets the tone for how I eat all day long. This especially rings true over the holidays. If I start out a 'big food' kind of day with a green smoothie like this fig smoothie, I eat more mindfully.
It's also not hard to incorporate plant-based dishes throughout your next holiday meal. Check out my guide for a whole food, plant-based Thanksgiving feast. I make these recipes for family and friends alike, and no one ever leaves my house hungry.
Fresh fig recipes
Before running to the store for another batch of fresh figs, let me give you some fresh fig recipes. Who knew these delicious, tiny fruits were so versatile!
Now I'm off to the store because these fig recipes are making me hungry!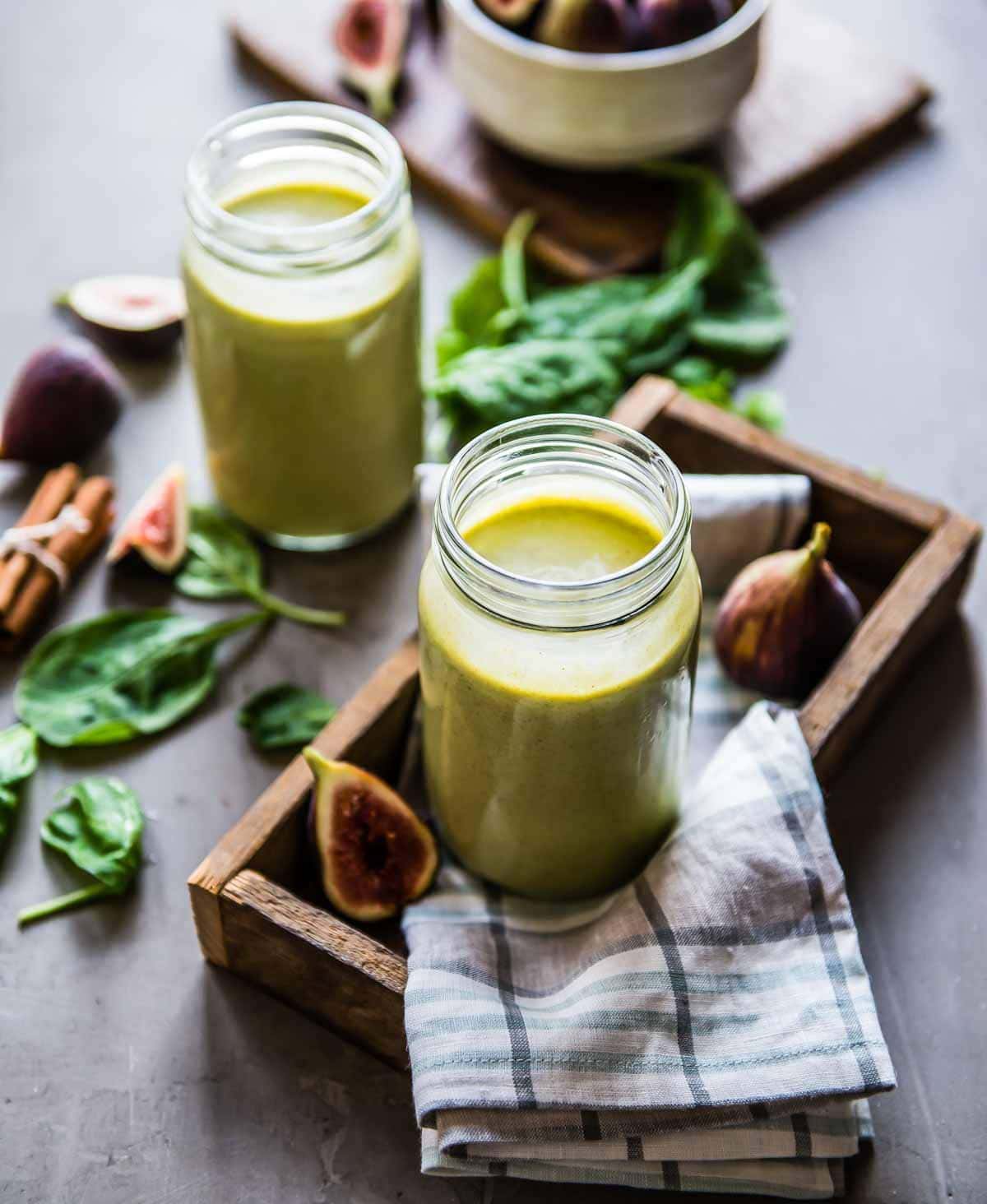 How do you like to use figs throughout the season? Leave a comment and let me know!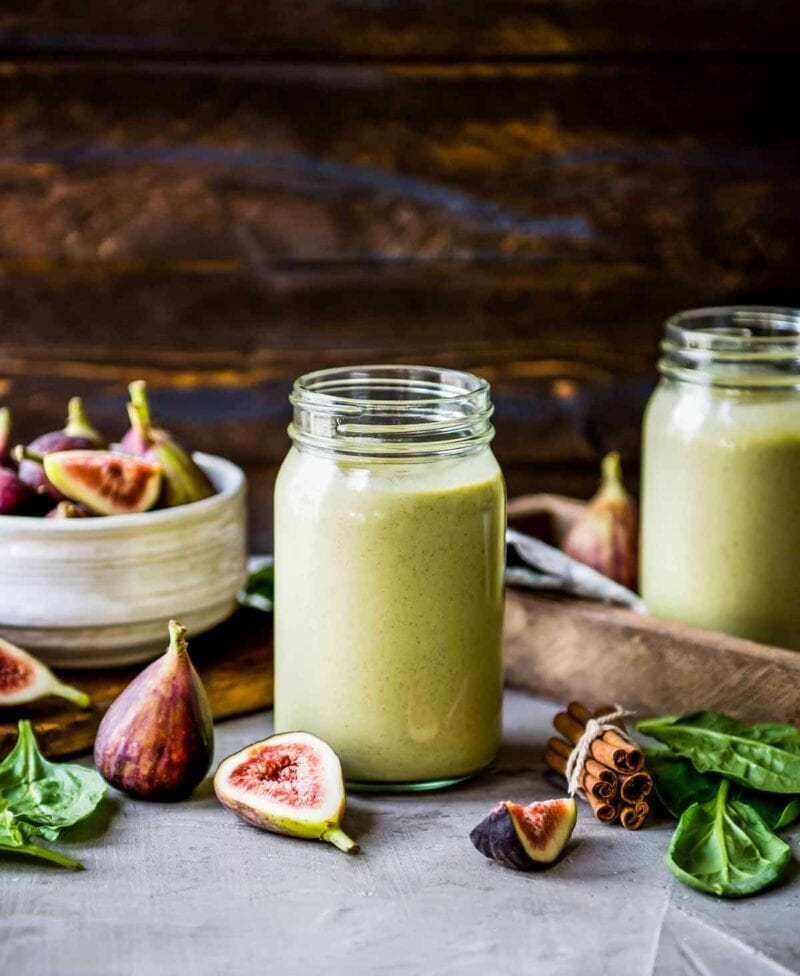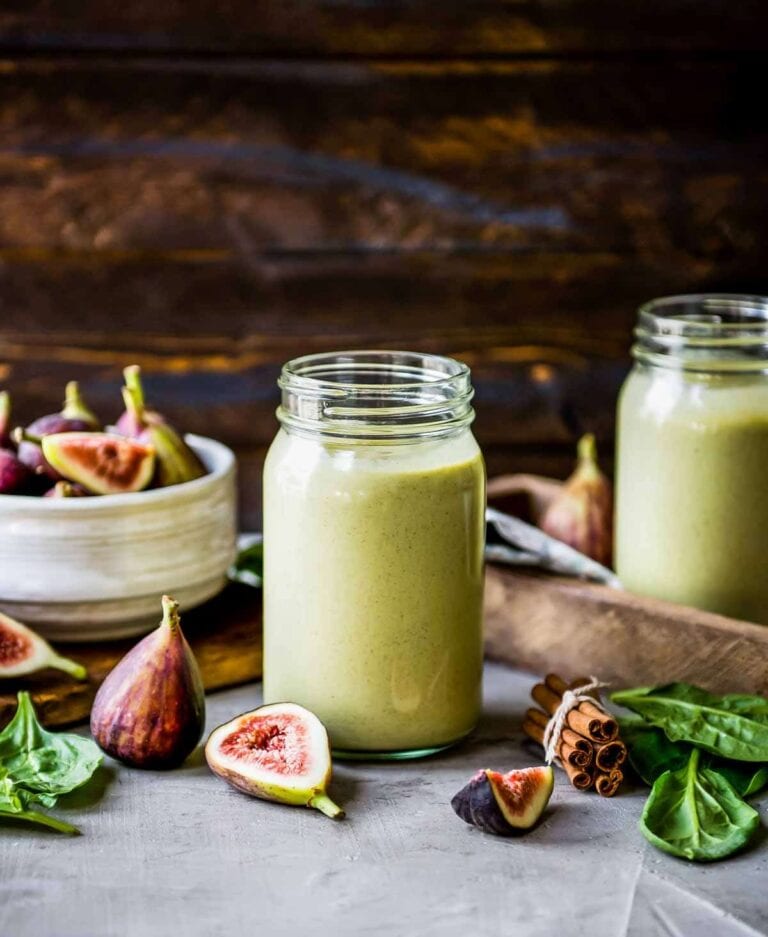 Vanilla Fig Smoothie
Spice up the holidays with this festively delicious fig smoothie. Figs are full of natural sweetness, fiber, and the ability to lower blood sugar. This is one holiday treat that is a plus for your taste buds and your health.
Instructions
Blend the spinach and coconut milk until smooth.

Add the figs, banana, cinnamon, and vanilla and blend again.
Notes
Use at least 1 frozen fruit for a refreshingly cool smoothie.
To lower the natural sugar in this recipe, swap banana with 1/2 avocado or 1/4 cup cauliflower.
Swap spinach with the leafy greens of your choice.
Nutrition
Calories:
406
kcal
,
Carbohydrates:
67
g
,
Protein:
3
g
,
Fat:
14
g
,
Saturated Fat:
14
g
,
Polyunsaturated Fat:
1
g
,
Monounsaturated Fat:
1
g
,
Sodium:
182
mg
,
Potassium:
851
mg
,
Fiber:
9
g
,
Sugar:
46
g
,
Vitamin A:
1783
IU
,
Vitamin C:
14
mg
,
Calcium:
111
mg
,
Iron:
2
mg