Get in your greens with this refreshing fruit and vegetable smoothie. Bright and citrusy, this smoothie is packed with superfood kale and spinach for a nutritious start to your morning. With warming ginger and zingy lemon, this green smoothie is big on flavor and has the perfect balance of nutrition and hydration. Make this fruit and veggie smoothie part of your morning routine for a tasty start to your day.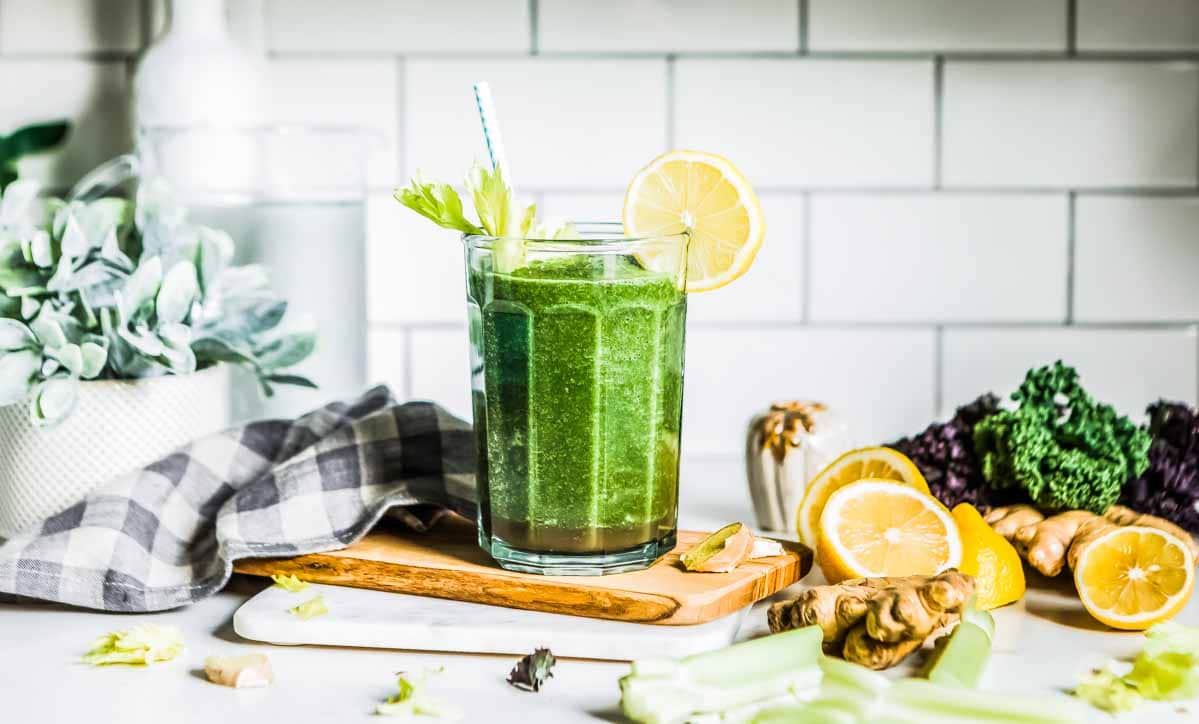 Adding Veggies to Your Smoothie
While leafy greens are a great start to vegetables in your smoothie, are there other ways to add in veggies that won't have you doing the 'plug the nose and gulp' routine? Yes! There are tons of great veggies that add nutrition to smoothies, without altering the taste.
In this fruit and vegetable smoothie, I added cucumber and celery. Celery is loaded with fiber and antioxidants, as well as nutrients that help lower blood pressure. Cucumber, which is actually a fruit that most people refer to as a veggie, contains fiber, vitamin K, vitamin C, and potassium. Both green ingredients are bright, crunchy, and pair nicely with the lemon and ginger for a happy wakeup call.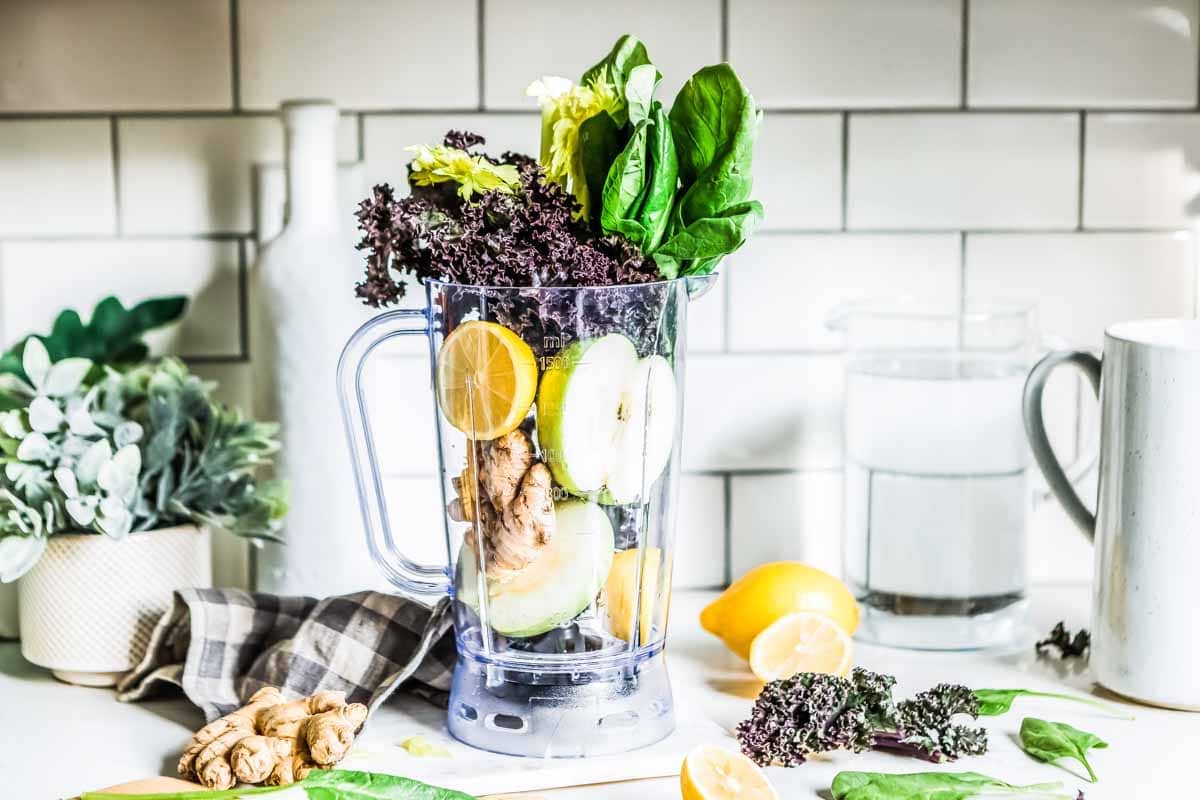 The power of leafy greens
Typically I choose 1 leafy green to add to my smoothie, yet 1 just wasn't good enough for this fun fruit and veggie smoothie recipe! Kale and spinach come from different plant families, so when I talk about rotating your greens, these are the most common choices.
The combined forces of these 2 Top Superfoods List provide incredible antioxidant, cancer fighting, immunity boosting power. If smoothies were super heroes, then this fruit and veggie smoothie would be #TheCancerCrusher.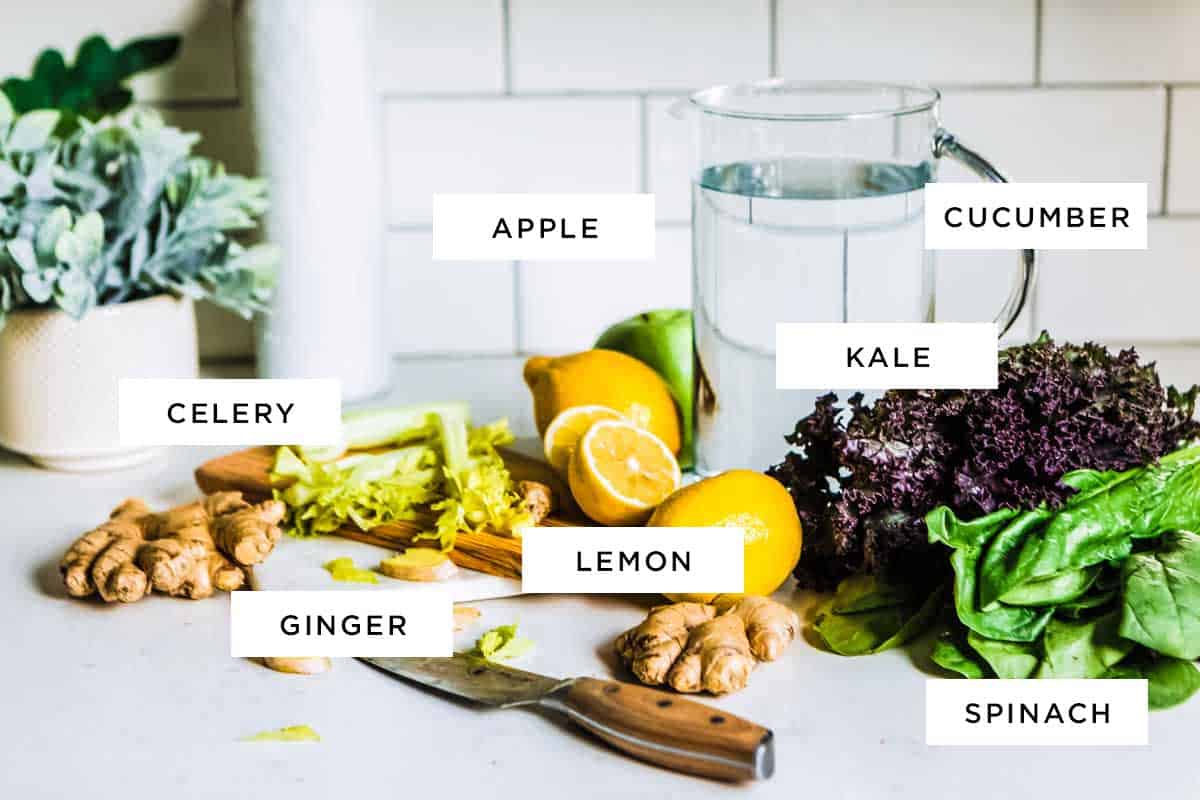 Fresh Ingredients
It can be hard to find and afford fresh smoothie ingredients. I often encourage smoothie lovers to buy in bulk, in season, and local to get the best bang for their buck. When I started drinking green smoothies, I was on WIC to help get smoothie ingredients. Because we didn't have health insurance or steady income, and I used smoothies as my kids' pharmacy (and they worked!). I discovered we could eat fresh produce on a budget, and that doing so helped us stay healthy.
For this fruit and vegetable smoothie, I encourage you to use fresh lemons and fresh ginger. Costco recently started selling fresh ginger for a GREAT price, so I started grabbing a box each month. They also have giant bags of lemons.
Jarred lemon juice often has preservatives and other chemicals, which is why I use fresh lemon juice.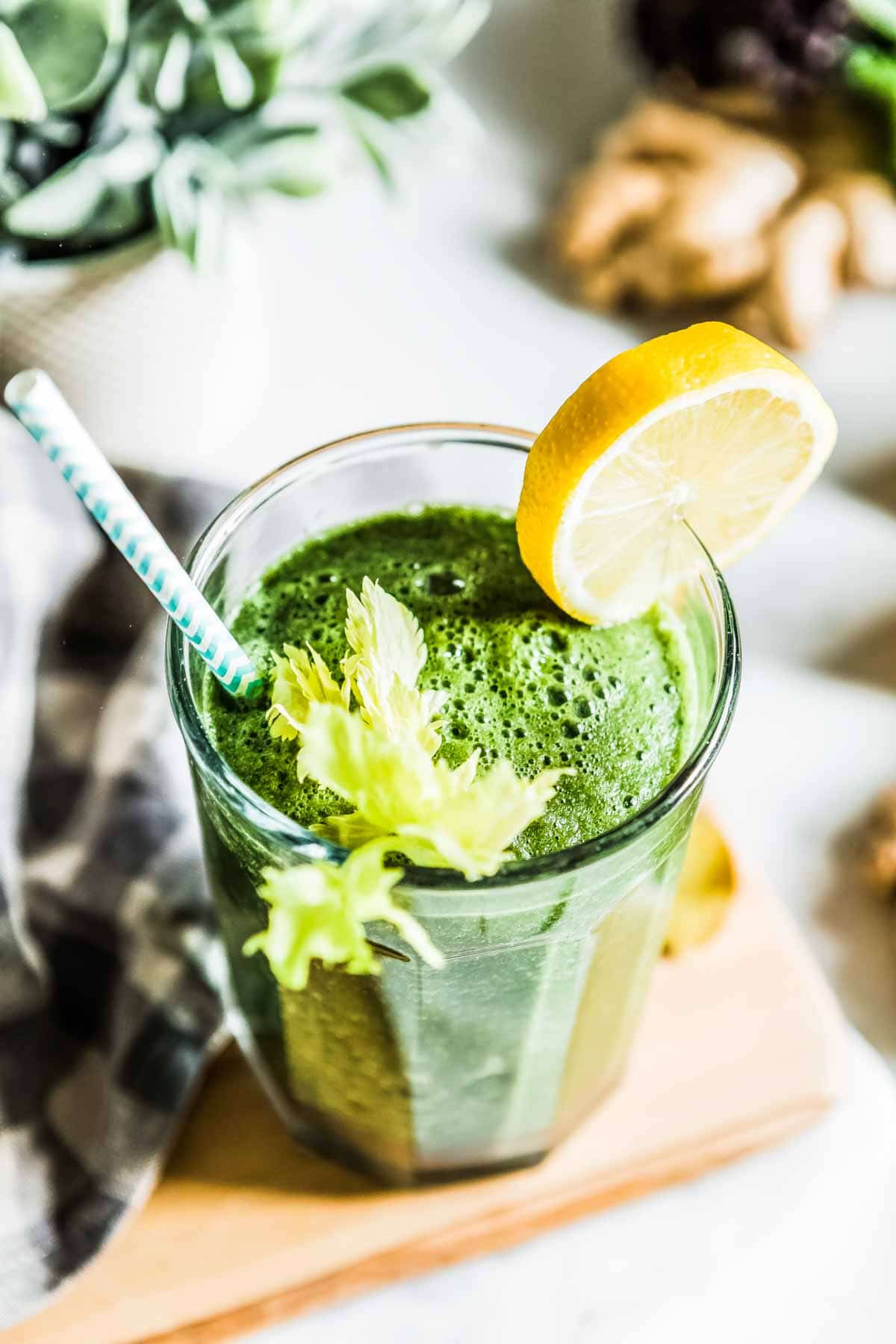 Veggie Smoothies That Actually Taste Good
It's no surprise that eating more vegetables lowers your risk of chronic disease. Adding veggies into your smoothies is just one more tasty way to increase your overall daily nutrient content. Here are some more smoothie recipes that utilize vegetables, like the fruit and vegetable smoothie recipe below, without compromising on taste:
Easy veggies to add to smoothies
You'd be surprised how easy it is to add vegetables to smoothies. Cauliflower is one of my fav additions, because it's creamy, and virtually tasteless. Go for the frozen kind with this ingredient, as that kills the taste. Beets not only add a fun color, but also folate and vitamin C. Carrots are slightly sweet, and pair well with a variety of fruits in smoothies.
I typically buy all 3 of the above veggies fresh, then dice them up and freeze them. That way I can easily scoop them into my next smoothie.
Boosting Your Smoothie
While this smoothie is a powerful mix of nutrients, adding in protein + healthy fats will make it the ultimate meal replacement. Because I don't want to ruin the hard work my fruits and veggies are doing in my smoothies, I don't use protein powder with chemicals.
Instead, I use a completely plant-based, organic protein powder recipe that adds 10 grams of protein and 4 grams of healthy fat. Adding 1 serving of this powder to my fruit and vegetable smoothie brings it up to 12 grams of protein, which will help you stay full longer, and allow your body to slowly process the energy you just drank in, so no sugar crash 2 hours later.
Do you want to blend this smoothie? Let me know in the comments section how your blend went, and what you added to this smoothie to make it work for you!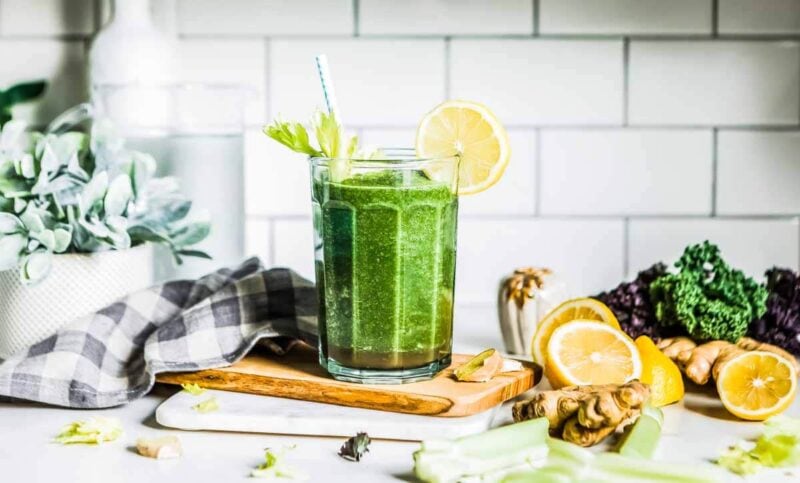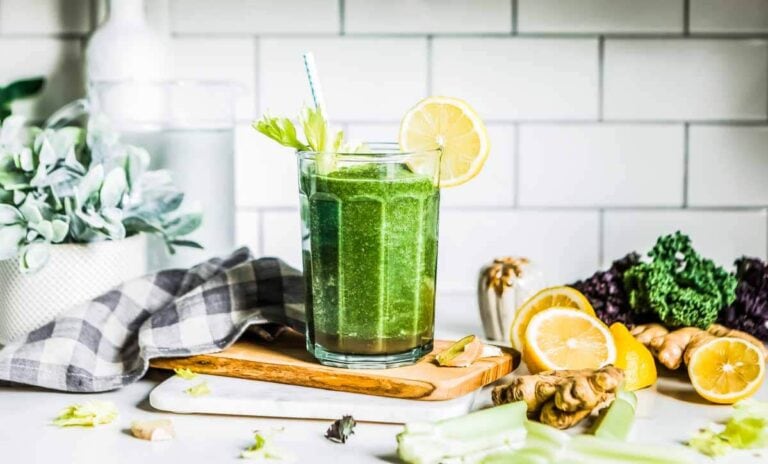 Fruit and Vegetable Smoothie
Whip up this fruit and vegetable smoothie to start your day with plant powered nutrients. Perfect as a nutrient-packed breakfast, or a refreshing mid-morning pick me up!
Ingredients
½

cup

spinach

½

cup

kale

1

apple

green

½

cucumber

peeled

1

lemon

1

celery

stalk

1

inch

ginger root

1

cup

water

1

serving

homemade protein powder

optional
Instructions
Blend spinach, kale, and water until no leafy chunks remain.

Add remaining ingredients, blending until smooth.
Notes
I like to lightly peel the lemon before adding it, to get in the white pith.
I leave the cucumber unpeeled as well.
Swap green apple for the apple of your choice.
Nutrition
Calories:
176
kcal
,
Carbohydrates:
44
g
,
Protein:
5
g
,
Fat:
1
g
,
Saturated Fat:
1
g
,
Polyunsaturated Fat:
1
g
,
Monounsaturated Fat:
1
g
,
Sodium:
76
mg
,
Potassium:
929
mg
,
Fiber:
10
g
,
Sugar:
25
g
,
Vitamin A:
5163
IU
,
Vitamin C:
116
mg
,
Calcium:
149
mg
,
Iron:
2
mg