Try a green grape smoothie for a bright snack full of fresh produce. This citrusy creation is definitely a kid-friendly recipe that I also enjoy.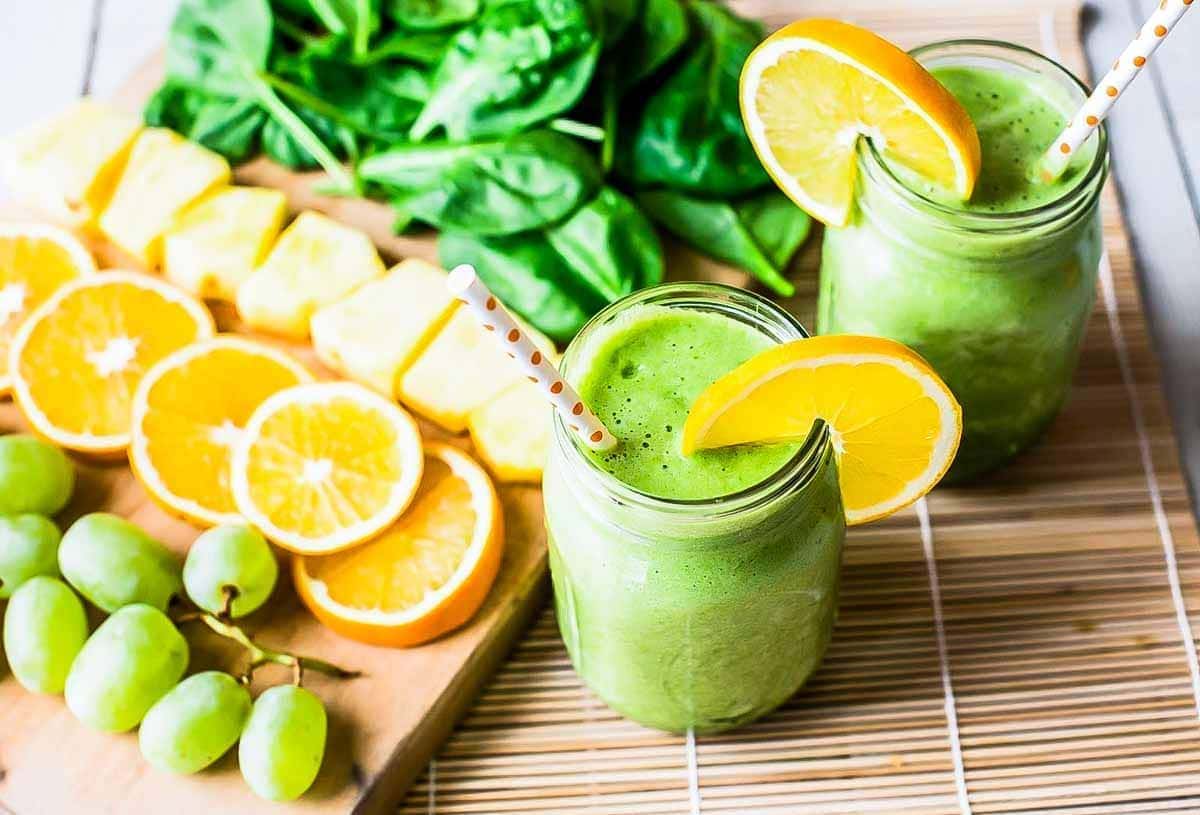 Grape smoothies are a staple at my house, whenever the grapes don't get eaten right after bringing them home! This green grape smoothie recipe is brightly delicious, and loved by young and old smoothie drinkers alike. So read on, or skip ahead to start blending right away (no judgement!).
Table of Contents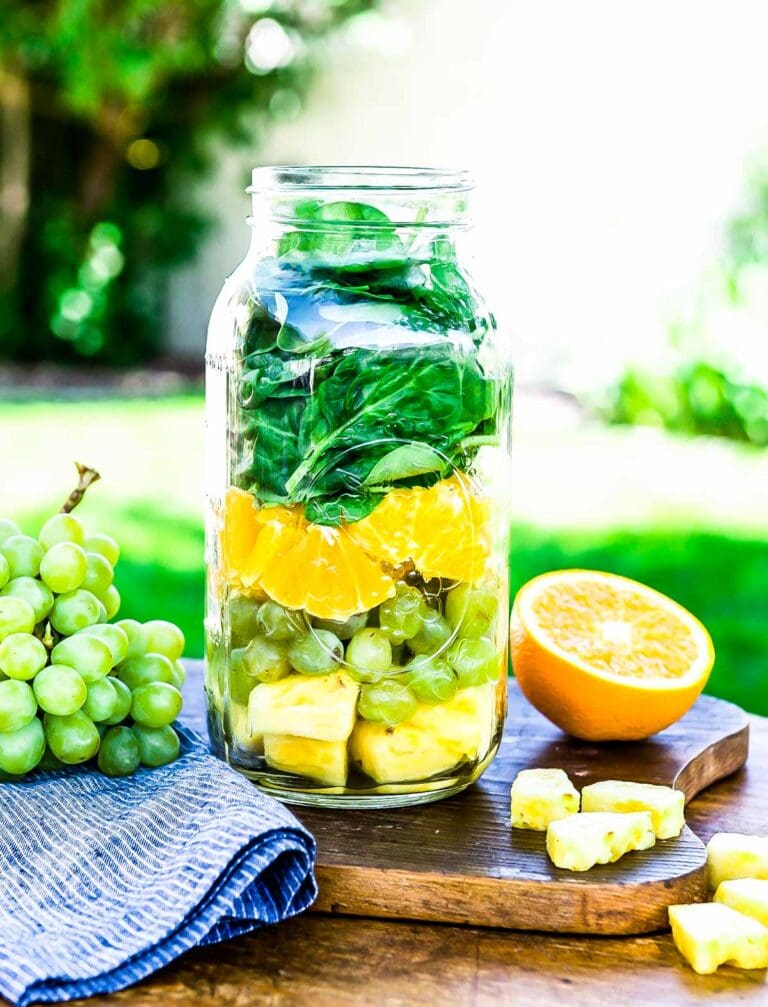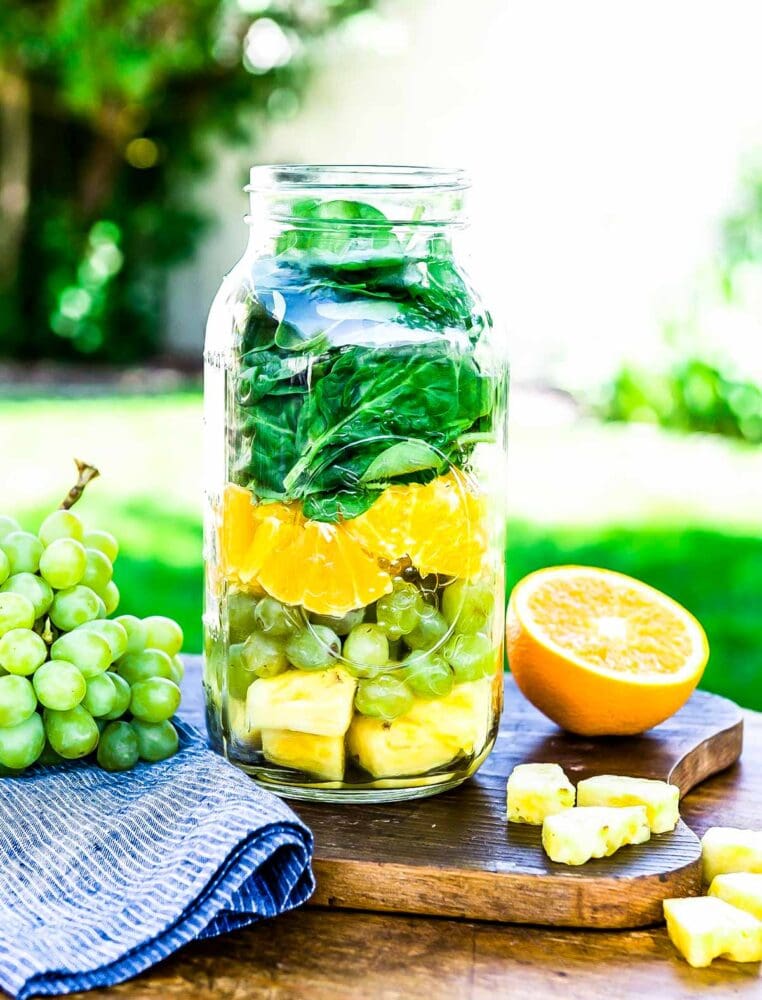 Green Smoothies vs Green Juice
When it comes to drinking your greens, there are two general ways to do it. Let's break it down, so to explain why I like blending leafy green smoothies like this grape smoothie, rather than juicing.
Juicing fruits + veggies
Juicing greens gives you a concentrated small amount of liquid. The nutrients can be easily absorbed into your blood stream and benefit your body. Juicing doesn't contain fiber, which helps your digestive system work properly, curb blood sugar spikes and keeps you full longer.
I definitely lean towards #teamsmoothie, yet I do think juicing has its benefits. I talk more about this on my podcast interview with Wellness Mama.
Blending green smoothies
Blending your greens creates a larger amount of liquid than juicing. It's thicker due to the fiber retained in the greens. This slows down the speed at which the sugars and nutrients enter your body, as well as helps you stay full longer. Lots of fruit and veggies also have nutritional value in the skin, which can get lost in juicing (like the pith in the orange of this grape smoothie). Finally, juicing takes a LOT more produce than blending, which makes it more expensive.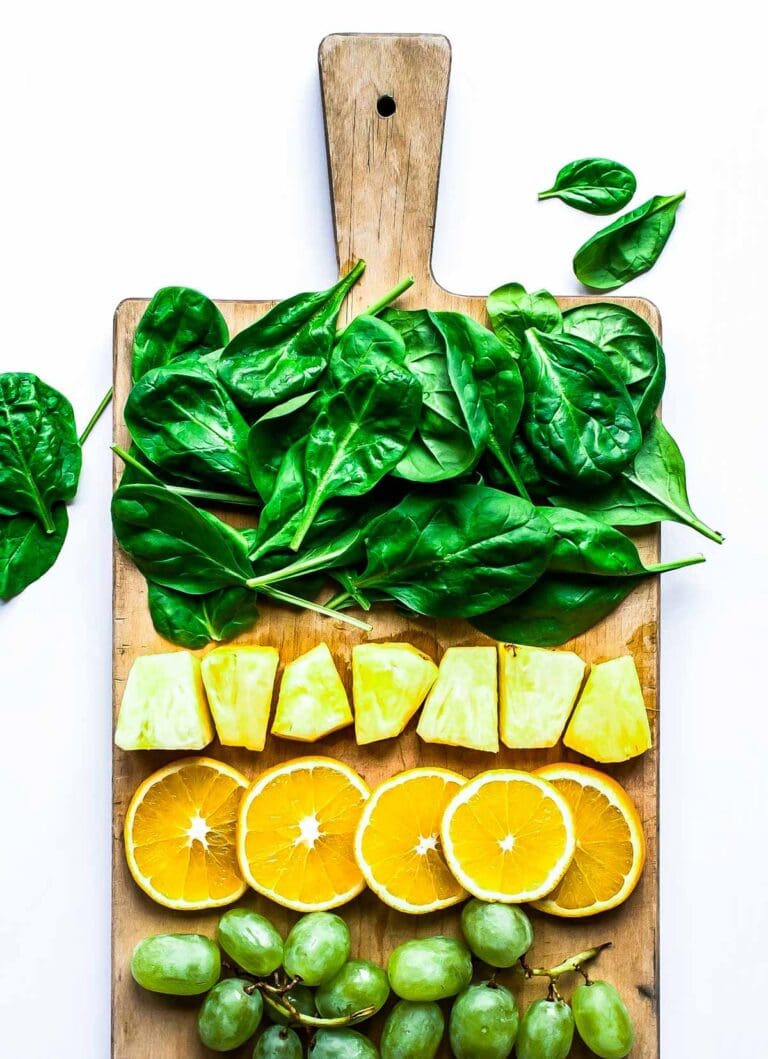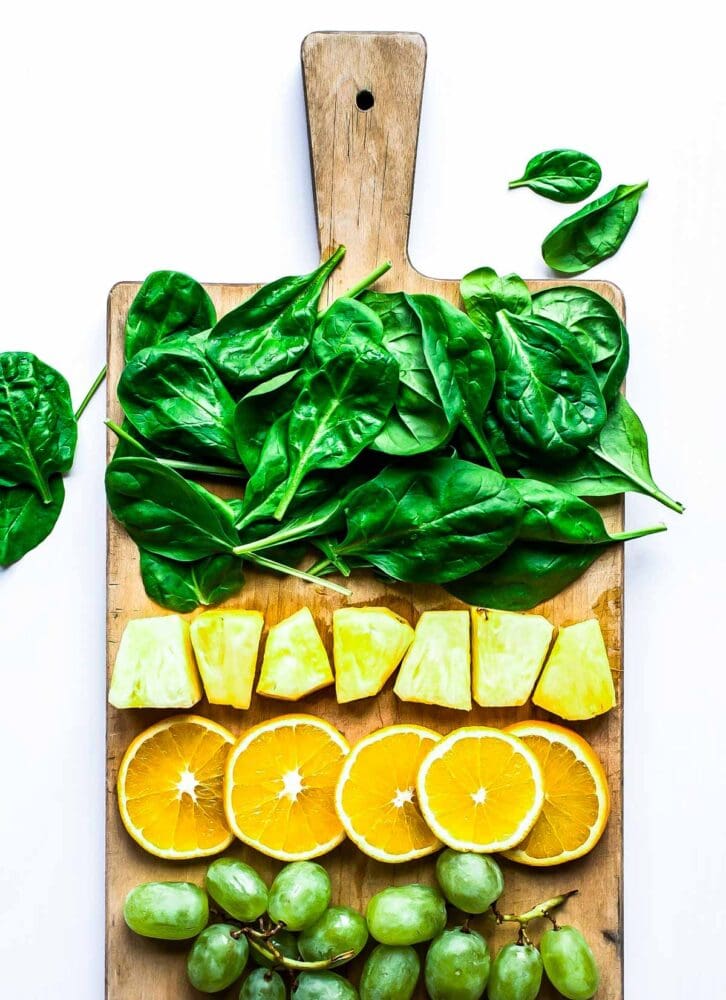 How to Make an Affordable Grape Smoothie
This green grape smoothie recipe is a hit in our house. We love how easy it is to find the ingredients for this smoothie at the local grocery store. And they're also affordable! That's the key to making this a healthy habit for life— use ingredients you can always find and always afford.
It's definitely okay to skip all the fancy potions and powders that people recommend you add to your smoothie. For this amazing recipe, all you need is:
baby spinach (I prefer organic because it's on the EWG's dirty dozen list)
green grapes (be sure to check for seeds before blending)
pineapple (I use frozen pineapple to chill the smoothie and save me time chopping it up)
oranges (naval oranges are so flavorful and juicy!)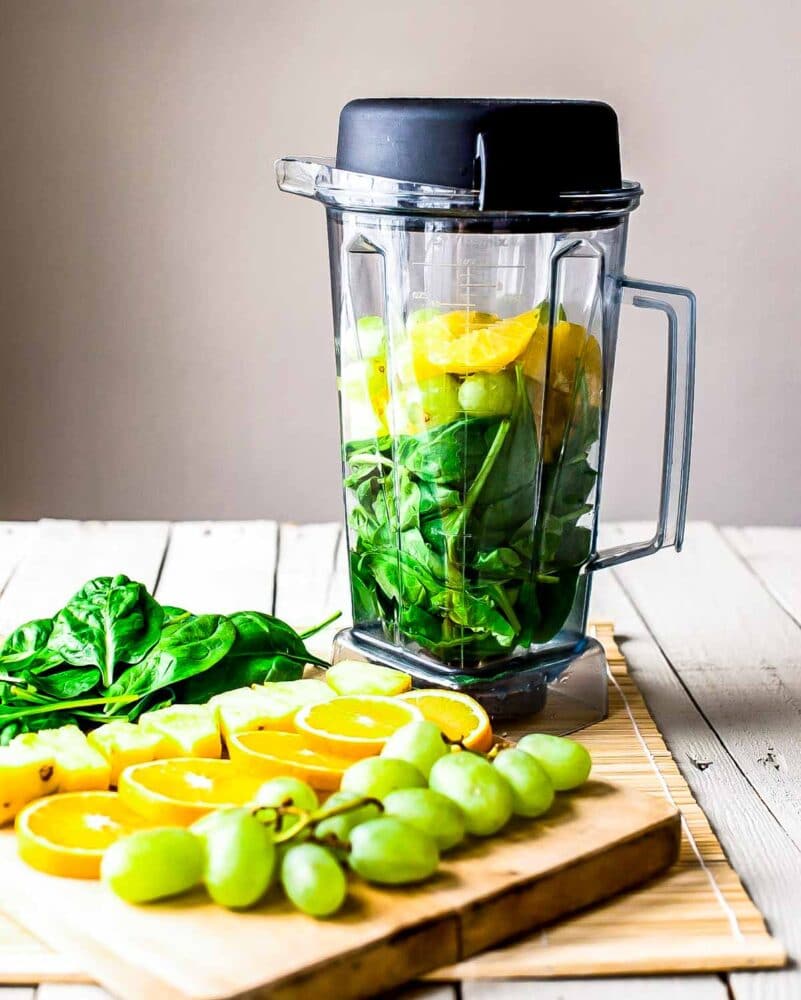 Delicious Grape Smoothie Recipes
Grapes are sometimes an overlooked smoothie ingredient, yet they add some delicious flavor (and nutrients!). Check out these other great grape smoothie recipes:
I'd love it if you made this green smoothie, then left a rating + comment below. I always want to know what you think of these smoothie recipes, and what you add to them to make them your own. Happy blending!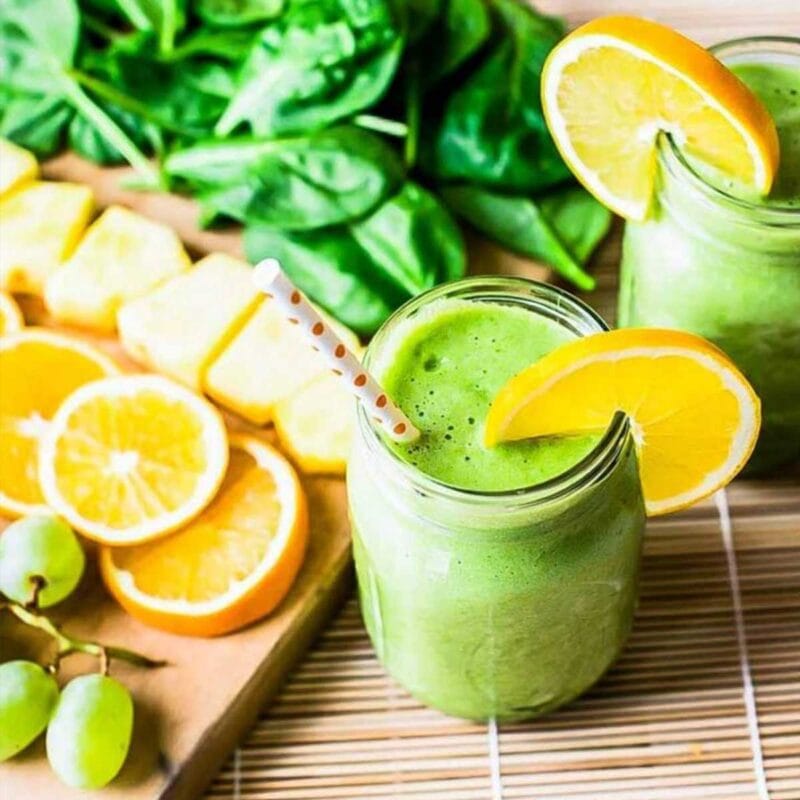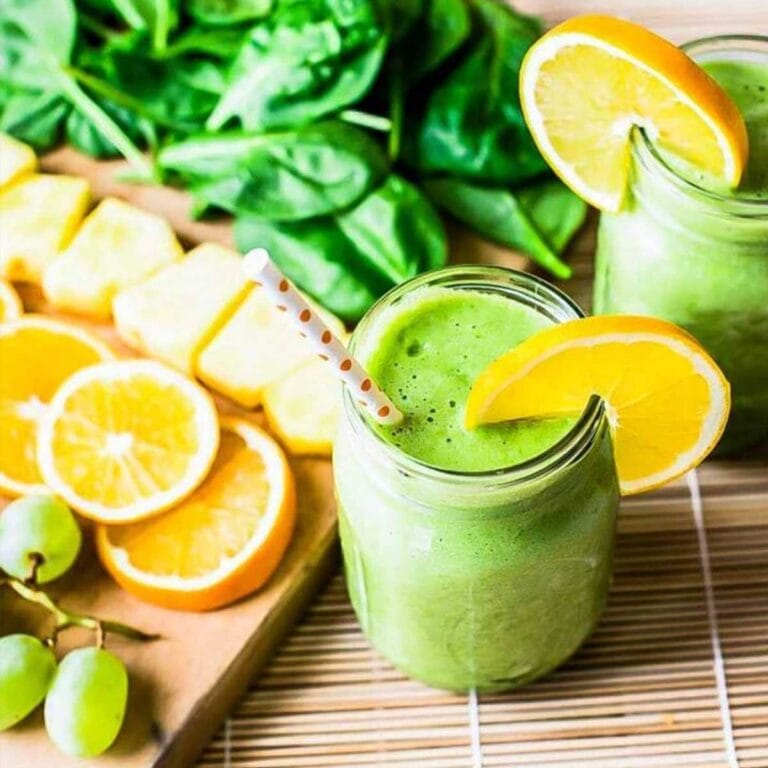 Green Grape Smoothie
This dreamy green grape smoothie has a nice vitamin c boost from the refreshing orange flavors.
Instructions
Blend spinach, water orange until smooth.

Add remaining fruit and blend again.
Notes
Use green or red grapes, whichever you prefer (green are a bit more tart).
Swap spinach with the leafy greens of your choice.
Use at least 1 frozen fruit for a refreshingly cool smoothie.
Nutrition
Calories:
131
kcal
,
Carbohydrates:
33
g
,
Protein:
2
g
,
Fat:
1
g
,
Saturated Fat:
1
g
,
Polyunsaturated Fat:
1
g
,
Monounsaturated Fat:
1
g
,
Sodium:
32
mg
,
Potassium:
520
mg
,
Fiber:
4
g
,
Sugar:
26
g
,
Vitamin A:
3058
IU
,
Vitamin C:
85
mg
,
Calcium:
78
mg
,
Iron:
1
mg