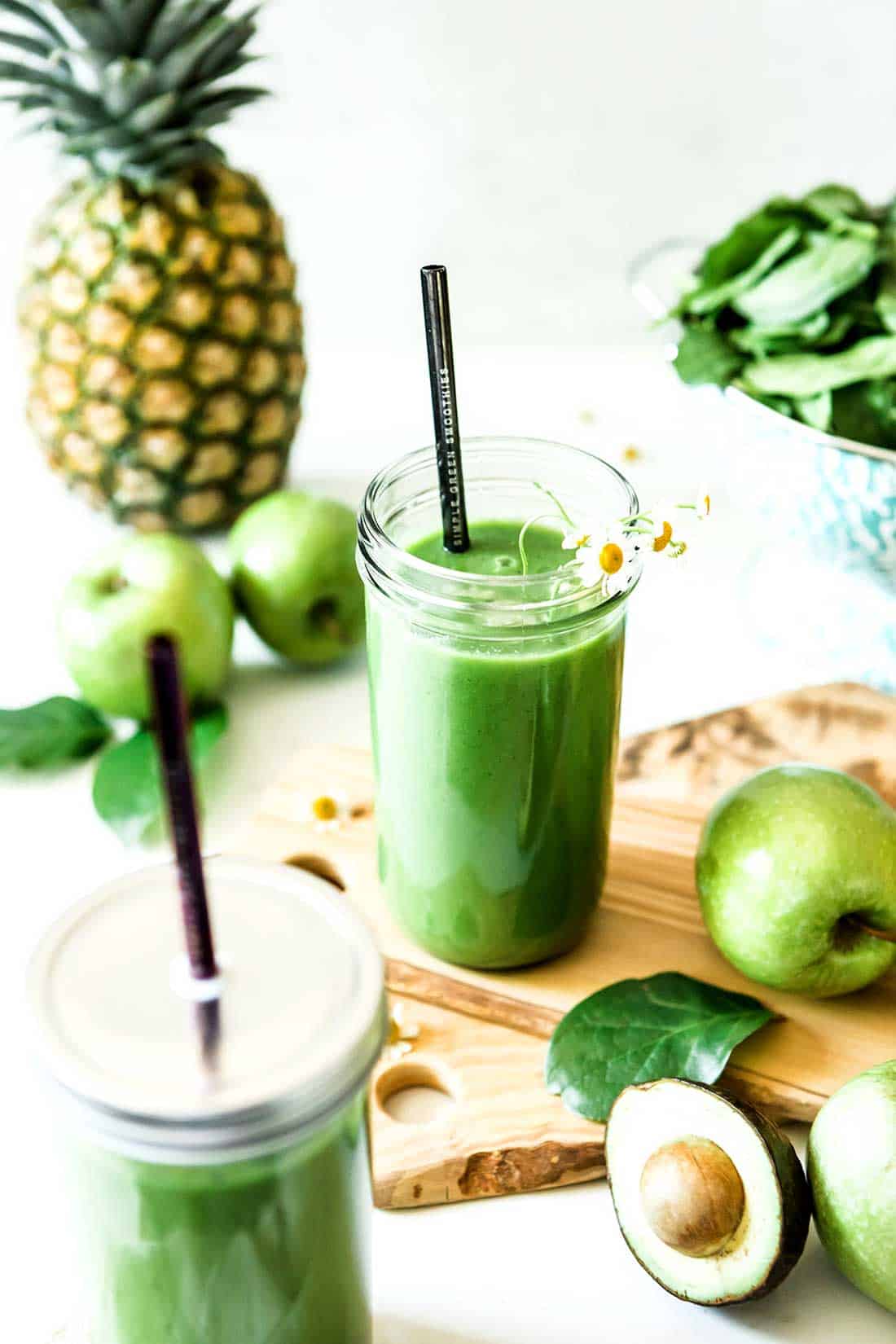 Get your glow on with this creamy, tropical Green Apple Smoothie. A blend of spinach, green apple, avocado, banana and pineapple is just what your body needs for an energizing boost. We love that this apple smoothie is packed with nutritious fruits and veggies for a healthy and satisfying breakfast or snack.
You know what they say: an apple a day, keeps the doctor away!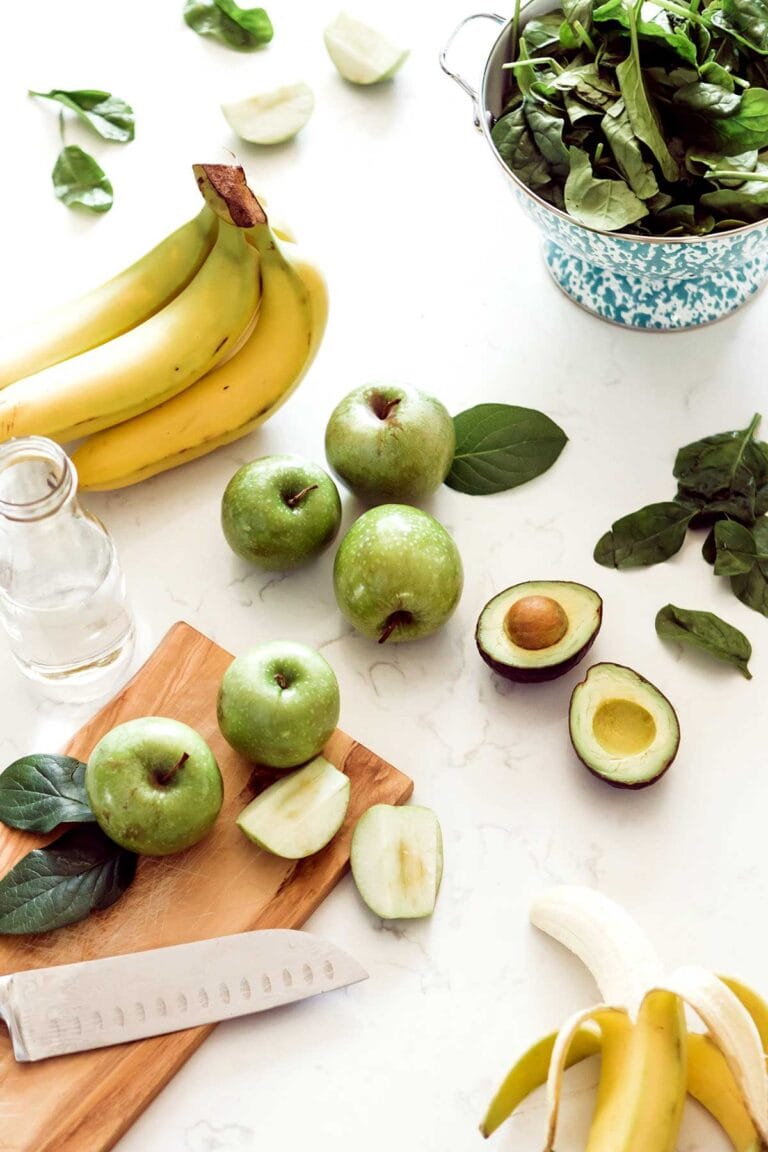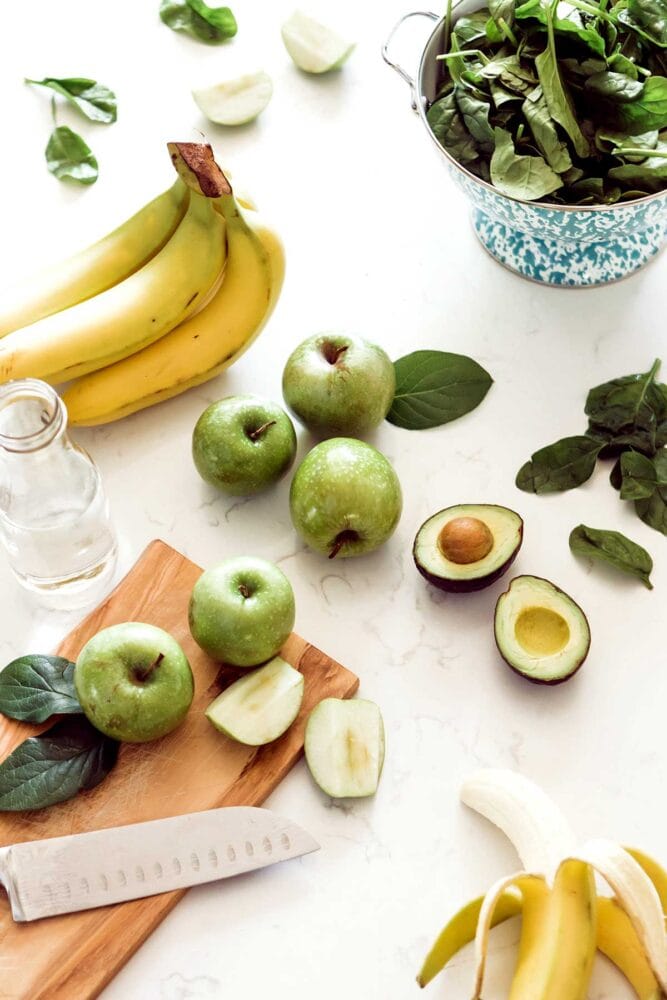 Health benefits of this apple smoothie?
Avocado
Avocados are packed with monounsaturated fatty acids, which help keep your heart healthy and your skin hydrated. Avocados also contain potassium, fiber and B vitamins.
Spinach
We added a cup of nutrient-rich spinach to this smoothie. Spinach is a great source of iron and folate, and is naturally low in calories. It's also high in immune-boosting vitamin C, and the potent antioxidants in spinach promote collagen production for healthy skin. Did you know it also contains calcium and vitamin K for strong bones? Boom!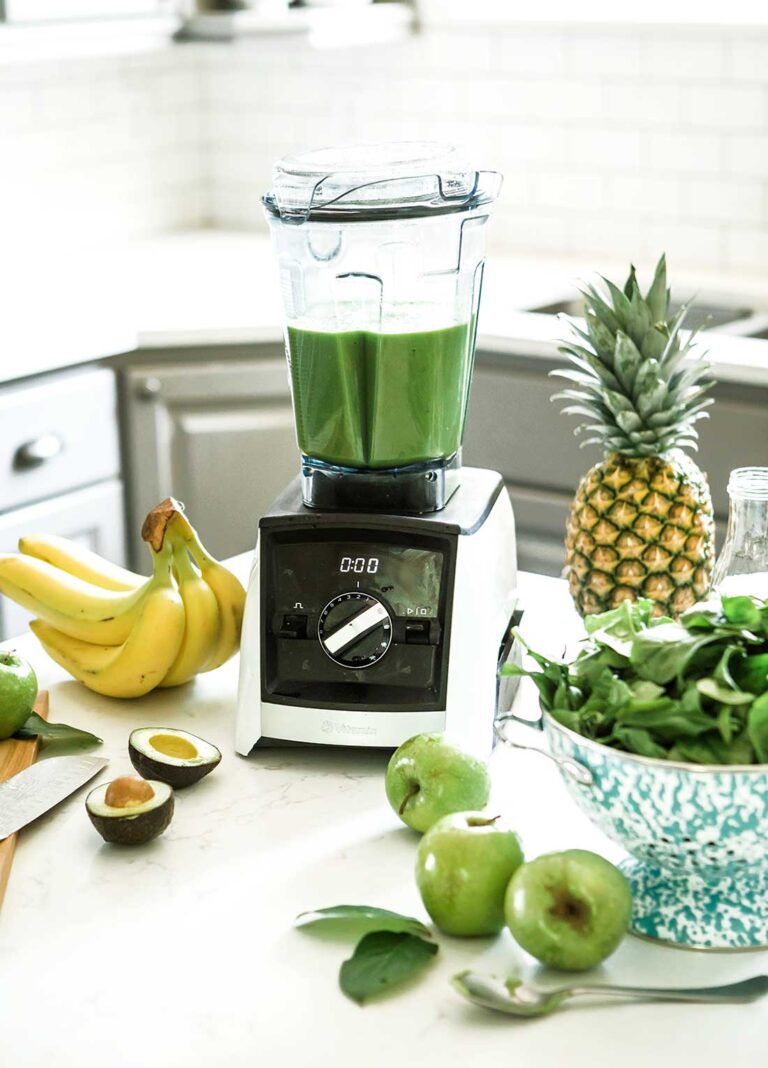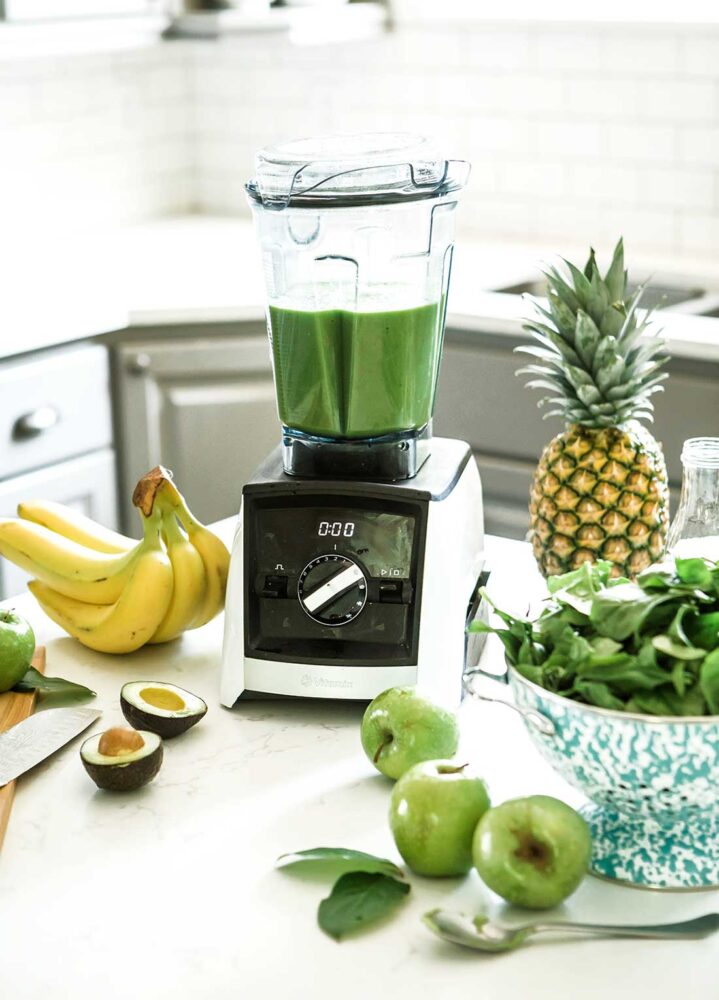 Pineapple
Pineapple contains an enzyme called bromelain, which helps fight inflammation in the gut and body. In a 2014 study, children who ate pineapple for 9 weeks had almost four times more disease-fighting white blood cells than children not fed pineapple.
Banana
Banana naturally sweetens this apple smoothie. Bananas contain pectin and low-glycemic sugars, so they won't cause your blood sugar to spike. You can use either fresh or frozen banana.
Green Apple
Green apples have a high fiber content to fill you up and keep things moving. They're also a rich source of vitamins A and C.
Glow from the inside out with this healthy green apple spinach smoothie. It's a tasty way to enjoy a nutrition-packed snack.
How to make an apple smoothie
With a powerful blender, there's no need to peel the apple. Simply core the apple and blend until smooth. With a smaller motor, core, peel and finely dice the apple for best results. If you're ready for a high speed blender, check out our smoothie blender guide.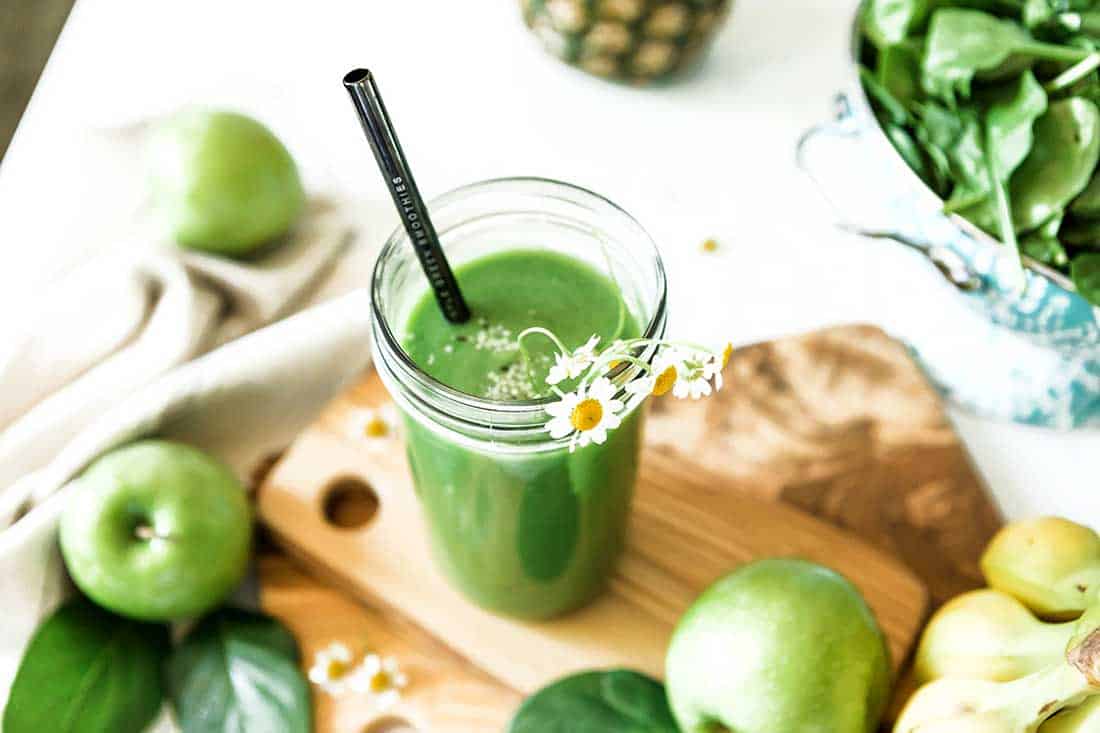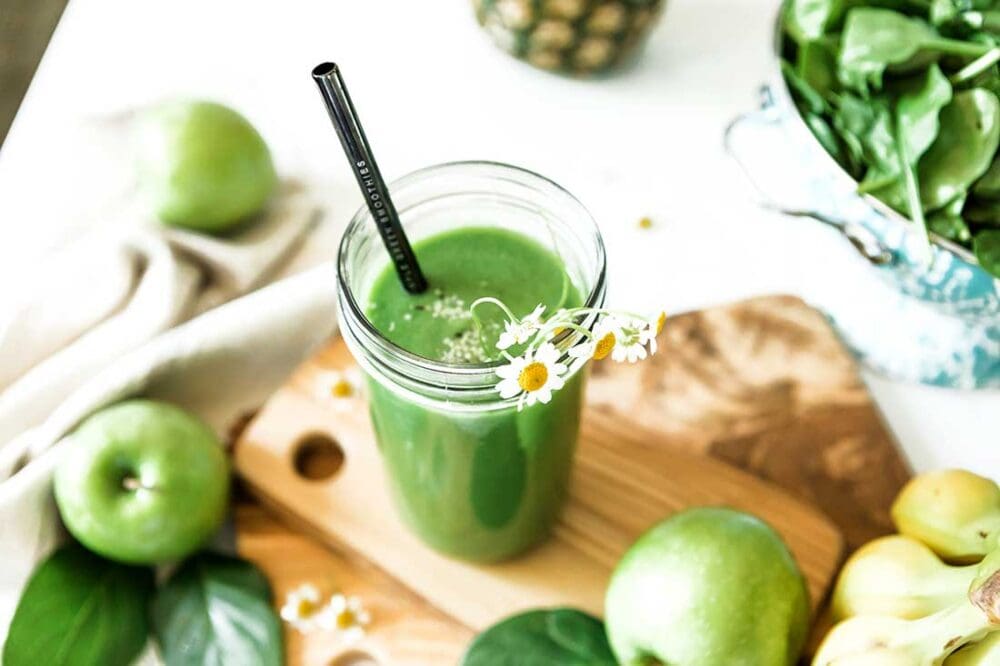 Can you freeze apples for this smoothie?
Yes! Prepare the apples first by cutting and coring them. You can either leave the peel on or peel it. The peel contains pectin and fiber, so we leave the peel on. Make sure to discard the seeds. Place the cut apples on a parchment paper lined tray and freeze them for a few hours. Once frozen, transfer the apples to a resealable freezer bag. Add frozen apple slices or chunks straight to the blender for your green apple smoothie.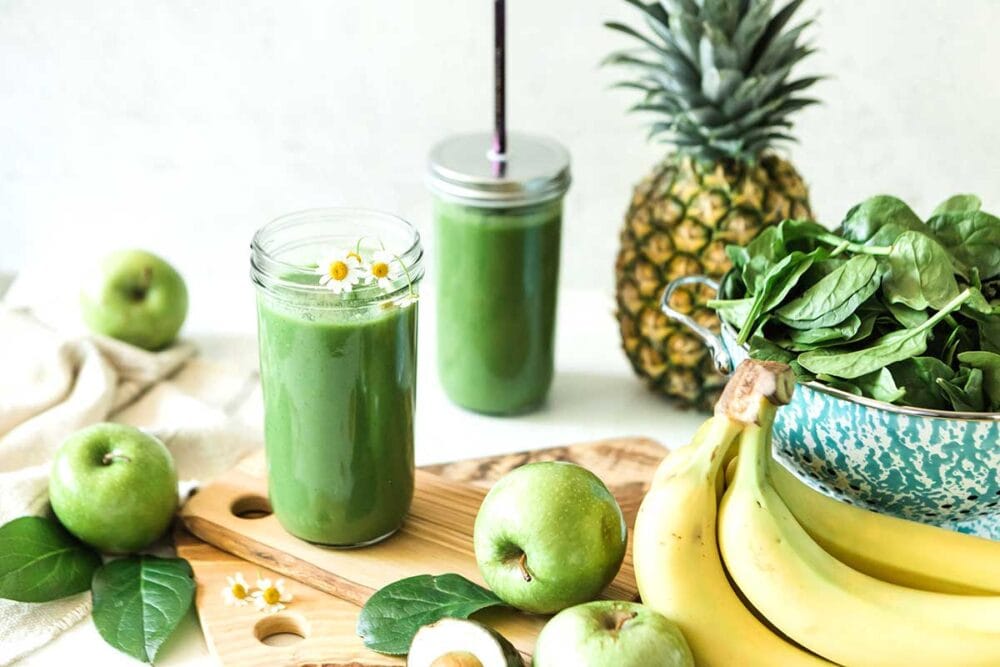 More Healthy Apple Recipes
Now that you've got apples in your kitchen, why not whip up more delicious plant-based treats? Aside from an apple smoothie, here are a few other recipes I think you've gotta try: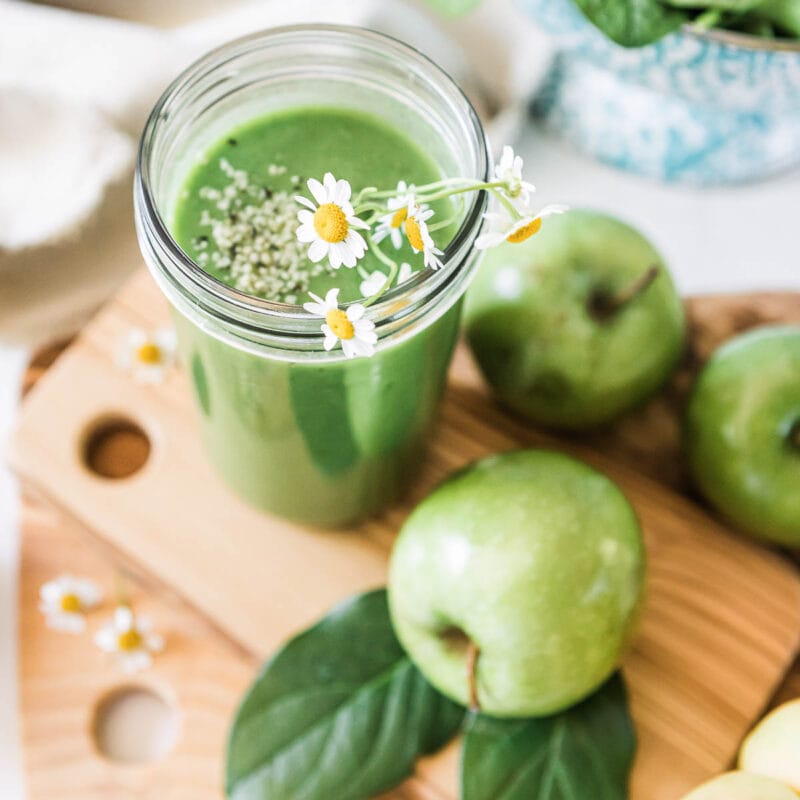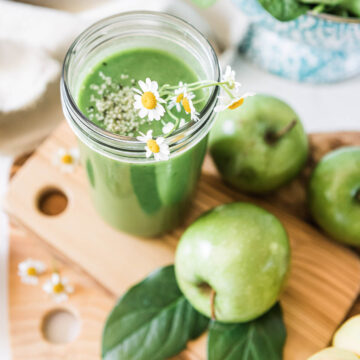 Green Apple Smoothie
Rate this Recipe
Print Recipe
Tangy green apple, creamy avocado, sweet pineapple. This refreshing apple smoothie makes for great pre-workout fuel. Or a splendid mid-afternoon plant-based pick-me-up.
Ingredients
1

cup

water

1

cup

spinach

1

apple

(green, cored)

½

banana

(peeled)

¼

avocado

¼

cup

pineapple

(frozen)
Instructions
Place water, spinach and apple in a blender. Blend until smooth.

Add banana, avocado and pineapple. Blend until creamy.
Notes
For added convenience, look for frozen avocado, banana and spinach in the freezer section of most grocery stores.
If green apples are hard to find, use yellow or light red.
To lower the natural sugar, swap banana for ¼ cup frozen cauliflower.
Nutrition (estimated)
Calories:
255
kcal
(13%)
Carbohydrates:
49
g
(16%)
Protein:
3
g
(6%)
Fat:
8
g
(12%)
Saturated Fat:
1
g
(6%)
Polyunsaturated Fat:
1
g
Monounsaturated Fat:
5
g
Sodium:
42
mg
(2%)
Potassium:
862
mg
(25%)
Fiber:
11
g
(46%)
Sugar:
31
g
(34%)
Vitamin A:
3046
IU
(61%)
Vitamin C:
47
mg
(57%)
Calcium:
62
mg
(6%)
Iron:
2
mg
(11%)