Our Spinach Strawberry Banana Smoothie includes iron-rich spinach and ruby red berries full of antioxidants. It's completely plant-based, too!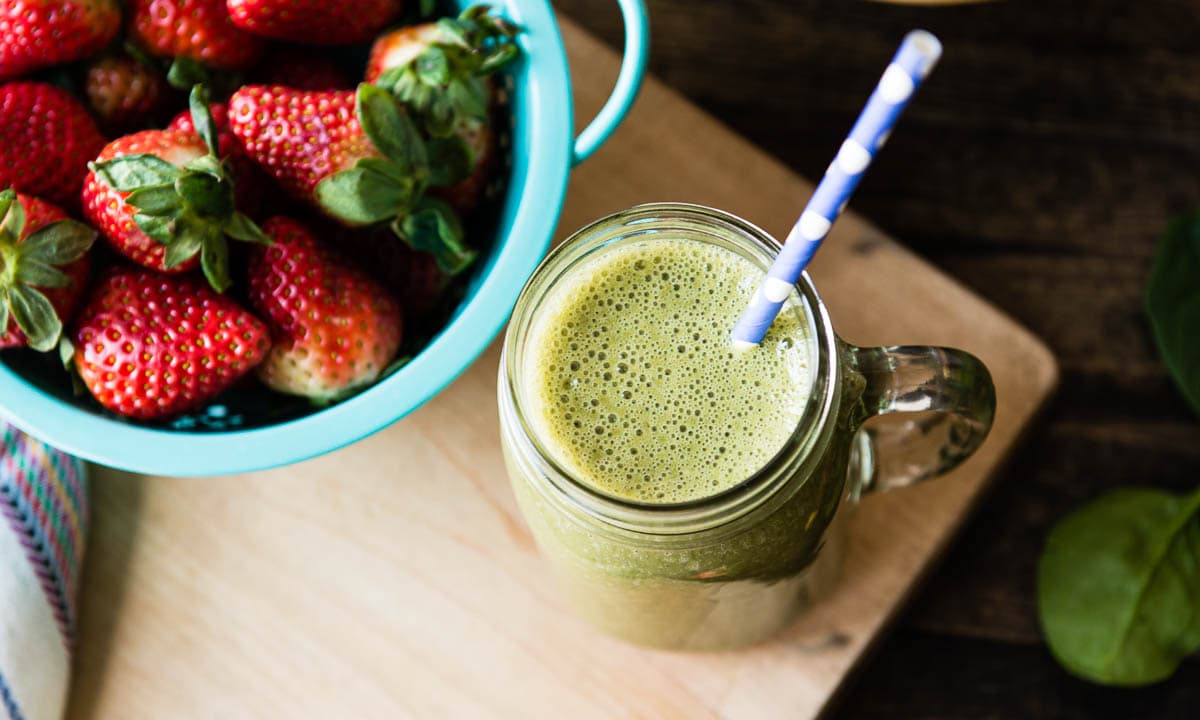 The most popular smoothie combo might be strawberry banana. It's a blender classic! Since this classic combo is so popular, I set out to create a dairy-free and plant-powered version. My spinach strawberry banana smoothie is equal parts sweet, delicious AND healthy! I can't wait for you to give this delightful smoothie a blend.
Table of Contents
Ingredients in a Spinach and Strawberry Smoothie
This smoothie is super simple to make; it's only four ingredients! Here's what I blended it: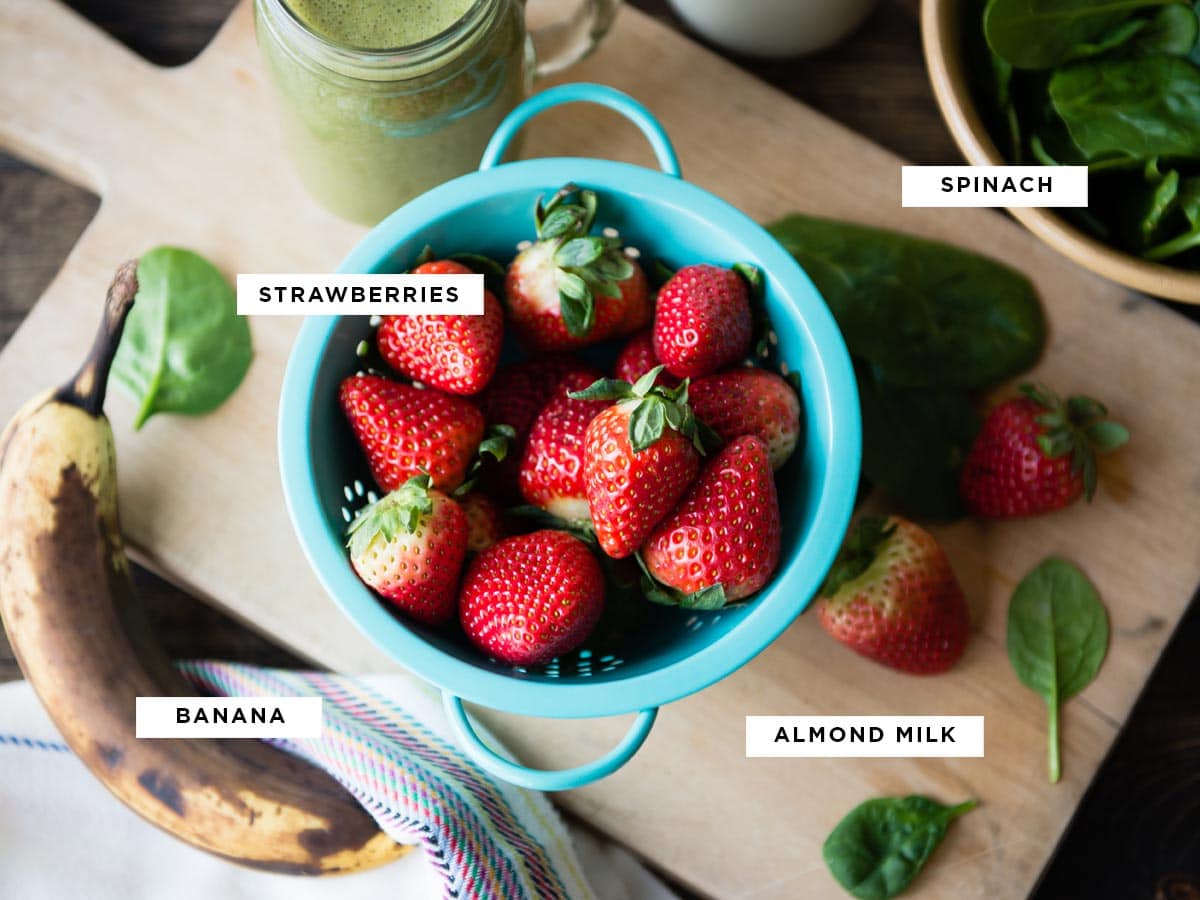 Almond Milk: I love adding plant-based milk to smoothies as a way to boost nutrition and the creamy factor. Use store-bought almond milk or homemade almond milk, whichever you prefer!
Spinach: This strong leafy green is loaded with nutrients PLUS provides fiber to help your body break down the natural fruit sugars in this beverage.
Strawberries: The antioxidant powerhouse of this smoothie, and a great way to add vitamins A and C to your day.
Banana: A creamy addition that is slightly sweet and helps this smoothie blend well.
As always, feel free to add a scoop of homemade protein powder to give this smoothie a protein and healthy fat boost. Doing so gives you extra energy, keeps you full longer and is a great way to turn this smoothie into a meal.
Adding Leafy Greens to a Smoothie
You might wonder why adding leafy greens to your daily smoothie is important. I mean, you're already using whole fruits and plant-based liquid bases, why add greens?
Leafy greens provide the fiber needed to help your body break down the natural glucose found in sugar. I love fruit smoothies, yet many of us have a hard time drinking straight fruit and not feeling sluggish a few hours later.
Leafy greens like spinach help slow down the body's absorption of the natural fruit sugar, giving us fuel without the sugar crash.
Green Smoothie Recipe
This spinach strawberry banana smoothie is super easy to make, yet for the best results, be sure to follow my steps!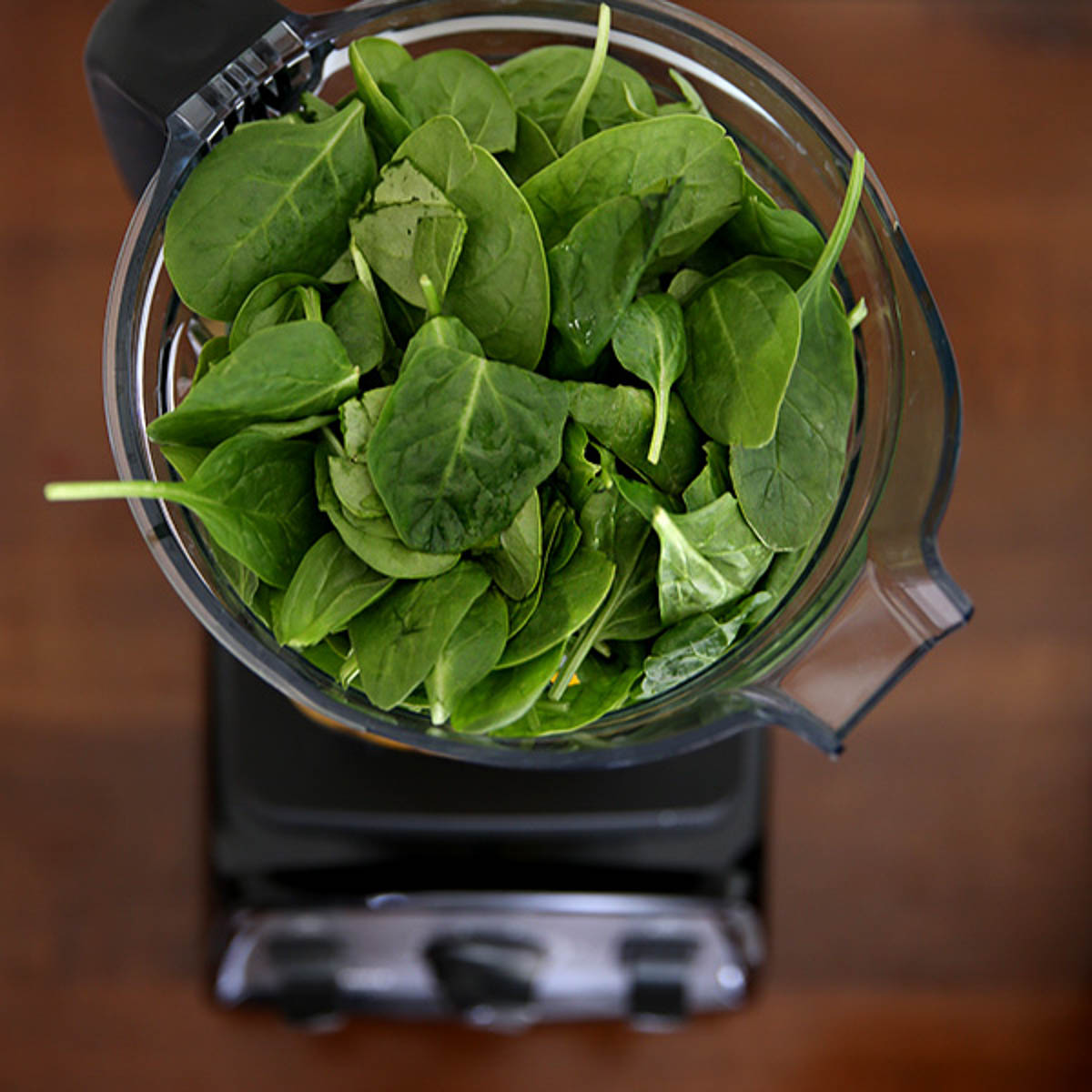 Step 1: Blend your spinach and almond milk until there are no leafy chunks left. The time this takes may vary depending on what type of blender you have.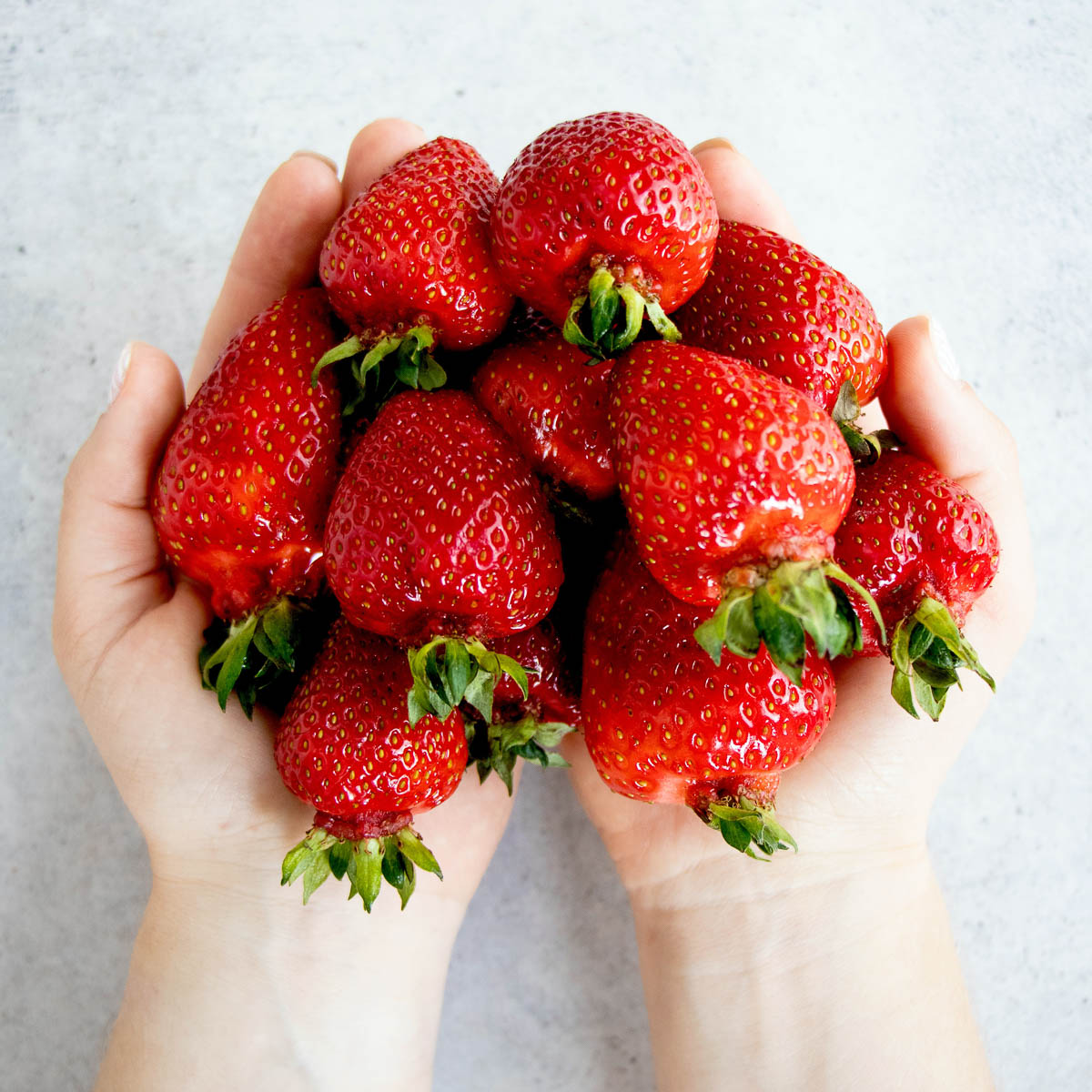 Step 2: Add the remaining fruit ingredients and blend again until smooth. If you don't have a high-powered blender, allow the frozen strawberries to thaw a bit before adding them to the blender. This will give you the best shot at a creamy result.
How to Make A Smoothie Thicker
This smoothie uses plant-based milk and banana to help thicken it, yet it might not be as thick as you like. No problem! You can easily thicken a smoothie by adding in 1/4 cup of frozen cauliflower, adding in a scoop of nut/seed butter or 1/4 of an avocado. All great, healthy ways to thicken up that smoothie.
Spinach Strawberry Banana Smoothie FAQs
Is a spinach and banana smoothie good for you?
Yes! Any smoothie made with whole food, plant-based ingredients and leafy greens is a great addition to your day. It will give you extra vitamins and minerals (always a plus) as well as natural energy that leaves you feeling refreshed and not sluggish.
Is it okay to put raw spinach in a smoothie?
Definitely! Always make sure to wash your smoothie ingredients well before adding them to your blender, yet raw spinach (and other raw leafy greens) are great smoothie ingredients.
Is a strawberry banana smoothie good for you?
It can be! My strawberry banana smoothie uses spinach as the leafy green and boasts 119% of the RDV of vitamin C, 57% of the RDV of vitamin A and 36% of the RDV of calcium.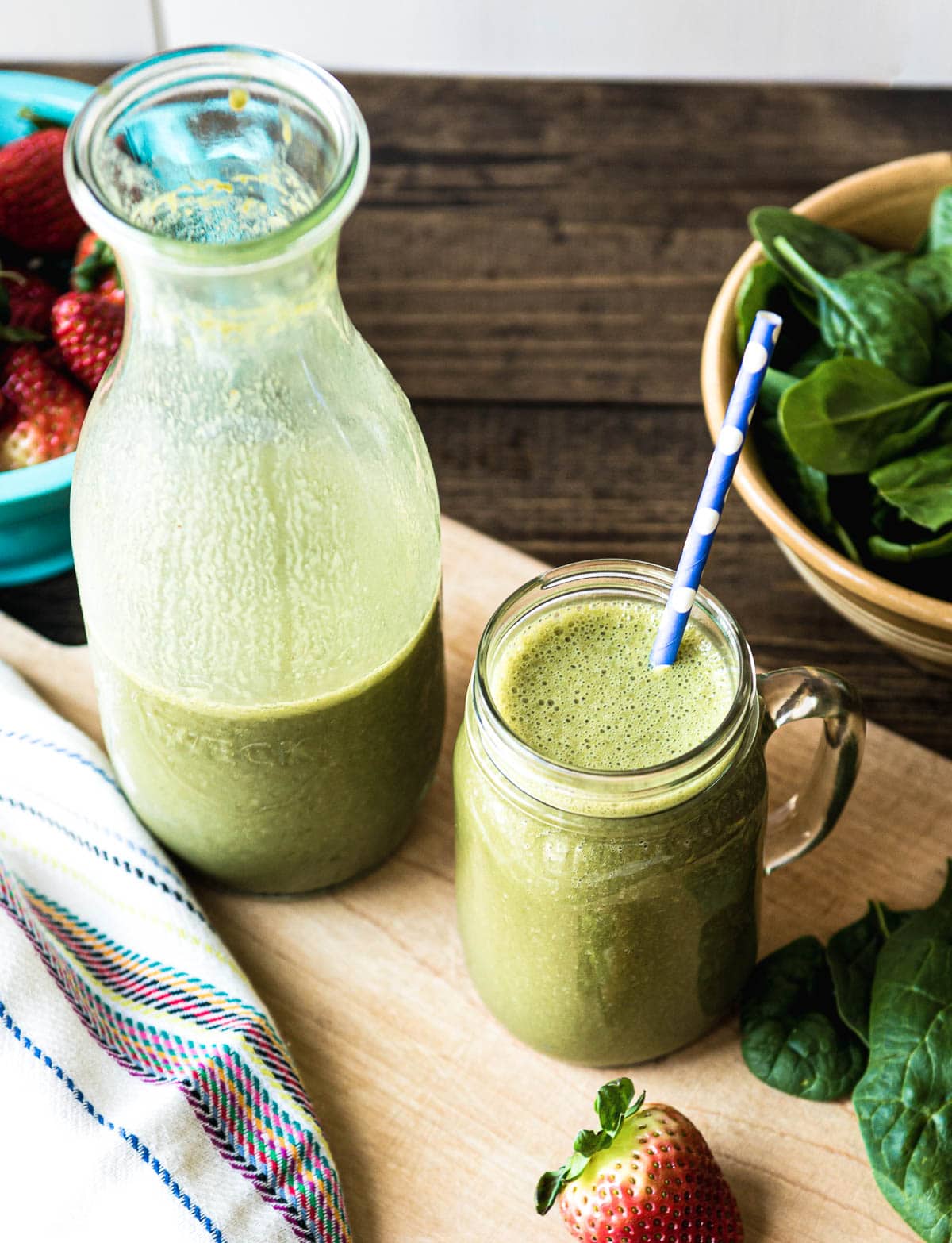 More Delicious Green Smoothie Recipes
Green smoothies provide so much delight and nutrition to my day and I love sharing my recipes with you! Here are a few of my go-to smoothies, feel free to grab one and get blending.
Will you please rate + review this recipe once you try it? I'd love to get your feedback!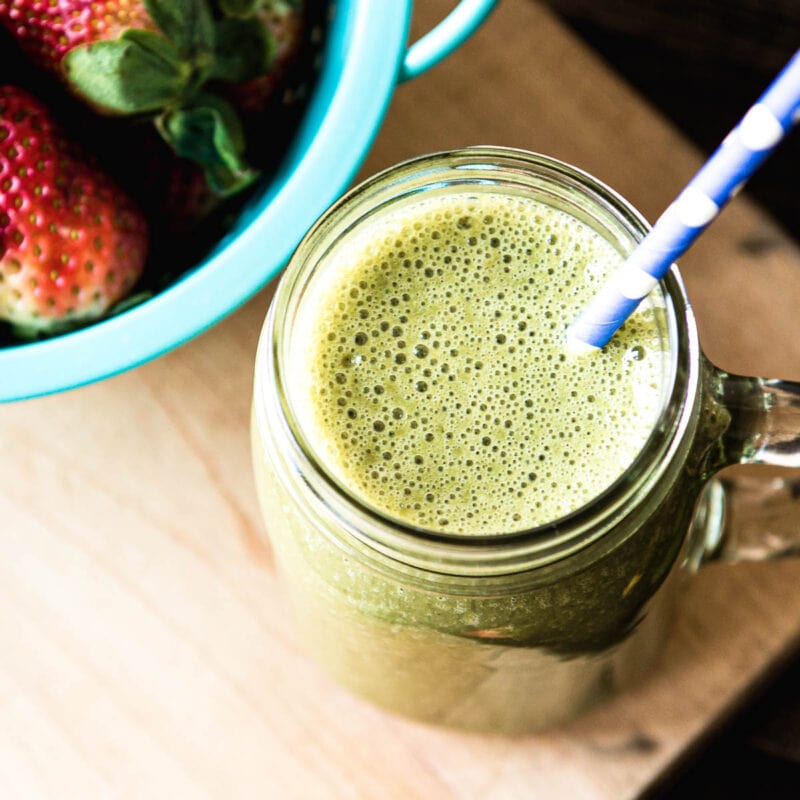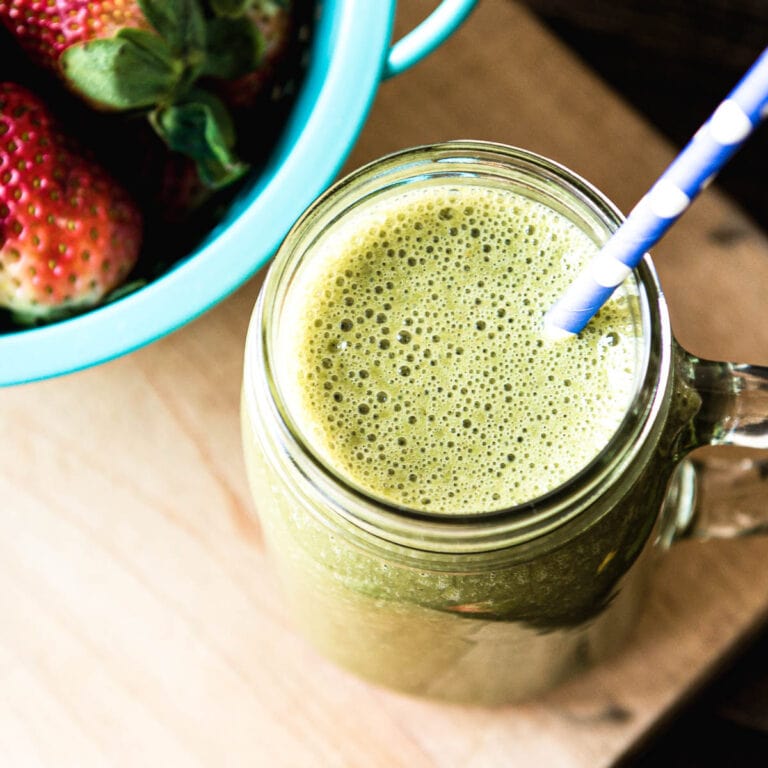 Spinach Strawberry Banana Smoothie
I grew up loving strawberry milkshakes that my dad would make. This Spinach Strawberry Banana Smoothie fuels me up and keeps me going.
Instructions
Place spinach and almond milk in blender. Puree until smooth.

Add remaining fruit and blend again.
Notes
Use at least one frozen fruit to make the smoothie cold or serve over ice.
Swap spinach with the leafy green of your choice.
Swap strawberries with the berry of your choice.
To make this low sugar smoothie even lower in natural sugar, swap 1/2 banana with 1/4 avocado.
Nutrition
Calories:
140
kcal
,
Carbohydrates:
27
g
,
Protein:
4
g
,
Fat:
4
g
,
Saturated Fat:
1
g
,
Polyunsaturated Fat:
2
g
,
Monounsaturated Fat:
2
g
,
Sodium:
351
mg
,
Potassium:
599
mg
,
Fiber:
6
g
,
Sugar:
15
g
,
Vitamin A:
2868
IU
,
Vitamin C:
98
mg
,
Calcium:
356
mg
,
Iron:
2
mg