Treat yourself to an anti-inflammatory Honey Turmeric Smoothie with a refreshing blend of mango, carrots, orange, ginger, turmeric and honey. Your immune system will enjoy the nourishment in this bright, delicious turmeric smoothie recipe too!
In addition, this is a super simple, tasty and filling smoothie.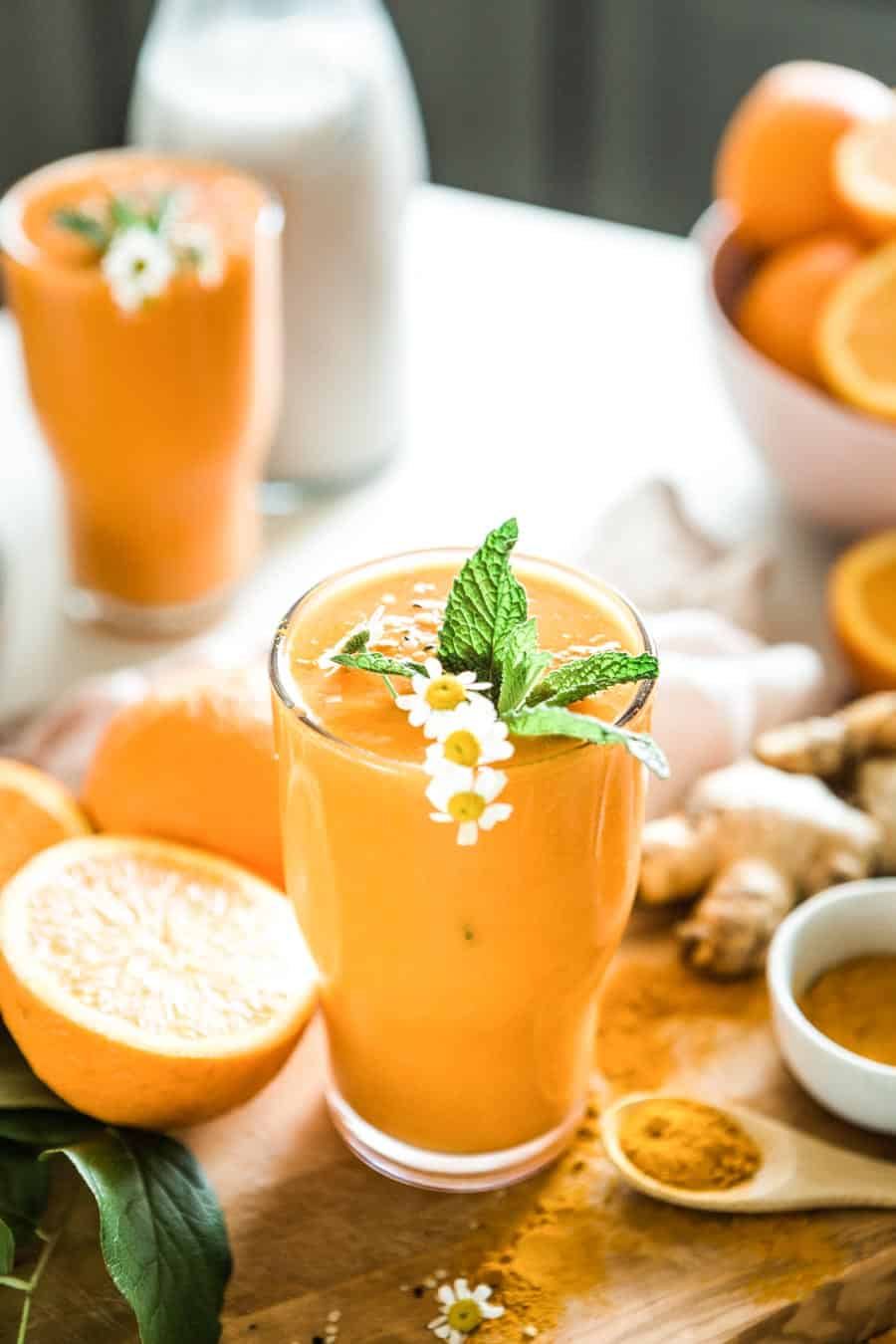 Table of Contents
Tips for Blending Smoothies
This smoothie has a few more ingredients than a normal recipe because I tried to cram as many anti inflammatory ingredients in as possible. I must say, the result is perfectly sweet, slightly tangy, and super orange! Here's how I blend it:
Blend the orange, almond milk and ginger until smooth. Start on low then increase speed as the blades chop up the ginger + break down the orange pulp.
Add remaining ingredients and blend until creamy.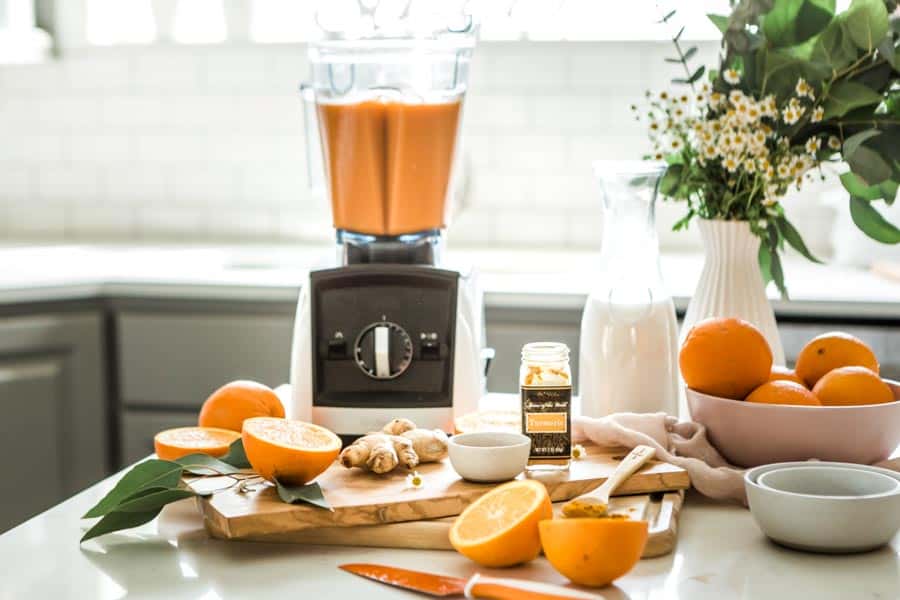 The orange acts as both liquid and fruit in this smoothie, so it goes in the first blend. If using a high powered blender, then the raw carrots should break down easily. Your smoothie may have a hard time completely breaking down the ingredients if it isn't high powered. Steaming the carrots before using can help as well.
I leave as much white pith on the orange as possible, as there are loads of nutrients there. To lower the natural sugar, omit the honey.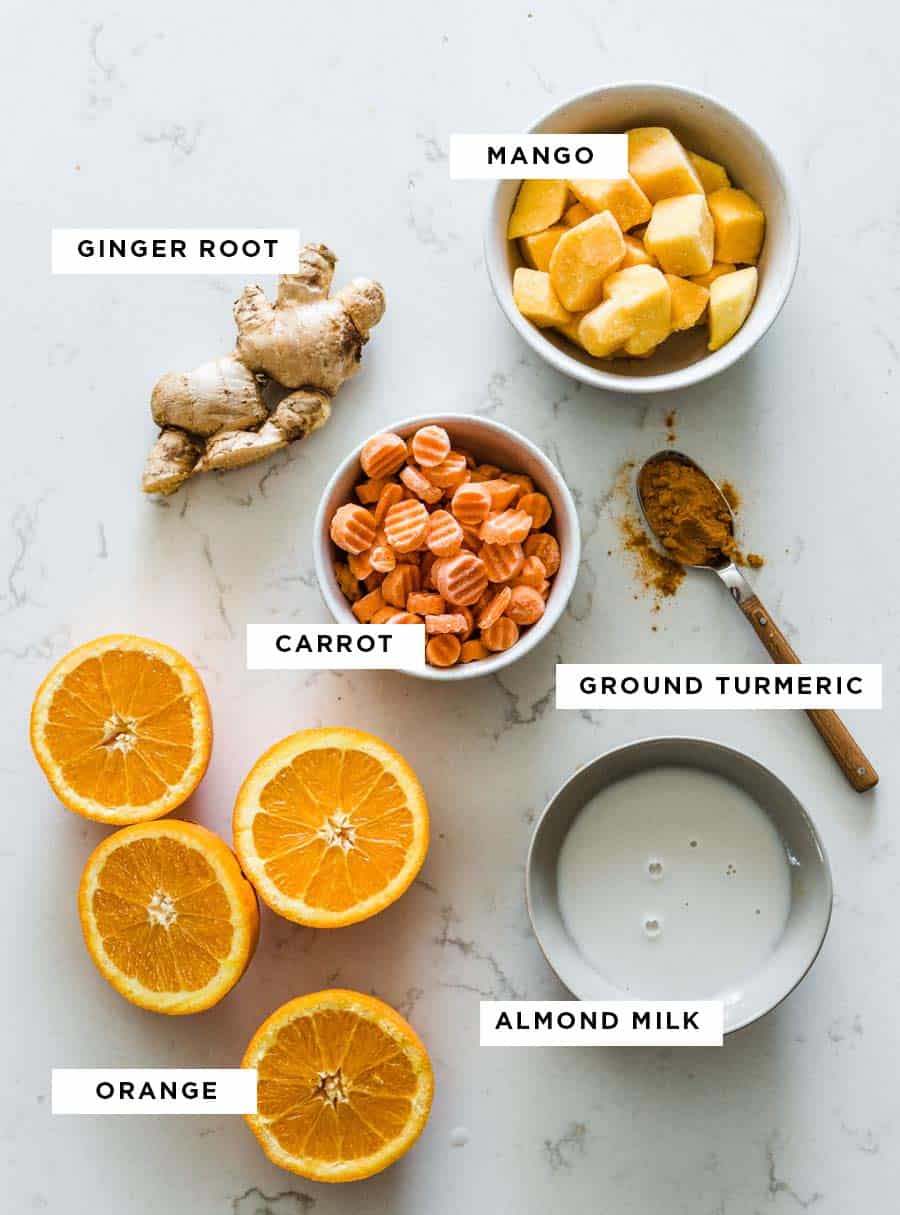 Turmeric Smoothie FAQs
Can you put raw turmeric in a smoothie?
Yes! Follow my instructions below on how to use fresh turmeric. The health benefits far outweigh those of ground turmeric, yet I know it can be hard to find. So use it if you can find it, but don't sweat it if you can't.
How much turmeric should I add to my smoothies?
I recommend no more than 1 tablespoon per serving (about a 1 inch piece of fresh turmeric, or 1 tsp of ground turmeric.) A little goes a long way!
What fruit goes well with turmeric?
Since turmeric has an earthy taste, I like to pair it with sweeter fruits like mango. It also goes well with oranges, and pineapple. My turmeric smoothie recipe includes ginger, orange, mango, carrots and honey.
How to use Fresh Turmeric in Smoothies
If you can find fresh turmeric in the produce aisle, substitute a 1-inch piece for 1 teaspoon dried turmeric (1 tablespoon peeled and freshly grated or minced). If using fresh turmeric, I add it in the first blend with the ginger to give it extra time. To cut up turmeric:
First, cut the skin from the flesh with a paring knife. Alternately, you can also use the spoon method. Apply gentle pressure with the edge of spoon to scrape off the turmeric skin.
After that, slice 1-inch of turmeric and drop into your blender to do the rest.
I recommend adding ½ to 1 teaspoon of dried turmeric to a single smoothie. You don't want to go overboard with spice in a smoothie. So I've given this turmeric smoothie recipe just the right amount!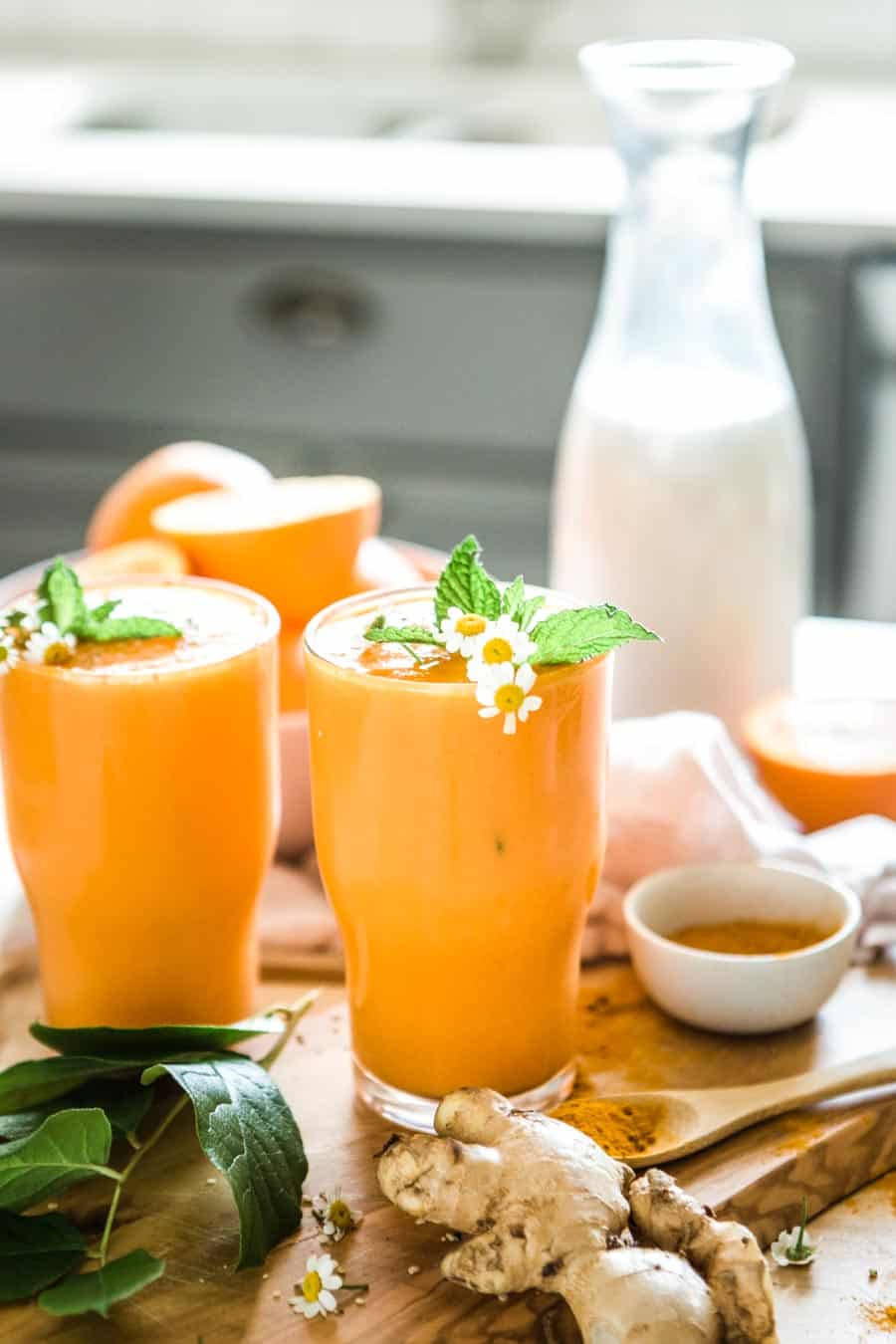 Favorite Ingredients to Blend
Turmeric— is at the heart of this smoothie. With a warming earthy flavor and beautiful golden color, this spice delivers powerful anti-inflammatory benefits. Plus a boost of antioxidants for optimal health. The spice contains curcumin. An antioxidant known to reduce inflammation and boost your immune system. Used in traditional Eastern medicine for centuries, it's beloved as a natural treatment for a wide range of health issues.
Honey— Honey adds natural sweetness to this smoothie. In addition, it offers extra health benefits. It's is a good source of antioxidants. And has antibacterial and antifungal properties. Manuka honey is made when honeybees pollinate the "Manuka" or "tea tree" plant. Studies have shown Manuka honey holds both antibiotic and antibacterial benefits. Likewise, it's proven to be effective in fighting infection and promoting healing. If you can find Manuka honey, it's a great healthy addition to this smoothie!
Orange— I added an orange to this turmeric smoothie recipe for a whopping dose of vitamin C to support a healthy immune system.
Carrots— Carrots also deliver vitamin C to this smoothie, along with antioxidant-rich beta carotene, a powerful free radical fighter.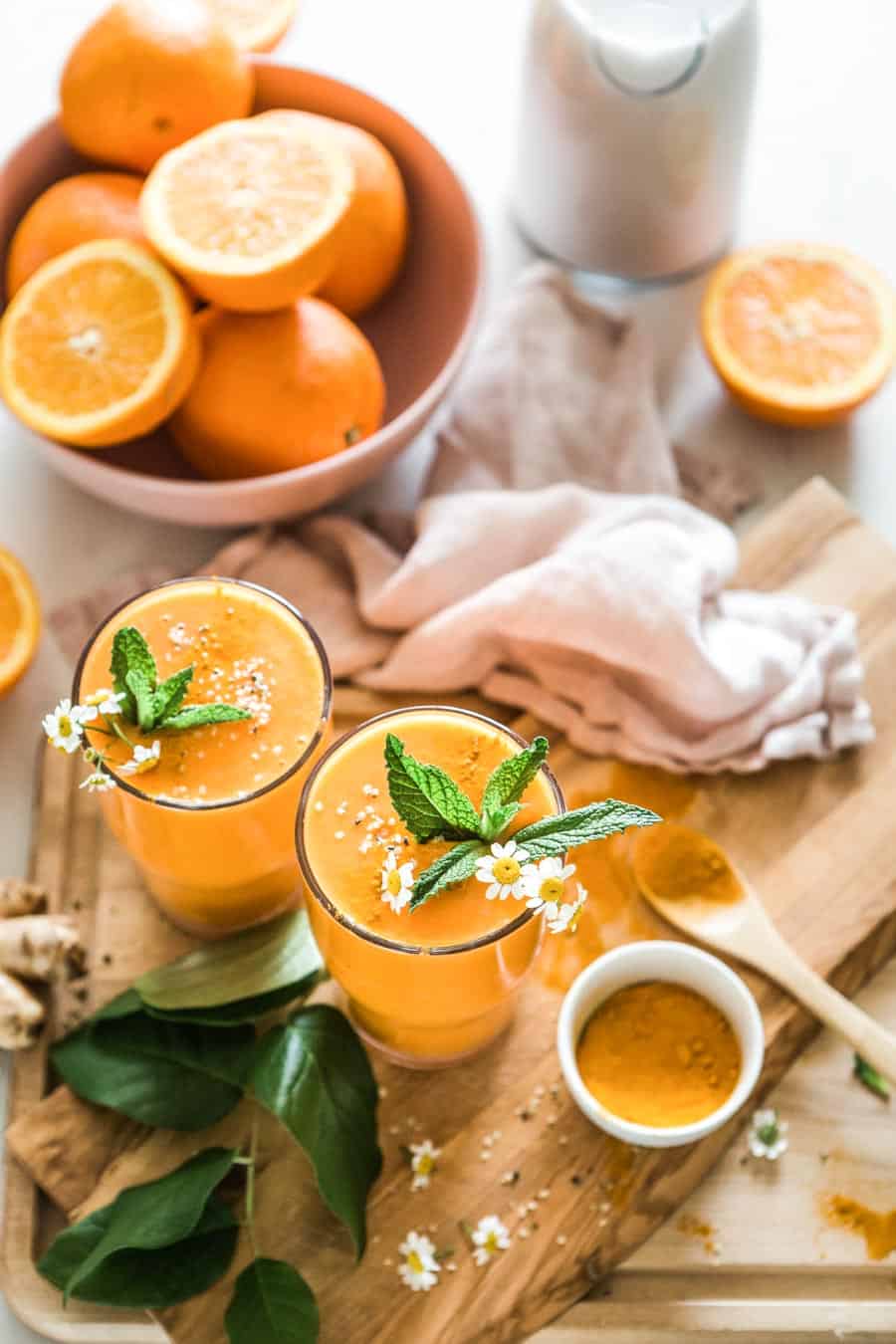 More Healing Turmeric Recipes
If you're trying to step into the natural healing space more, check out these other wonderful recipes that use turmeric: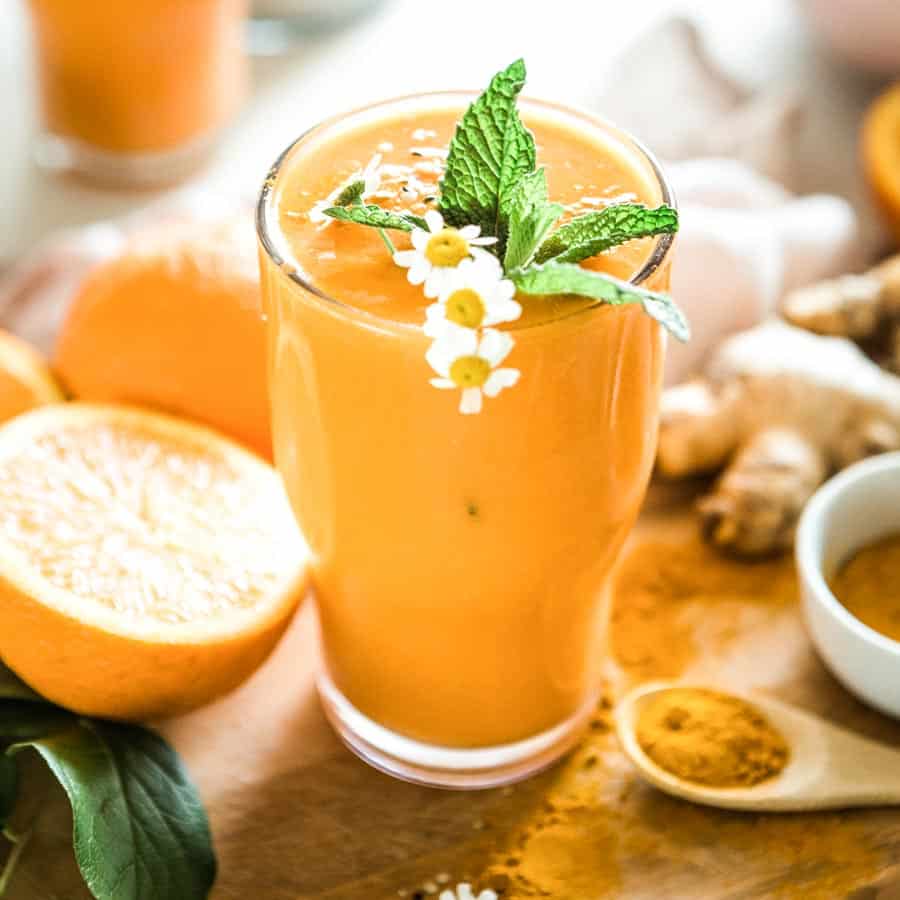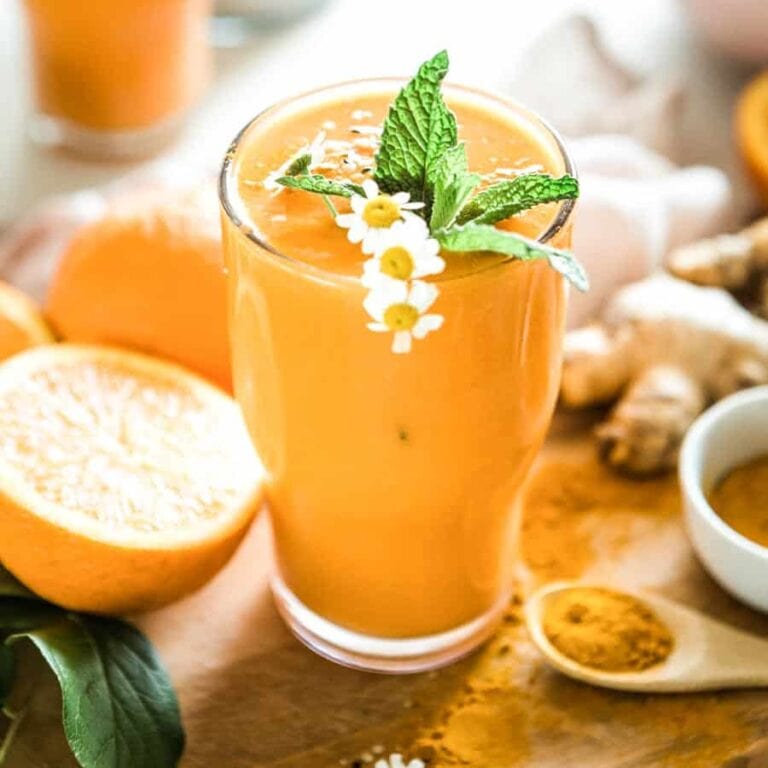 Honey Turmeric Smoothie
Treat yourself to a nutrition-packed Honey Turmeric Smoothie with mango, carrots, orange, ginger, turmeric and honey. It all comes together to create a creamy, flavorful drink.
Ingredients
1

inch

ginger root

peeled

1

orange

peeled and zested

¾

cup

almond milk

or other nut milk

½

cup

mango

frozen

½

cup

sliced carrots

frozen

1

tbsp

honey

1

tsp

ground turmeric

1

serving

homemade protein powder

optional
Instructions
Place ginger, orange and almond milk in blender. Blend until smooth.

Add remaining ingredients and blend until creamy.
Notes
If frozen carrots aren't available, swap for frozen pineapple or roasted sweet potato that's been chilled.
If you're using all fresh ingredients, pour over ice to serve.
Fresh turmeric has even more health benefits than ground turmeric. Swap in 1-inch peeled fresh turmeric. 
Omit honey to cut down on the natural sugar of this smoothie.
Nutrition
Calories:
240
kcal
,
Carbohydrates:
54
g
,
Protein:
4
g
,
Fat:
3
g
,
Saturated Fat:
1
g
,
Polyunsaturated Fat:
1
g
,
Monounsaturated Fat:
1
g
,
Sodium:
291
mg
,
Potassium:
671
mg
,
Fiber:
7
g
,
Sugar:
44
g
,
Vitamin A:
11879
IU
,
Vitamin C:
104
mg
,
Calcium:
314
mg
,
Iron:
1
mg