I remember introducing kiwi to my kids; it's such a magical fruit! Yet with such a short growing season, I get in as many as I can before they disappear again. This tropical green fruit is the star in my strawberry kiwi smoothie recipe.
A little tang, a little sweetness, and a whole lot of vitamin C are waiting inside the furry skin of this unique fruit.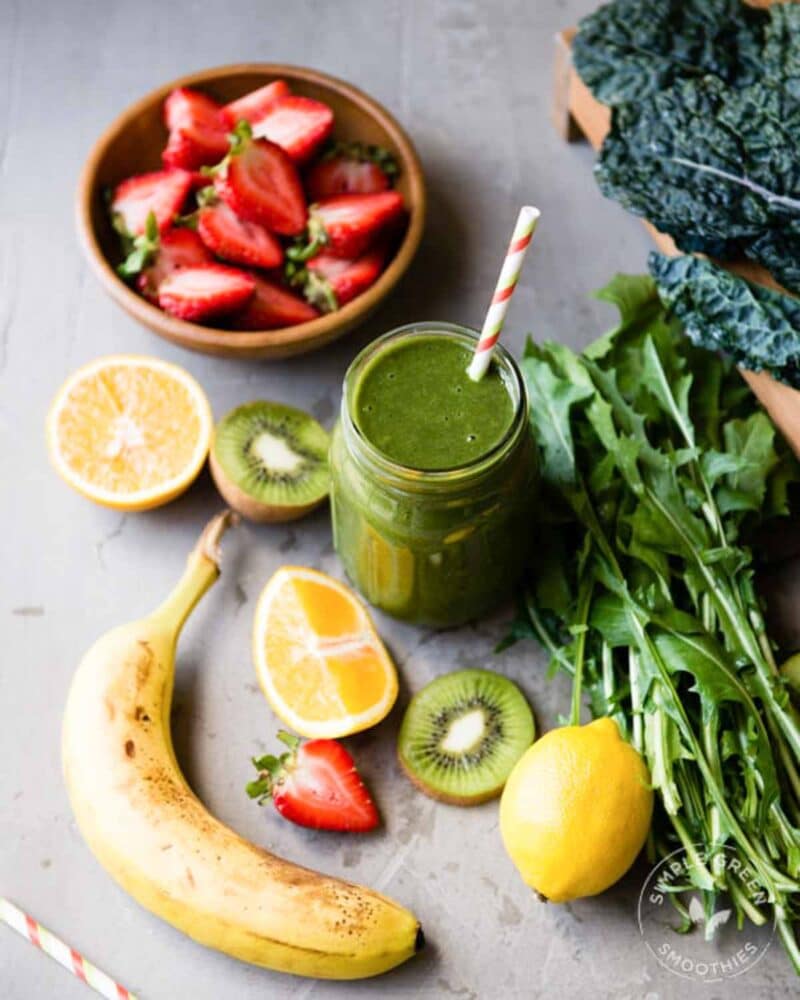 Table of Contents
Tropical Fruit for Smoothies
Often when I think of tropical fruit, I think of oranges, mangos, and pineapple. These are great smoothie ingredients for sure, yet there is a whole wide world of tropical fruits out there. They provide a host of nutritional benefits, as well as taste insanely delicious!
While tropical fruits make us think of warmer weather, they're often at their peak freshness during winter. I find ingredients for this kiwi smoothie in January and February! Here are some of my fav citrus fruits to add to smoothies:
Lemon: To be honest, I eat Meyer lemons like they're candy…. yet lemons of all varieties are great additions to smoothies. I lightly peel them to ensure I get a lot of the white pith, because that is a nutrient-dense part of the lemon.
Grapefruit: If scooping grapefruit out of a bowl every morning isn't your thing, then add it to your next morning smoothie. Its refreshing flavor will brighten up any day.
Papaya: This mild fruit is soothing on the tummy, and can help with bloating issues.
Dragon fruit: Did you know that dragon fruit grows on a cactus?! This fun fruit comes with white or pink flesh, and tastes a bit like kiwi or pear.
Coconut: Whether you want to use the flesh, the water, the milk, or the oil of a coconut, this is fruit can rawk a variety of smoothie recipes! For an extra boost of electrolytes in this strawberry kiwi smoothie, swap out the orange juice with coconut water.
Lime: When I'm looking for a sour element to my smoothie, I toss in a lime. Again I leave the white pith on to absorb all the nutrients I can get.
Tropical fruits are great ways to freshen up your smoothie game + they're loaded with vitamins and minerals to keep your body strong during the winter months.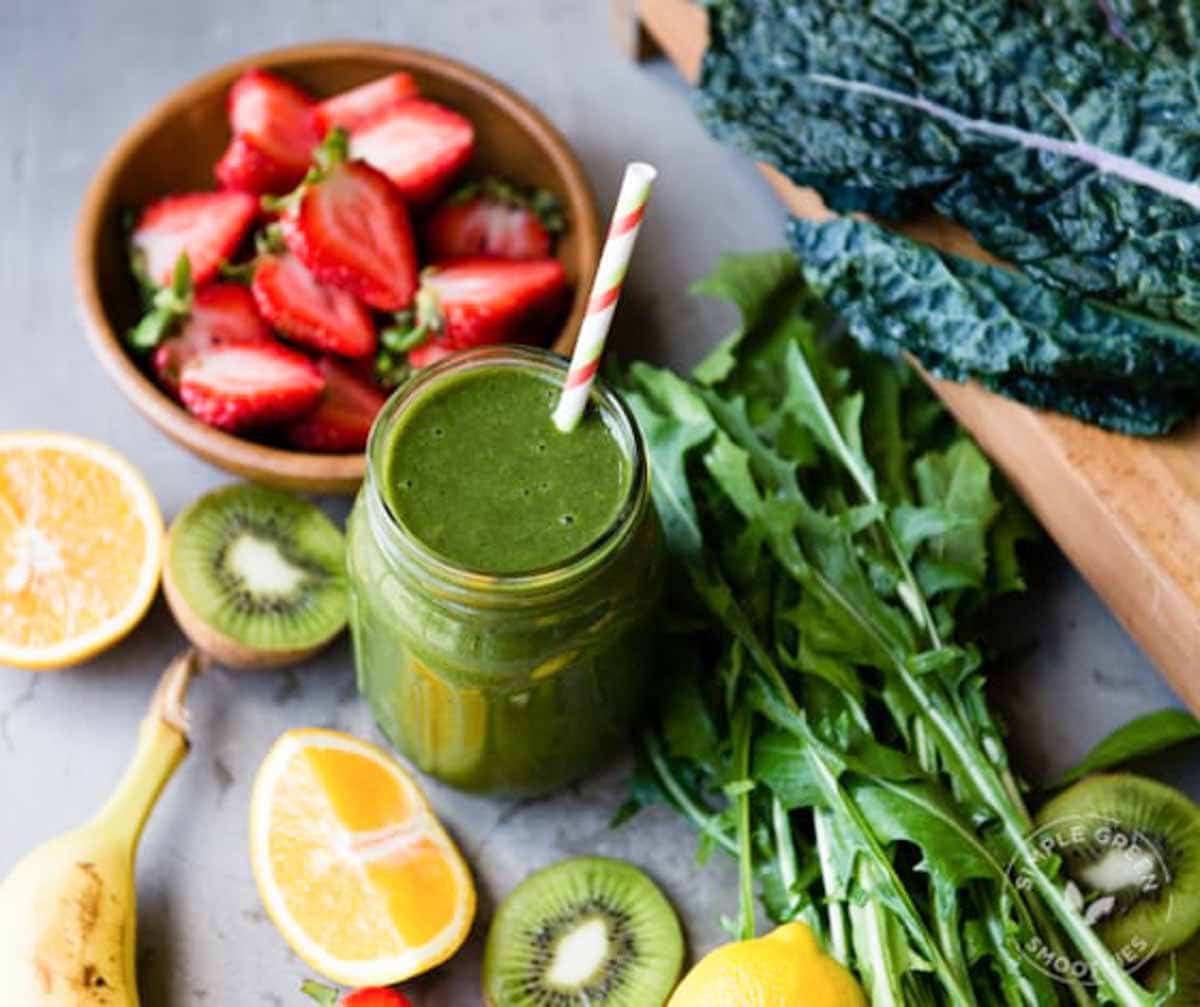 Kiwi Smoothie Swaps
Because I'm all about rotating my leafy greens in smoothies, kale isn't the only green that works in this strawberry kiwi smoothie. My original recipe actually uses dandelion greens! Switch it up with whatever you have on hand.
If you don't have time to squeeze some fresh orange juice for the liquid base of this recipe, you can use water, coconut water, or toss in an orange + 1/2 cup water.
Lower Sugar Options
Even though all the sugar in this kiwi smoothie is 100% naturally occurring, it can still be a lot. Swap the banana with 1/2 avocado per serving, or 1/2 cup cauliflower to lower the sugar content.
Another great way to help your body process that natural sugar, is adding in extra protein + healthy fat. This helps your body burn that sugar as longer lasting energy. I created a homemade protein powder specifically for adding protein, as well as healthy fat, to my smoothies. And it helps keep me full until lunchtime, with no sugar crash!
Tips for the perfect blend
I recommend peeling kiwi before blending, because the skin is pretty tough and hairy. If you aren't using a high-powered blender for this strawberry kiwi smoothie, then make sure to blend the greens + liquid first. This will allow your blender to really chop up those greens.
You might want to toss in the kiwi after the first blend, and blend again, before adding the remaining ingredients. This will help chop up the seeds from the kiwi a bit more, which creates a creamier beverage.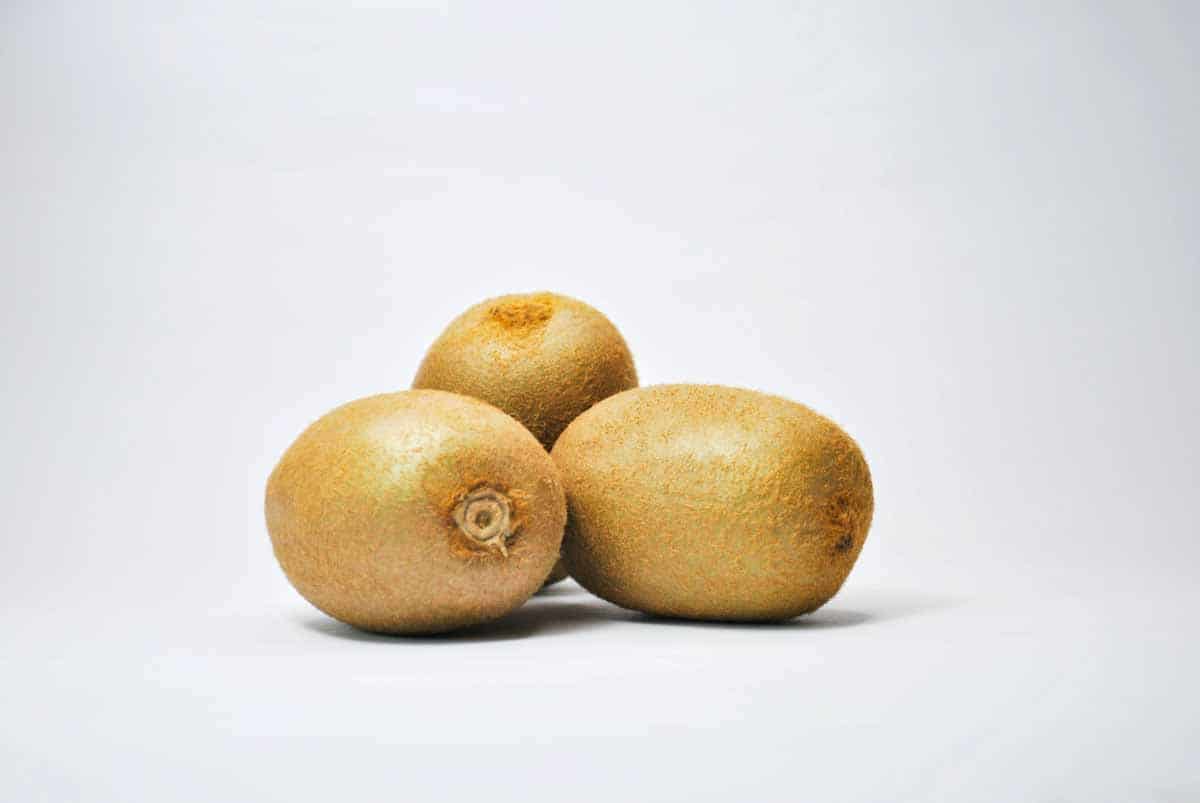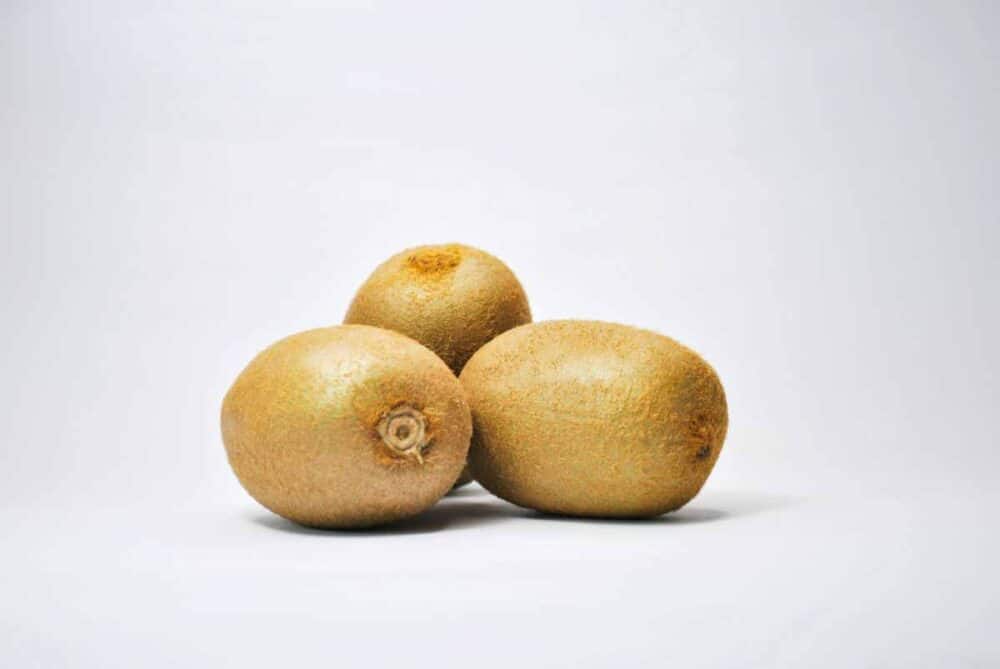 More Tropical Smoothie Recipes
If this kiwi smoothie recipe has you dreaming of a beach chair and a sea breeze, then I've got some more great smoothie recipes for you!
Don't forget to rate + review this recipe once you make it; I love getting your feedback!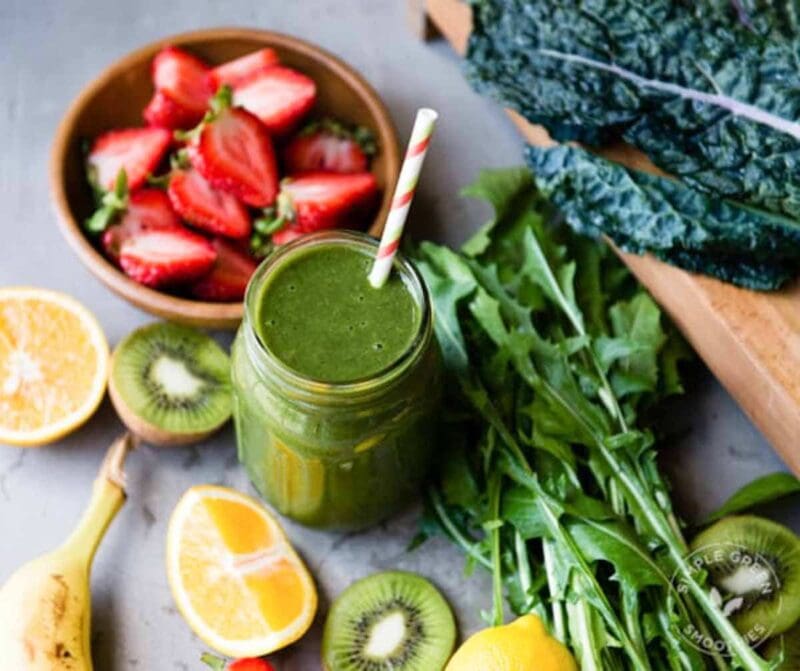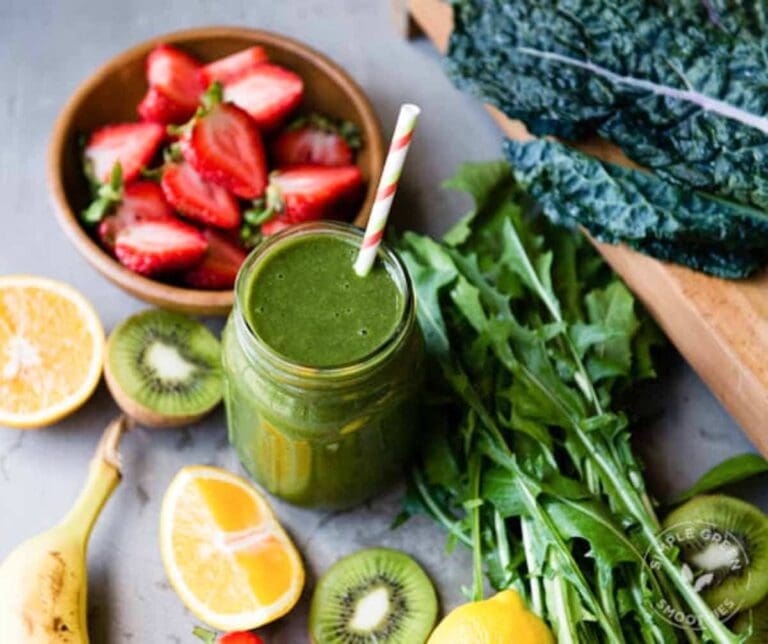 Citrus Kiwi Smoothie
Strawberries, kiwi and fresh oranges give this Citrus Kiwi smoothie a sweet vitamin C boost.
Ingredients
1

cup

kale

2

oranges

cut into wedges

1

cup

strawberries

frozen

1

kiwi

peeled

½

banana

1 tbsp

lemon

juice

1

serving

homemade protein powder

optional
Instructions
Blend greens and orange juice until smooth.

Next add the remaining fruits and blend again.
Notes
Use at least one frozen fruit to make the smoothie cold.
You can keep the kiwi skin on to add an extra nutritional boost of fiber. Or feel free to leave that fuzzy skin out. It's really a personal preference.
Nutrition
Calories:
317
kcal
,
Carbohydrates:
77
g
,
Protein:
8
g
,
Fat:
2
g
,
Saturated Fat:
1
g
,
Polyunsaturated Fat:
1
g
,
Monounsaturated Fat:
1
g
,
Sodium:
31
mg
,
Potassium:
1550
mg
,
Fiber:
14
g
,
Sugar:
48
g
,
Vitamin A:
7419
IU
,
Vitamin C:
406
mg
,
Calcium:
264
mg
,
Iron:
2
mg