This overnight oats recipe is the stuff dreams are made of. Let's learn how to make overnight oats (so simple!) then dive into all the ways you can dress up your oats. Hello breakfast-to-go in a few easy steps.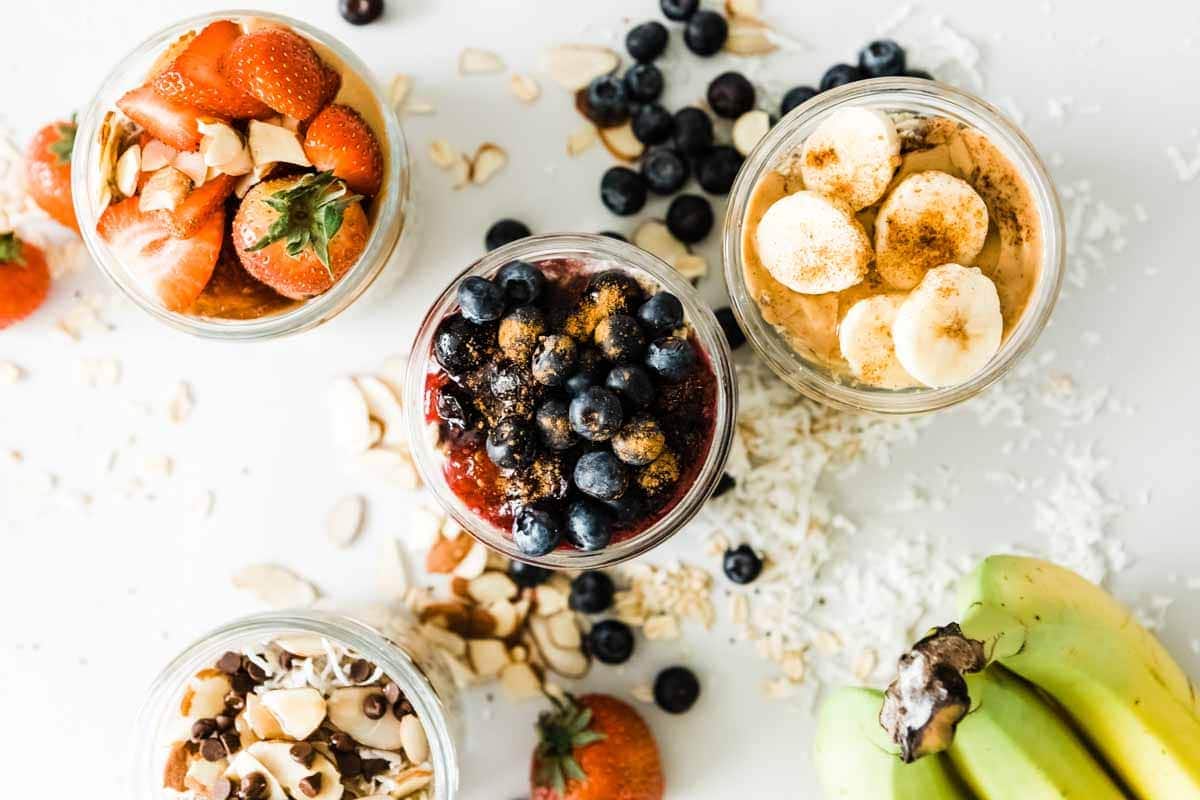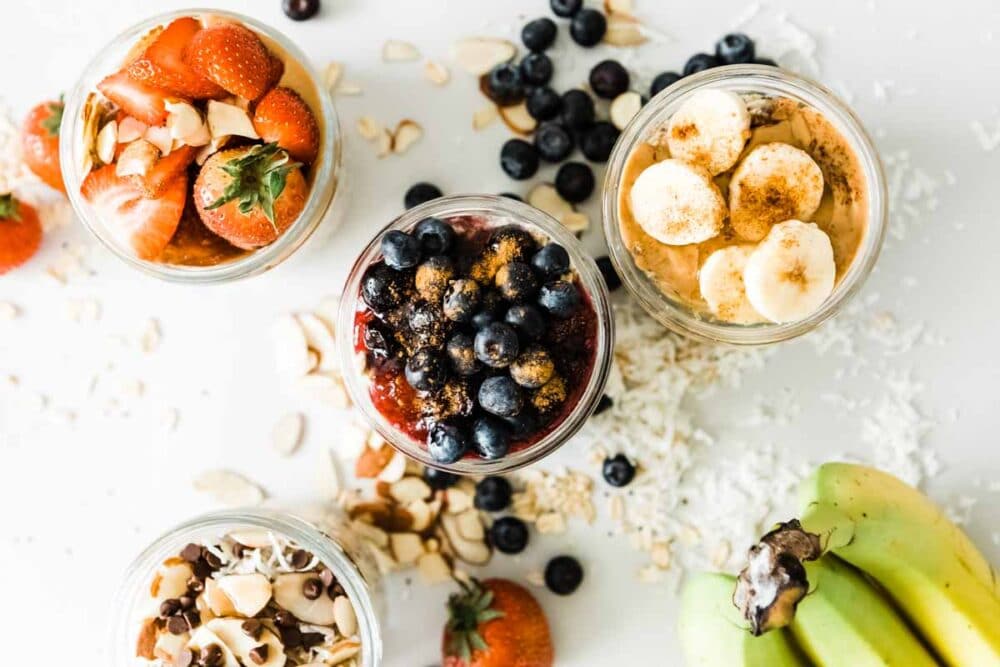 This overnight oats recipe is the ultimate "prep-ahead" breakfast. My favorite part are the toppings— that's really where these recipes shine (and keep me excited to make them again and again). I've got 4 different ways to enjoy this super simple recipe, and all the variations are nutritious + delicious.
What makes this overnight oats recipe different?
I know the Internet is laden with recipes for overnight oats, so I'm definitely not trying to re-invent the wheel with this recipe. Yet I wanted to try and come up with a variation that was plant powered and boosted with nutrients.
My recipe has the following ingredients: rolled oats (a given, right?!), chia seeds, flaxseed meal, unsweetened almond milk, vanilla extract, and a touch of maple syrup. Even before adding toppings, that's giving you 3.5 grams of protein, as well as 3.3 grams of dietary fiber.
This overnight oats recipe is also high in calcium, without any dairy in it at all! The chia seeds also offer high quality protein + antioxidants.
How to make overnight oats
Don't let the prep time fool you. This recipe for overnight oats is EASY. Simply measure the ingredients for the base into a bowl, then stir. Once mixed together, cover and place in the fridge overnight.
When you wake up, add whichever toppings seem right in the moment, then dive right in and eat! If I'm going to prep something ahead, I like to make it as simple as possible. This overnight oats recipe is def my kind of recipe.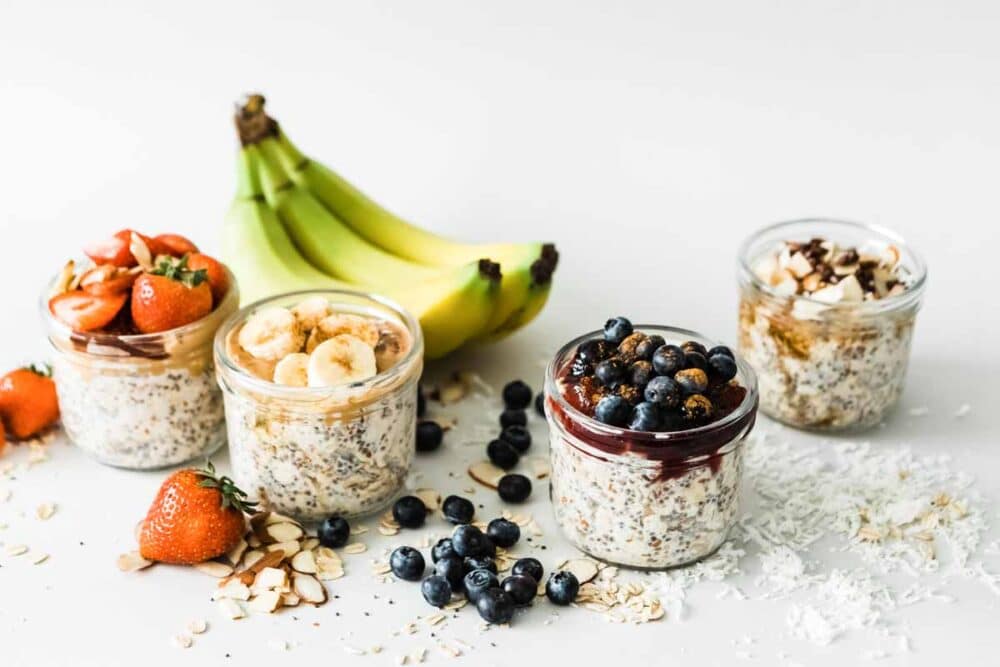 Best storage options
As you can see from the photos of these adorable snack packs, I like to store my overnight oats in 4 oz glass containers. The lids screw on tight, so I don't worry about tossing one of these containers into my bag. They're also just the right size for scooping out all the goodness my fridge just melded together overnight.
Mason jars also stack up nicely, which helps when storing. While you can store this overnight oats recipe in plastic containers, I find that glass seems to do a better job jelling all the ingredients together for some reason.
Overnight oats toppings
Alright, now we're on to the fun part: toppings! Obviously you can + should top them absolutely however you want. Yet I got serious about finding some good combos for you to try. So if you need some inspo, read on:
Almond-y joy– shredded coconut, sliced almonds, mini chocolate chips, maple syrup
AB&J– strawberry jam, almond butter, fresh strawberries, sliced almonds
Blueberry delight– blueberry jam, fresh blueberries, cinnamon
Banana protein boost– banana, almond butter, cinnamon, honey
No matter how you top this overnight oats recipe, it's gonna be good.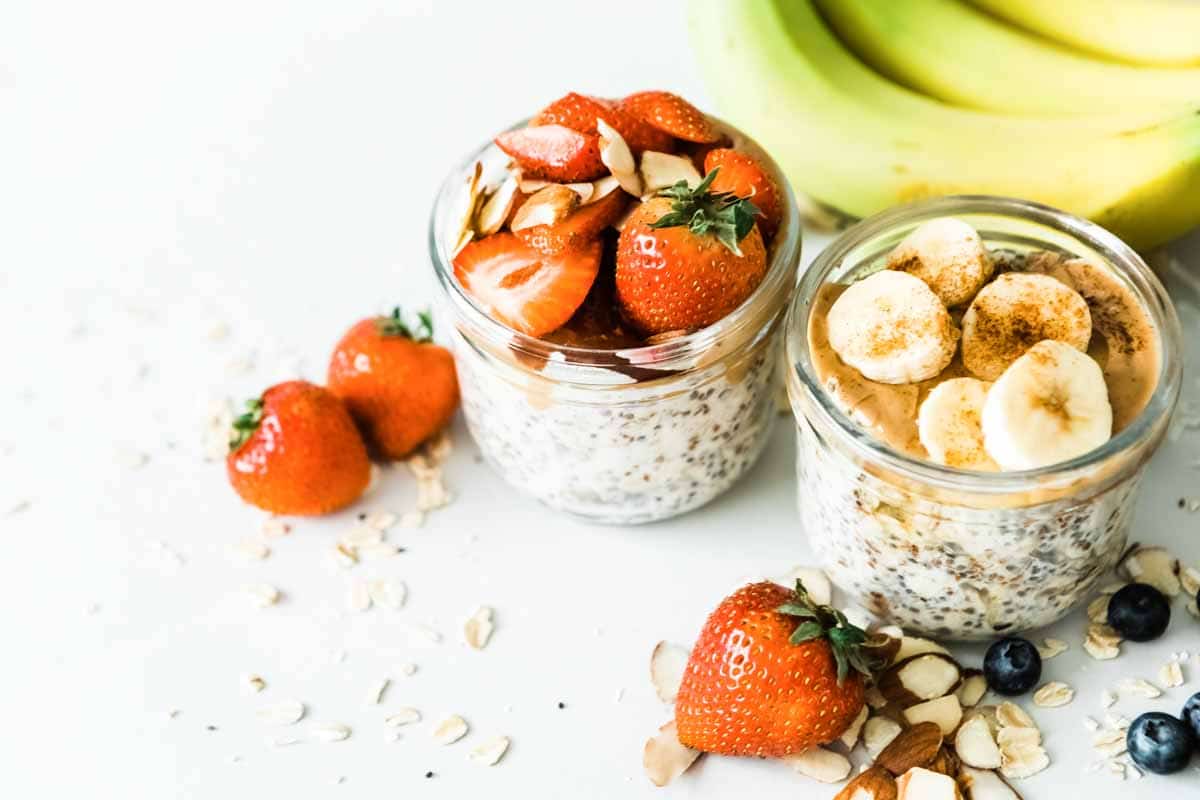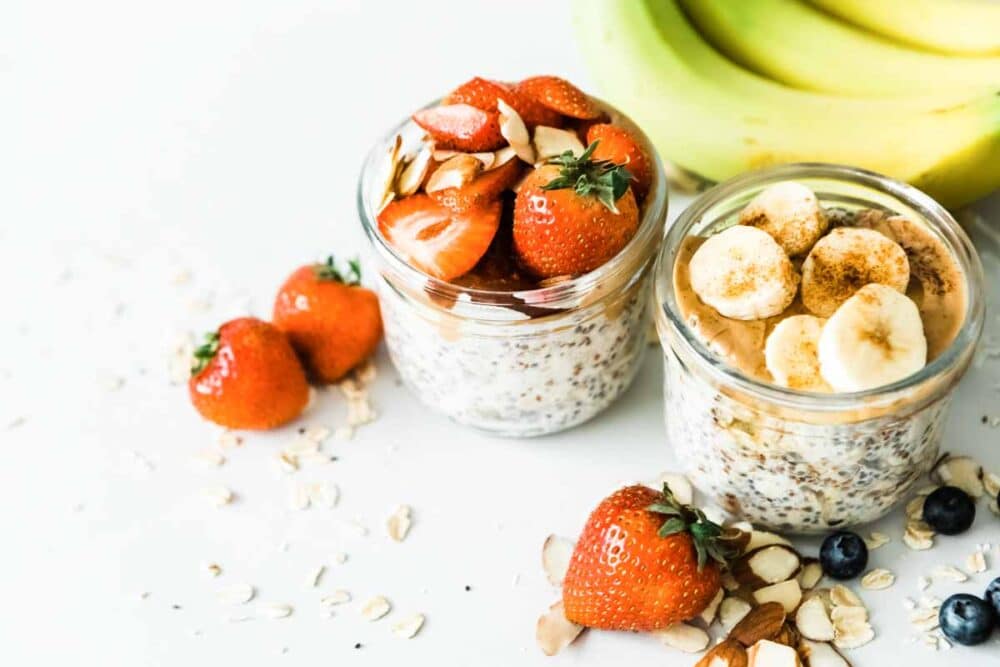 Non-smoothie breakfast options
This might shock you but… I don't always have a green smoothie for breakfast. *GASP* I'll give you a moment to pick your jaw off the floor. Seriously though, I sometimes like having my daily smoothie for a snack or lunch. I've actually got some incredibly scrumptious non-smoothie breakfast options, like these overnight oats, to share with you.
Breakfast cereal bars– These taste like childhood for me, yet are super fun to make and I can pronounce all the ingredients in mine.
Pumpkin pancakes– Use this recipe to make decadent pancakes or waffles. Super filling, and easy to freeze for on-the-go breakfasts in the future as well.
Almond butter & jam muffins– These are my ultimate go-to breakfast. I can't express how delicious these are, plus they're easy to make!
Plant based protein bars– Loaded with nuts + seeds, as well as dried fruit, these versatile bars are epic- tasty, filling, and fun to reheat in the toaster oven before you drizzle with almond butter.
Vegan yogurt parfaits– I was shocked at how delicious this vegan 'yogurt' was the first time I tried it. And when mixed with my special Coconut Granola recipe from our Seasonal Cleanse, I was hooked. Like the overnight oats recipe below, it's easy to break this recipe down into snack sized portions. Or just make 2 big parfait-style breakfast treats out of it and enjoy.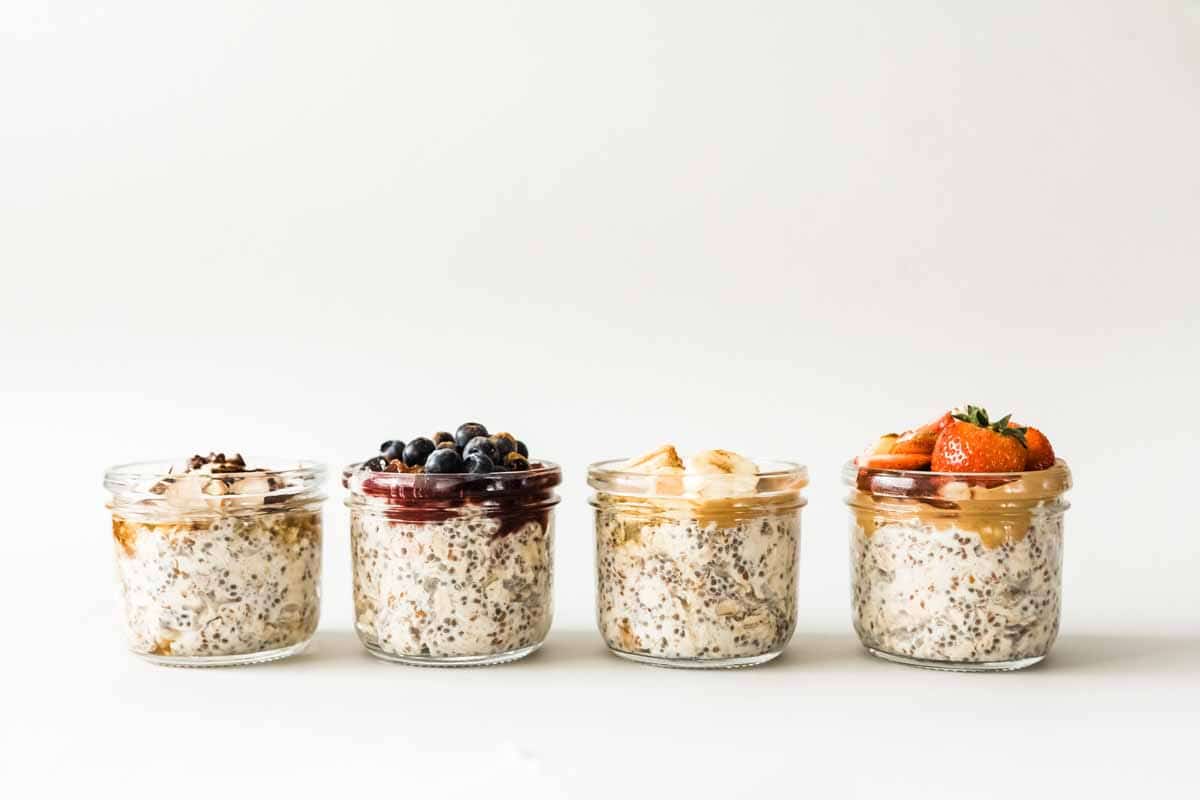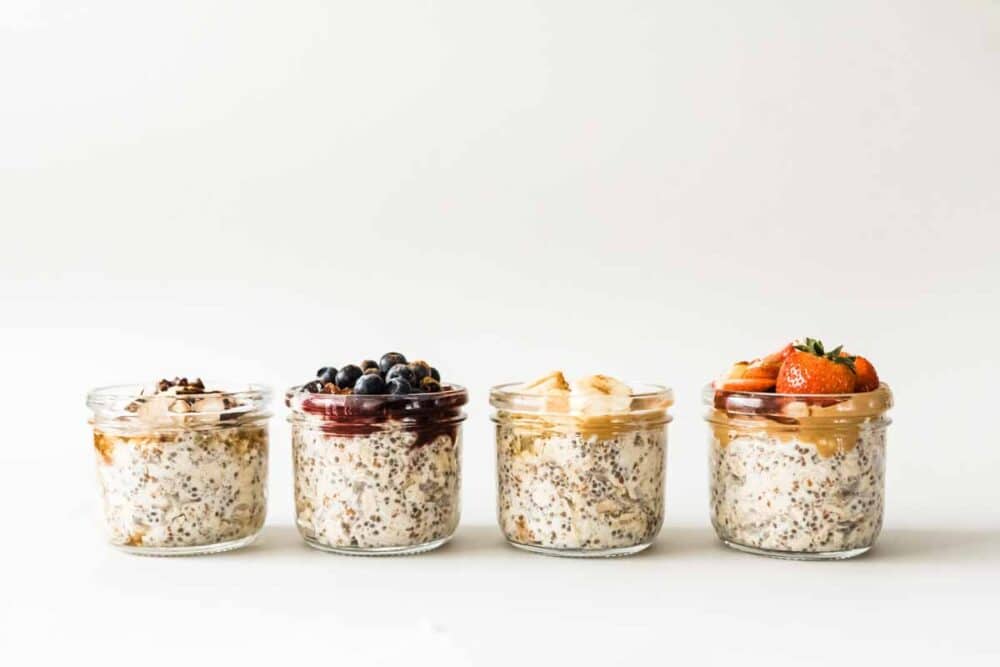 Now that I'm craving breakfast foods, let's whip up this overnight oats recipe and meal prep like pros. Don't forget to comment + review this recipe, especially if you made some topping magic of your own. I love hearing new ways to top this simple recipe!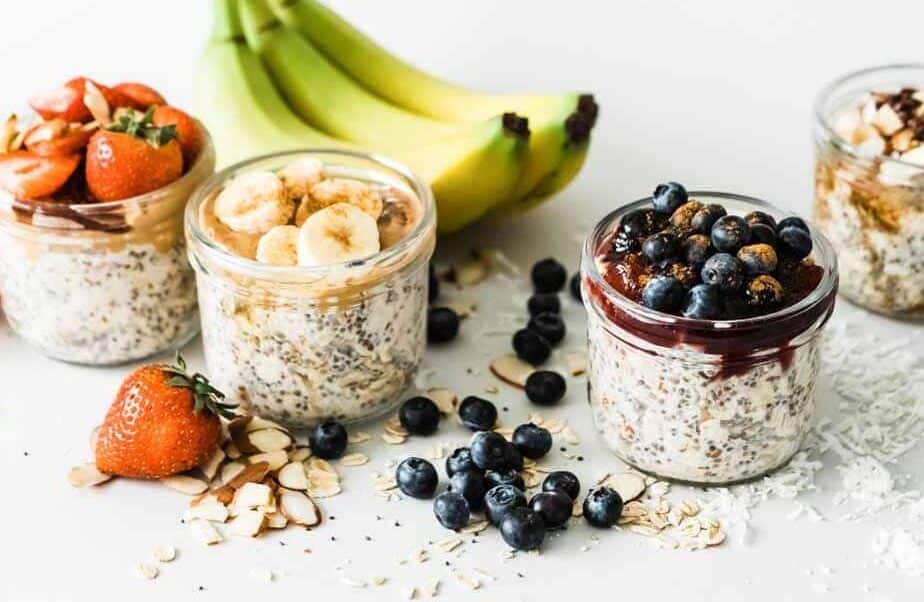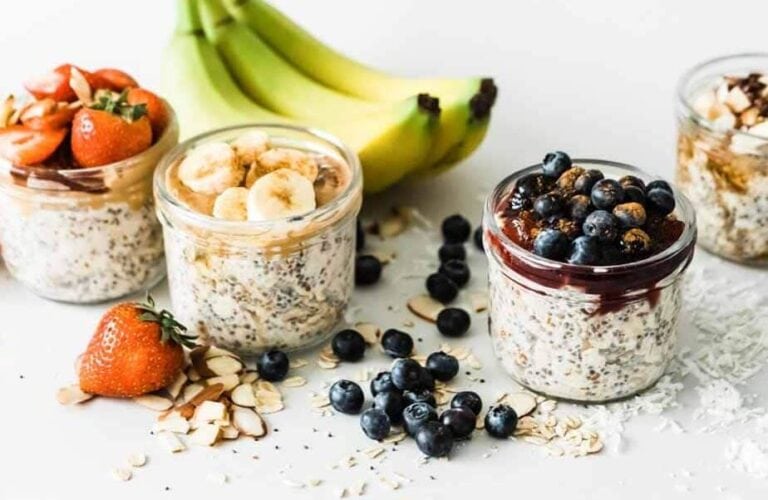 Overnight Oats Recipe
Start your day off right with this simply amazing overnight oats recipe thats's vegan-friendly and gluten-free.
Ingredients
Oat Base:
1

cup

rolled oats

1

tbsp

chia seeds

1

tsp

ground flaxseed

1

cup

almond milk

1

tsp

vanilla extract

1

tbsp

maple syrup
Suggested toppings #1
¼

cup

coconut flakes

1

tbsp

raw almonds

sliced

1

tbsp

chocolate chips

mini

1-2

teaspoons

maple syrup
Optional toppings #2
1-2

teaspoons

strawberry jam

1

tbsp

almond butter

¼

cup

strawberries

diced

1

tbsp

sliced almonds
Optional toppings #3
1-2

teaspoons

blueberry jam

¼

cup

blueberries

fresh

¼

tsp

ground cinnamon
Instructions
Mix all the base ingredients in a bowl

Cover bowl and refrigerate overnight

Remove bowl from fridge and top with desired toppings
Notes
You can sub any kind of plant milk for the almond milk.
You can swap in honey for the maple syrup.
Nutrition
Calories:
182
kcal
,
Carbohydrates:
23
g
,
Protein:
4
g
,
Fat:
8
g
,
Saturated Fat:
4
g
,
Polyunsaturated Fat:
2
g
,
Monounsaturated Fat:
2
g
,
Trans Fat:
1
g
,
Cholesterol:
1
mg
,
Sodium:
86
mg
,
Potassium:
153
mg
,
Fiber:
5
g
,
Sugar:
6
g
,
Vitamin A:
2
IU
,
Vitamin C:
1
mg
,
Calcium:
121
mg
,
Iron:
1
mg