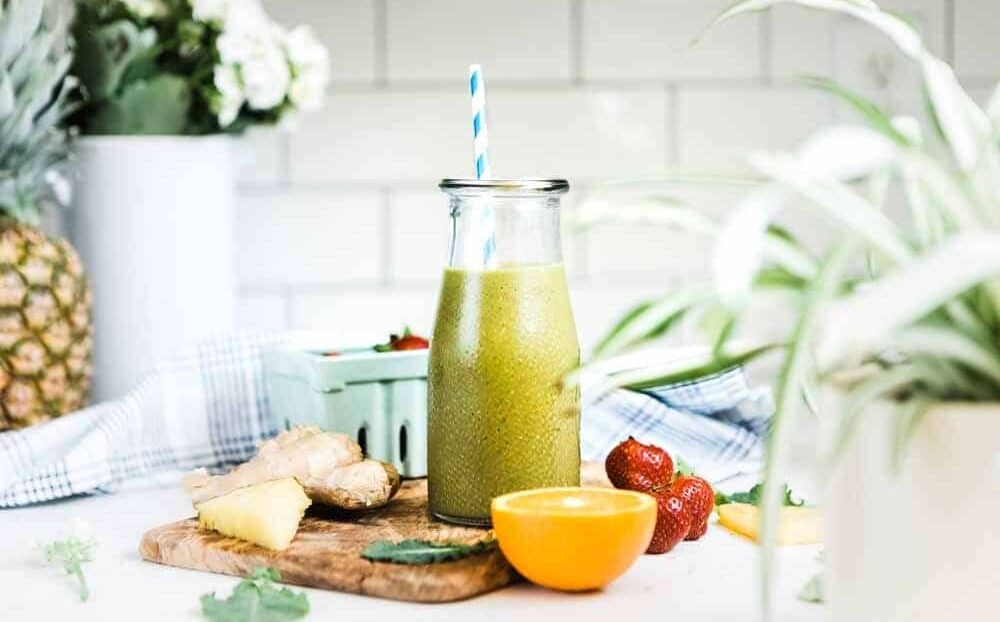 This plant-based pineapple ginger smoothie features vitamin C packed fruits and veggies, plus a knob of ginger root to curb inflammation and exercise-induced muscle pain.
To celebrate the 3-day weekend, I created this energizing recipe after learning Venus Williams, pro tennis player, enjoys a morning smoothie boosted with ginger and kale. If you want to start the day like a professional athlete, this nutrition-packed smoothie is perfect!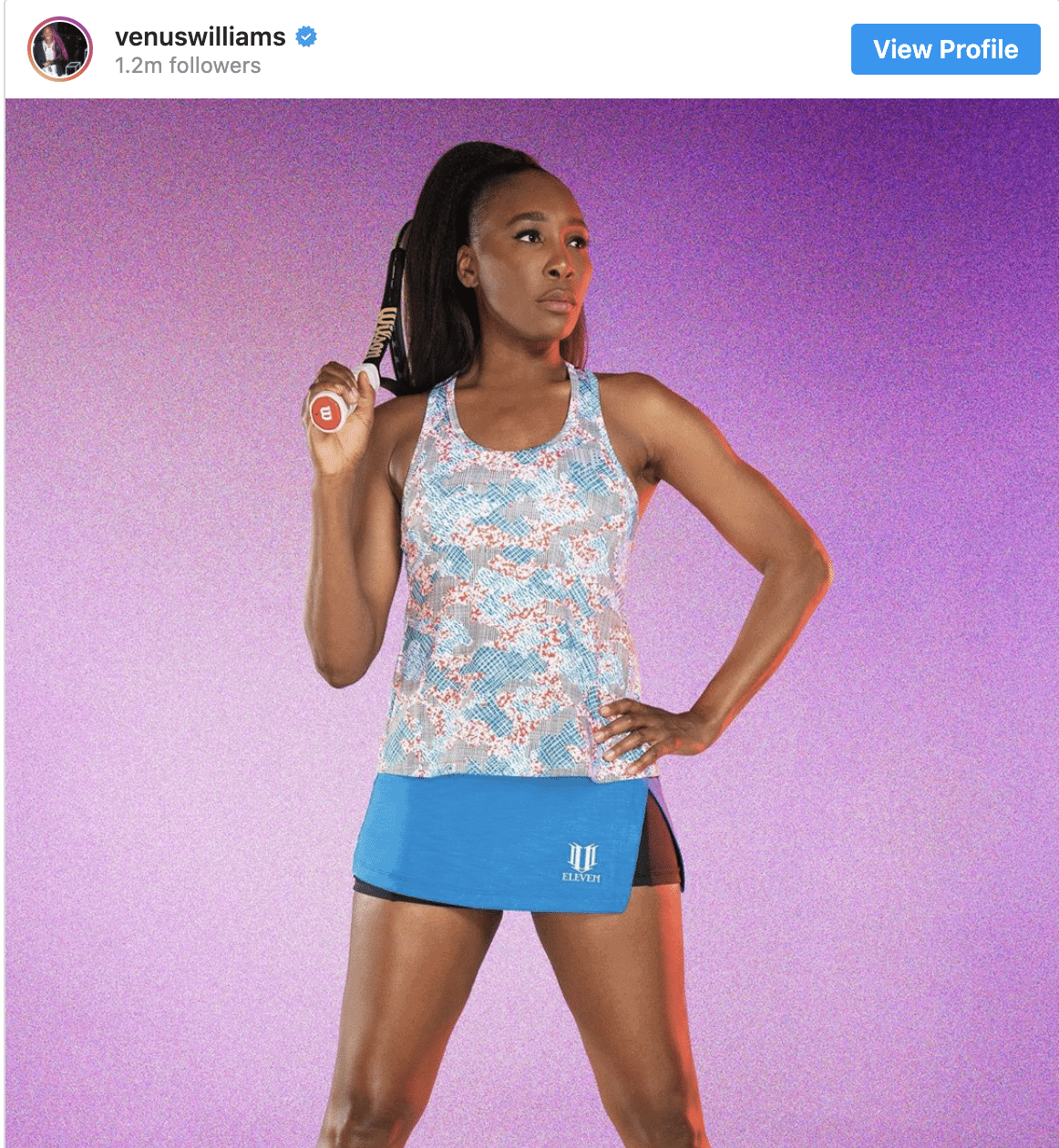 Venus Williams Signature Smoothie
In 2011, Venus was diagnosed with an autoimmune disease called Sjogren's syndrome. Shifting to a plant-based diet drastically reduced some of her symptoms, including fatigue and joint pain (This is not intended as medical advice. Please see a doctor if you experience symptoms).
Take it from Venus, "Our bodies thrive on the things that we eat, it's medicine for our bodies", and choose foods that fuel your body in the best way possible. According to her interview with Shape, Venus' morning pineapple ginger smoothie is packed with foods that calm inflammation and deliver powerful antioxidants to her body.
Whether she's acing it on the tennis court or dialing in her lifestyle brand, Venus Williams gives it her all, and her glowing skin is no exception. Her morning drink of choice is a tasty, zingy ginger smoothie, reminiscent of a gingersnap cookie but with major health benefits to power her through everything from business meetings to morning workouts.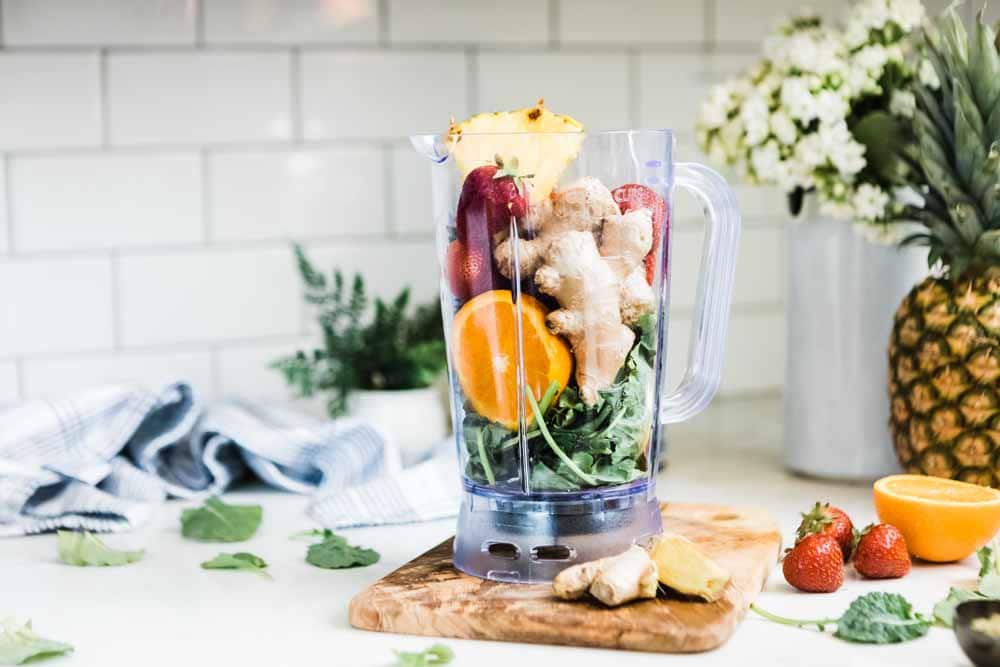 What are the health benefits of a ginger smoothie
Smoothies are an incredible way to pack in your daily servings of fruit and vegetables. Yet too much fruit and you could cause a sugar rush that leads to a crash. This smoothie is beautifully balanced thanks to the high fiber, light protein and essential vitamins and minerals.
Here's a few of the key ingredients:
Plant-powered Kale
Kale is one of the most nutrient dense foods around. One cup of kale has only 33 calories. Plus, the fiber, antioxidants and anti-inflammatory nutrients are healing on your body. Vitamin C is known for boosting your immune system and counteracting the damage from disease-causing free radicals. Each serving of kale is full of vitamin C.
Want one more reason to love kale? It contains omega-3 fatty acids to tame inflammation.
Inflammatory-Fighting Ginger
The ginger in this smoothie is a natural inflammation reducer. Inflammation, which is at the root of most diseases, causes physical symptoms like skin problems and digestive issues.
Ginger is also a powerful pain reliever. A 2010 study found that consuming a small amount of ginger is more effective at reducing pain symptoms and inflammation than painkillers. Another bonus of consuming ginger? It may help clear up acne.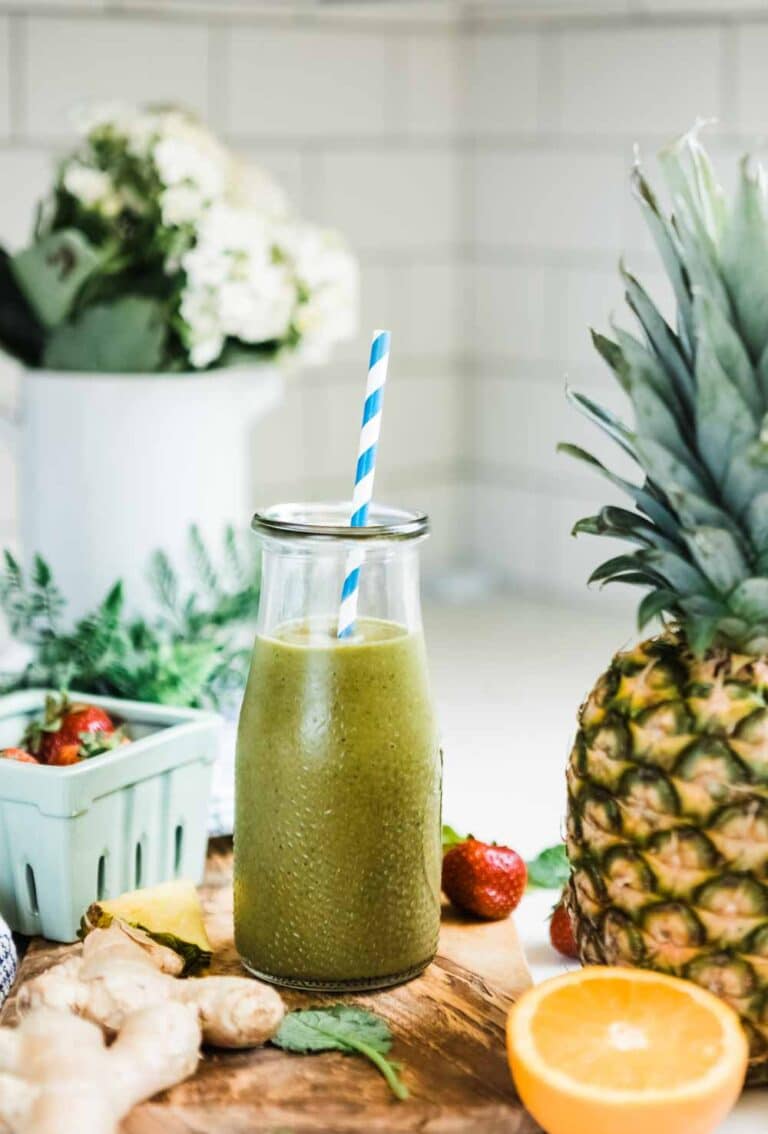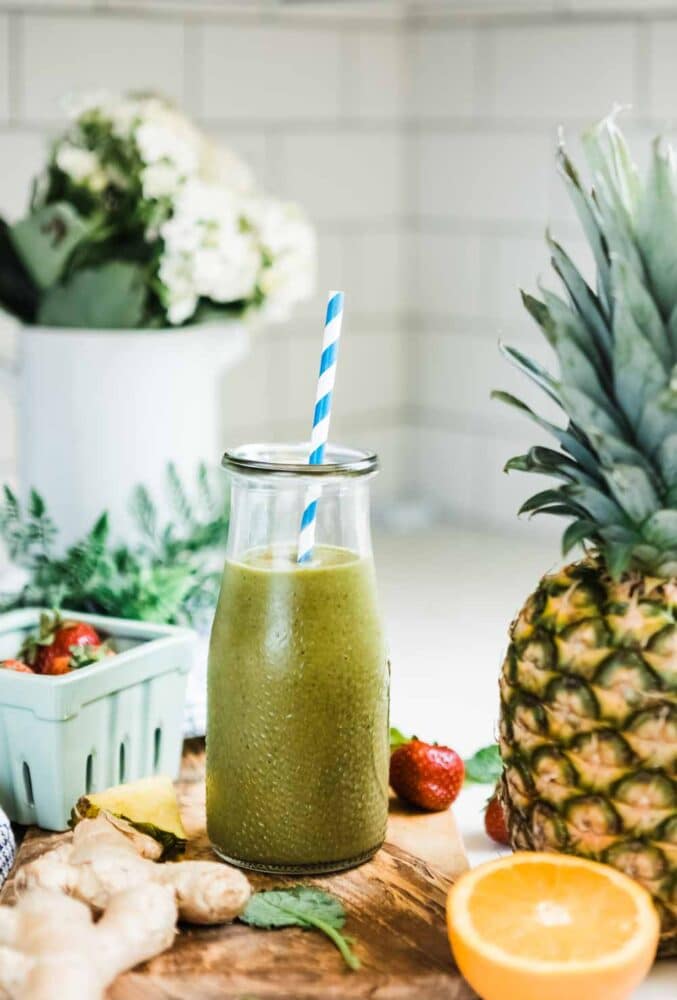 How to use fresh ginger root in a smoothie
First, hold your piece of ginger in one hand and a metal spoon in the other hand. Scrape the edge of the spoon against the ginger to peel off the skin. Work your way around the ginger root.
Alternatively, use a sharp paring knife to peel off the skin, taking care to peel the skin without taking off the inside flesh.
How much ginger should I use in a smoothie?
My advice: start with a little bit. Like the size of a dime. You can always add more, yet you can't take it back. At first, I could only handle a small piece, yet over time I've fallen more in love with it. Now, I'll easily add a chunk of it in without even flinching.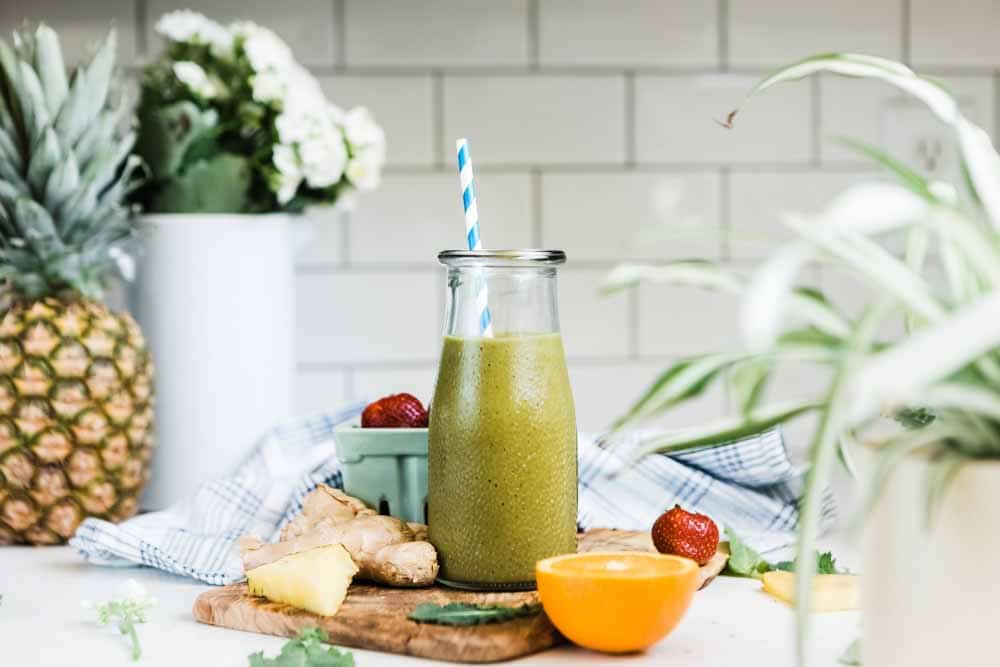 Ways to give this ginger smoothie a creamy texture
First, we all love to sip on a smoothie that's cool and creamy, kind of like a frosty. To get that amazing texture, use frozen pineapple and frozen strawberries. If that's not possible, add about 1 cup of ice to the blender. You may need to add water to thin the consistency.
Craving more recipes with this inflammation-fighting rawkstar ingredient? Take a look at our Rawk the Year Meal planner! There are 50+ recipes with plant-powered ginger goodness to chose from.
Now you ready to get your game on and sip on this high performance ginger smoothie for a power-packed breakfast or mid-morning snack!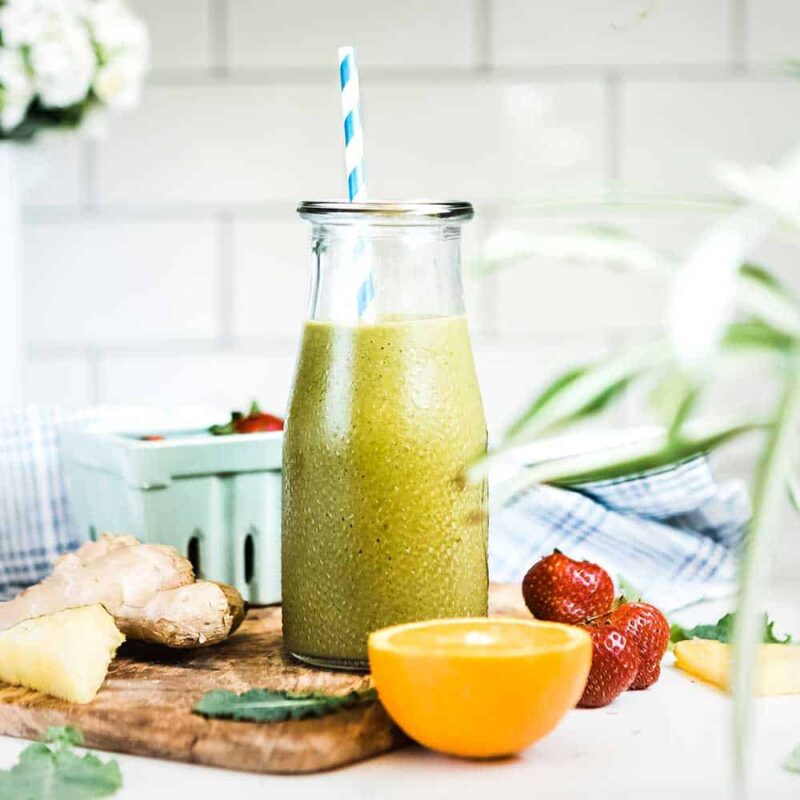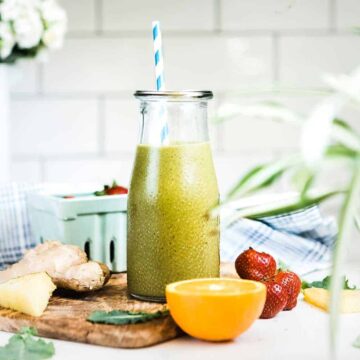 Pineapple Ginger Smoothie
Rate this Recipe
Print Recipe
This morning drink is a tasty, zingy pineapple ginger smoothie, reminiscent of a gingersnap cookie but with major health benefits to power her through everything from business meetings to morning workouts. 
Ingredients
1

cup

fresh kale

(baby)

1

orange

(peeled)

2

inch

ginger root

1

cup

almond milk

½

cup

pineapple

(frozen)

½

cup

strawberries

(frozen)

1

tbs

chia seeds
Instructions
Add kale, ginger, orange and almond milk to the blender.

Blend on high speed until all leafy chunks are gone and you have a smoothie consistency.

Add pineapple, strawberries and chia seeds and blend again.

Serve immediately. 
Nutrition (estimated)
Calories:
263
kcal
(13%)
Carbohydrates:
46
g
(15%)
Protein:
9
g
(18%)
Fat:
8
g
(12%)
Saturated Fat:
1
g
(6%)
Polyunsaturated Fat:
5
g
Monounsaturated Fat:
2
g
Trans Fat:
1
g
Sodium:
356
mg
(15%)
Potassium:
873
mg
(25%)
Fiber:
11
g
(46%)
Sugar:
24
g
(27%)
Vitamin A:
7051
IU
(141%)
Vitamin C:
233
mg
(282%)
Calcium:
553
mg
(55%)
Iron:
3
mg
(17%)