To fuel your body while you get that heart rate up, we suggest a nutrient-rich healthy pre workout smoothie. This recipe is packed with healthy fats and carbs to energize you.
Don't let the color scare you. This pre-workout shake tastes really good.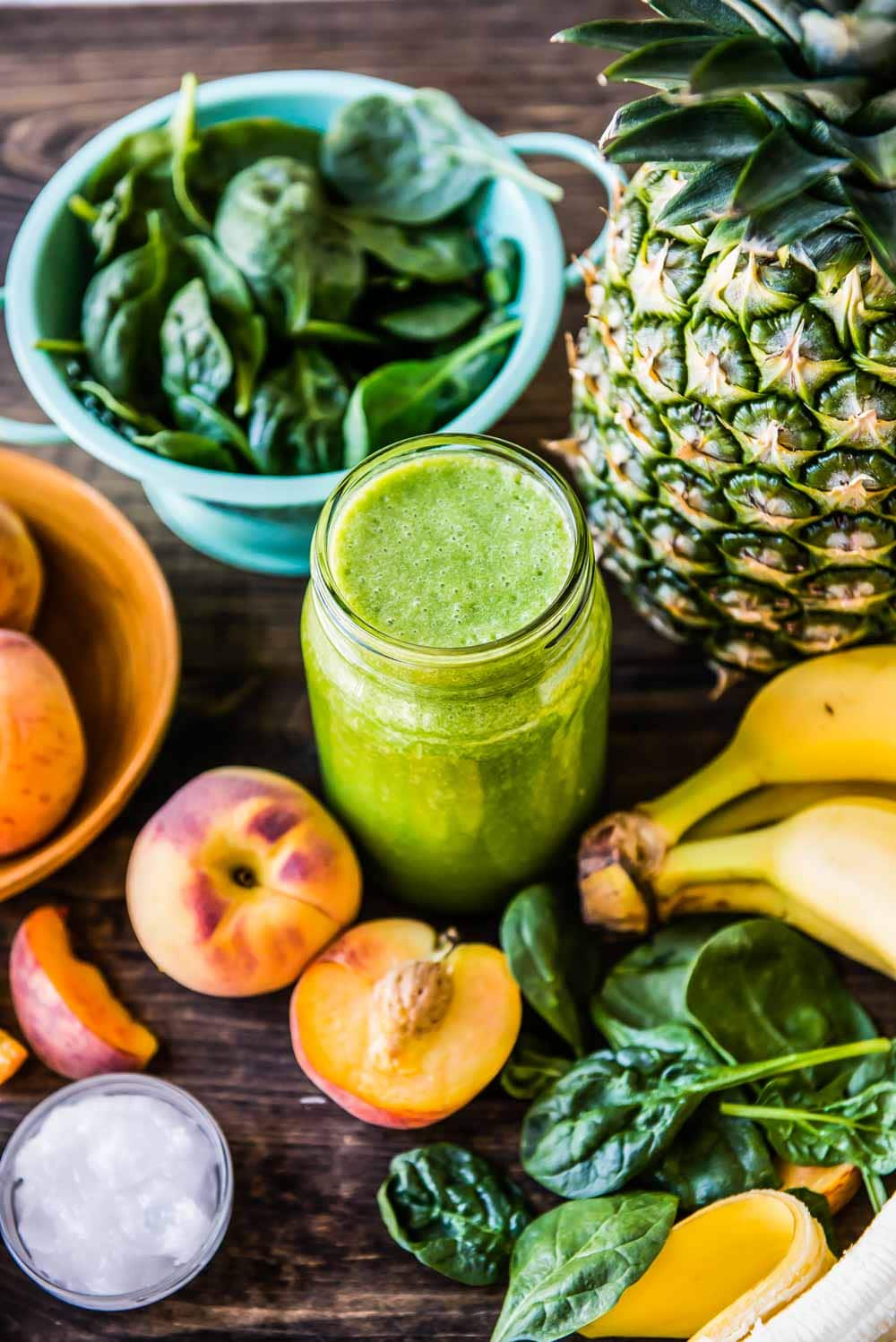 For me, drinking a daily smoothie isn't a diet—it's a lifestyle. It's about taking care of your body and saying yes to plants… every single day. In addition to fueling your body with tasty plant-based smoothies, it's important to exercise daily. Walking, hiking, bootcamp, chasing kids and biking are all great options.
I love to run, so that's my go-to mode of exercise. It's what clears my mind and burns off steam (if you know what I mean). I've even started a Rawkstar Running Club inside Rawk the Year and it's been great. We've got some friendly competition to motivate us to get in at least 7.7 miles each week and we're killing it so far.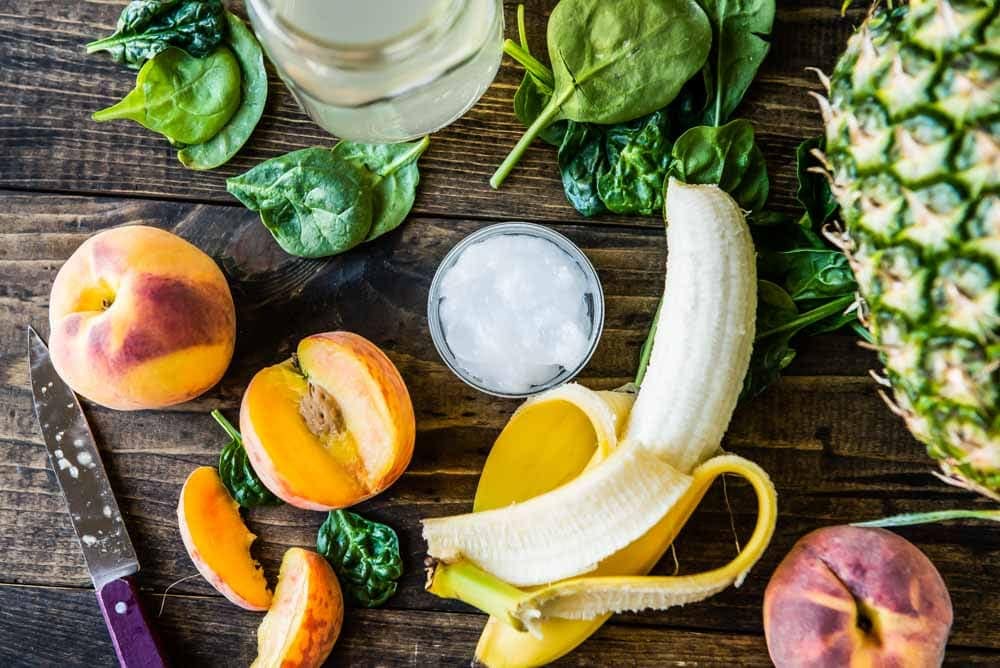 Ingredients in Pre-Workout Shake
As an endurance runner, I don't want super quick energy, I want constant, long lasting energy that doesn't take much work for my body to break down. The combination of greens and fruit delivers the nutrients you need to keep you fueled for a long run or a big workout.
spinach
coconut water
pineapple
peaches
banana
coconut oil
This is one of my favorite combinations. Yet you can boost your favorite smoothies with any of the ingredients below to help fuel your workout.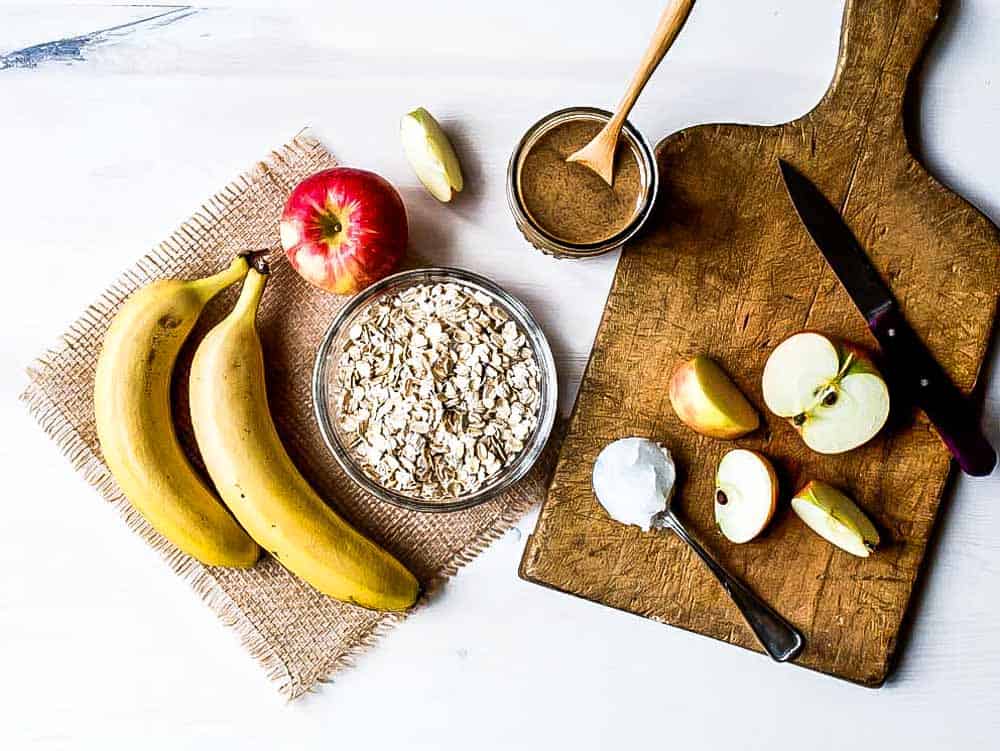 Healthy Pre-Workout Ingredients
Before your workout, stock up on healthy fats with a moderate amount of carbs and protein. You can add any of these to a pre-workout smoothie to boost the health benefits. Here's six foods that are perfect to eat before you get your sweat on:
Bananas
We love bananas as a pre-workout food for so many reasons! Bananas are packed with tryptophan, which your body converts to serotonin. Serotonin is a chemical the body creates that sends us happy vibes. Throw in the fact that bananas are loaded with carbohydrates that help energize your body, and you can see why we put bananas at the top of our list.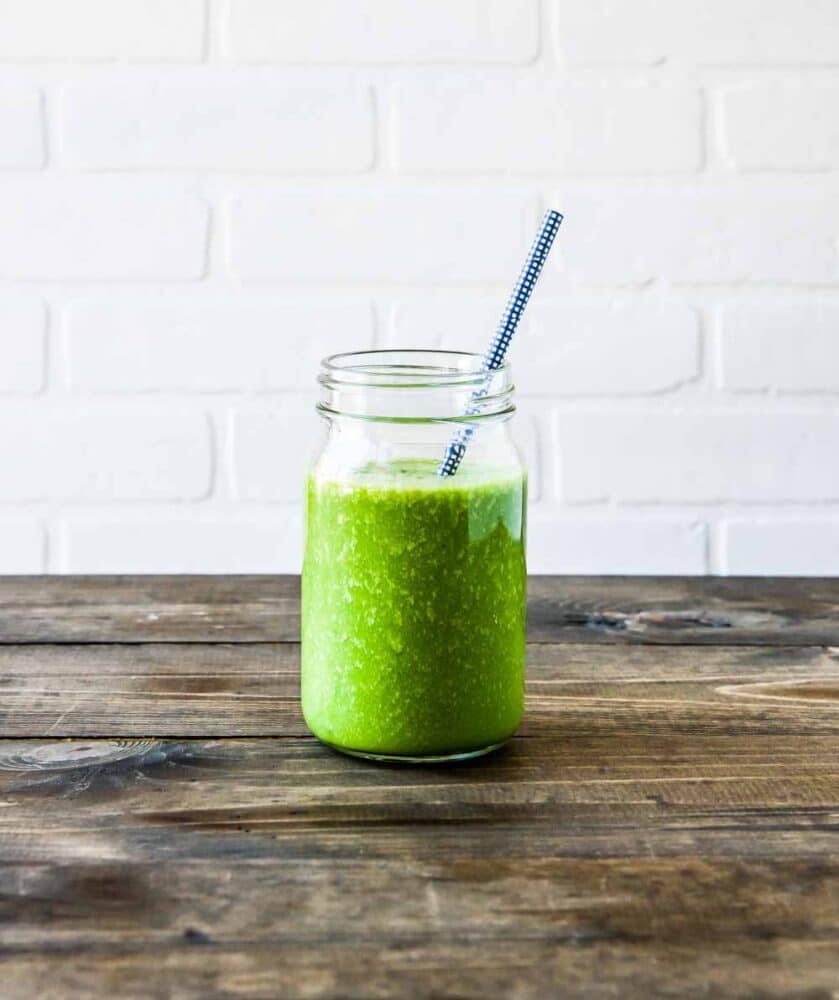 Oats
Oats make this list for one simple fact: they take a long time to digest. This means that they provide long-lasting energy during your workout! Oats also help maintain stable blood sugar during your workout, which is always a good thing. You can add dry oats, soaked oats or even cooked oats to your smoothie. We usually recommend adding 2 tbs dry oats, or 1/4 cup cooked oats to any pre-workout smoothie recipe.
Apples
Apples contain a powerful antioxidant called quercetin. Quercetin's main role in the body is to deliver more oxygen to the lungs. When you get more oxygen to your lungs during a workout, you have more endurance. This makes it so much easier to get through that hour-long spin class!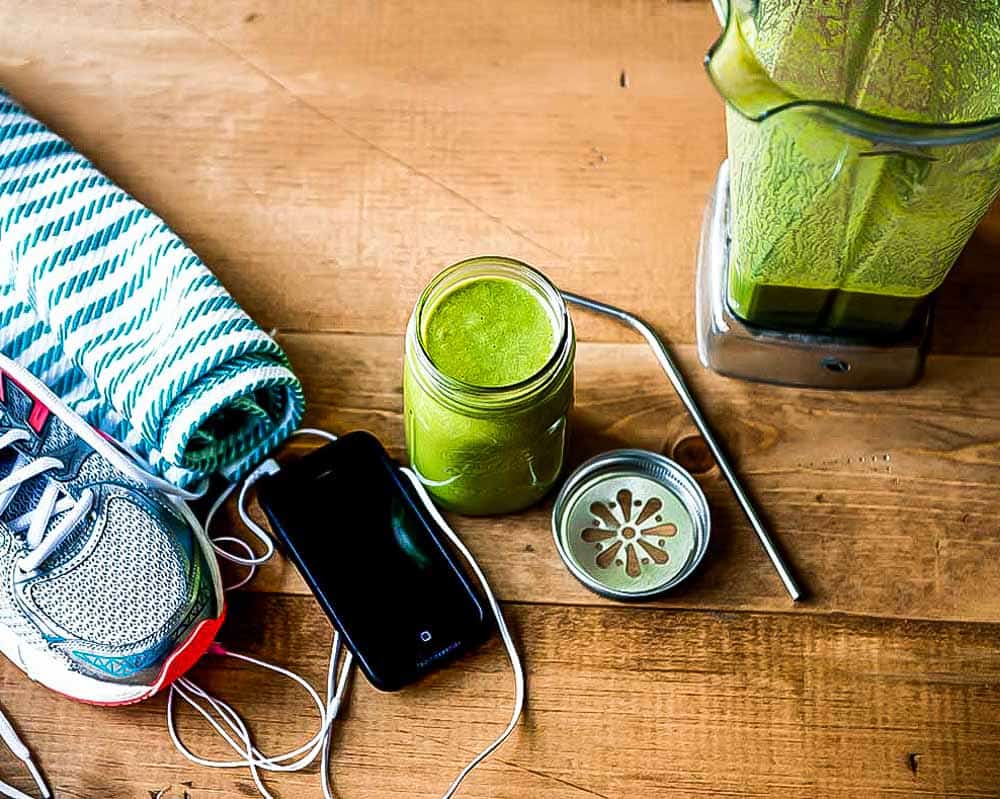 Coconut Oil
If you're exercising for weight loss, then coconut oil will be an important ingredient for you in a pre-workout smoothie. The fatty acids in this superfood fight body fat by converting into energy that boosts your metabolism (as opposed to saturated fats that add body fat). Add coconut oil to your smoothie before you workout to help you maintain energy throughout your entire routine, while also fighting that body fat like crazy.
Nut Butters
Nut butters are quick and easy… just grab a spoonful and you're on your way. But the best reason to eat nut butter before a workout is because it's loaded with protein, healthy fats and fiber, which keep you feeling full and energetic throughout your entire workout. There are many kinds of nut butters to choose from, but my favorite is almond butter. Add 1-2 tbs to your pre-workout smoothie and feel the boost.
Plant-Based Protein Powder
Adding a scoop of a clean, plant-based protein powder can quickly boost the protein of your smoothie. Protein Smoothie Boost is my favorite because it is organic AND only has 3 ingredients: Hemp, chia and flax which is the perfect blend of protein and healthy fats.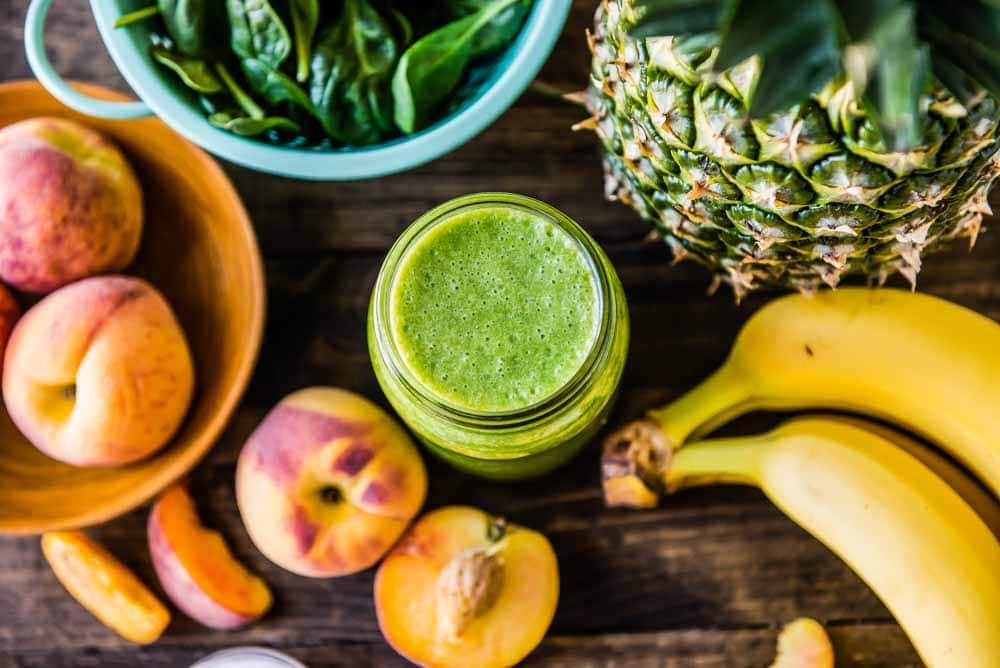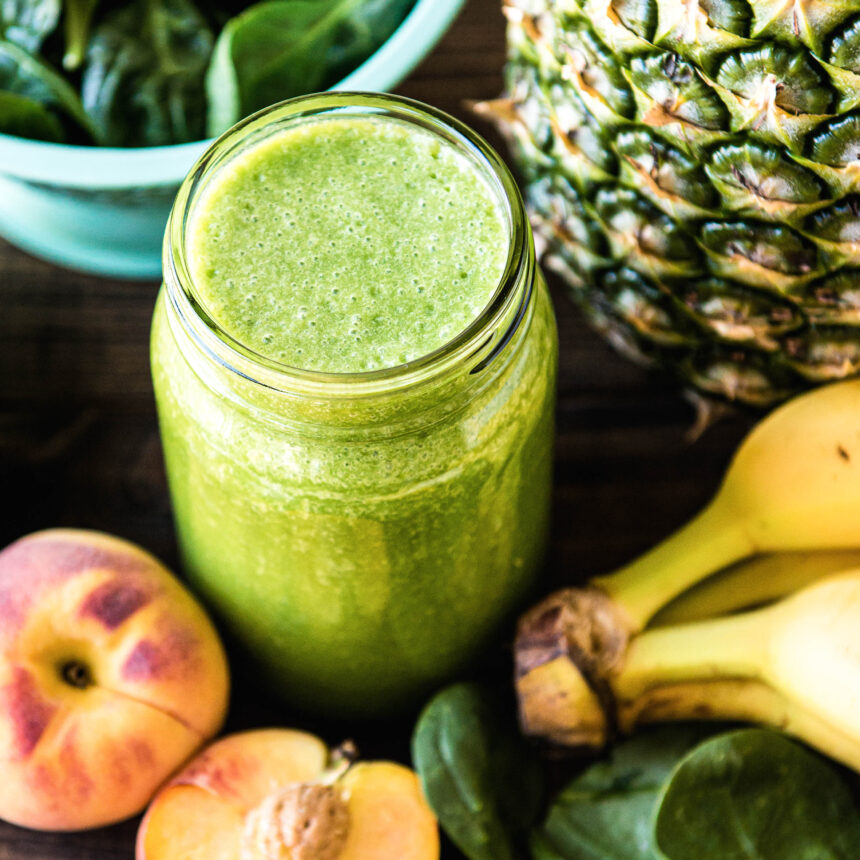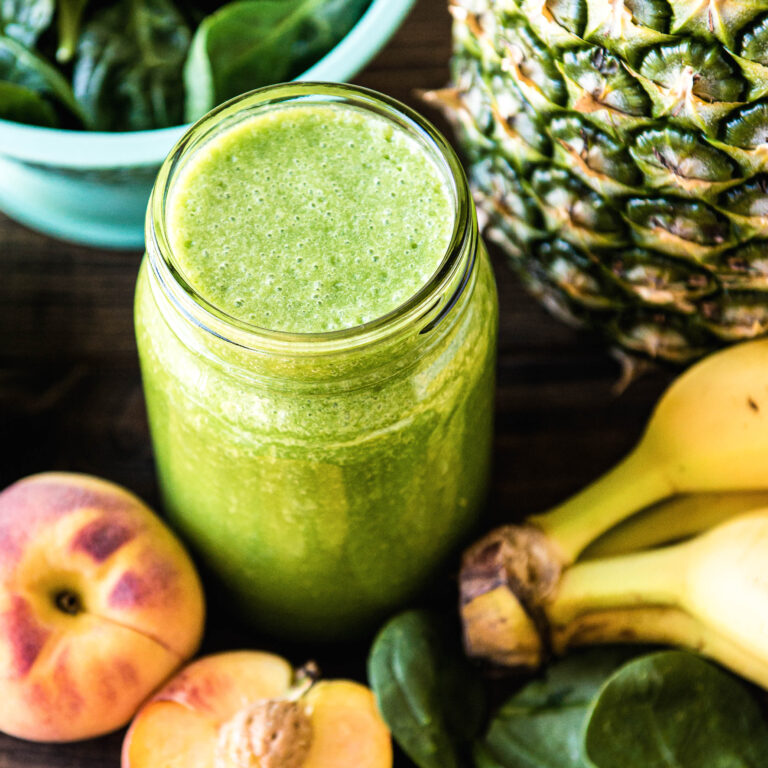 Healthy Pre-Workout Smoothie
The best kinds of pre-workout smoothies are filled with protein, good carbs, healthy fats. These ingredients help you stock up on energy, and keep you full for a long time. The apple, banana, rolled oats, coconut oil, and (of course) leafy greens make the perfect combination for a pre-workout smoothie you can drink before every workout!
Instructions
Blend the spinach, coconut water and water until smooth. 

Add the pineapple, peaches, banana and coconut oil, and blend again. 
Notes
Use frozen fruit to make a refreshingly cool smoothie.
Boost with your fav plant-based protein powder for extra protein + healthy fats.
Swap spinach with the leafy green of your choice. 
For a smoothie with less natural sugar, swap out 1/2 banana for 1/4 avocado.
Nutrition
Calories:
272
kcal
,
Carbohydrates:
38
g
,
Protein:
4
g
,
Fat:
15
g
,
Saturated Fat:
12
g
,
Polyunsaturated Fat:
0.4
g
,
Monounsaturated Fat:
1
g
,
Sodium:
167
mg
,
Potassium:
862
mg
,
Fiber:
6
g
,
Sugar:
25
g
,
Vitamin A:
3150
IU
,
Vitamin C:
59
mg
,
Calcium:
79
mg
,
Iron:
2
mg
More Healthy Pre-Workout Recipes
Looking for more great pre-workout snacks? We have tons of them on the blog because I love fitness and finding recipes that enhance my workout. You can access my fav workout snacks here. Or if you want 3 solid recommendations, check out these smoothies:
Try our Energizing Pre-Workout Green Smoothie, Vanilla Protein Shake or Berry Protein Smoothie.