To fuel your body while you get that heart rate up, we suggest a nutrient-rich healthy pre-workout smoothie. This recipe is packed with healthy fats and carbs to energize you. Don't let the color scare you. This pre-workout shake tastes really good.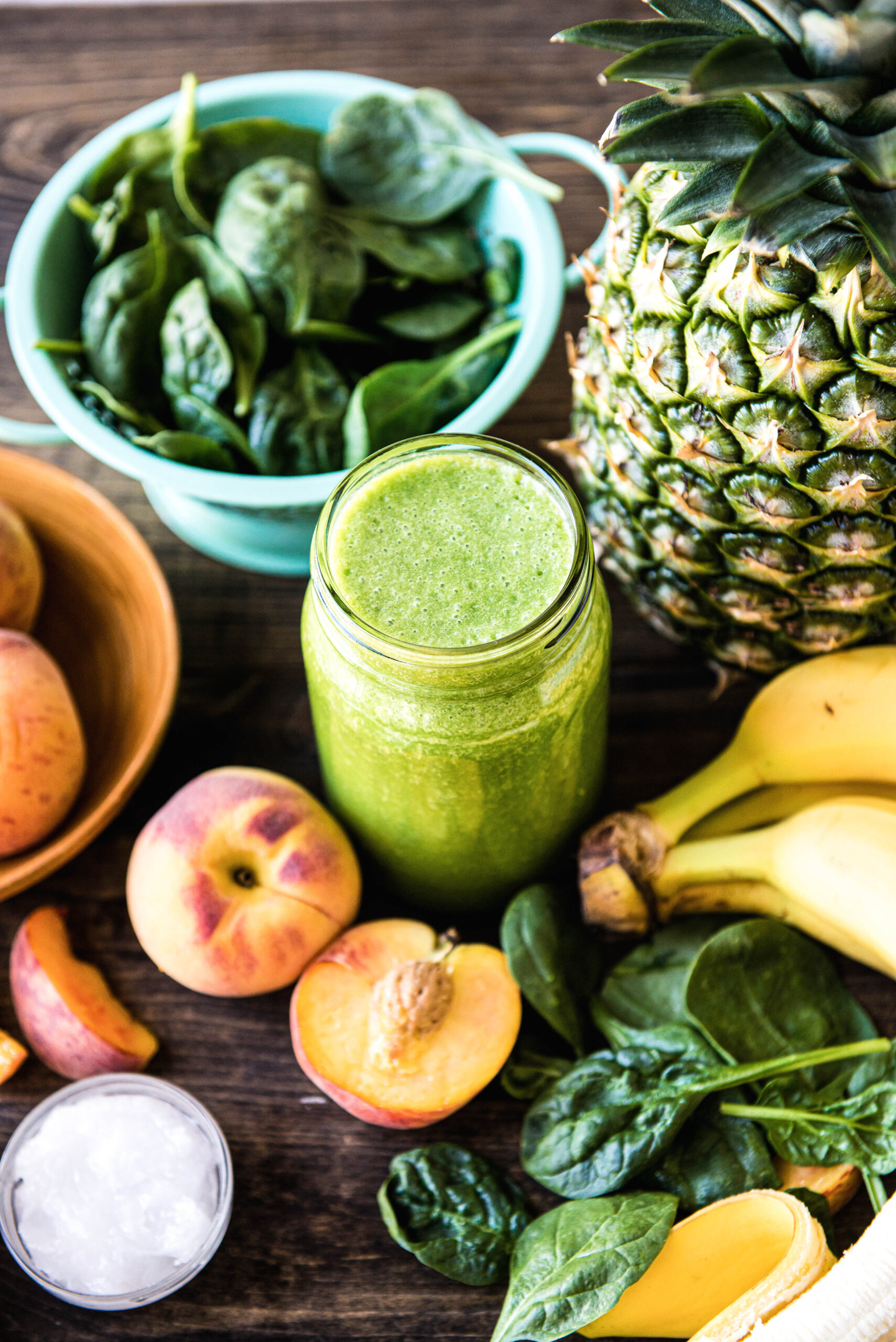 For me, drinking a daily smoothie isn't a diet, it's a lifestyle. It's about taking care of your body and saying yes to plants every single day. In addition to fueling your body with tasty plant-based smoothies, it's important to exercise daily. Walking, hiking, boot camp, chasing kids and biking are all great options.
I love to run, so that's my go-to mode of exercise. It's what clears my mind and burns off steam (if you know what I mean). I've even started a Rawkstar Running Club inside Rawk the Year and it's been great. We've got some friendly competition to motivate us to get in at least 7.7 miles each week and we're killing it so far.
Table of Contents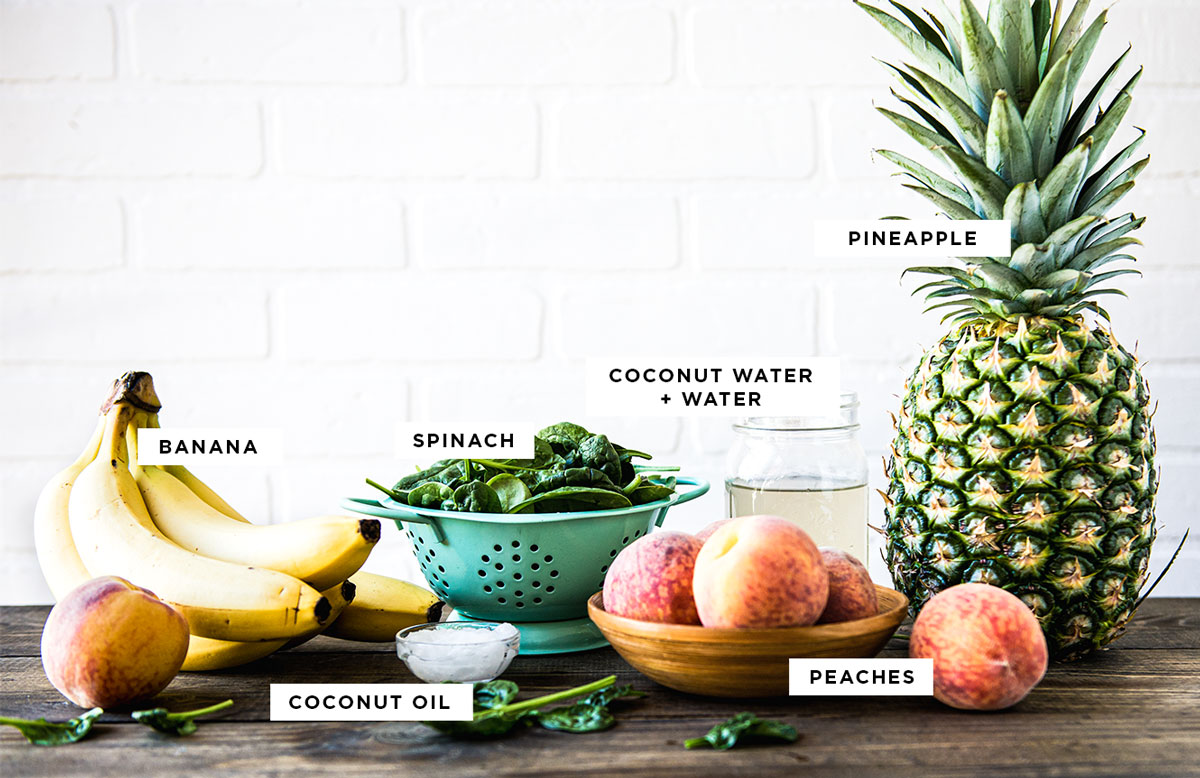 Ingredients in Pre-Workout Smoothie
As an endurance runner, I don't want super quick energy, I want constant, long-lasting energy that doesn't take much work for my body to break down. The combination of greens and fruit delivers the nutrients you need to keep you fueled for a long run or a big workout.
Spinach: Leafy greens are powerhouse plants that provide nutrients and protein to any smoothie.
Coconut water + water: Coconut water acts like natural Gatorade providing hydrating electrolytes your body needs to replenish the energy lost working out.
Pineapple: Natural fight inflammation with pineapple, helping your muscles recover faster from a workout.
Peaches: Frozen peaches are picked at the height of freshness and flash-frozen to preserve as many nutrients as possible, making them irresistibly sweet and healthy.
Banana: Natural sweetness from bananas can help any smoothie become more palatable.
Coconut oil: If you are looking to shed a few lbs then healthy fat is actually your friend, not your enemy. It helps break down the natural sugars from fruit and actually keeps you full longer.
This is one of my favorite smoothie combinations. It's lightly sweet, I don't even notice the spinach, and I can definitely feel the energy boost that helps me run faster and lift better during a workout.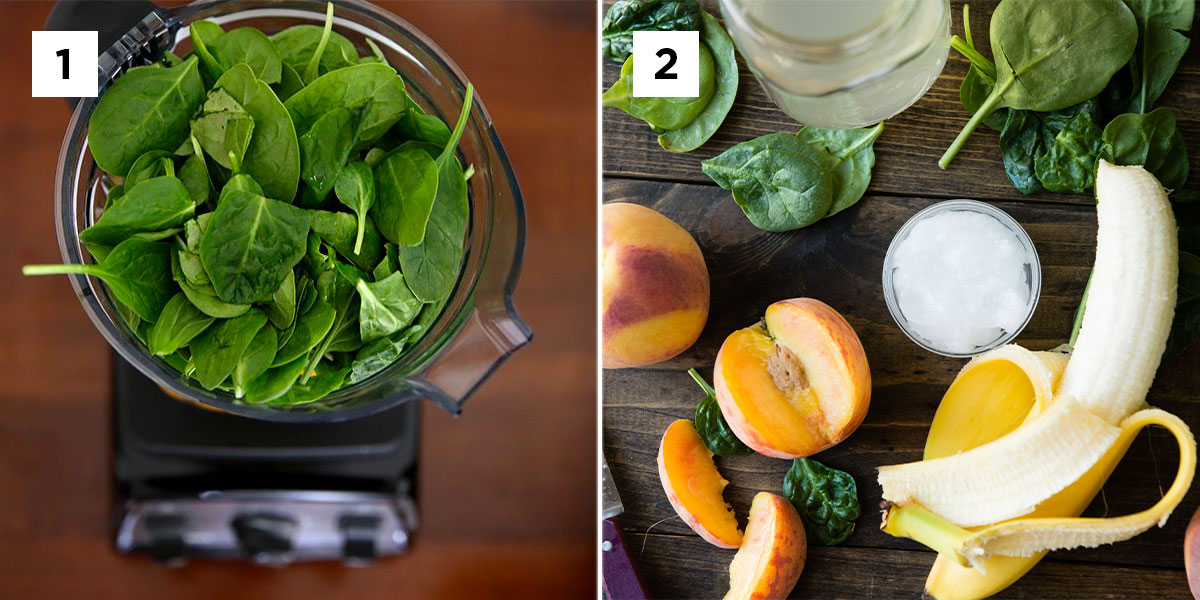 How to Blend a Pre-Workout Smoothie
I can't stand a chunky smoothie. If I'm going to put the work into buying good ingredients to make something at home then I want it to taste great. Here's how I blend my green smoothies for the best result, every time:
Blend the spinach, coconut water and water until smooth. If you aren't using a high-powered blender then stop and scrap down the sides as needed to get rid of all those leafy chunks.
Then add the remaining ingredients and blend again until smooth. If you're using frozen ingredients, let them sit out for about 15 minutes before blending to help soften them a bit.
Using this two-blend method you'll actually save time and get a better smoothie as a result. I've been blending smoothies for 11 years now and this method hasn't let me down yet!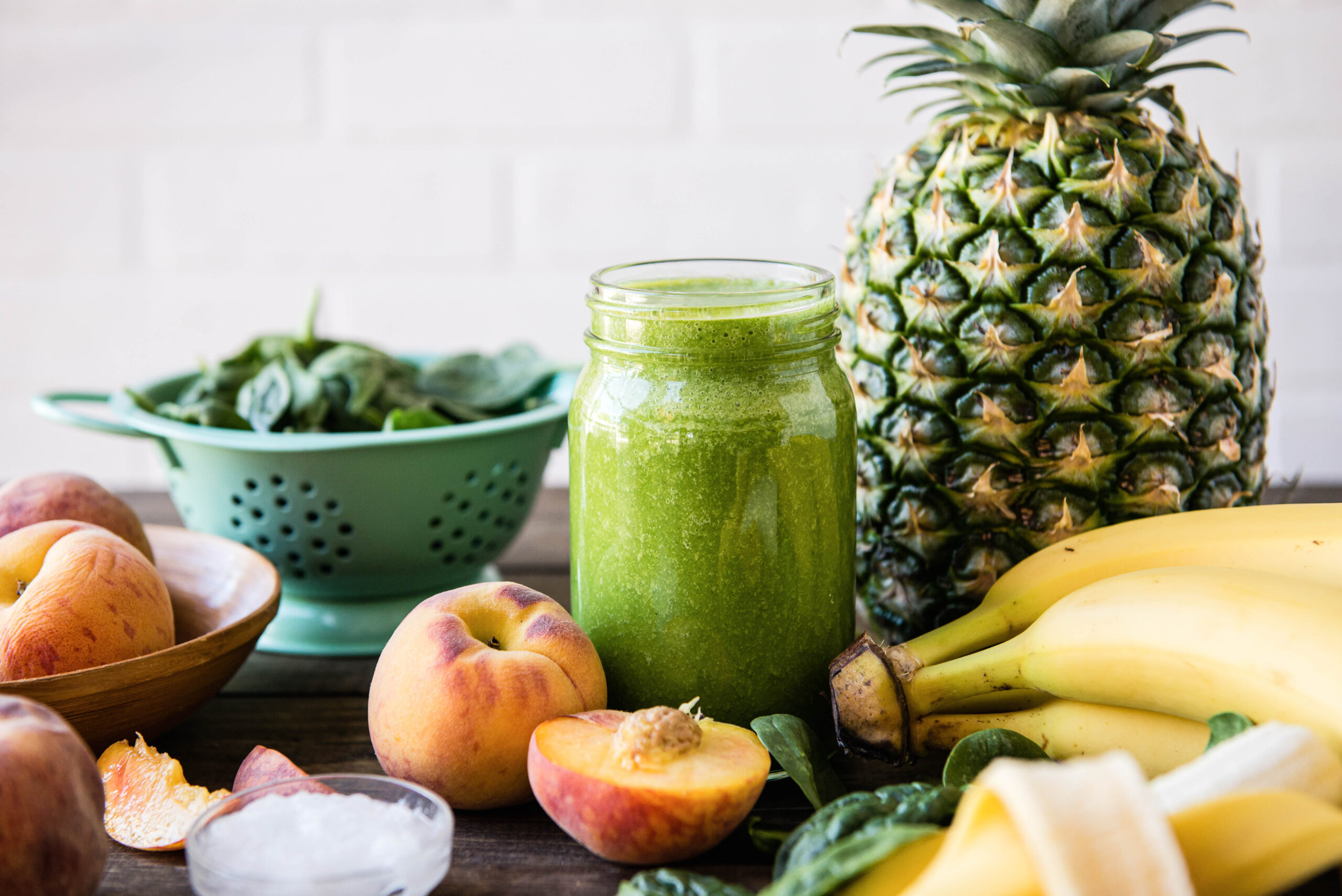 Homemade Protein Shakes
It is seriously easy, and less expensive, to make shakes at home. Ditch the super expensive protein powder and pre-made shakes made with inflammatory dairy ingredients and try giving one a blend at home.
If you aren't quite ready for a green one yet, that's okay! Chocolate, caramel, cinnamon, vanilla and any fruit you want you can blend into a nourishing snack with ingredients you can actually pronounce.
I love a good protein shake and hate the fake sugar taste of store-bought ones, so I created several to fuel my workouts. They've taken on me on countless adventures and made me feel better at 39 than I did at 29!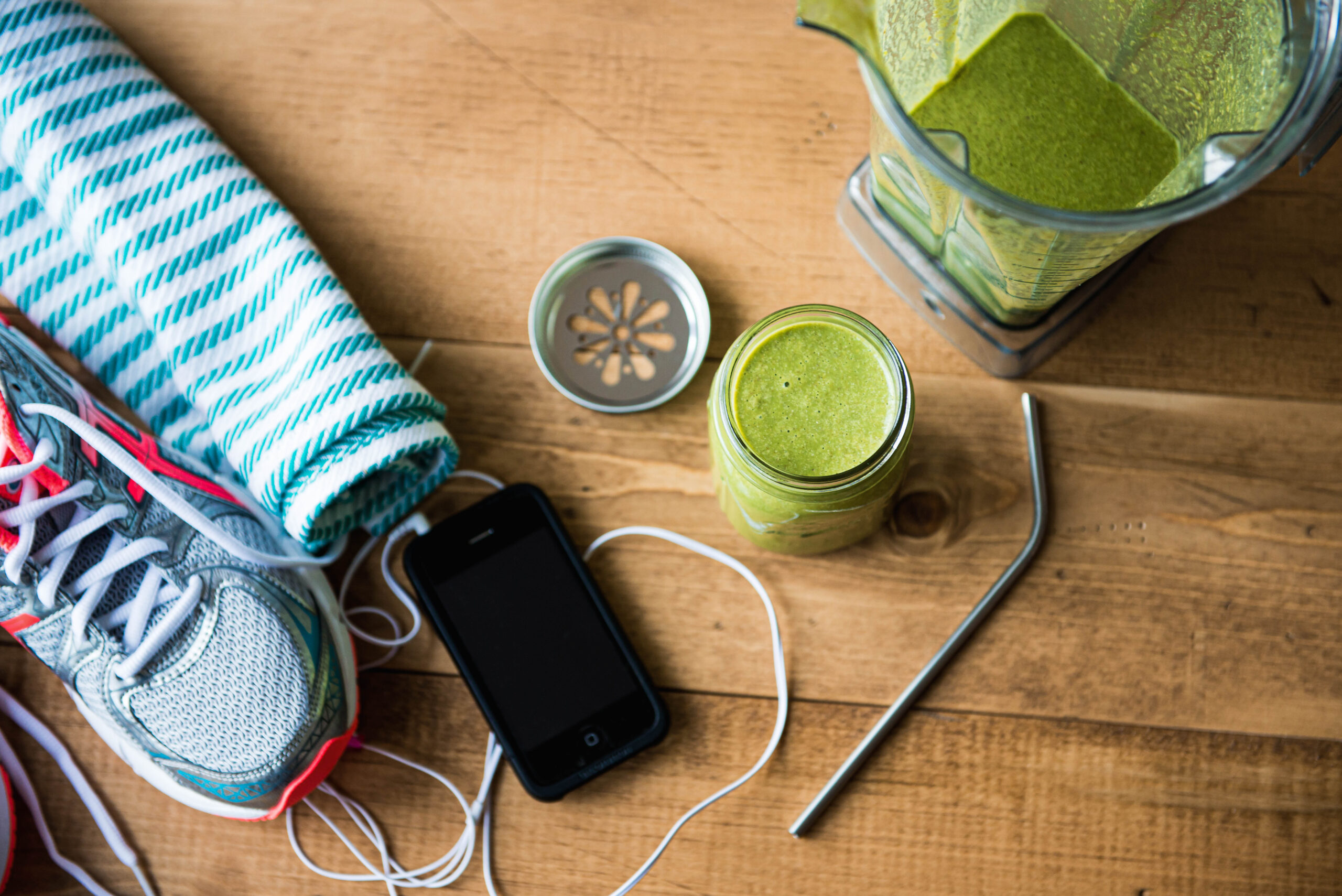 Plant-Based Protein Powder
Adding a scoop of a clean, plant-based protein powder can quickly boost the protein of your smoothie. homemade protein powder is my favorite because it is organic and only has three ingredients (hemp, chia and flax) which is the perfect blend of protein and healthy fats.
It can turn any smoothie, including the one below, into a meal replacement instead of just a snack. I use it when I really want to fill my body up and have sustainable energy.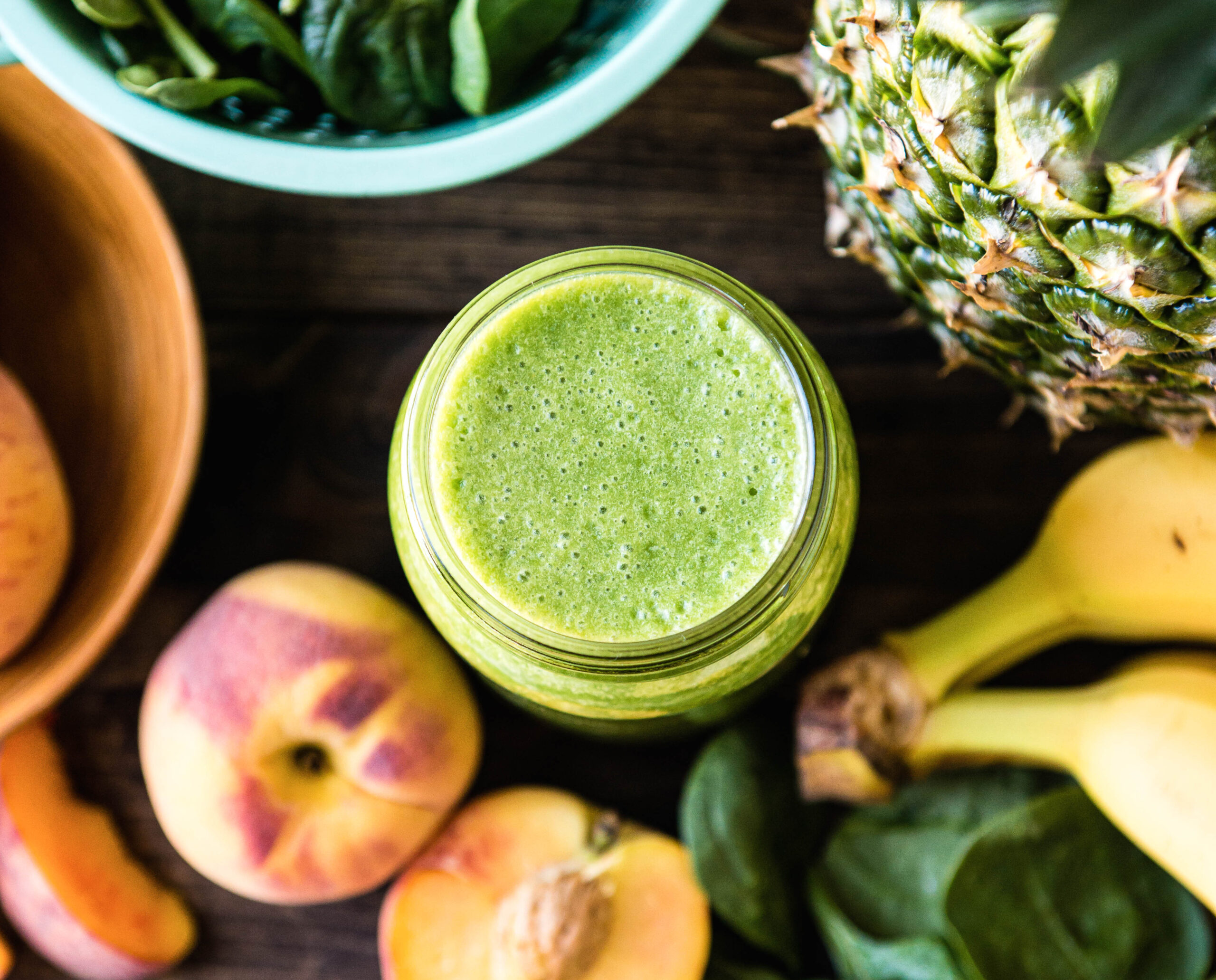 Pre-Workout Smoothie FAQs
Are smoothies good for pre-workout?
Yes! Depending on the kind you blend, they can give you quick energy for a fast workout or long-lasting energy to keep you fueled for a long run or high-intensity workout.
Which smoothie is best before a workout?
My go-to smoothie before a workout contains coconut water, fruit, spinach and coconut oil for a super fast snack that gives me the energy to maximize my workout without weighing me down.
What should I put in a pre-workout smoothie?
Coconut water is loaded with natural electrolytes, fruit provides a great energy boost, spinach and coconut oil provide protein and healthy fat and fiber to help your body break down the natural sugar into usable energy.
More Healthy Pre-Workout Recipes
Looking for more great pre-workout snacks? I've got tons of them on the blog because I love fitness and finding recipes that enhance my workout. You can access my favorite healthy workout snacks here. Or if you want three solid recommendations, check out these smoothies:
Please rate and review this recipe once you've blended it. I can't wait to read how it turned out!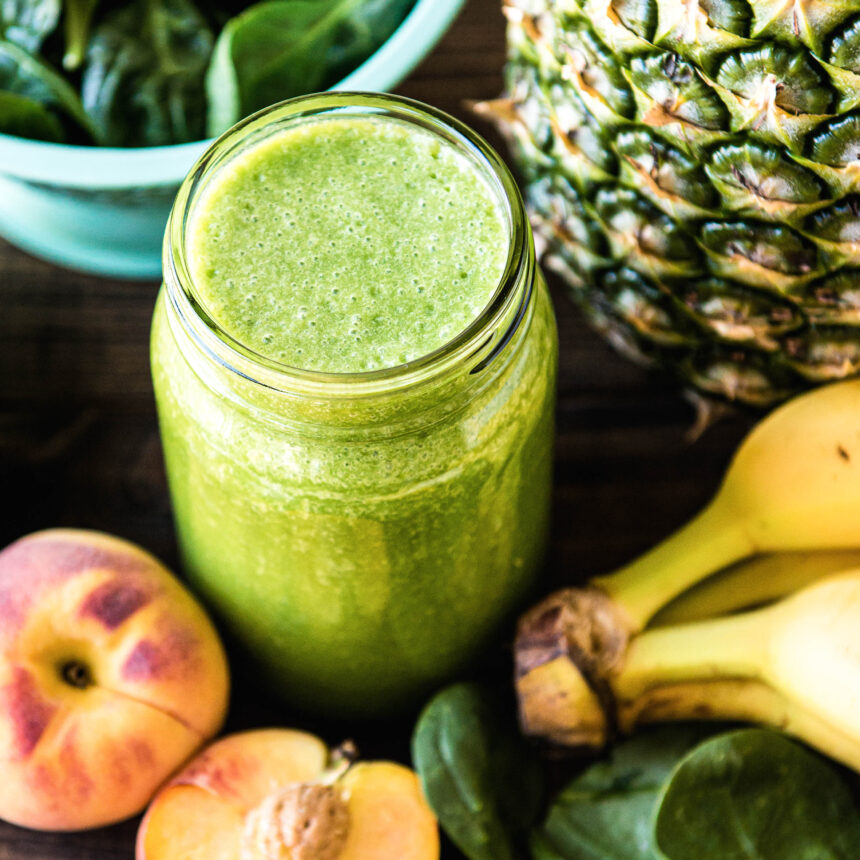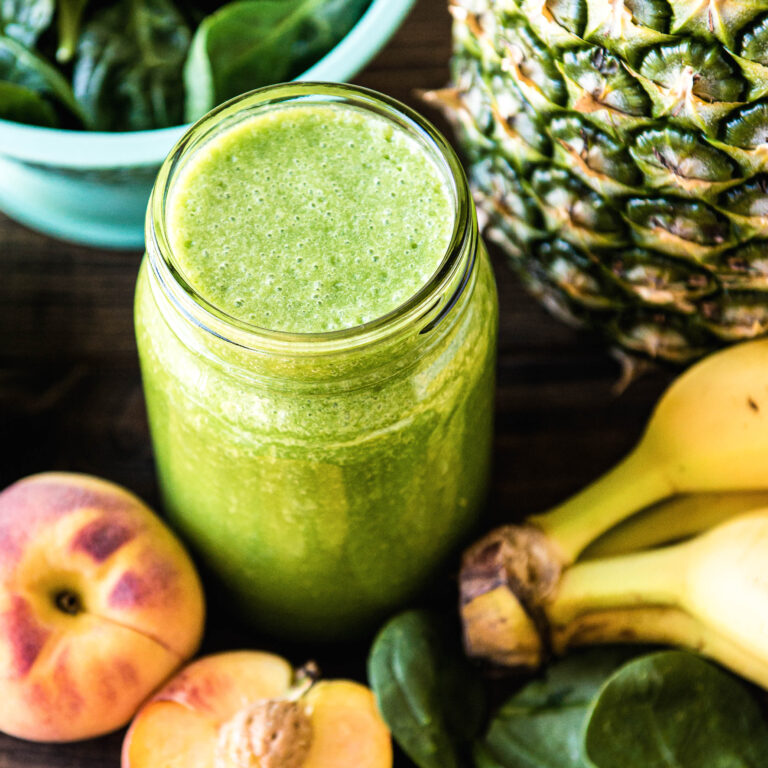 Healthy Pre-Workout Smoothie
The best kinds of pre-workout smoothies are filled with protein, good carbs and healthy fats. These ingredients help you stock up on energy and keep you full for a long time. The apple, banana, rolled oats, coconut oil and (of course) leafy greens make the perfect combination for a pre-workout smoothie you can drink before every workout!
Instructions
Blend the spinach, coconut water and water until smooth. 

Add the pineapple, peaches, banana and coconut oil and blend again. 
Notes
Use frozen fruit to make a refreshingly cool smoothie.
Boost with your favorite plant-based protein powder for extra protein and healthy fats.
Swap spinach with the leafy green of your choice. 
For a smoothie with less natural sugar, swap out 1/2 banana for 1/4 avocado.
Nutrition
Calories:
272
kcal
,
Carbohydrates:
38
g
,
Protein:
4
g
,
Fat:
15
g
,
Saturated Fat:
12
g
,
Polyunsaturated Fat:
0.4
g
,
Monounsaturated Fat:
1
g
,
Sodium:
167
mg
,
Potassium:
862
mg
,
Fiber:
6
g
,
Sugar:
25
g
,
Vitamin A:
3150
IU
,
Vitamin C:
59
mg
,
Calcium:
79
mg
,
Iron:
2
mg