Take your smoothie to the next level with this peach probiotic smoothie recipe. Mix with your fav kombucha to make your gut happy and healthy.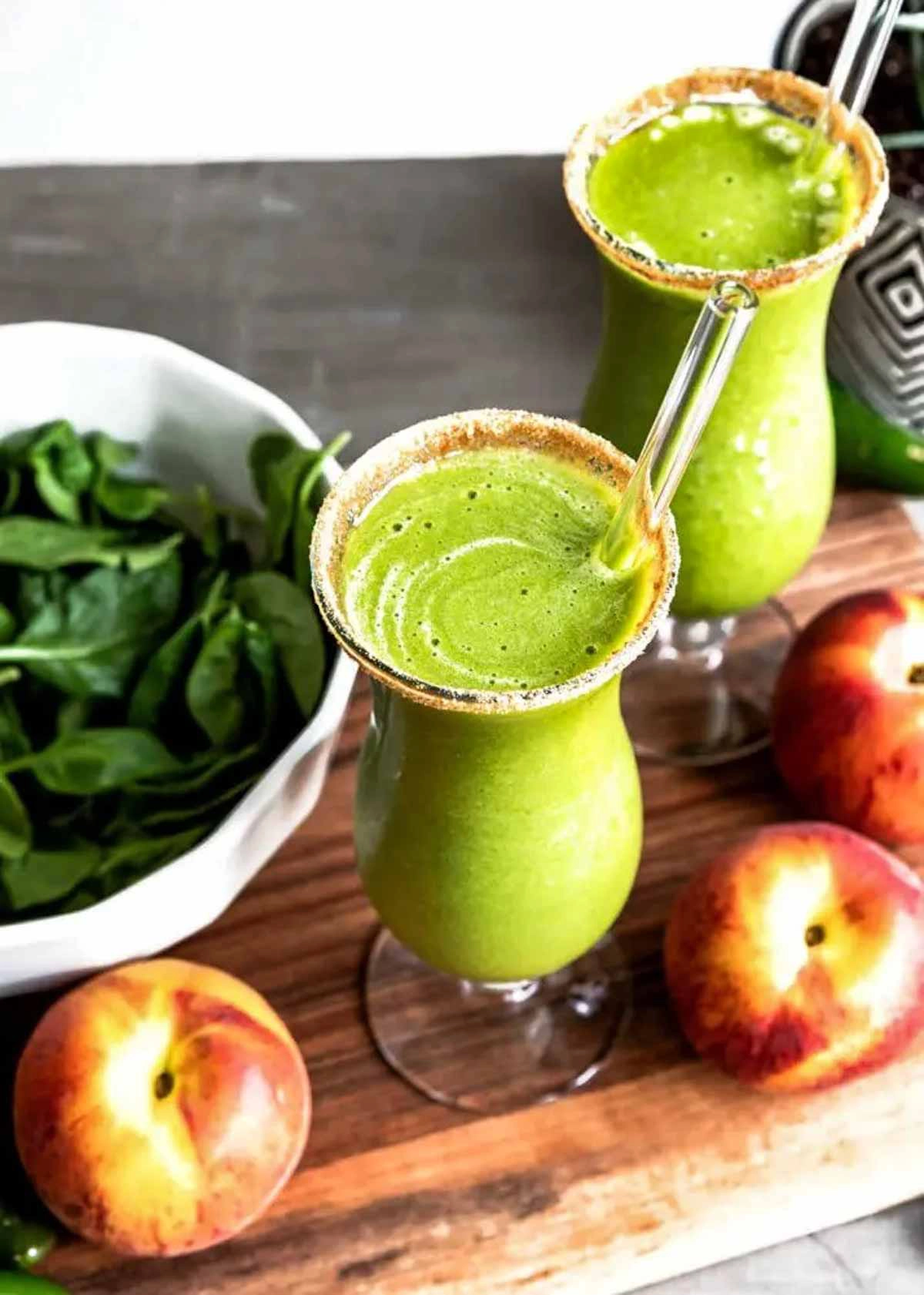 My Peach Probiotic Smoothie is made with three very simple ingredients and served icy cold in a fun coconut sugar-rimmed glass. Blend up a pitcher of this mocktail to serve at a party or sip it on the patio on a hot summer day! If you love peaches, then you can't go wrong either way.
Table of Contents
What's in this Probiotic Smoothie?
Fasten your seatbelts! You're not gonna believe this…there are only 3 ingredients in this smoothie! It doesn't get any easier than that, right? Read on to see why I love each of the ingredients in this simplistic summer peach probiotic smoothie so very much.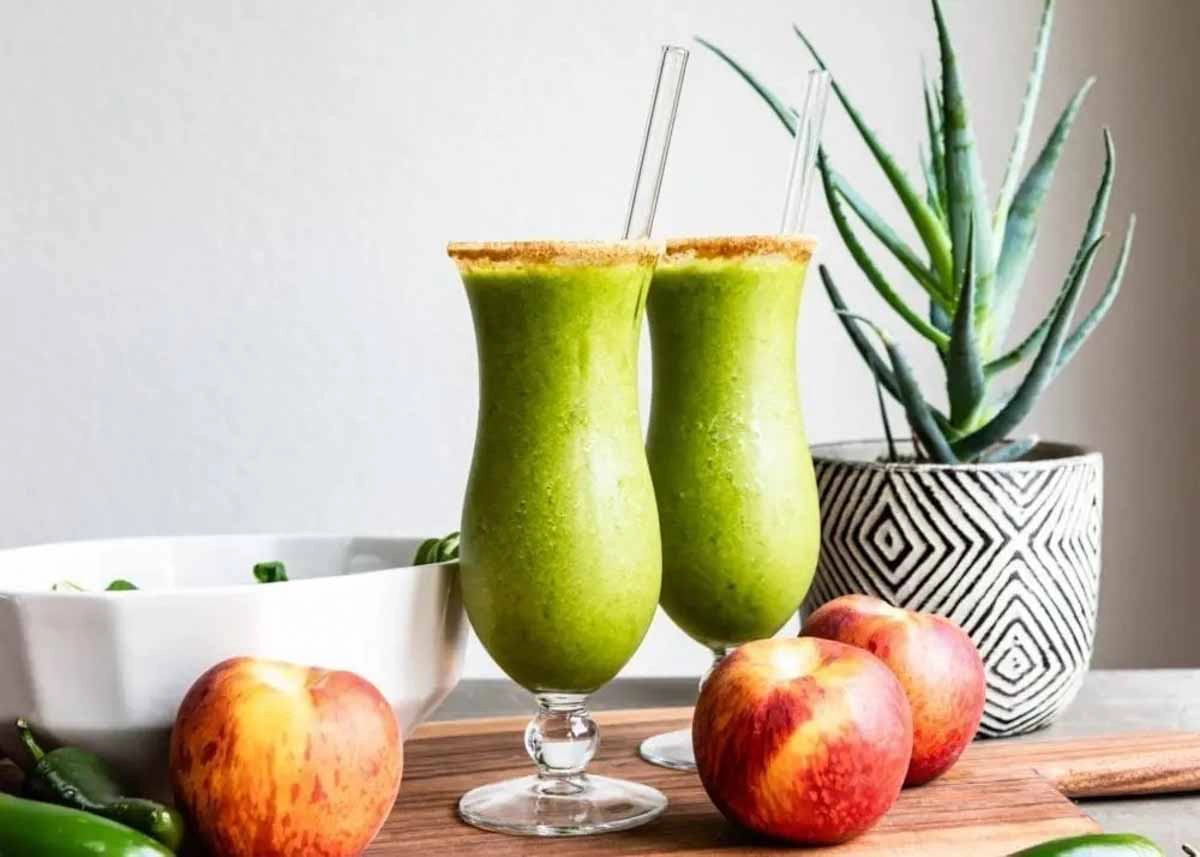 Spinach adds fiber and phytonutrients
Spinach is so versatile when it comes to neutral flavors in smoothies. That's why we've included it here. Anytime you can add a little extra boost of vitamins and minerals, fiber, and other nutrients into your day is plus.
Spinach is chock full of iron, vitamins A, C, and K, and loads of dietary fiber to keep your tummy happy. I love to blend mid-morning, since I'm opting for healthy coffee first thing. Or sometimes I'll rawk this probiotic smoothie as an afternoon snack. Honestly, any time of day is great for this chilled summertime treat.
Probiotics help the gut
This Probiotic Smoothie is a little different than my typical green smoothie recipes— thanks to the kombucha. I use kombucha here for a very important reason. Kombucha is rich in enzymes and probiotics due to the natural fermentation process. It works much in the same way you may already know yogurt does for your digestion.
Keeping our digestive tract in tip-top shape is key to overall good health. Kombucha is made from fermented black, green, or white tea that is sweetened with sugar which feeds the culture, known as a SCOBY (symbiotic culture of bacteria and yeast). I like to make my own kombucha (it's really easy), but I also like to buy new flavors at the store too.
My favorite store-bought brands of kombucha are:
Health-Ade: Passion Fruit-Tangerine
GTS Living Food: Gingerade
Suja: Peach Kombucha
GTS Living Foods: Watermelon Wonder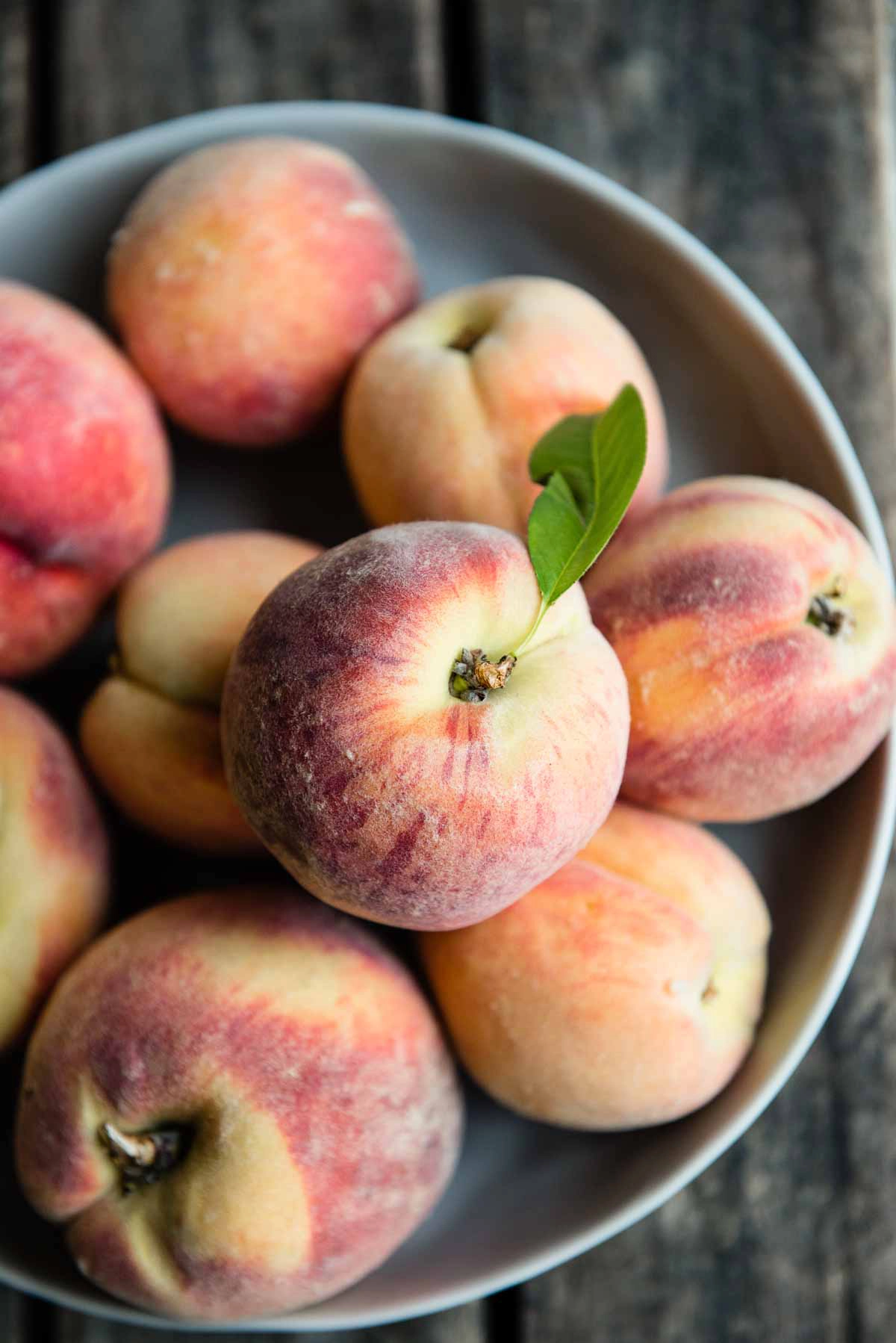 Peaches add a creamy sweetness
Last up on the ingredient list for this Probiotic Smoothie? Peaches of course! When it comes to fruits for blending, I. love. peaches! Like a lot. They are summer's best fruit, in my not-so-humble opinion. Nothing beats a good peach. Plus, they are lower on the GI scale, which also helps your gut. (High sugar, refined foods are hard on your gut.)
More Flavor Suggestions
A recipe like this can go so many different ways and be amazing. As a result, here are a few other recipes I've played with and enjoyed:
Ginger kombucha + pineapple
Watermelon kombucha + strawberries
Passion Fruit kombucha + peaches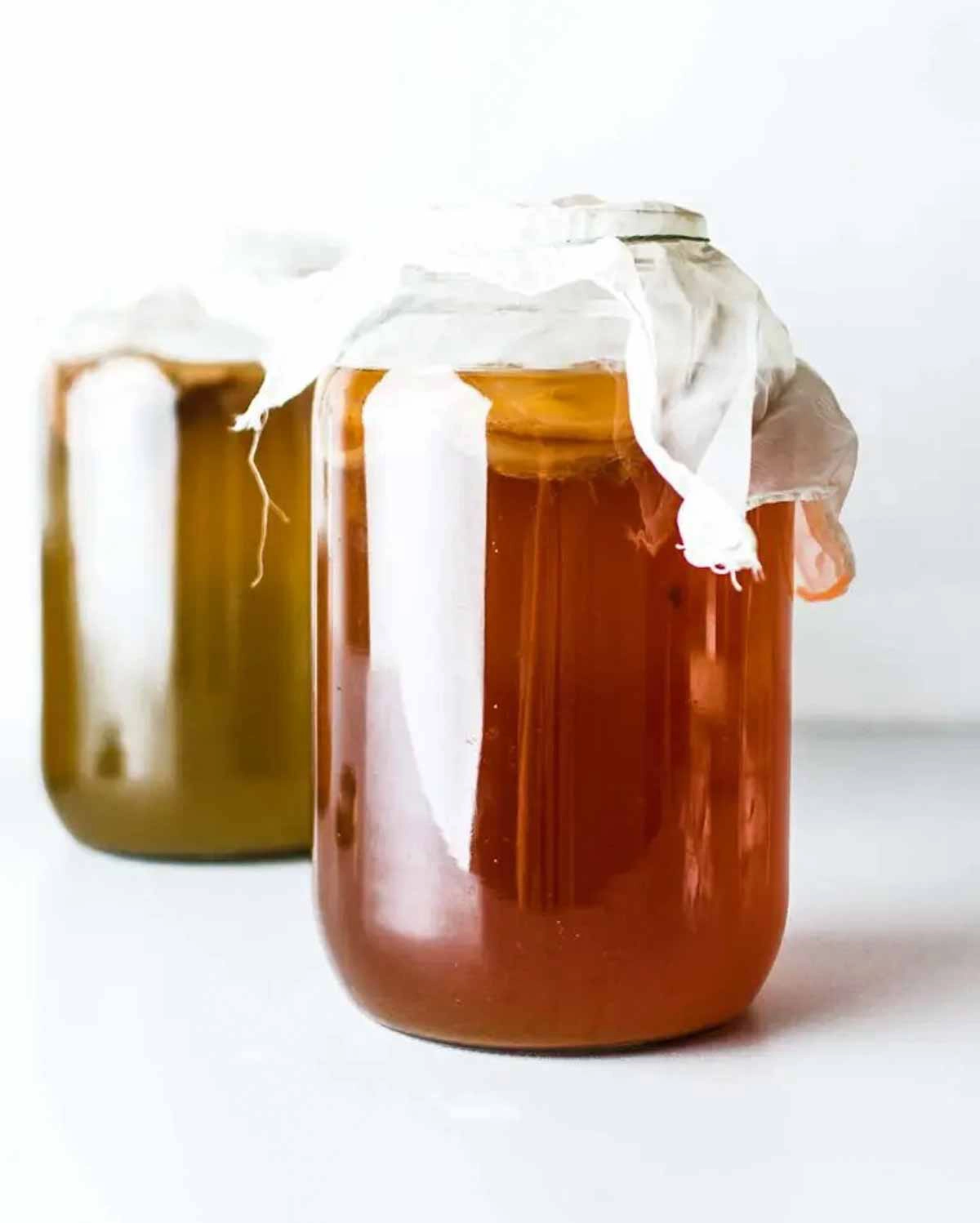 Probiotic Smoothie FAQs
Are probiotic smoothies good for you?
The answer to that is a big kale yeah! Probiotics contain all kinds of health benefits because of their pro-gut bacteria. Balancing the good and bad bacteria levels in your gut helps to strengthen your immune system, improves digestion and can even lead to weight loss.
Is it okay to take probiotics every day?
For sure! Probiotics can be found in all kinds of yummy fermented foods and drinks like yogurt, kimchi, kefir and kombucha. If you try one and aren't a fan, switch it up to find just the right fermented friend for you. Your tummy will thank you.
What are the signs you need probiotics?
Craving too much sugar, constipation, overuse of antibiotics and a slowing metabolism are all signs that a probiotic would be a good idea for you. Adding kombucha to a smoothie, eating unsweetened yogurt or even learning to love sauerkraut are all ways to introduce healthy bacteria back into your gut and bring balance back to your body.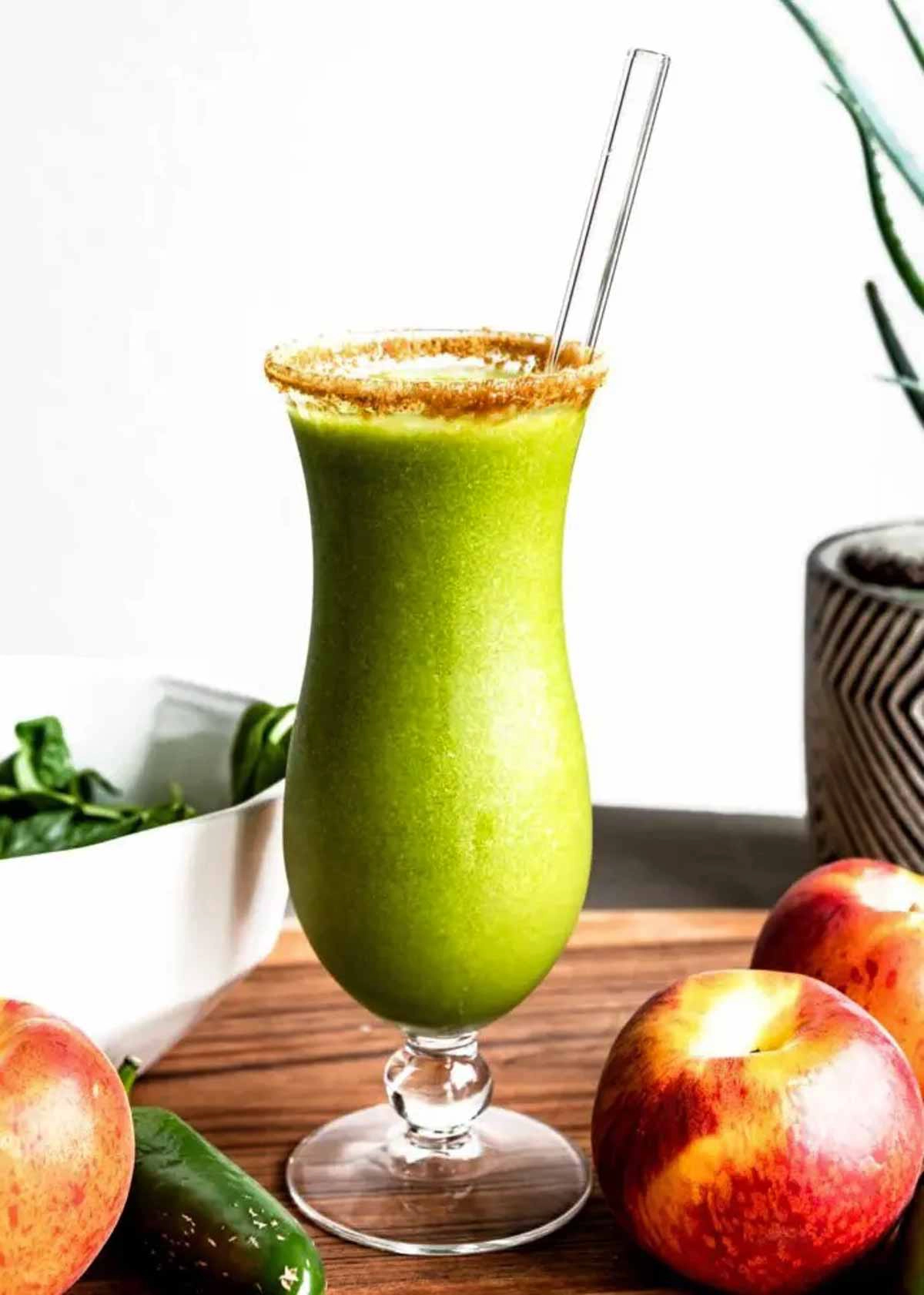 More Drinks For Better Digestion
Looking for more ways to improve digestion and keep your tummy happy? Look no further! Check out these tried and true digestive power house drink recipes:
The recipes above, the probiotic smoothie directions below, along with oh so many more can be found in Rawk the Year, my plant based, whole food meal planning site. You can join us today and find a community of rawkstars who are planning meals, shopping + cleansing together. They are all there (and I am too!) to eat in ways the fuel their passions and give them energy + strength to conquer each day.
Try it free for 14 days and see what we love about Rawk the Year.
Would you rate + review this smoothie once you make it? Your feedback is so valuable!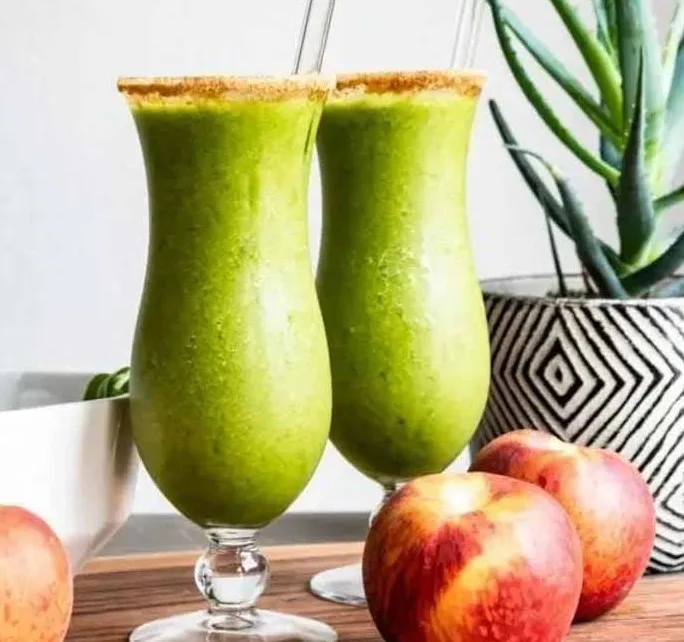 Peach Probiotic Smoothie
The tastiest blend of frozen peaches, spinach, and kombucha with a coconut sugar rim for a refreshing summery drink to help heal your gut. This Peach Probiotic Smoothie is deceptively good for you!
Instructions
Blend spinach and kombucha together until no more leafy chunks.

Add in the frozen peaches and blend again until creamy.

Squeeze lime juice and coconut sugar onto small shallow tray/bowl.

Dip rim of cup into lime juice and then into sugar to coat the edge of the glass.

Fill glass with probiotic smoothie and enjoy!
Notes
Kombucha is a naturally fermented beverage, and it does contain a very small percentage of alcohol, about that of a non-alcoholic beer, or even less. If that is something you avoid for whatever reason, totally swap it out for coconut water and a splash of sparkling water so your Probiotic Smoothie still has some fizz. 
Feel free to swap out the peaches for another fruit such as frozen pineapple, mango, or strawberries. Switch things up by using another flavor of kombucha. Get creative!
You can also blend the lime right into the smoothie and use water to line the glass.
Probiotics can be added to the smoothie as well in powder form.
Nutrition is calculated without the kombucha— since it depends on the brand you use.
Nutrition
Calories:
141
kcal
,
Carbohydrates:
35
g
,
Protein:
3
g
,
Fat:
1
g
,
Saturated Fat:
1
g
,
Polyunsaturated Fat:
1
g
,
Monounsaturated Fat:
1
g
,
Sodium:
49
mg
,
Potassium:
624
mg
,
Fiber:
4
g
,
Sugar:
28
g
,
Vitamin A:
3574
IU
,
Vitamin C:
28
mg
,
Calcium:
46
mg
,
Iron:
1
mg