Get ready for a melt-in-your-mouth savory bell pepper recipe today as I introduce my new cold weather comfort blend, Roasted Red Pepper Soup.
Many people shy away from a plant-based diet because fresh produce can be expensive. I agree that it can be, though finding and cooking what is in season will cut down the cost. And who doesn't want the most flavor in their recipes?!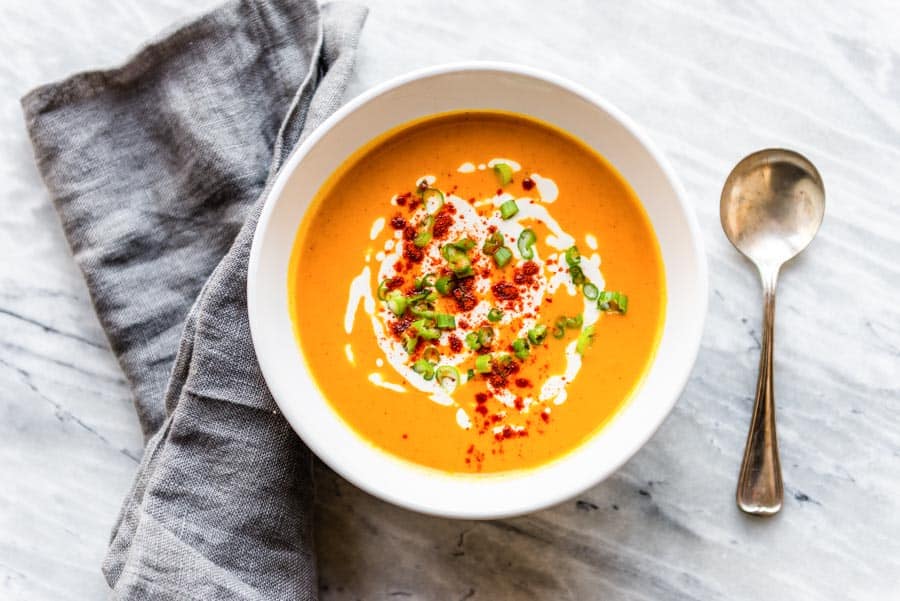 How to make roasted red pepper soup
While this soup is simple, it does require a few different cooking steps to ensure it is creamy + flavorful. Unless you want just another vegetable soup, don't forget the roasting!
First, chop the veggies. They don't have to be perfectly diced as they're ultimately getting blended. Just chop into 1" size or so pieces. When arranging on the baking sheet, make sure the ingredients aren't touching. You want air to move throughout the pan while baking so that the veggies come out roasted, not soggy.
Second, make sure your blender can handle hot ingredients before adding straight from the oven. I had to get a new Vitamix container a few years ago after my morning coffee routine ruined my container from pouring hot water into it daily. (oops!). Now I use my stainless steel container for all hot-ingredient recipes to ensure I don't break anything.
Pro tip: an immersion blender works great too! During step 2, instead of adding the roasted ingredients to the blender add them to the pot straight away. Then immersion blend until creamy.
Third, the final cook time on the stove helps the flavors full meld together. If you use a high powered blender, then just extend the blend time until the soup heats through... yet I still recommend turning to the stove for the final set.
Feel free to top with cashew cream or vegan cheese sprinkle for added flavor.
Best ways to roast red peppers
I like my meals to be quick and easy, so I chose to roast my peppers in the stove along with all the other veggies. You can also roast the red peppers on the grill- it'll boost the 'charred' flavor. Yet the oven keeps this recipe simple. When oven-roasting the veggies for this roasted red pepper soup, I've got some tips for the best outcome:
Make sure the veggies aren't touching each other! No one needs soggy vegetables.
If you want a grilled-like flavor to come through then try broiling the tray of vegetables after they cook. Keep an eye on them while broiling so they don't burn.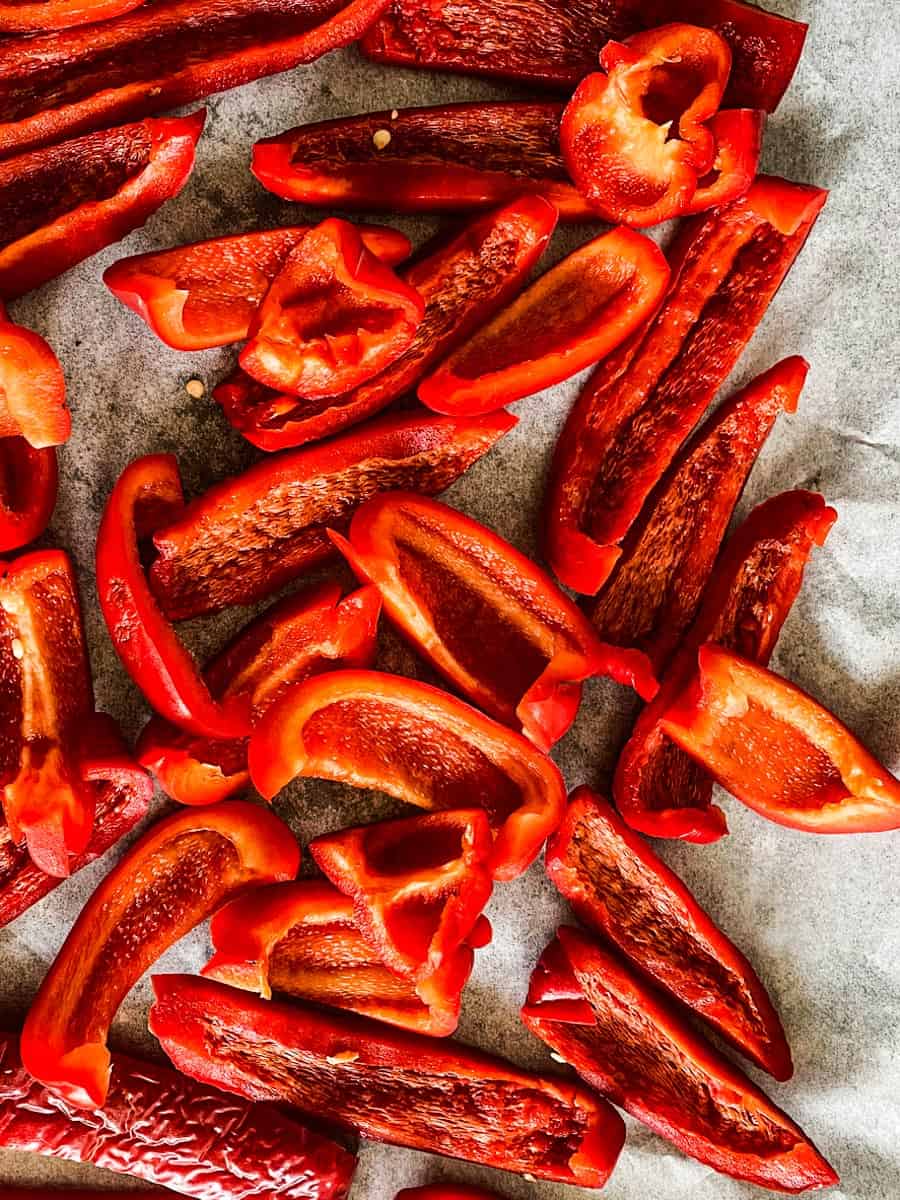 Health Benefits of Bell Peppers
Though bell peppers are typically found in the veggie aisle, they are in fact a fruit. Loaded with vitamins and minerals, toss this ingredient into many different recipes. It can provide a great crunch to a salad, mild sweetness when grilled, and extra flavor to a soup or chili. The list of health benefits makes bell pepper recipes a no-brainer:
Loaded with Vitamins and minerals—Vitamin C, Vitamin D, Vitamin K1, Potassium, Folate, Vitamin E, and Vitamin A.
Bell peppers are full of antioxidants, which promote eye health as well as help prevent heart disease and cancer.
Great source of iron along with 169% of the recommended daily value of Vitamin C, which is vital in helping our bodies break down iron.
Research from the US National Library of Medicine shows that when red bell peppers are regularly added to a diet, they can help control diabetes and obesity.
With so many great benefits, I love adding bell peppers to many different recipes. I use red peppers throughout my cleanses and resets, promoting health and wellness as well as flavor (and color!).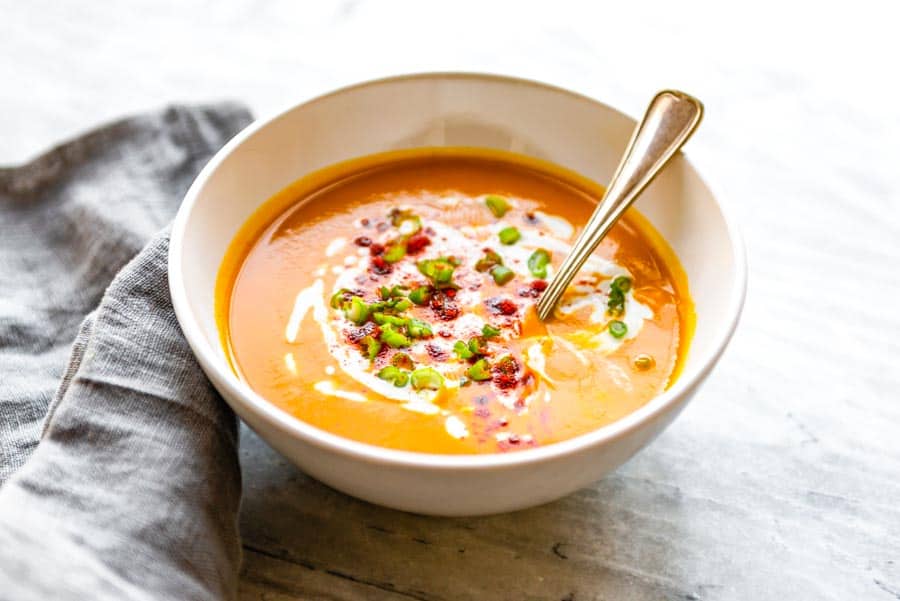 Red pepper soup FAQs
Are roasted red peppers bad for you?
No! Red peppers are rich in a variety of vitamins and minerals. They also have lots of antioxidants to help prevent cancer and are a great source of iron. If you buy roasted red peppers in a jar, make sure to look at the ingredients. There are often additives that you won't get from home roasting.
Why has my red pepper soup turned out bitter in the past?
If you've had a bad experience with roasted red pepper soup before, it was probably because the ingredients weren't actually roasted, or they were just wrong. I add sweet potatoes to mine for a fuller flavor, creaminess, and added sweetness. You can also use a mix of red and orange bell peppers in your soup because orange peppers are even sweeter.
What's the difference between roasted red peppers and pimentos?
Look at the ingredient list! Pimentos are pickled more like olives, and even have a similar taste. Roasted red peppers in a can meanwhile keep their flavor and have minimal ingredients.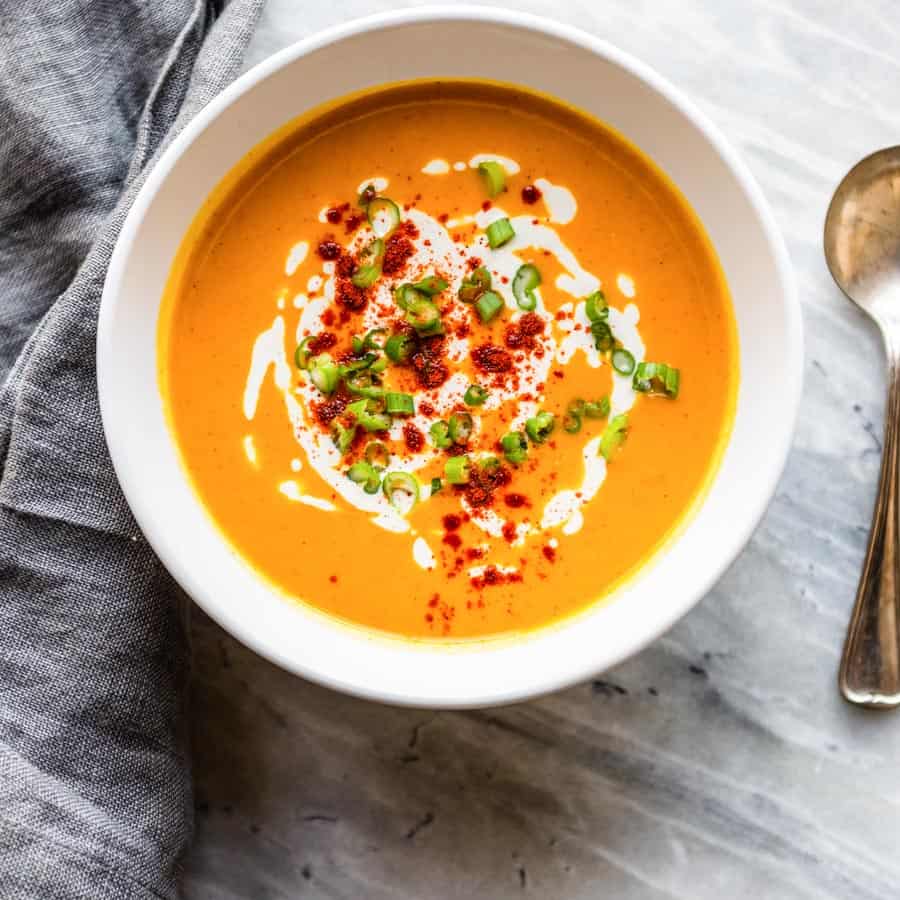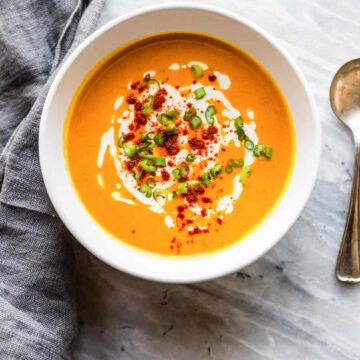 Roasted Red Pepper Soup
Rate this Recipe
Print Recipe
Plant powered. Autumn Flavored. Try this amazing vegan roasted red pepper soup that's both comforting and tasty.
Ingredients
1

tablespoon

avocado oil

2

sweet potatoes

(peeled and diced)

1

red bell pepper

(sliced)

1

yellow onion

(diced)

3

cloves garlic

(unpeeled)

4

cups

vegetable stock

1

teaspoon

smoked paprika

1

tablespoon

lemon

(juice)

¼

teaspoon

cayenne pepper

(to taste)

sea salt

black pepper
Cashew Sour Cream
1 ½

cups

raw cashews

(soaked for 4+ hours)

¼

cup

lemon

(juice)

½ to ¾

cup

water

sea salt

(to taste)
Instructions
Preheat oven to 425°F. Line a baking sheet with parchment paper. Arrange the sweet potatoes, pepper slices, diced onion, and unpeeled garlic in an even layer. Drizzle with avocado oil. Season well with salt and pepper. 

Roast for 20-35 minutes, or until the veggies are soft. Remove from oven. Pop the garlic out of the skins. Transfer the veggies to a blender. Add the vegetable broth and puree until smooth. Transfer to a pot and add the smoked paprika and lemon juice. Bring to a simmer and cook for 10-15 minutes to allow flavors to meld. Turn off heat. Taste and add more salt, if needed, and cayenne, to taste. 

Ladle into bowls and top with cashew sour cream (see recipe below), green onions, and an extra sprinkle of paprika.
Cashew Sour Cream
Blend cashews, lemon juice, ½ cup water and a little salt in a blender or food processor gradually moving from low to high speed. While the machine is running, add a little more water as needed until you have reached a consistency that is like whipped cream. 

Store in an airtight container. It will keep for at least 4 days.
Notes
Swap the cashew cream with a dairy free sour cream or regular sour cream.
Let the veggies cool slightly before adding to the blender container, unless using a heat-safe blender.
An immersion blender can be used instead of a standing blender, if desired. Just put the roasted veggies + broth into the pot for the stove, then immersion blend until creamy.
For an extra kick of spice, mix in some red pepper flakes or your fav hot sauce.
For less sodium, use a low-sodium vegetable broth.
Top with a vegan cheese sprinkle
Nutrition (estimated)
Calories:
437
kcal
(22%)
Carbohydrates:
47
g
(16%)
Protein:
11
g
(22%)
Fat:
25
g
(38%)
Saturated Fat:
4
g
(25%)
Polyunsaturated Fat:
4
g
Monounsaturated Fat:
14
g
Sodium:
1013
mg
(44%)
Potassium:
846
mg
(24%)
Fiber:
6
g
(25%)
Sugar:
13
g
(14%)
Vitamin A:
17764
IU
(355%)
Vitamin C:
51
mg
(62%)
Calcium:
68
mg
(7%)
Iron:
4
mg
(22%)
Creamy soup recipes
With soup season fast approaching, I want to share some of the best creamy soup recipes I've got. You may fall in love with one or all of these tasty options!
What is your go-to soup recipes? Don't forget to rate + review this roasted red pepper soup and let me know what fun additions you have in yours!