Pregnancy can be so exciting, anxiety-inducing and confusing all at the same time. People everywhere are telling you what to eat, drink, how to exercise, sleep and more! It's exhausting and I totally get it. This green smoothie for pregnancy is a delicious snack that is full of foods that will help fuel you and your baby and may even help fill in some gaps that those late-night ice cream runs are leaving.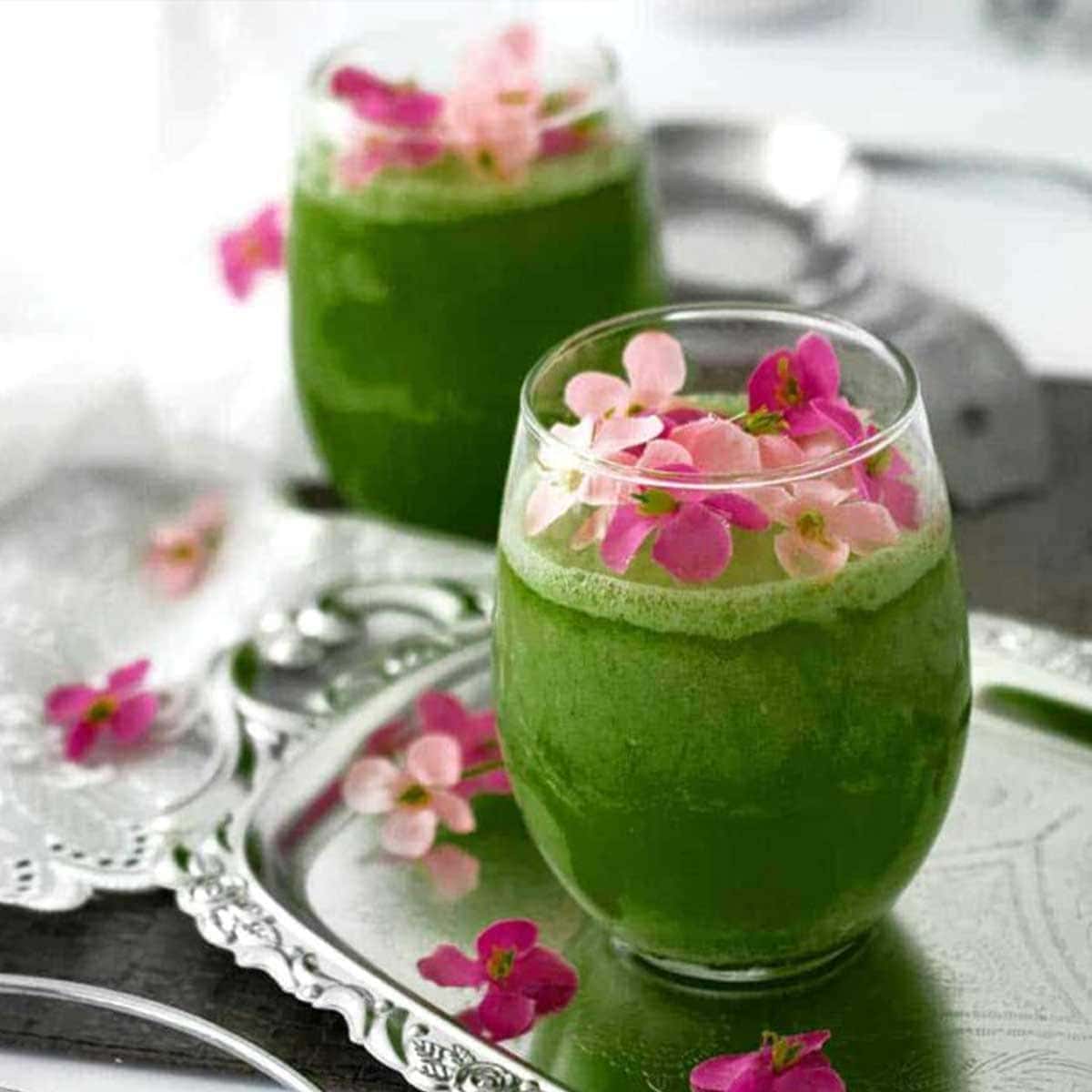 "I'm pregnant!" has to be one of the most exciting moments for someone. Knowing that your body is now creating a precious little human is enough to make your heart explode, yet also knowing its health falls on your shoulders can make your stomach drop.
As a mama of two, I definitely had my fair share of cravings, sleepless nights and food aversions. I'm here to help give you a simple guide to nourishing (and tasty) food for you and your little one as they grow and develop.
Question: What can you do throughout your pregnancy to make sure your baby (and you) are as healthy as can be these next 40 weeks?
Answer: Drink green smoothies.
Table of Contents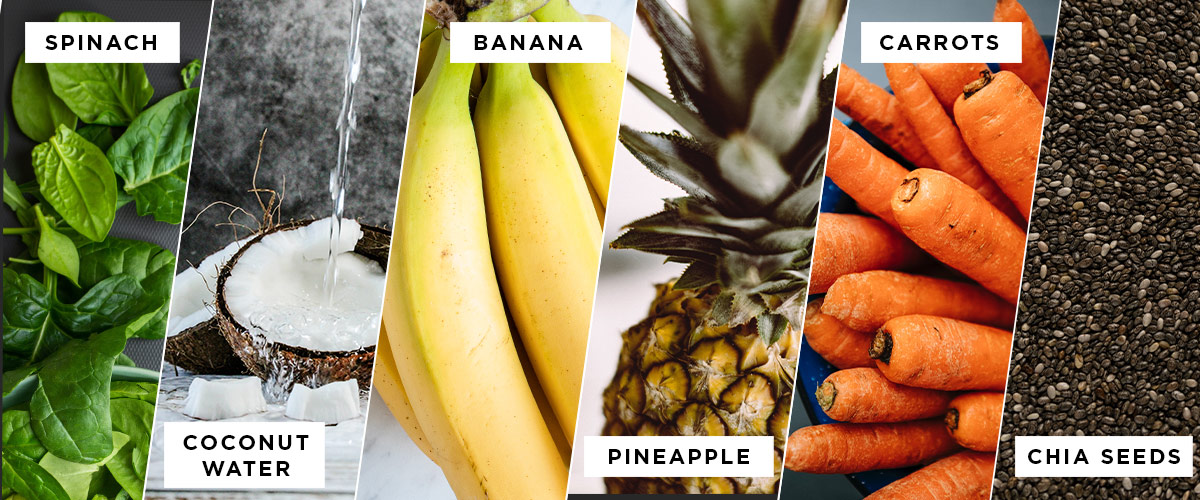 Ingredients in Pregnancy Smoothie
I'm sure you're taking a prenatal vitamin of some kind and being told just what your baby needs to grow and thrive. Yet I still find the best way to get vitamins and minerals for me and my baby is through real, whole food.
I created this smoothie with those special nutrients in mind, and here's what I'm blending:
Spinach: Packed with a variety of nutrients like fiber, calcium, vitamin K, iron, folate and more. Any dark leafy green is a pregnancy meal win.
Coconut water: A great way to get in natural electrolytes to keep your body energized. Lily Nichols has a great article on why electrolytes are great for all people, especially pregnant ones, not just athletes.
Banana: Potassium with a side of sweetness is what bananas bring to the table, as well as a creamy and sippable green smoothie.
Pineapple: The delivery system for folate, iron and magnesium. Magnesium specifically can help with restless leg syndrome, which occurs during many pregnancies.
Carrots: This antioxidant food is a great way to bring beta-carotene to you and your baby.
Chia Seeds: These tiny seeds act as a digestive aid, which can be super helpful when your body is all out of wack. Add these to any smoothie to help keep everything flowing, if you know what I mean.
As with any type of body change, check in with your practitioner to determine exactly what your body needs during this time. Feel free to bring them this smoothie recipe to make sure it checks all the right boxes, too!
Best Smoothie Add-Ins
There are a lot of great ingredients you can add to your smoothie, depending on what you want. If you want a protein-powered smoothie then add in protein powder, oat milk, hemp milk or cashew milk, nut butter or hemp hearts. For more healthy fat, add in nut butter, coconut oil or avocado.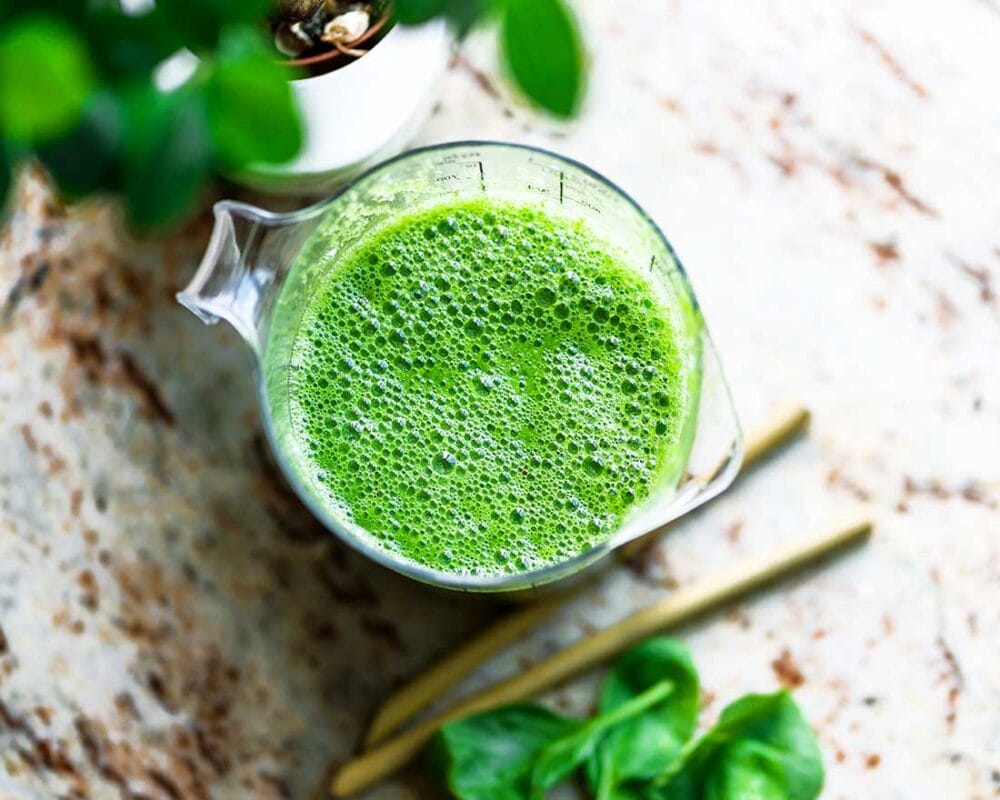 How to Blend a Green Smoothie for Pregnancy
This smoothie is super simple to blend:
Blend spinach and coconut water until smooth. Stop the blender and scrape down the sides as needed to make sure there aren't any leafy chunks.
Add the remaining ingredients and blend again until smooth. Use the tamper that came with your blender (if you have one) to help keep the ingredients blending well.
That's it! I've found that using this two-step blending method gives me the smoothest result. Leafy greens take longer to break down in a blender, and no pregnant person wants a chunky smoothie.
Blending Tips
While you should always wash your produce before blending and eating, it's especially important while pregnant. Your body isn't filtering out toxins like it normally does right now, so it's easier for a pregnant person to get sick from pesticide residue.
Using at least one frozen fruit in a smoothie will help keep it cool and refreshing. I crave cold things while pregnant, so smoothies are a great way to drink something chilly and delicious without going overboard on milkshakes.
If food aversions have got you down then never fear! Here are some easy swaps to give you a great smoothie result:
Spinach > kale or Swiss chard
Coconut Water > filtered water or herbal tea. Non-dairy milk of any kind works great too for a thicker, more nutty-flavored smoothie.
Banana > cauliflower or avocado for a less sweet version, swap with mango for a sweet switch
Pineapple > mango, peaches or nectarines
Carrots > cantaloupe (sweeter), cauliflower (less sweet)
Chia seeds > hemp hearts, plant-based protein powder
What are you craving while pregnant? If it is a fruit or vegetable, I bet I can help find the perfect smoothie for you to blend to enjoy it! Drop a comment below or just put it in the search bar above to start finding recipes.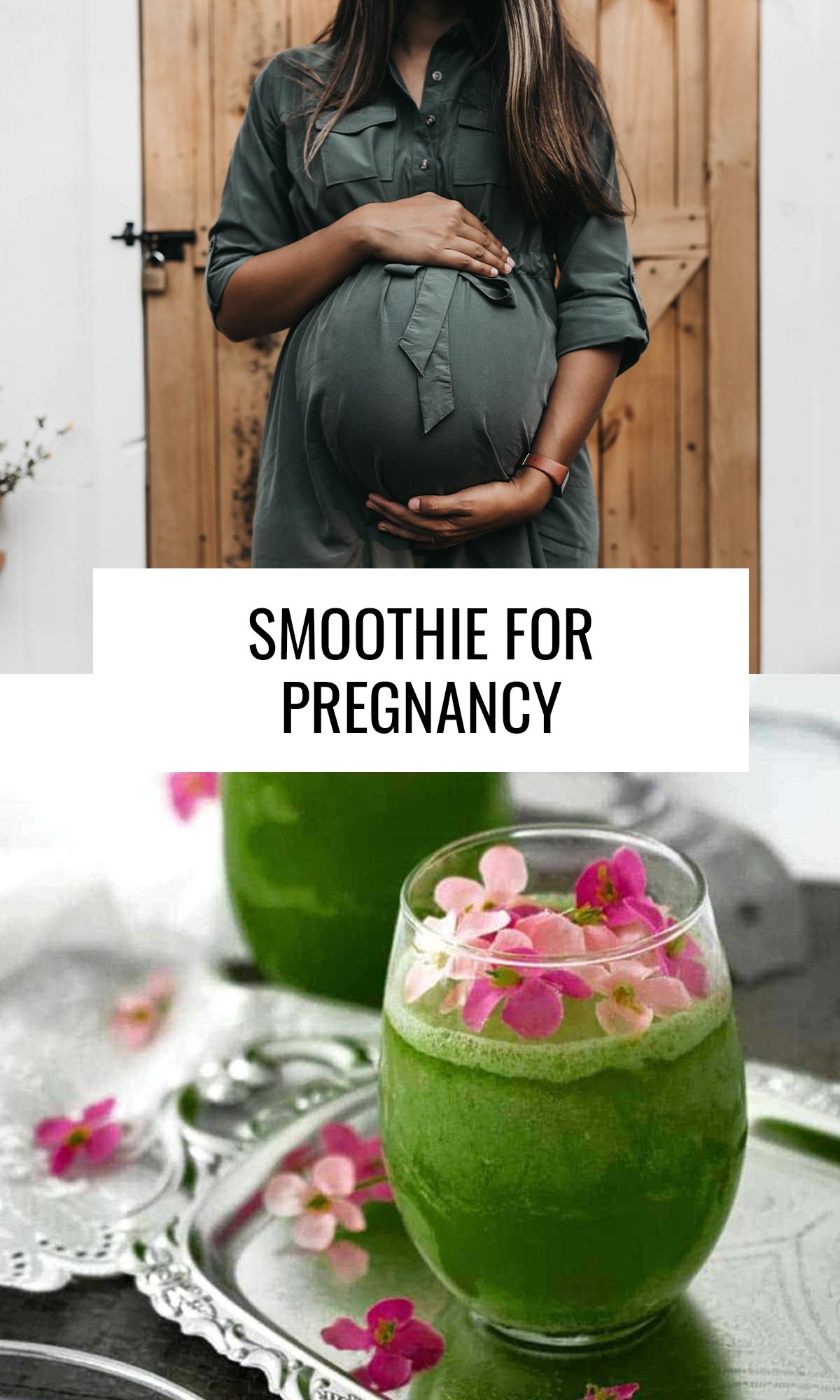 Smoothie for Pregnancy FAQs
Are smoothies good for you while pregnant?
Yes! They are a great way to boost energy naturally, fill in nutritional gaps as your little one grows and develops as well as help with some uncomfortable aspects of pregnancy like reflux, exhaustion and low energy.
Which smoothie is best during pregnancy?
There are wide varieties of smoothies you can blend while pregnant, depending on what you need and what you're craving. My smoothie contains spinach, coconut water, banana, pineapple, carrots and chia seeds to give you protein, healthy fat, fiber, electrolytes and non-caffeinated energy.
Can I add more protein to a smoothie?
Yes! Protein and healthy fats are great smoothie add-ons to help you stay full longer and avoid a sugar crash from the natural fruit sugars you're sipping. Protein can come in the form of chia seeds, hemp hearts, nut butter, protein powder, yogurt and more.
More Great Pregnancy Smoothies
Congratulations! I can't wait for all the sweet moments you will have with that new baby. If you loved this smoothie recipe then check out some other great ones to sip on throughout pregnancy:
Please leave a rating + review once you've blended this smoothie. Your feedback helps us so much!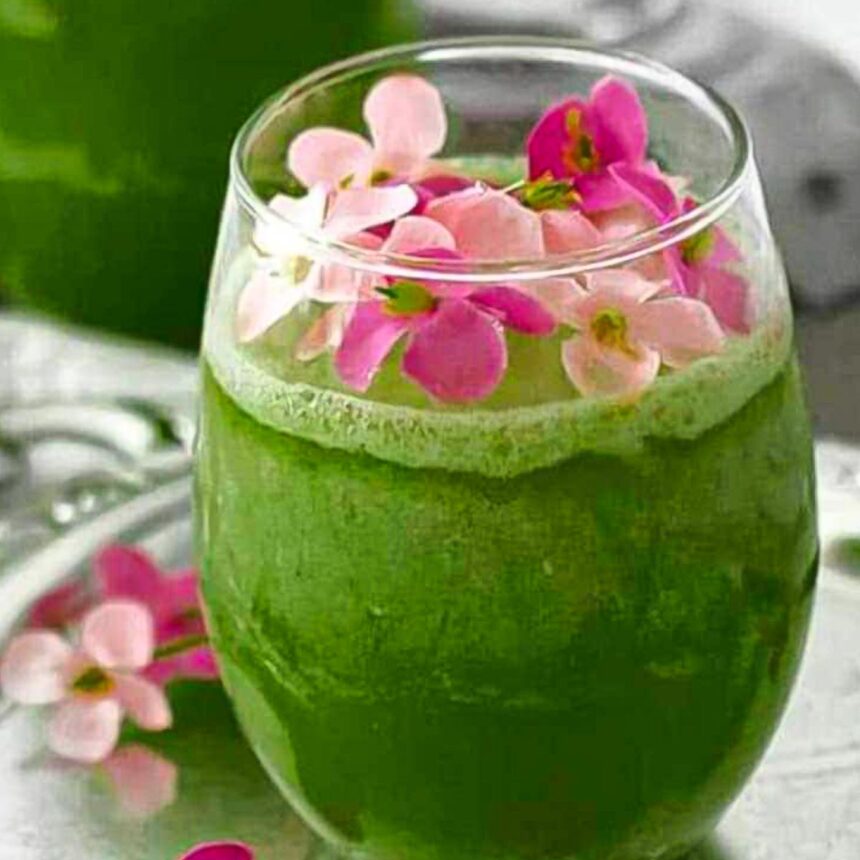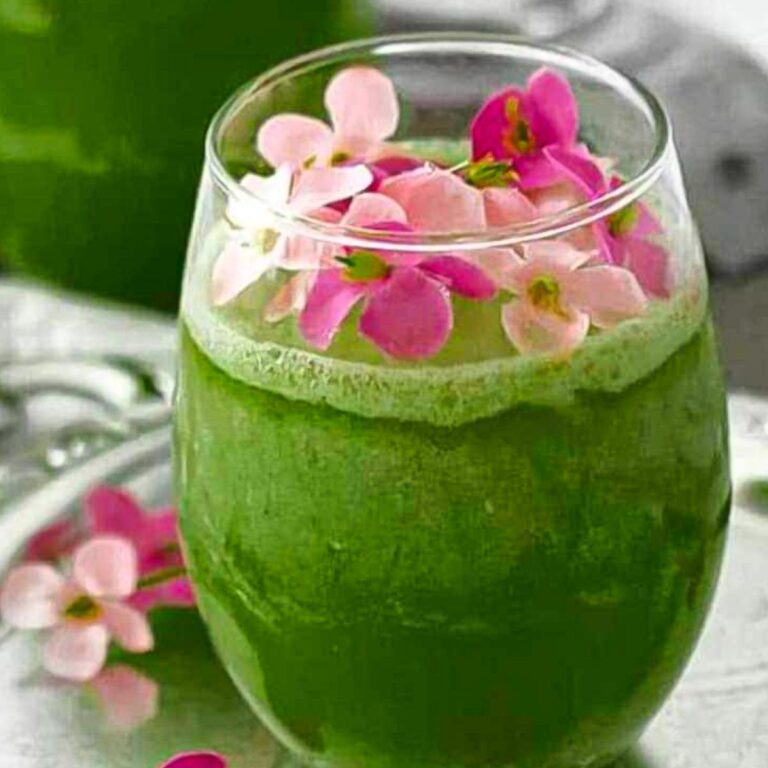 Smoothie for Pregnancy
This smoothie is specially crafted for pregnancy with ingredients formulated for the health and wellness of mama and baby.
Ingredients
1

cup

spinach

fresh

1

cup

coconut water

unsweetened

½

banana

½

cup

pineapple

frozen

2

carrots

peeled and chopped

1

tbsp

chia seeds
Instructions
Blend spinach and coconut water until smooth.

Add remaining ingredients and blend again. Pour into a glass and enjoy!
Notes
Use at least 1 frozen fruit for a refreshingly cool smoothie.
To lower the natural sugar in this recipe, swap 1/2 banana for 1/4 avocado.
Swap chia seeds with 1 serving plant based protein powder.
Use the leafy greens of your choice in place of the spinach.
Nutrition
Calories:
255
kcal
,
Carbohydrates:
51
g
,
Protein:
7
g
,
Fat:
5
g
,
Saturated Fat:
1
g
,
Polyunsaturated Fat:
3
g
,
Monounsaturated Fat:
0.3
g
,
Trans Fat:
0.02
g
,
Sodium:
363
mg
,
Potassium:
1508
mg
,
Fiber:
14
g
,
Sugar:
28
g
,
Vitamin A:
23287
IU
,
Vitamin C:
66
mg
,
Calcium:
217
mg
,
Iron:
3
mg