Berries are one of my very favorite smoothie additions. They are loaded up with antioxidants and phytonutrients like anthocyanins and fiber and are low in sugar. This spinach berry smoothie combines the best of both worlds to give you a tasty and healthy smoothie you can make in just minutes.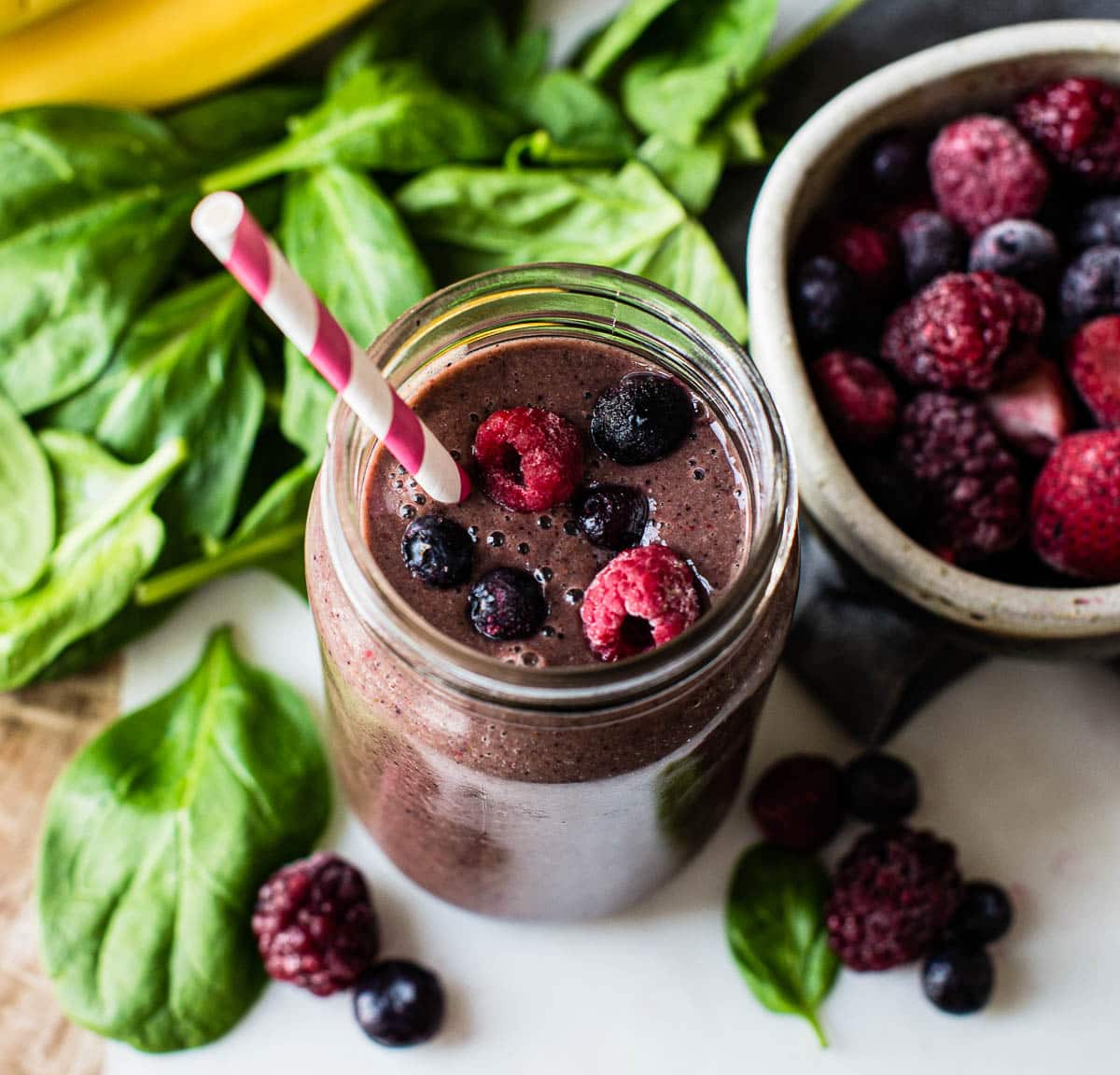 Table of Contents
Spinach and Berry Smoothie Ingredients
I love the simplicity of this recipe. It doesn't get much easier than a bag of mixed fruit! Here's what I'm tossing into my spinach berry smoothie:
Spinach: Leafy greens are loaded with fiber and nutrients to help my body process the natural sugar in fruit, as well as get in an extra veggie.
Almond milk: I make my own homemade almond milk to ensure it's full of only the good stuff- and it's more delicious that way, too!
Frozen mixed berries: A bag of frozen mixed fruit helps you get variety without all the washing and chopping.
Banana: Since berries are pretty mild, I toss in a banana for extra sweetness and potassium.
Since this smoothie is higher in natural sugar, I toss in a scoop of plant-based protein powder for more protein and healthy fat. This way my body can turn that sugar into long-lasting energy without a crash, plus it keeps me full longer.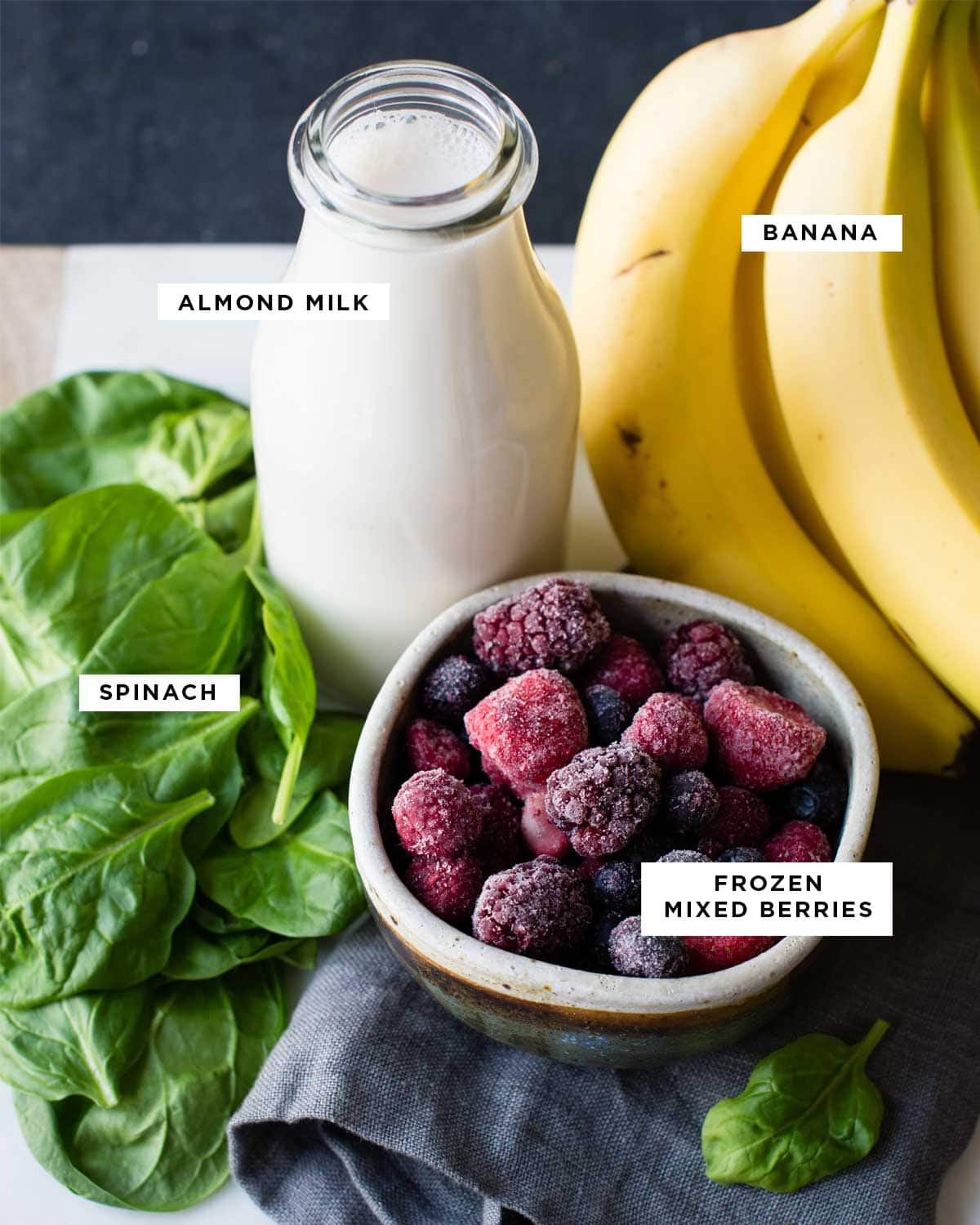 Easy Ingredient Swaps
Make this smoothie work for the ingredients you have on hand! Any bag of mixed fruit will work in place of mixed berries, and fresh berries will work, too. Bananas can be swapped with mango to keep the sweetness, or 1/2 avocado to keep the creaminess but cut back on the natural sugar.
Use the plant milk of your choice or regular water in place of almond milk. If you need to switch up your leafy greens then swap in kale for spinach.
Fresh vs Frozen Ingredients
I get asked often which is better, fresh or frozen ingredients. And honestly, both are great! During the colder months when fresh fruit is harder to find (and pricier, too) I rely on frozen ingredients. They are always picked at peak freshness and then flash-frozen to preserve nutrients. Yet if there are seasonal fruits available fresh, they also have great flavor and high nutritional value as well.
Basically, don't go crazy trying to buy fresh berries in January. It's just not worth it and won't even taste great. Instead, head to the freezer section for frozen fruit that's still a great price.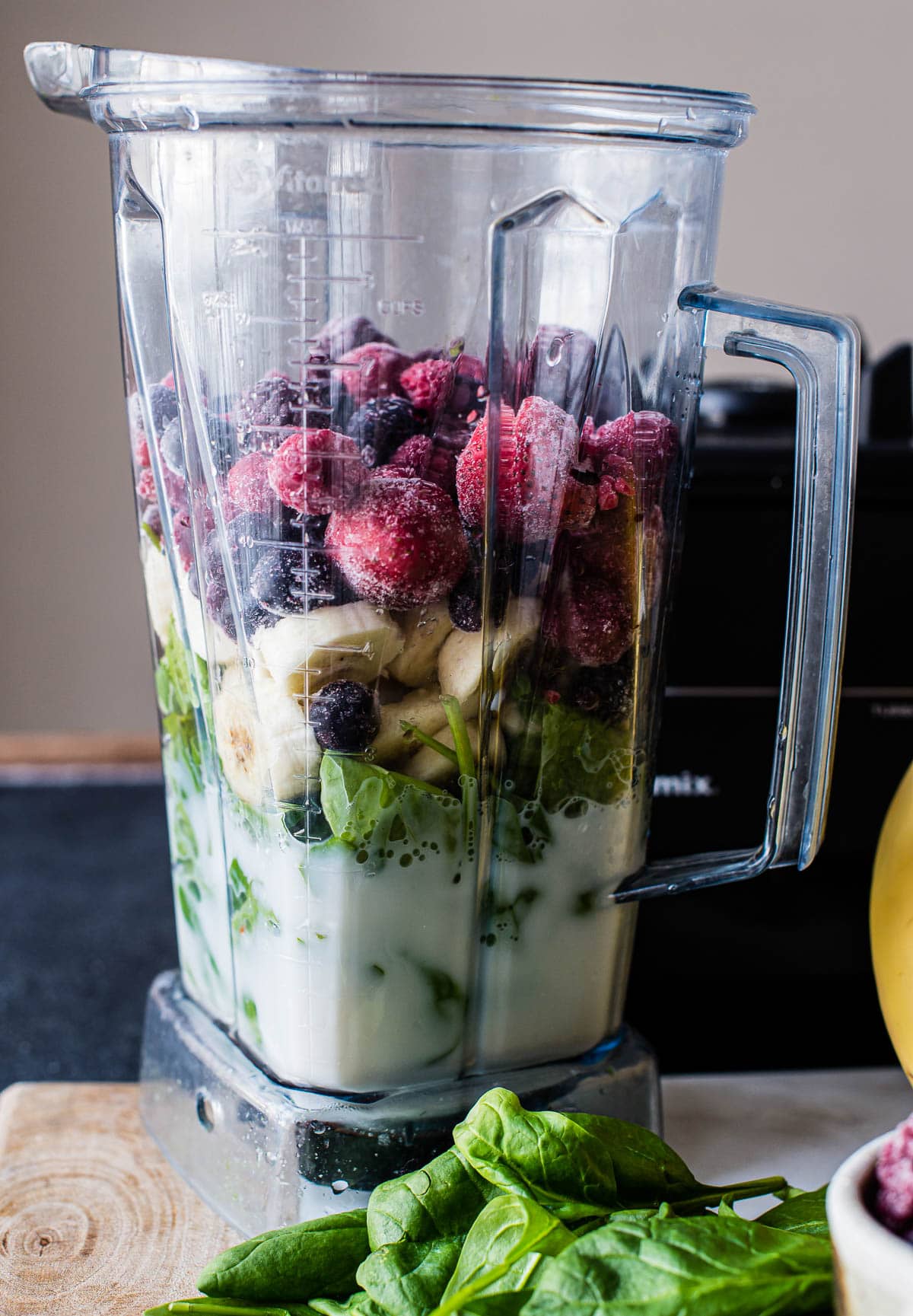 How to Make a Spinach Berry Smoothie
Since this smoothie has leafy greens, I like to use my two-blend method:
First, blend the spinach and liquid on high until there are no leafy chunks left. Depending on the kind of blender you use, this might take a moment. Be patient because it's totally worth it!
Second, add the fruit ingredients and any extras you might want then blend again until smooth. Blending twice might sound like extra work, yet it actually helps your blender focus on eliminating chunks and giving you the best smoothie possible.
If you use frozen ingredients, give them about 15 minutes to thaw on the counter before blending, just to make it easier.
Green Berry Smoothie FAQs
Is it okay to put raw spinach in a smoothie?
Yes! Just make sure the spinach is washed beforehand. don't be afraid to sift through your spinach leaves to make sure each one is free from dirt, or invest in a good produce wash to help with any residue.
Are spinach and berry smoothies good for you?
They can be. I use only plant-based, whole-food ingredients in my green smoothies. No need for added sweeteners or weird powders, just 100% real food.
Is it okay to drink a spinach smoothie every day?
Green smoothies are my jam and I try to get one in every single day. Yet, I don't only drink them with spinach. Changing up your leafy greens on a regular basis not only helps you get in different nutrients, but it also keeps your body from building up on alkaloids from only eating one type of green. So switch it up and try something new in your next smoothie!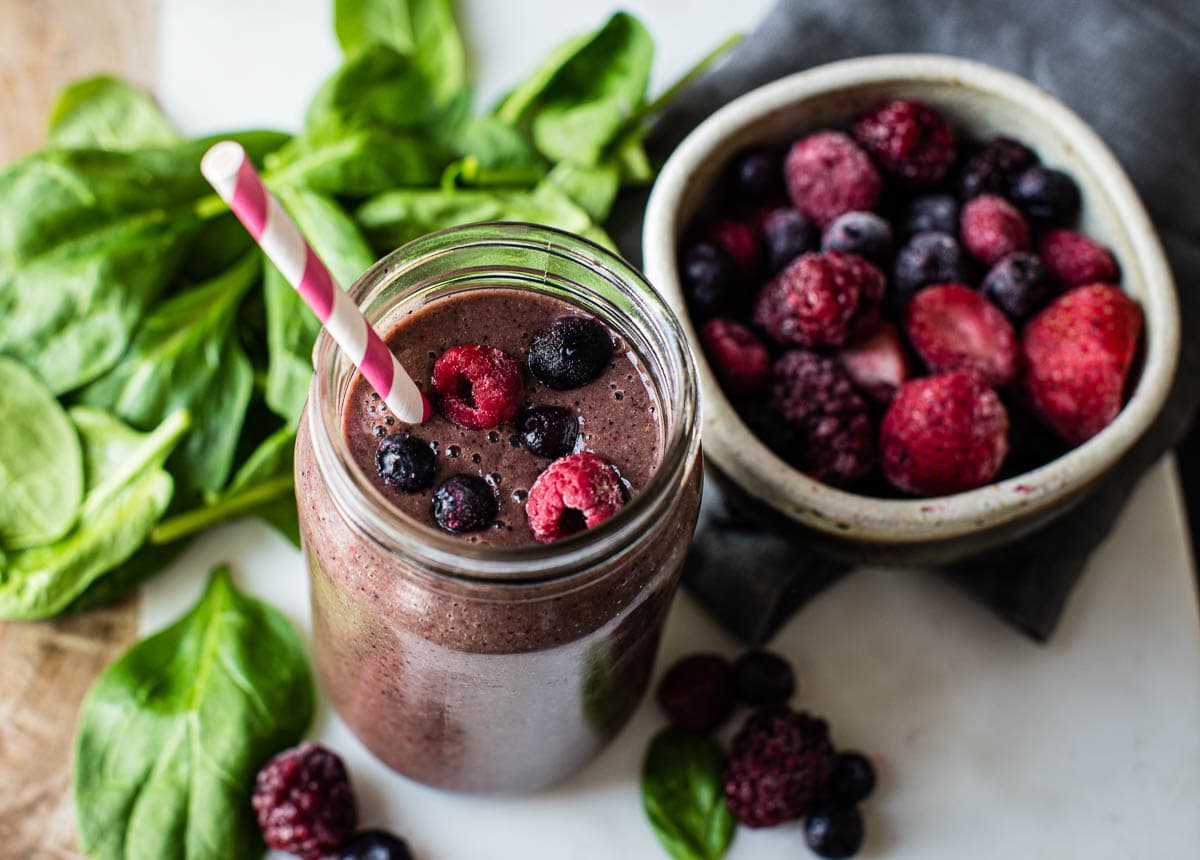 More Berry Smoothie Recipes
Berries are a staple smoothie ingredient since they are easy to toss in and super packed with vitamins and minerals. Here are a few of my favorite combos right now:
Don't forget to rate + review this recipe once you make it. Your feedback is so important!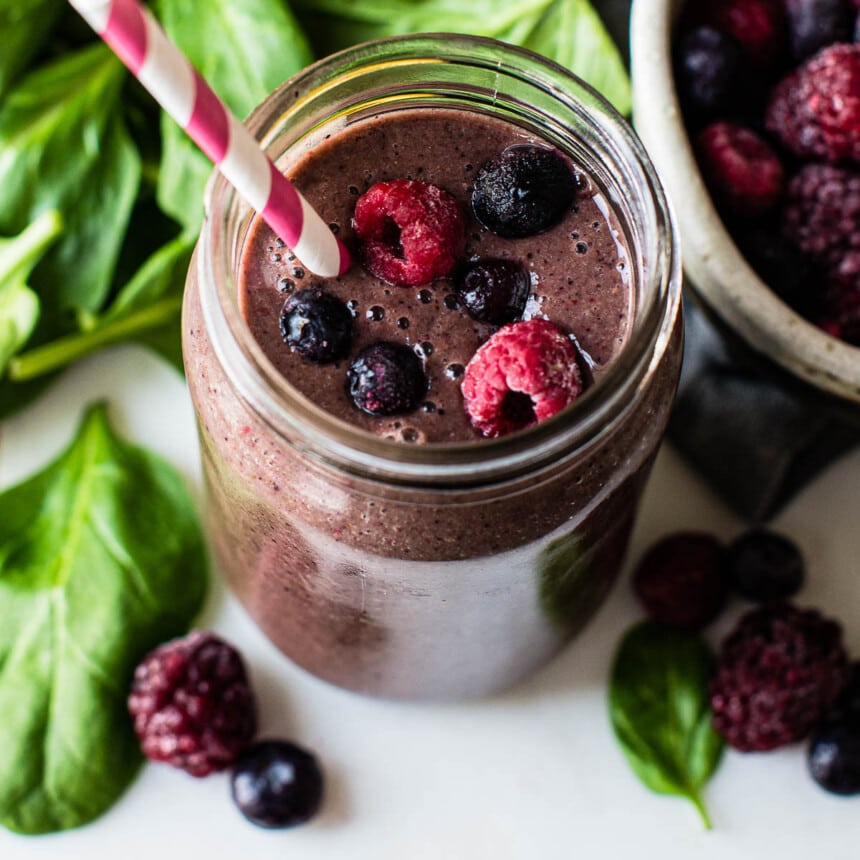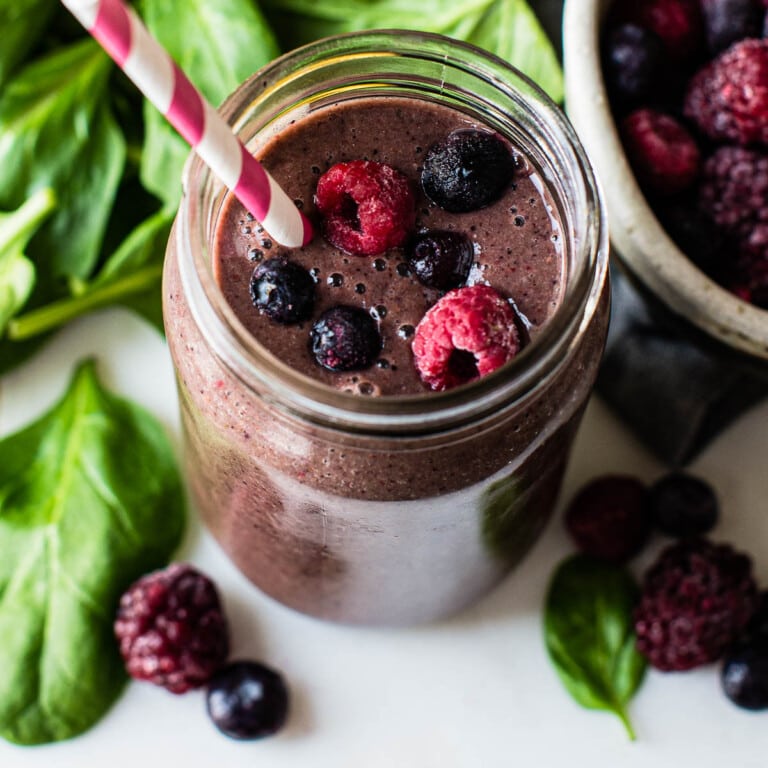 Spinach Berry Smoothie
This Spinach Berry smoothie is great if you're looking for a classic green smoothie. High in fiber and perfect for that mid-day energy boost.
Instructions
Place spinach and water in blender. Puree until smooth.

Add fruit and blend again.
Notes
Use frozen fruit to make refreshingly cool smoothie.

To cut down on the natural sugars in this smoothie, swap 1 banana with 1/2 avocado or 1/2 cup frozen cauliflower.

Swap spinach with the leafy greens of your choice.
Add a plant-based protein powder for more protein and healthy fat.
Nutrition
Calories:
226
kcal
,
Carbohydrates:
48
g
,
Protein:
4
g
,
Fat:
5
g
,
Saturated Fat:
0.2
g
,
Polyunsaturated Fat:
2
g
,
Monounsaturated Fat:
2
g
,
Sodium:
351
mg
,
Potassium:
674
mg
,
Fiber:
9
g
,
Sugar:
28
g
,
Vitamin A:
2960
IU
,
Vitamin C:
23
mg
,
Calcium:
348
mg
,
Iron:
1
mg