Looking for a fun, dairy-free milkshake? This is IT! This vegan milkshake is what summer nights and pool parties are made for. I love indulging in a good dessert yet I don't love the way dairy affects my body, so this gorgeous milkshake is a great alternative.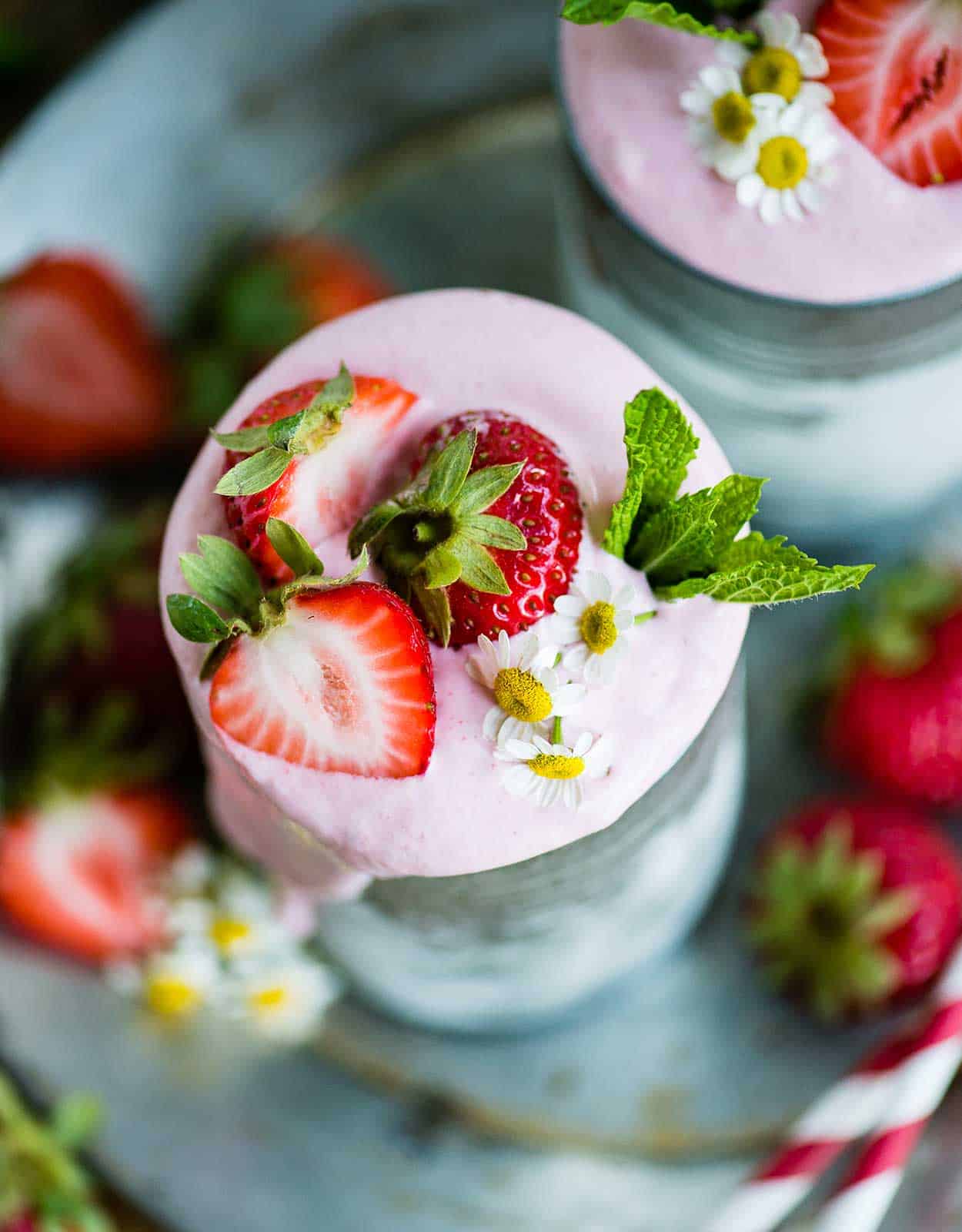 I grew up enjoying strawberry milkshakes on hot, desert summer nights. Nothing beats the sweetness of fresh strawberries! Yet I knew the stomach cramps and bloating would follow each shake, due to my dairy intolerance.
With this strawberry vegan milkshake, I've really upped my game. It's a completely dairy-free milkshake and still full of creamy sweet flavor.
Table of Contents
What Non-Dairy Milk is Best for Milkshakes?
While almond milk and oat milk def have their place in the world of great non-dairy milk options, full-fat canned coconut milk is the way to go for this vegan milkshake. 
And make sure it's the canned kind, none of that carton coconut milk! I want full-on creamy for this dairy-free milkshake, and canned coconut milk is the best.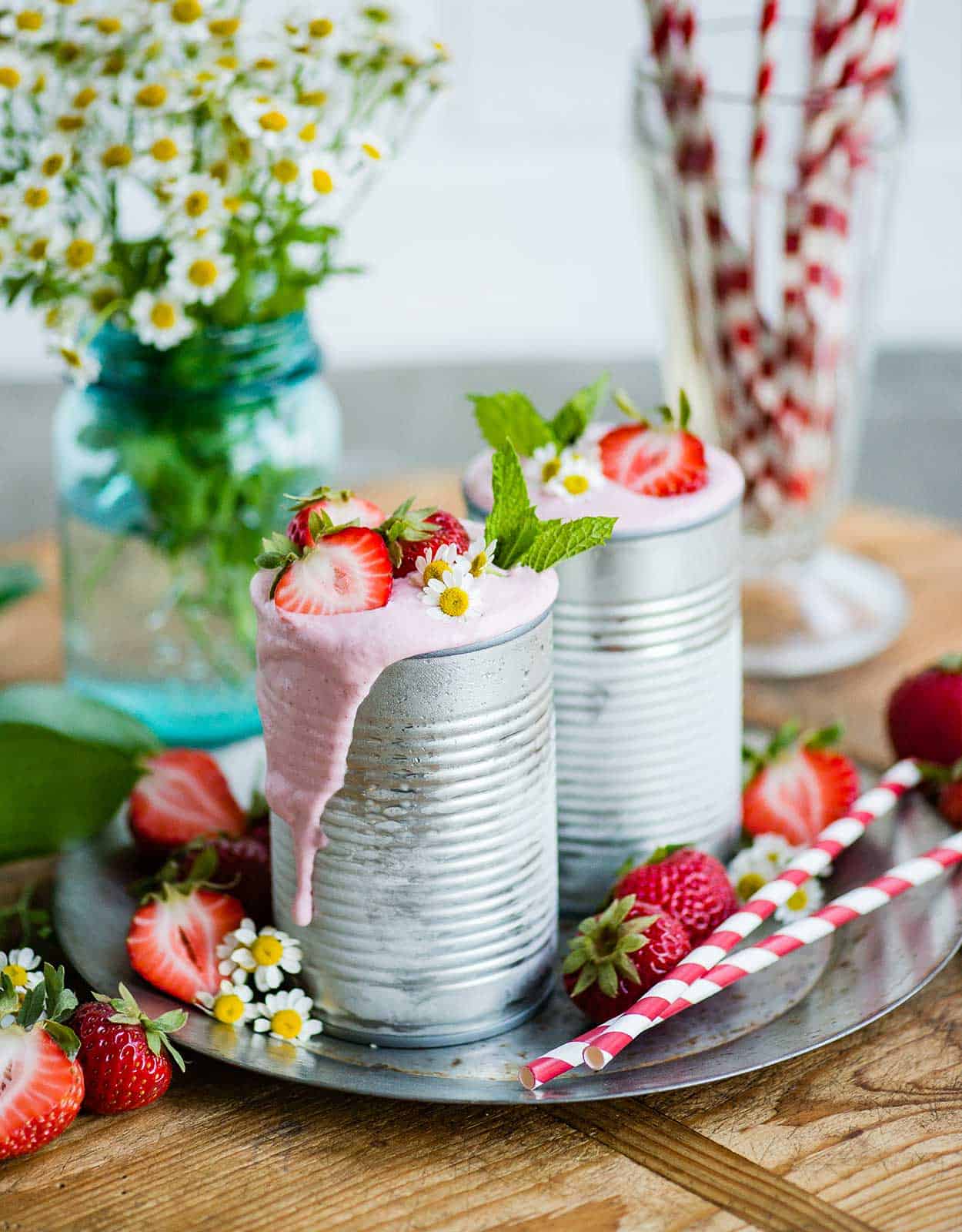 How to Make a Vegan Milkshake Without Ice Cream
The secret is in the can for this non-dairy milkshake. If you've ever opened a can of full-fat coconut milk without shaking it first, then you've seen the large layer of fat at the top, and the small amount of thin liquid at the bottom. Since a milkshake should be creamy and not just icy after blending, this cream is essential.
The Best Strawberries
I'm gonna be straight with you, not just any strawberries will work for this milkshake. If you're looking for maximum sweetness + flavor, then skip out on those jumbo, waxy berries in the produce section that you KNOW have no flavor.
Instead, I recommend getting fresh strawberries from a roadside stand (or pick them yourself!) or using frozen strawberries. Frozen fruit is picked at its peak ripeness then flash frozen, trapping in all that flavor. Since this recipe has no refined sugar, you really need your strawberries to do the work for your sweet tooth.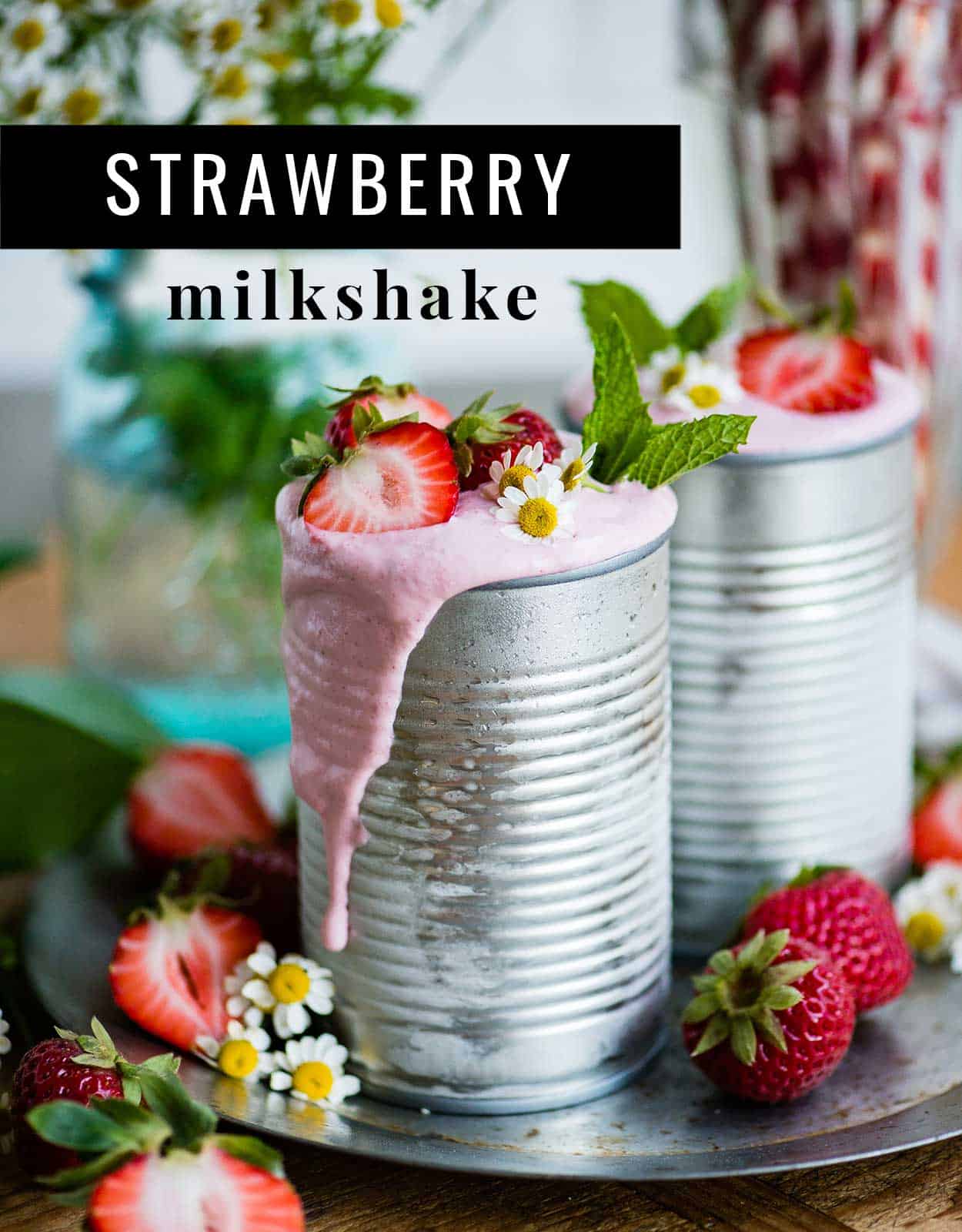 More Kid-Friendly, Parent-Approved Desserts
I love being the house where the kids want to hang out. Yet I also feel the pressure of the best snacks for those hungry pre-teens. So I recipe test with my kids to ensure the snacks + desserts I'm making are 100% kid-approved as well as filled with ingredients that I know are best. Dive into these yummy recipes:
What are some of your kids' fav treats? I'd love for you to leave a comment sharing your go-tos, as well as any tips you have for keeping kids full! And don't forget to rate + review this recipe once you make it!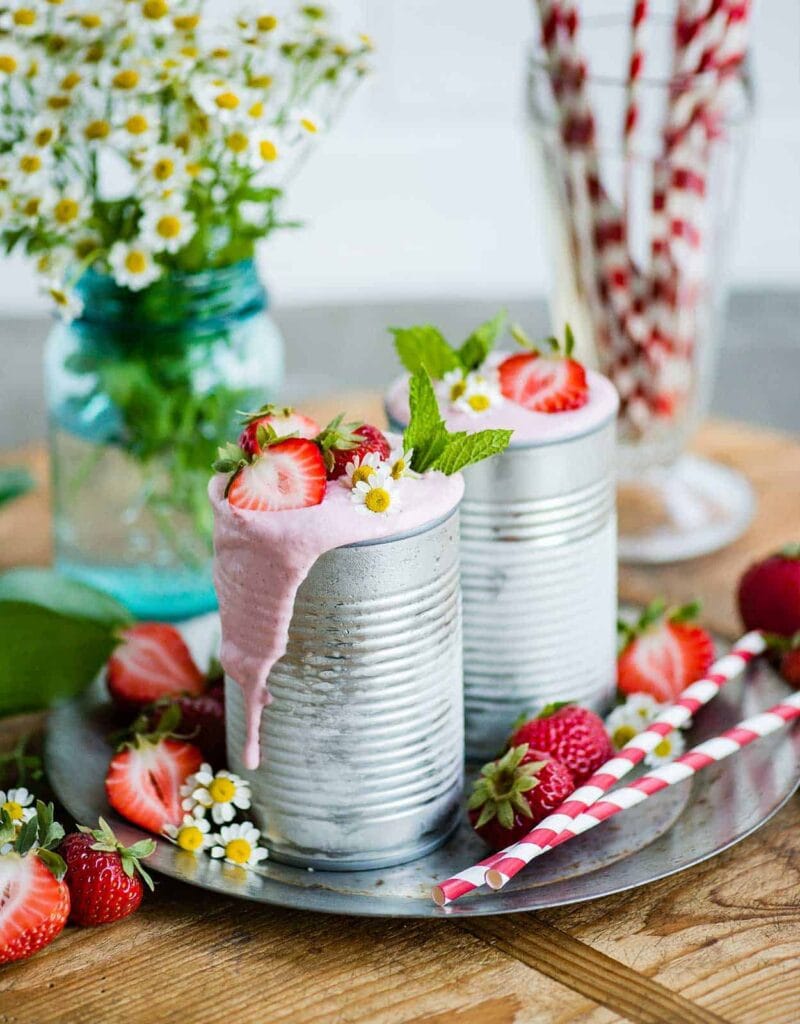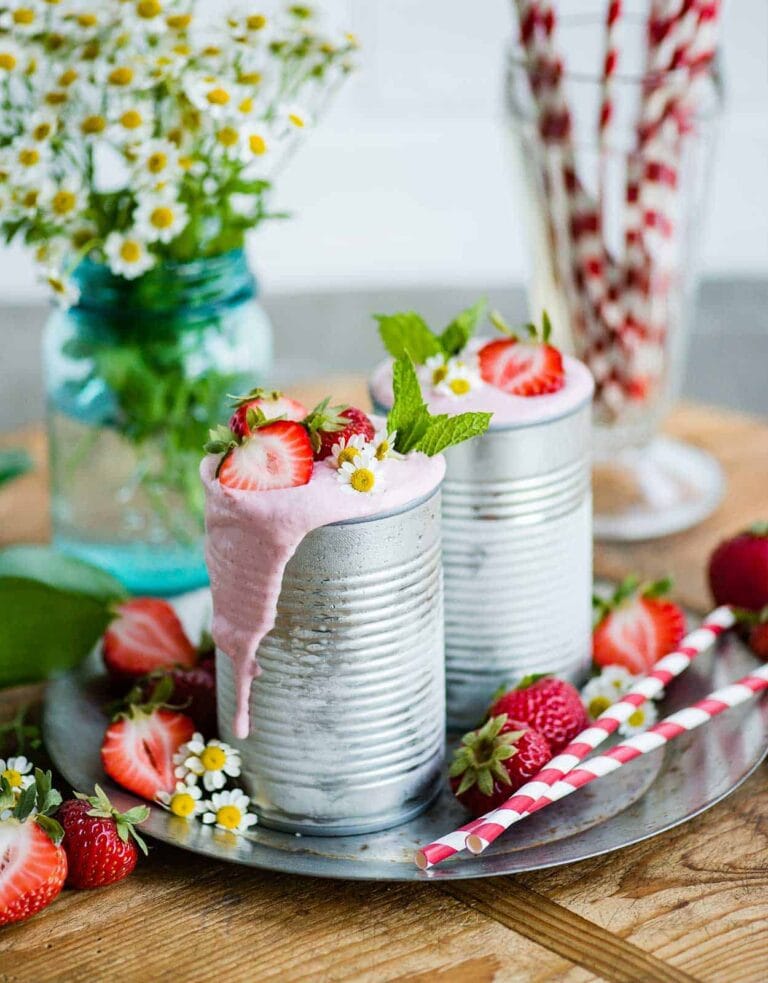 Strawberry Vegan Milkshake
This simple strawberry vegan milkshake has passed the taste test with my kids and their friends—so trust me, it's a winner! Plus you won't suffer the bloating or breakouts that traditional strawberry milkshakes can cause thanks to me using coconut milk. Feel free to swap out the coconut milk for another nut milk you prefer, such as almond milk or cashew milk.
Instructions
In a blender, combine the coconut milk, strawberries, maple syrup, and vanilla.

Blend until smooth (puree).

Pour into 2 glasses and serve immediately, or transfer to an airtight container.

Keep refrigerated for several days or frozen for several weeks.
Notes
For an extra-thick shake, add to the blender 1⁄4 cup presoaked raw cashews or 2 tablespoons cashew butter.
Can also use frozen peaches and make a delicious peach milkshake.
Nutrition
Calories:
226
kcal
,
Carbohydrates:
22
g
,
Protein:
1
g
,
Fat:
13
g
,
Saturated Fat:
13
g
,
Polyunsaturated Fat:
1
g
,
Monounsaturated Fat:
1
g
,
Sodium:
161
mg
,
Potassium:
191
mg
,
Fiber:
2
g
,
Sugar:
12
g
,
Vitamin A:
13
IU
,
Vitamin C:
64
mg
,
Calcium:
28
mg
,
Iron:
1
mg