Snacks are often how I fuel my body throughout the day, and thick smoothie bowl is the ultimate snack in so many ways. The consistency is a bit like yogurt, so don't be afraid to pile on the toppings, and turn this green smoothie bowl into the rawkstar of your next snack.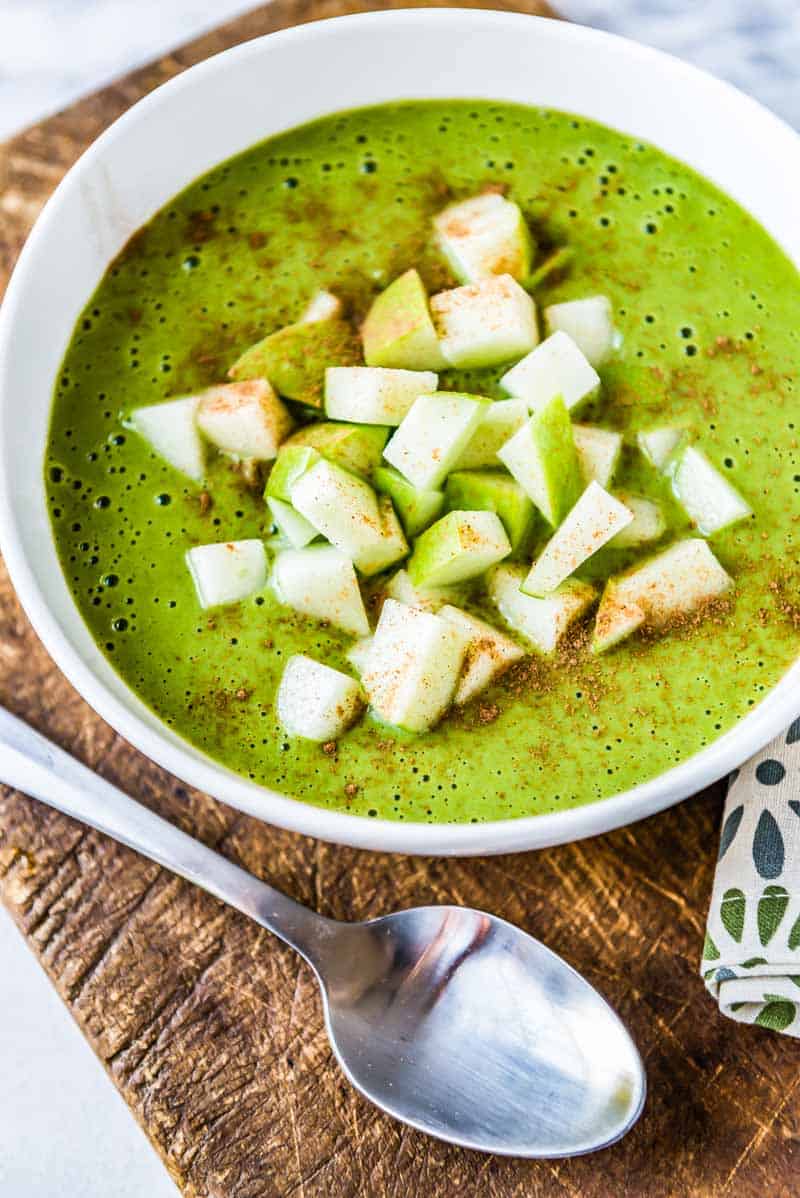 How to Make a Smoothie Bowl
A smoothie bowl is literally just a thicker version of a smoothie, served in a bowl and then topped with goodness. Transform any of my smoothie recipes into a bowl by reducing the amount of liquid you use.
Let's break it down:
A smoothie usually has 1 cup of liquid per serving, whereas a smoothie bowl has about 3/4 cup (or less!) of liquid per serving. Here's how I did it for this thick smoothie bowl recipe.
Blend 3/4 cup liquid with 1 cup of leafy greens
Add in 1 cup frozen fruit + frozen veggies
If your blender has a hard time blending it up, then use the tamper to activate the blend
Pour into a bowl
Top this thick smoothie bowl with your fav toppings such as healthy granola, diced fruit and nuts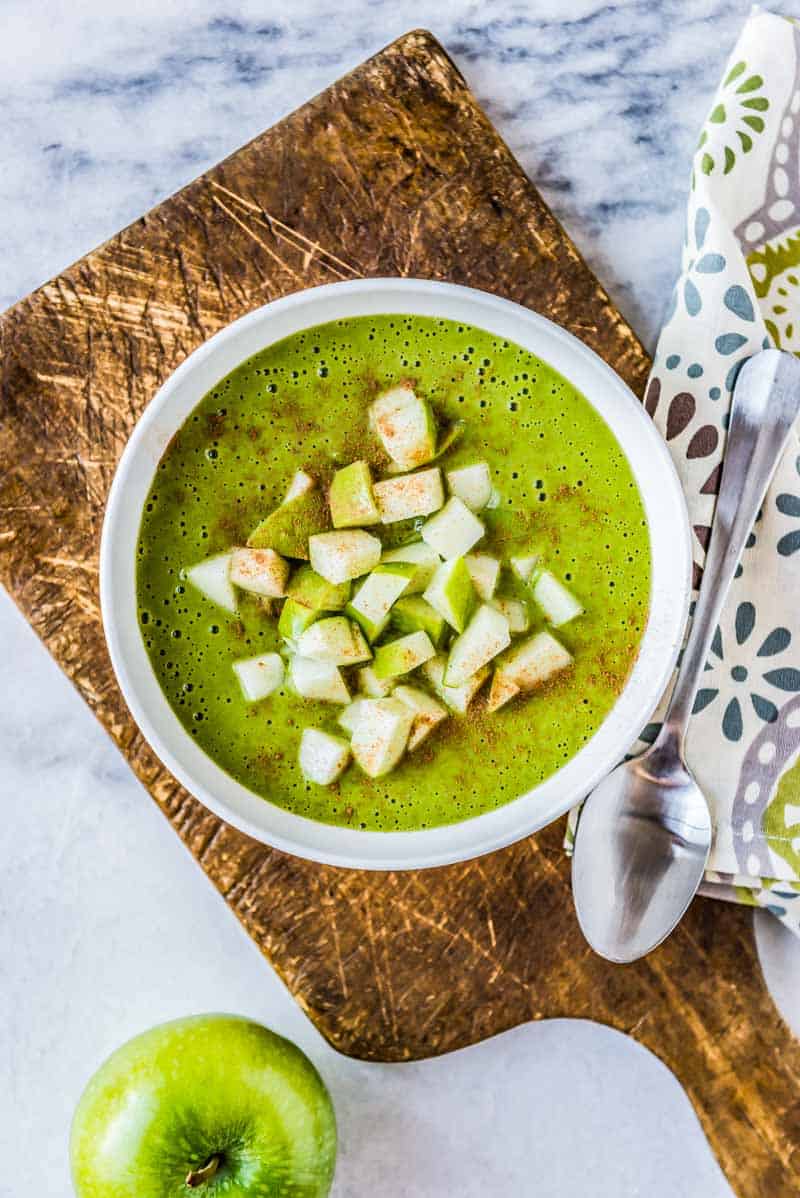 Plant-Based Green Smoothie Bowls
I advise using only plant-based ingredients to get the best results, because plants give you more energy, less bloating, glowing skin and more. By swapping milk or yogurt for almond milk or other dairy-free milk in recipes like this thick smoothie bowl, you can make a huge improvement in your overall health.
Using whole food ingredients for the toppings as well, keeps this bowl clean + healthy, and yet still super delicious!
This incredible green smoothie bowl actually has cauliflower as one of the ingredients, yet I dare you to notice that it's there! Cauliflower brings in fiber, folate, and vitamin C, adding to the host of healthy benefits in this snack.
The Power of Eating Plant-Based
If you've always felt that dairy might mess you up or be causing you health issues, I suggest an elimination diet. With that, you remove dairy from your diet for at least 7 days and pay attention to the results. Yet I know how we all LOVE creamy smoothies— I'm right there! That's why you should try this thick smoothie bowl today. It actually comes from my 7-day Seasonal Cleanse plan.
My Seasonal Cleanse is a great 7-day protocol to use as a test. You'll get daily green smoothie recipes, snacks and plant-based meals, that will help you feel your best. Honestly, you won't even miss the dairy when you realize how delicious eating the Thrive meals can be!
Make this thick smoothie bowl, then let me know if plant-based eating might be something you can commit to for 7 days. If this recipe has you wondering what other kinds of recipes are in this reset, then check out some more creations below: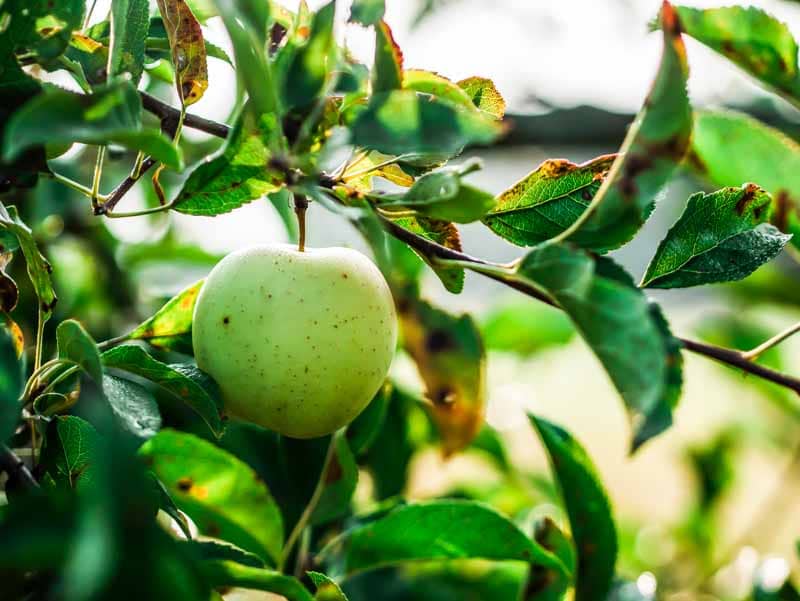 My Favorite Smoothie Bowl Creations
Smoothie bowls are a great way to enjoy smoothies, as well as a super fun way to help others discover + enjoy smoothies too! Here are some of my fav smoothie bowl combos (besides this thick smoothie bowl):
These can be dressed up or down, depending on your preferences. Eat them like a parfait, or just by the creamy spoonful.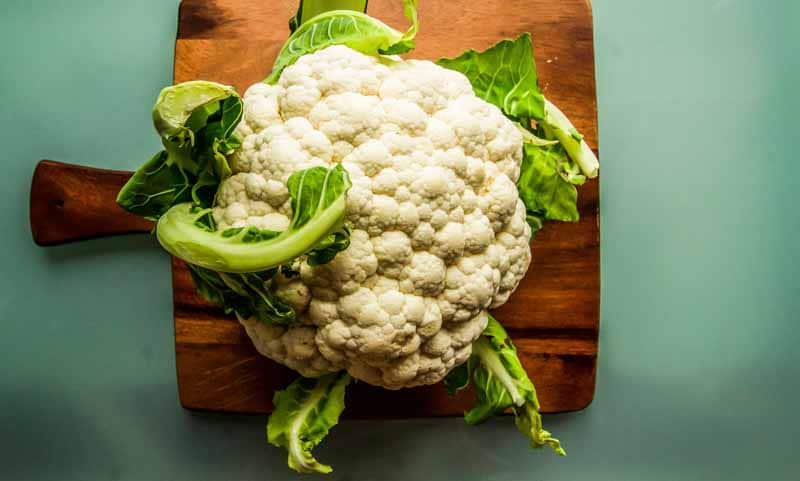 Plant-Based Toppings
I like the option of a smoothie bowl, because it gives me the freedom to load it up with toppings. Whether I use my famed granola recipe, fresh picked berries, or delicious super foods like cacao nibs or hemp hearts, the sky's the limit with these fun snacks.
Does this sound like a good snack to you? What kind of toppings would you add to this thick smoothie bowl? Drop a comment and let me know, because I love hearing from you!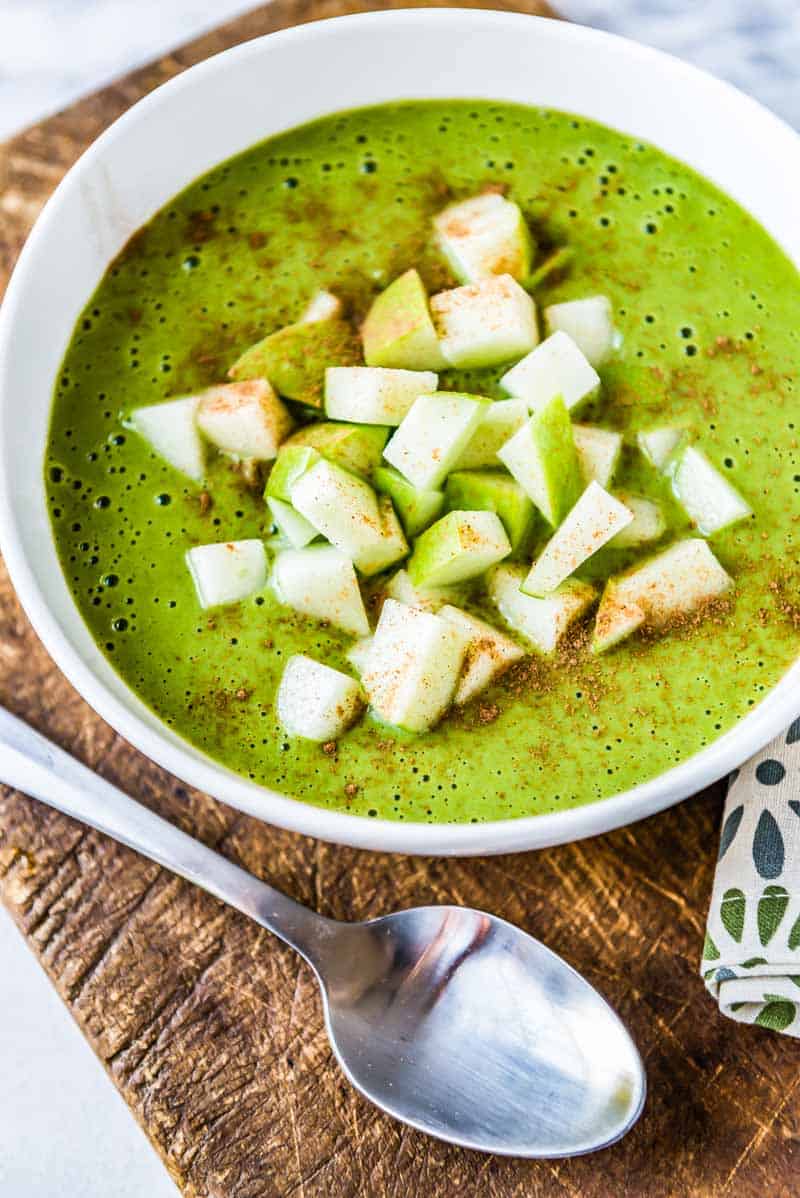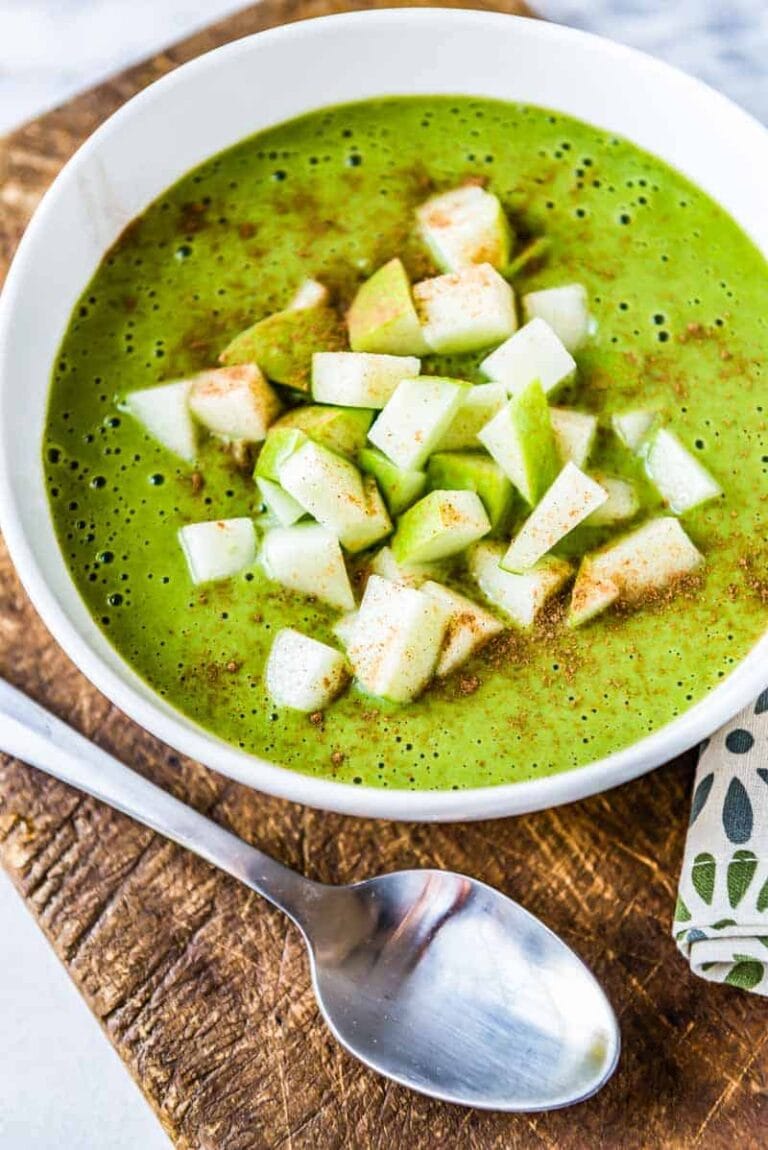 Thick Maple Smoothie Bowl
The secret ingredient in this creamy and thick smoothie bowl is frozen cauliflower. It makes the smoothie super creamy, and you can't even taste it! Not that I don't like cauliflower, I just know it can be a scary smoothie ingredient until you give it a try.
Instructions
Blend spinach and almond milk. Puree until smooth.

Add cauliflower, sliced frozen banana, almond butter, and maple syrup. Blend until smooth.

Scrape down the sides of the blender if it seems to be getting stuck. The mixture will be thicker than a typical smoothie, but if your blender is having trouble, stop and add a little more almond milk, if needed. Feel free to double the recipe to make blending easier too.

Serve by pouring blended mixture into a bowl. Top with 1/4 cup (125mL) diced green apple and a pinch of ground cinnamon. Enjoy!
Notes
To lower the natural sugar in this smoothie, omit the maple syrup or swap 1 banana with 1/2 cup frozen cauliflower.
Swap the green apple with the apple of your choice.
To make this recipe nut free, swap in oat, rice or soy milk for the almond milk and the almond butter with 1 tbsp of hemp hearts or chia seeds.
Nutrition
Calories:
321
kcal
,
Carbohydrates:
52
g
,
Protein:
9
g
,
Fat:
12
g
,
Saturated Fat:
1
g
,
Polyunsaturated Fat:
4
g
,
Monounsaturated Fat:
6
g
,
Sodium:
301
mg
,
Potassium:
1098
mg
,
Fiber:
9
g
,
Sugar:
30
g
,
Vitamin A:
2923
IU
,
Vitamin C:
70
mg
,
Calcium:
353
mg
,
Iron:
2
mg